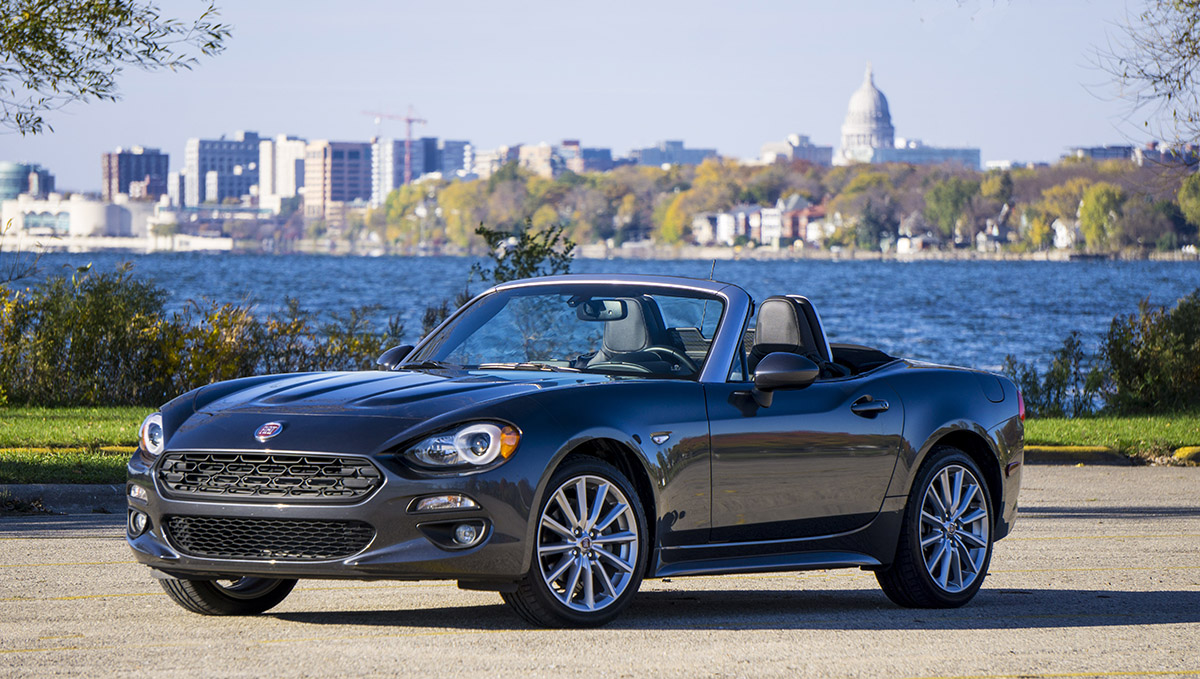 Some cars beg to be driven someplace. A Rolls-Royce Dawn must end up at a swanky resort. A BMW M2's proper terminus is a race track like Laguna Seca. And if you're going to go to the MLB All-Star game, it's hard to think of a more appropriate vehicle than a Chevy pickup.
Then there's the Fiat 124 Spider, a car that's perfect for going nowhere.
No, I don't mean "going nowhere" in the way that afflicted so many Fiats of the 1970s, inspring the acronym Fix It Again Tony.
What I mean is this car is ideal to drive for no reason at all. No destination. No schedule. No maps. No GPS. No worries. Just get in, go, and get lost.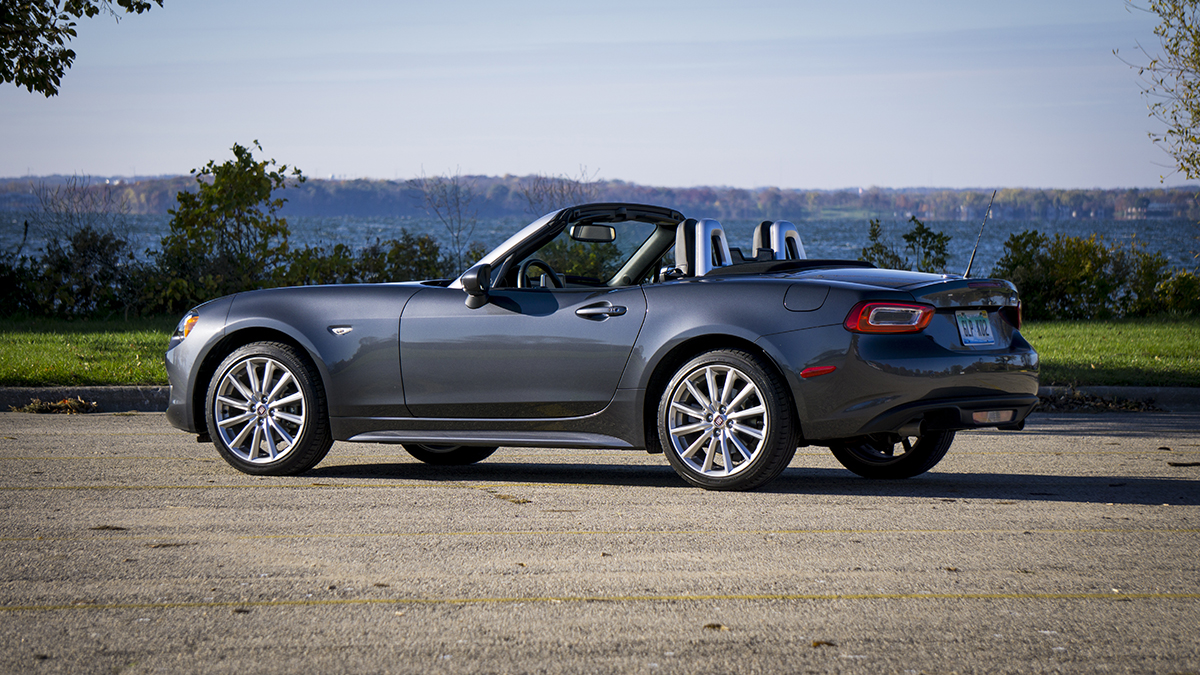 The Fiat 124 Spider is not a sports car. It's an open-top touring car, especially in its Lusso (Google tells me that's Italian for luxury) trim package. It is neither particularly quick nor fast. It doesn't have cat-like reflexes. And, its exhaust note is decidedly muted. If you're looking for a more raucous, racier experience then you'll want to check out the 124 Spider Abarth. Better yet, look into the other brand of convertible that rolls off the same assembly line in Hiroshima, Japan, the Mazda MX-5 (nee Miata). If, however, you're looking for a convertible you can commute comfortably in (assuming you're not six-foot five), take for a weekend getaway with someone you like being very close to, or just drive on winding country roads for nothing but pure pleasure, the Fiat 124 Spider Lusso is far and away, pound for pound, and dollar for dollar the best option out there.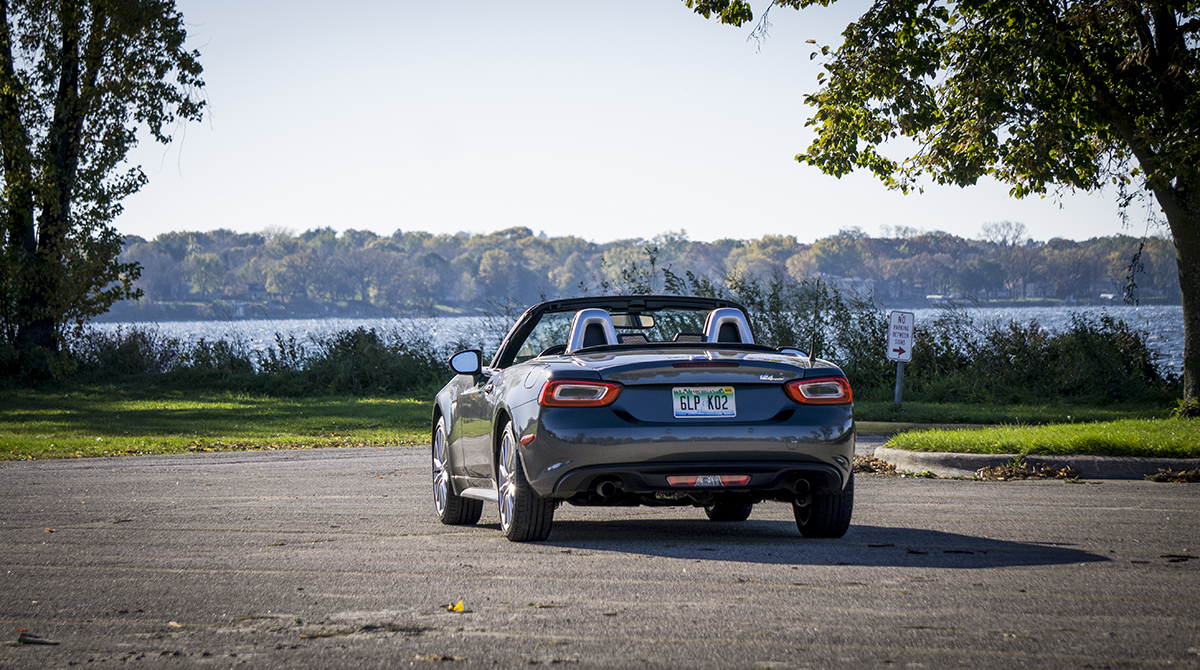 It has been well documented that the new 124 Spider is built on the Mazda MX-5 platform. This was a marriage of convenience for both companies. For Mazda, it helped them stay in the convertible business by sharing some of the development costs of the new platform with the folks at FCA. For Fiat it allowed them to get back into the convertible business for the first time since 1982 when the original 124 Spider was mothballed.
While this isn't meant to be a comparison piece, it is instructive to know about the Mazda connection for a couple of reasons. First of all, the platform upon which both the MX-5 and 124 are built is a terrific piece of engineering providing a light and rigid base for each car. Secondly, there's that pesky quality thing. As I've already alluded to, reliability and build quality have not historically been Fiat's strong suit. In fact, (and I know the folks at FCA will hate me for pointing this out) in the 2017 J.D. Power vehicle dependability study, Fiat finished dead last. The fact that Fiat is working with Mazda on this car gives me hope that any problems will be fewer and farther between.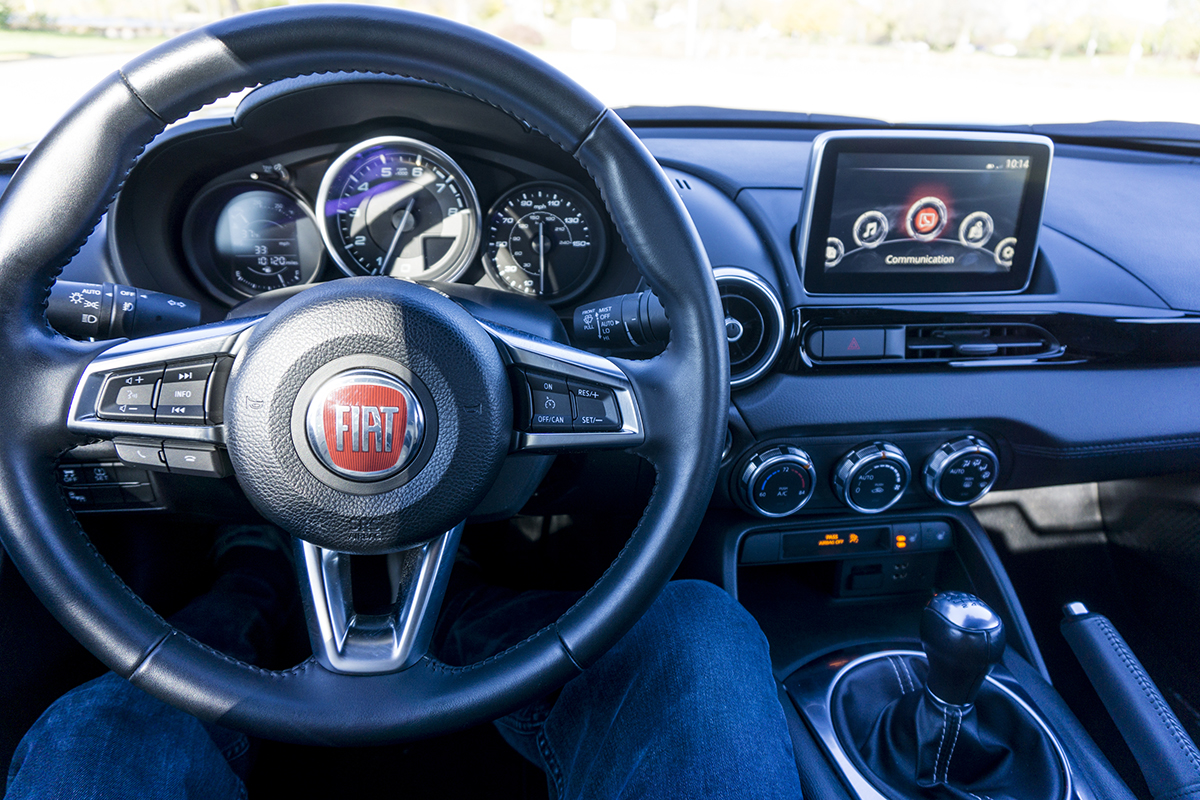 So yes, they're built on the same assembly line, but the Mazda MX-5 and Fiat 124 Spider are very different cars. Aside from the obvious bodywork, they have different engines, transmissions, and suspension tuning. Inside, on the other hand, the only real differences are the logo at the center of the steering wheel, the graphic skins for the infotainment system, and the shape of the shift knob.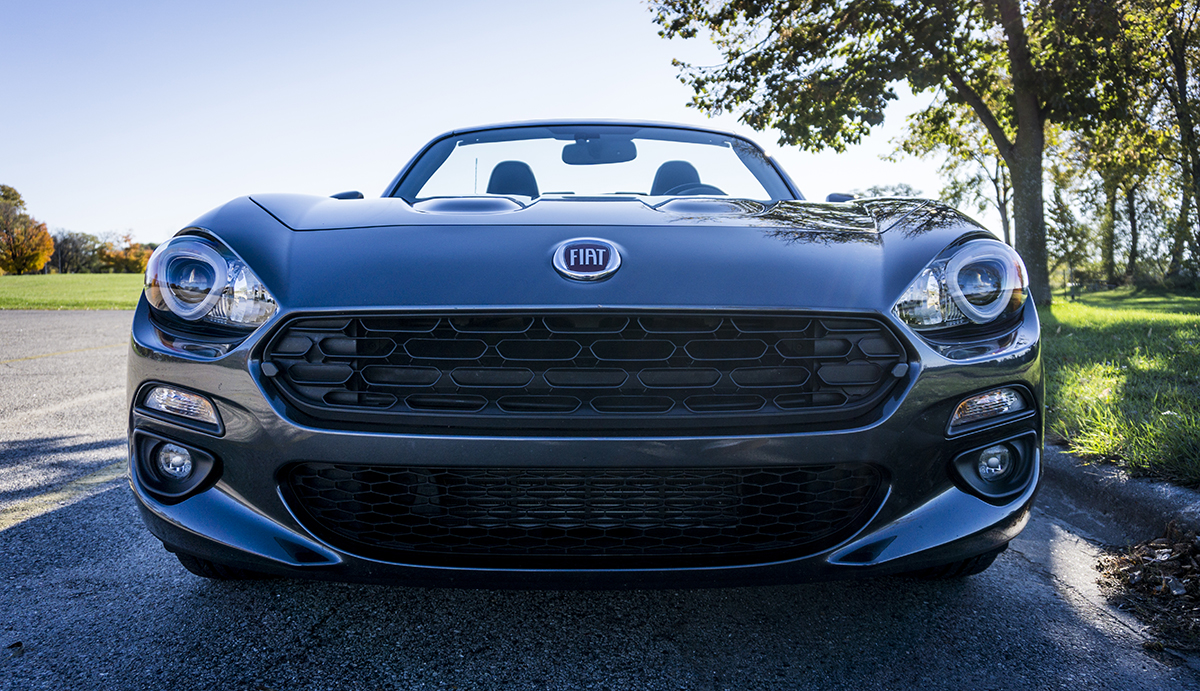 Under the sculpted hood of the Fiat is an Italian-designed and built 1.4 liter turbocharged 4-cylinder engine that's shipped to Japan for assembly in the car. It offers more horsepower and torque than Mazda's naturally aspirated 2.0 Liter four. It is not, however, quicker. There are couple of reasons for that. First, the Fiat is heavier. Again, that touring thing. There's more sound insulation in the Fiat and it's longer overall pushing its curb weight with a manual transmission to 2,436 pounds, 104 pounds heavier than the Mazda. Second, there's a significant amount of turbo lag with the 124's power plant. Once it spools up, it's lovely, but until you get to about 3,000 RPM the Fiat feels a little sluggish. This is a car you'll want to drive up in the rev range to take best advantage of what is a very willing engine. Thankfully the standard 6-speed manual transmission makes it easy to do just that. The short-throw shifter is nicely gated and the clutch has a smooth, easy take up with a friction point that's a little higher off the floor than I'd like. But once you get used to it, moving between the gears is not only easy, but entertaining.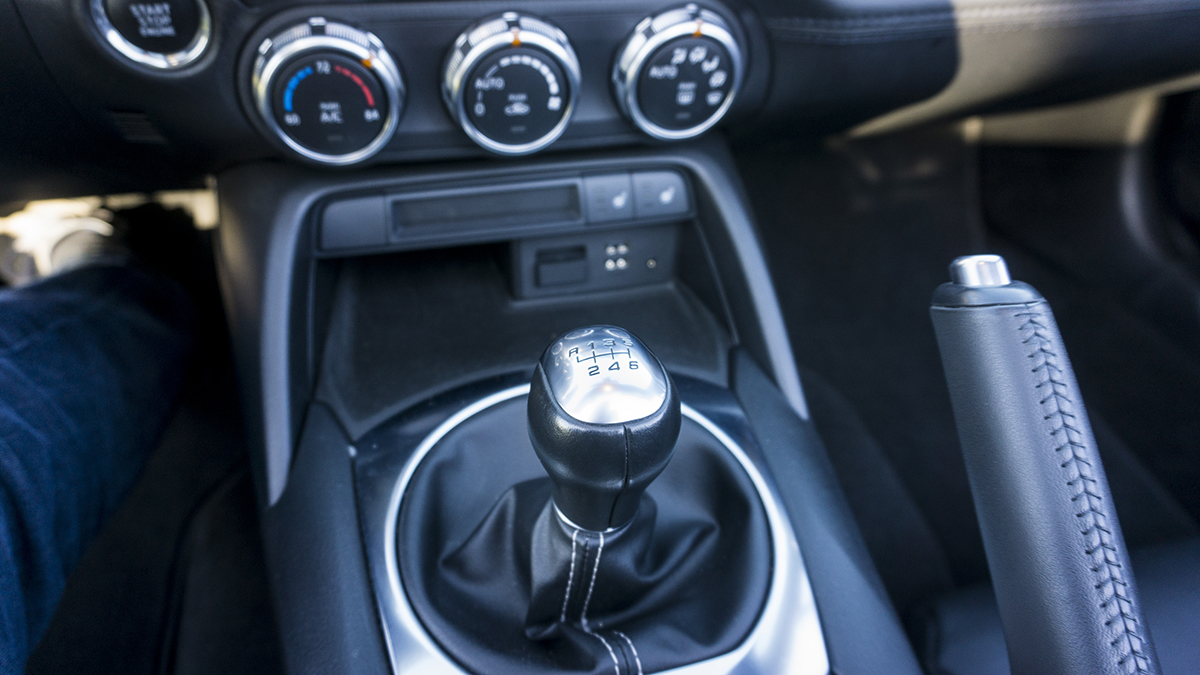 The Fiat 124 Spider Lusso's suspension is tuned for touring as well. The double wishbone set up in the front works with the electronic power assisted rack and steering system to provide quick, but not frenetic turn ins with plenty of feedback. The multi-link rear soaks up the pavement's imperfections and really digs in when you drive hard through sweeping corners. Overall the car exhibits very little of the body roll and bounce of the original 124 Spider which I was able to spend some time with thanks to my friend Jack Williams who brought his 1978 model out for a little side-by-side look at the two.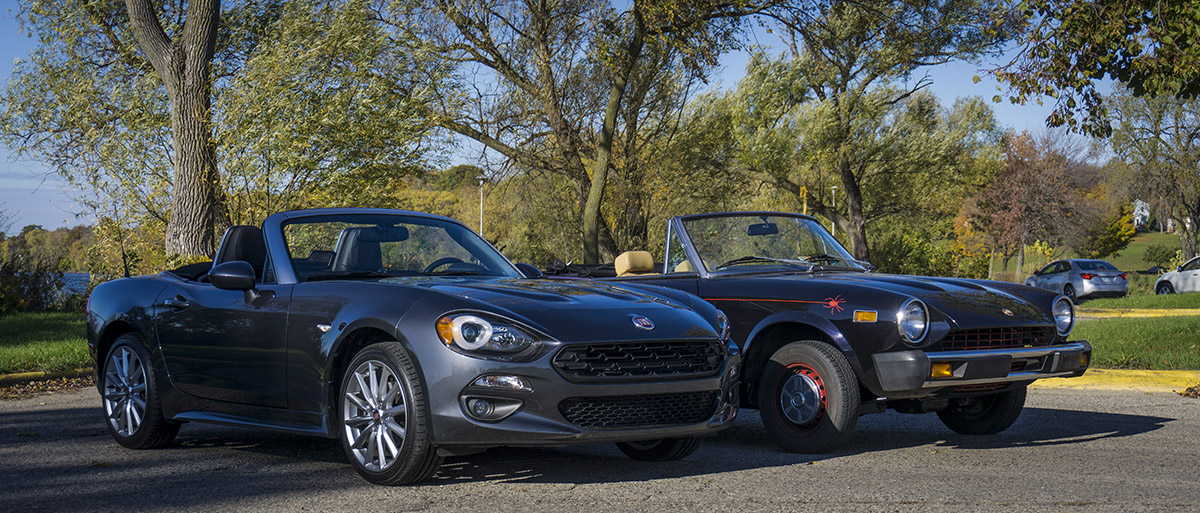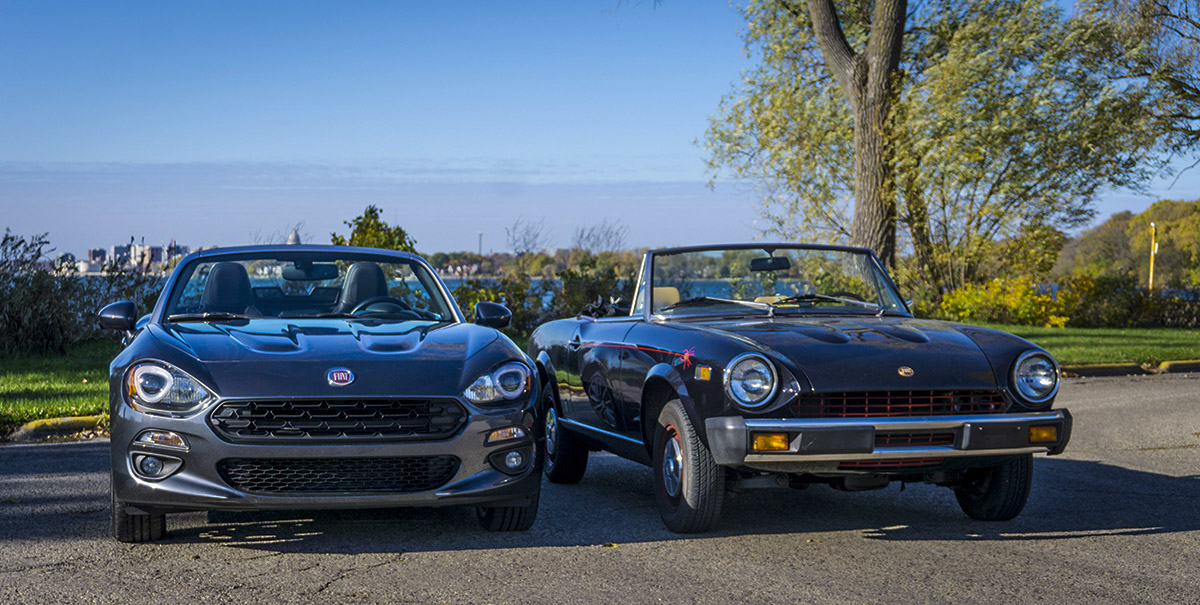 The original Spider was designed by Tom Tjaarda while he worked at the legendary Italian design house, Pininfarina. It is of course a classic. It was introduced in 1966 and first appeared in the U.S. in 1968. Sales peaked in 1979 with 18,943 units sold but dropped precipitously from there selling just 3,456 cars in 1982. Unlike today's 124, the classic Spider was a 2+2 with a tiny backseat that's more suited for a briefcase or grocery bag than human cargo. The original roadster is also taller, longer, and narrower than today's car, hence its predilection for listing through corners. Fiat brought forward some styling cues – the grill shape, sculpted hood, headlight cluster, and subtle batwing rear taillamp detail – but those and the logo on the hood are about all these two cars have in common.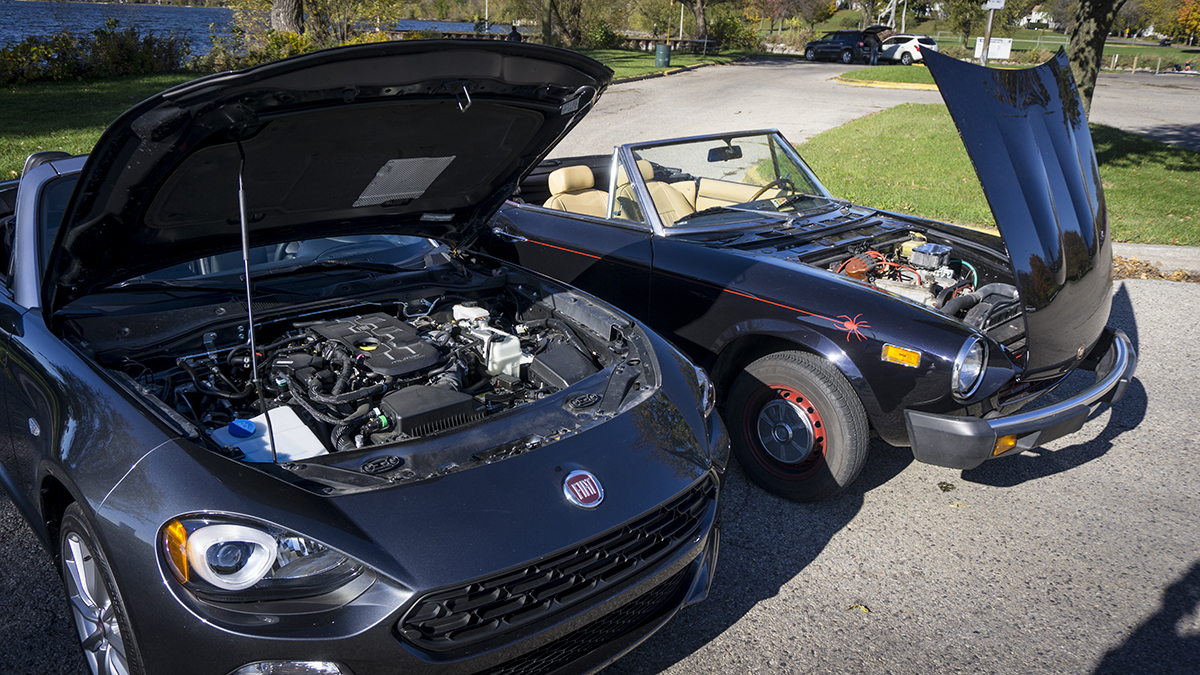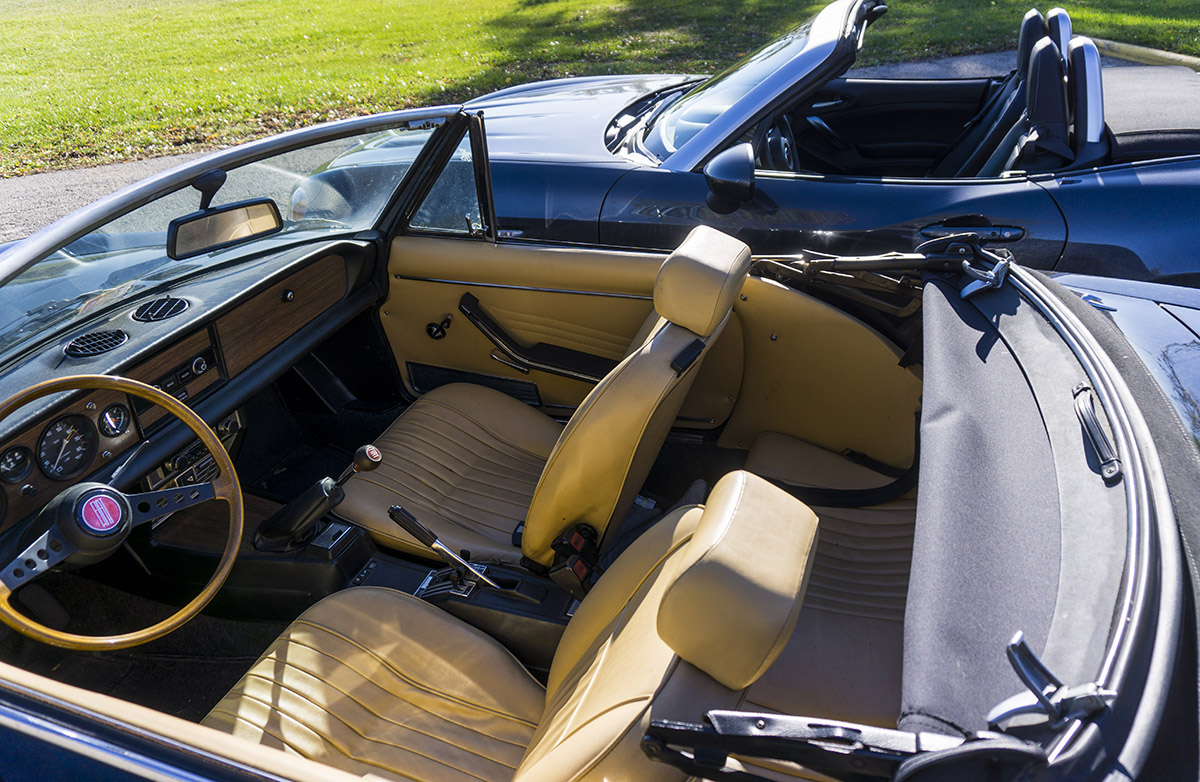 And that's okay, because the original 124 while one of the most beautiful cars ever built, was never one of the best drivers in stock form. It was slow, sloppy, and of course unreliable. Nostalgia may have us ooh and ahh over them when we see them parked on a sunny day, but drive one for any length of time and your vocabulary of abusive Italian epithets will grow long in short order.
The new Fiat 124 Spider Lusso is different. It's about as joyful as a modern car gets.
There is no other convertible (except the Mazda) that opens up to the sun more quickly and easily. With just a flip of the center latch, you can both raise and lower the top in less than 5 seconds. The minute the temperature climbs above 40 here in Wisconsin I put the top down, crank up the heated seat and turn the heat up to nuclear. I was plenty warm and cozy thanks to my goofy wool hat, bulky turtleneck sweater, and the way the car directs the wind over and around the cockpit with the windows up.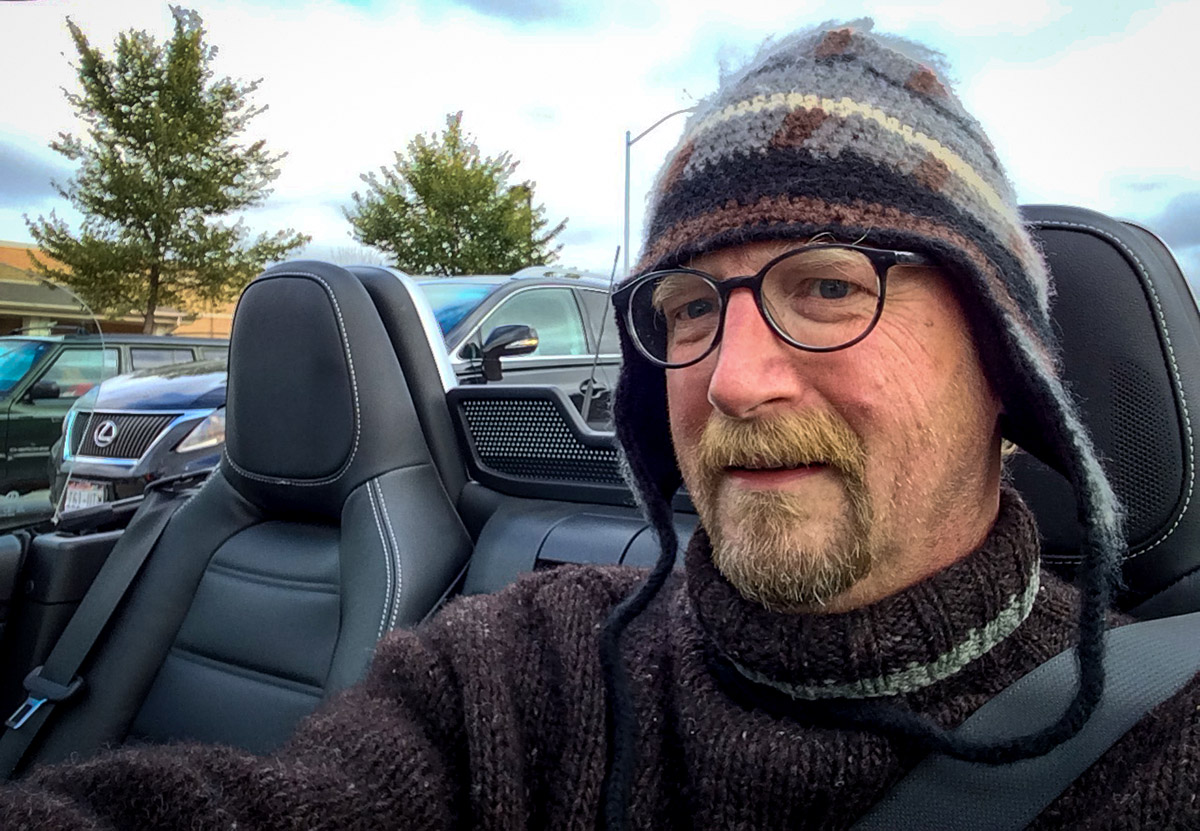 The little four-banger eagerly revs to its 6,250 RPM redline. When you switch off the traction control it becomes a tossable drift machine thanks to the skinny tires which are completely appropriate on a car like this. It's roomy enough for even my 6 foot 3 inch frame with just a little bend in my knees, and it's certainly easier to get in and out of than its cousin the Alfa 4c Spider. Yes, there's a serviceable audio system, but this is a car where you'll want to keep it turned off and listen to the birds sing as you fly by. And, thanks to a suspension that's tuned for touring not racing, you can do all this without getting beat up by the glaring imperfections that are so common on our roads these days.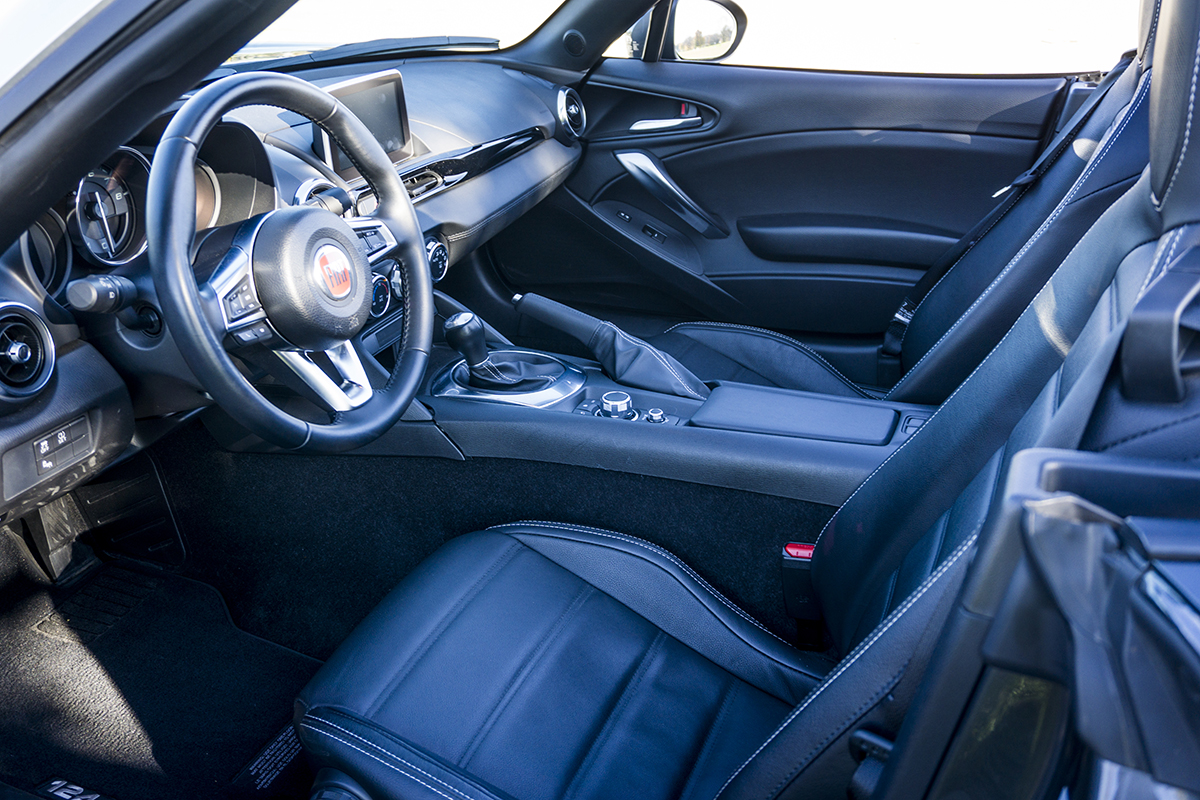 I really loved having the Fiat 124 Spider in my driveway and on the road for a week. It's a serious contender to replace the aging Mustang convertible my better half uses as a daily driver when there's no snow on the ground here in Madison. The only thing I wish is that the interior were more on brand. It's certainly solid, well thought out, and well executed. In fact I love this interior in the MX-5. And that's my real problem with it. It needs to be more Fiat, more Italian, more crafted, especially in the upmarket Lusso edition. Other than that, I can't think of anything that would make me happier on a sunny Sunday than going nowhere special in a Fiat 124 Spider.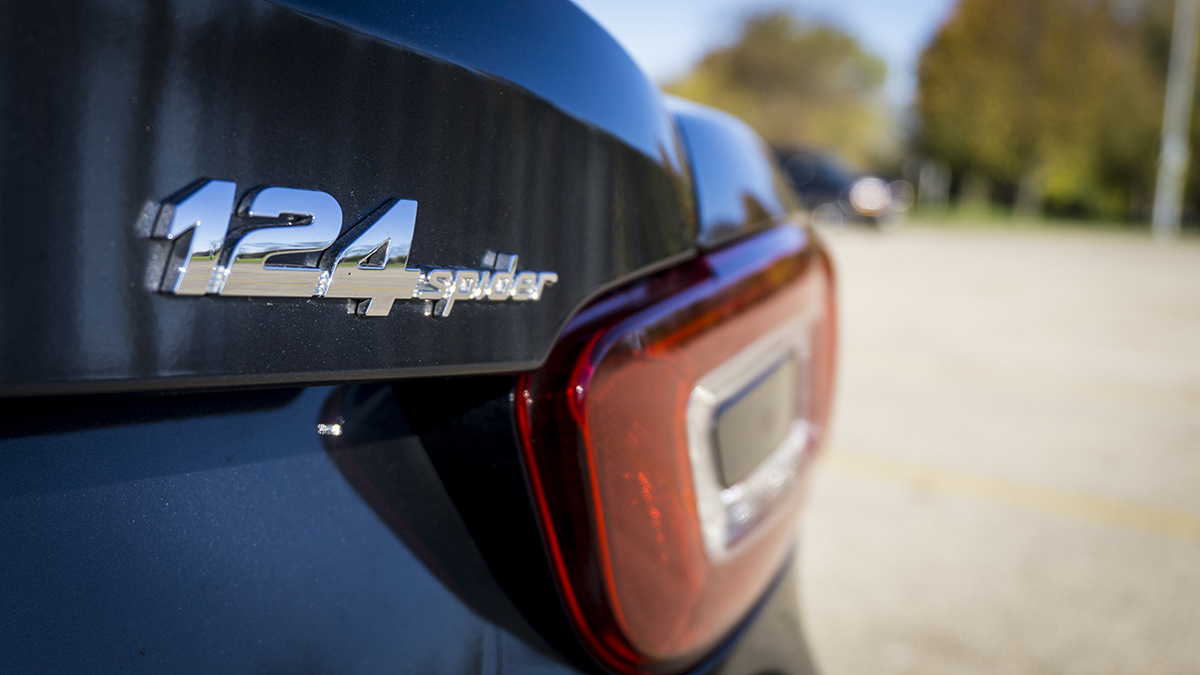 2017 Fiat 124 Spider Lusso
Two-door, two passenger, rear-wheel drive convertible.
Base Price: $27,495
Price as tested: $29,985 includes $995 destination charge
Options: Safety & Comfort Package ($1,495) includes blind spot monitoring with cross-traffic alert, rear park assist, heated exterior mirrors, universal garage door opener, security alarm.
Engine: 1.4 liter, turbocharged, single-overhead cam, inline 4-cylinder
Transmission: 6-speed manual
Power: 160 hp @ 5,500 RPM
Torque: 184 lb.-ft. @ 3,200 RPM
Curb weight: 2,436 lbs
0-60 MPH: 6.5 seconds
Top Speed: 130 mph
EPA MPG: 26 city/35 highway/30 combined