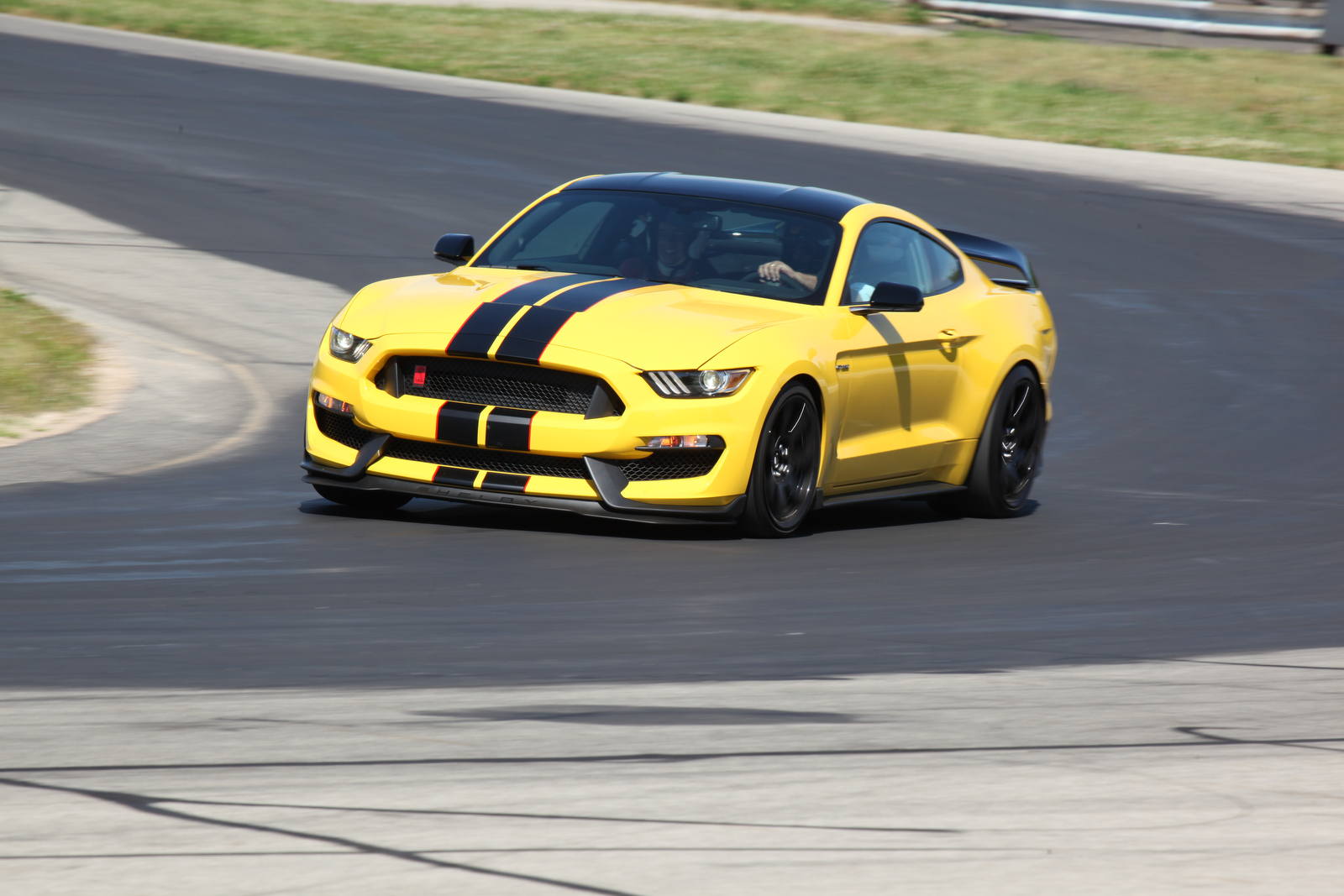 "Voodoo," that's the code name Ford engineers gave the engine in the new Shelby GT350 Mustang. After spending a morning driving around Road America in Ford's ultimate pony car, I can see why.
I am completely under its spell.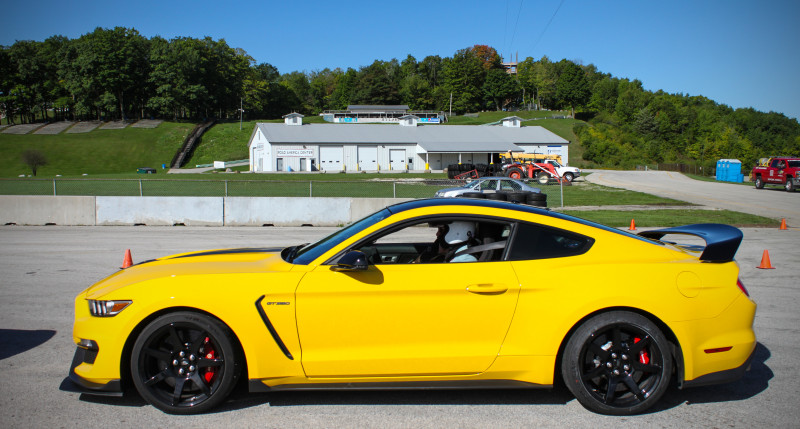 This magical power plant is a 5.2 liter naturally aspirated, all-aluminum V8 engine that makes 526 horsepower at 7,500 rpm with a redline that reaches all the way up to 8,250 rpm. At the heart of the engine and making it different from every other domestic V8 is a flat-plane, forged steel crankshaft. Rather than connecting to the pistons at 90-degree intervals, the connections are 180 degrees apart. This improves engine breathing and makes it sound like no other engine on the planet.
If you can't drive a stick shift, you can't drive this car. The only available transmission is a custom designed Tremec 6-speed manual with a case and gear set tooled specifically for the GT350. The engine and transmission work together flawlessly. They can pull you out of a tight corner at low rpms or scream down a long straight near the engine's rev limit. The car is perfectly happy doing both.
But if you think the Shelby GT350 is just about putting power to the pavement, you'd be wrong.
The 2016 GT350 is a direct descendent of Carroll Shelby's 1965 car which was designed to dominate road courses. It did just that, winning the SCCA B Production championship that year, finishing first at Lime Rock, Road America and other of the country's iconic racetracks.

This new Shelby Mustang is a state-of-the-art track car with a thoroughly modern suspension, wicked quick steering and artful aerodynamic work that keeps the car firmly planted on the track at speed. It's also been put on a diet that would make Oprah envious. Everywhere weight can be cut on this car, it has.
The aforementioned engine uses an all-aluminum block. The lightweight crankshaft reduces inertia so it spins faster. And, the composite oil pan shaves several pounds off the scales. The standard aluminum wheels weigh just 33 pounds. In addition, there's liberal use of aluminum throughout the chassis, body and suspension parts.
If you order the race-ready GT350R, Ford has gone to even further extremes to take the pounds off. I would say that creature comforts take a back seat to performance in the 350R, except there is no back seat. It's been deleted because it adds unnecessary weight on the track. Open the trunk lid and you won't find carpeting, a spare tire or even tire repair kit. They're gone too. Ford has also taken out the air conditioner, radio and floor mats. And then there are the carbon fiber wheels – the first ever used in a mass production performance car – that weigh just 18 pounds a piece. Overall the GT350R is more than 150 pounds lighter than the base Shelby GT350.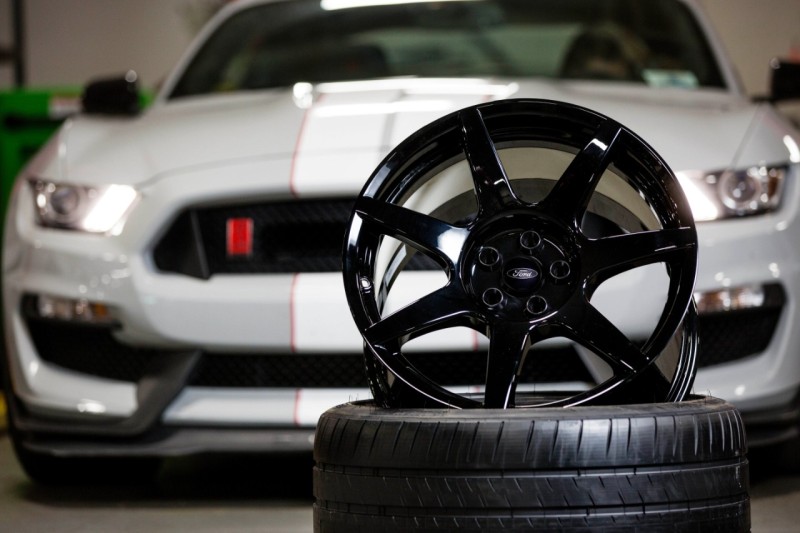 Stopping the GT350 is a confident affair. Ford engineered a powerful set brakes with rotors that are 15.5 inches in diameter up front and 14.9 in back. The iron rotors are drilled and have directional vanes to improve cooling. The two-piece design features an aluminum center cap that reduces heat transfer from the brakes to the wheel hubs, reducing bearing wear. The feel was excellent and even after running hard all day, there was no discernable fading.
Steering is an electronic power assisted rack and pinion system. Like most modern performance cars, the steering feel is selectable, with normal, sport, track and wet settings, allowing you to customize the amount of resistance and feedback that's transferred to the leather and alcantara wrapped wheel.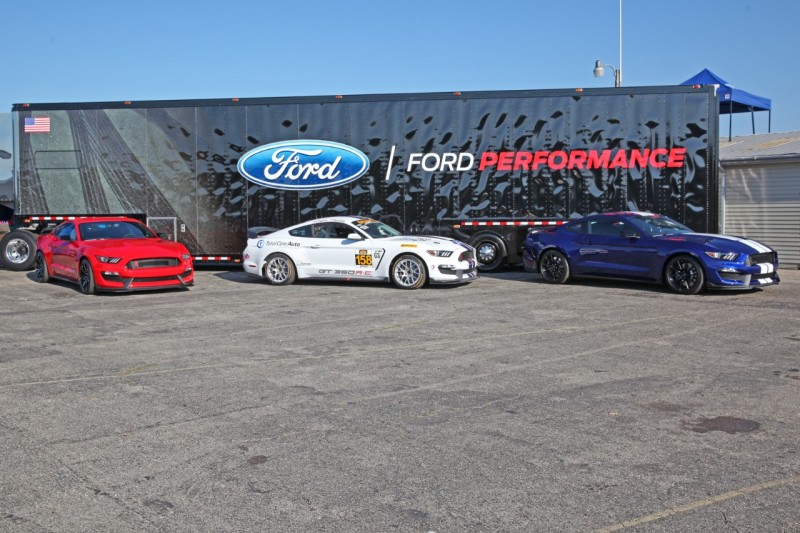 The GT350 is available in five variants, each package has been designed for different levels of performance and a unique purpose. Three things are common across all the cars: the engine, transmission and brakes. The differences really come in the suspension, chassis tuning, equipment levels and aero bits.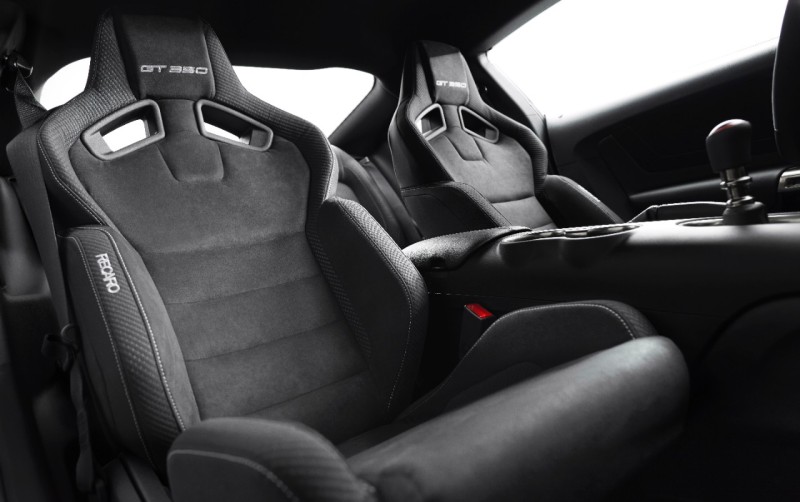 The base GT350 is a pure performance car that starts at $49,995 and offers all the creature comforts you want in a street car. The cloth Recaro seats are firm and supportive. It offers air conditioning and other comforts including a 6-speaker AM/FM infotainment system featuring Ford's SYNC system.
Move up to the track package, a $6,500 option, and you get the addition of the MagneRide suspension with its selectable drive modes, stiffer performance springs up front, oil coolers for the engine, transmission and differential as well as a spoiler on the rear decklid.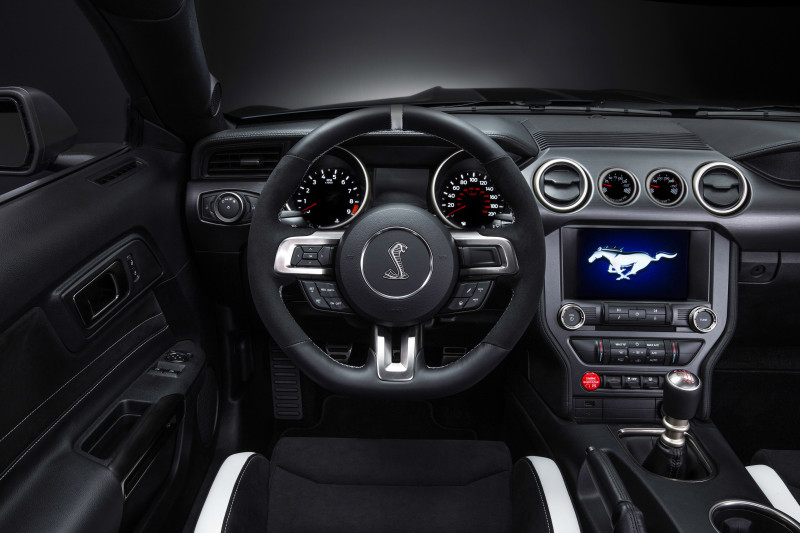 The GT350 also has an available technology package which adds $7,500 to the sticker price for those who want all the bells and whistles in their car. In addition to the track package equipment, it includes a voice-activated navigation system, heated and cooled 6-way power front seats, a 7-speaker audio system with SiriusXM, an 8-inch touch screen and Ford's latest SYNC 3 system. You also get dual zone automatic climate control.
The GT350R will set you back $63,495 and is for those who plan on driving mostly on the track. The carbon fiber wheels and ultra-high performance Michelin Pilot Sport Cup 2 tires are an inch wider front and rear than those found on the base car. The chassis is tuned for the track and you'll find a front splitter and rear wing that increase downforce to keep the car planted on the track.
If you like a little comfort with your racing, for an additional $3,000 the GT350R also has an electronics package that mirrors the technology package on the GT350. In addition you also get floor mats, and in case you ever need it, there's a tire sealant/inflation kit in the trunk.
With every single option and package selected, the GT350R comes to a total of $68,535 which seems like a lot of money until you look at the competition. A comparably equipped Z51 C7 Corvette comes to nearly $75,000. The BMW M4 runs $70,000 and a Mercedes AMG C63 Coupe is over $80,000.
After lapping Road America in the Shelby GT350 in all its variants, I can definitely say that this Mustang is different and better than any that have come before it. It's quicker, handles better and sounds unbelievable. You might say it's the 2016 Shelby GT350 is a Mustang that's been transformed by voodoo.
Ford Shelby GT350 Mustang
2-door four passenger sports coupe
Priced From $49,995
5.2 Liter flat-plane crank V8
6-speed manual transmission
Rear-wheel drive
Horsepower: 526 @7,500 rpm
Torque: 429 lb.-ft. @4,750 rpm
0-60: 4.3 seconds
Top Speed: 175 mph
EPA Fuel Economy MPG: 14 city/21 highway
www.ford.com
While the manufacturer paid for the track time and provided the vehicle for this story, the opinions and recommendations in this post are 100% ours.