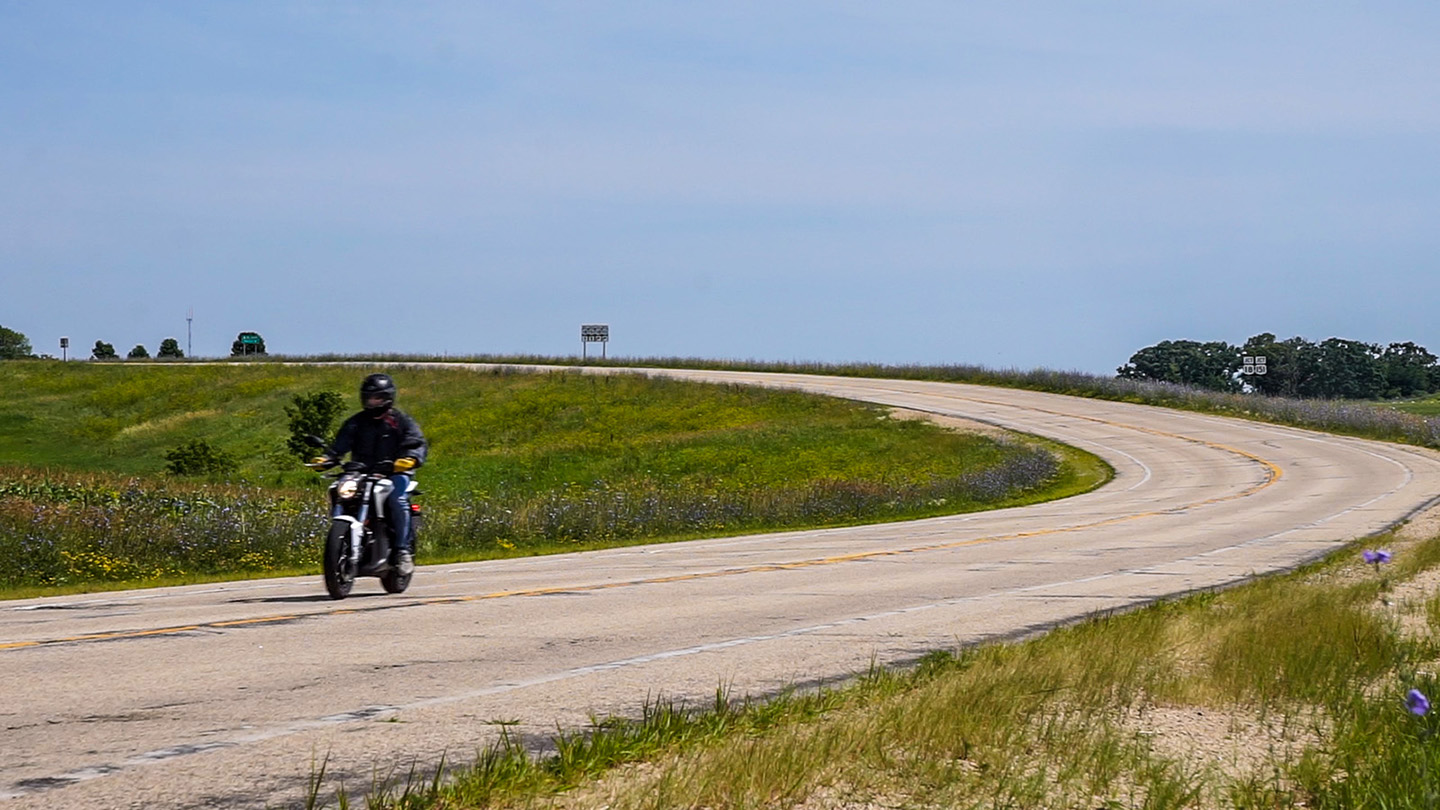 Right up front I want to make this perfectly clear. It was operator error that left me stranded at a rural intersection surrounded by cornfields on a hot Tuesday afternoon in early July. I ran the Zero SR electric motorcycle out of juice and was now praying I could get a signal on my cell phone to call for help. Had I not veered left staying on U.S. 14 and instead gone straight on Illinois Highway 23 just south of Harvard, I would have made it to Randy's Cycle with at least 15 miles of range left it the battery. So confident was I of reaching my intended destination, I posted this on Instagram about 45 minutes earlier.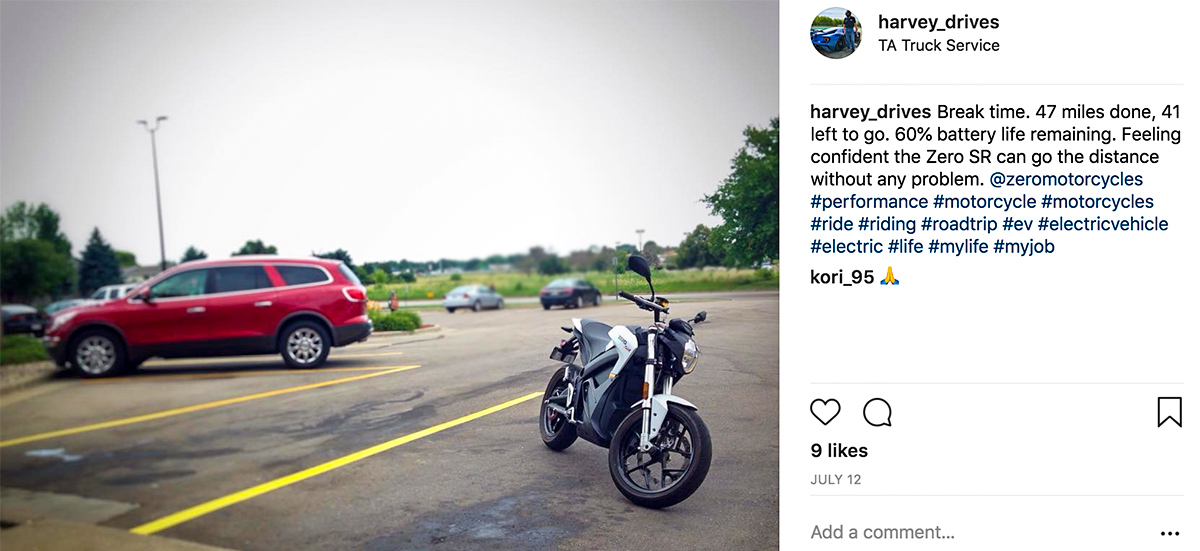 There I was however, helmet off, jacket unzipped, living every EV owner's worst nightmare, miles from nowhere, without any hope of putting even a few volts back in the battery so I could get on the road again. Fortunately, I had a full battery on my iPhone and decent reception so just 30 minutes later it all ended well when the flat bed truck pulled up to haul the bike, and your slightly embarrassed author to the dealership where I was to drop off the bike and catch a ride back to Madison. It wasn't the way I wanted to end my month long test of this innovative bike. But this ride did emphasize the Zero's strong and weak points.
The Zero SR is designed for two types of riding, mid-range throttle therapy runs on your favorite two-lane country road or efficiently commuting to an office that's less than 40 miles away. It excels at both of these tasks.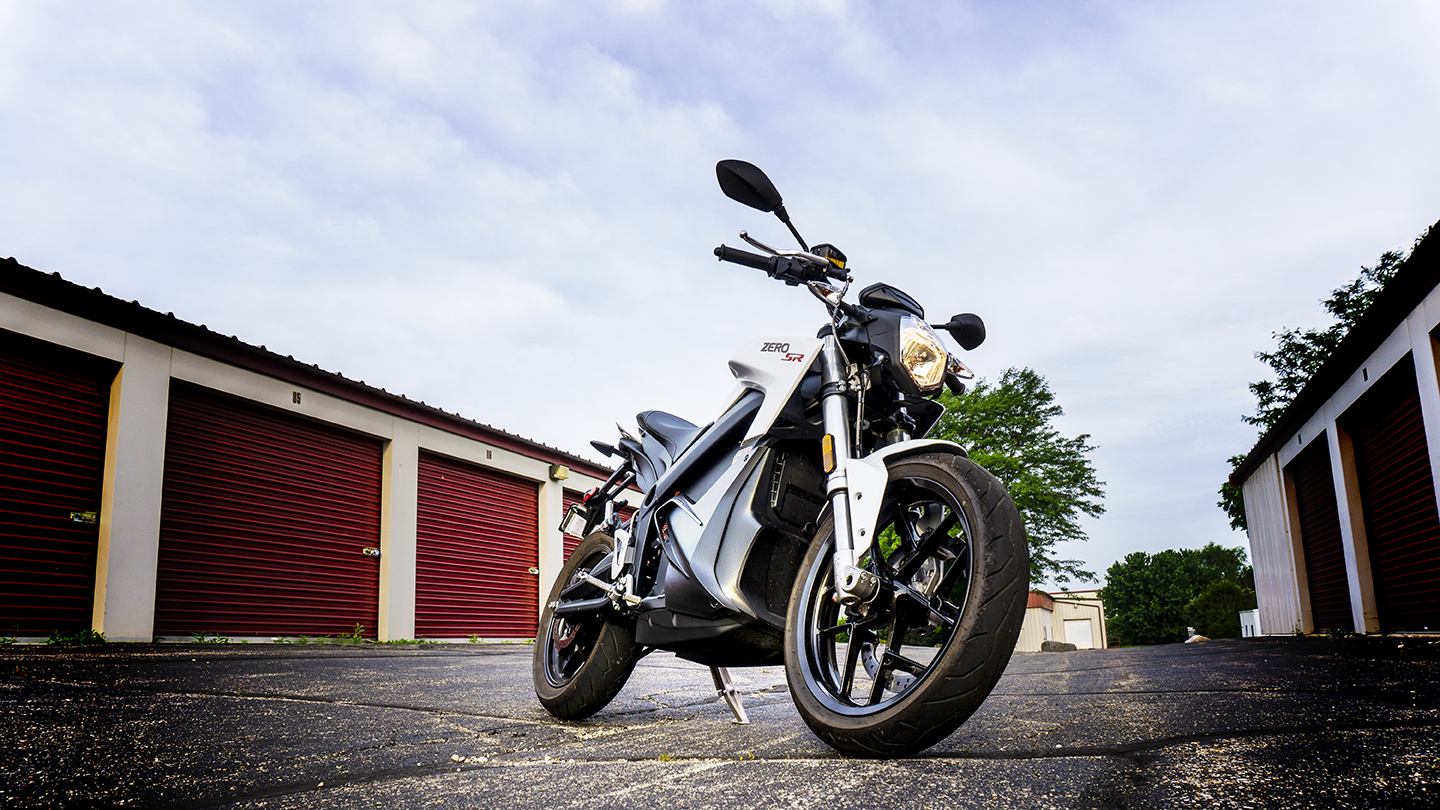 The Zero SR is a naked street bike with an all-electric powertrain capable of going 90 miles on the highway and 180 miles around town if you start the trip with a full battery. Those maximum range numbers assume you're in Eco mode using the throttle judiciously and getting a bit of regeneration through the braking system. Switch into sport mode, perform a couple of full throttle leaps off the line, and then run at 70 miles per hour and you'll see the charge percentage drop faster than a mafia snitch wearing cement shoes. If you're doing really spirited riding, count on about 50 miles before you're going to want to look for a charging station.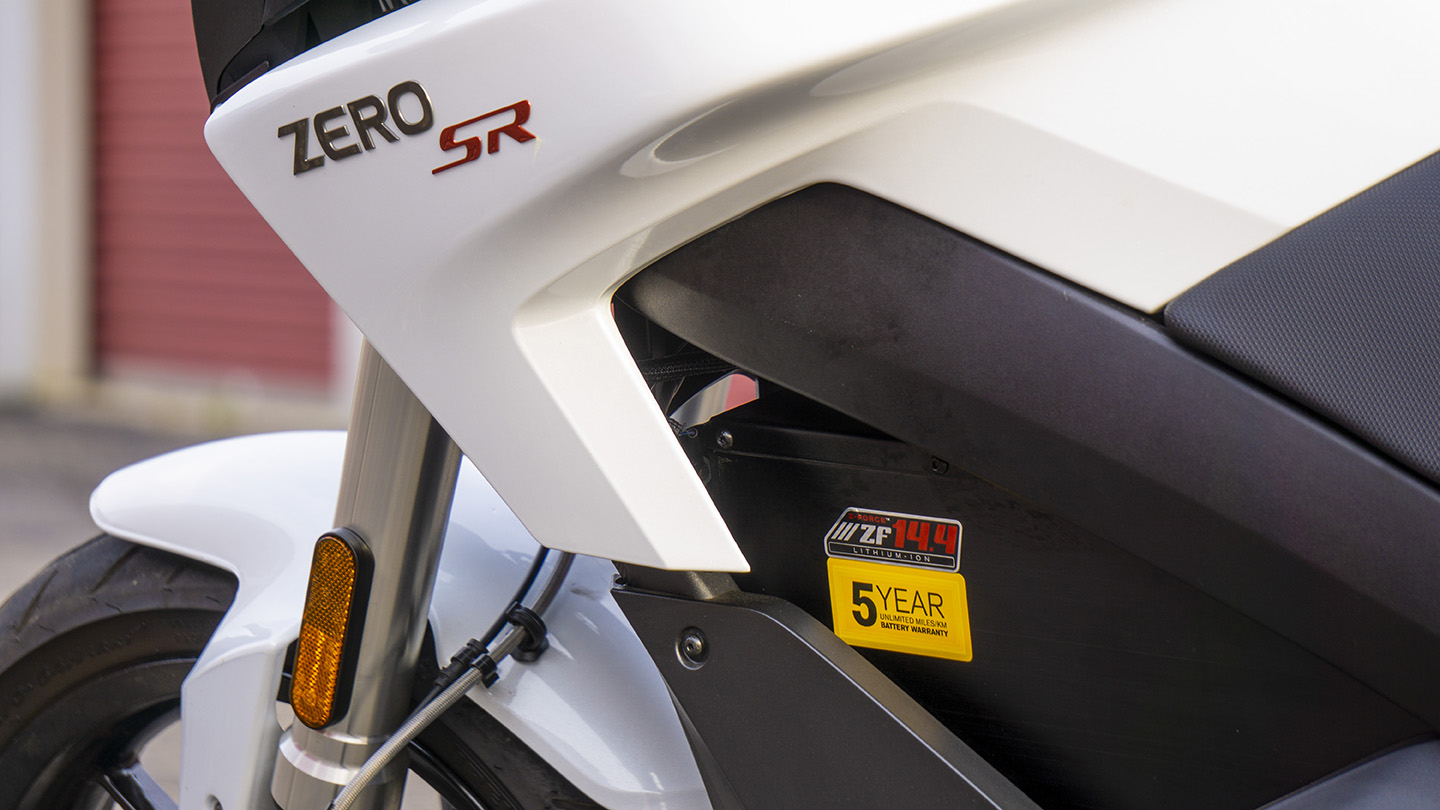 Now that we've dealt with the challenges of riding an electric motorcycle, let's talk about the good stuff – and there's a lot of it on the Zero SR. This powertrain is seriously quick with full torque acceleration available instantaneously at almost any speed. It's modulated a bit off the line to keep knuckleheads from doing really stupid stuff, but once the full torque is there… wow.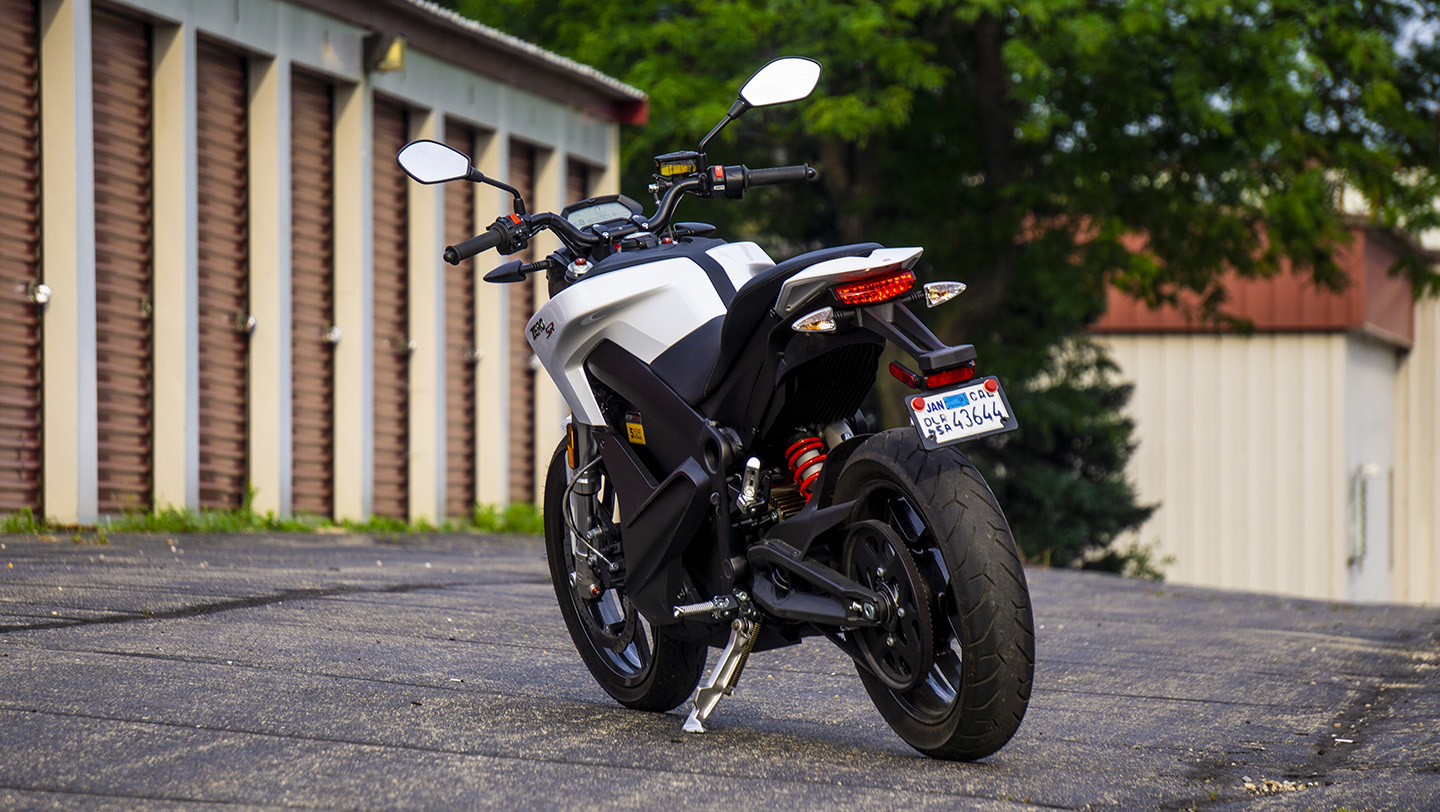 I was warned when I picked up the bike to ride it in Eco mode for a while to get used to the different sensation of the electric motor which spins the rear wheel directly via a carbon fiber reinforced drive belt. There are no gears. There is no clutch. The throttle is a rheostat that governs the amount of juice that goes from the battery to the motor with a little computational work going on in the controller in between. It didn't take me long to get comfortable and want to see what the bike really had. I tapped the drive mode switch into sport mode and riding along at 40 miles per hour rolled the throttle back for my first taste of all-electric acceleration. It's breathtaking.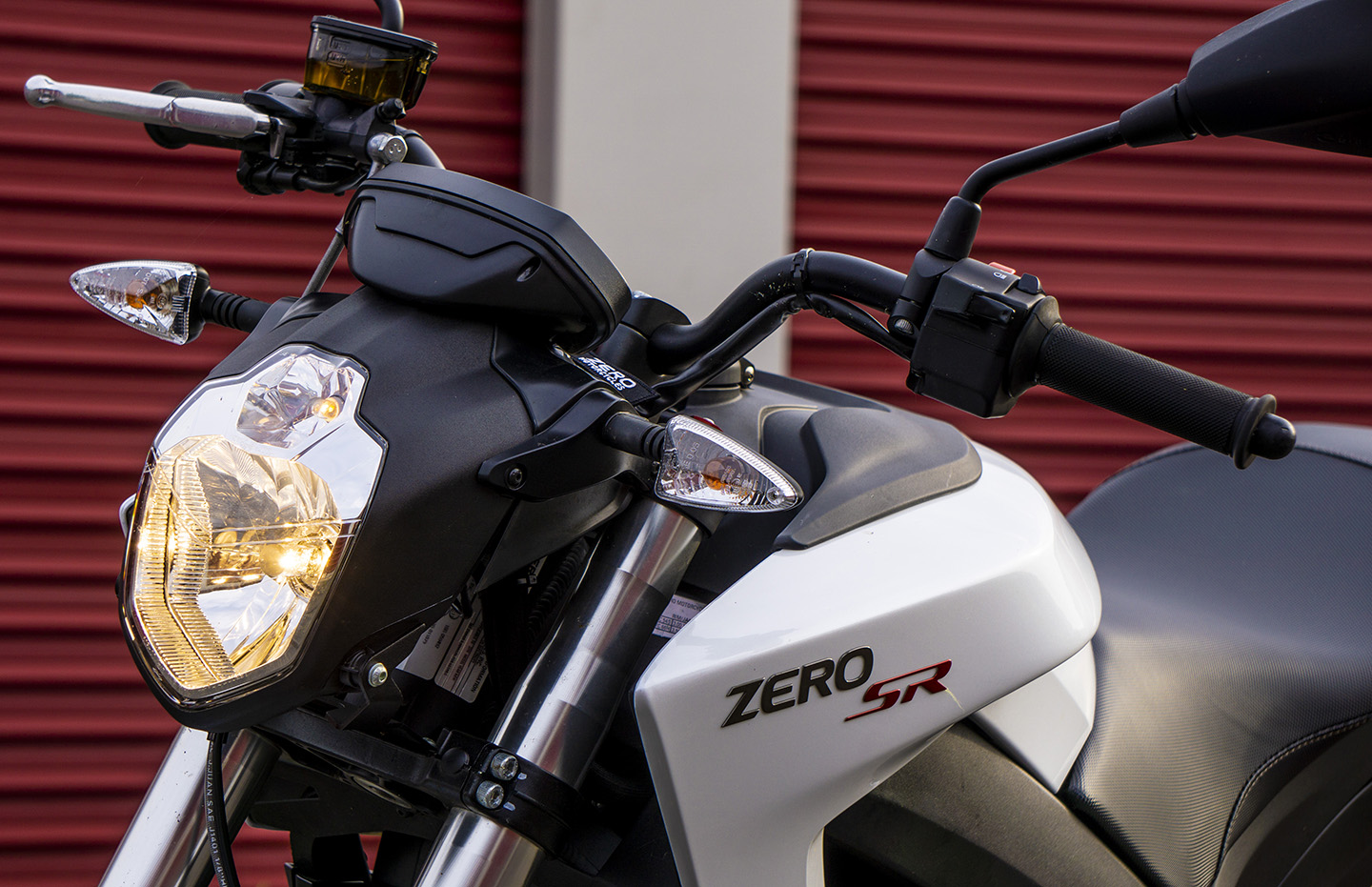 Unlike a gas-engined bike, there's no downshifting necessary to access maximum power and torque. With Zero's Z-Force, air-cooled, brushless electric motor, it's always there. And because there's no sound, the acceleration feels otherworldly. The quiet rush I experienced as the bike leapt to 70 miles per hour was exhilarating, but in the calmest way possible. While my Ducati 900 SS thunders as I rev it toward peak torque at 6,500 RPM, the Zero delivers twice the torque anytime, anywhere, regardless of whether you're cruising through traffic at 25 miles per hour or blasting through a curve well above the legal limit. Other than wind noise rushing past my ears, it's damn near silent. This can be a problem. Without an audible indication of speed, I tended to ride a little faster than usual, which is to say really fast. This bike is as stable as it is quiet, with agile moves and surprisingly effective brakes given the single slim rotors front and rear.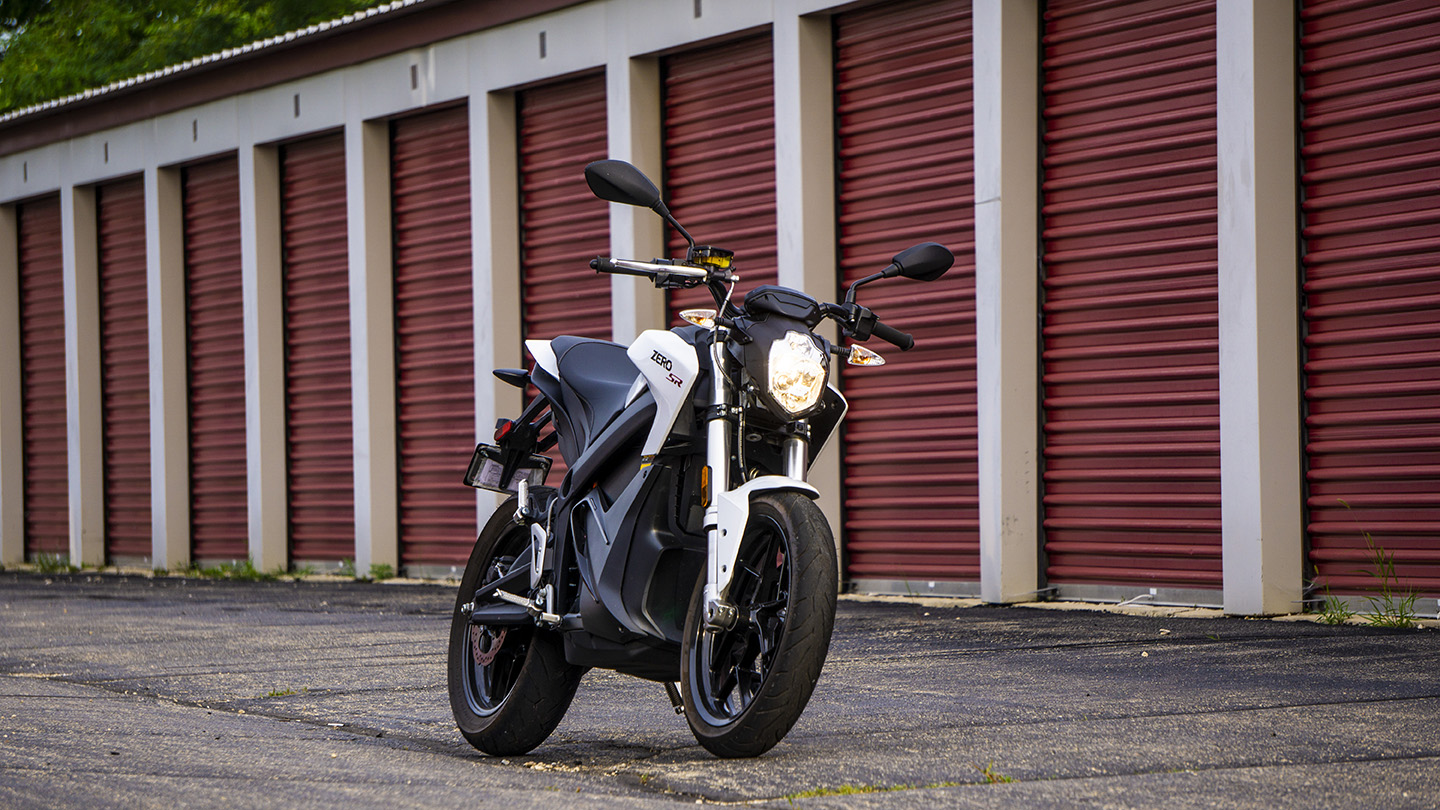 It's ability to carve a corner saved me more than once after I entered a turn a little hotter than I probably should have. Just ask for a little more lean and it delivers. In talking to VP of Development for Zero, Brian Wismann, he said the benchmark for the SR's handling characteristics was a Ducati Monster. It's an admirable target and one they've met. Even though it's a narrow bike with fairly modest rubber, the Zero SR tracks straight and true. As you would expect, it changes direction quickly and confidently.
Since it's a naked street bike, the riding position isn't too extreme. Your feet are under you and the bars have a little bit of rise for a more upright riding position. At 6'3", I'm fairly tall and the bike fit me well overall. When I was trying to extend my range, I could comfortably lean forward with my chest close to the tank, reducing wind resistance. With no vibration and a nicely padded but firm saddle, riding for an hour or more wasn't an issue at all.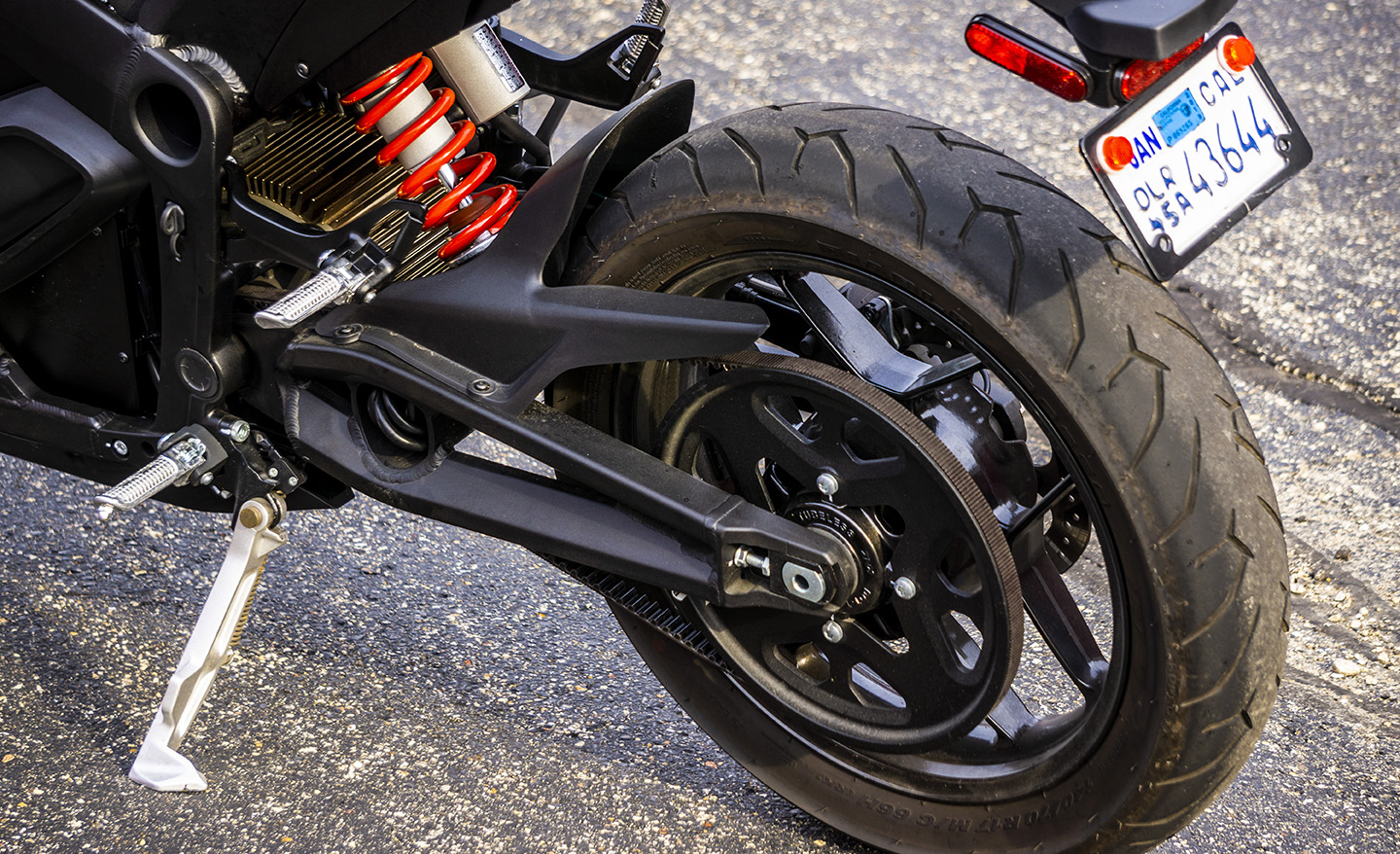 Another benefit of an electric bike is maintenance, or lack of it. There's no oil to change, filters to clean, valves to adjust, carbs to tune, injectors to clear, or clutches to burn out. The only parts that experience any wear are tires, the belt, and brakes. The battery is guaranteed for 5 years, and according to the folks at Zero, typically there's only a 10% efficiency drop in those five years. You can charge the SR overnight on a standard 110/120 residential outlet with the cord that tucks neatly in a space in the frame. Add the optional Charge Tank and you can charge six times faster at Level 2 charging stations.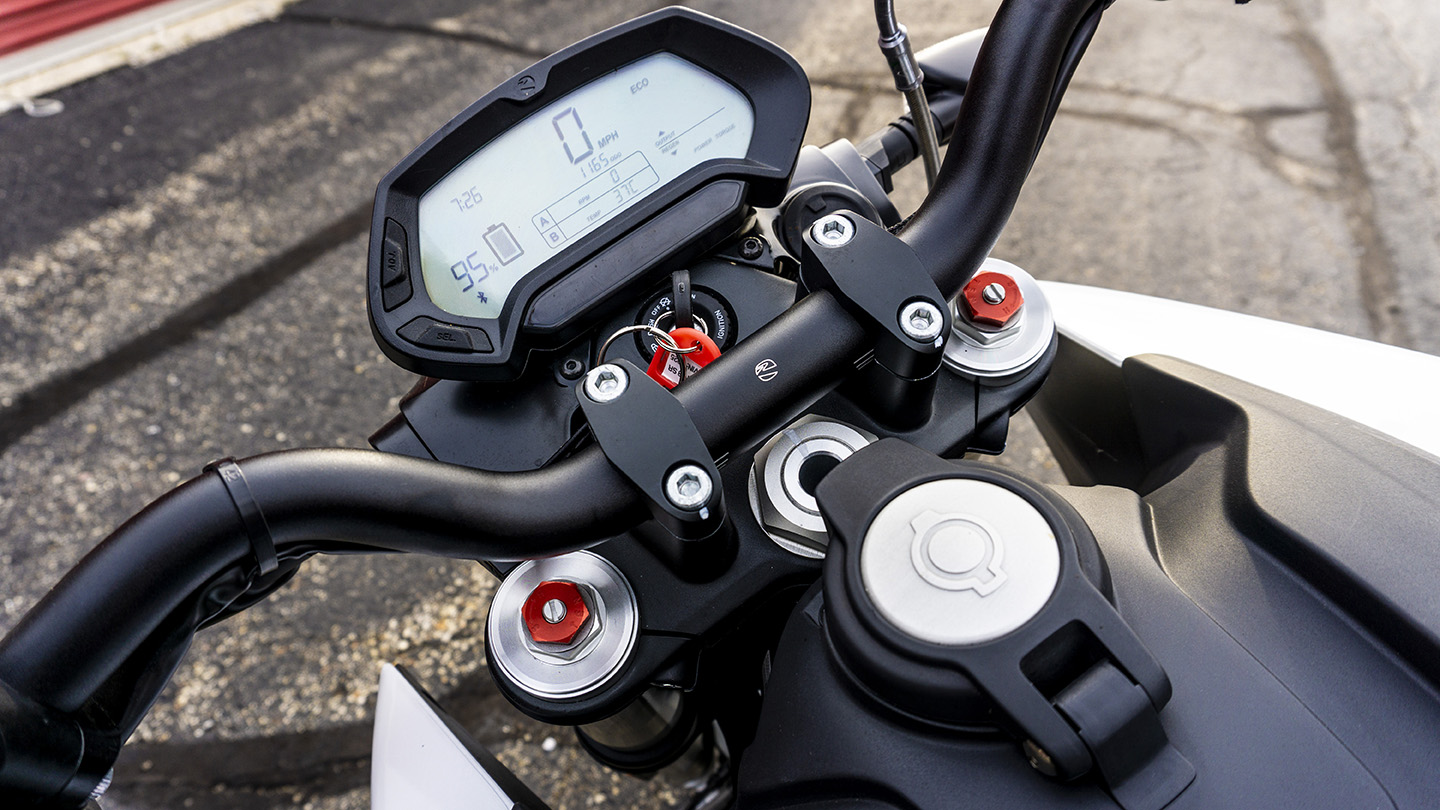 The Zero attracts its share of attention. I took it out to a weekly bike night at a local watering hole to get some reactions from a wide range of riders. This event attracts sport bikers and cruisers, and no matter what their ride, they were interested in this bit of voodoo. I answered a lot of questions about range. It's always the first one. Then acceleration. And ultimately price. And that's where the Zero faces some challenges. This bike with the optional Charge Tank netted out at almost $19,000. That's about 50% more than other premium naked bikes like the Ducati Monster 821 and BMW F 800 R. The decision to buy a Zero is about more than performance and money. It's about leading the charge to an electrified future.
It's a future I'm glad I got a taste of this summer.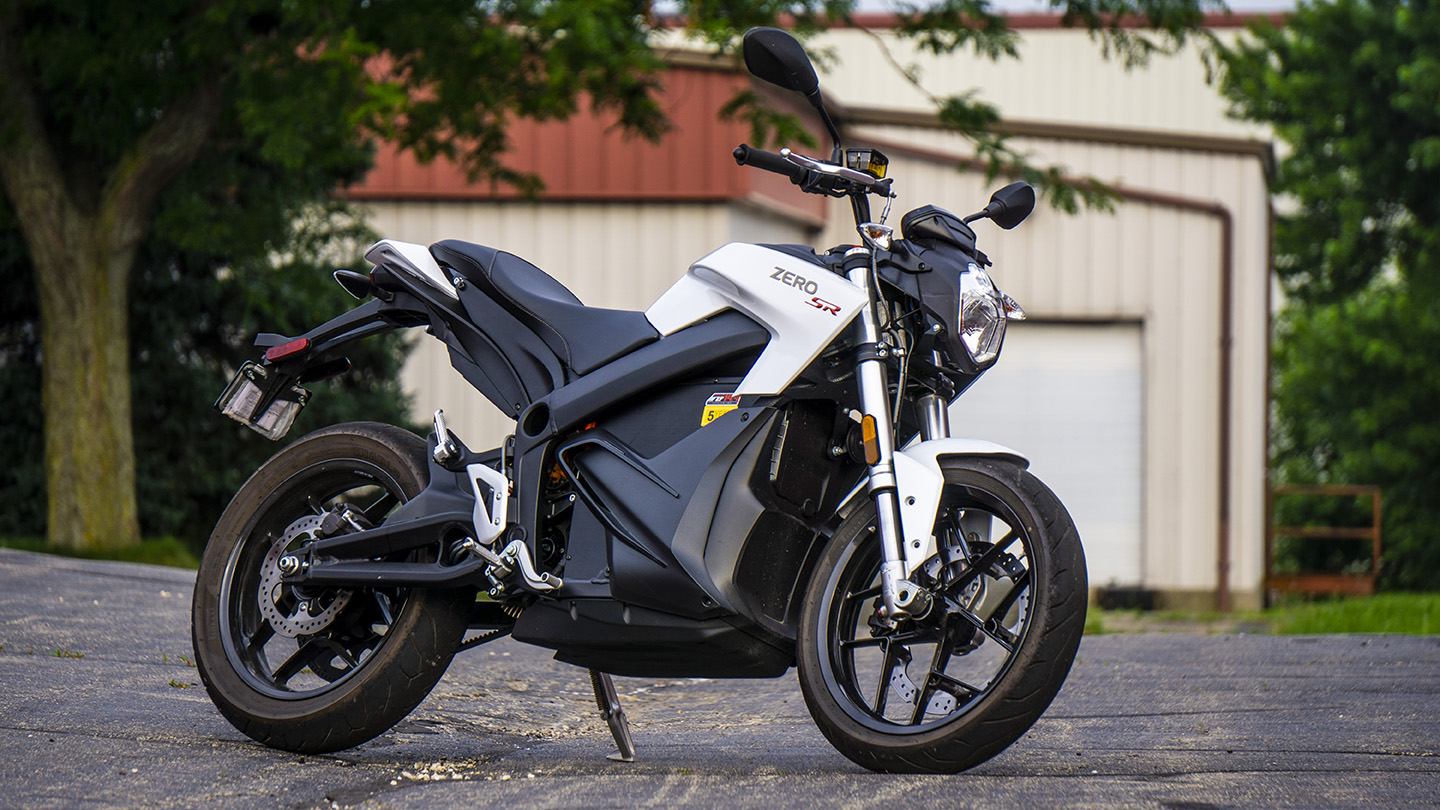 2018 Zero SR
Naked Street Motorcycle
Base price: $16,495
As tested: $18,790 (excluding delivery)
Battery capacity: 14.4 kWh
Range: 179 city, 90 highway
Charge time to 100%: 9.8 hours (standard) / 2.5 hours Level 2
Motor: Z-Force 75-7R electric motor
Transmission: 1 speed direct drive
Curb weight: 414 lbs
Seat height: 31.8 inches