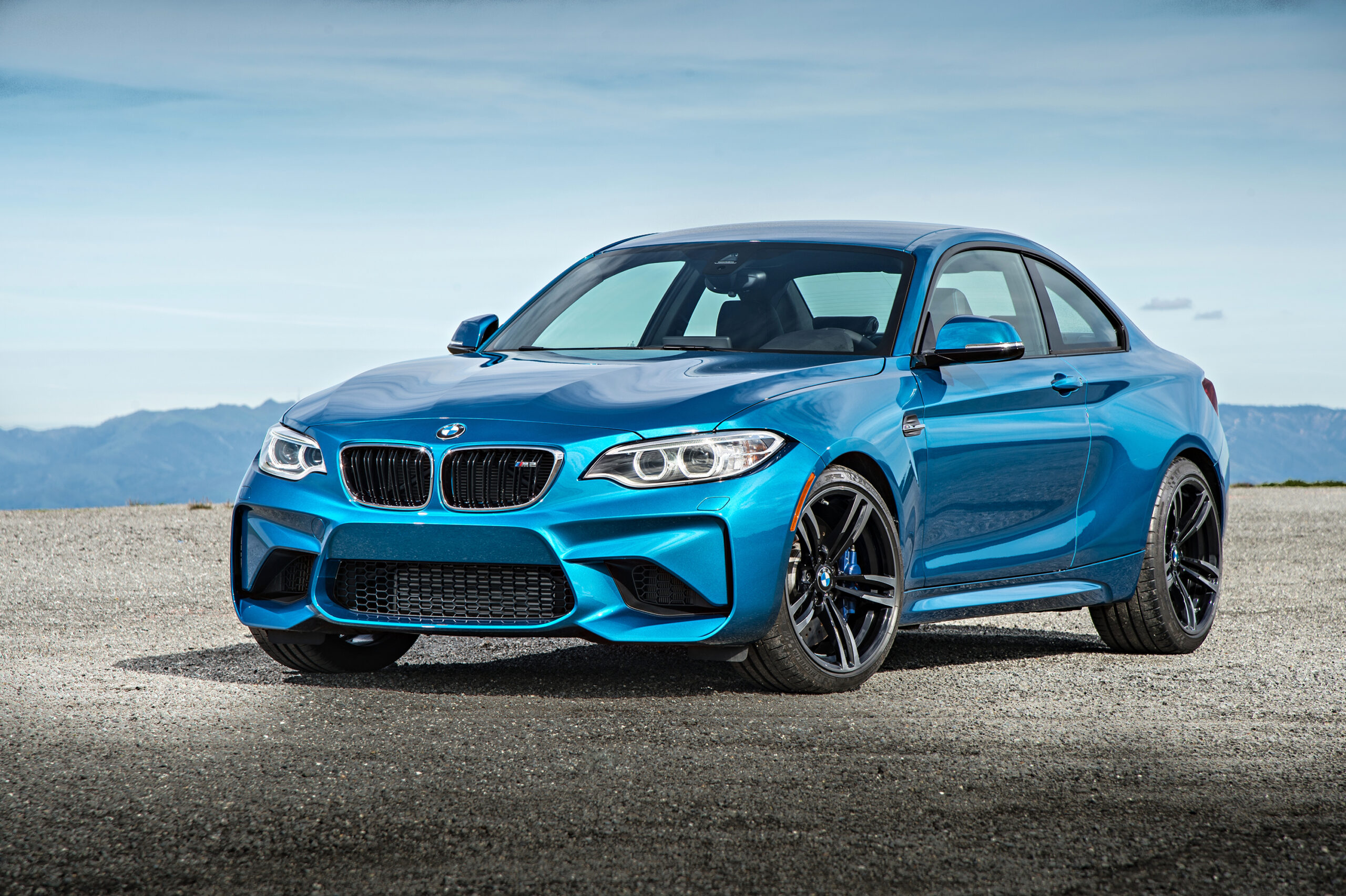 My friends, we are at a crossroads.
We are at a point in our automotive history at which we can stand up for our freedom to carve up the open road or let those who think they know better take it from us. We can choose a path where we, the drivers, are in control or we can cede all decisions to the technologists who would like nothing better than to take the wheel from our hands and the pedals from our feet.
There are two futures in front of us and it is time to choose.
If you prefer to go through life passively, letting others dictate your path, fine. Then hermetically seal yourself inside your Google-guided, electrically-powered, silent bean pod and let it take you where it will. I'm having none of it.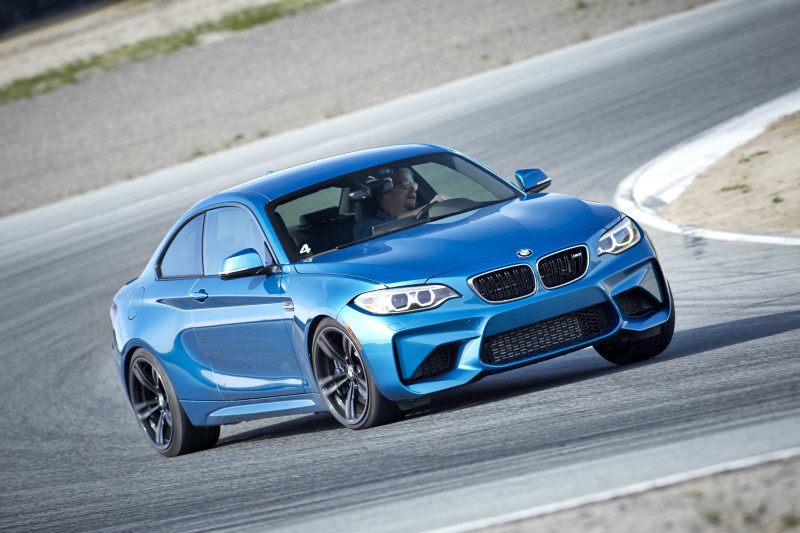 I want a leather-wrapped steering wheel in my left hand, a short-throw six-speed in my right, and three pedals at my feet. I want to hear the rumble of a throaty internal combustion engine in my ear. I want to feel the tires dig in as the weight transfers to the outer wheels when I nick the apex of a corner. I'm happy dancing on the edge of adhesion and feeling my heart beat a little faster knowing I pushed the envelope just a little further that time. No pods for me. I want to drive.
Apparently BMW wants me to as well.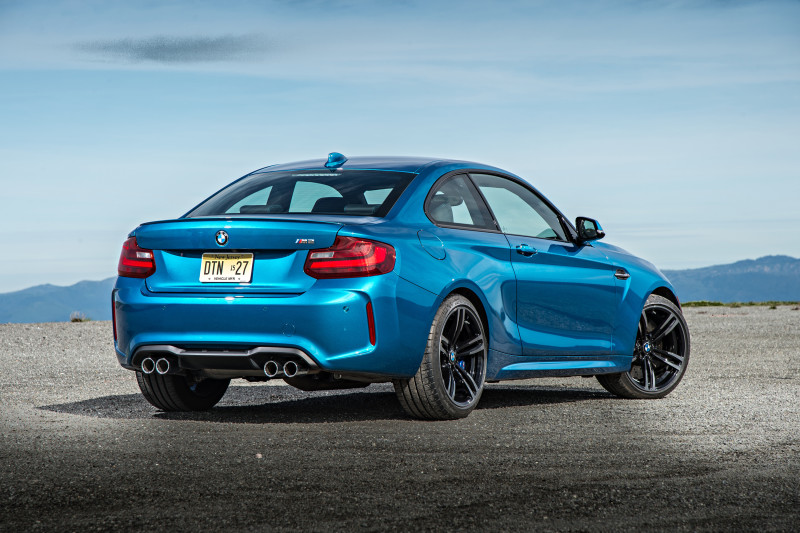 The M2 is everything the current Orwellian vision for the future of mobility is not. The M2 is freedom cleverly wrapped in its not so subtle bodywork. It is a car that is all about the driver, designed to satisfy his or her wants and needs and nothing else. This car is as personal as personal transportation gets.
It starts with the overall proportions and packaging. The M2 is small with a wheelbase of just 106 inches but features a wide stance that helps it handle tight and twisty sections of the road or track with ultimate confidence. Displaying the classic BMW M proportions with a long hood and short rear deck flanked by muscular fender flares, the 2016 M2 begs to be driven. Inside this car is all about the driver. Yes, there's a passenger seat and something behind the driver that I suppose people could sit in, but that's not really the point.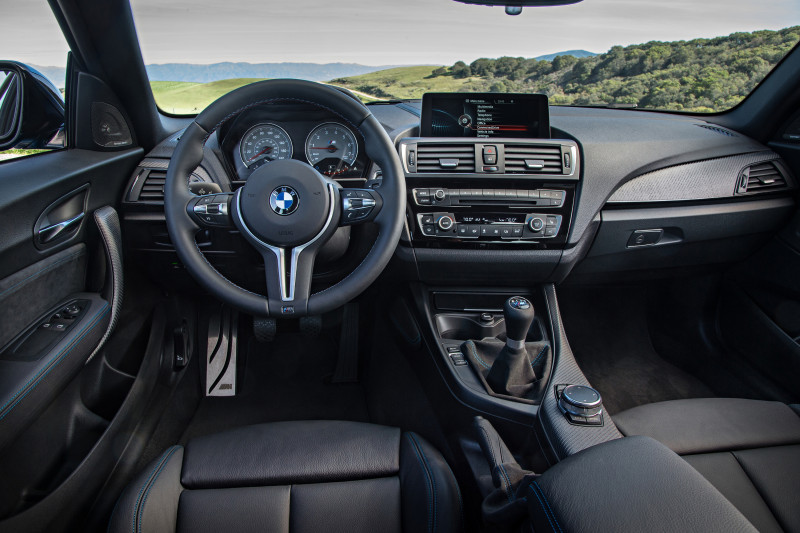 The point of the M2 is clearly made when you depress the clutch, hit the start button and blip the throttle. The 3.0 liter TwinPower turbo six-cylinder engine snarls to life. Using bits and pieces from the M3/M4 power plant, including the pistons and crankshaft bearing shells, this engine spins quickly to its 7,000 rpm redline. Peak torque of 343 lb.-ft. lasts from 1,400 – 5,560 rpm, while power tops out at 365 HP at 6,500 rpm. The point is, you don't have to keep the needle pegged at the top of the tach to enjoy this car. Power comes on early and pulls throughout the rev range.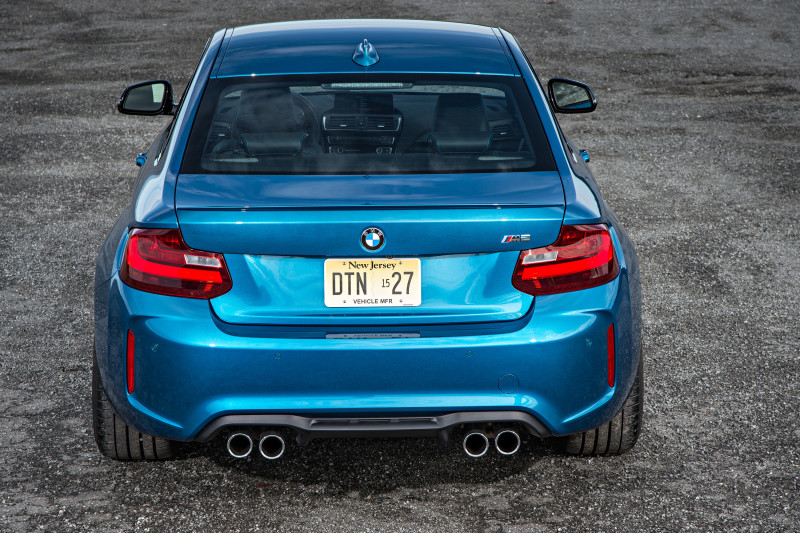 The power gets to the rear wheels in one of two ways: via a standard six-speed manual transmission with automatic rev-matching (which you can disable by turning DCS off) or a seven-speed double clutch transmission. The race-inspired and developed DCT offers quicker shifts and gets you to 60 miles per hour from a dead stop in 4.2 seconds saving you a precious .2 seconds. But for me, this car is better with the manual. Don't get me wrong. The DCT is good. Left to its own devices, the shifts are precise and appropriate. I lapped Laguna Seca hard a few times in full-auto mode and it was always right where it needed to be. For everyday driving, however, the manual offers a better overall experience. It's more engaging, more fun, more BMW.
No matter which transmission you choose the power is divided between the rear wheels by BMW's Active M differential that increases traction and improves stability under acceleration and through the corners. It transfers the power between the wheels depending on which needs it most. Hit the MDM (M Dynamic Mode) button and the fun really begins. The electronic nannies step out of the way a bit allowing you to enter into controlled drifts with the confidence of knowing that if things really get hinky, there's help waiting closer the edge.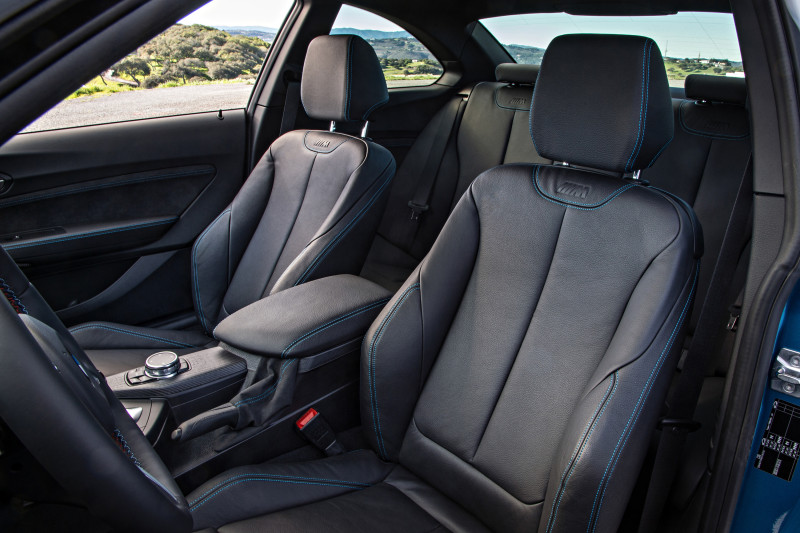 In addition to the powertrain, the other factor that greatly influences the M2's driving dynamic is the commitment to lightweight components and materials. The suspension and axle components have been transferred directly from the M3/M4 featuring a liberal use of lightweight aluminum to reduce unsprung mass significantly at each corner. Combined with a very rigid platform, this lightweight suspension allows the tires to stay firmly planted to the pavement under all road conditions. Even with BMW's electronic power steering system you feel this connection to the road viscerally. Whether I was powering through the corkscrew at Laguna Seca or just touring along the Pacific coast on a drive to Big Sur, there was never a sense of isolation from the world around me. Unlike most modern cars, the M2 actually makes you feel closer to the road.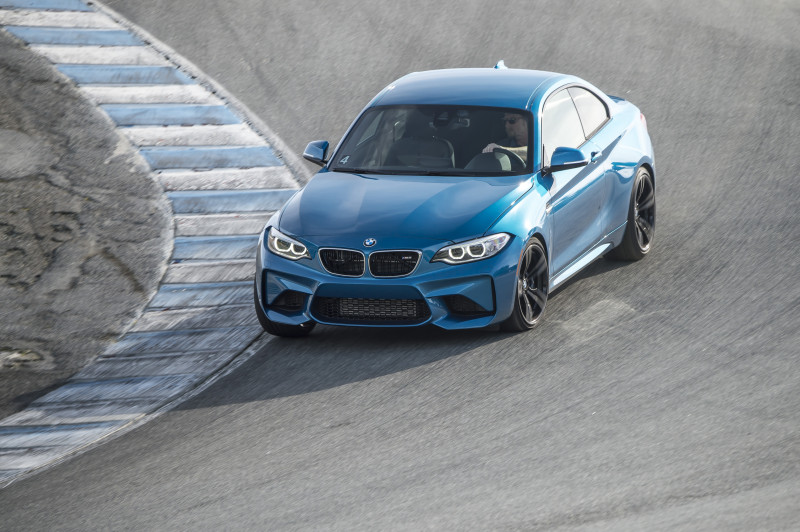 Overall there's a minimalist feel to the M2 that is counter to the growing trend of individualization – and here, that's a good thing. There are only three options available on the M2: the DCT transmission, an executive package that includes a heated steering wheel, rear view camera and a few other convenience items, and the color. That means the black interior with its carbon fiber accents, Alcantara and leather surfaces are common across all M2s. There's only one choice of wheels and tires: 19-inch forged aluminum wheels with specially developed Michelin Pilot Super Sports measuring 245/35 ZR 19 in the front and 265/35 ZR 19 at the rear providing excellent grip at all corners.
Yes, I know the autonomous future is coming. I know that electric powered cars will continue become more popular as battery technology improves and our environment demands it. There's a lot to be said for those technologies. But for now, I'm going to revel in the near perfection that is the M2 and try to stave off that future one downshift, one drift, one late apex at a time and know that at some point in the future if the automatons win, I can look back and smile knowing that I was able to spend six spectacular hours behind the wheel of a car that represents pure driving passion, the 2016 BMW M2.
2016 BMW M2
Two-door, four-seat, rear wheel drive sports coupe with a 3.0 Liter TwinPower Turbo inline six-cylinder engine. Standard six-speed manual transmission. Optional seven-speed DCT.
Base price: $51,700
Price as tested including destination: $53,245.
Optional equipment: Long Beach Blue Metallic paint
Engine: 365 HP @6500 rpm
Engine: 343 lb-ft @ 1400-5560 rpm
0-60: 4.2 seconds with DCT, 4.4 with manual
Top Speed: 155 mph (electronically limited)
EPA MPG: 18 city mpg/26 highway mpg
While the manufacturer paid for travel expenses and provided the vehicles for this story, the opinions and recommendations in this post are 100% ours.