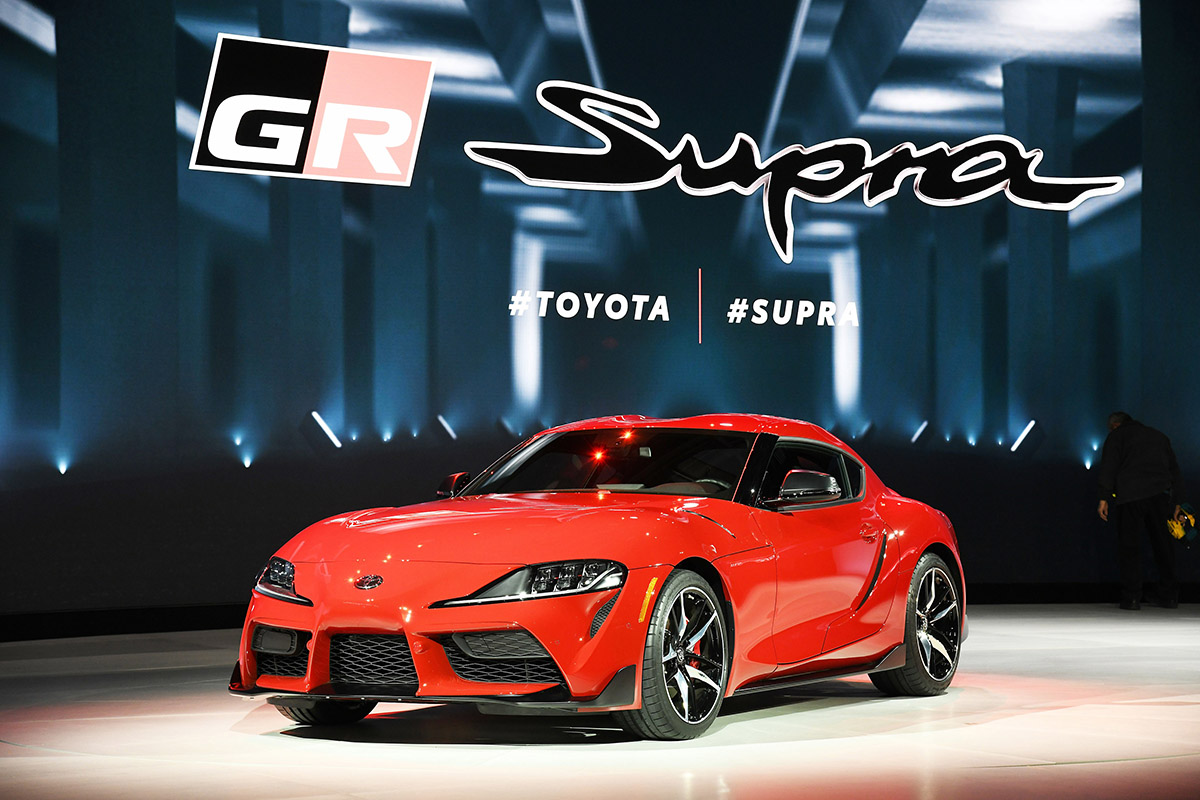 A certain amount of hype comes with every new car launch. But when said vehicle is a legendary performance coupe that's been MIA for the past 22 years, the level of hype is off the charts. Thus throngs of journalists filled all the available seats and almost every square inch of floor space in the ad hoc auditorium at the North American International Auto Show for the long-long-long-awaited unveiling of the new Toyota Supra.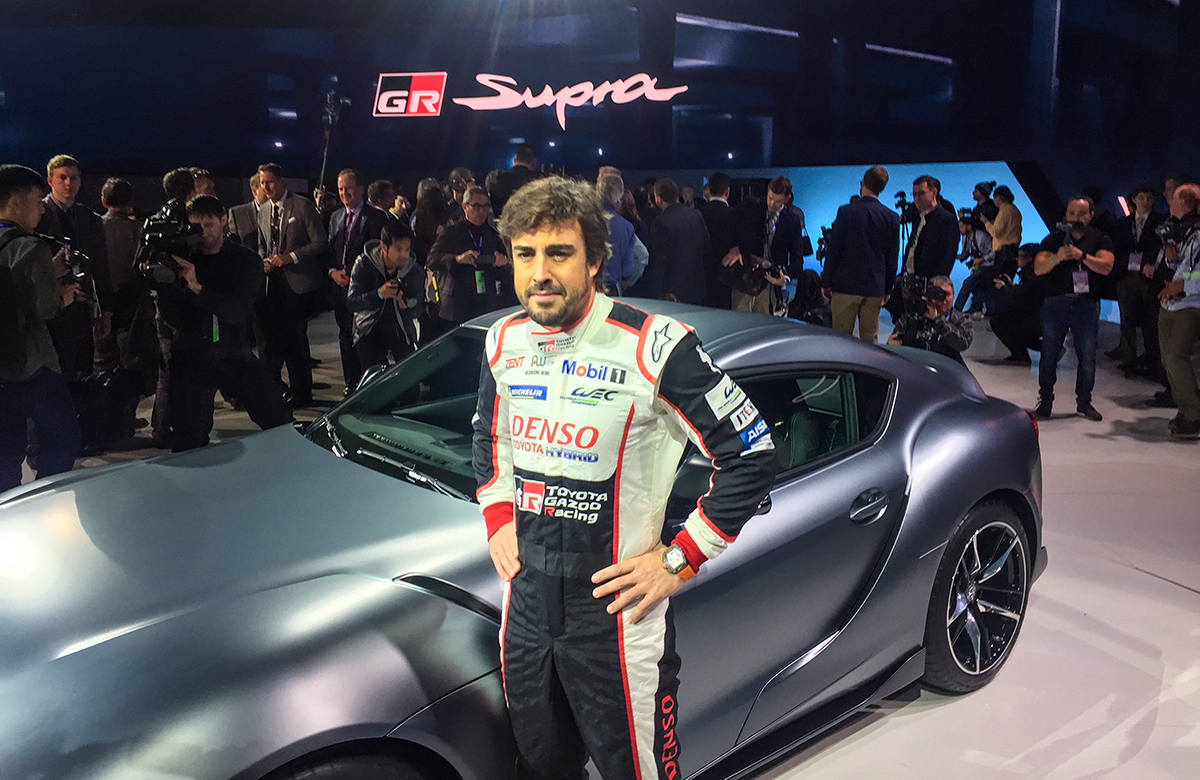 I'm lousy at estimating crowd sizes but I'd guess there were a kajillion people in the room, phones in the air live-streaming to their legions of followers as Toyota President, Akio Toyoda drove the bright red Supra – the first uncamouflaged version of the car available for public consumption – onto the stage. His enthusiasm for the Supra was undeniable as he talked through his role in the car's development process, which was substantial. It seems that Mr. Toyoda has always been a fanboy, driving his older, personal Supra at the Nurburgring as he earned his Master Driver title. So when he raised his arms in celebration at the end of his presentation a declared, "Now finally, the next chapter in the story can begin. Today, the legend has returned. Supra is back better than ever." his joy and satisfaction in having shepherded this project to its conclusion was evident.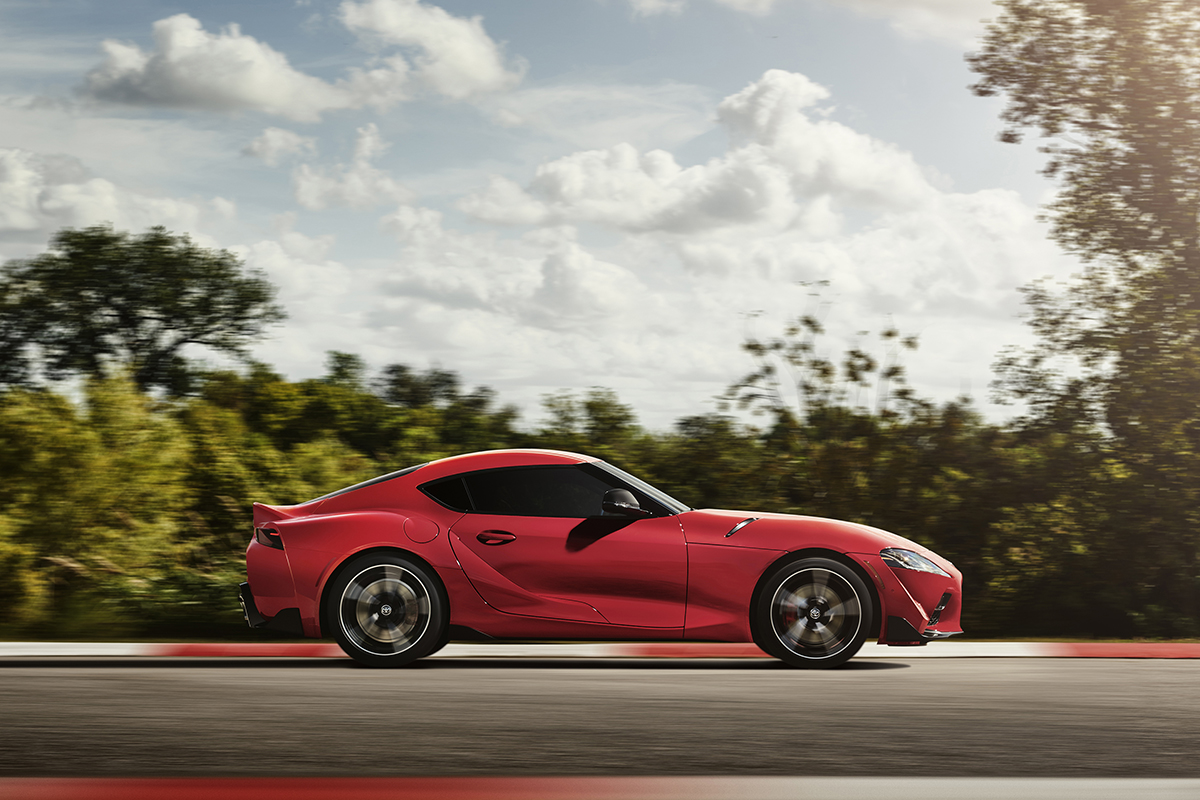 Supra is an all new car. But it's not all Toyota. It was developed jointly with BMW and this platform underpins their new Z4 roadster. The cars share the same basic architecture, drivetrain, and electronics which allowed both of these low-volume sports cars to be made. Neither company would have made the investment to create a car that will sell in four or five digit numbers per year. Much like the Fiat 124 shares significant engineering with the Mazda MX-5 Miata, but deliver different driving experiences, I expect the same to happen here.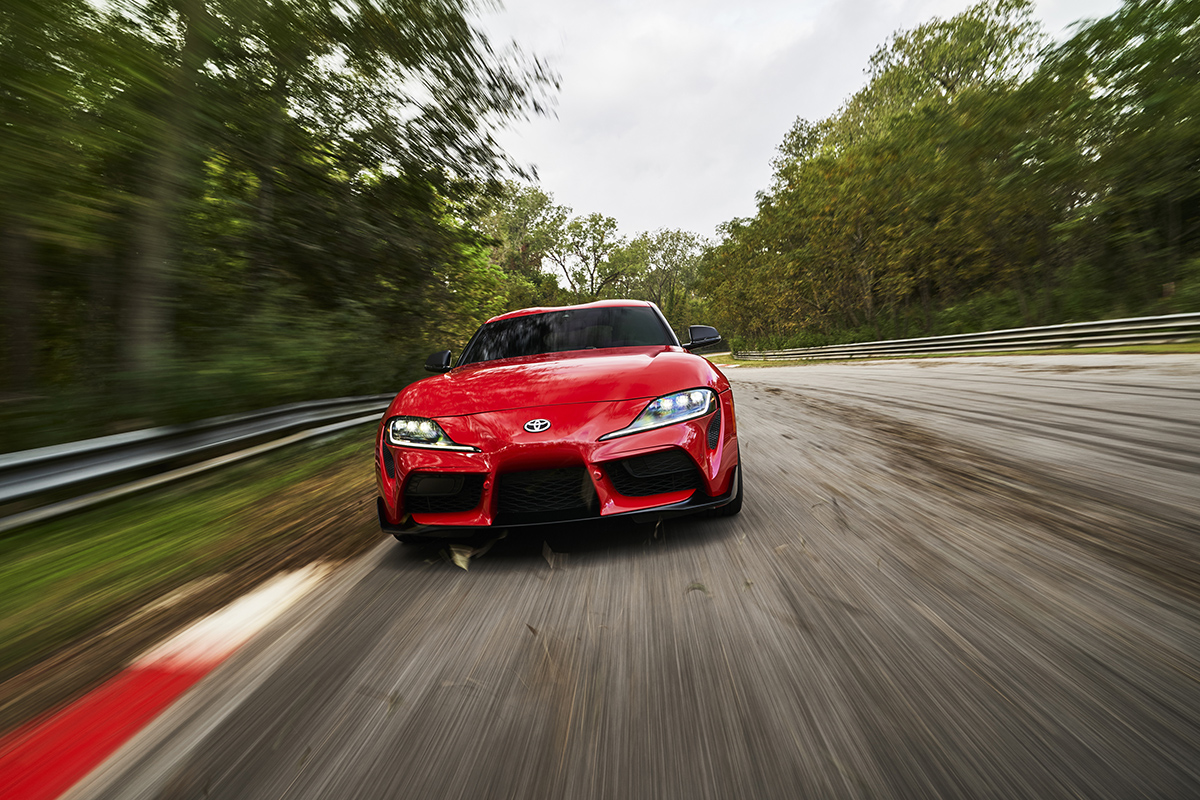 Designed in Toyota's CALTY studio in Southern California, this fifth generation Supra began its life as the FT-1 concept car. The shape is modern and aggressive, with a nod to one of the more famous vehicles in Toyota's past, the 2000GT sports coupe from the late 1960s. Design cues like the long, sloping hood, double-bubble roof, and aggressive rear fender flares can trace their origins there. The front end channels both the FT-1 and Toyota's current design DNA in a look that's purposeful, if not pretty. The big intake vents are there to suck in the oxygen the engine needs to develop 335 horsepower as well as provide airflow to cool the brakes and engine while reducing aerodynamic drag.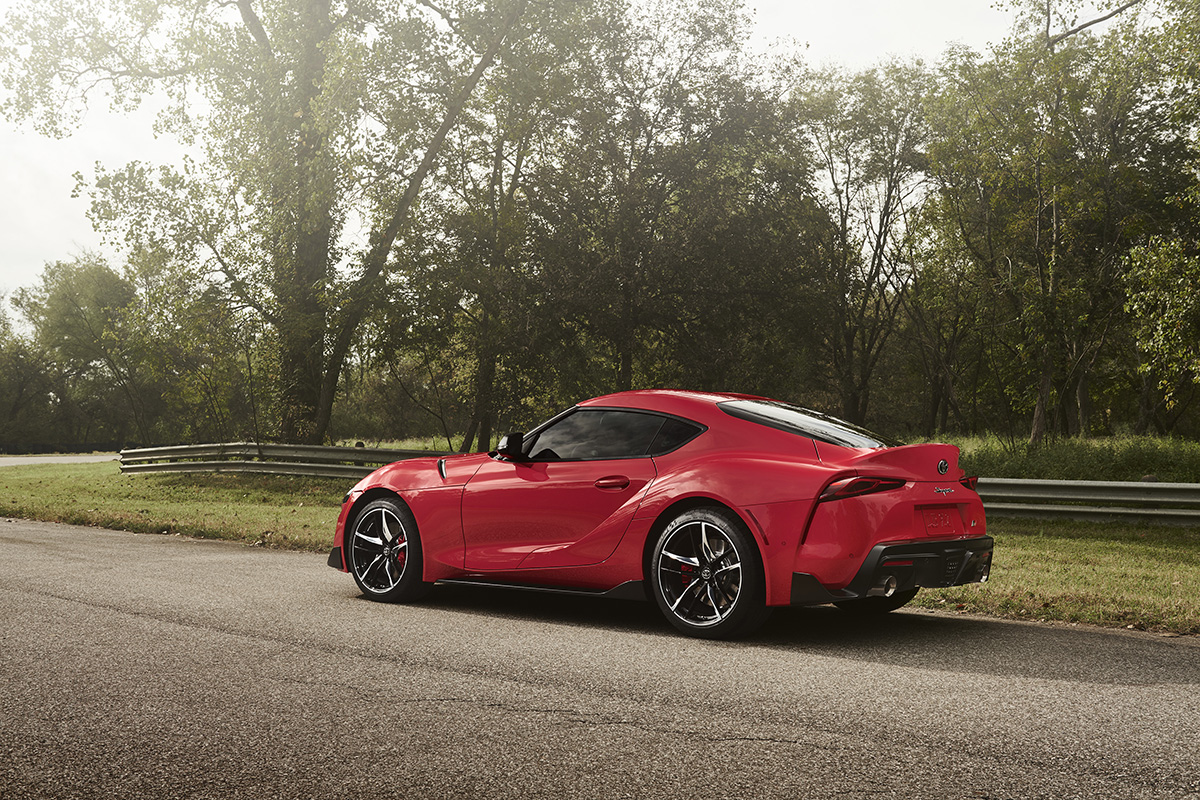 Under the hood is a 3.0 inline six-cylinder engine with a twin-scroll turbocharger providing the boost. It's a new engine for Toyota, but not a new engine by any stretch. You'll find variations of the engine and ZF 8-speed automatic transmission its paired with in several BMWs including the Z4 M40i and M340i. There's significant hand-wringing going on among journalists and Supra fanatics about the fact that it gets its power from Germany. I am not one of those people. I've driven plenty of cars with this engine and it's a great one. Lots of low end grunt along with high revving spirit. I am of the belief that it's better to have a Supra with a BMW heart than no Supra at all.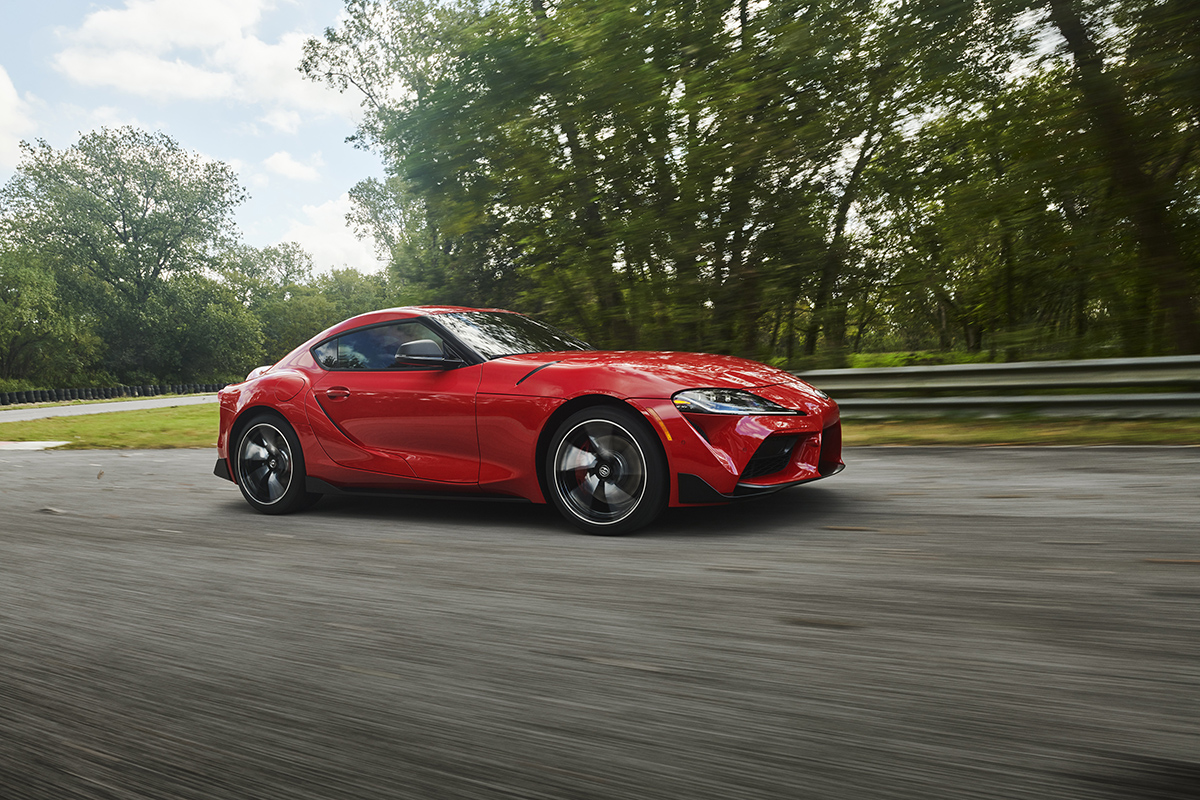 If I have a nit to pick it's that you can't get it with a manual transmission. I know all the arguments for automatic transmissions with paddle shifters and how they deliver superior 0-60 and lap times. Supra, however, is not a track car. It's an engaging sports car designed to be enjoyed occasionally on the track, but mostly on a winding back road near you. That's where I prefer the engagement and connection of three-pedals and a six-speed gearbox. Again, I'm sure it's a budget issue due to the low take-rate of manual transmissions these days, but I can still pine for one.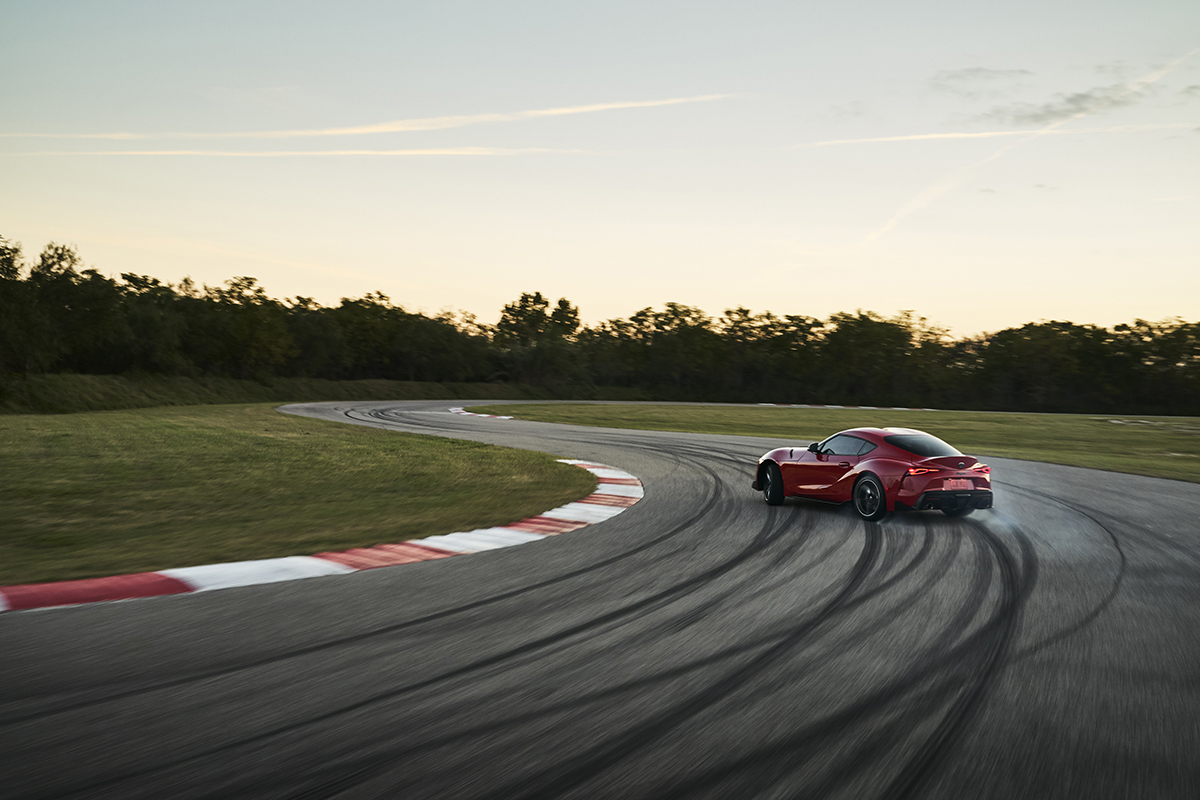 Suspension is as you would expect for a highly tuned sports car that promises world-class handling characteristics. You have a fully-independent double-joint strut set up in the front with a multi-link unit in back. Both make extensive use of aluminum to lower unsprung weight. The springs and shocks have been tuned by Toyota's Gazoo Racing (thus the GR badging) and the Supra features variable adaptive damping with two settings, normal and sport. Variable assist and variable ratio electric power steering help guide you through the corners. The 19-inch alloy wheels are shod with Michelin Pilot Super Sport tires that are wider in the back than the front. Brembo brakes are fitted in all four corners with large 13.7 inch rotors and four piston calipers up front.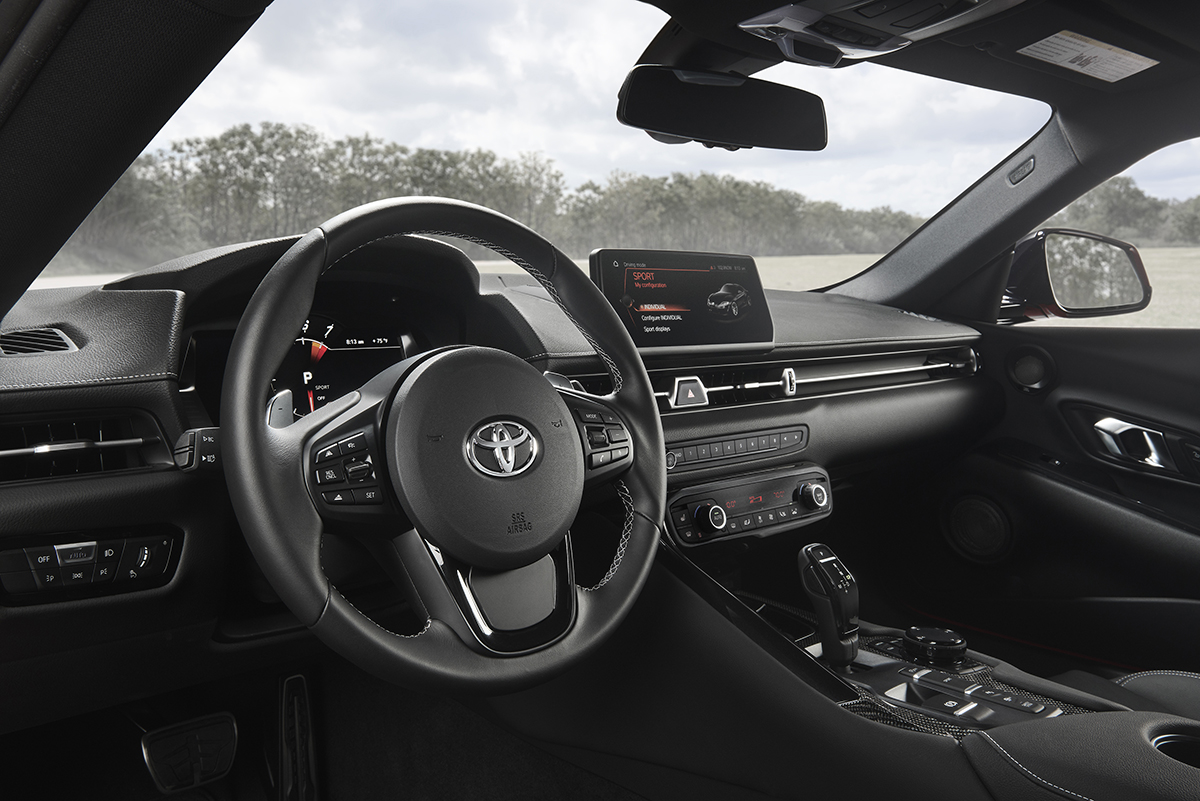 Inside the cabin has a distinctly Teutonic feel thanks to the BMW partnership. The shift lever will be familiar to anyone who's driven a BMW lately, as will most of the stalks, dials, buttons, and screens. The seats are deeply bolstered sport units with contrast stitching. Move to higher trim levels and you get leather and Alcantara covering heated and cooled seats. It's cozy inside but comfortable in the cockpit with everything geared toward the driver. The digital instrument panel features a large round center dial rendered to look three dimensional. It consolidates the speedometer, tach, and shift indicator conveniently behind the small diameter steering wheel. A head up display is available.
Pricing for the new Supra will start at $49,900 before destination charges. Loaded up with all the electronic and luxury goodies you'll probably have to shell out about $57,500. That's not cheap, but puts it around the same price as a highly contented Mustang GT or Camaro SS and several thousand less than a comparably equipped Porsche 718 Cayman. The question of whether it's worth it remains to be answered. That decision can only be made after driving it, something I hope to be doing later this spring.
Stay tuned.
Toyota will produce a limited Launch Edition of the new Supra in Absolute Zero White with red mirror caps and a red interior. Other available colors are Renaissance Red 2.0, Nitro Yellow, Downshift Blue, Phantom Matte Gray, Tungsten Silver, Turbulence Gray, and Nocturnal Black.