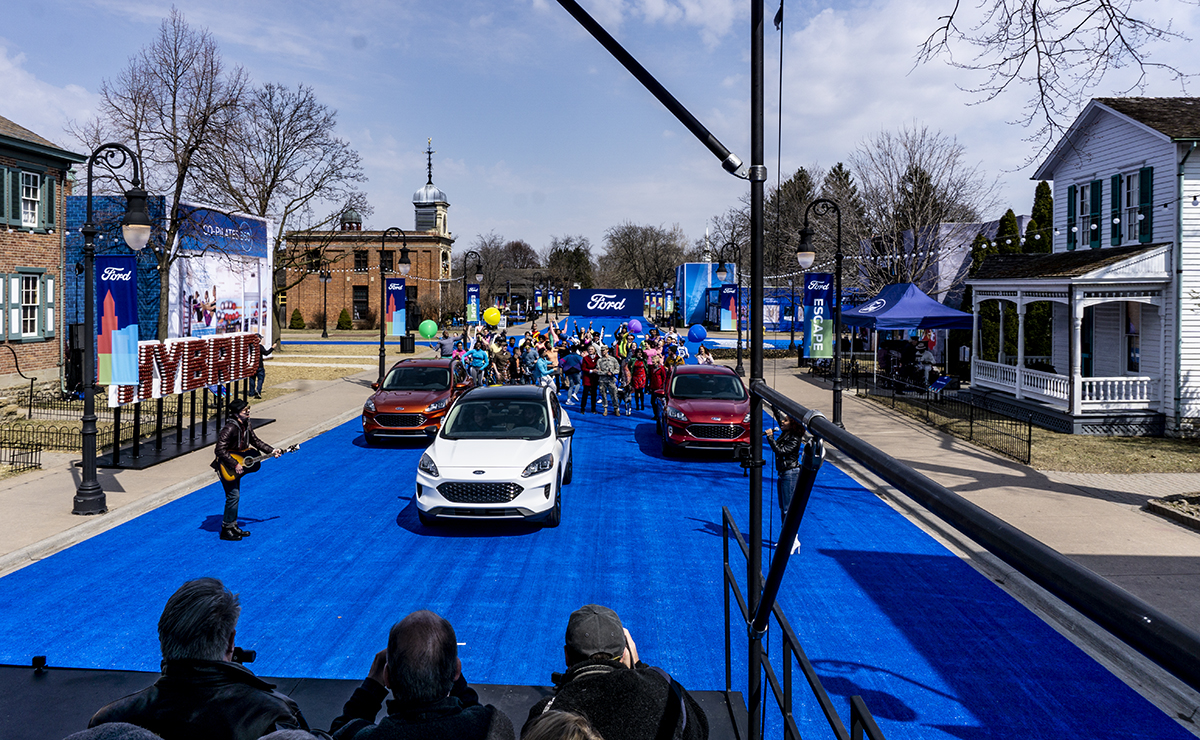 Sometimes auto companies go to great lengths to get the word out about their new cars. Other times, they just cross the street. Ford chose to introduce the all-new 2020 Escape compact crossover to the motoring press at a private event at Greenfield Village, just a stone's throw from where the car was conceived in Dearborn. The proximity to Ford's design and engineering center didn't keep their PR team from swinging for the fences as far as an introductory presentation was concerned.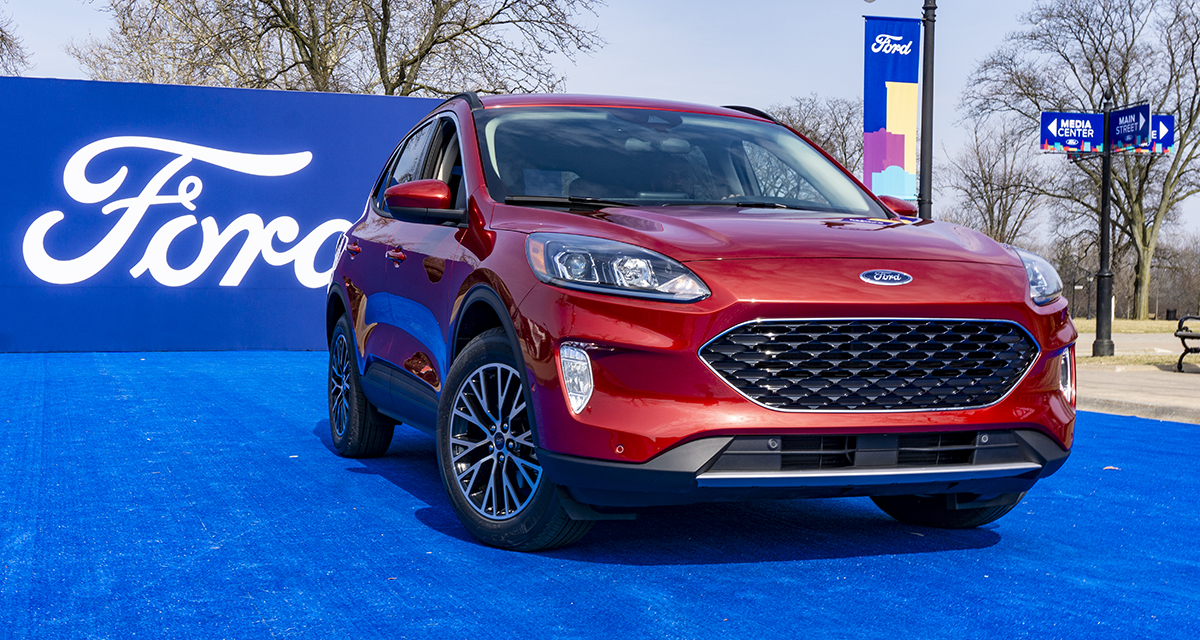 If you've never been, Greenfield Village is an amazing, outdoor, living museum that includes the workshop in which Henry Ford built his original Quadricycle, the Wright Brothers' bicycle shop where they developed their 1903 Flyer, and reproduction (the original was destroyed by fire) of Thomas Edison's lab where he and his team patented thousands of inventions including the electric lightbulb. In addition to these highlights, the 90-acre complex has seven historic districts chronicling 300 years of American life and is well worth a visit.
For the introduction of the fourth generation Escape, Ford took over Greenfield Village's Main Street, turning it's two block length into "Escapeville" for the day. To reveal the new baby-ute, Ford's communication team commissioned an original song, hired a cast of hundreds (well maybe dozens), and choreographed an intricate series of demonstrations to show off the car's features. This was a spectacle worthy of Busby Berkeley, and though the assembled audience was a bleacher full of jaded automotive journalists, it was certainly more interesting than a typical auto show reveal with a lousy powerpoint backing up a nervous corporate exec reading a script from a teleprompter. As Joel Feder, writer for Motor Authority, said to me, "I felt like I was in a Ford commercial, and that's not necessarily a bad thing."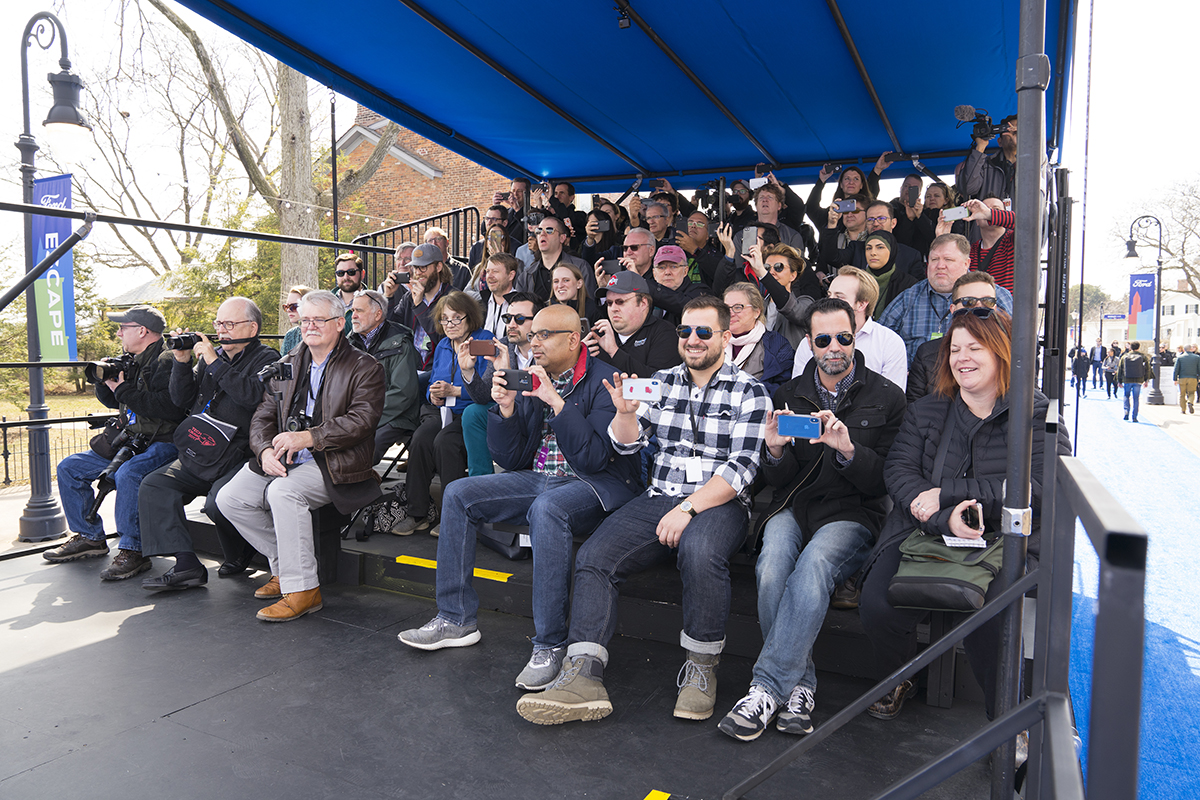 Once the song and dance was over we went from shop to shop to get the intimate details of the new Escape from designers and engineers who worked on the car. The first and most important thing to understand about the Escape is that it's designed more for the street than the wilds. Not only is this vehicle meant to capture most of the previous generation Escape buyers, but also the Focus owners who are soon to be orphaned. Next year Ford will launch a complementary, more off-road focused CUV on the same architecture which some have dubbed the "Baby Bronco." This allows the Escape to serve young families and empty nesters in urban and suburban environments.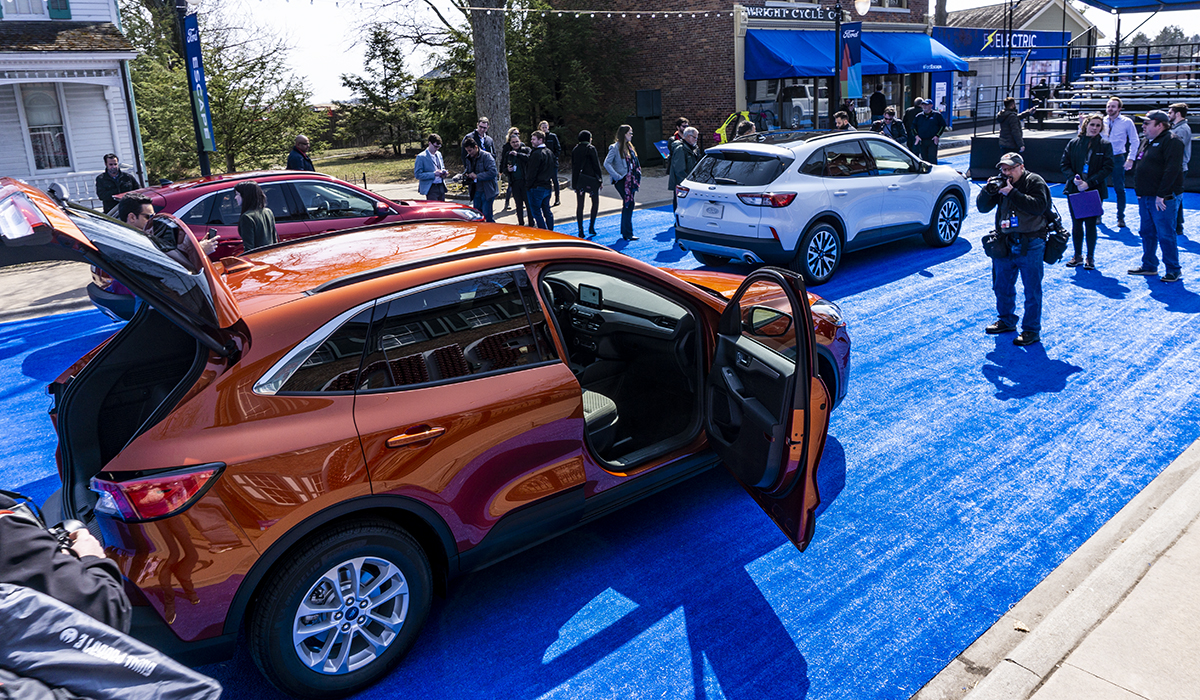 The Escape is built on new architecture for the nameplate that is longer, lower, and wider than the outgoing CUV. The look is much sportier and more car-like. Ford says it was inspired by the GT and Mustang for the front end, and I can see it. I think tts shark nose and sculpted are more of a mashup of a Porsche Macan and Mazda CX-3. Available in front and all-wheel drive, it features independent front and rear suspension with slightly higher ground clearance than that of a traditional compact sedan. Twenty years ago, we would have called this a hatchback. But since no one buys hatchbacks anymore, a Compact Utility Vehicle it is.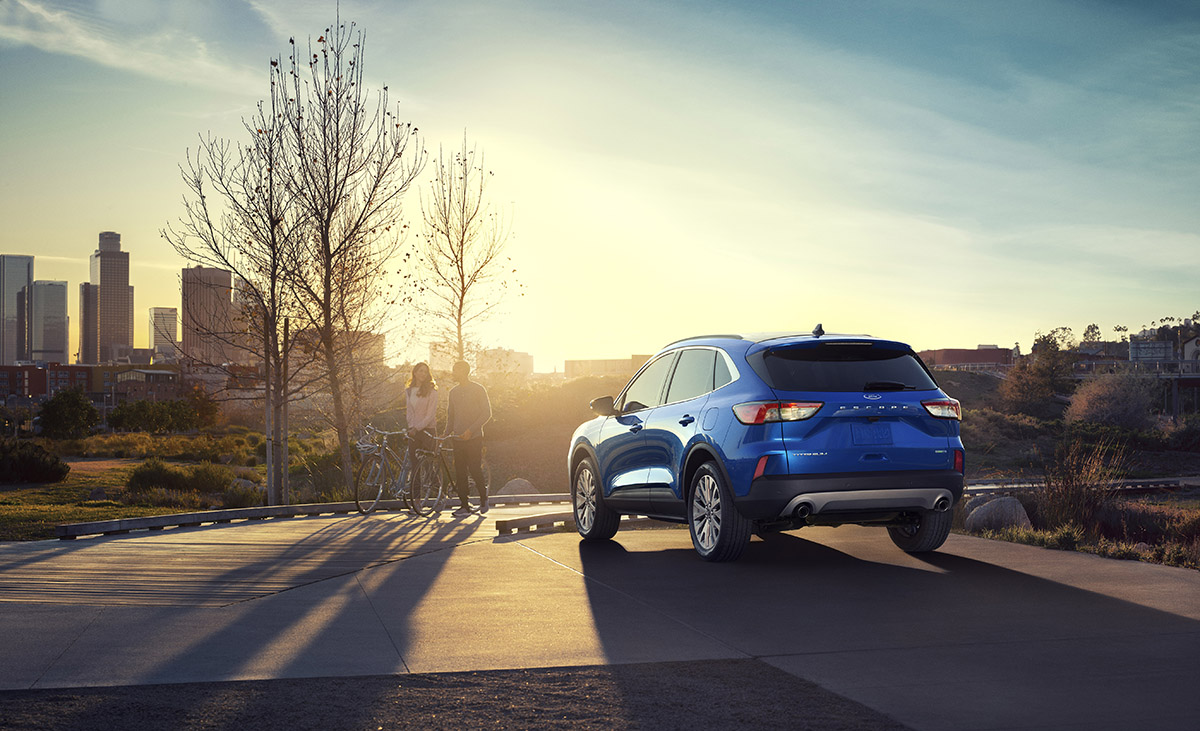 Escape is currently Ford's second best-selling vehicle behind the F-150, selling over 270,000 last year. That's a far cry from category-leader RAV4, but not nothing. Between its sales volume and the role it plays in introducing new buyers to the Ford family, Escape is an extremely important vehicle to the company. That's evident in all the work that went into new powertrains, technology, and creature comforts offered on Escape.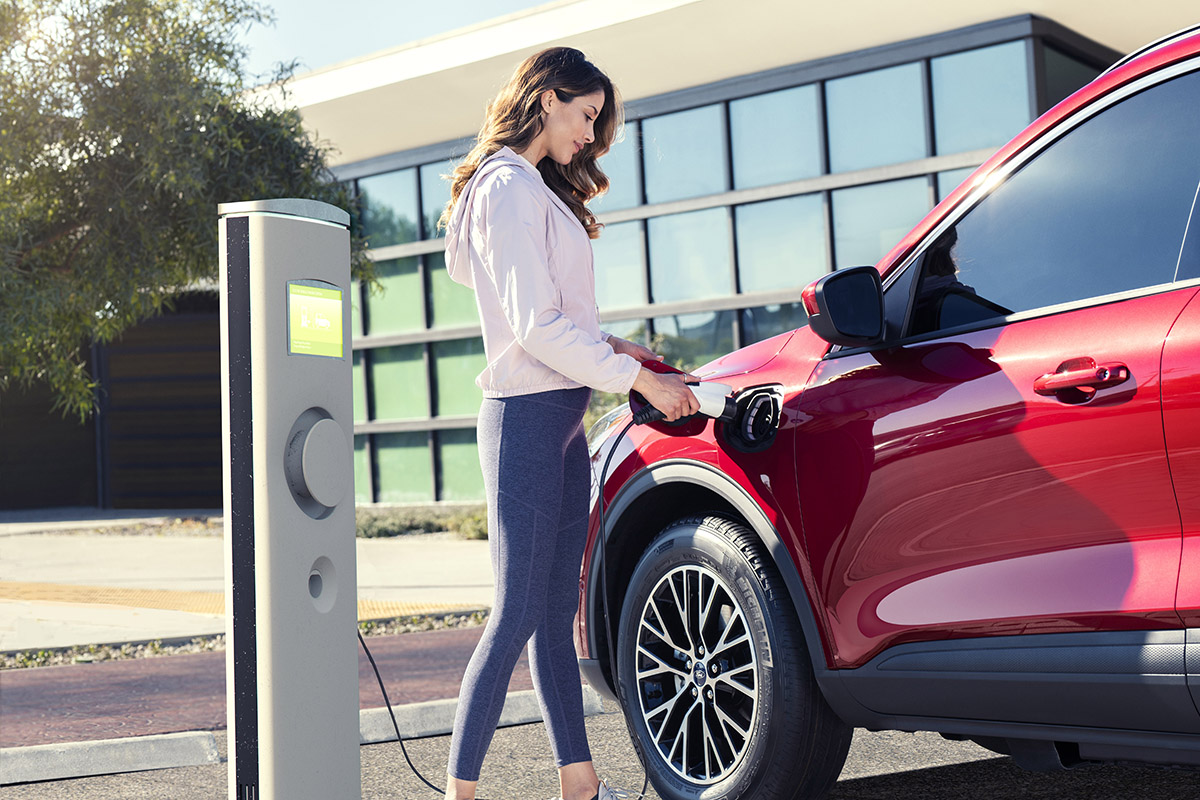 Inside Henry Ford's workshop we learned about Escape's driving dynamics including the four engines that will power the Escape. The base engine is a 1.5-liter, 3-cylinder EcoBoost unit making 180 horsepower. A 2.0 -liter Ecoboost engine with 250 horses is the next step up. Both put the power to the wheels through an 8-speed automatic transmission. There are two hybrid options both start with a 2.5-liter naturally aspirated four banger. The mild hybrid version makes 198 horsepower and the plug-in 209. The plug-in hybrid will run up to 30 miles on electric power and has drive modes that allow you to manage your electric usage, including a recharge mode that add juice back to the battery while you're under gasoline power. All-wheel drive is available with all the powertrains except the plug-in hybrid.
From a performance and handling standpoint, this will be the sportiest Escape to date. 0-60 times are said to be 10% quicker than the outgoing model and for those who need to haul a small boat, camper, or trailer, towing capacity will max out at 3,500 pounds.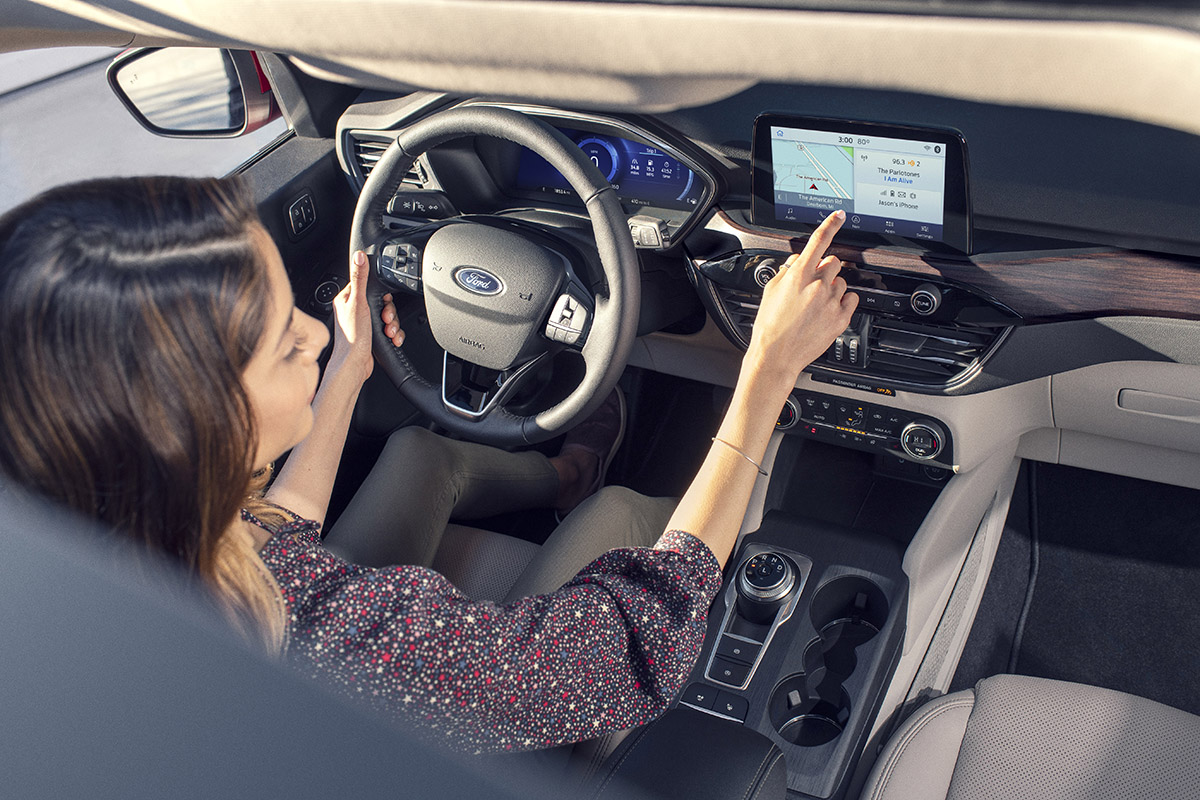 Inside Thomas Edison's laboratory, we learned about all the safety and technology features that will be packed into the new Escape. All trim levels will have Ford Co-Pilot 360 standard, which includes blind spot warning, lane departure warning, lane keep assist, rear view camera, forward collision warning with automatic emergency braking, post-collision braking, and auto high beams. Also available are active park assist, adaptive cruise control with stop and go, lane centering, and active steering assist.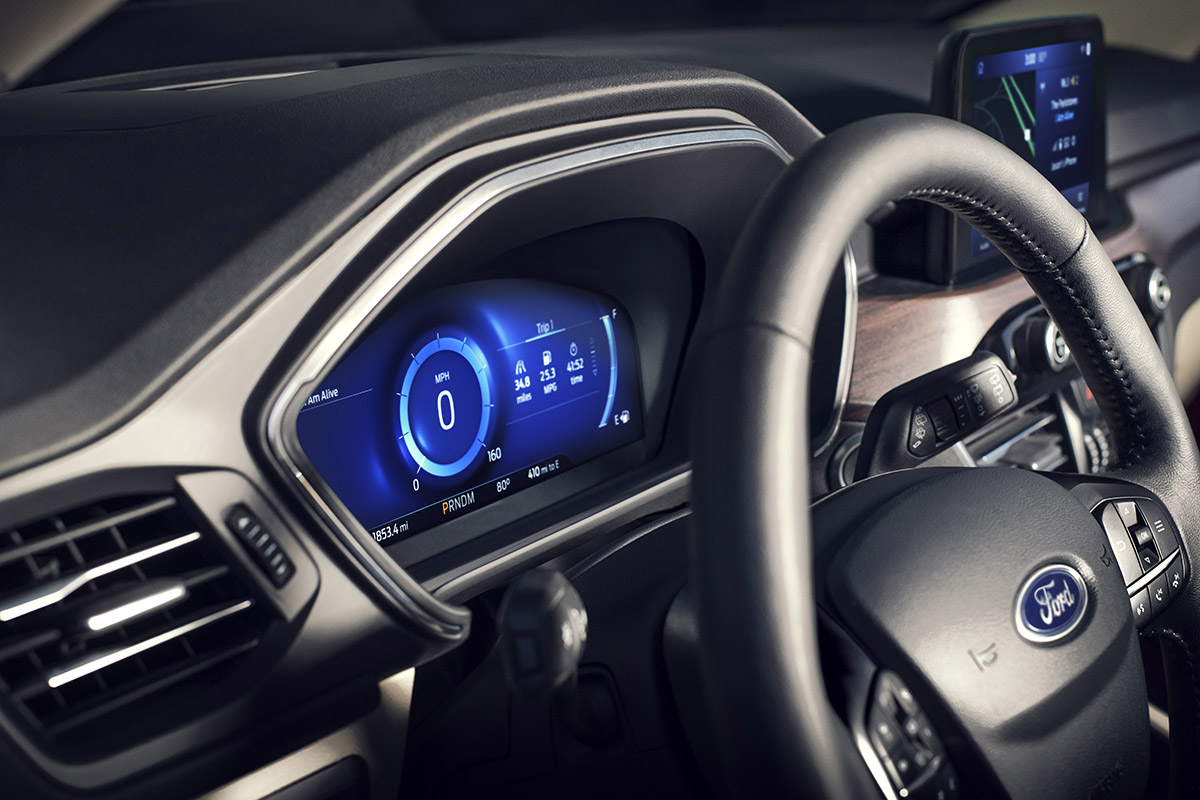 Apple Carplay and Android Auto are part of the standard entertainment package, as is 4G LTE WiFi for up to 10 devices. Upgraded tech includes an 8-inch touch screen, a 575 watt, 10-speaker, B&O Play sound system, a 13.2-inch all digital instrument cluster, a 6-inch head-up display, Waze navigation, and Amazon Alexa integration.
Interior space is more than adequate, with plenty of rear seat legroom even for those taller than six feet. The rear seat can be moved forward for increased cargo space which allows the Escape's hatch to swallow a full-size dog crate, four roller bags, or four sets of golf clubs. These were pre-production cars so it's hard to judge fit and finish, but materials were high quality with soft touch surfaces on the arm rests and dash, and a variety of inserts depending on trim level.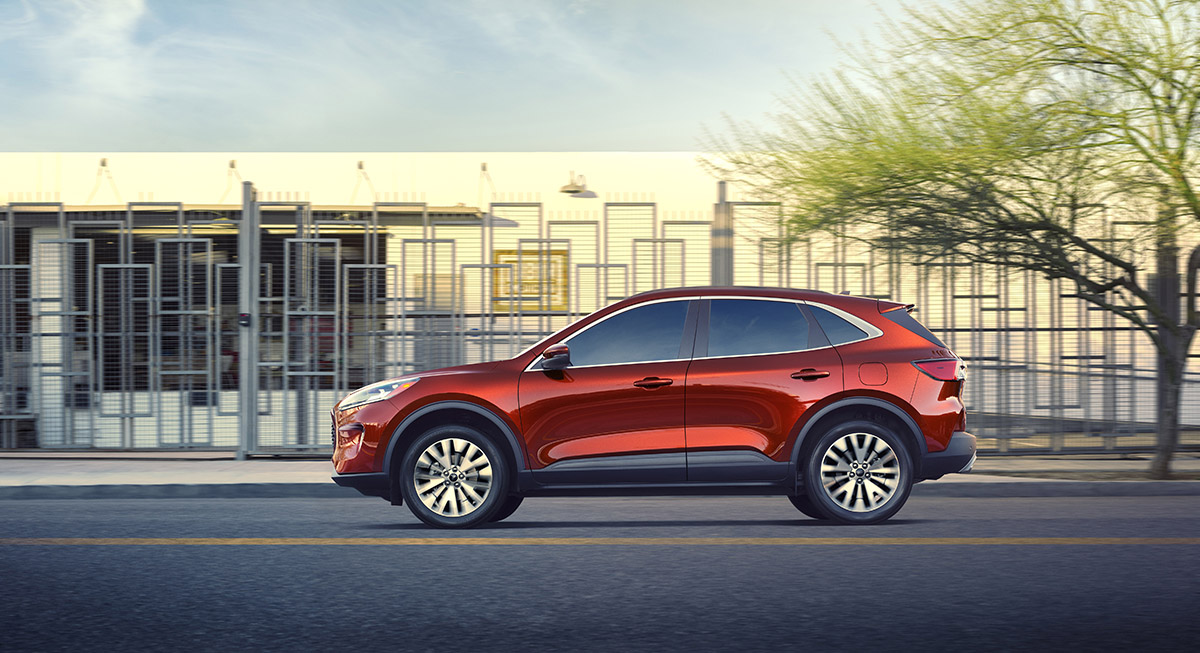 The Escape will be available in five trim levels: S, SE, SE Sport, SEL, and Titanium. Pricing hasn't been announced but we expect Ford to hold the line on the base price to maintain competitiveness, with a starting price around $25,000 with it topping out in the mid to high $30,000 range. We should have cars available to test in September and expect the 2020 Escape to start turning up in showrooms shortly after that. Stay tuned for driving impressions, pricing, and more details as they become available.