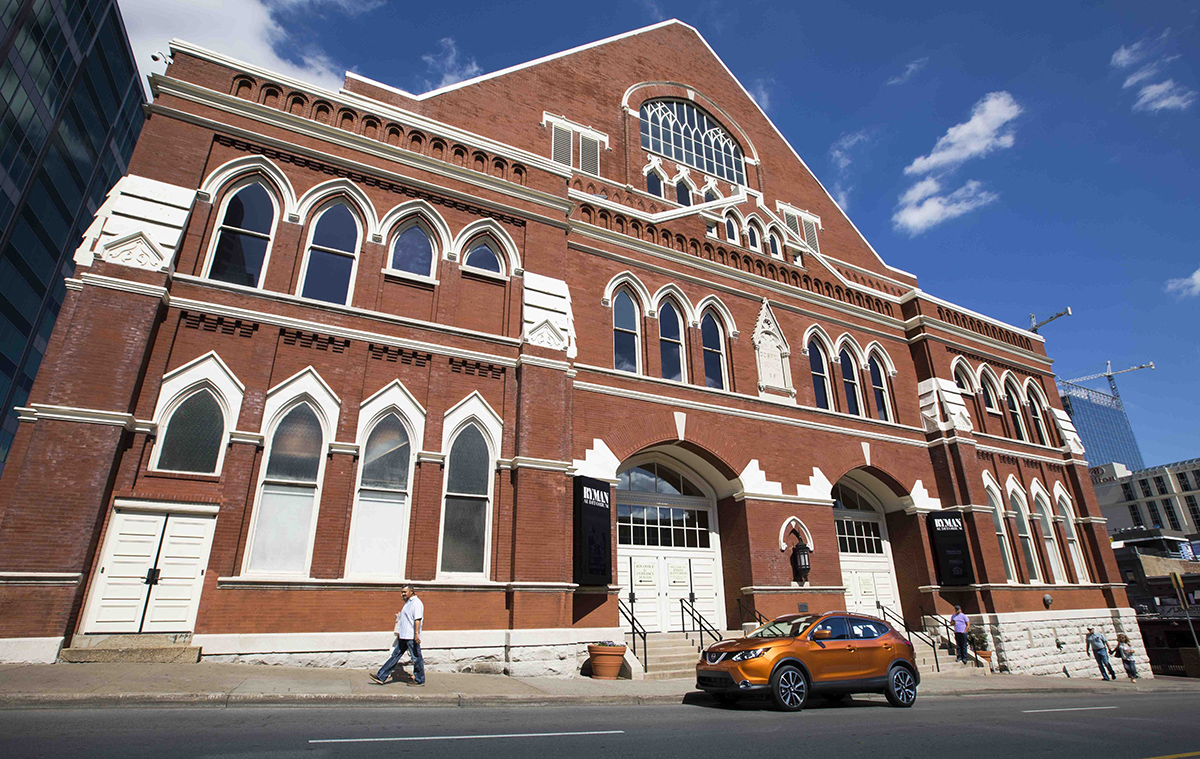 What do you call someone who's just a little bit of a Rogue? A rascal? An imp? A knave? Maybe that's what Nissan should have called their newest compact crossover instead of Rogue Sport.
Confusion is sure to ensue since this Rogue isn't necessarily sportier than the existing Rogue, just smaller. Its wheelbase has been chopped 2.3 inches and overall it's just a tad more than a foot shorter than its big brother. So why did Nissan turn the shrink ray on the Rogue? Michael Bunce, vice president, Product Planning, Nissan North America, Inc. explains, "While we expect Rogue to continue to appeal to owners with young families, Rogue Sport fills a need for singles and couples who want more space and versatility than the average sedan for everyday urban use and social activities."
Basically like all manufacturers Nissan is seeing the volume shift from small sedans to CUVs and they're not going to miss out on the trend. And while some confusion may ensue, by calling the new baby-ute Rogue Sport, they don't have to add another nameplate to an already confusing lineup.
So what does the Rogue Sport have to offer? For starters, this tidy little package looks good. Straddling the boundaries between cardom and truckdom. the wheels are pushed out to all four corners under slightly flaired fenders, giving the Rogue Sport an athletic, aggressive stance. When equipped with the optional 19″ wheels, it looks like a very premium package, especially in the automotive color du jour, orange.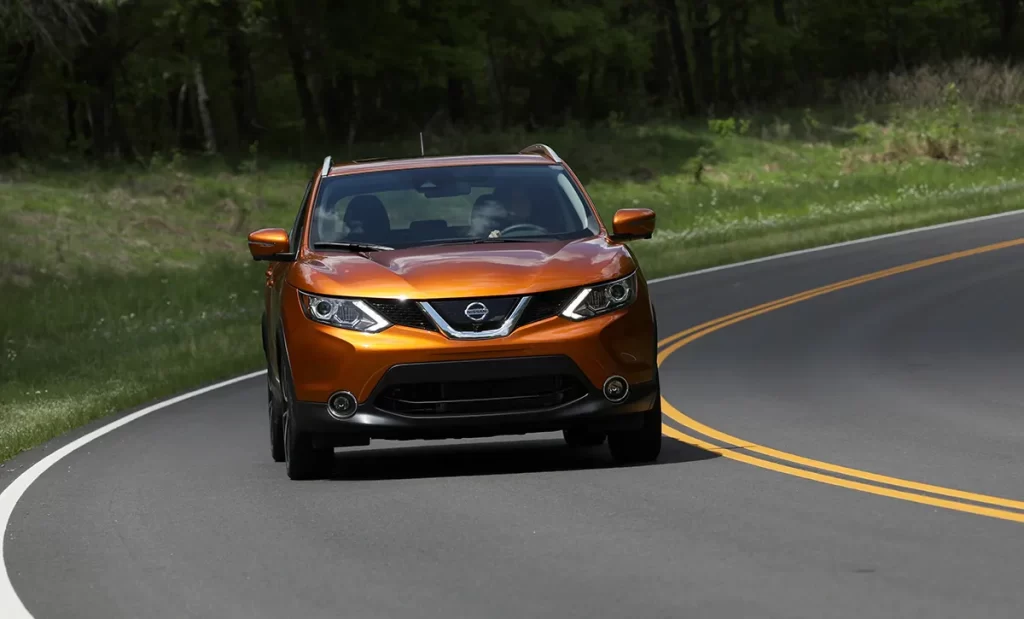 Under the hood you'll find a 2.0 liter, naturally aspirated 4-cylinder engine that makes 141 horsepower, which should be plenty to get its 3,300 pounds zipping in and out of city traffic. That's assuming Nissan's Xtronic CVT transmission gets the power to either the front or all four wheels efficiently. We're not big fans of CVTs so we'll have to drive this one before passing final judgement, but let's just say that seeing that on the spec sheet has us "concerned."
Inside, the Rogue Sport, especially in premium trim, looks upscale and sporty, with deep bucket seats up front and a judicious use of contrasting chrome and black trim bits. The effect is somewhat minimalist but, at least in the images, not cheap. Again, the proof will be in the driving.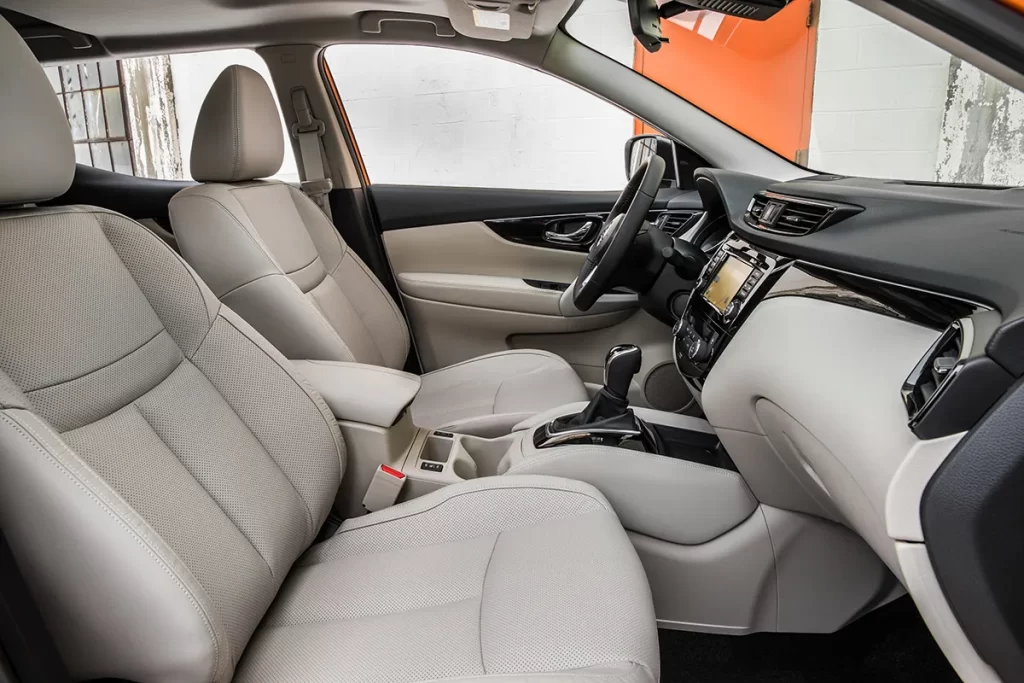 Pricing is right in line with the rest of the category, a base, front-wheel drive Rogue Sport S starts at $21,420 excluding title, taxes, and destination. The highest trim level all-wheel drive Rogue Sport SL includes leather-appointed heated front seats, heated leather-wrapped steering wheel and knob, remote start, 7.0-inch color touch-screen display, navigation, mobile apps, and around view monitor, 19-inch aluminum-alloy wheels with 225/45R19 all-season tires, fog lights, heated outside mirrors, and retails for $27,420. Add the premium and all-weather packages and that price will crest $30k.
We'll have to wait until we get behind the wheel to pass judgement, but it appears that Nissan will have a hit on their hands with this handsome little Rogue. The big Rogue is Nissan's best-selling vehicle and seeing them expand that platform rather than trying to create a whole new small SUV seems like a smart move by a car company that's been on the move in recent years. We'll let you know if it lives up to its promise as soon as we can spend some time behind the wheel.