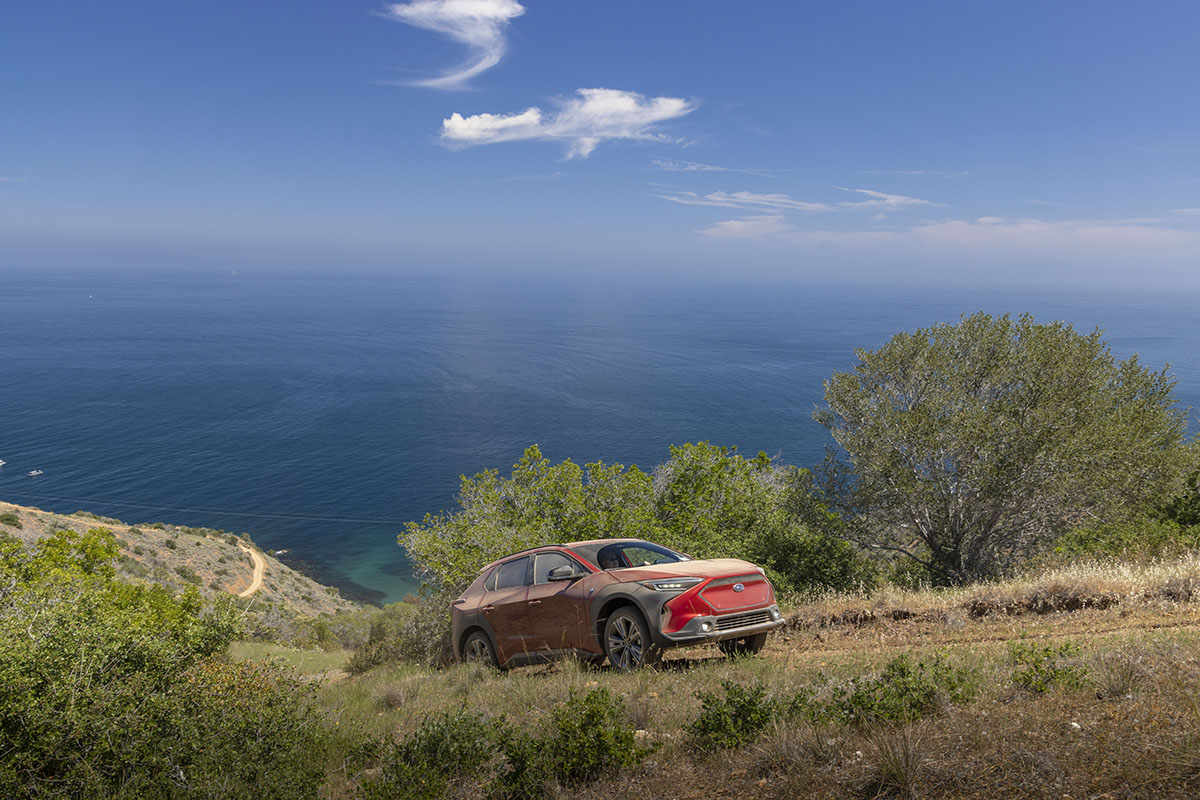 Our Pilatus landed at the Airport in the Sky on Santa Catalina Island at about 12:30 in the afternoon. We had spent the morning driving the all-new Subaru Solterra on the winding roads in the hills just east of Santa Barbara and were now going to see if the company's new battery-electric crossover had the off-road chops of its ICE stablemates, Outback, Crosstrek, and Forester.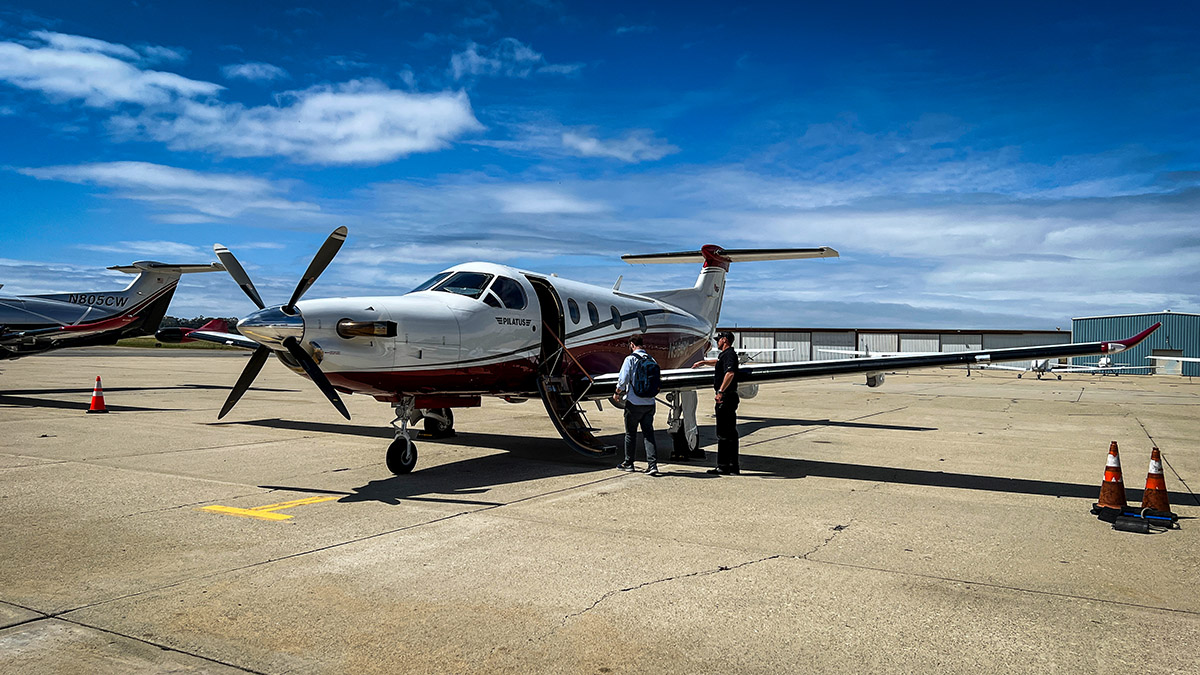 The Solterra is the first-ever EV from Subaru and the result of a joint venture with Toyota. It shares most of the components with the bZ4X (thankfully not the name), but Subaru's designers and engineers have made a few changes to the platform to make it feel more like a Subaru and do more Subaru-like things. Hence our trip to Catalina.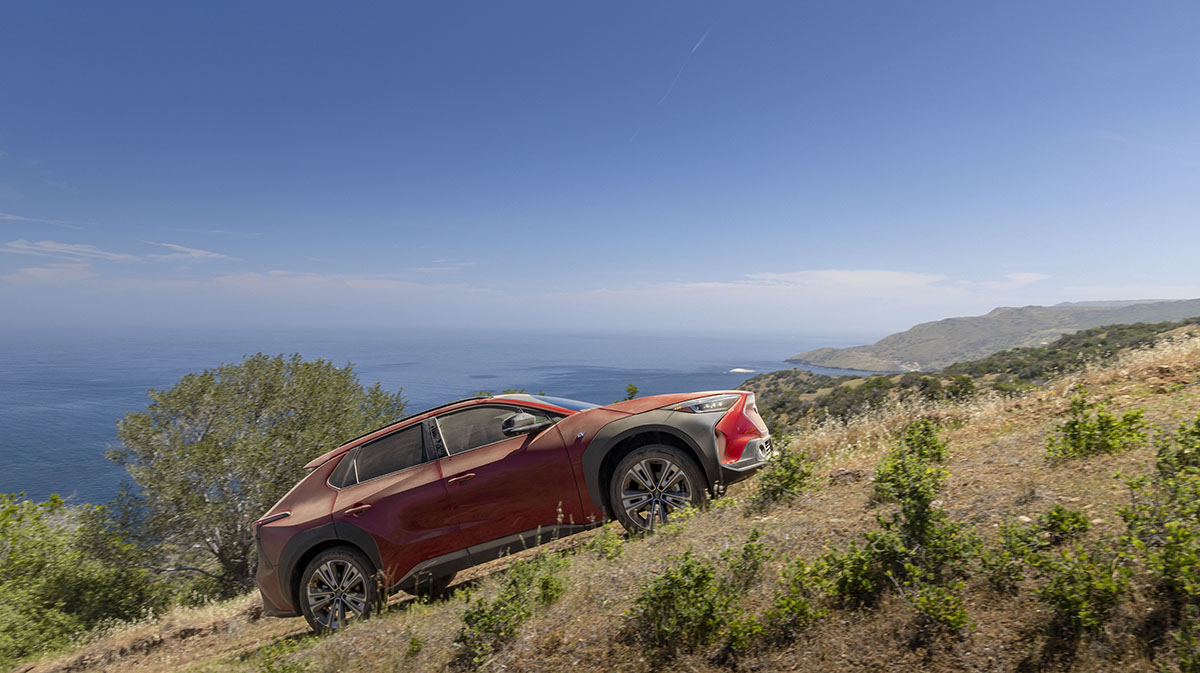 To start, you can only get Solterra in a dual motor all-wheel drive configuration. This set up uses a 72.8 kWh lithium-ion battery pack made up of 96 cells and is good for 215 horsepower and 249 pound-feet of torque. Those numbers are not the kind that set one's heart racing, but it is plenty of oomph to move the 4,365 pound Solterra – in its base Premium trim – from 0-60 in 6.5 seconds. While you won't be beating any Lucids or Teslas in drag races, with the "instant on" of electric motors, it feels quicker getting away from lights and up to speed on entrance ramps with ease.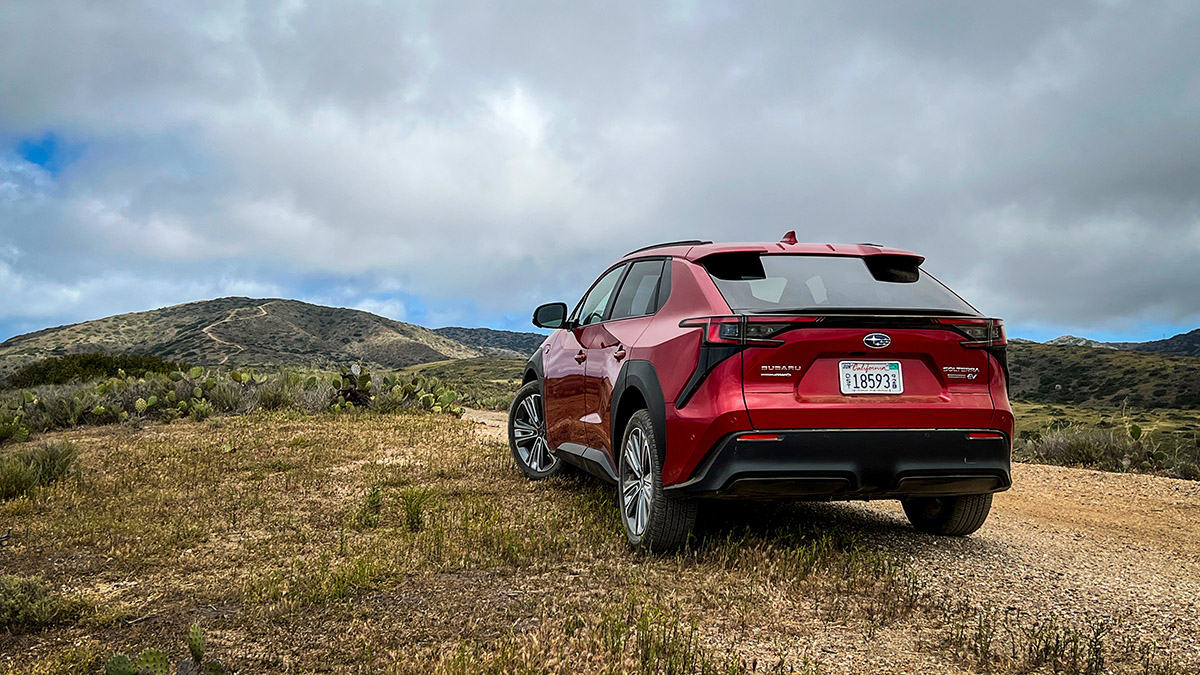 Range at 228 miles for the Premium and 222 miles for the Limited and Touring trims is disappointing. Even more so is the low charge rate allowed by the vehicle's electric architecture. Level 3 DC fast charging takes a lethargic 56 minutes to go from 20%-80%. Your level 2 home charger will shove a full complement of electrons back into an empty battery in 9 hours. And should you have to settle for a 12 amp, 120 volt standard cord you'll need more than 4 days to do the same.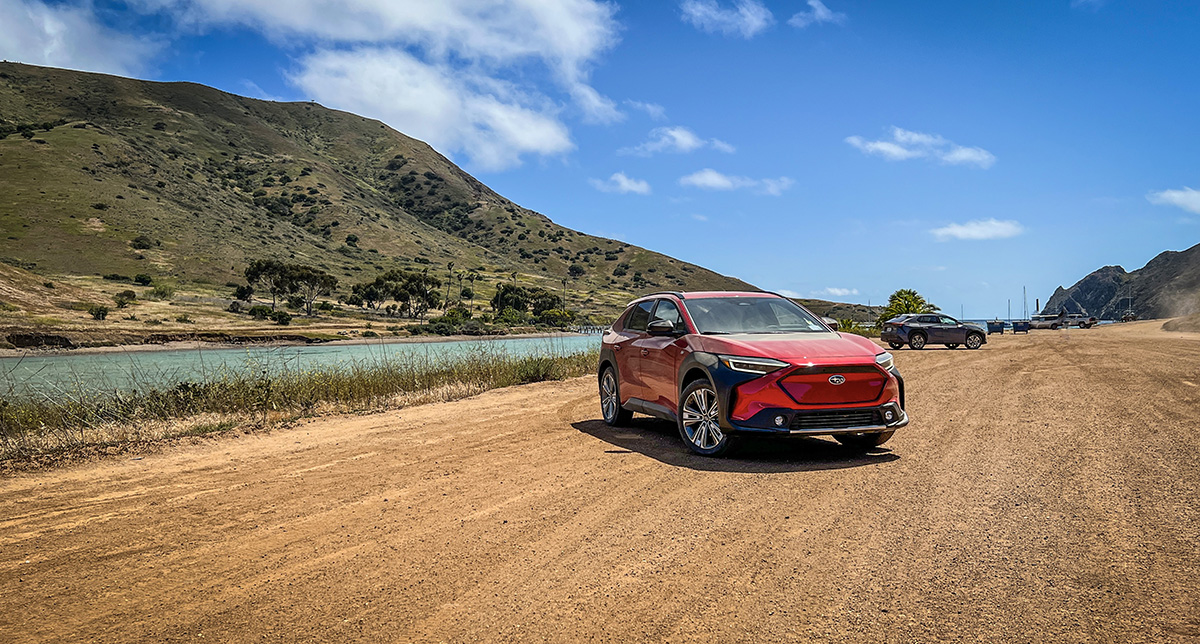 Like all EVs, Solterra has a low center of gravity which helps it feel planted in the corners. You definitely feel the heft as it changes direction and overall it has a tendency toward mild understeer if you happen to push it hard through paved corners as we did during our morning drive. But let's be honest, on road you want Solterra to be quiet, comfortable, and predictable, all of which are true. If you're looking for a sporty Subaru, then turn your attention toward the WRX or BRZ. If you want a sporty electric vehicle then you'll have to find another brand.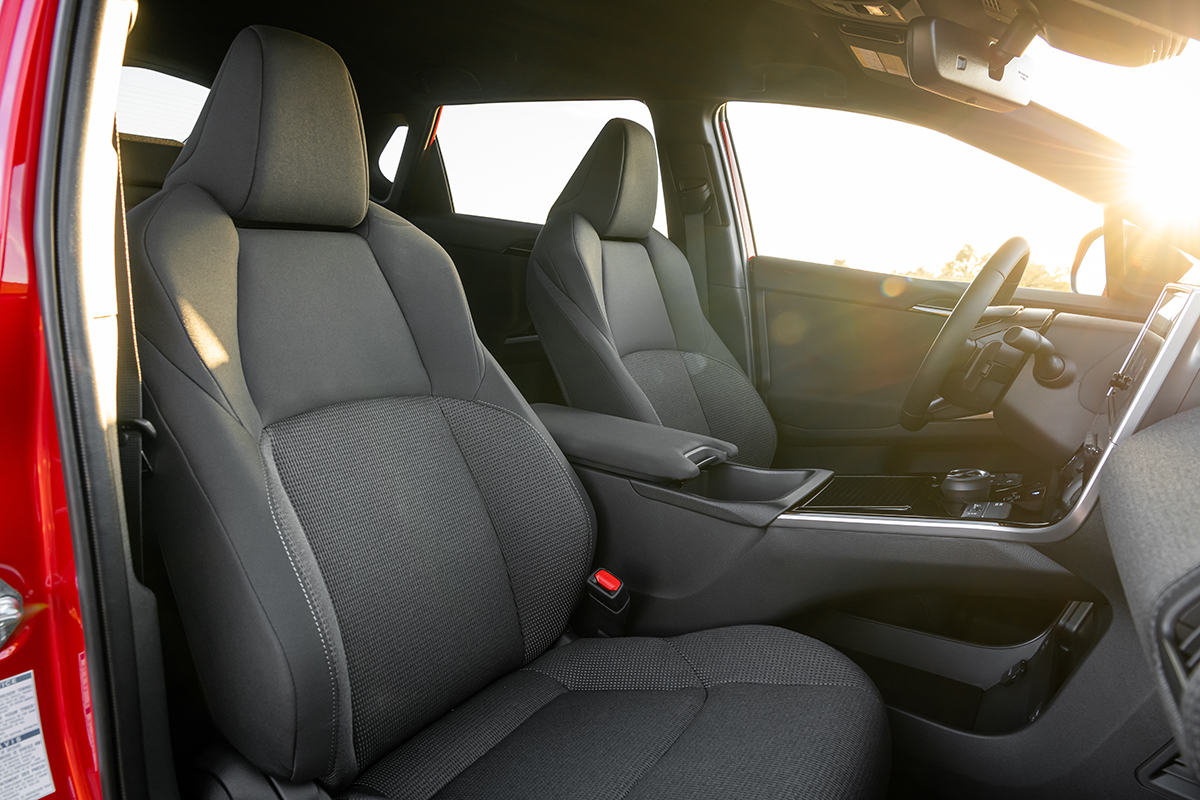 Inside, the base trim features cloth seats and lots of plastic on the doors and other lower surfaces. The dash has a lovely cloth-like covering in all trims and when you get to the Limited and Touring trims the seats are swathed in Subaru's StarTex faux leather. This waterproof fabric is great for those with an adventurous mindset because it's so easy to clean. The seats are comfortable and there's room for 5, but it's not the roomiest EV out there. Ioniq 5 has significantly more passenger volume. One of the quirkiest elements of Solterra is the instrument panel. Overall the dash is low and the IP rises above it under a hooded cowl. This means you don't look through the steering wheel as with every other car on the road (except the bZ4X), you look over it. It forced me to keep the steering wheel lower than I typically like and as such felt a little awkward.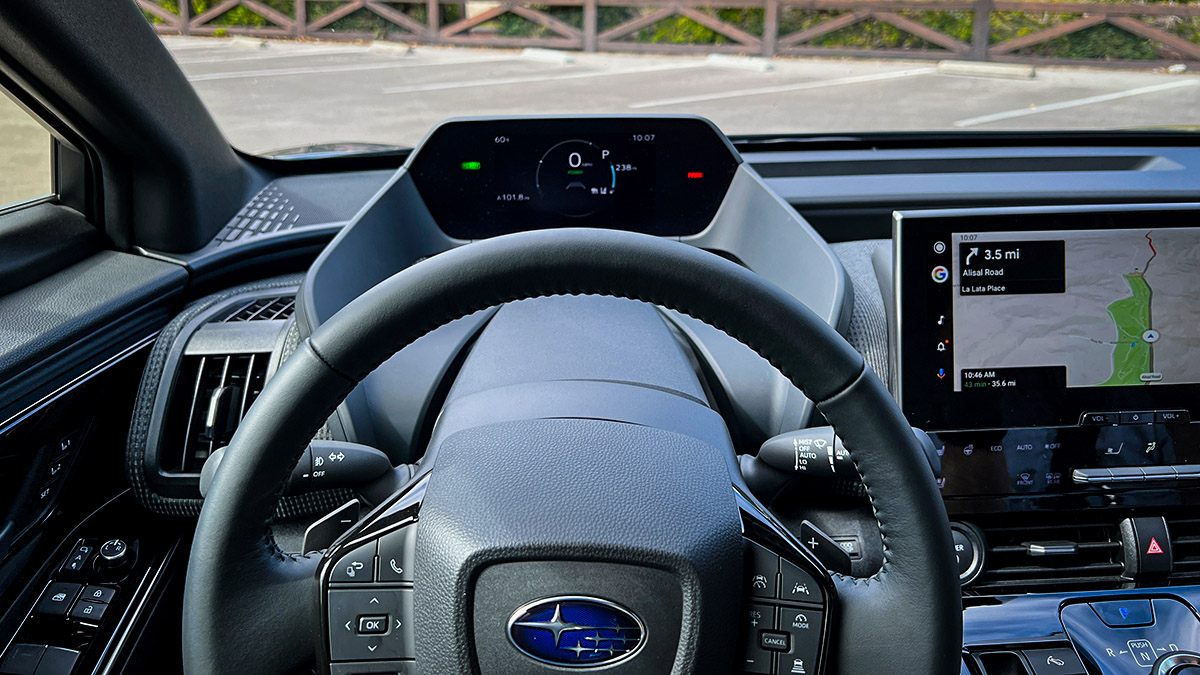 Technology in the Solterra comes courtesy of Toyota and uses their new interface which has some plusses and minuses. The base set up is an 8-inch touchscreen and includes wireless Carplay and Android Auto (plus). In the two higher trims the screen grows to 12.3 inches which feels massive in the modest cabin. Unfortunately, even with all the screen area, it doesn't have split screen functionality so you can only operate one function at a time (minus). HVAC is operated via physical buttons, but the radio, map, and other vehicle settings all happen through the screen either via touch or voice activation. It's a solid system and a big upgrade from the previous generation Toyota infotainment set up. Subaru's Starlink system that's found in Outback, Forester, Crosstrek and Ascent is better.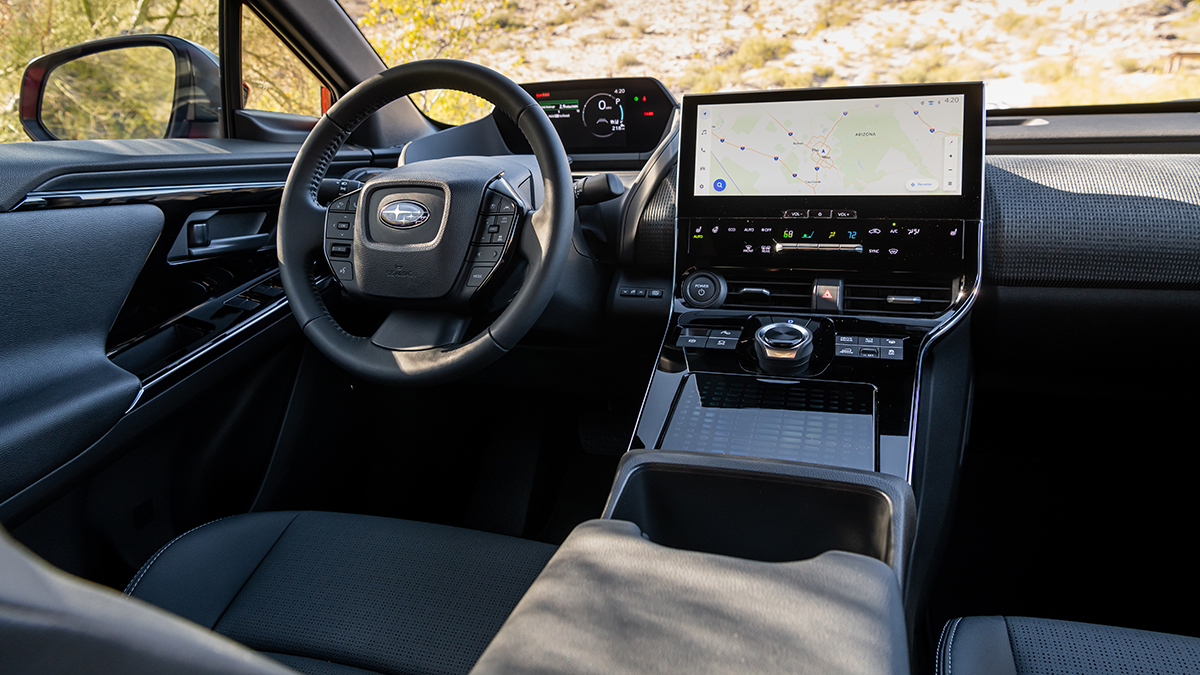 The main reason to buy a Solterra is its all-wheel drive system. That's the reason we found ourselves on Catalina Island about 25 miles off the California coast. Catalina is a sparsely populated rugged rock in the Pacific with steep rutted trails that climb from sea level to about 2,000 feet. In addition to keeping an eye out for uneven terrain, drivers also have to be alert for very large wild animals. There is a herd of about 100 American Bison on the island. There are several stories of when and how they came to be on the island. The most common legend has it that they were brought to the island as props for a couple of Western films produced in the 1920s. News reports of Bison in Catalina, however, date back to 1915 so the legend and facts don't quite align – go figure. The herd is managed by Catalina Island Conservancy and when it grows larger than 150, the excess animals have been shipped back to the mainland to keep the population at a level that can be supported by the local ecosystem.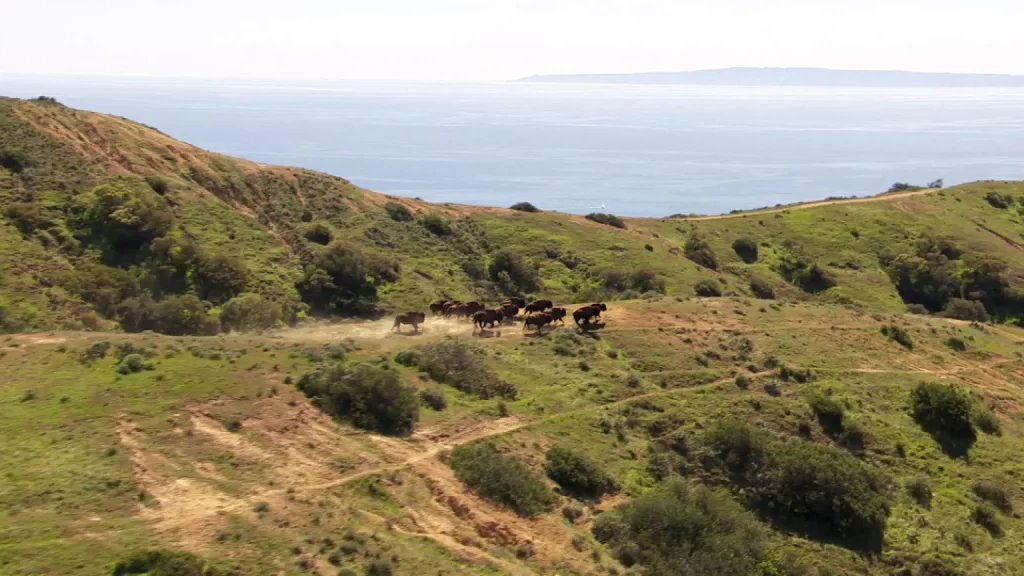 Solterra performed better than I expected on Catalina's weather-worn and rutted trails. It scrambled over rocks and loose dirt with ease. There's lots of glass for good visibility and with the low hood height, sightlines are excellent allowing you to pick paths and avoid deep ruts and larger obstacles. With the wheels pushed way out to the corners, approach and departure angles are more than adequate for the kind of trails this Subaru and its 8.3 inches of ground clearance is designed for. Don't mistake it for an Outback Wilderness, however, this is a street car that happens to be able to handle some fairly rugged trails.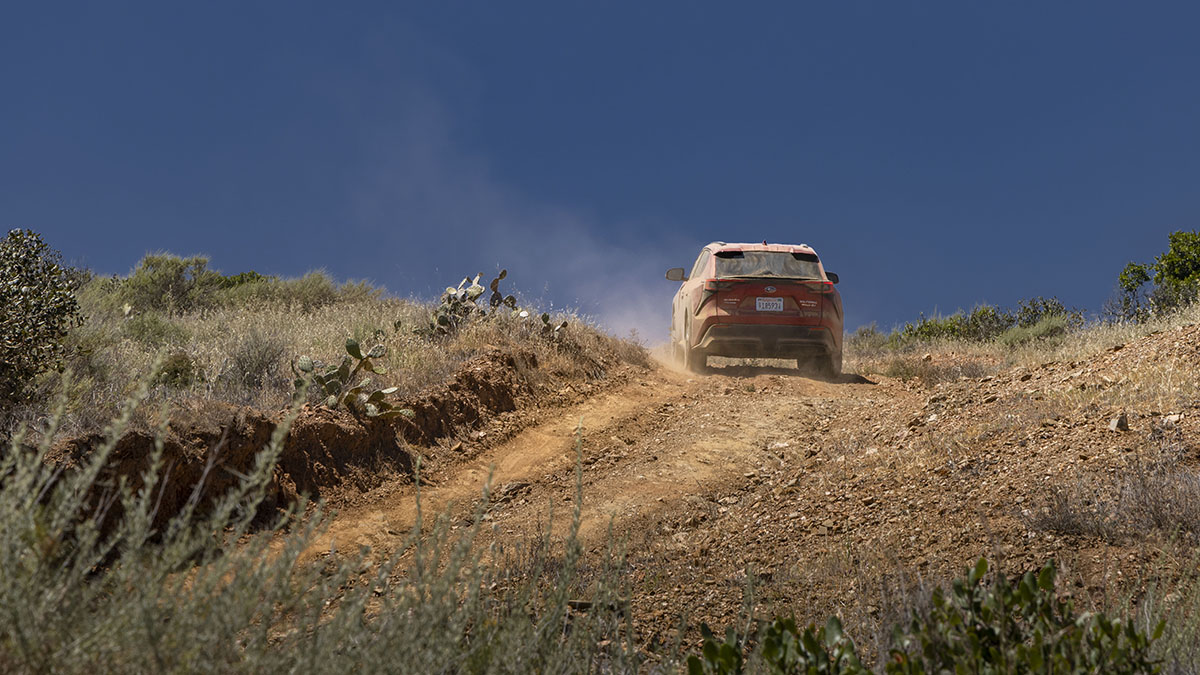 The best part of off-roading with an electric vehicle is the torque. It makes it easy to ascend steep hills without having to worry about bogging down. The second best part is the silence. Roll down the windows and you can hear the wind whispering through the grass, birds singing, and in the case of this trip, the waves crashing along Catalina's shores.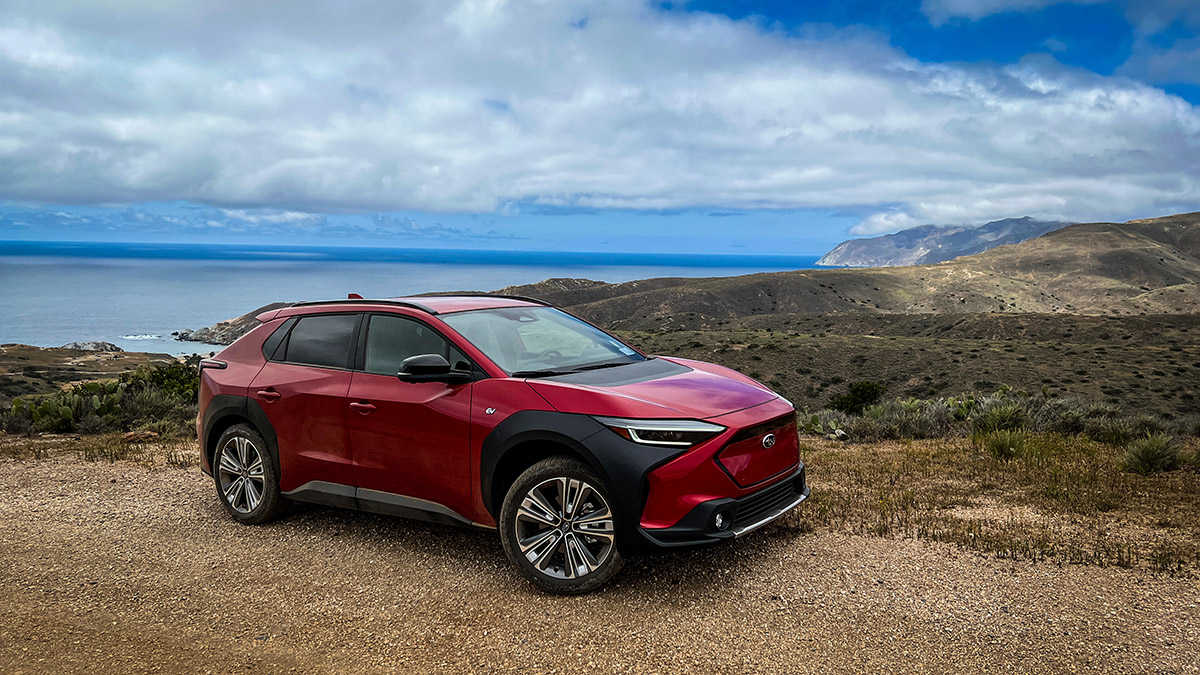 Solterra starts at $44,995 for the Premium model and tops out at $51,995 for the Limited (of course, you'll have to add destination charges to that). If I were buying a battery-electric CUV for the street, I'd probably take the Ioniq 5 or EV6 before the Solterra. But if you're looking for one that can take you off the beaten path, then Solterra is your only option right now. Despite all its quirks, or maybe because of them, it's a charming one.