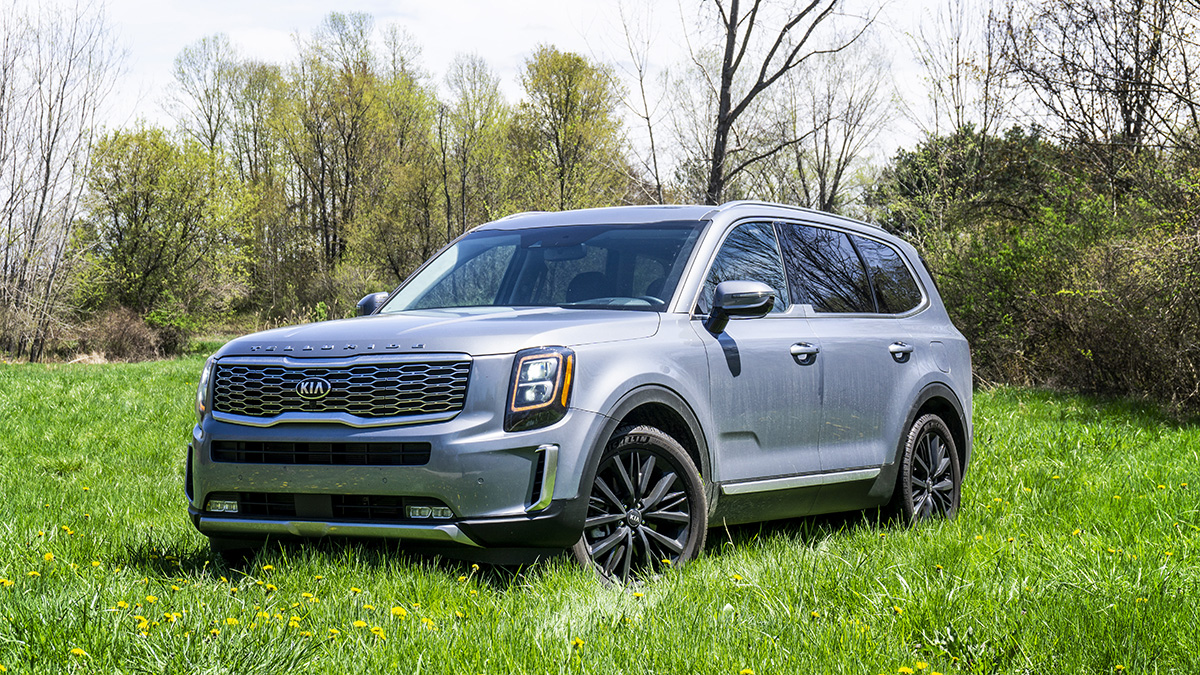 There are products that transform companies and change what they stand for in our minds. Think iPhone for Apple, Lite Beer for Miller, or Seinfeld for NBC.
For Kia, we all thought that product was going to be the Stinger since it was such an outrageous and excellent sports sedan. Turns out we were wrong. As good as it is, Stinger appeals to such a narrow sliver of the market, it creates a very small halo. So now the job of transforming Kia's image falls on something a little bigger. Okay, a lot bigger, the 2020 Telluride three-row SUV.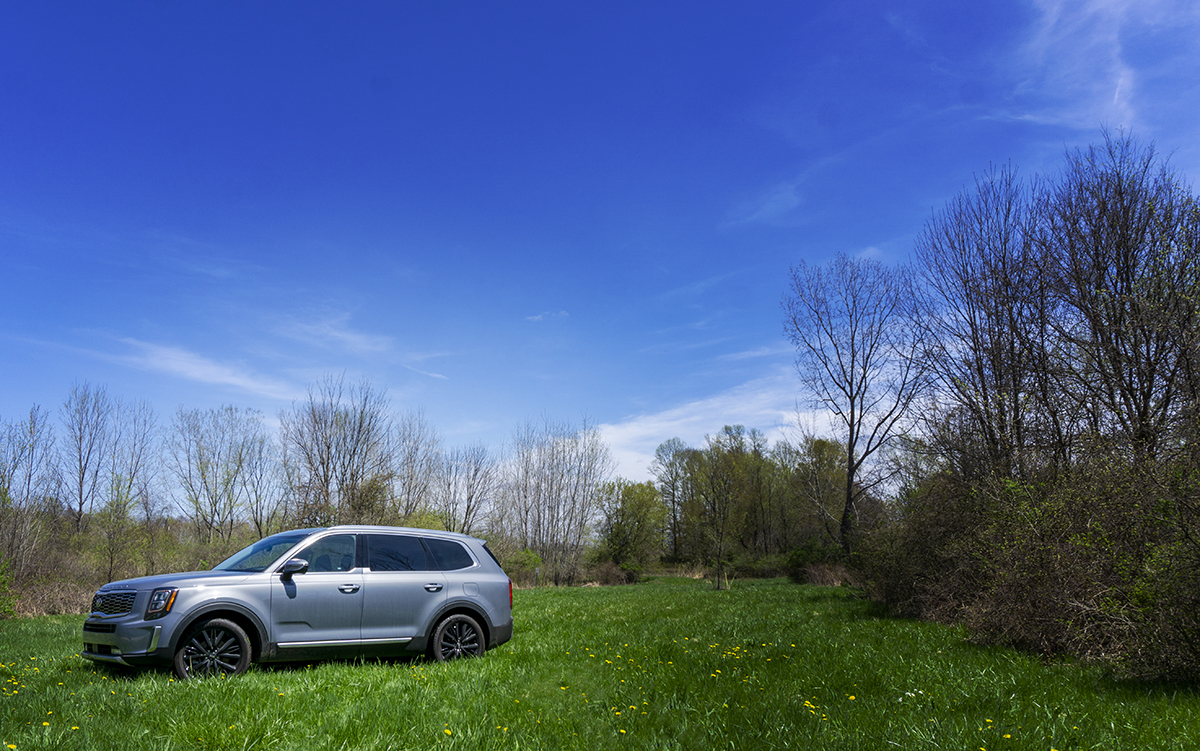 Kia has been making a lot of upgrades to their products and quality in recent years – they now sit atop the J.D. Power Initial Quality Survey for mainstream brands. Their products filled every niche except that most American of vehicles, a full-size, three-row SUV, until now. Thus the question becomes, is Telluride big enough, bold enough, and good enough to elevate Kia's image among American buyers?
Telluride is excellently packaged and well thought out in every trim level. It starts at $31,560 without destination and delivery for the LX model which makes it about the same as Toyota Highlander, Chevy Traverse, and Honda Pilot. For that investment you get front-wheel drive, a 3.3-liter V6 engine that makes 291 horsepower, an eight-speed automatic transmission, eight-passenger seating, two USB ports in every row, and 5,000 pounds of towing capacity. Only the new Ford Explorer, which costs significantly more, offers more base horsepower in this class.
Where Telluride makes an immediate impact is in its style. Its big, square shoulders, chiseled front end, expansive side glass, and tapered roofline give it a look that says it's ready for adventure. Eight inches of ground clearance and a 17 degree approach angle will allow Telluride to go as far off road as most families ever dare, especially when you add all-wheel drive. To my eye, Telluride and Explorer are the best looking three-row SUVs on the market today. Especially when you opt for the SX AWD trim with its 20-inch black alloy wheels, and LED lighting package.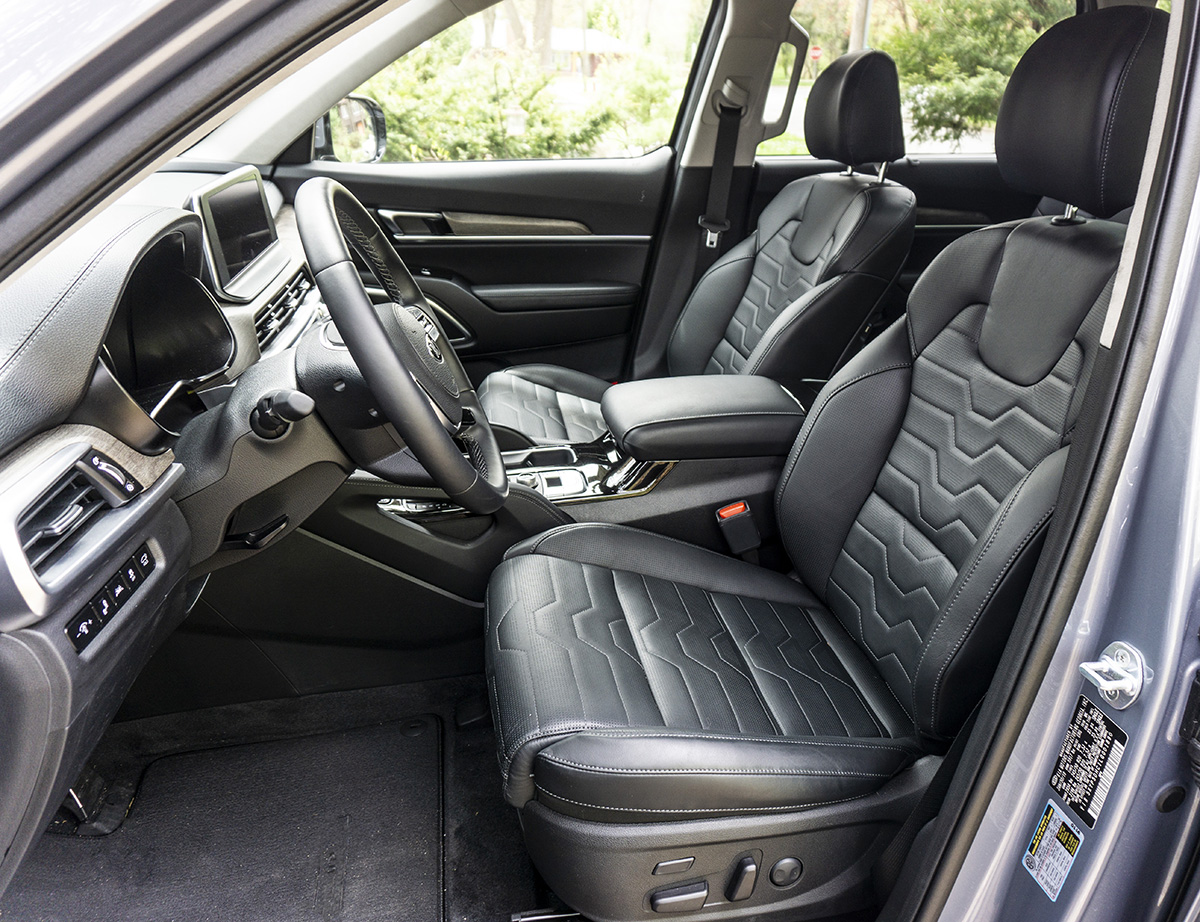 Inside Telluride is spacious and purposeful. Little touches like the grab handles on the center console tell you this is a vehicle designed to handle more than suburban side streets. In base trim it's fairly spartan, but option up to the SX AWD model and in typical Kia fashion, the option list is as long as a CVS receipt. Leather heated and ventilated front seats, second row captain's chairs, heated leather steering wheel, three-zone automatic climate control, side window curtains, power front sunroof and a fixed rear sunroof, premium Harman/Kardon surround sound audio, and wood dash and door inserts. Add the SX Prestige Package and things get pretty swanky with the addition Nappa leather seat trim, heated and ventilated first and second row seats, premium cloth headliner and visors that feel and look like suede. And, it all comes for under $50,000, $46,860 to be exact.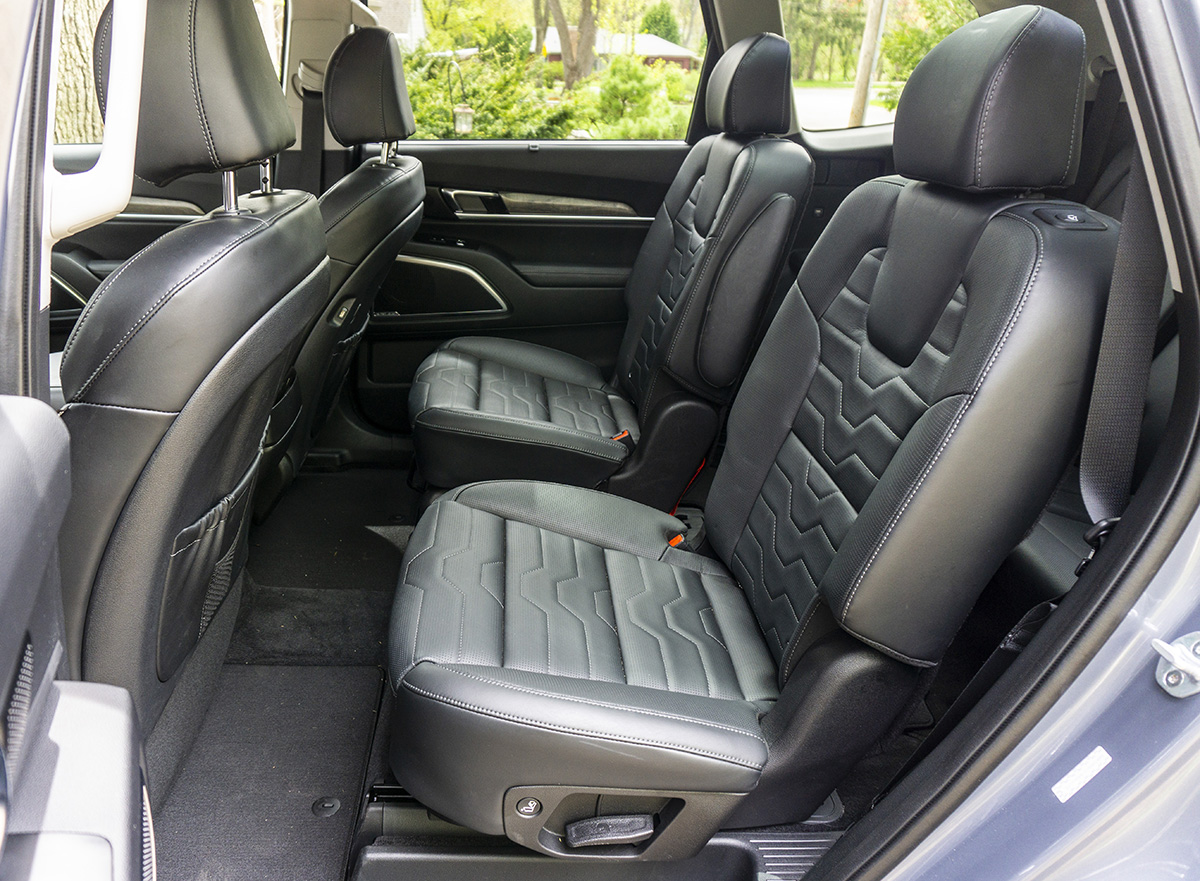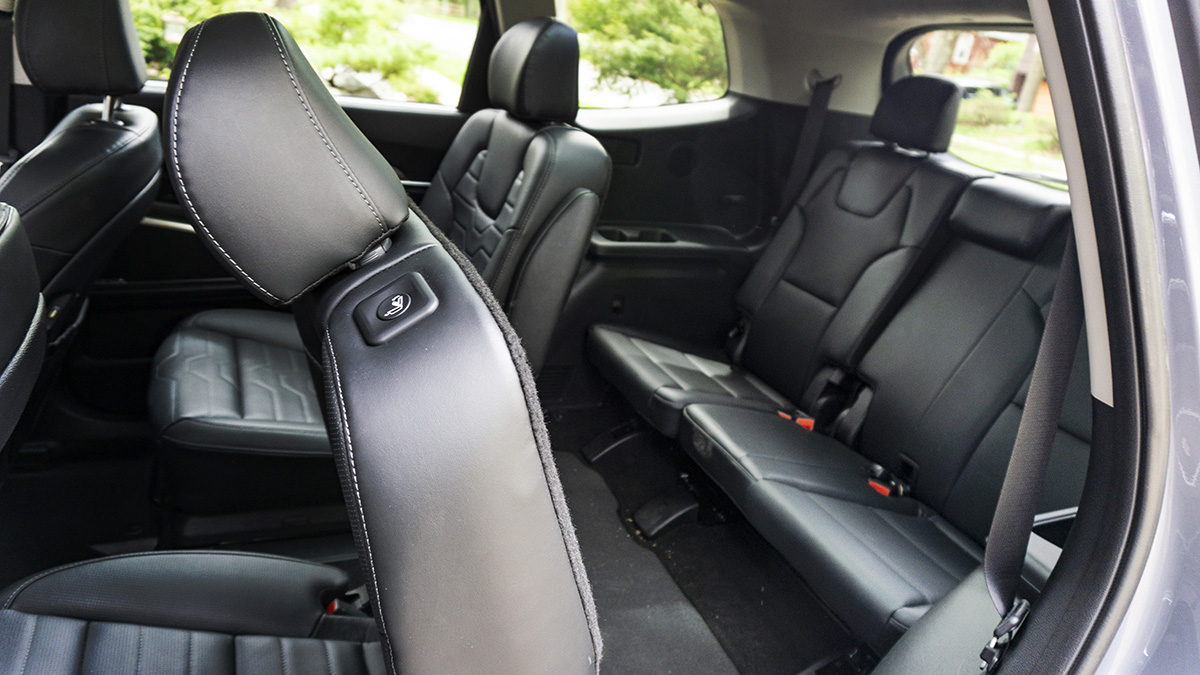 Telluride offers best in class legroom in the second row, and the third row has enough room for passengers up to six feet to sit comfortably for a road trip. To make communicating with everyone easy, Telluride has cabin talk, which lets the driver talk to the second and third row passengers through the vehicle speakers, so you don't have to turn your head or shout when you need to quiet the kids down in the way back.
Where the Telluride doesn't really stand out is how it drives. Don't get me wrong, it drives just fine and in SX trim it has all the driver assist technology you expect from a fully-loaded top-of-the line vehicle. It's powerful enough, but the V6 engines in the Highlander, Traverse, and Explorer all deliver a bigger punch. Road manners are predictable and consistent. I took a long road trip over the weekend I had the Telluride and found it both easy and comfortable. The advanced driver assist systems, dubbed "Kia Drive Wise," enhance the confidence of people who aren't used to such a large vehicle. The highway drive assist function brings together adaptive cruise, lane keep assist, and traffic sign recognition to make cruising easier. You can't take your eyes off the road or hands off the wheel, but with the system engaged the Telluride will accurately pace the vehicles in front of you, stay centered in the lane even through corners, and adjust the speed based on the posted speed limits on interstate highways.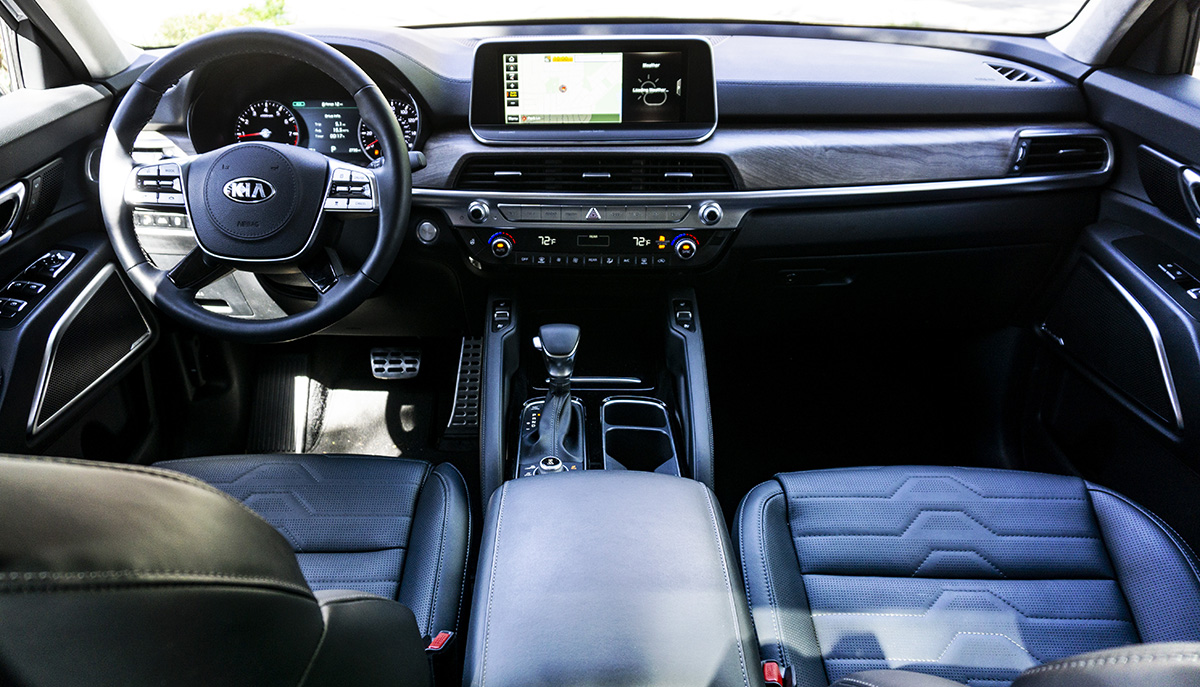 In perfect weather on solid pavement, Telluride operates in front wheel drive. Active, on-demand all-wheel drive kicks in whenever the need arises. You can engage all-wheel drive manually for added confidence if you're crawling over rocky surfaces or heading to your cabin in the snow. Telluride also offers multiple drive modes – normal, eco, sport, and sport+ – that adjust throttle mapping, shift points, steering weight, and shock damping for the fully independent suspension.
Another feature that I'm not quite sure about is the blind spot view monitor. It's a supplemental camera system that activates when you turn on your turn signal that displays the view along the side of the Telluride in the screen on the center of the instrument panel. While there's more information than just the side mirrors and a turn of the head can provide, it requires you to take your eyes from the road to the screen. Some people really like it. I find it distracting.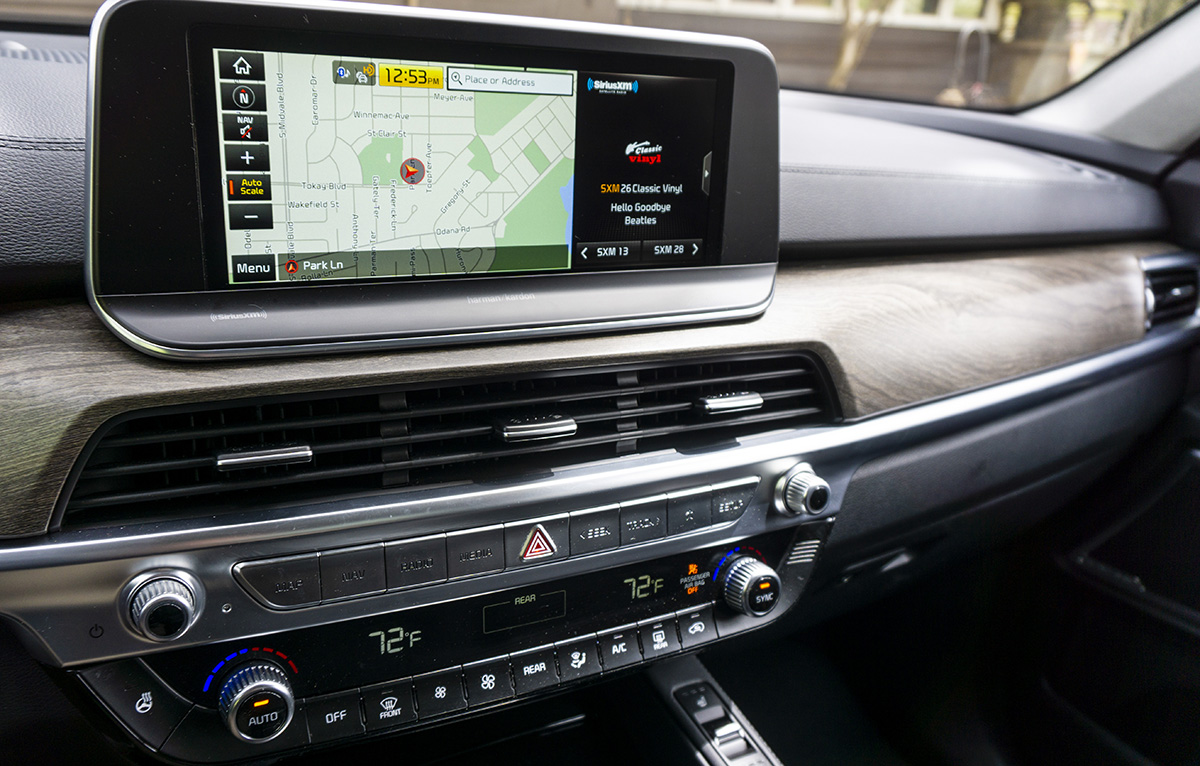 On the flipside, Kia's infotainment and HVAC systems are far and away the best of any mainstream brand. It's easy to use, with just the right combination of hard buttons, dials for tuning and volume, touch screen interface, and voice activation. With their top-of-the-line Harman/Kardon sound system, Apple Carplay, Android Auto, surround view camera, parking sensors, and Kia's own UVO connect and apps, everything you need is right at your fingertips.
While value pricing still plays a role in Kia's strategy – the fully loaded Telluride is $3,000 to $15,000 less than comparably equipped Honda, Toyota, Chevy or Ford – the company has come a long way from the cars of questionable quality they sold so cheaply in the 1990s and 2000s. Telluride is made in America for Americans and it shows. It's a seriously good three-row SUV that deserves to be at the top of its class based on style, quality, performance, and comfort. The fact that you get all that, plus a few extra grand in your pocket should make the folks in Japan and Detroit a little nervous.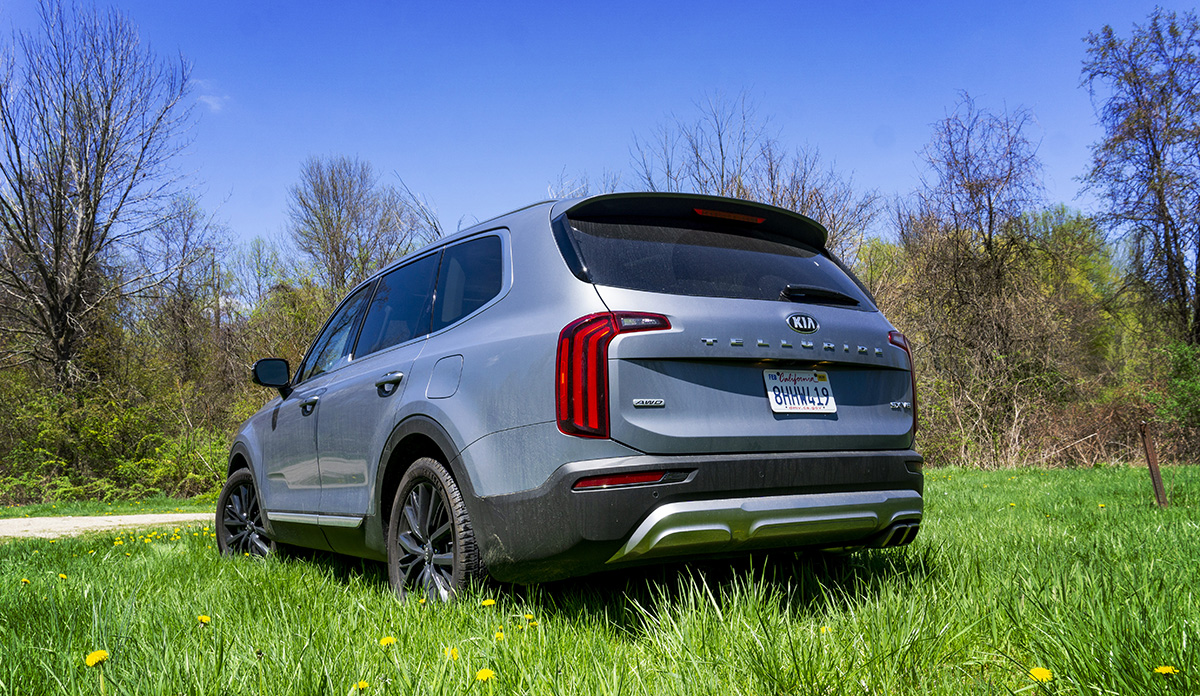 2020 Kia Telluride SX AWD
Eight or seven-passenger, three-row, mid-size SUV
Base price: $31,690
Price as tested: $46,860
Engine: 3.3-liter DOHC V6 with direct fuel injection
Transmission: 8-speed automatic with all-wheel drive
Power: 291 HP @ 6,000 RPM
Torque: 262 lb.-ft. @ 5,200
Curb Weight: 4,482 lbs.
0-60 MPH: 7.1 seconds
Top Speed: 132 MPH electronically limited
Towing capacity: 5,000 lbs. maximum
EPA MPG: 19 city, 24 highway, 21 combined