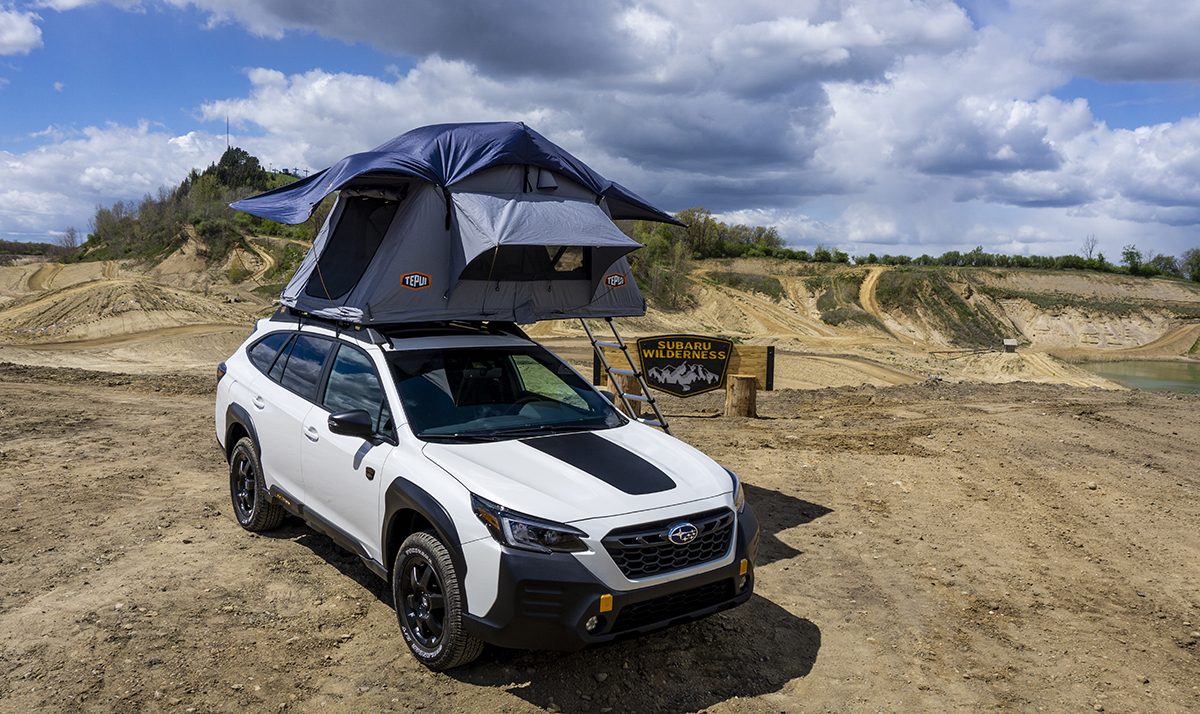 Let's be honest. The current Subaru Outback has all the capability that 99% of its owners' will probably ever need. Subaru, however, has never been about making vehicles for the masses. So when their product planning people began stalking Outback owners on social media, they saw a lot of ideas on how to modify their iconic wagon for the other 1%, and the Wilderness edition was born.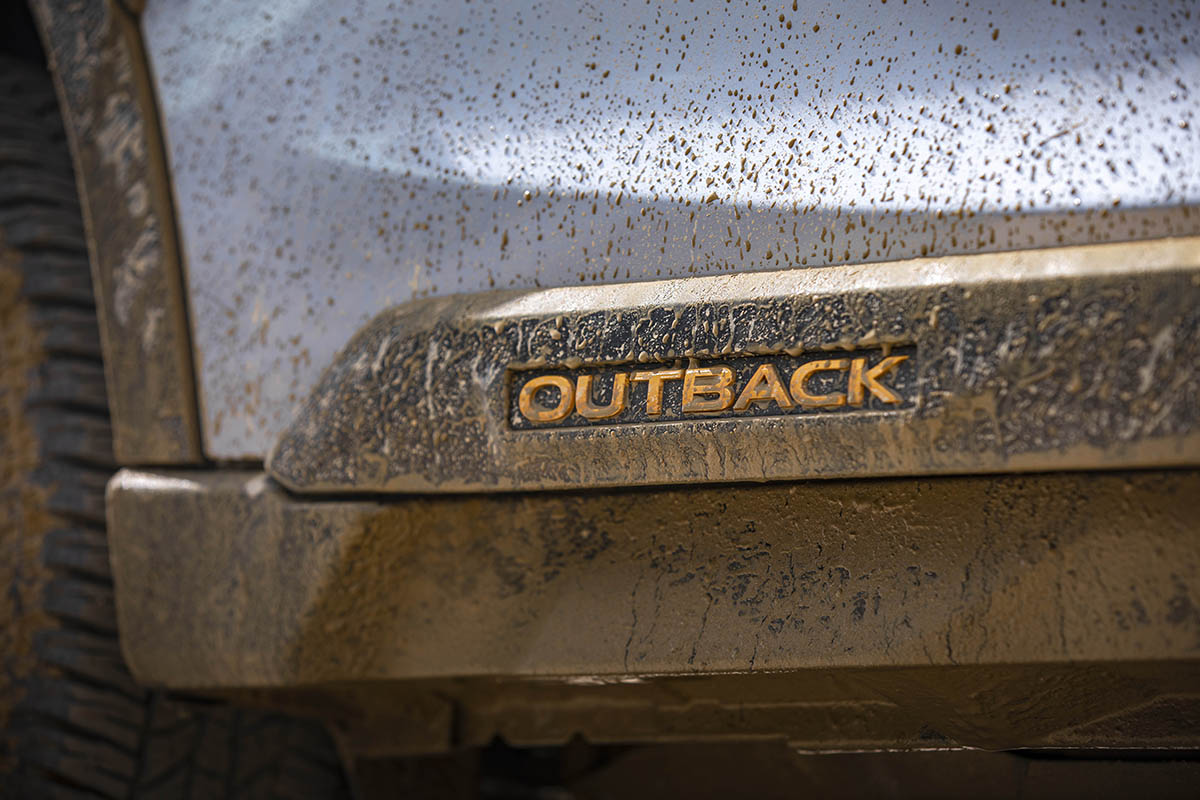 The idea behind the Wilderness, as we were told in our pre-drive briefing, is simply Outback+. Take all the things that make Outback on of the most beloved adventure-oriented family vehicles and make it even more so – but do it without compromising on-road comfort, performance, and handling.
Unlike a lot of other adventure vehicles, Outback is used as a daily driver to haul kids to school, pick up groceries, get its owners to work, and take Bruno to the dog park. That mission doesn't change when they glue on the Wilderness badge. This isn't a car to be parked until the weekend and only used on your favorite off-road trail or park. It's still an everyday car. Thanks to some simple, but significant enhancements, however, it's an everyday car that can do some extraordinary things.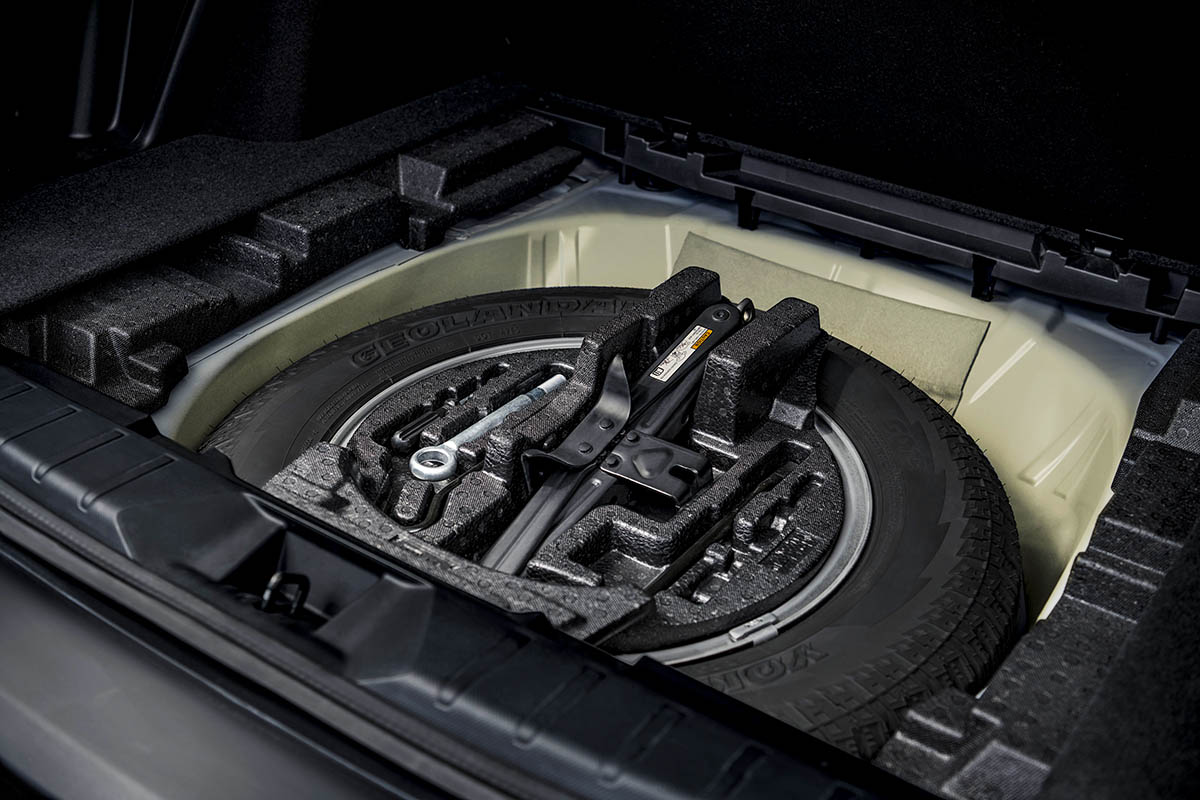 A quick overview of the changes beginning from the ground up include and extra eight-tenths of an inch of ground clearance thanks to a revised suspension. There are 17-inch alloy-wheels with Yokohama Geolandar all-terrain tires at each corner and under the load floor. The Wilderness is one of the few vehicles these days to carry a full-size spare on the original equipment wheel. It makes sense. After all, if you puncture a tire on a trail miles from nowhere, a mini-spare or inflation kit probably won't get you home.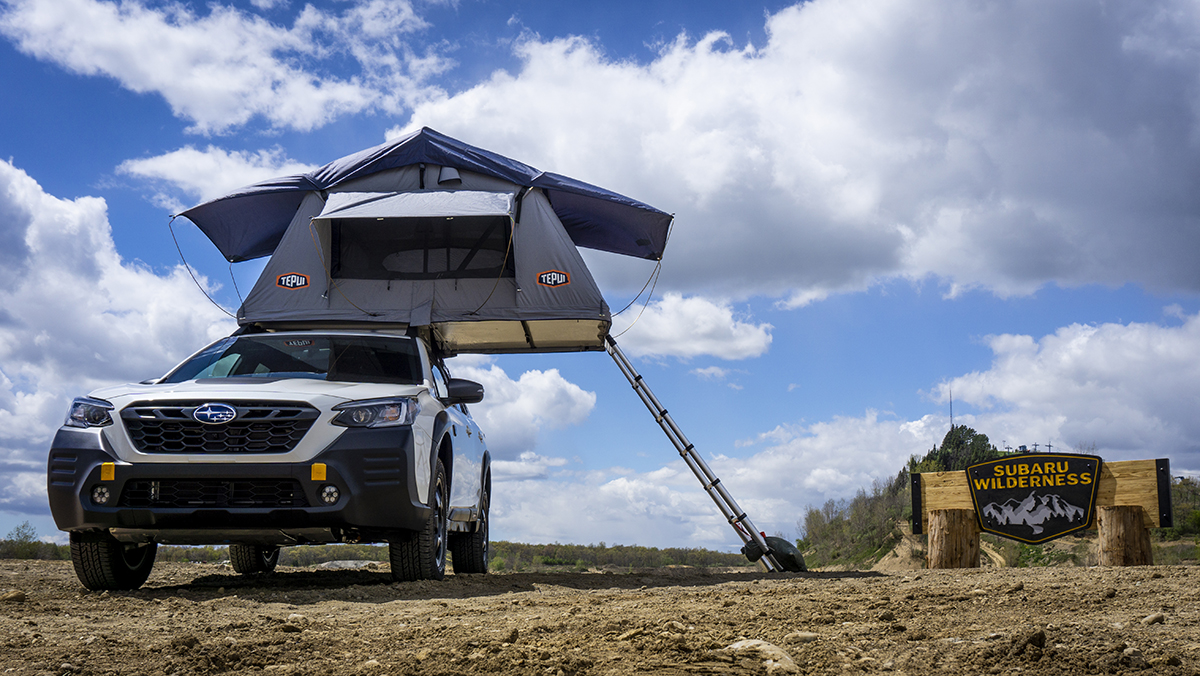 Other standard exterior enhancements include redesigned bumpers for increased approach and departure angles, a steel skid plate up front protecting the engine, redesigned fog lamps, a model-specific hex pattern grille, a matte-black hood decal to cut down glare, and copper-accented tow hook and tie down points that make them easy to spot and access. There's also a new Wilderness, exclusive color, Geyser Blue.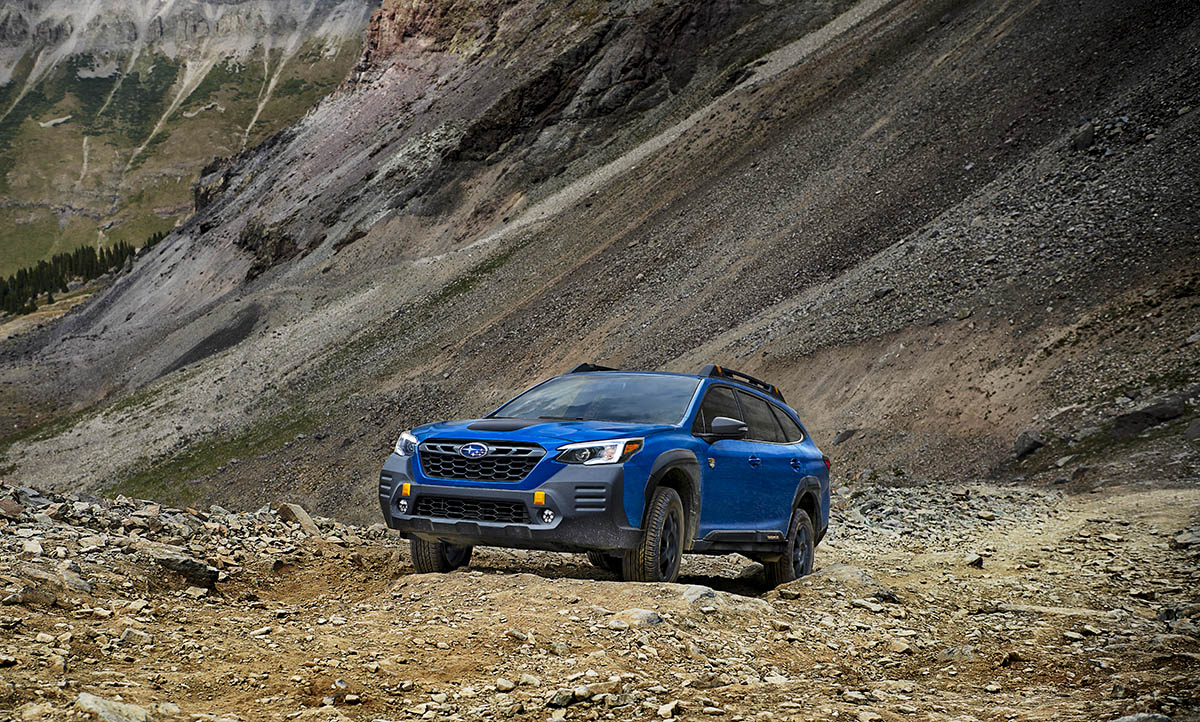 Probably the biggest change is to the roof rack which is now constructed with a ladder-style frame. This increases load capacity to a best-in-class 220 pounds when the vehicle is in motion and 700 pounds static. That means you can now put a tent atop your Outback Wilderness to keep you off the forest floor away from bugs, snakes, and other critters you'd rather not find in your sleeping bag when you wake up.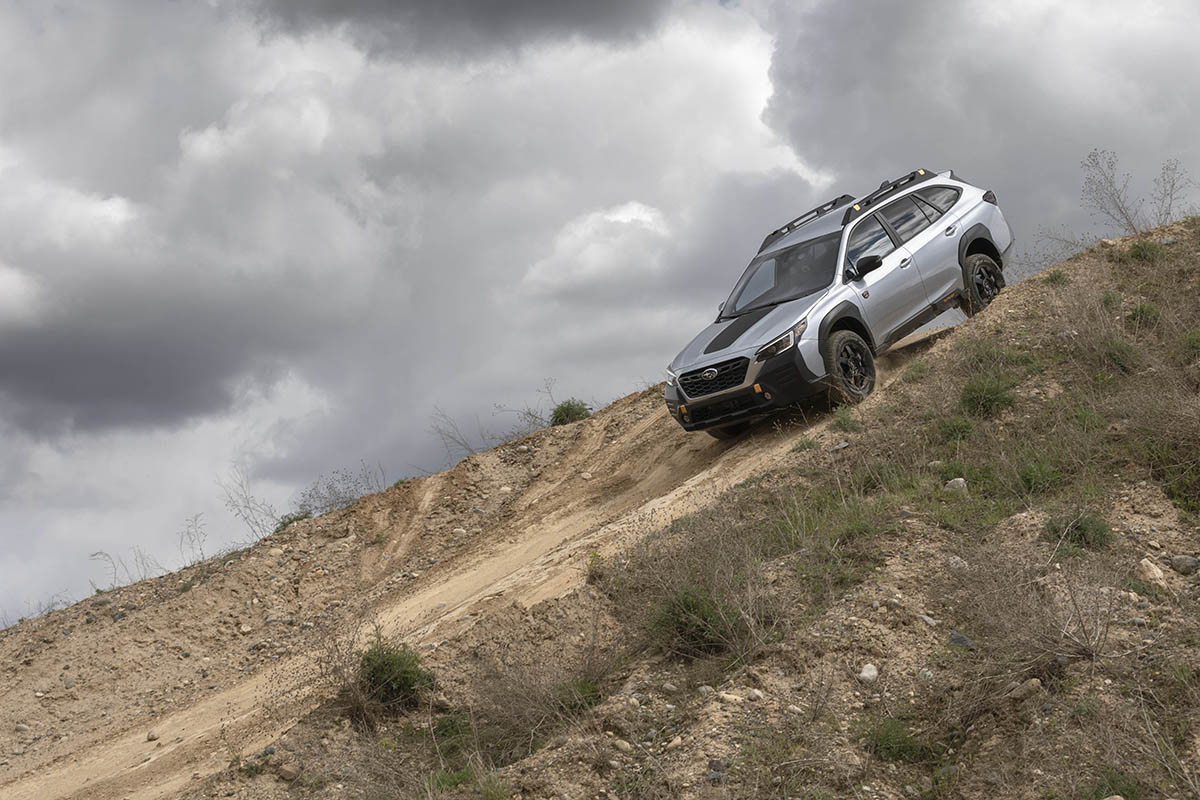 The engine is still Subaru's iconic and adequately-powered 2.4 liter boxer turbo, but the CVT transmission, rear-differential, and X-Mode AWD system have been modified to add capability. The final drive ratio is now 4.44:1 which delivers more low-end torque to the wheels and allows the Wilderness to clamber up 40% grades. This does have a slight impact on fuel economy. Outback Wilderness is rated at 22 City/26 Highway versus 23/30 for a civilian model.
X-Mode terrain management still offers a couple settings to optimize traction for different surfaces, but now doesn't shut off at 25 mph when you're in Deep Snow and Mud mode. This means you don't have to reengage the system after a high-speed stretch of trail.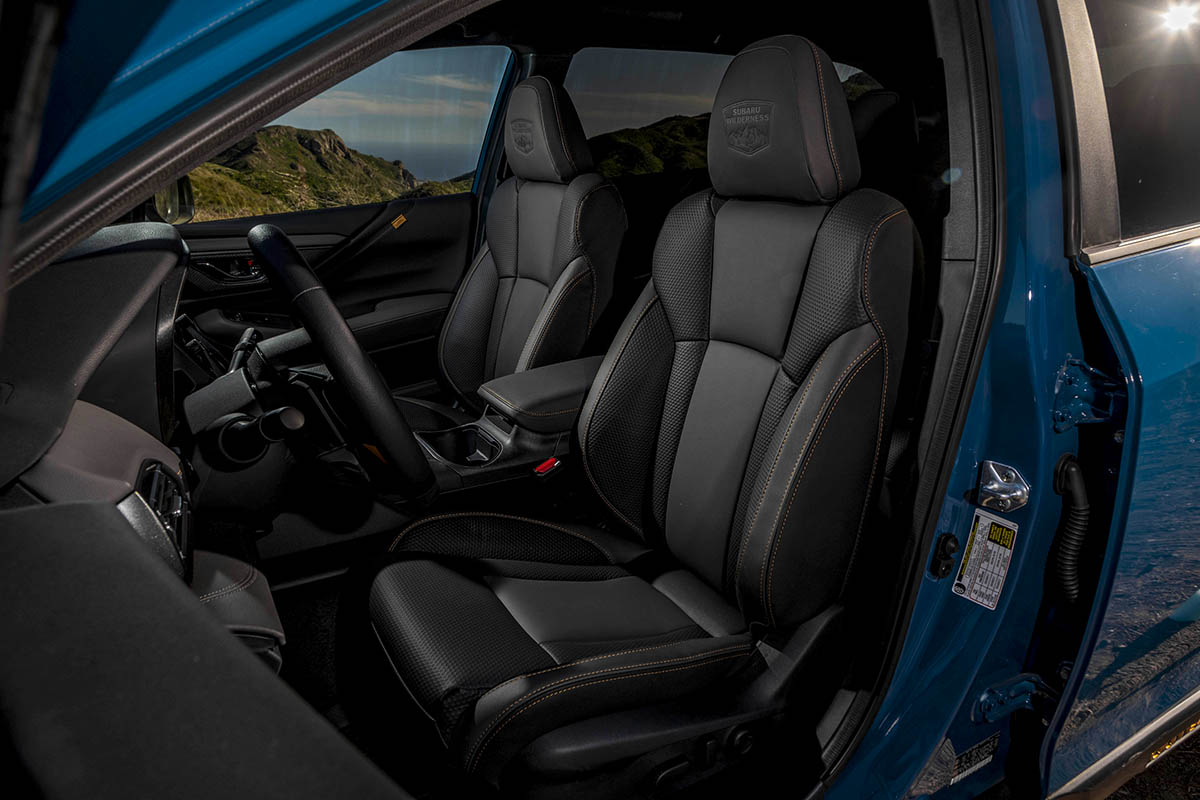 Inside, Wilderness is kitted out with Subaru's water-repellent StarTex material, copper-colored contrast stitching, and copper-colored accents to identify its special capabilities. Other standard functional enhancements include all-weather floor mats, a dark headliner that won't show scuffs from loading bikes in the back, washable second-row seat backs, an all-weather cargo tray, and an LED light in the tailgate that illuminates the ground around it when it's open. For those of us who like to squeeze every second of daylight out of our adventures, this is a big upgrade.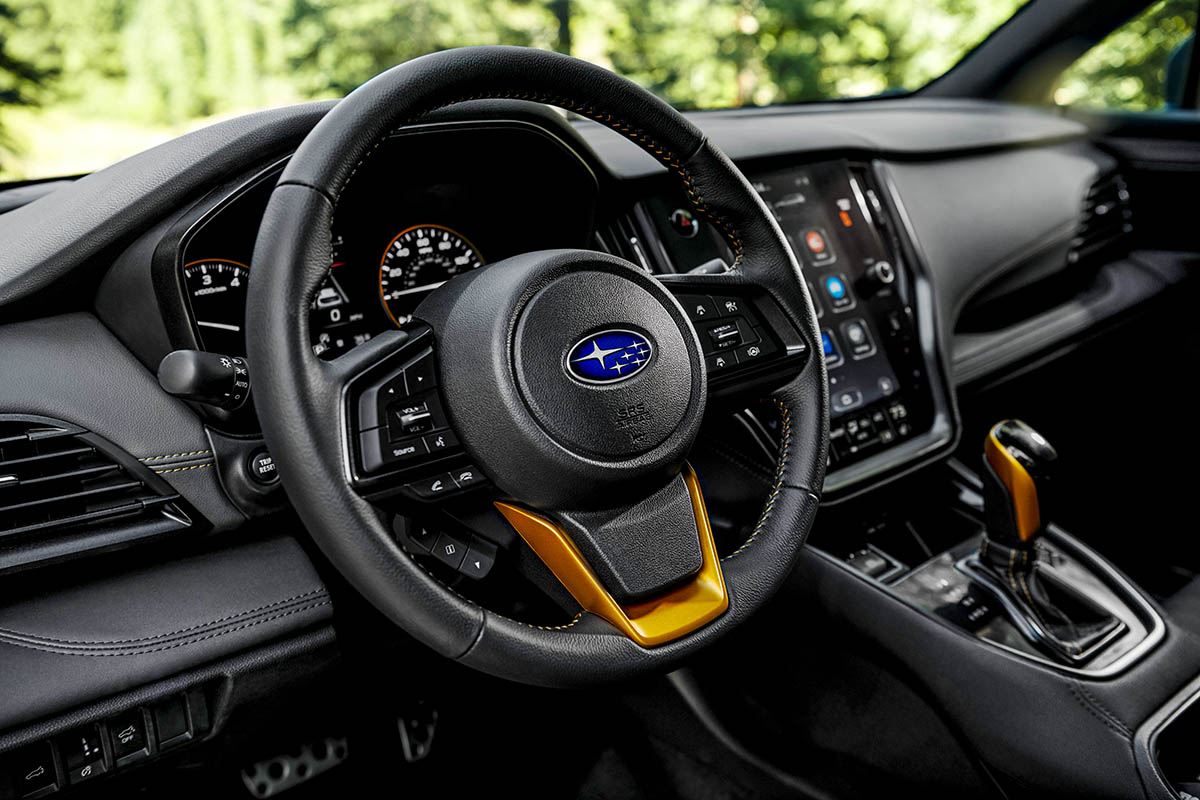 Specs and feature lists are one thing, but despite the growing trend of people buying cars without test driving them, the only way to know what a car is capable of is to spend time behind the wheel. That's exactly what I did after traveling to Birmingham, Michigan, picking up a pre-production version of the Wilderness, and driving it 35 miles north to Holly Oaks ORV Park. It was a blustery spring day with the wind coming hard from the west and temperatures struggling to climb into the 60s, when climbed into the Outback Wilderness.
I fired it up and felt the familiar vibration of the boxer engine, making my way to Woodward Avenue and up to Square Lake Road where I merged on to Interstate 75. On pavement the Wilderness doesn't feel terribly different from a standard Outback. There's a little more pull off the line thanks to the transmission modifications. The added suspension travel smooths out the bumps and other imperfections in the pavement a little more completely, though it does add a bit of roll in the corners. On the freeway with a crosswind, the Outback needed more attention than expected to keep it centered in my lane. I'm guessing this has do with the all-terrain tires which are stellar off-road but offer some compromises on pavement.
Road and wind noise were not an issues, and everything else about the Outback Wilderness from the 11.6-inch touchscreen multimedia system, EyeSight driver assist functions, comfortable seating position, and plentiful storage make it an excellent daily driver. The boxer engine's horizontally opposed cylinders mean the start/stop function is one of the most intrusive in the industry, but thankfully you can easily disable it with the touch of a clearly marked button on the dash.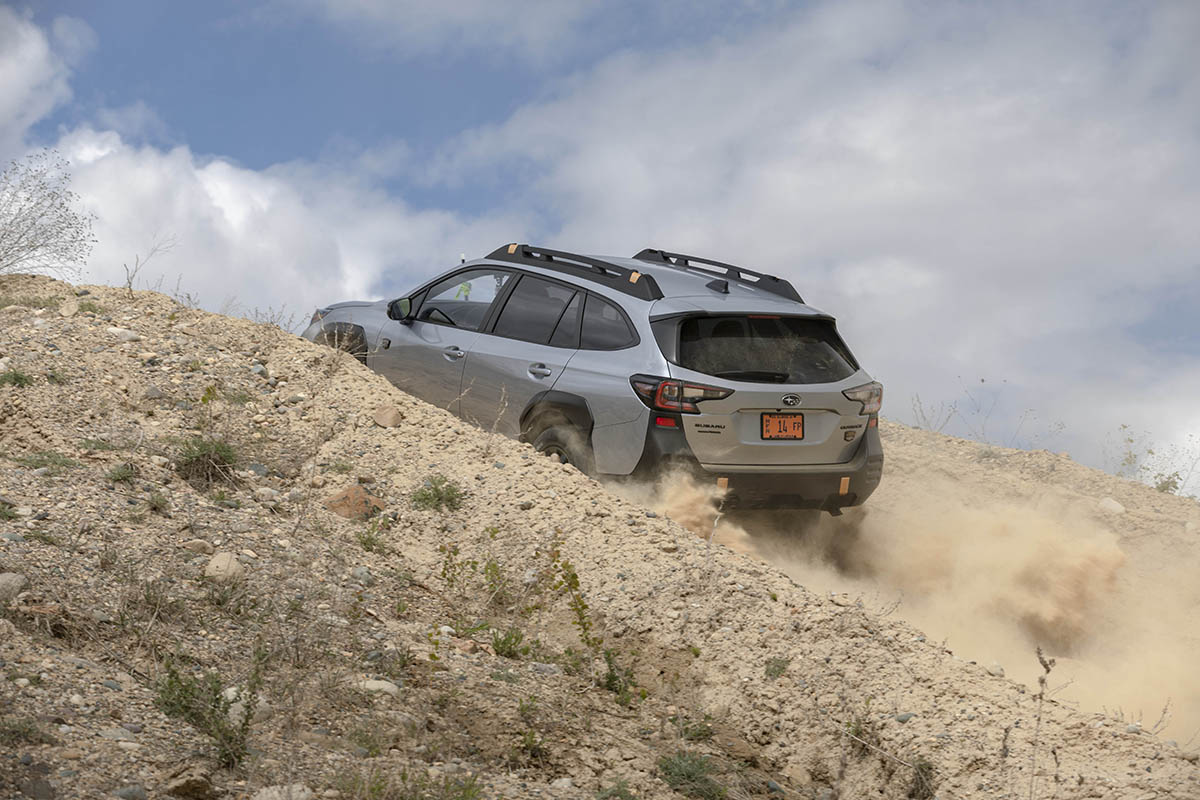 Off-Road is where the changes really show up. Holly Oaks ORV Park is designed to be used by quads, jeeps, and full-size 4×4 pickups. With my Outback Wilderness in Deep Snow/Mud X-Mode, I started down into the former gravel and sand mine and followed the signs to the trail. The first obstacle was a 40% climb over loose gravel which I easily scaled with a judicious application of throttle. Slowing at the top and with the car's nose still pointed at the sky, I activated the front camera to see the trail ahead which I found moderately successful. It works, but doesn't offer the highest resolution and doesn't work well with sunglasses.
Once over the top, hill-descent control activates automatically and holds the speed you're traveling when you start the descent. You don't have to press a button, just know how fast you want to go, accelerate to that speed (in this case it was 5 mph) then lift your foot off the throttle. Aside from steering which is your responsibility, the Subaru's computer works the throttle and brakes putting torque where its needed to get you down with no drama.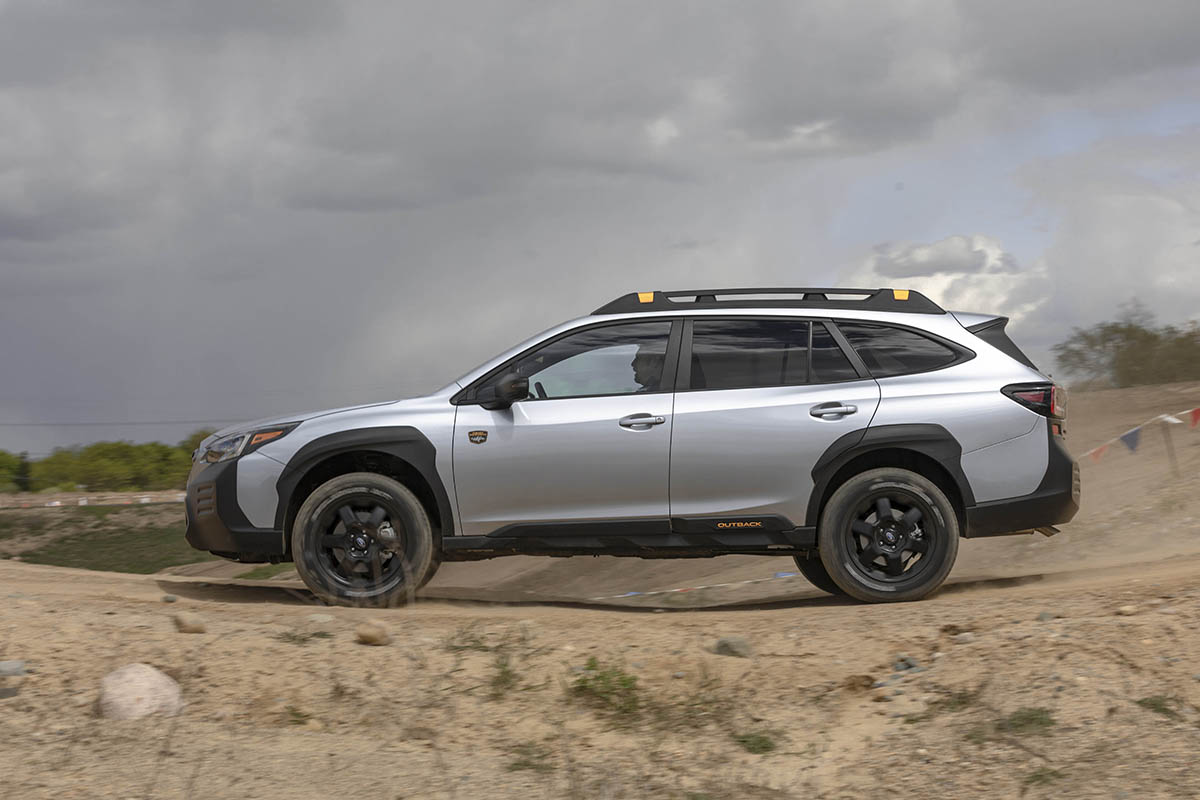 The rest of the course was a mix of gravel, deep sand, rocky climbs, steep descents, and of course the obligatory puddle. It tested every aspect of the improved capabilities of the Outback Wilderness. I came away impressed, especially with the car's ability to handle a fairly rutted, sandy uphill climb that I thought would have high centered the vehicle and left me stranded. The off-road gods – and Subaru's symmetrical all-wheel drive system – were with me, however, and I scrambled to the top with only a bit of sweat on my brow.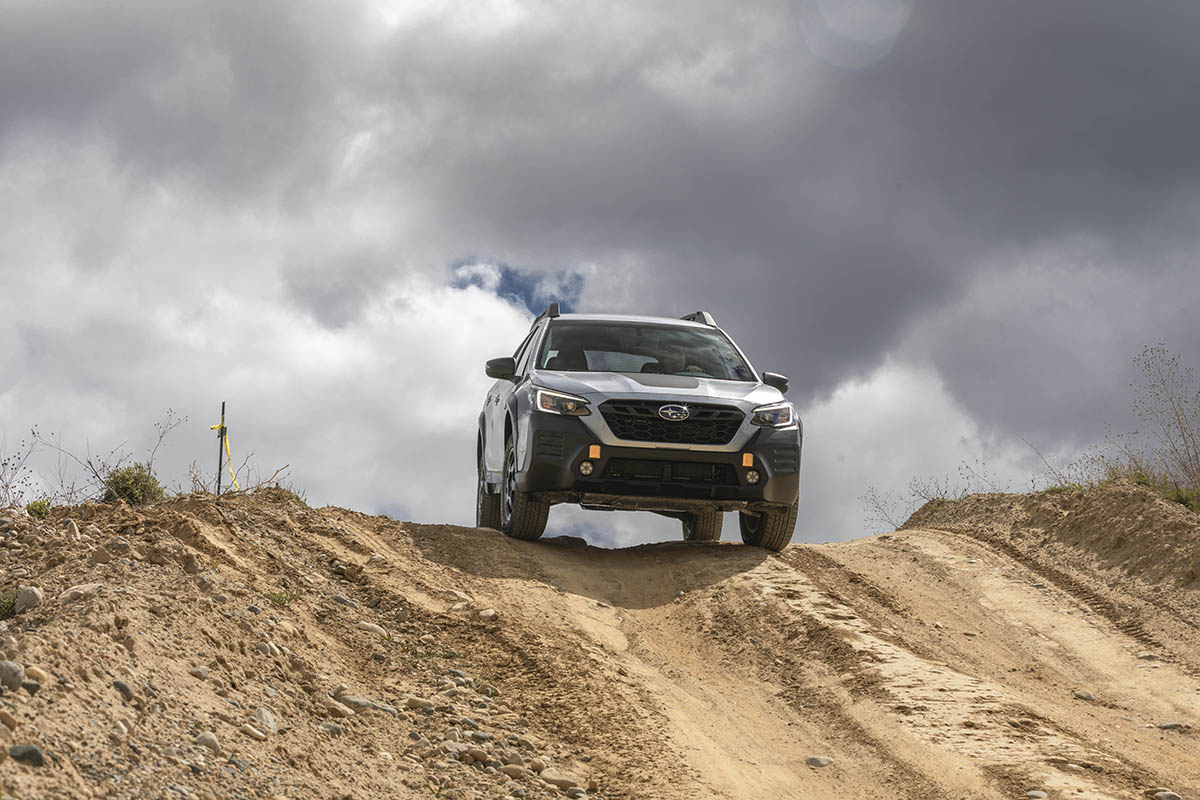 What it all boils down to is this. The Outback Wilderness will take you where you want to go, on road or off, as long as there's a semblance of a trail and you don't encounter a fallen sequoia or water that's more than calf deep. With a starting price of just over $36,000 for this well-equipped model, it's bound to give Cherokee, Bronco Sport, and RAV4 TRD and any number of off-road CUVs a run for their money.