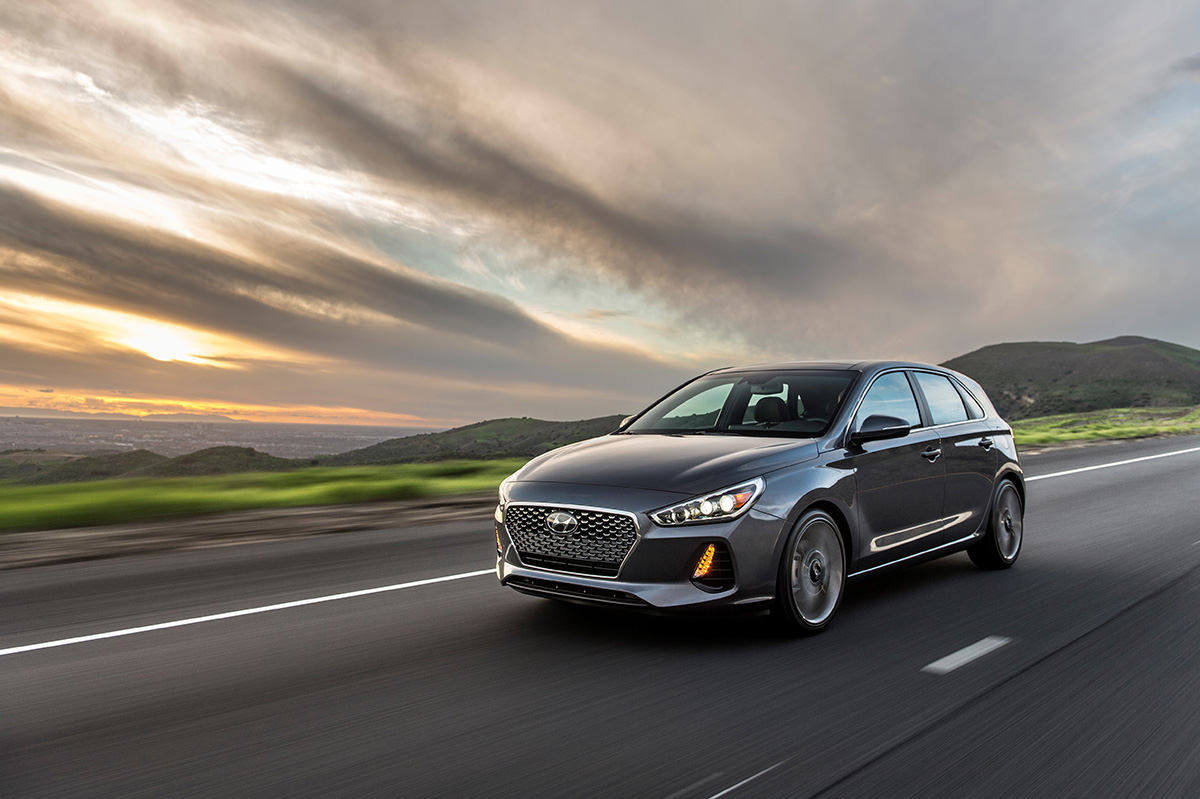 It's no secret that I'm a fan of small, light, nimble cars with reasonable power and a modicum of utility. Were I in the market for a new car today, my shopping list would include three criteria: curb weight under 3,500 pounds, a lively high-revving engine, and a 6-speed manual transmission. Since I no longer need to haul kids around either a coupe or hatchback work and front or rear drive doesn't really matter as climate change has made the winters around here less of an issue.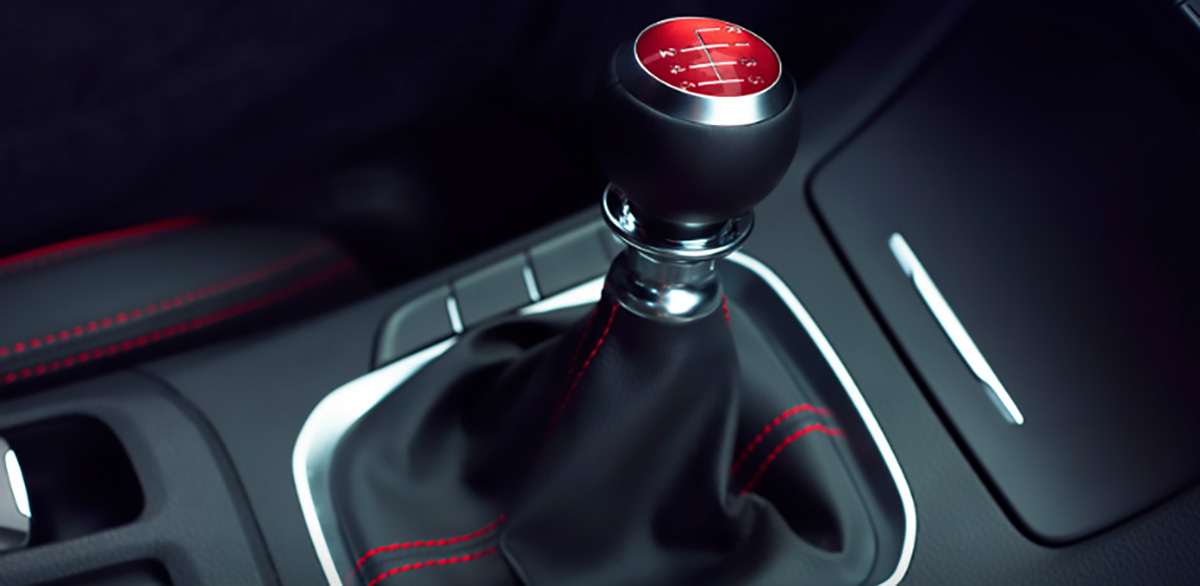 It's not a long list of cars and since this is a daily driver, I'm not interested in the track versions – BMW M240i, Camaro RS, Focus ST, Civic Si, Cooper S, Nissan 370Z, Toyota 86, and of course the VW GTI – but this year it got one car longer, the 2018 Hyundai Elantra GT Sport. So I was intrigued when this newest pocket rocket showed up at Rides & Drives world headquarters for a week.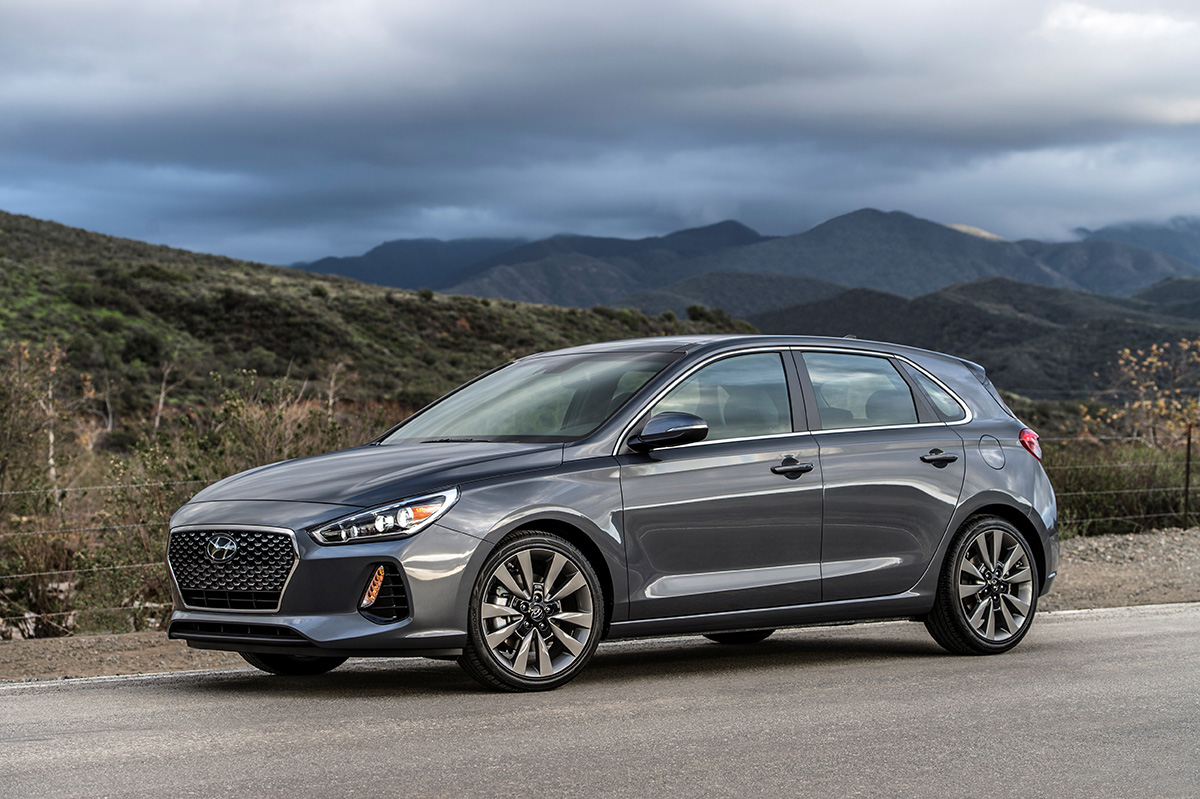 The benchmark for hot hatches is, and will continue to be the GTI, so I started by just comparing the cars on paper and on paper, it's a dogfight.
Horsepower: GTI 228 @ 4,700 RPM, GT Sport 201 @ 6,000 RPM
Torque: GTI 258 @ 1,500 RPM, GT Sport 195 @ 1,500 RPM
Curb Weight: GTI 3,062, Elantra GT Sport 3,014
Overall Length: GTI 168 inches, GT Sport 170.9
Passenger Volume: GTI 93.5 cu. ft., GT Sport 96.5
Cargo Volume (rear seats up): 22.8 cu. ft., GT Sport 24.9
0-60 MPH: GTI 5.9 seconds, GT Sport 6.3 seconds
But we don't drive cars on paper.
On the road, the GTI separates itself but not by as much as you'd think. The 1.6-liter turbocharged engine gives up a little bit on horsepower, but it is willing and spins quickly. Paired with a well-spaced 6-speed manual, it's easy to keep the engine in its powerband. To get the most out of it, you have to keep the revs up, but that only adds to the entertainment value of this Korean hatch. You do get a little torque steer off the line, but not enough that it threatens to pull the car out of your lane.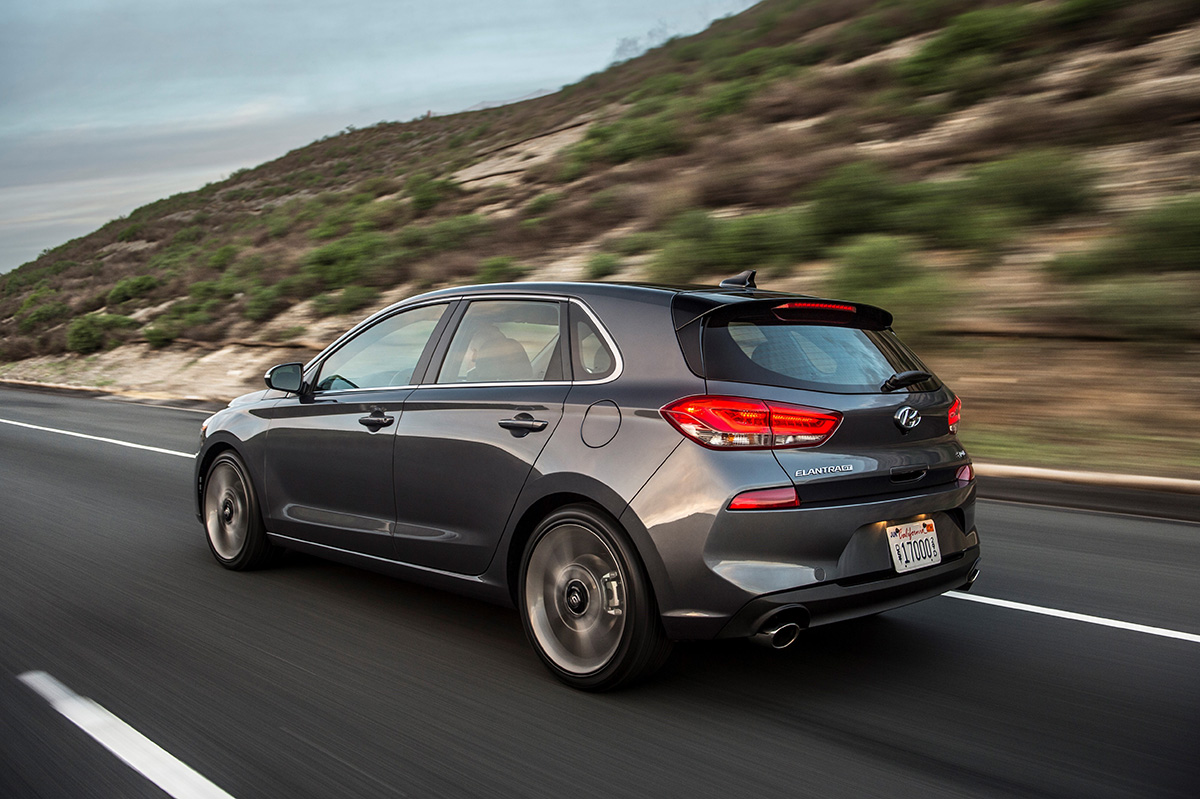 Once out on the backroads, the GT Sport acquits itself well with handling characteristics that are predictable, if not inspiring. Up front the double wishbone suspension offers plenty of control. The fully independent rear multilink setup is a little compliant which creates a strong bias toward understeer. Unlike the GTI or Focus ST which are subject to trailing throttle oversteer, the tail on the GT Sport never threatens to swap ends or hang out under hard driving. Part of this has to do with the wide 18-inch wheels and sticky performance tires. Brakes in the Elantra GT Sport are also enlarged by an inch front and rear to ensure the stopping power matches the extra horsepower.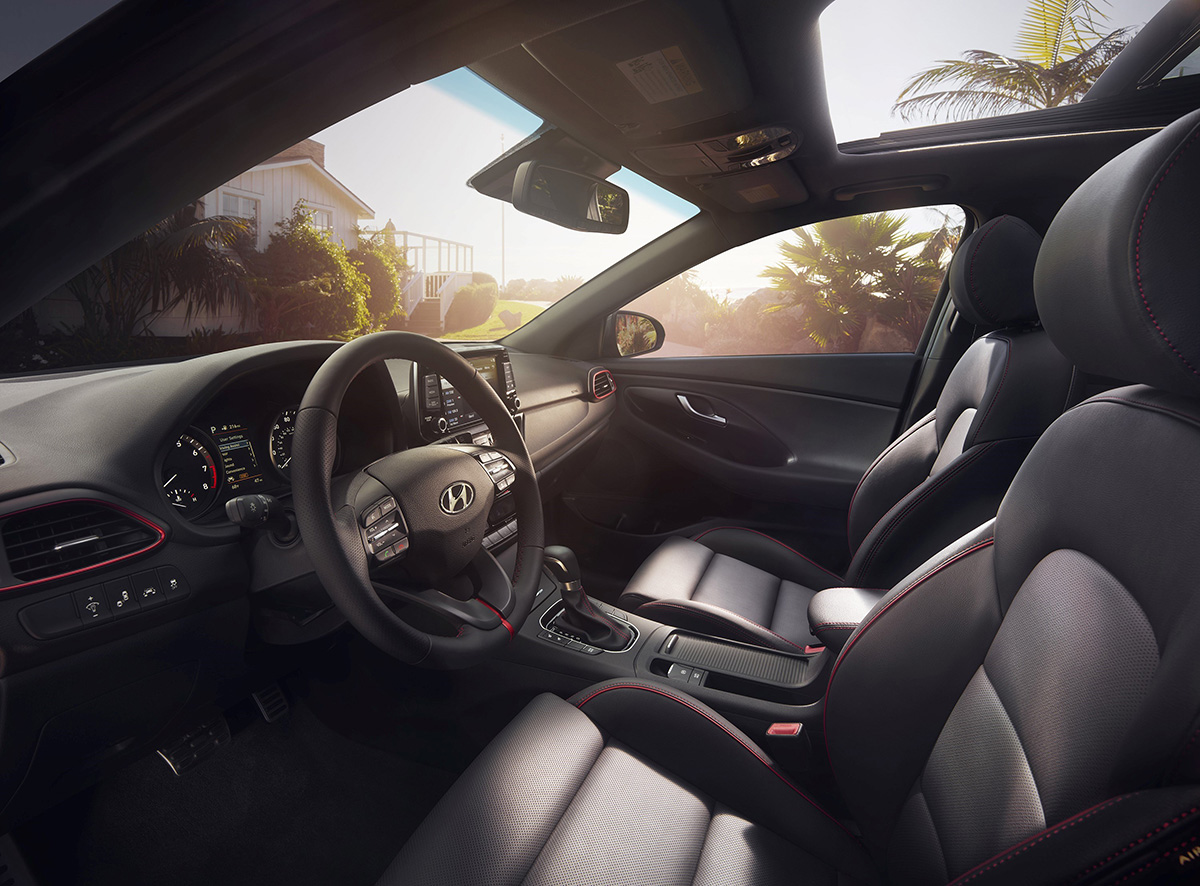 Inside the interior is comfortable and spacious. EPA interior and cargo room is class-leading. Put the back seat down and the Elantra GT Sport feels more like a small wagon than a hatchback. The leather clad seats offer enough bolstering to keep you in place when you start tossing it around, but not so much that larger-bodied drivers will feel squeezed. The shifter is well placed and the pedals are properly positioned for heel-and-toe shifting.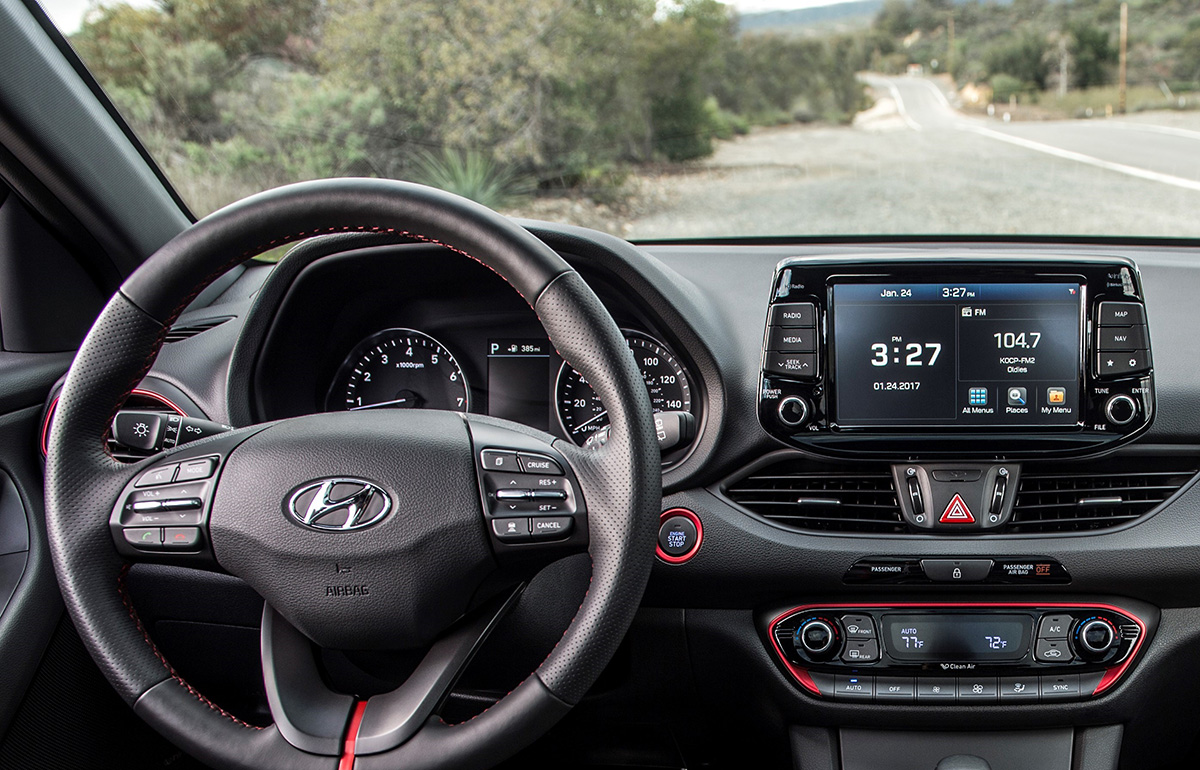 Electronics – both entertainment and driver assist technologies – are both comprehensive and intuitive. I continue to find Hyundai's interface one of the easiest to use in the business. There are hard buttons and dials for the features I use most often, radio tune, volume, and HVAC controls, which allows you to adjust those functions without taking your eyes off the road. The touchscreen is large enough to read easily and comes with Apple Carplay and Android Auto.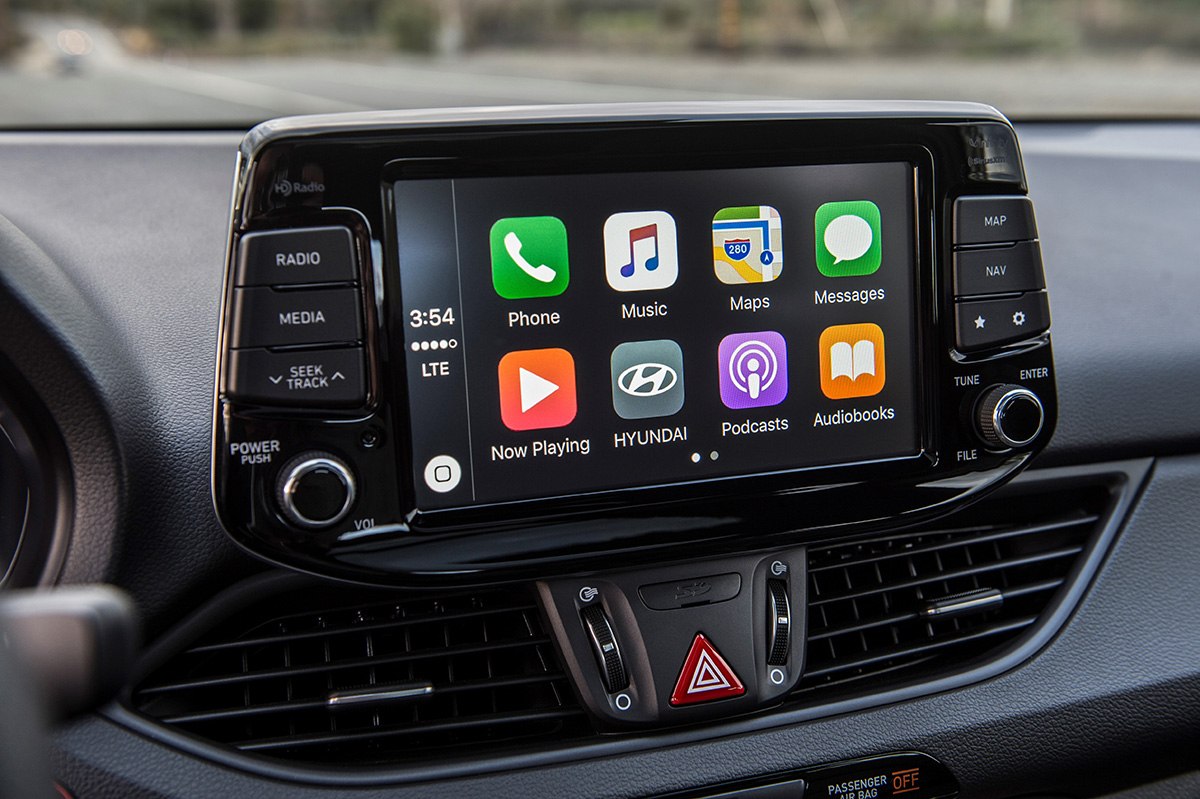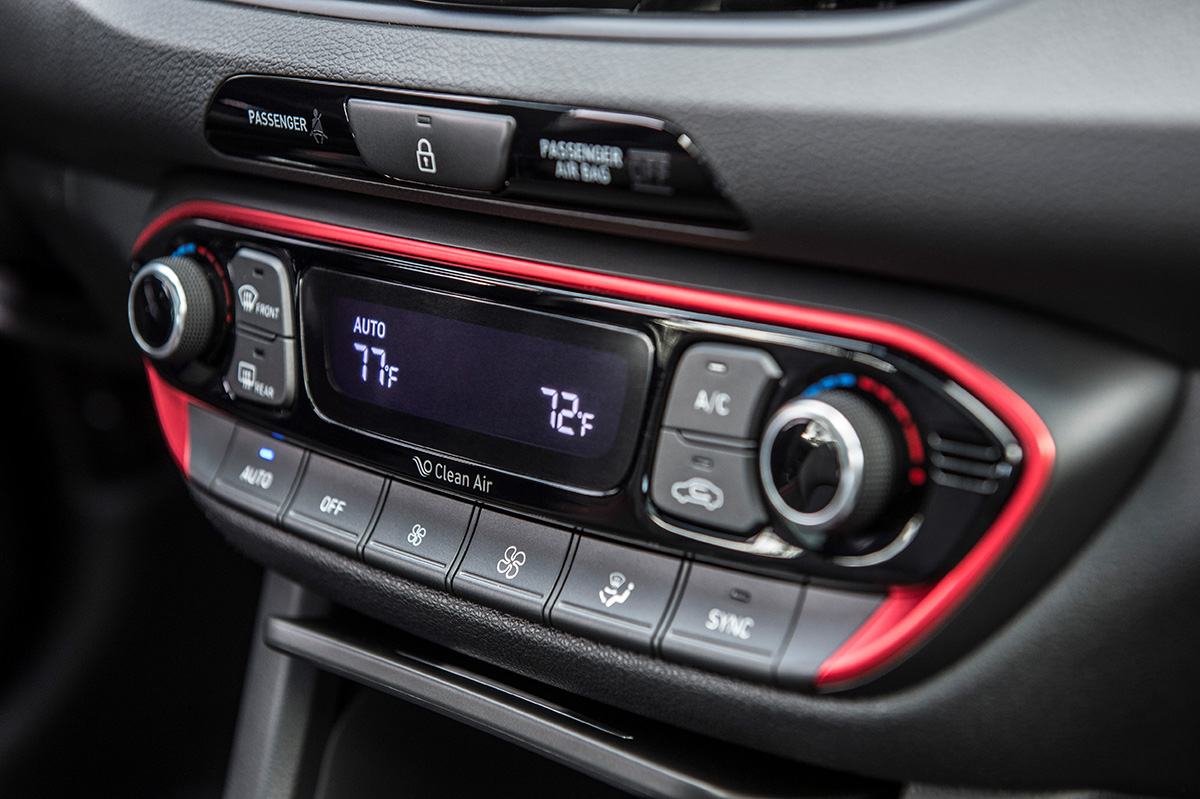 The end result is the Elantra GT Sport is a Hyundai doing what Hyundai does best. For thousands less than the GTI you get a very competent hot hatch that offers most of the performance, all of the features, and a lot of style. You won't confuse the two, and if you don't drive the Hyundai and VW back-to-back, you'll really get a lot of satisfaction out of the Elantra. Having a 10-year, 100,000 mile powertrain warranty and a higher J.D. Power quality rating and the Hyundai GT Sport is a very compelling package.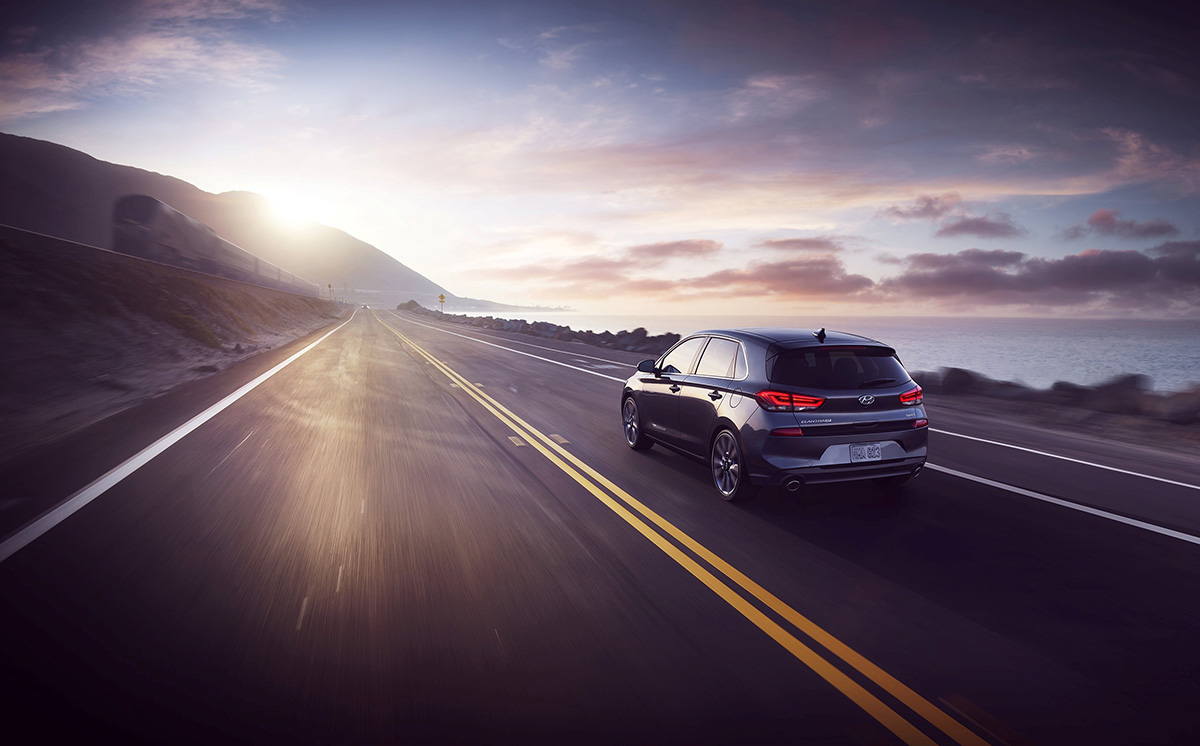 2018 Hyundai Elantra GT Sport
Four-door, five-passenger sports hatchback
Base price: $23,250
Prices as tested: $24,260
Options: Carpeted floor mats ($125), destination charge ($895)
Engine: 1.6L turbocharged inline four-cyclinder
Transmission: 6-speed manual
Power: 201 HP @ 6,000 RPM
Torque: 195 lb.-ft. @ 1,500 RPM
Curb weight: 3,014 lbs.
0-60: 6.3 Seconds
Top speed: 140 MPH
EPA MPG: 22 City/29 Highway
Hyundai provided the vehicle and a full tank of gas for this review. The opinions are 100% ours.