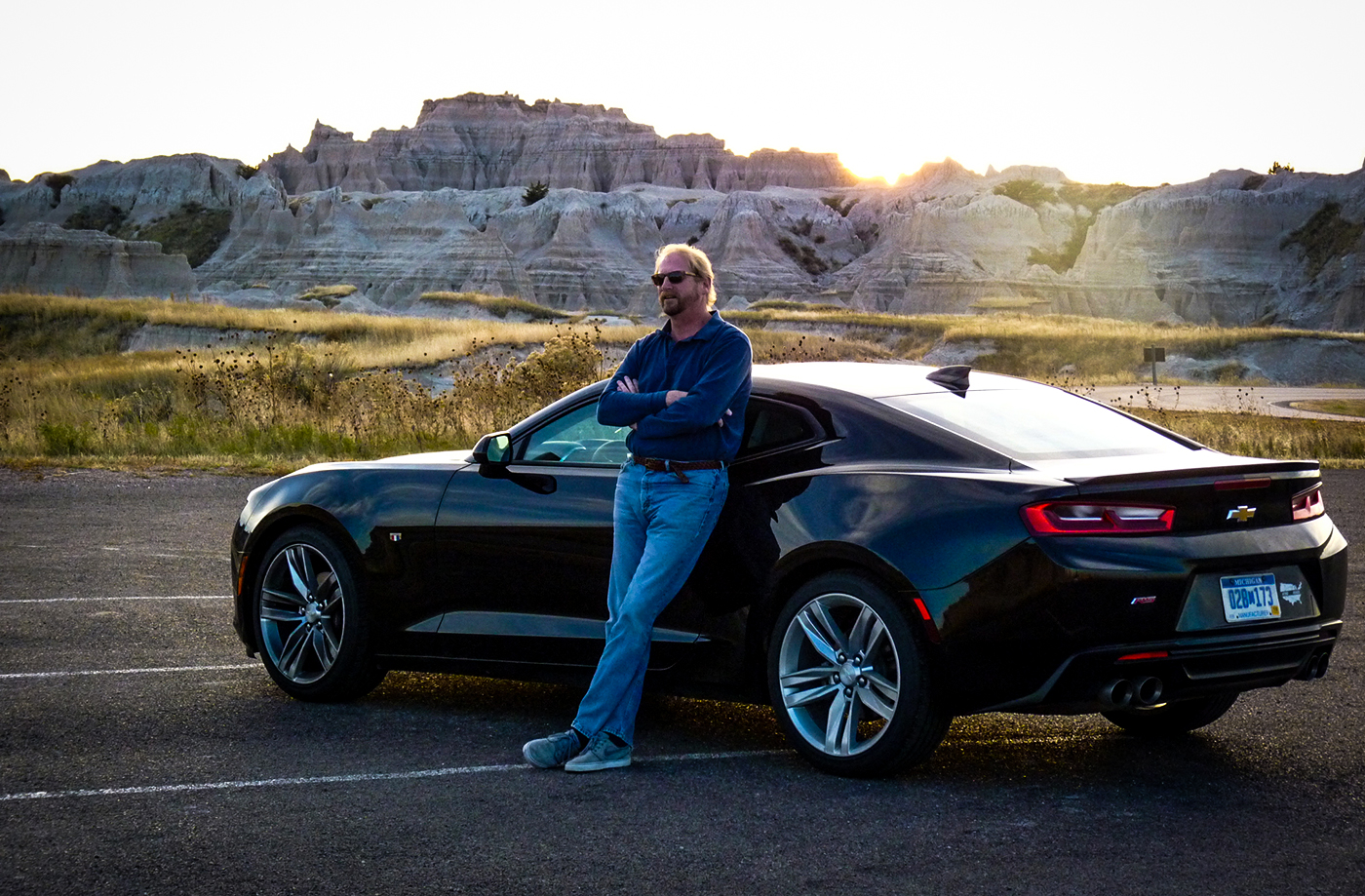 I have a long, and somewhat checkered history with the Chevrolet Camaro.
Back in 1974 my older brother came home with a 1967 Camaro RS. It was midnight blue with a black interior, and had a 290 horsepower, 327 cubic inch V8 engine. We bolted a Hurst manual transmission to the block's backside, replaced the standard carburetor with a Holley 4-barrel and added a couple of free-breathing side pipes to make it wail like a demon when we hit the throttle hard and spit fire when we lifted. We drove that car for a couple of years on the backroads of our hometown in Northern Michigan, going through a set or two of Uniroyal Tiger Paws and burning enough oil to make us honorary members of OPEC. While that Camaro was not the best handling car ever made, it was a hell of a lot of fun.
Then in the mid to late 1980s I was a copywriter at Chevrolet's advertising agency, penning ads for the underpowered, ill-handling coupe that, truth be told, was a Camaro in name only. During that era the most powerful Camaro Chevrolet produced was the 1989 Z28 which made only 240 horsepower. And they were not very well built, squeaking and rattling as they made their way down the road. If any of you bought a Camaro of that era as a result of my work, I'm sorry, but not so sorry that I'll be giving anyone their money back.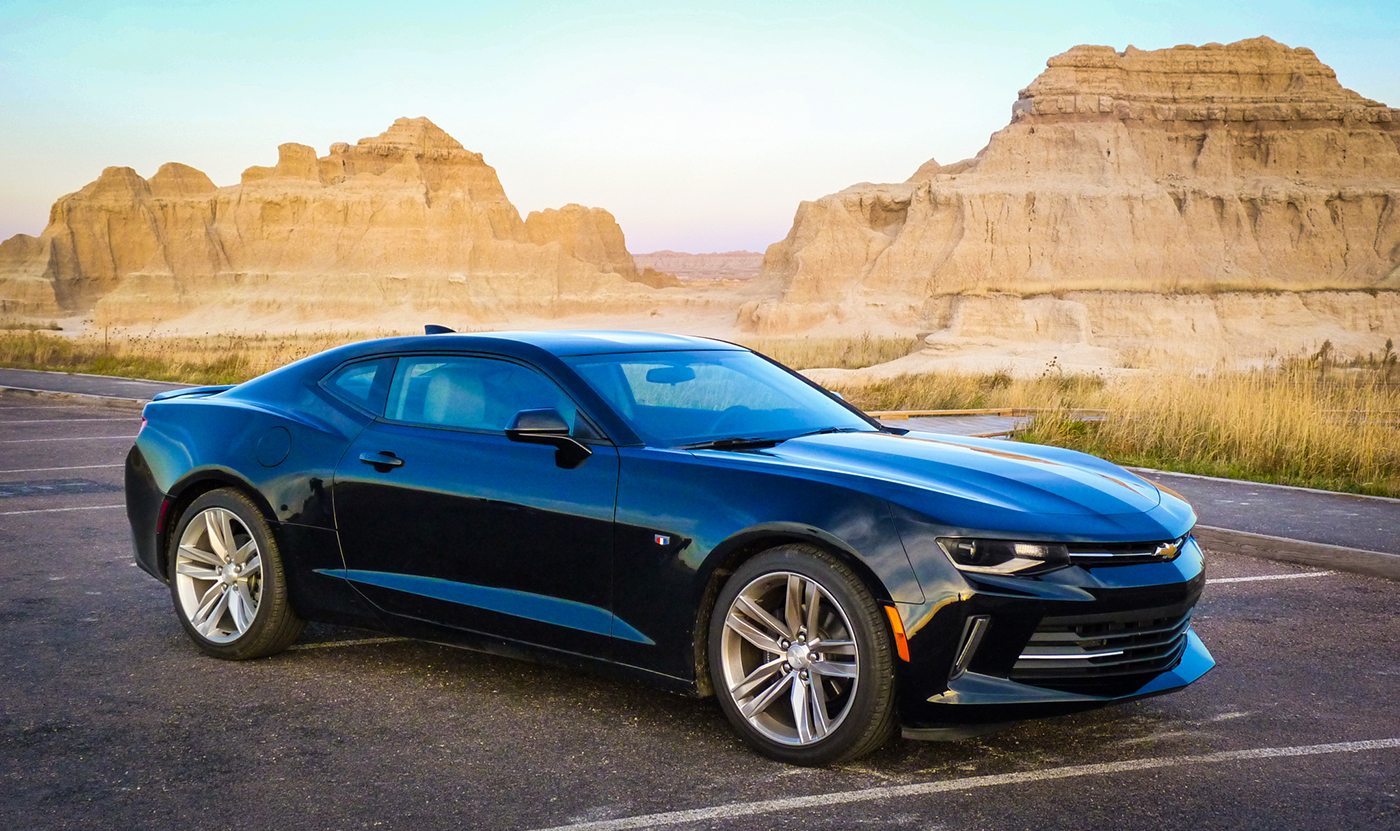 So when Chevrolet sent me an email asking if I wanted to drive the new 2016 Camaro 1,500 miles from Minneapolis, Minnesota to Salt Lake City, Utah, I figured, it was a good opportunity to find out if this year's model would be more like the classic '60s Camaro models that are highly collectible and sell for six figures at Barrett-Jackson or the lead sled of the '80s that you can pick up for just a few thousand bucks on Craig's List.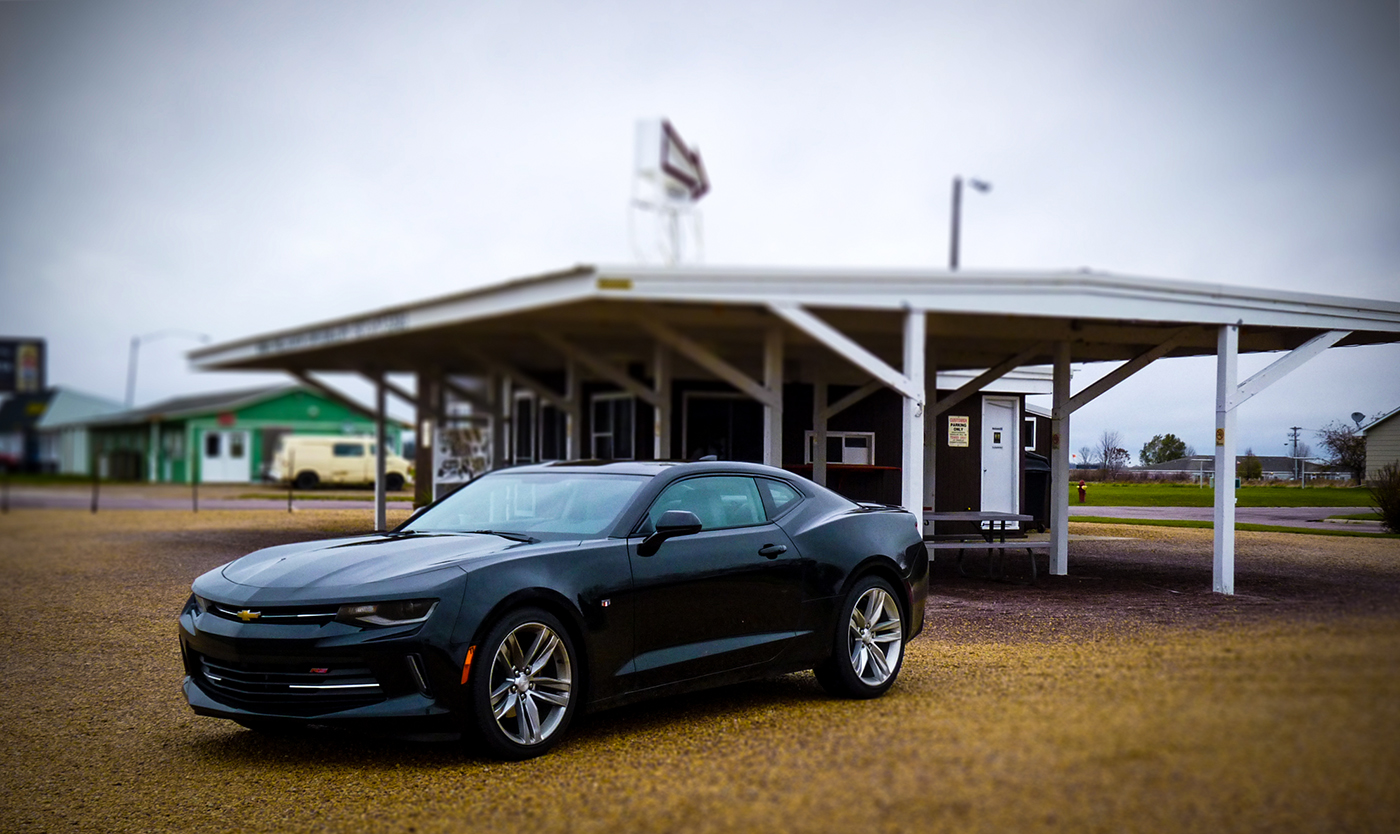 I joined several other journalists on a cold, gray morning in downtown Minneapolis where we grabbed a quick breakfast and were briefed on the car. The Camaro's base engine is a turbo four that makes a healthy 275 hp, but for this event, all cars were either RS models either the 335 horsepower V6 or the beastly 455 horsepower V8 Camaro SS. Some of the cars were equipped with the 6-speed manual transmission others an 8-speed automatic with paddle shifters. But there was a catch. We couldn't choose our car. We had to randomly draw keys from a bag to see which car we would pilot on our trip west.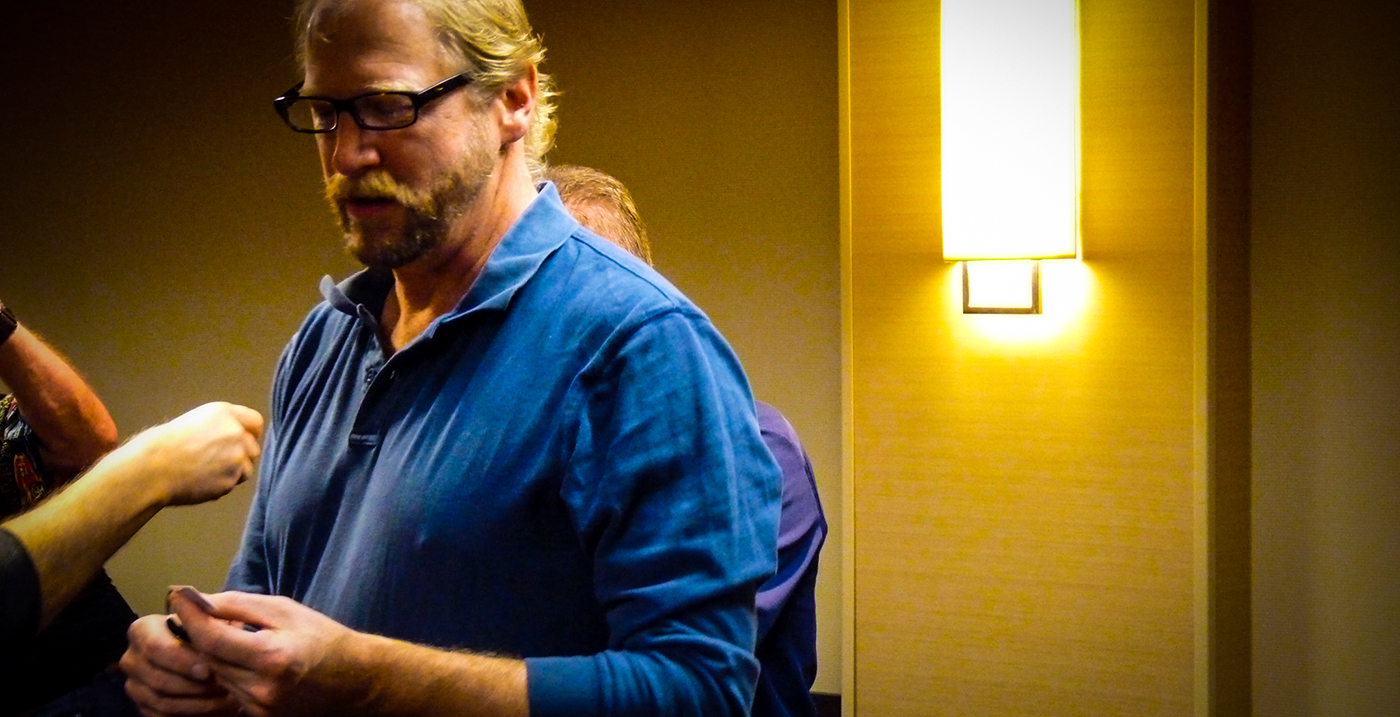 As you can imagine most people – including my drive partner and photographer, Glenn Fuller and I – were hoping to pull the keys to an SS. So there was a twinge of disappointment when I drew a Camaro RS with a V6. The only saving grace was it had a stick. That twinge only lasted as long as it took us to load our gear into the trunk of the black Camaro, adjust the seats and mirrors and hit the start button, whereupon the V6 roared to life with a satisfying snarl. Maybe this wouldn't be so bad after all.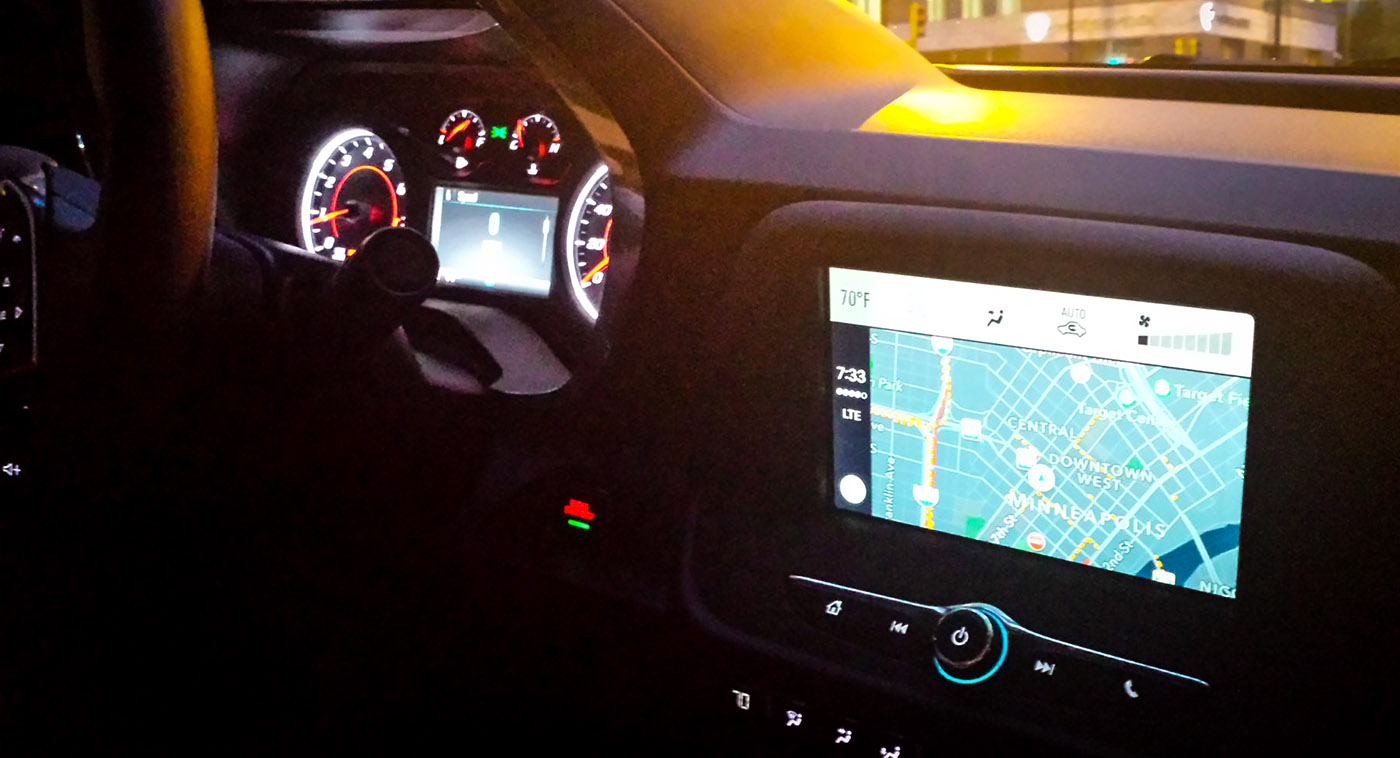 Rolling out of town through Minneapolis rush hour traffic that was even slower than normal thanks to the rain/snow mix that had fallen through the morning, giving me a chance to start our trip by experiencing the Camaro in the worst conditions possible. I was also able to put one of its most oft-mentioned criticisms to the test. Every review I read before getting behind the wheel of the car harped on the Camaro's poor visibility. If it was going to be a problem, it would be in bumper to bumper, urban gridlock with a light rain falling. Guess what? It wasn't.
Sure, like all sports cars with a long hood and a lowered roofline, the visibility is compromised, but even with the large C-pillar and steeply raked rear glass, visibility was not significantly worse than in a Mustang, Lexus RC or any other sports coupe I've driven lately. Lane changes required nothing more than a check of the mirror and a turn of the head to ensure nothing was in the blind spot. Eyeballing stoplights required me to dip my head a bit to see the overhead lights change. The fact of the matter is, this is a sports car, designed to make a strong visual statement while being reasonably aerodynamic. And it succeeds on both counts.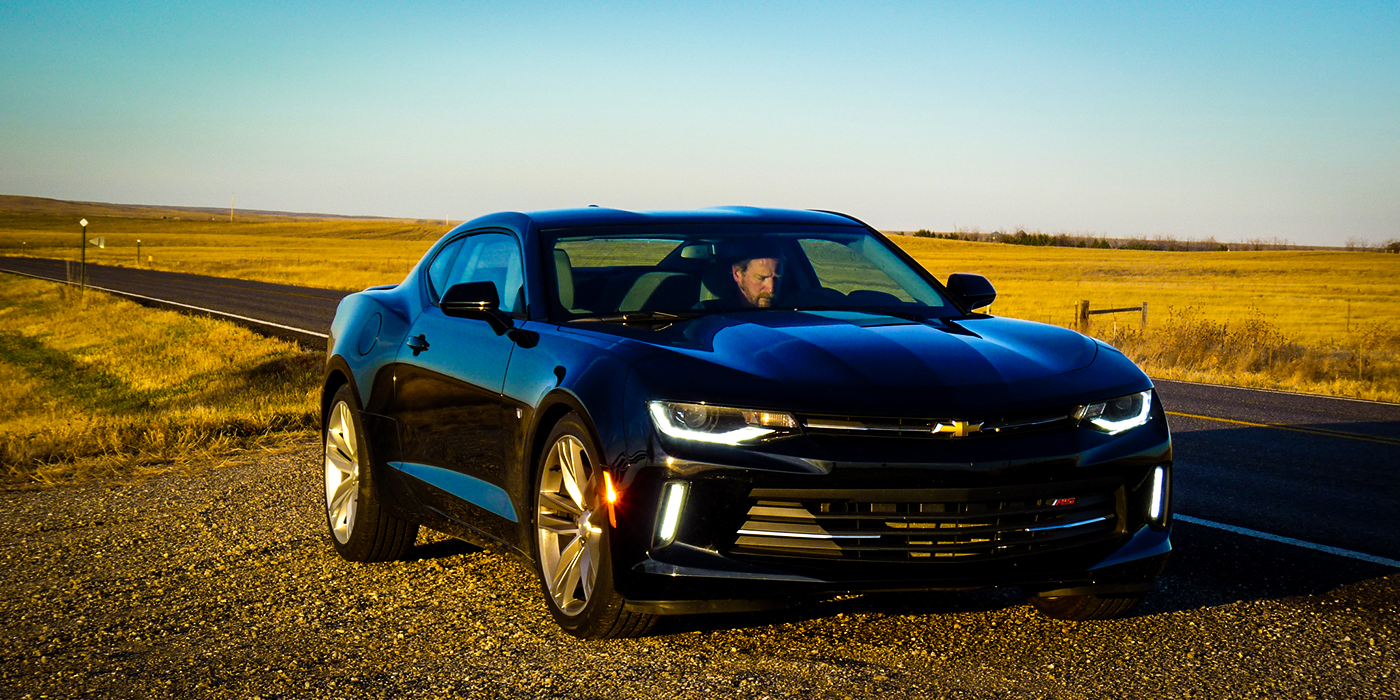 As for the design, most people will be hard pressed to tell the difference between the 2015 and 2016 models if the cars aren't right next to one another. The biggest changes are that the headlights and grill are a little narrower in this year's model and the rear tail lamps are different. But the differences beneath the skin and in the way the two cars drive are dramatic.
For 2016 the Camaro is built on GM's Alpha platform, the same one that underpins one of my favorite compact luxury/performance sedans, the Cadillac ATS-V. Because of this change, the Camaro is more than two inches shorter, over an inch lower, and a few tenths of an inch narrower than the 2015 model. And while headroom has been reduced by eight-tenths of an inch, at 6'3", I didn't feel like the roof was too close to the top of my shiny, balding pate.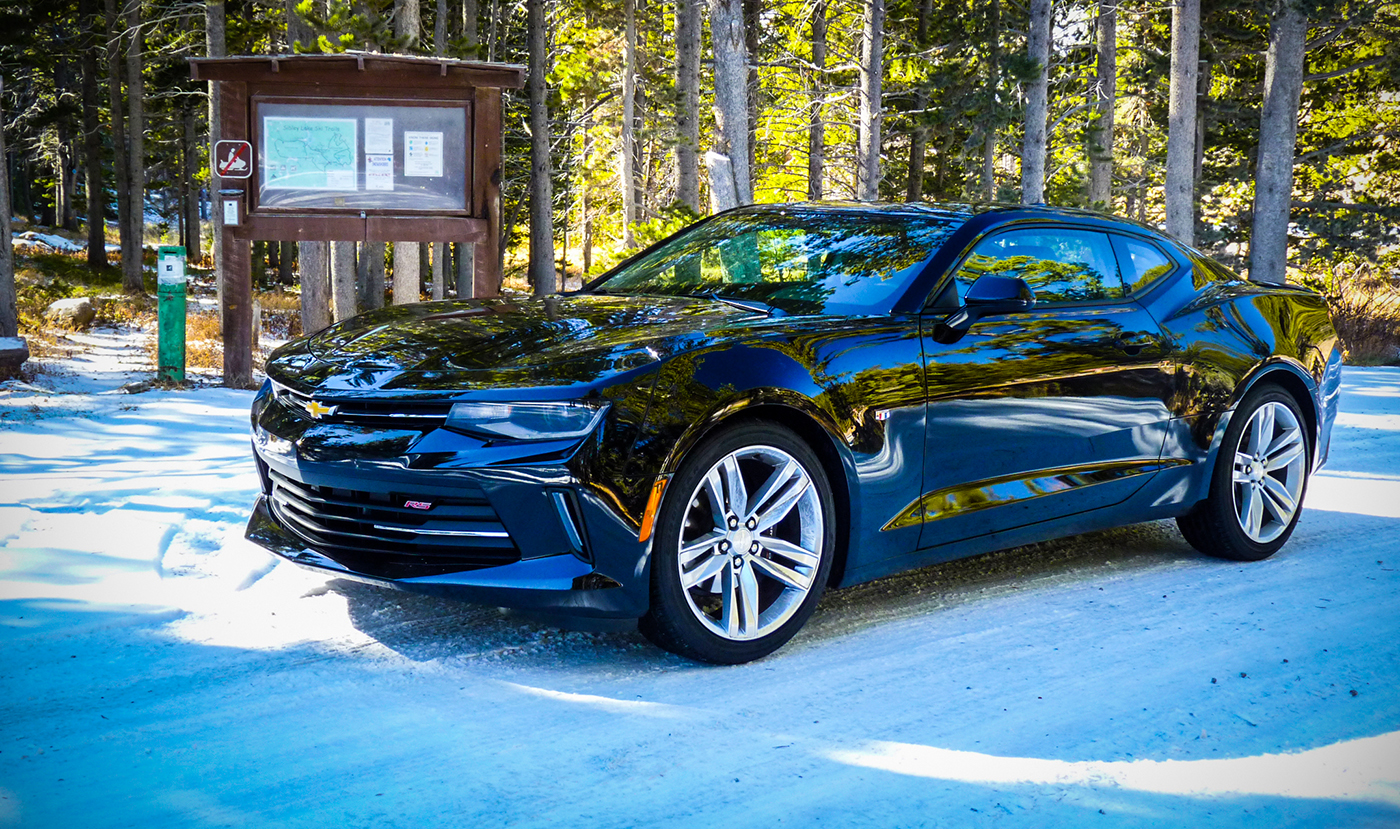 Where you will notice the difference is how the Camaro drives. There are two reasons for this, First, it's lighter than last year's car in all configurations. The RS we drove went on a 294 pound diet. Second, this new architecture is 28% stiffer than the previous generation. This translates into a car that accelerates more quickly and handles significantly better. Neither of which we were really able to experience in the morass of the weather-choked Minneapolis freeway system. Once we got west of town, however, the accelerator angle increased and our speeds rose dramatically.
Driving from Minneapolis to Salt Lake City, means driving through a lot of lonesome prairie. From the outskirts of the city until the Badlands in western South Dakota, the horizon was a long way from the windshield. Thankfully once you hit the Dakota state line the speed limit rises to 80 miles per hour and what could be an interminably long drive is only annoyingly so.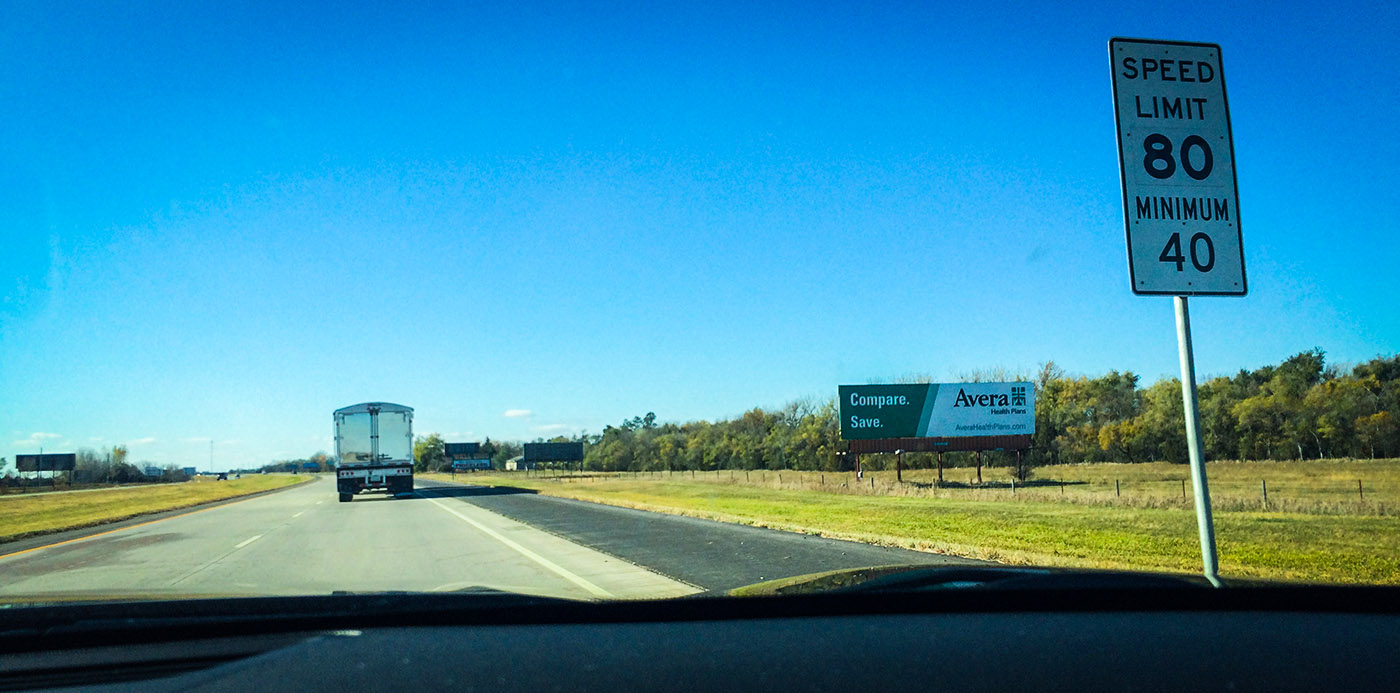 This was the longest leg of the three-day trek, 649 miles, thanks to detours in eastern South Dakota to have lunch an old friend as well as another on the western part of the state to drive through the Badlands. In between there was a 264-mile long stretch of interstate. With the Drive Mode Selector set to Tour, the shifter lodged firmly in sixth gear and the cruise control set at 84 miles per hour, we pointed the nose west and had time to really contemplate the pros and cons of the Camaro's ride and interior.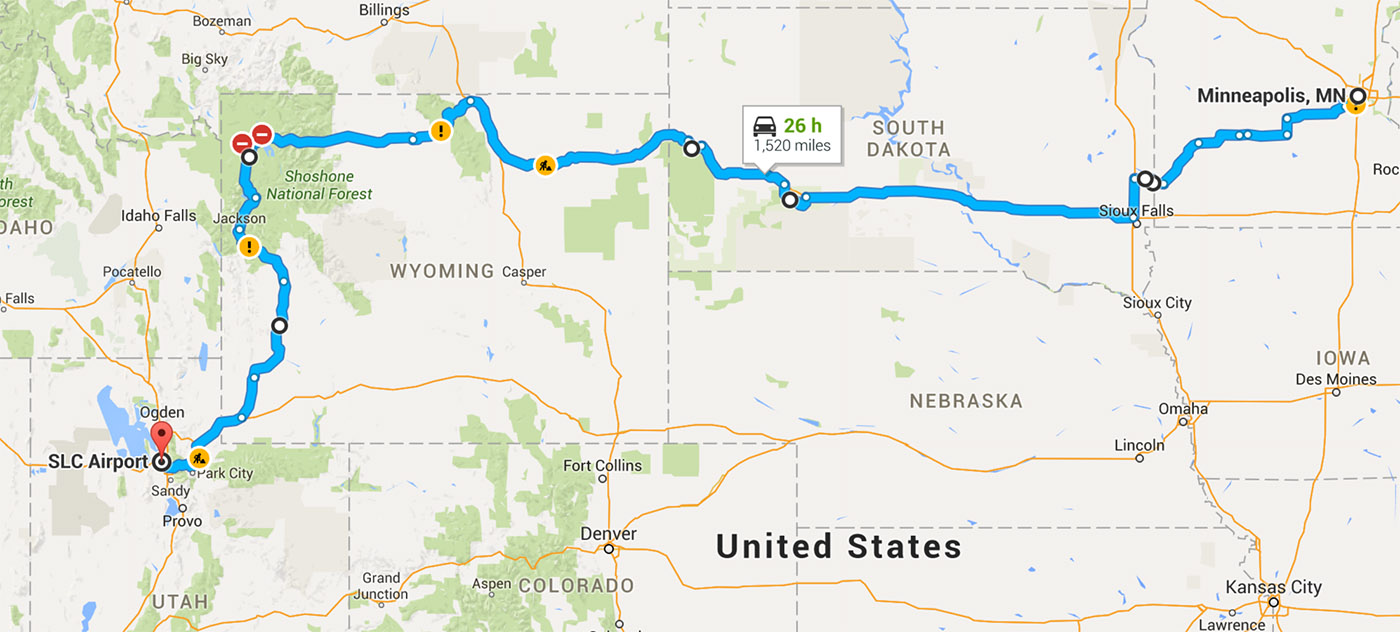 When you take a long drive like this, one of the factors that leads to fatigue is noise, which in the Camaro, especially with the dual mode exhaust set for touring, was modest. This isn't a luxury car, so we didn't expect the kind of isolation you experience in a Mercedes or Lexus, but what we found was more than acceptable. It's clear Chevrolet engineers have done a lot of tuning in the wind tunnel and on the street. It was easy to carry on a conversation at normal levels, even when traveling at high rates of speed and the sound system, which in our car was the base six-speaker package offering AM/FM with SiriusXM Satellite, Bluetooth connectivity, and Apple CarPlay.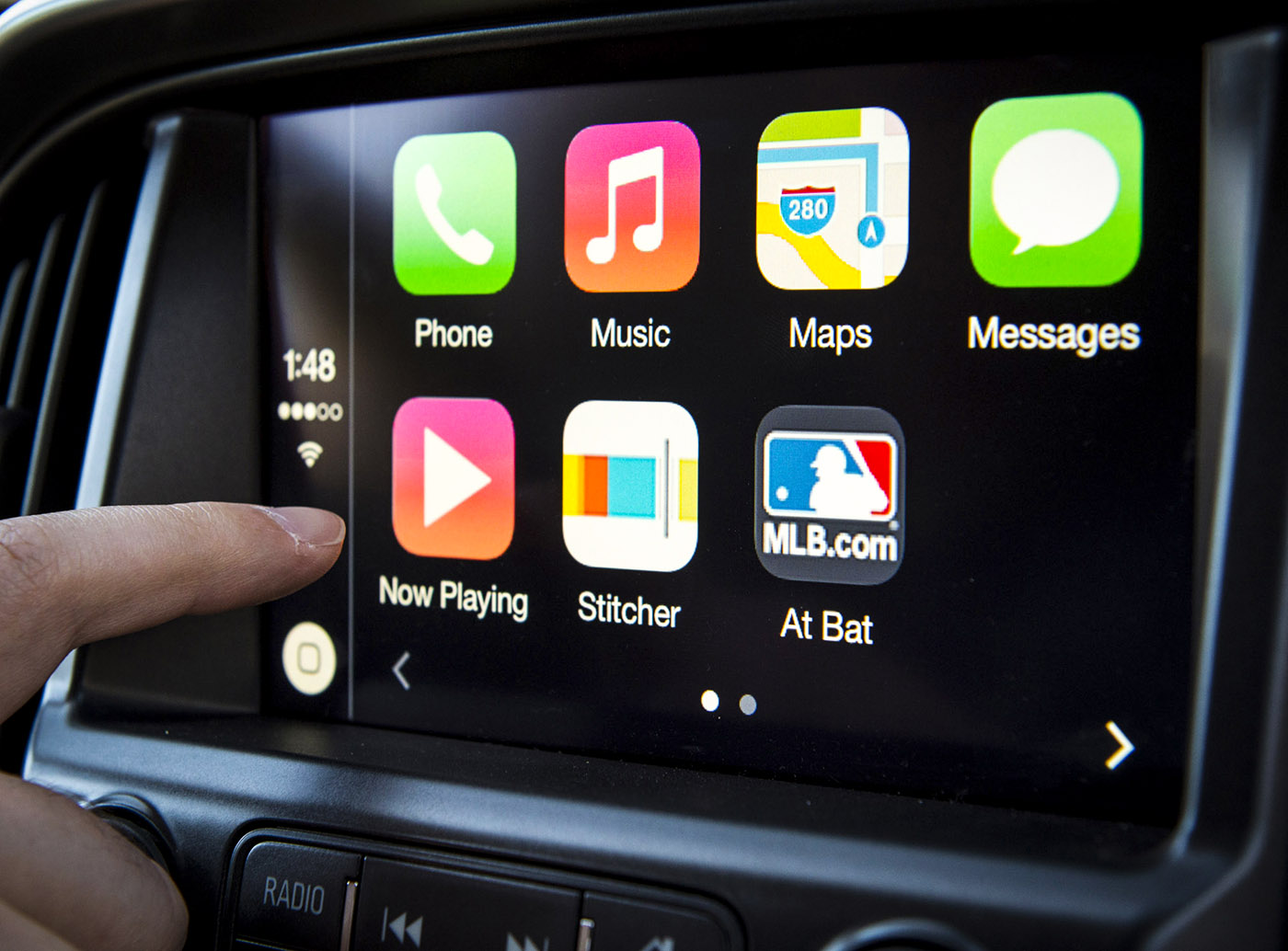 This was my first opportunity to spend significant time in a vehicle with CarPlay and overall I was impressed. All you have to do is plug your iPhone into the USB port and CarPlay automatically replicates your phone's approved apps on the Camaro's 8-inch touch screen on the center stack. In my case that meant my music, phone, contacts, Pandora, MLB At Bat, messaging and a few others that are deemed not to provide too much of a distraction. Messaging is accomplished by converting them from text to voice. Just touch the screen or use voice commands and your messages are read to you through the system's speakers. You reply via voice as well. All in all, the recognition was close to flawless. I only have two complaints with CarPlay. This first is that it defaults to the music on your phone, so we had to manually cycle through the inputs on the touch screen to get back to the satellite station we had been listening to after every restart. It was also a little buggy, so it would change from satellite to my music when we were adjusting the navigation. The second demerit is that you can't use Google maps with CarPlay. I get that Apple generates revenue from their map system, but its navigation function isn't nearly as good as Google's. By forcing me to use their inferior system, they're just giving me one more reason to shop for an Android phone next time I'm in the market.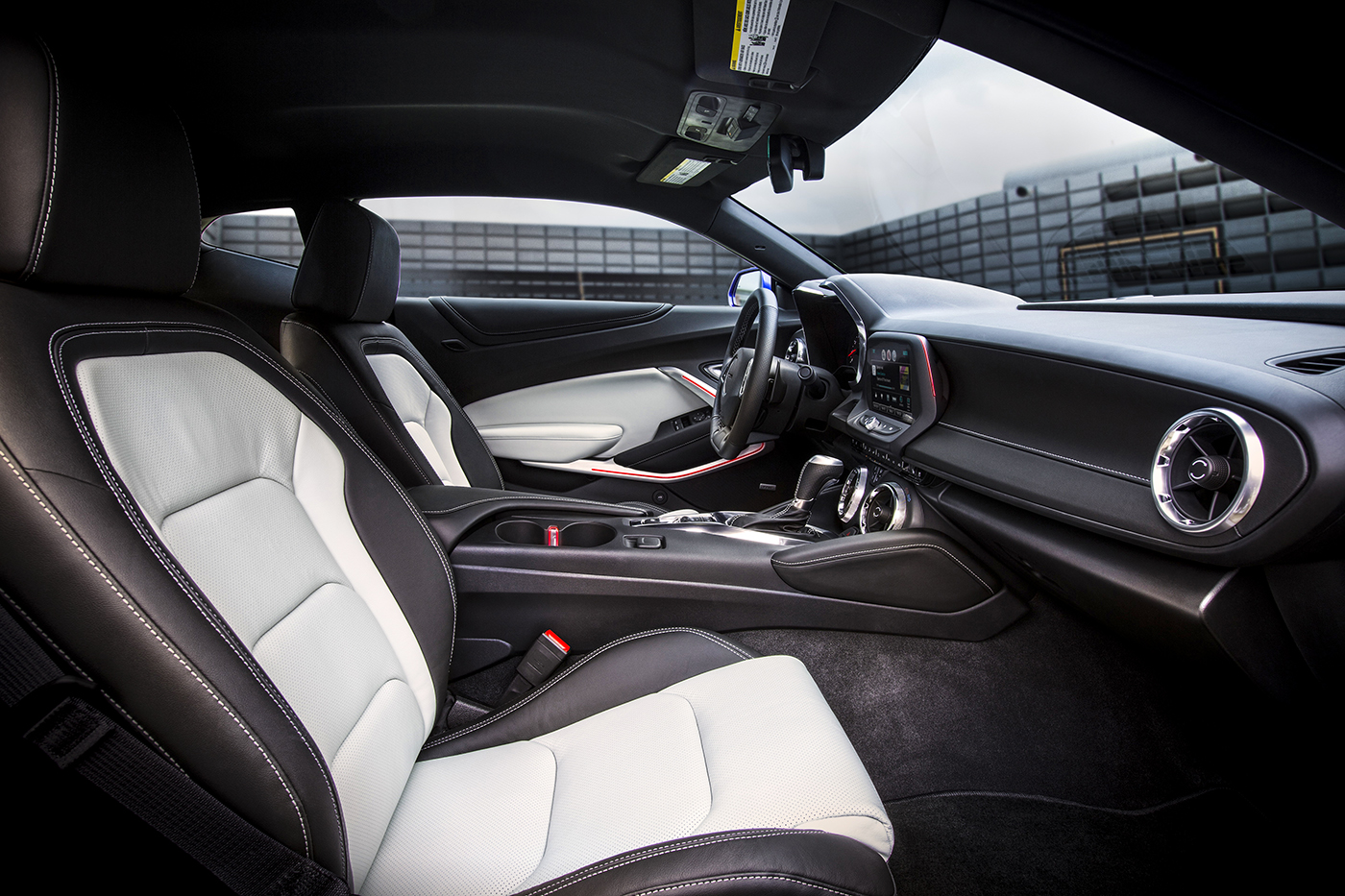 The interior design and materials are what you'd expect from a base Camaro. Nothing fancy, but fit and finish are much improved from the cars I pitched in the '80s. The tach and speedometer are large and easy to read, with a configurable color display between them. I'm not a huge fan of the dual binnacle design for the instrument cluster. That along with the stuck on feel of the LCD screen on the center console are really my only complaints for an interior that is, if not luxurious, highly functional. There is one fun feature, Chevrolet calls it, "Spectrum Lighting." Basically it's an adjustable ambient lighting system that uses RGB LEDs to create 24 different effects on the dash, door panels, and center console. The seats in my RS which was the base interior were both supportive and comfortable. And the standard, leather-wrapped, flat bottomed steering wheel felt comfortable in my hands, with controls for the radio, cruise control, phone and information displays that were intuitive and easy to use. There's something to be said for simplicity and this interior defines it.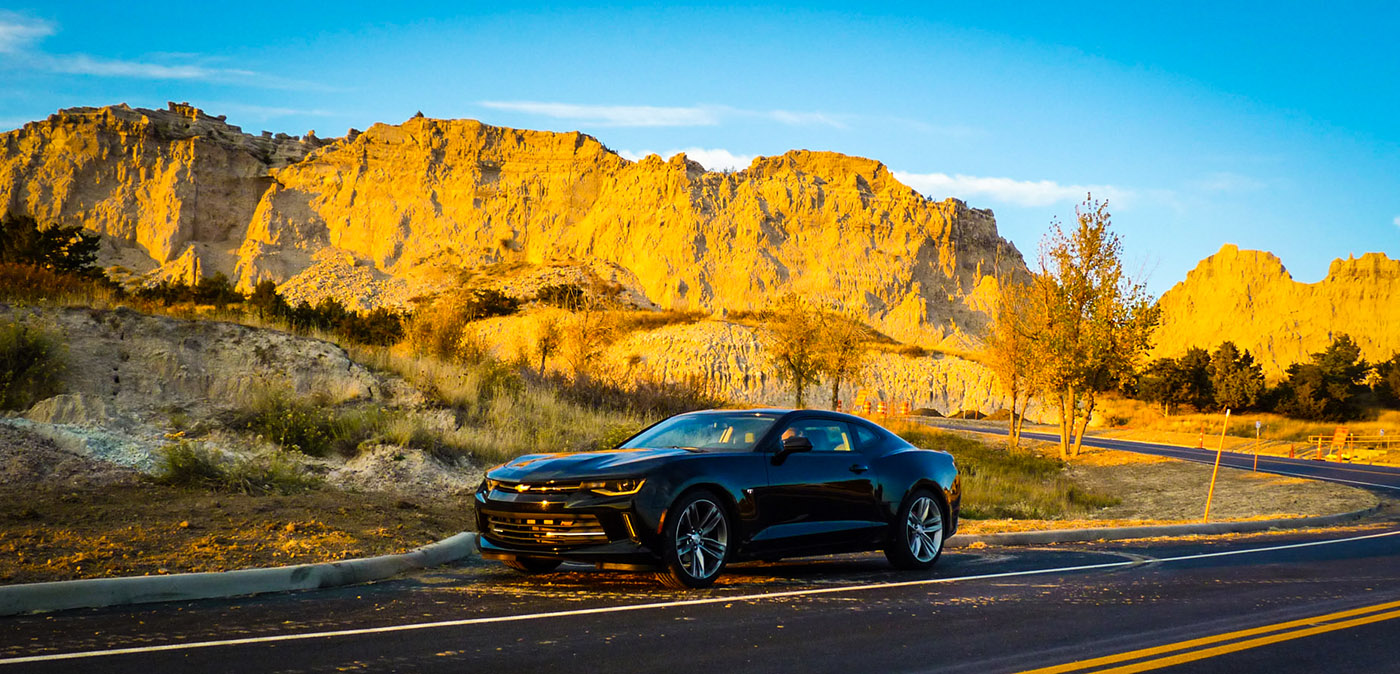 After eating up hundreds miles of on the interstate, we finally got a chance to put the Camaro's handling to the test. The sun was nearing the western horizon when we entered Badlands National Park and since late October is not peak tourist season, the roads were mercifully free from traffic. Badlands is an amazing, almost mystical place. Its name was derived from the lack of water and an inhospitable landscape, In the early 1900's, French-Canadian trappers called it "les mauvais terres pour traverse," or "bad lands to travel through." Today, it's a simply stunning drive, especially as the sun sinks low throwing an orange caste over the stratified buttes, pinnacles and spires. The immaculate pavement of the road that winds deliciously through this eerie landscape proved a perfect place to experience the new, multi-link MacPherson strut front suspension with a double-pivot design. While I'm no engineer, I can tell you the result of this set up is a car that tracks straight and true through wide, sweeping corners and bites hard into tight hairpins. There was never a point, no matter how hard we pushed the Camaro, that it put a foot wrong on the park's 38 mile roadway.
After the sun slipped below the horizon, we merged back onto Interstate 90 and set the navigation to my destination in Deadwood. Working with the OnStar concierge we were able to book decent rooms in the Springhill Suites for the evening but arriving after 9:00 our dinner options were limited and given the length of the journey we opted for a quick bite in the hotel restaurant, which was serviceable.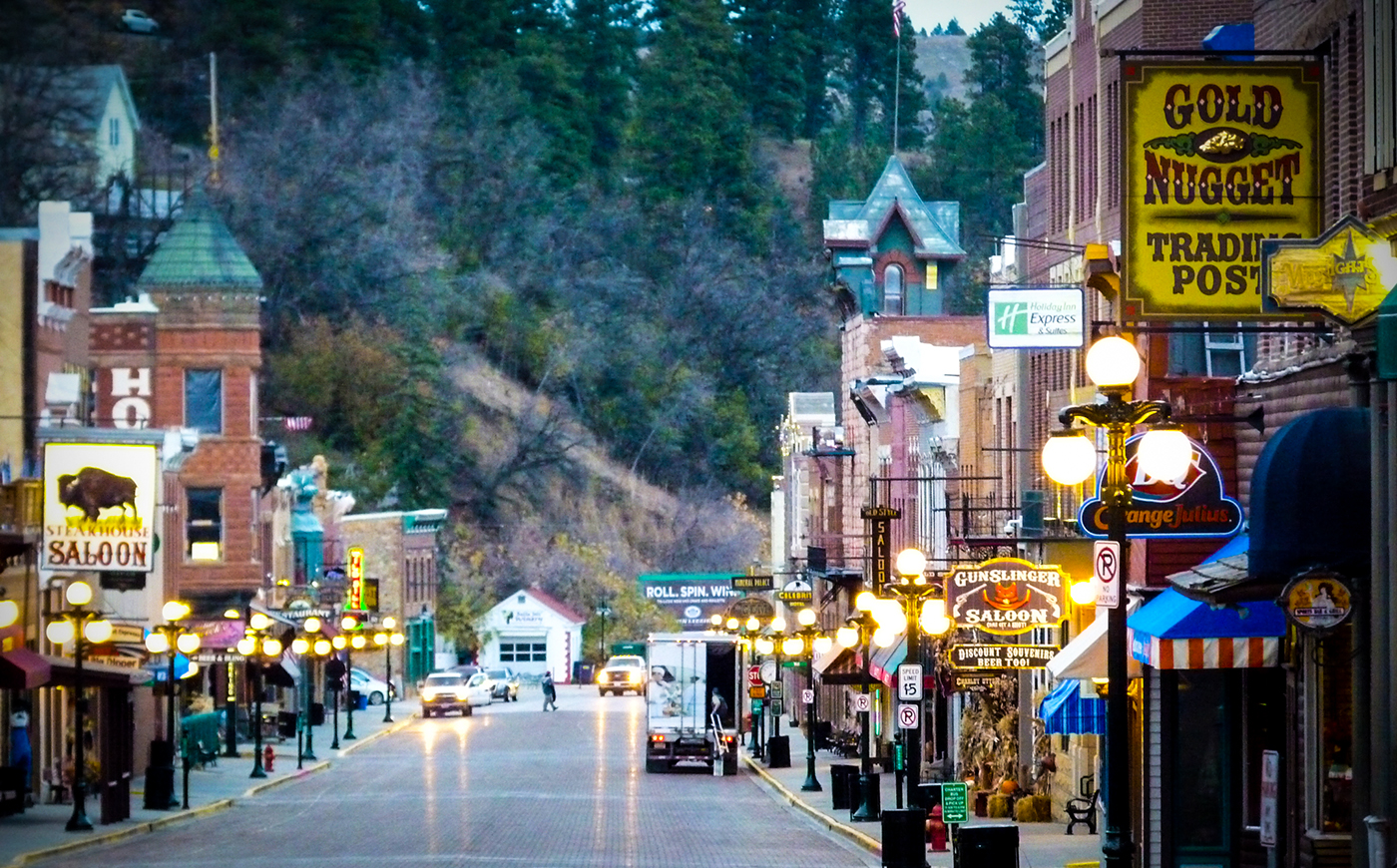 Waking up early the next morning to explore the town a bit before hitting the road, it became patently obvious that Deadwood, once a den of iniquity and a thriving mining center, is mostly a Hollywood version of its former self, in the worst way possible. Modern casinos line the main drag with theme restaurants attached. They proudly wear names like the Gem Steakhouse and Saloon, Diamond Lil's and Mustang Sally's. While there's real beauty and history in Deadwood – you can visit Wild Bill Hickok and Calamity Jane's graves in the Mount Moriah Cemetery – it's mostly a mid level tourist town on par with Myrtle Beach or Wisconsin Dells.
After topping off the car – and marveling at the fact that we averaged over 27 miles per gallon over our 650 mile drive the previous day – we headed north out of town and picked up I-90 to continue west to Sheridan. Our route for the day would take us up and over the Bighorn Mountains, through Greybull and Cody on our way to Jackson, Wyoming via Yellowstone National Park. This was the interesting part of the drive and where we would discover the true nature of the Camaro's performance and handling.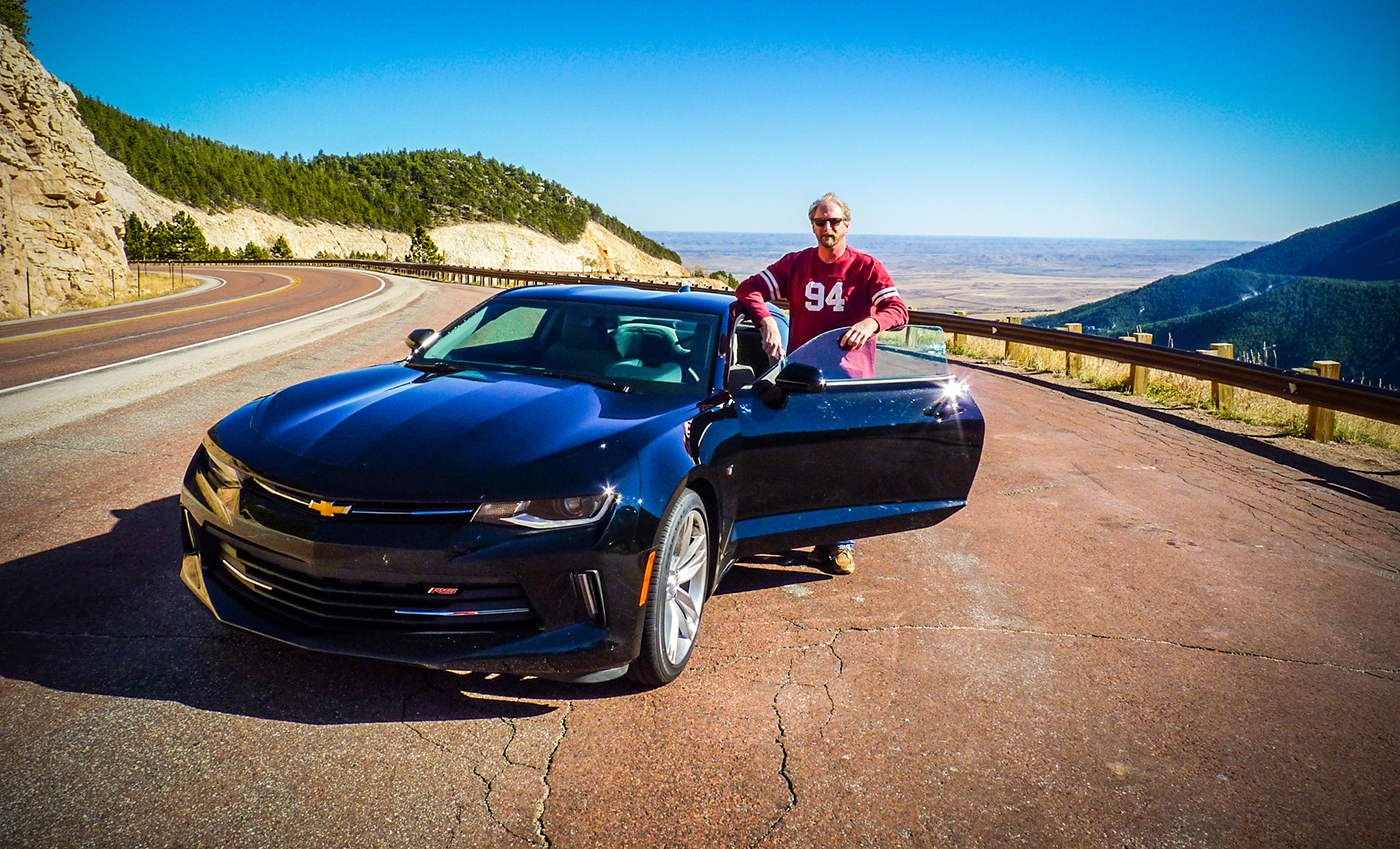 After a short two and a half hours on the interstate we exited onto US 14 West, also known as the Bighorn Scenic Byway, and began our ascent up the the mountain range's winding road. What began as moderate sweeping turns as the topography transitioned from grassy plains to alpine forest became increasingly tight hairpins as we crossed the middle of the 30-mile wide range. Climbing the mountain was a high speed affair where we pushed the Camaro through the corners at well past the recommended speeds. This is where the Camaro really shined. The gears one through five on the standard 6-speed manual transmission are nicely spaced (with sixth serving more as an overdrive for high speed cruising) and we spent most of the time in 3rd gear keeping the revs firmly in the power band.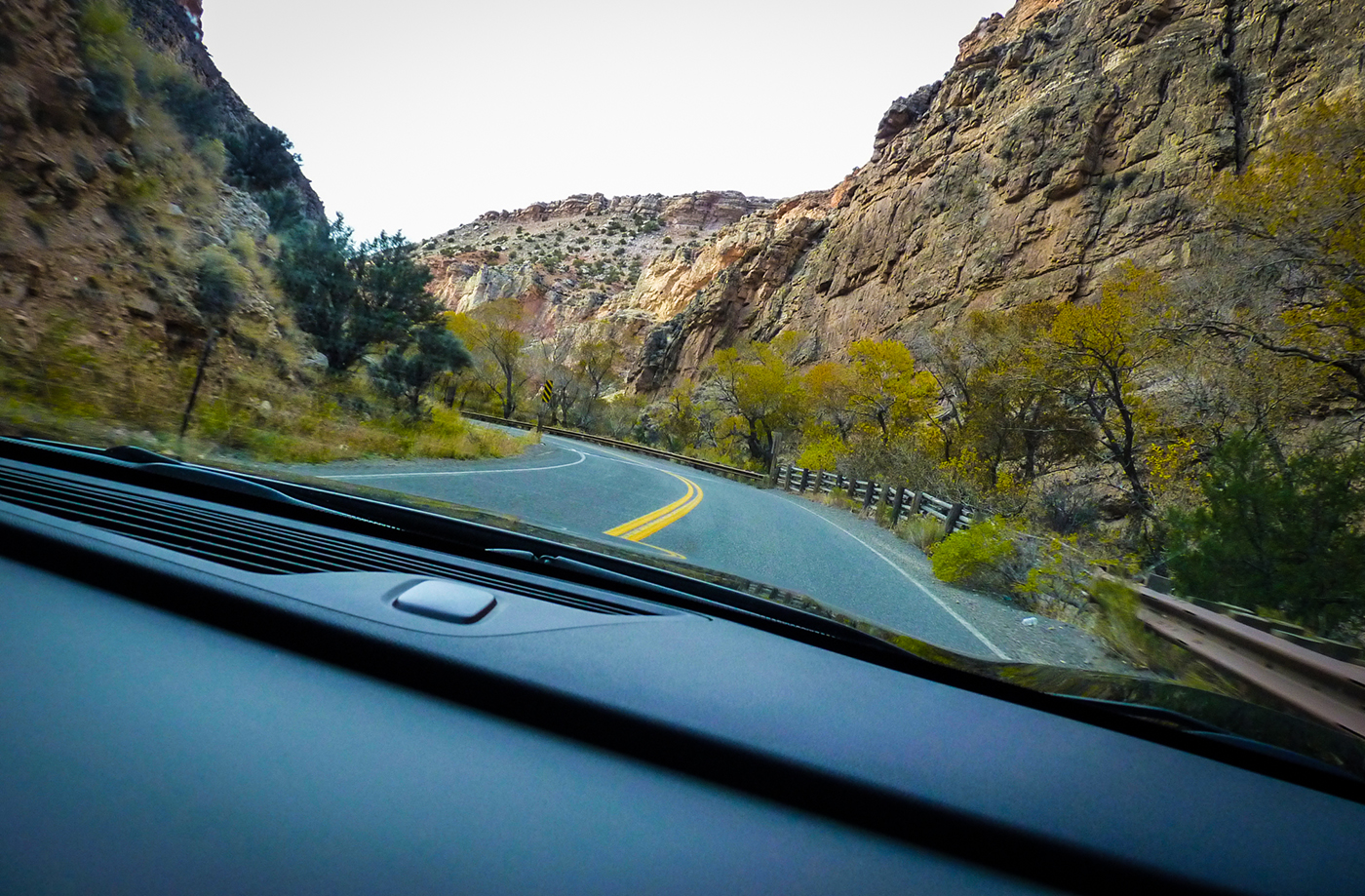 Acceleration from 40 to 70 even at altitude and uphill was more than satisfying and as we powered through a series of uphill switchbacks it became evident how much better this car is than the previous generation. It is composed and confident. In an environment like this where quickness and agility are more important that pure brute force, I was glad to have the lighter, more nimble RS with its V6 engine than the heavier SS with its beefier tires and 455 horsepower V8. Using the car's G-Force meter in the dashboard information system, we reached an indicated .9g on several occasions. As the car reached its limits the bias was slightly toward oversteer which meant controlling the car was not only easy, but fun.
That was especially true as the clouds began to gather and the skies to the west turned an ominous grey as we approached the entrance to Yellowstone National Park. What began as a light, misty rain near the Buffalo Bill Reservoir, where we stopped to snap a few obligatory photos of a bison grazing near the roadside, became a full fledged blizzard as we climbed up into the park. By the time we passed Sleeping Giant Mountain, there were at least four inches of the white stuff on the ground and the wet, heavy snow was falling fast.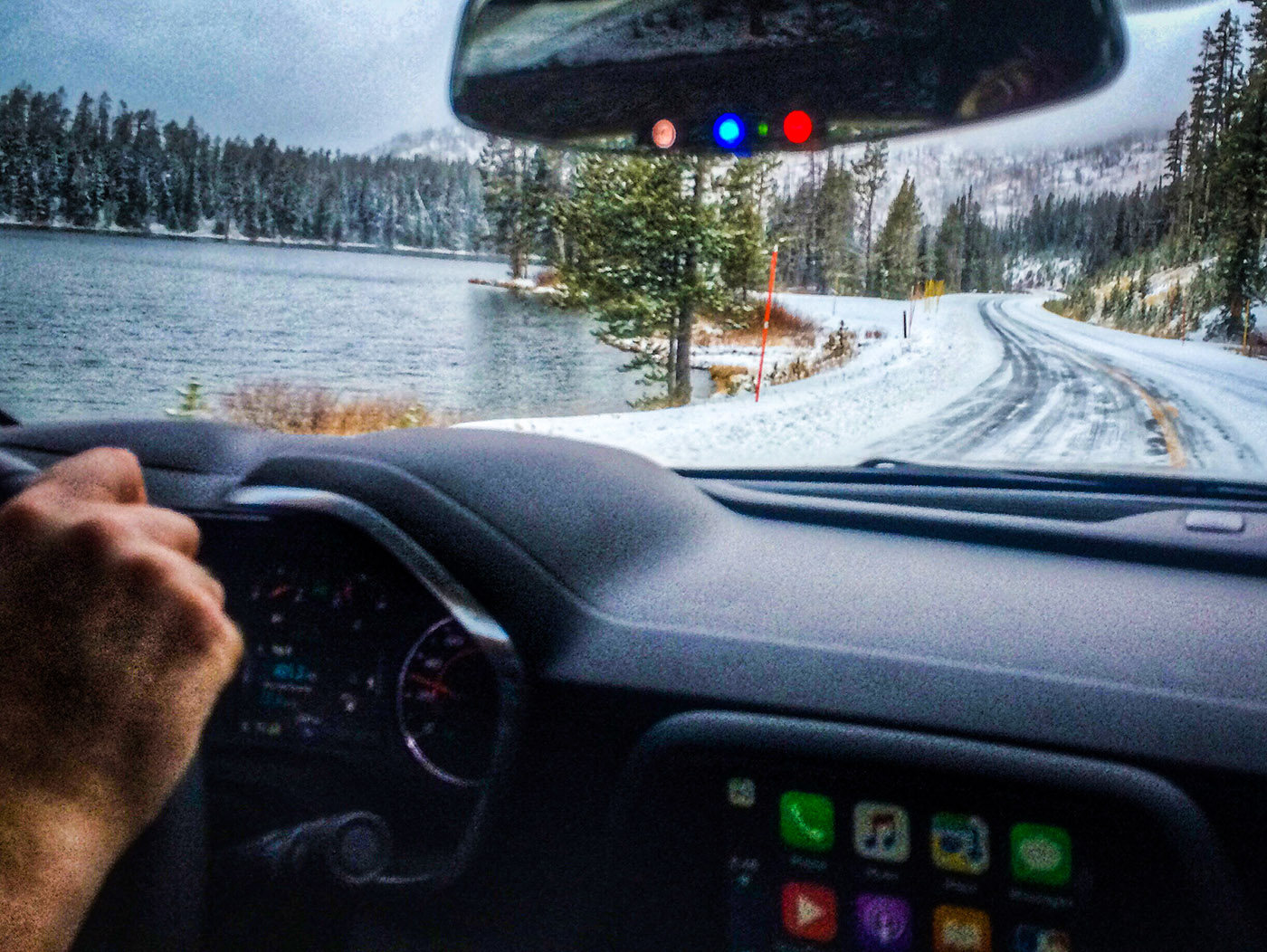 Fortunately the RS was fitted with all-season radials and the drive mode selector has a snow and ice setting. This changes the throttle mapping to help you control the power better at lower speeds, reducing wheel spin and keeping the rear end of the car where it belongs, tucked in neatly behind you. While it doesn't give you the confidence of a car equipped with all-wheel drive, after this experience I would have no qualms about mounting a set of Blizzaks on a Camaro RS and driving it all winter long in my home state of Wisconsin.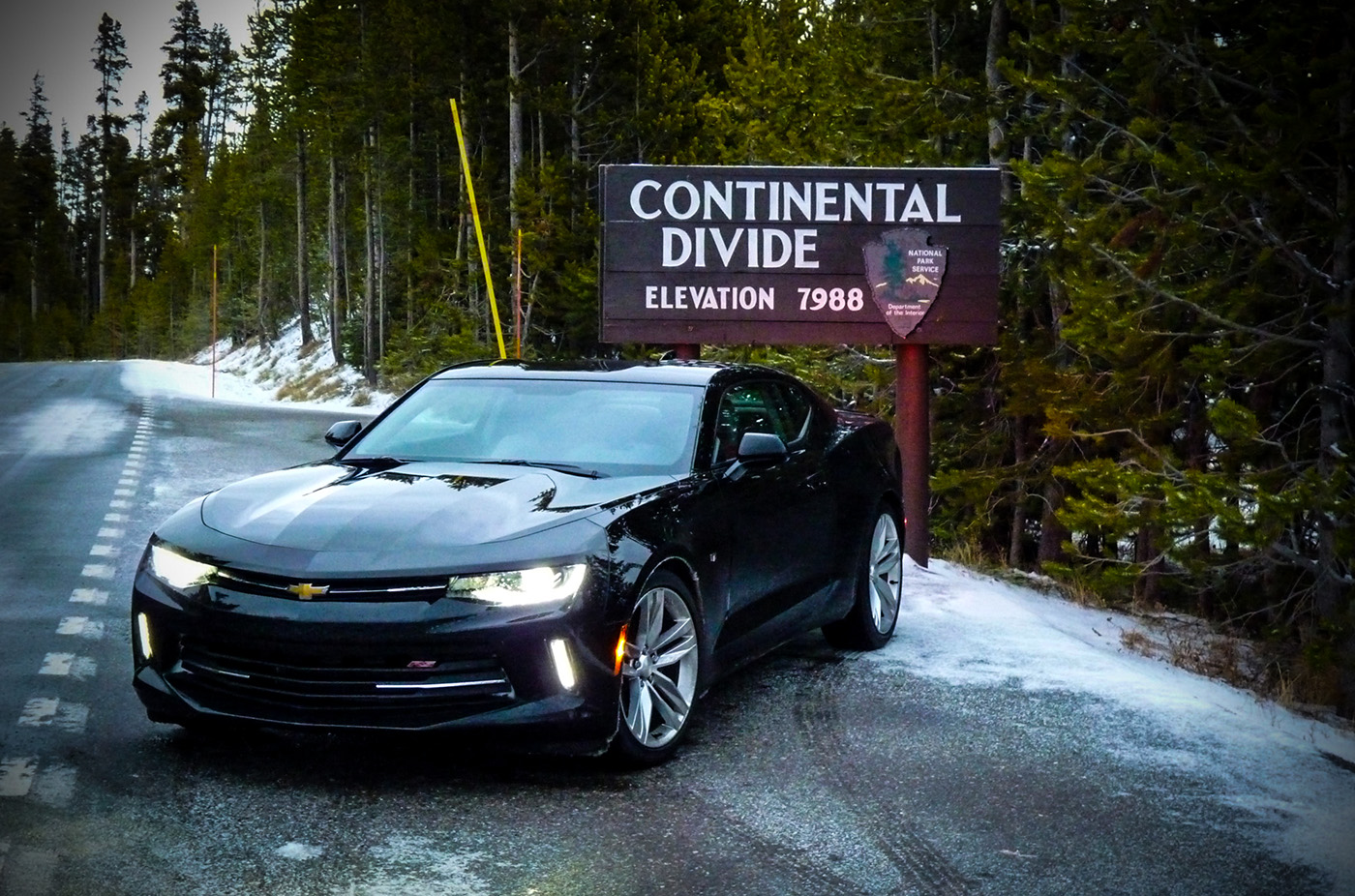 Having made it through the snowstorm, we crossed the continental divide and rolled past the Tetons making it into Jackson, Wyoming just after sunset. First settled in 1894, Jackson is an outdoor lovers paradise. It is home to mile after mile of challenging hiking and mountain biking trails and some of the most storied ski resorts in North America. One of the more well preserved western towns, many of Jackson's original buildings still stand around the town square.
On the final morning of our journey, we awoke to light rain and the promise of more open road on the way to Salt Lake City to catch our flight home. Eschewing the interstates as much as possible, the route took us south out of Jackson and then slightly east, avoiding any high-population areas in search of roads where we'd feel comfortable letting the Camaro really stretch its legs.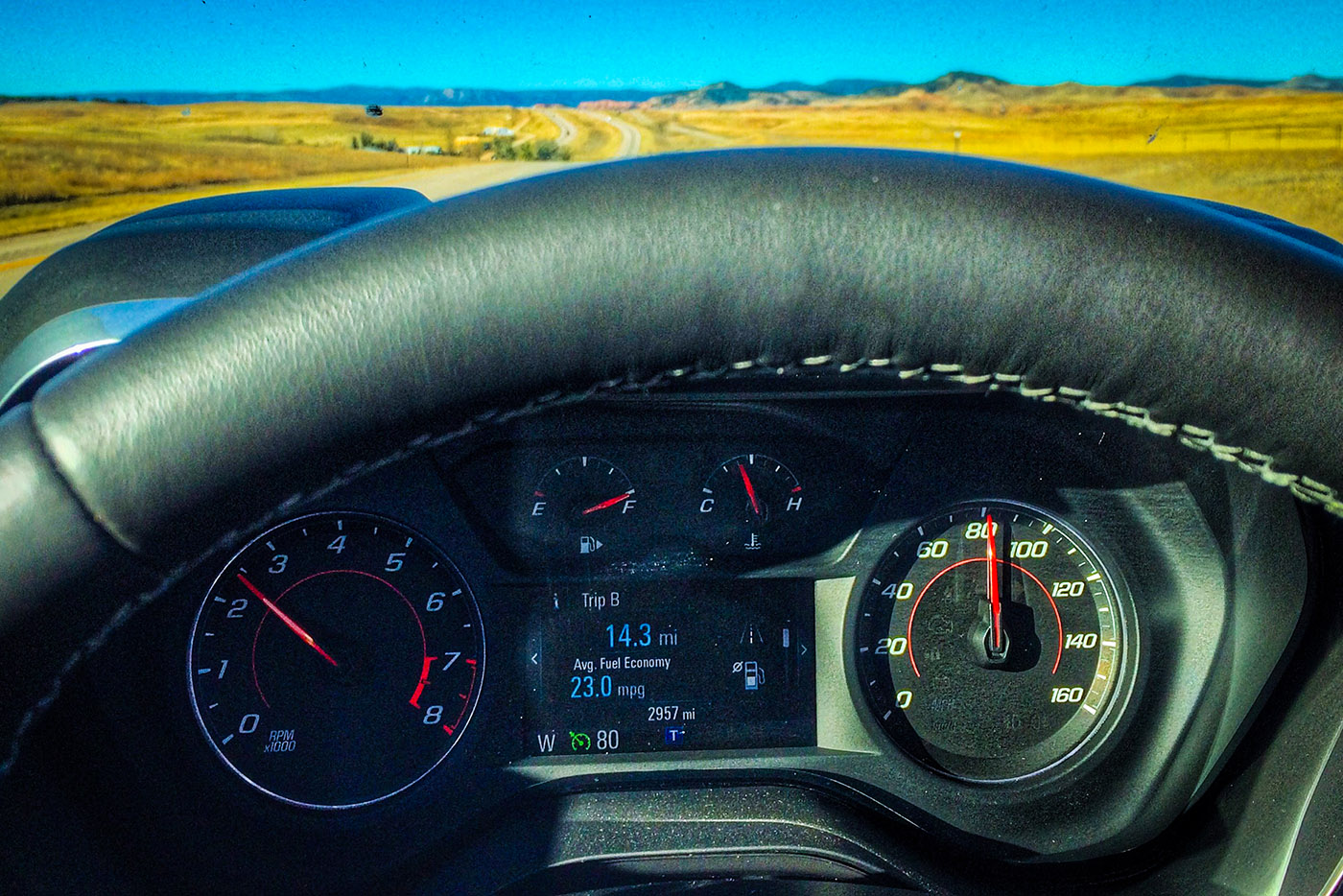 About two hours south of Jackson, after passing through Big Piney, Wyoming, we came over a crest on a ridge and looked down into the vast valley below. There was nothing in front of us but at least 10 miles of straight, open, and immaculately maintained U.S. highway with no cars anywhere in sight. I had been good long enough. It was time to see what the Camaro was capable of and felt like at the very top of its range. Downshifting from fifth to third, I pushed my right foot to the floor and watched the tach climb toward the redline. Shifting quickly to fourth as my speed passed 80 and then to fifth as the needle on the speedometer moved well past the century mark, the V6 howled appropriately. It's at these speeds where the decklid spoiler on the RS became functional and the Camaro hunkered down toward the pavement. There was nary a shake, shudder, buffet or bobble.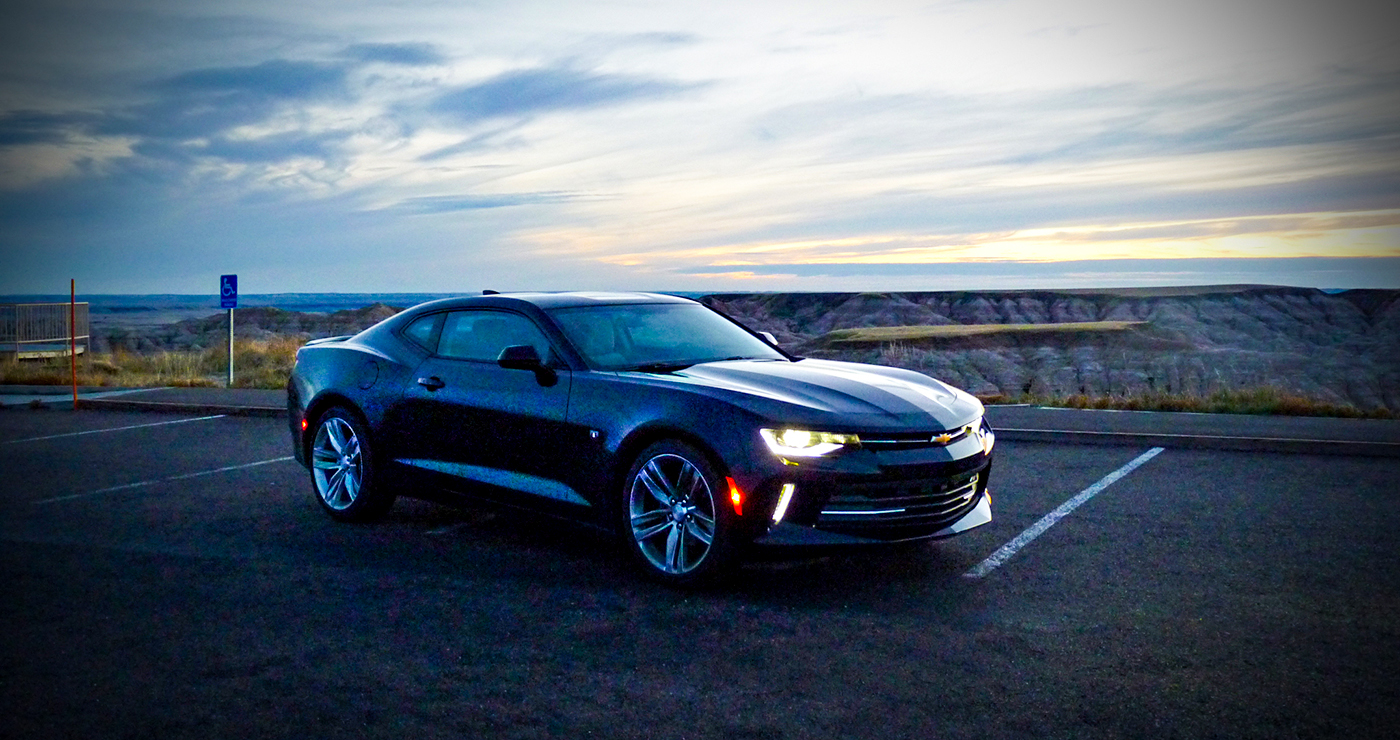 As I watched the scenery fly by at speeds that would have had me in handcuffs had there been a Utah State Trooper around, I smiled with satisfaction at how far the Camaro had come since the dark days of the 1980s. I was behind the wheel of a car that had the best pony car characteristics: plenty of power, aggressive good looks and a minimalist interior aesthetic combined with excellent handling and a level of quality that I wouldn't have thought possible 30 years ago. GM is finally getting it right.
And I, for one couldn't be happier.
2016 Camaro RS
Base Price: $26,995
Price as Tested: $31,920
Optional Equipment: 20-inch, 5-spoke aluminum wheels, HID headlamps, LED taillamp, RS grille and rear spoiler, Brembo 4-piston front performance brakes, dual-mode performance exhaust.
Horsepower: 335@6800 rpm
Torque: 284@5300 rpm
0-60: 5.2 Seconds
1/4-mile: 13.5@103mph
EPA MPG: 19 city/28 highway/23 combined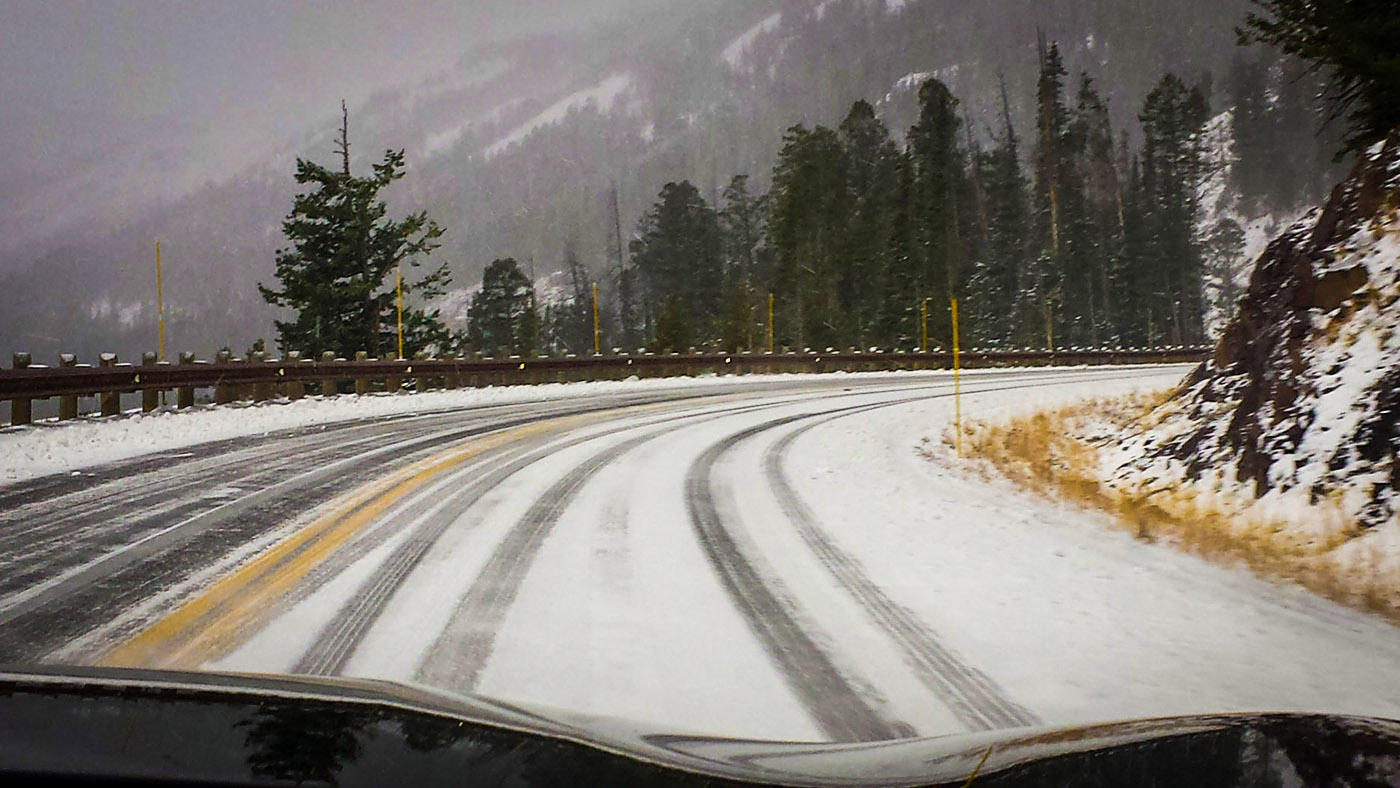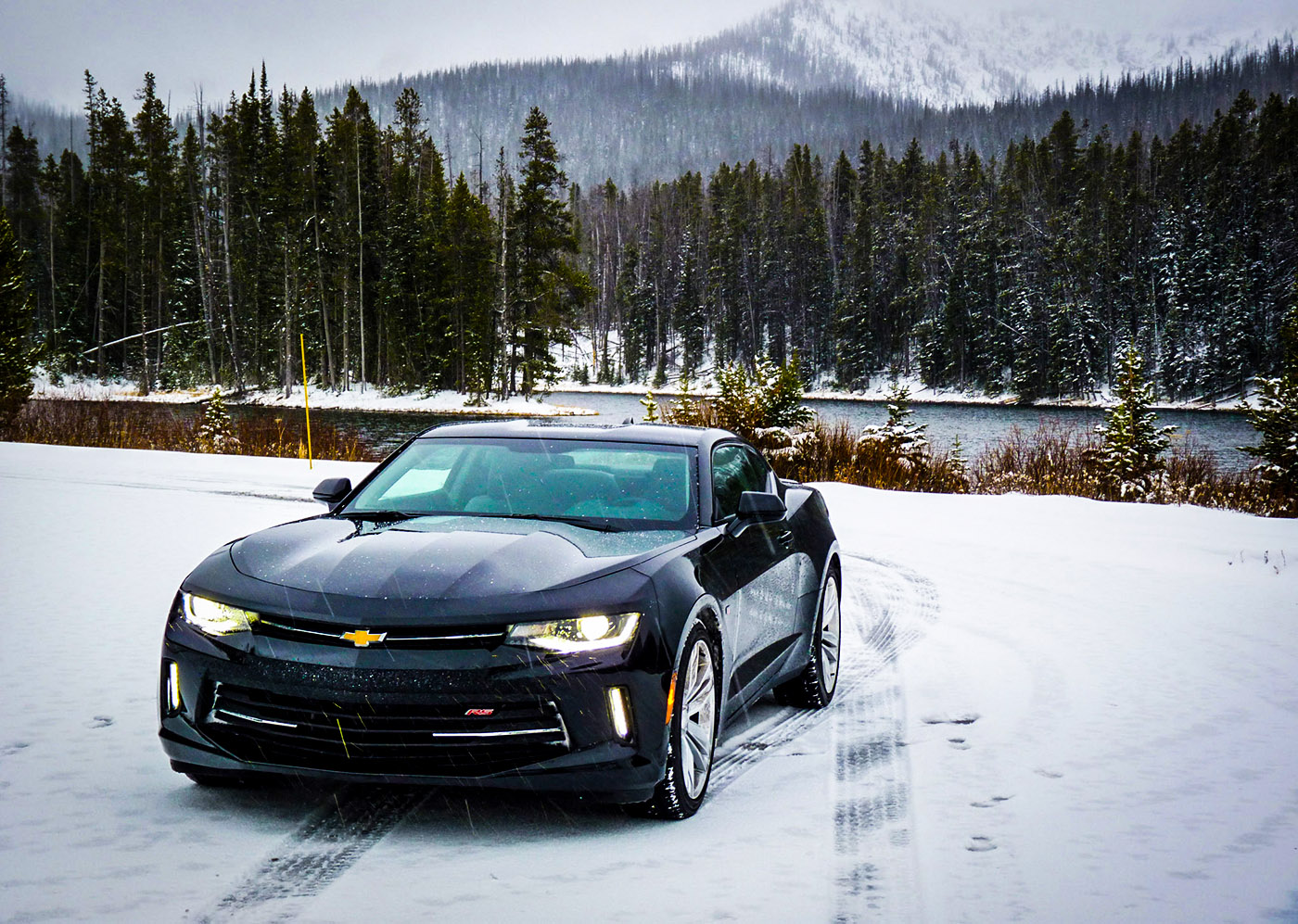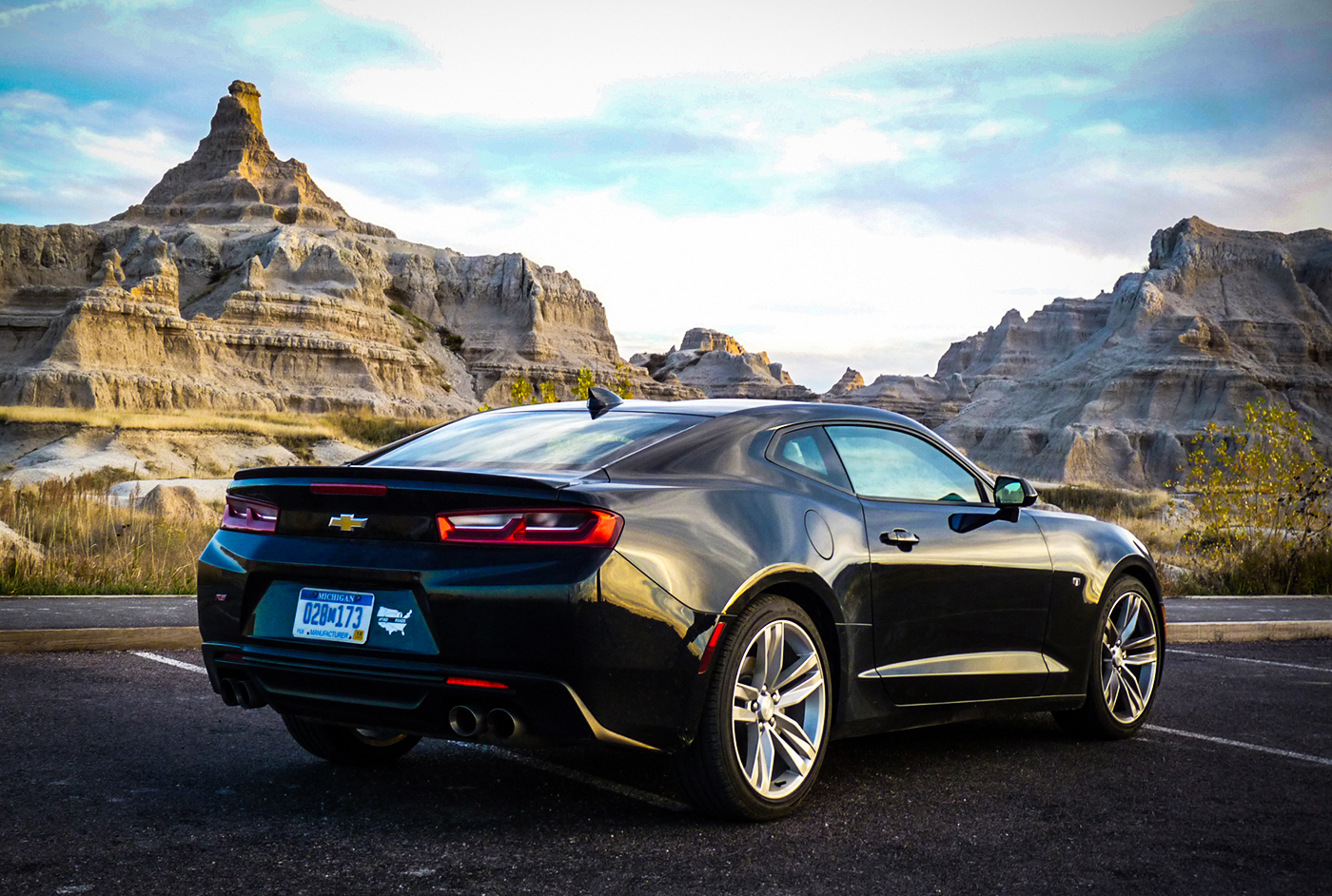 While Chevrolet provided the vehicle and paid all expenses on this trip, the opinions expressed in this article are ours alone.