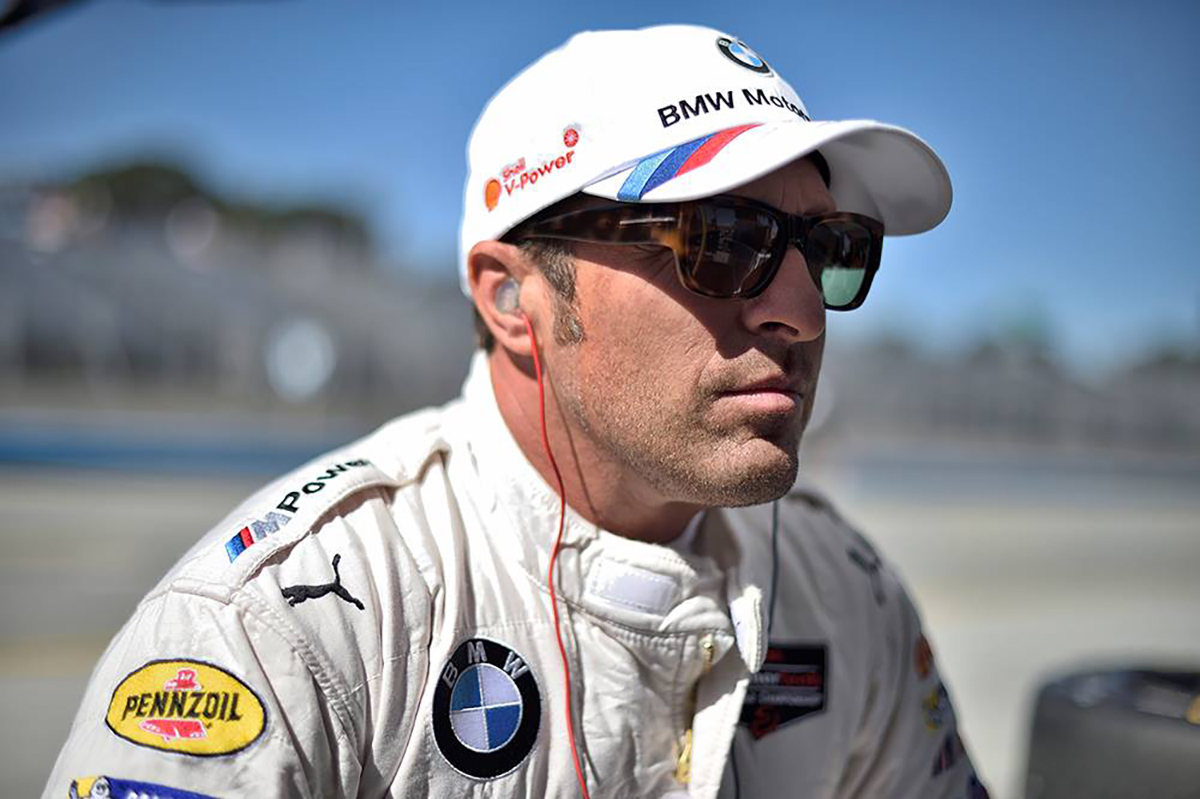 A multi-champion racing driver, Bill Auberlen has piloted BMW cars in more races than any other driver on the planet. He has started more than 500 professional races with over 90 victories and 180 podium finishes. With his victory at the 2019 Motul Petit Le Mans driving for Turner Motorsports in a BMW M6 GT3, Auberlen tied Scott Pruett as the winningest driver in IMSA history with 60 career wins. He's raced the 24 Hours of Le Mans on 5 different occasions and the 24 Hours of Daytona 31 times, winning in 1997 and 1998.
When he's not in competition Bill also helps BMW introduce its new cars to journalists and we've had the pleasure of chasing him around COTA in an X6 M, Thermal in an M5, Road America in an M3, Laguna Seca in an M2, and Monticello in the new 7 Series. Even with one hand on the wheel, another on a walkie-talkie, one eye on the track and another in his rear view mirror, there's never any danger of anyone catching him.
We were lucky enough to get Bill to slow down just long enough to speak with us about his impressive racing career, how he got his start and what he would say to someone who is interested in pursuing racing as a career choice.
You grew up in southern California, the Mecca of American car culture, in the 1970's, when did you really first become aware of an interested in cars? Was there a specific event or interaction that hooked you?
My father came from Stuttgart, Germany way back and his dream was to come and live the American dream, where anything is possible. When he came to America, he was completely into cars and his dream was to go racing. Before he was able to go racing, he just started collecting cars. I've been through some amazing cars just sort of riding on my father's coattails. Starting from a Dino Ferrari to Renault R5 turbo, Boxer BB512, BMW M1, Porsche Carrera RSs, he has been through some incredible cars. The list keeps going on and on. He did it out of passion and that passion absolutely translated over to me. I picked it up right away. Anywhere my dad was is where I wanted to be.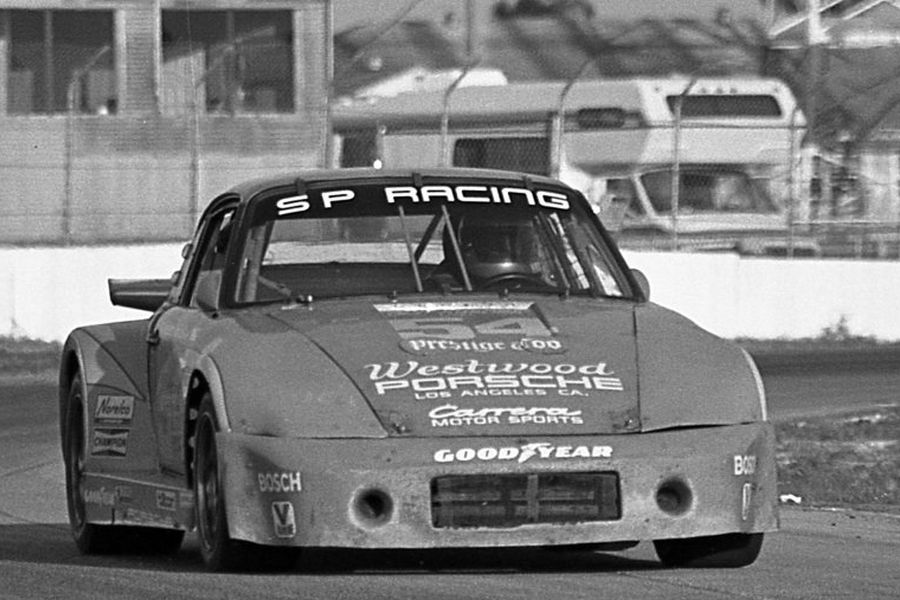 Eventually he started racing cars. He partnered up with somebody who worked at a Porsche repair shop and they built a Porsche 911 RSR and the dream was to go to Daytona. They went to Daytona, the IMSA circuit, I was in tow as a 12 or 13-year-old kid wanting to be part of it. Back then I was only able to watch from the backside of the fence because I was so young. My dad actually won Sebring in 1985 and by then I was on the crew. I was driving the truck to and from races. I built the engine that won that race. Long before that I was completely hooked on racing. Eventually my dad gave me a chance to race a car. My first race was Daytona 24-hours. I had already been there a few times watching, I had listened to every shift, every bit of the car. When I jumped into the car for the first time, I felt like I had already driven that race a lot of times. I knew exactly what I was built to do as a human. I was super comfortable in the car, we finished second right off the bat.
Do you remember the first car you owned?
Yes. My dad, he comes from a German way, where nothing is handed to you; you earn it. I had a friend and he had a Datsun 510 on blocks that needed work. He said if I can get it to run that I could have it. I worked on this thing, I went to junkyards, I got the engine. Before it even fired, I had it all sort of tricked out. That was my first car, a tricked-out Datsun 510. That's a great car.
You've raced BMWs in more races than anyone else in the world. What is, or was, it about BMW that keeps you racing them.
So, when my dad allowed me to come in and race the Porsche I did it for a few races and then he said, "I can't afford this anymore. There's the truck, there's the car, you can do whatever you want with it." But at the end of the day it was his. My dad had history. He won 1985 Sebring 12-hour, which was a big race. His 911 RSR was no longer competitive against all the Mazdas, Dodges, Chevy Berettas at the time. So, since the car had history, I sold it and it got good money. I went to Rodger Mandeville in South Carolina and bought a [Mazda] RX-7, an awesome car. I drove the truck there by myself, loaded the car up and drove all the way back to California. We unloaded it at my shop and there it was sitting there in the driveway.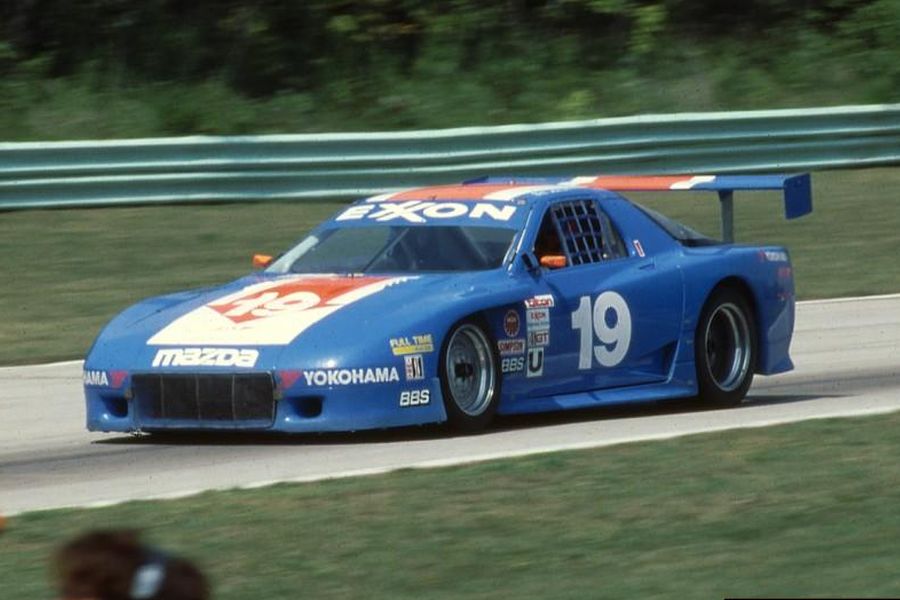 My daytime job was a Porsche mechanic so I could build Porsche engines in my sleep, a 911 gearbox in my sleep. Here's this RX-7 rotary motor with a Hewland transaxle that I had never worked on. I couldn't afford to have other people work on it so I would have to do it myself. I'm asking, is there a class on rotaries? I called Damon Barnett, head of Mazda Motorsports at the time, and said "hello, I'm Bill Auberlen. Do you guys have a class on racing engines?" He just laughed at me. He said, "no we don't have a class. I know who you are, I've seen you race a few times." I told him my situation and he said let me call you back. This is head of Mazda Motorsports! He probably barely knows who I am. He calls me back an hour later and says, "how's Tuesday, Wednesday of next week?" I said, I'm open. He said I'm going to send Fuji, from Japan, our top engine builder and he's going to fly in and give you a 2-day class. The best guy we've got. Go over the engine, take it apart, put it together. At the end of 2 days you'll know everything.
The guy lands at LAX, I pick him up, he speaks no English. But he showed me everything. We understood each other and I made notes. That first motor I built on the bench with him made exactly the horsepower he said it would at 352 hp. Off to the races I went, me and a few of my Porsche mechanic buddies. We'd all sleep in 1 hotel room, we'd do fundraisers to go racing. We loved it! We got very good at it. We still hold records for wins in IMSA. Imagine, we pull up in this crummy truck with a tiny team and we were beating the factories!
I got an opportunity to drive for Chrysler and that went away. I got an opportunity to drive for Mazda but that went away. Then, I had to bring my Mazda back out and we were winning. It was between a Porsche 911 RSR and me, and this is when Tom Milner and the PTG team came to the racetrack. It was their second or third year. This is big time stuff. Pete Halsmer, David Donohue. It was the Valvoline car and the First Union Bank car. I was very envious, but we were doing better than them as they were still new. They were about to lose their deal and I was pretty much broke. Every phone call that came in was someone I owed money to. But it was the passion of racing. It's what drives you more than anything; being broke, owing money, eating cheap food. None of it mattered. It was about getting to race.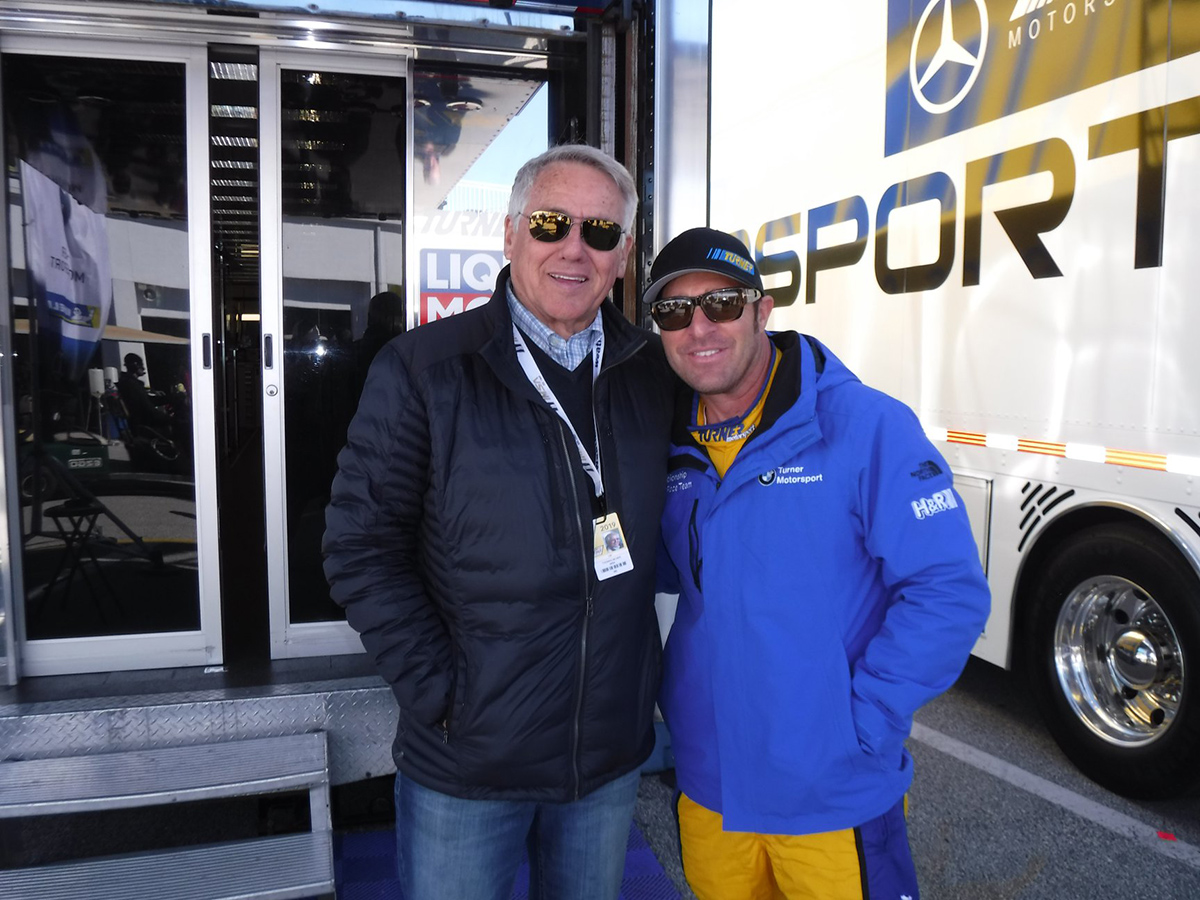 So, I'm in turn 1 at Road Atlanta, just standing there and I see BMW head of marketing standing there. I talked to him and said, "I hear you guys are kind of maybe going to lose your deal. I'll leave the Mazda at home; you guys hire me and let's make a deal. You'll win your race." I was trying something different, being a little brash. I had never been like this before but nothing else worked. That weekend goes on, Tom Milner calls me later in the week and asks; "What's it going to take for you to go to College Station, Texas to drive with us?" I asked what he meant, and he said, "How much is it going to take, what's your salary?" I thought to myself, holy cow, you can make money at car racing? I had no idea. I had done it for love, never for money. We came up with a price that I was more than happy with and off I go to College Station. I land at the airport, I go to the racetrack, I think I'm going to go over to the First Union car and I don't see it. It must be the Valvoline car. I look at that to see if my name is on it and my name isn't on it. I'm like what the heck?
Then, all of a sudden, they're wheeling out a car with no stickers on it, nothing, and it has my name on it. It was a customer, a wealthy kid from New York named Matt Cohen, who had paid them to run a car for them. I'm like oh no, okay I see what happened here. They maybe paid to put me aside so they could win a race. Anyhow, I was happy to be there. I get in the car and it is immediately my favorite thing I've ever driven. I totally synchronized with BMW, their philosophy, how it handled, how everything worked. That design philosophy is still there. I'm driving and we're very quick but then we start to not be quick. I'm looking at the data and can see we're down on horsepower.
I asked the kid what's the deal here and he says the factory cars have 3.2-liter engines and we have a 3-liter engine. I ask him what happens if this motor goes bad, we don't have any spares? He says they'll have to give us one of theirs. I tell him we need to get rid of this motor. Keep in mind, this was the days of the H-pattern gear box, you were able to do whatever you wanted with it. He asks; "how do we do it?" I said you have to blow this thing up. He goes down the front straight and sticks it in every wrong gear until it comes unglued. All of a sudden, we get a 3.2-liter engine, they put it in, and we go the next day and we are rocket ship fast, up front. This was the days of when drivers could jump from car to car to get the most points. Pete Halsmer was their guy. This was the guy going for a championship and everything. I started the race, I'm leading the race, I'm running away with it. I come in and expect Matt Cohen to jump in. I know he's going to struggle, and they were going to pass him.
As I come in nobody told me my co-driver was Pete Halsmer. I'm saying to myself, oh wow, they're going for the win. They have faith, they're going for it. 10 minutes from the end the differential blows up, we don't win. But that race must have convinced them that I was a guy worth taking a chance on. They hired me to do the next race, we went to Sears Point and finished 1, 2, 3. Then we won a ton of races in a row. 24 or 25 years later I'm still with BMW and loving it more than ever. It's been a dream come true. Nobody has had a factory ride that long!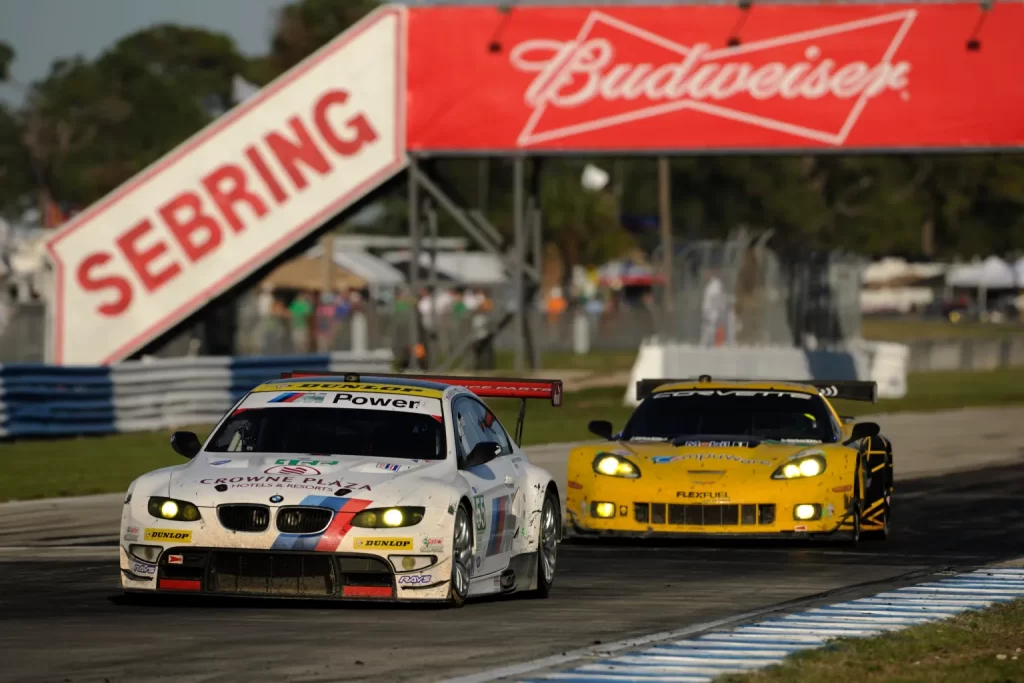 Do you have a favorite track to race?
I think Sebring is going to be one that comes to mind because my father and I have something there that bonds us together. He won in 1985, I won it in 1995, 1997, 98. I won 6 or 7 sprint races there, so it ties us together. When you start talking about amazing courses you have to say Road America, Watkins Glen. I love Long Beach Grand Prix; it's my home track and I've won there a lot. These tracks are just fun, so great. Each is a little different. There's almost no better section of road racing than VIR, the esses when you're going through there flat out with a ton of down force. Each track you have a love for some piece of it. If I were ever to build a track in the future, I would take all my favorite turns and somehow glue them all together and make the most amazing track.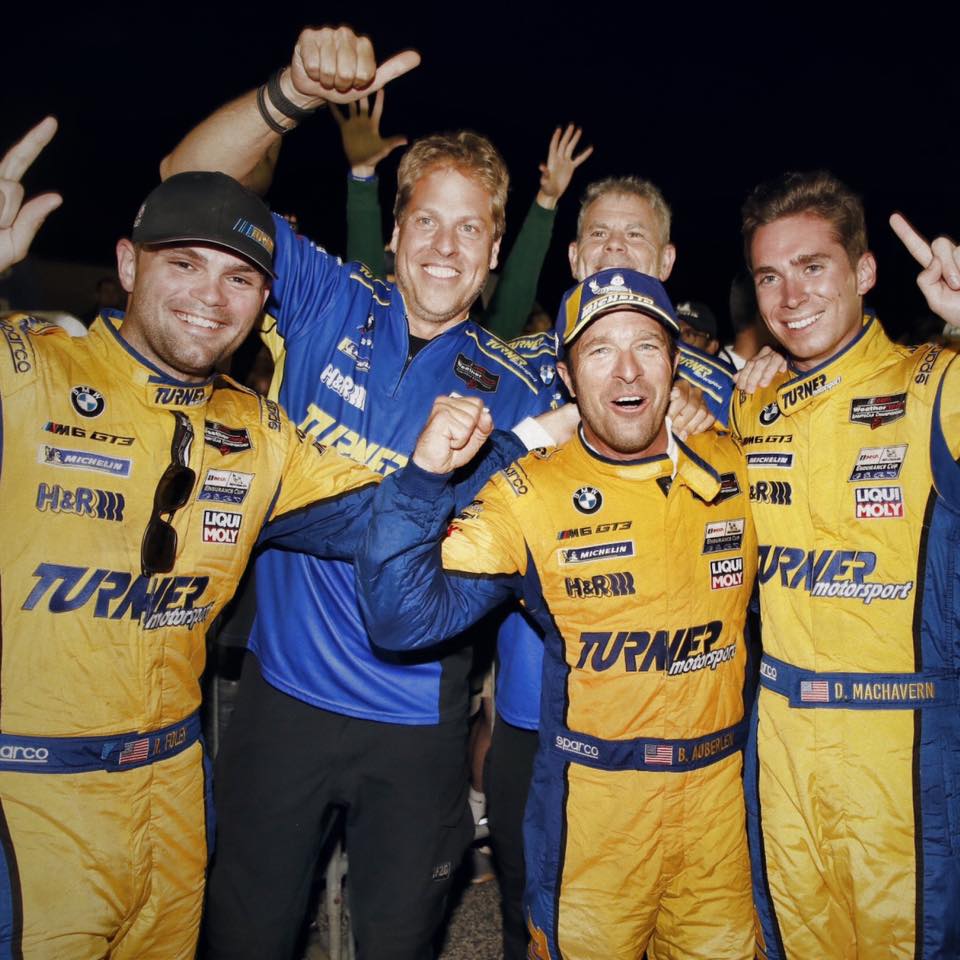 You have a pretty impressive racing career that spans over 30 years, 520 races and 90 wins and counting. Do you have a race win that stands out as the one you're most proud of?
You know, it's kind of nutty, but one of the most satisfying, unreal wins was just last October 12th in Petit Le Mans which tied me for most wins in history with Scott Pruett. It was on my birthday. It was so dramatic. We were fast, we lead a lot of that race, and then because of a little issue at the end, we dropped to second. We were battling and battling, Mercedes was ahead of me, I was in second, Audi behind me nose to tail into the night, fire breathing, flames glowing. On the last lap I got the lead and won the race. It was such a sigh of relief as well as just being so happy that I had won that race, I screamed to my team as I crossed the line. It was an incredible win.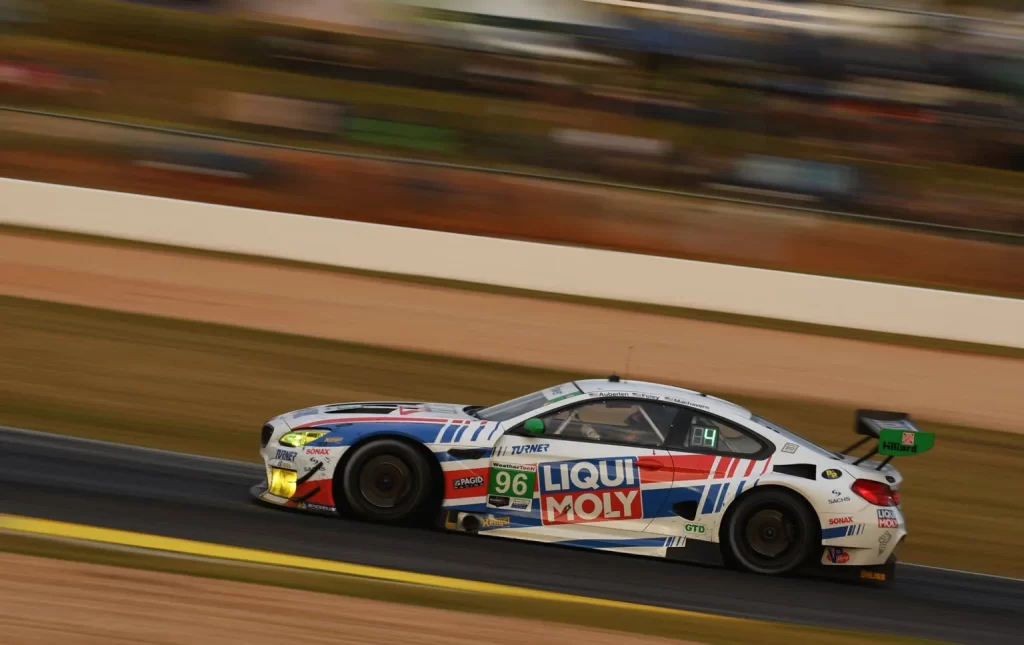 The recent movie, Ford vs Ferrari, portrayed the 24-hours of Le Mans and brought sports car racing more into the spotlight. You've raced in that race a handful of times. Was the action in the movie pretty accurate?
The action might not have been super accurate just strictly because of the way they had to film it. But, the history part of it I think is dead accurate. Once you watch that move, and I watched it right away, I really enjoyed it. I remember growing up at Willow Springs. They did races at Willow Springs, they were in Daytona, Sebring, they went every where I raced. I was sitting watching it next to my girlfriend, and I've taken her to all these races (Le Mans, Daytona, Sebring), and then I watched the documentary on it, and it was virtually the same thing. And you watched it happen just a few years ago when Ford brought out the GT again, the newer version of it. Joey Hand was in Le Mans and he was battling against a Ferrari and I was like "oh my gosh, take two, it's ground hog day, they're doing it again." And Ford does it again! I got to see it twice; I saw it in real life when Joey Hand did it and I watched it on the movie. I loved it both times.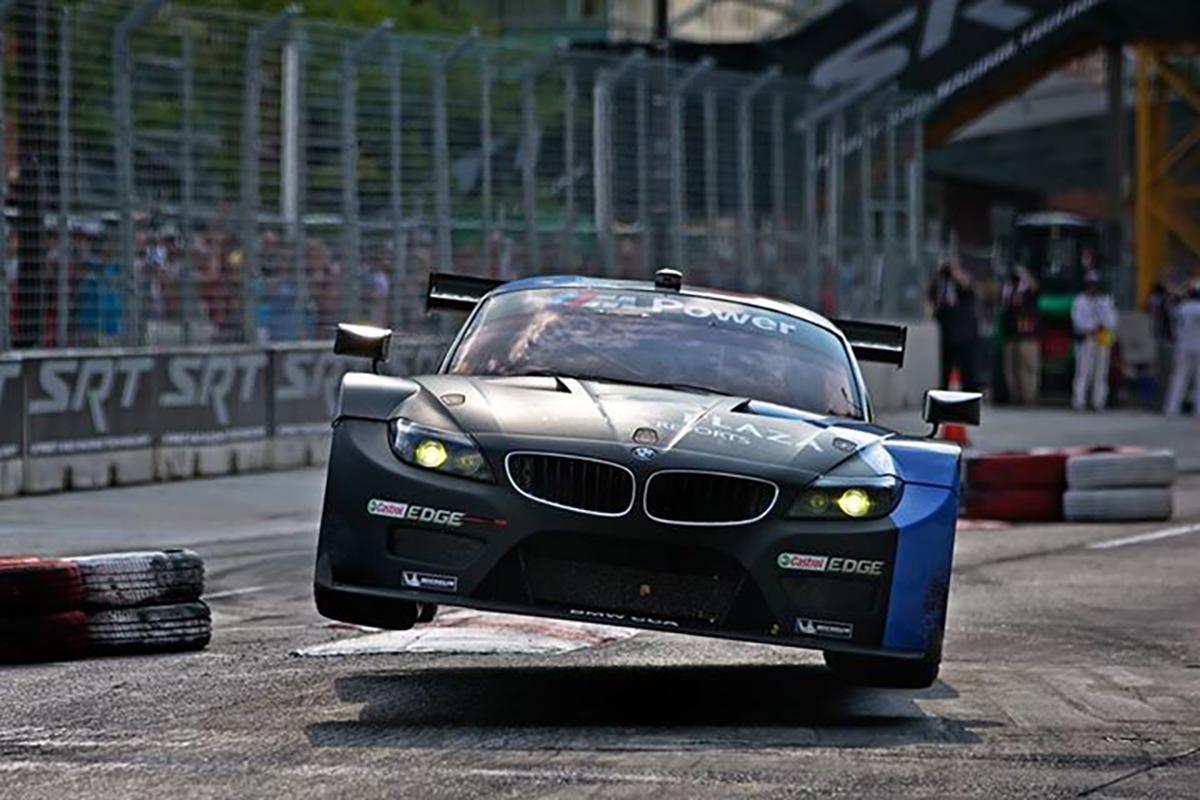 When you get a chance to reflect on where your career has come to at this point in time, do you sometimes not believe it?
Only recently. What's crazy is, and I'll bet you, there's very few drivers that are currently racing today that ever feel like they've made it. I know that sounds very unusual since I've won 7 championships and a ton of races, but it was only until recently that I thought I've done something that's really cool here. Up to that point you're always on the back foot, wondering am I good enough, am I fast enough, am I going to make it? You just never feel like you made it. I can look back now, I can really enjoy it. I've had contracts with BMW. They're one year or two years. That's all they ever are. We're going into a contract now and I've got a 3-year contract. At age 51 they've contracted me for the next 3 years.
Is there a race that you haven't been in but would've loved to compete in?
Yes, I've been just talking about it now and it's Bathurst in Australia. That's one I have not done. It's driving me crazy. It's time to get something, grab a BMW, and get over there and go run that thing.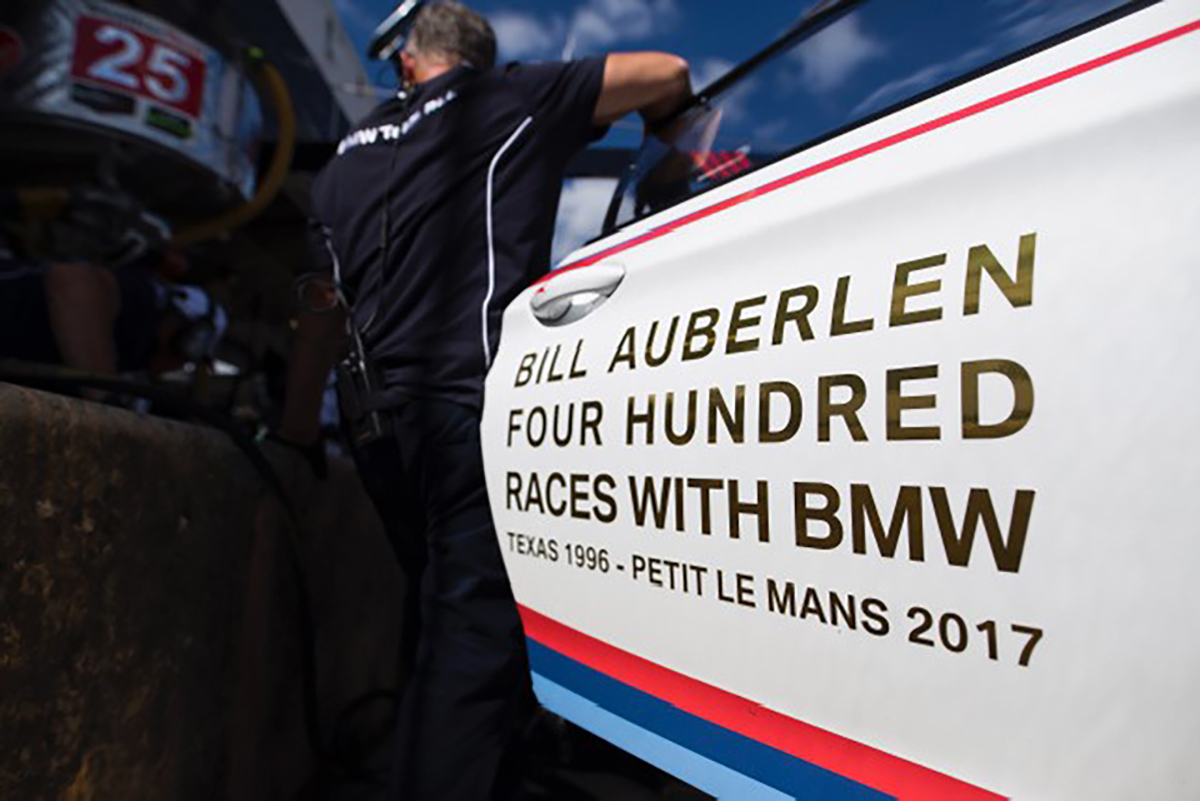 What would you say to that young man or woman that dreams of being a race car driver?
Everyone always asks me how do you get into racing. I tell them, anything coveted is always hard to achieve. Nobody becomes Tom Cruise by just deciding to be an actor. You have to go, go, go and when you think you cannot go any further because it's killing you, you cannot do this any longer, that's the wall you have to push through. That's what makes it so coveted. You have to push through, never give up and be tenacious to a fault. Never give up is the first thing I say to people and the second thing in racing is you've got to be precise, perfect, and not be too proud. You should also develop something that makes you unique.
If I were to open your garage door at home, what would I find in there?
You'd find a BMW, that is first and foremost. I'm the luckiest guy in the world to get a company car. I sort of get a choice of what I want. You'll see an M8 Competition in there, which is probably the best car ever made. Before that I had an 850 which, at the time, I thought was the best car ever made. Then I have a Range Rover because I have to tow what is my passion, which is boats. I have boats, I have some fast boats. I have a company where I developed and designed my own transmissions, out drives for boats. Building them, designing them is my passion away from car racing.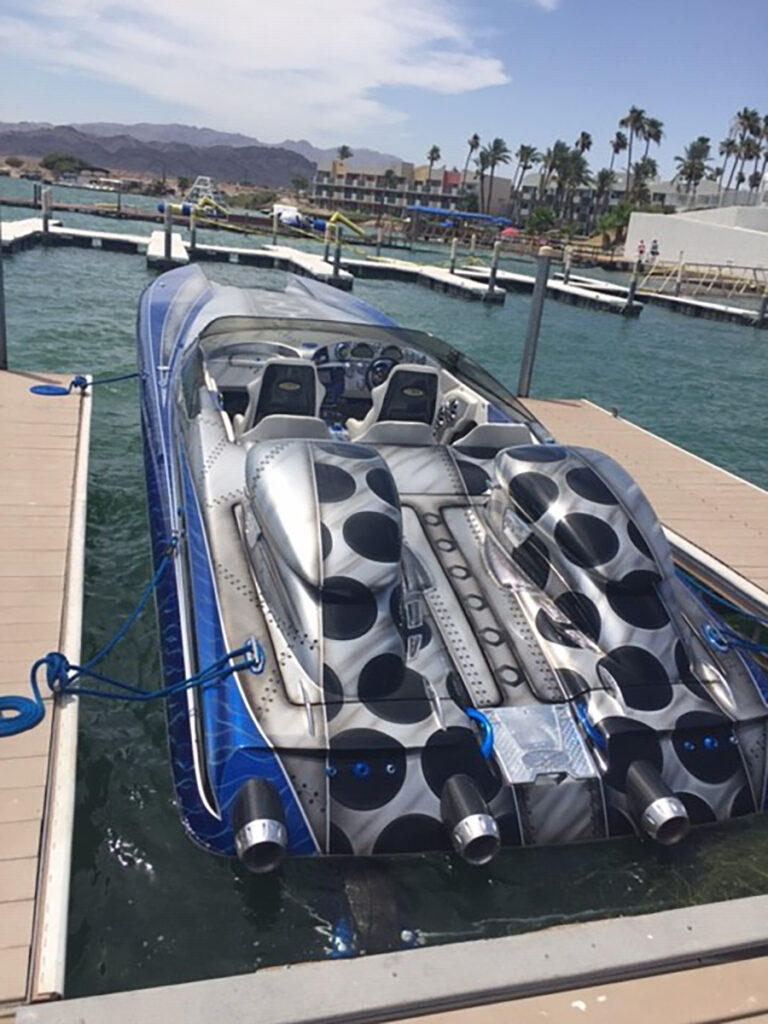 Do you have any favorite roads or destinations when you get a chance to just drive for pleasure on a weekend or other times?
Some of my favorite roads are on the way to Aspen. You get to drive through all these different states. You have some straight sections that you can actually see there are no turn offs, no access points and you can put your foot down and feel the car churning out huge amounts of horsepower and acceleration. I just love it. Then, when you're done with that road, you're up in the mountain passes going over the mountain where you can still feel the turbos putting out tons of power there. Then the scenic roads with the river on both sides of you couldn't be more picturesque. It gets so perfect that sometimes I'm like, hold on, stop. I pull over next to the river and you've got this beautiful meadow behind it and I take a picture of the car in the foreground with the meadow behind it or the mountains with snow on them. I've taken that BMW all over the place.
What do you like to do away from racing and motorsports?
Well, I've started to get into running and hiking because now I live in the desert. And right next to me is a lake (Lake Havasu), so I'm always fishing on this lake or running next to this lake or hiking along the mountains by this lake. It's a soul-searching moment, which sounds super tacky, but you're there, you've been on this team, you're trying to beat everything and everyone else and it's so intense that it all escalates to that checkered flag of trying to win everything you can. When you get away and come here you can hear a bird chirping as you're out walking or a duck quacking and you're still running or hiking along. There's the sound of water flowing and it's the opposite. It is somewhere where I go inward and I can focus and think, see the next race. You get some training in and at the same time you can get some peace of mind and focus.
Thank you, Bill, for slowing down long enough to give us some great insight into your career, what it takes to be a winning driver and what you like to do away from the sport. We're excited to see what the new season brings, we're pretty sure you'll be up front in a BMW leading the way.