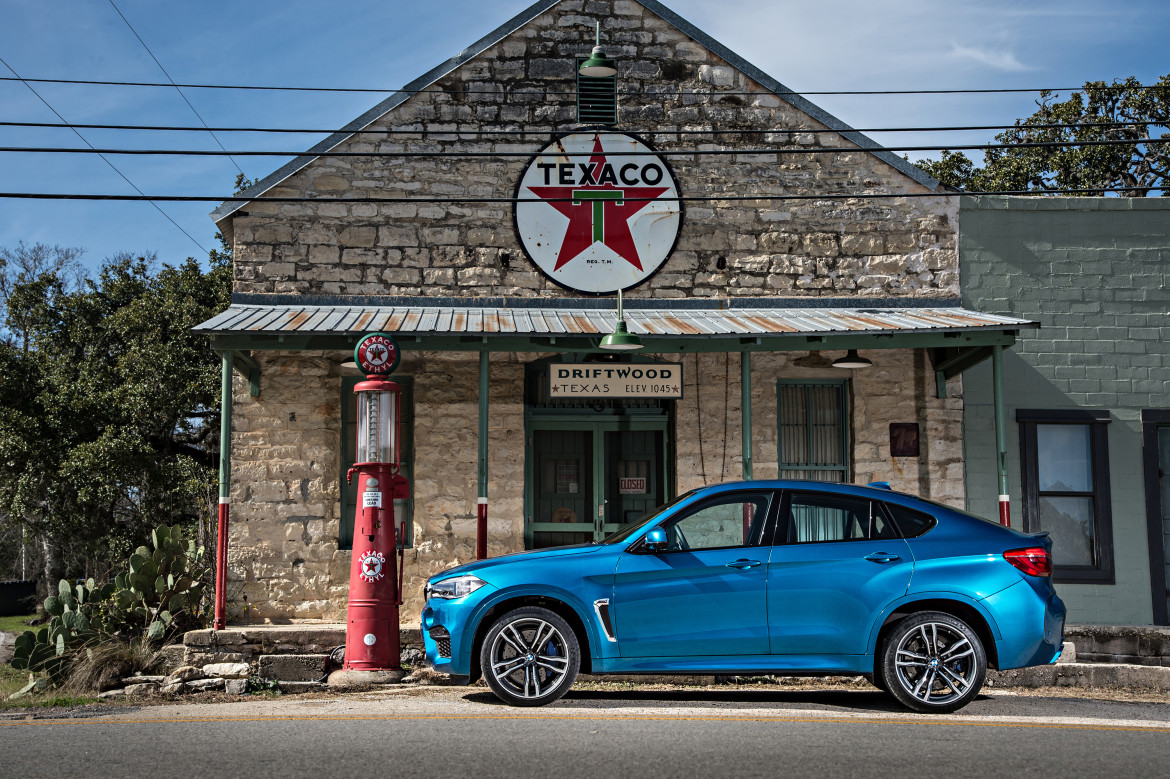 Some interesting combinations just seem odd when you first hear about them – like peanut butter with mayonnaise; Justin Bieber with Floyd "Money" Mayweather; and the alphanumeric combination of X6 with M.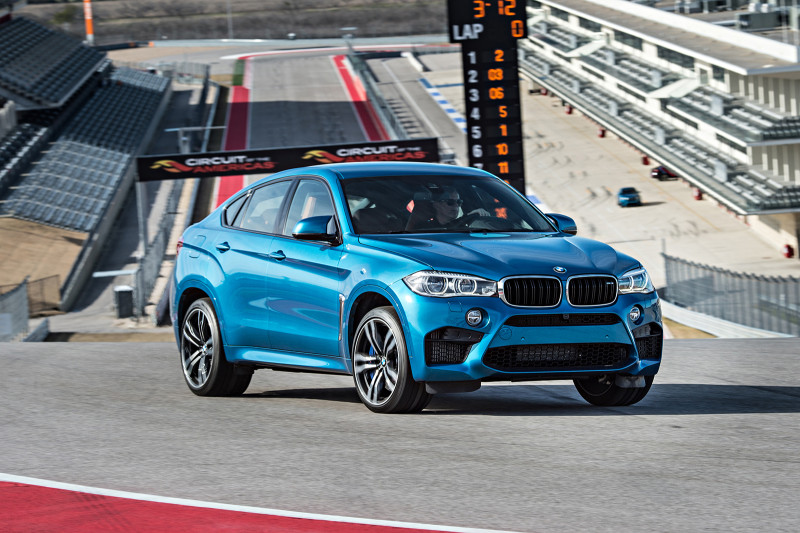 When I heard that BMW had mated the new X6 platform with their legendary M brand of performance wizardry, I wasn't sure how well it would work. I love the M3 through M6 sedans and coupes. I also enjoyed driving the base X6. Despite its high stance and oversized coupe like body, it handled better than I had expected. But if you ever told me I would be hurtling down the back straight on Circuit of the Americas at nearly 150 miles per hour in an X6, I'd have told you that you were crazy.
I mean, the X6 is tall. The X6 is heavy. The X6 is designed to transport adults to remote places in supreme comfort with outstanding off-road capabilities and a surprising amount of performance. But the X6 is not a track car.
At least it wasn't until the engineers at BMW decided they could achieve the impossible and make it one. Which brings me back to chasing former Formula 1 and current BMW DTM driver, Timo Glock around Circuit of the Americas in this 567 horsepower, 5,200 pound leviathan.
Ignoring the laws of physics
I'm not going to lie. My first few laps around the track in the X6 M were unnerving for two reasons. First, I had never driven on COTA before and it is a very technical track. Even with a seasoned pro leading the way, it took all my concentration to stay close to the racing line and hit the braking points. Second, the X6 M is very different from any other car I've ever driven all-out on a racetrack. I'm used to having my rear end just a couple of inches above the pavement, not a couple of feet. And the cars I've driven this fast have usually weighed anywhere from 30% to 50% less.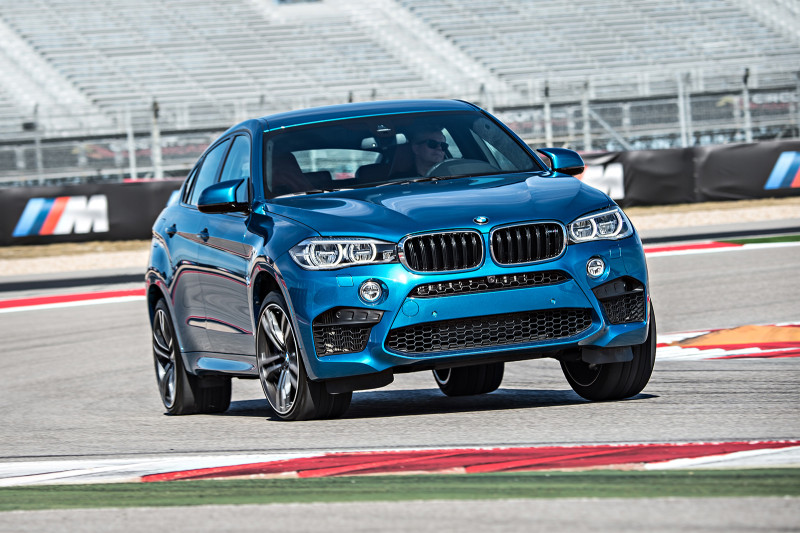 If I remember my high-school physics correctly, nearly two tons of mass, a lot of inertia and a high center of gravity are antithetical to quick direction changes and fast stops. So I was anxious about pushing the X6 M too hard. After a few laps, however, I finally started to understand and trust that the systems BMW engineers have baked into this car actually allow it to do things that heretofore seemed physically impossible.
"How," you might ask, "can a car this big, tall and heavy go so fast without getting all wonky under hard braking or cornering at the limits?" Three words: Dynamic Performance Control. DPC works with BMW's xDrive system to continuously distribute of torque between the wheels – from 100 percent at the rear to up to 100 percent at the front, putting power and grip where it's needed most. As a result the X6 M follows steering inputs much more accurately without a lot adjustments from the driver.
Additionally the X6 M employs Dynamic Stability Control, an amazing piece of electromechanical magic that counteracts understeer and oversteer by selectively applying the brake and reducing torque at each wheel independently as needed.
In practice, it works like this.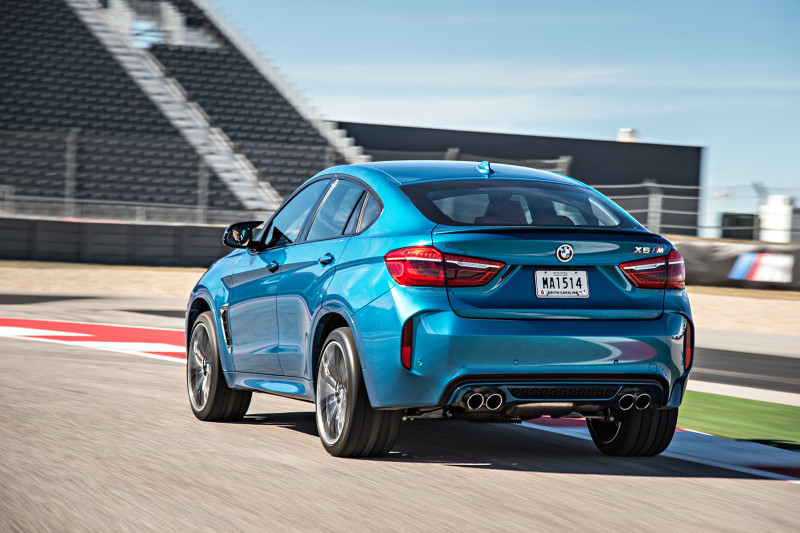 I'm coming into turn 12 off the back straight at about 149 miles per hour. The turn which is about 110 degrees requires me to slow to around 40 miles per hour. So I wait as long as my nerves will allow and mash the brake pedal, holding the steering wheel straight to my turn in point. If this beast had a traditional two-wheel drive system without torque vectoring, the car would either push when driven hard into corners. But the DPC and DSC monitor each wheel adjusting the brake and power to keep everything in line. You can actually feel it working through the steering wheel and seat of your pants, allowing you to just focus on brake pressure and steering. It's the automotive equivalent of a point and shoot camera.
There are, however, three DSC modes if you want to take more control away from the computer. In addition to full DSC mode, there's M Dynamic Mode that allows greater wheel slip to lets you do some mild drifting. By deactivating DSC completely, it is possible to push the X6 M past its limits on the track and coax the X6 M into power oversteer with deft use of the accelerator. But even with DSC off, the system will jump in if it senses you're about to totally screw the pooch.
M Means More
Getting 5,200 pounds moving from 0-60 in under 4 seconds takes two things: power and torque. BMW's heavily reworked 4.4 liter twin-turbo V8 has a lot of both. It makes 567 horsepower at 6,000 RPM and 553 lb-ft of torque between 2,200 – 5,000 RPM, an increase of 3% and 10% respectively. But in another act of defiance, this step up in power doesn't appear to have come at the expense of fuel economy. In fact, BMW claims to have cut fuel consumption by 20%. Final EPA numbers haven't been published, but we have no reason to doubt them as they achieved similar gains in the M3 and M4.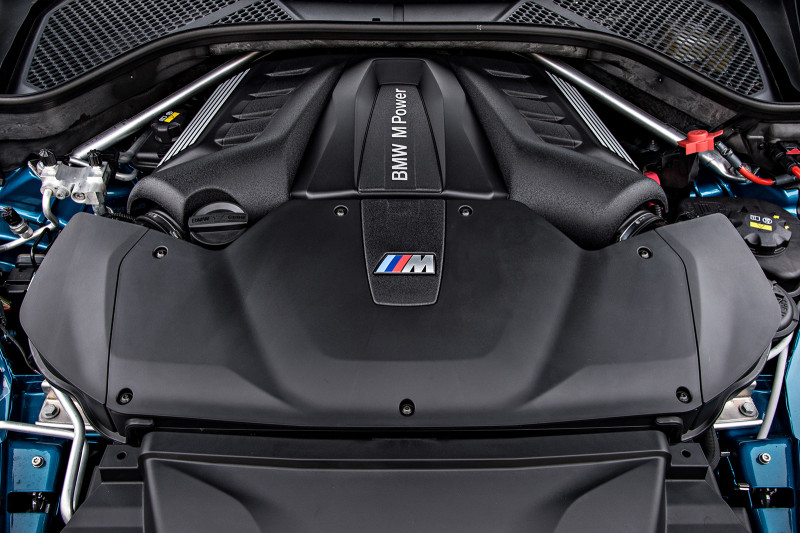 Also new in the X6 M is an eight-speed M Steptronic transmission with Drivelogic that lets you choose whether you want to emphasize fuel economy, comfort or performance. In full automatic performance mode, the shifts are crisp and quick, happening right at the peak of the power curve as you'd expect. You can, of course, shift manually using the steering column mounted paddles.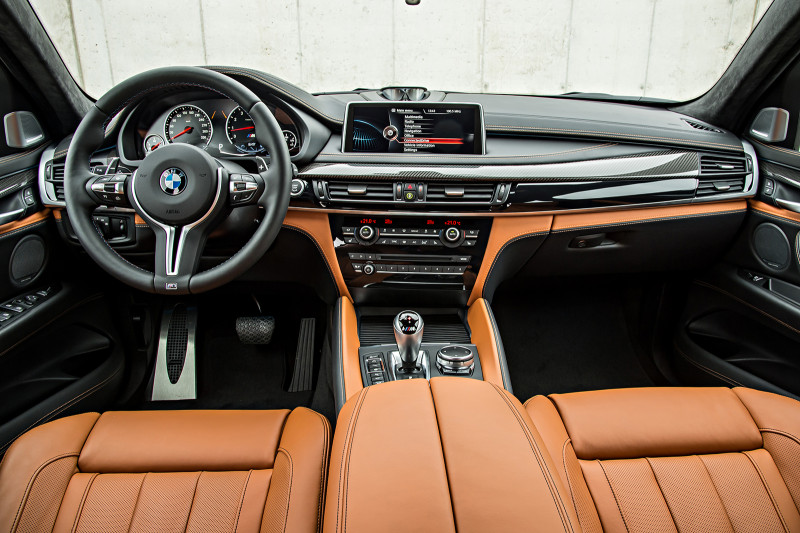 In addition to a more powerful engine and two more gears, opting for the M version of the X6 also gets you Dynamic Damper Control with three ride modes: comfort, sport and sport+, so you can match your suspension setting to road conditions and your desired driving style. The Servotronic variable rack and pinion power steering system can also be tweaked from light to heavy, as well.
And finally, with all that power, mass and an electronically limited top speed of 155 miles per hour, the X6 M features M compound brakes with large six-piston fixed calipers at the front and single-piston floating calipers at the rear. All the brake discs are perforated and inner-vented so they won't fade over time. In addition to working phenomenally well, they also look great. The calipers are powder coated in Dark Blue metallic with the M logo applied on the front pair.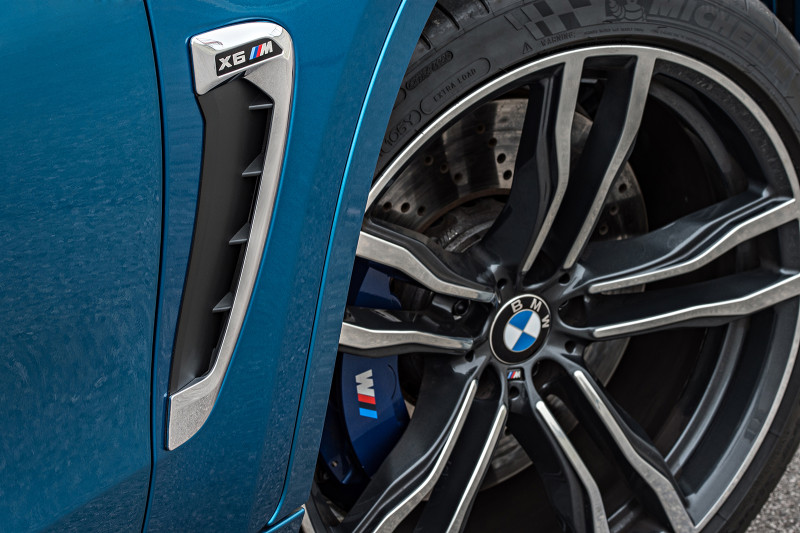 M Inside and Out
High performance capabilities require a high performance interior. As such the X6 M features an M specific instrument cluster and full color heads up display that allows you to easily keep track of your speed, rpms, selected gear and other important engine information without taking your eyes off the road (or in my case, the track). The seats, specifically designed for the X6 M, are both comfortable and supportive, with Merino leather surfaces and striking contrast stitching. The grippy leather steering wheel also adds functionality with additional buttons, allowing you to keep your hands on the wheel.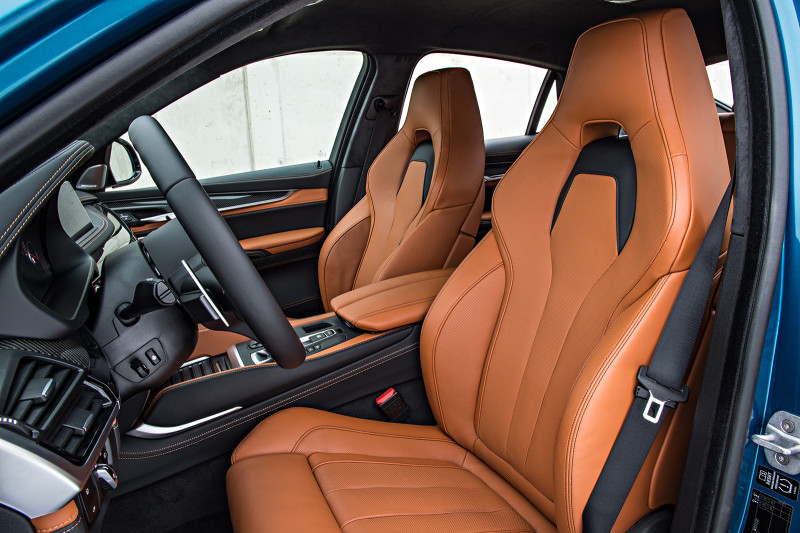 On the outside the X6 M is distinctly different from its non-M brethren. The 21-inch wheels and tires look great in the wheel wells and from behind their beefy width adds to its athletic stance. From this angle you'll also notice the quad tailpipes which make a wonderful noise thanks to the exhaust system's high output bypass mode. Up front, larger air openings in the fascia below the signature kidney grill help the big V8 gobble up all the oxygen it needs while special flaps low in the outer air intakes reduce lift and optimize aerodynamics.
The final verdict
What it all means is that BMW have created a track-capable car that holds four people comfortably and goes like an absolute bat out of hell on public roads. In fact, I enjoyed driving the big M on the backroads around Austin much more than I did on the track. Its stiffer ride with reduced body roll was more to my liking than the base X6 and the extra power, while not necessary, brought a devilish grin to my face on more than one occasion. I wouldn't recommend the X6 M to anyone who'd use it mainly as a commuter car in an urban environment. But if you live someplace where you can take the X6 M out and let it run free for a few hundred miles at a time on a regular basis, you won't be disappointed.
2015 BMW X6 M
Four-door, five passenger high performance luxury crossover
Base Price: $103,050
Engine: 4.4 L twin-turbo V8
Horsepower: 567 @ 6500 rpm
Torque: 553 lb-ft @ 2200 rpm
Transmission: 8-speed automatic with paddle shifters
Overall length: 193.8 inches
Curb Weight: 5202 pounds
0-60 mph: 3.7 seconds
Top speed: 160 mph
EPA MPG: 14 city / 19 hwy
www.bmwusa.com
While the manufacturer paid for travel expenses and provided the vehicles for this story, the opinions and recommendations in this post are 100% ours.
A version of this review first appeared at Pursuitist.com