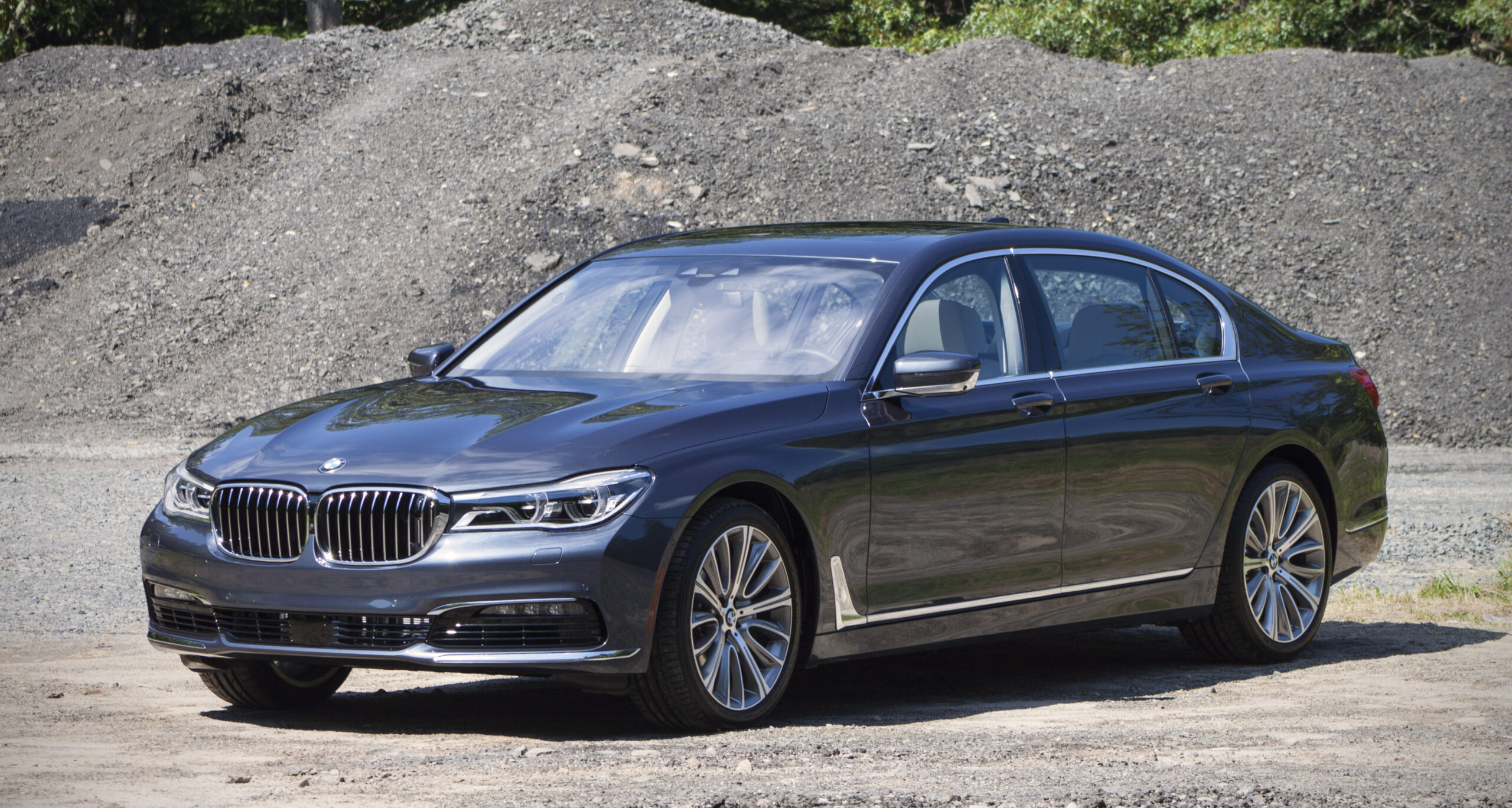 The 750i xDrive is BMW's flagship full-size sedan and as such it needs to do two things really well. First, since it's a BMW it has to set the standard for handling and performance in the category – otherwise it's not the "Ultimate Driving Machine." Second, it must work as a comfortable conveyance for the executive class who are often driven to their offices in midtown Manhattan, the Loop in Chicago or London's financial district.
Not an easy balancing act.
It was smart, then, for BMW to debut the car at Monticello Motor Club about an hour north of New York City to get a first-hand experience with 750i xDrive on the track and on the street.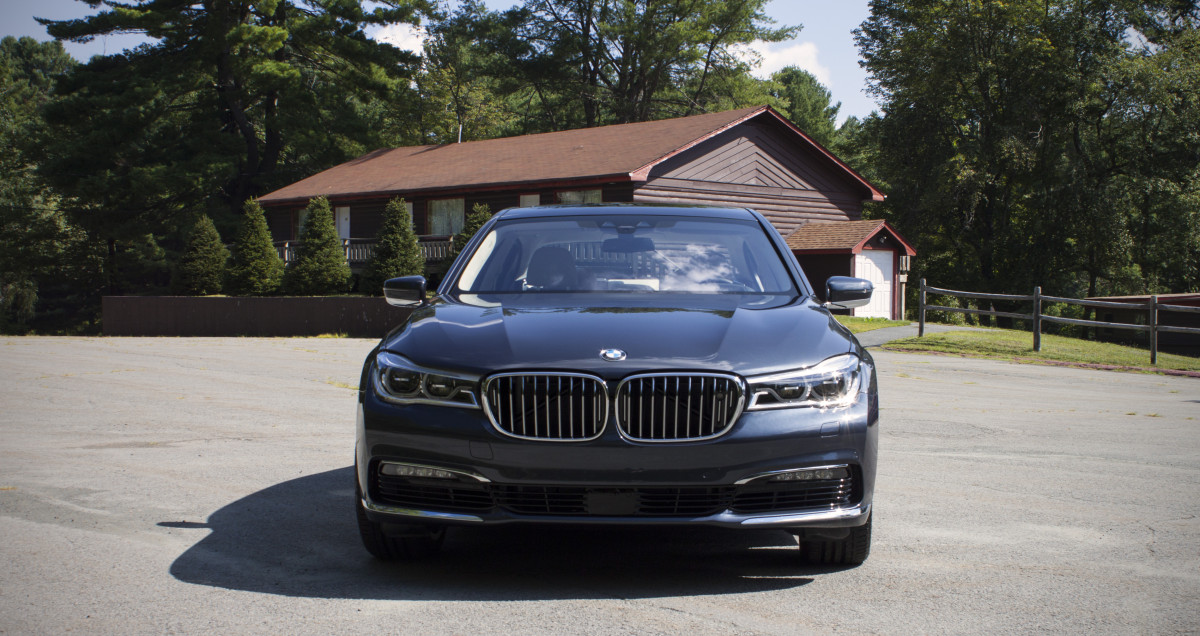 It didn't disappoint. By every quantitative and qualitative measure, the 2016 750i is a significantly better car than the one it replaces. You want numbers? It is a full inch longer, and 290 pounds lighter than the 2015 750Li it replaces. Why am I comparing the new 750i to last year's long wheelbase model? Because the only chassis you can buy now and forever going forward in America is a long wheelbase 7 Series. BMW have ended the charade that people in this category want a smaller car.
There's only one thing buyers of full-size luxury sedans really want: more. In the 2016 BMW 750i, they shall have it.
In addition to that additional inch, the 750i also offers more technology, more luxury, more efficiency and more convenience, better handling, higher performance and more ways to option the car than there are candidates in the republican presidential field. There are actually five ways to interface with the infotainment system now. As before, you can use the iDrive scroll wheel. You can interact with voice commands. If you're in the backseat of the executive lounge edition of the 750i, you can use an Android-powered tablet to find the Sinatra channel on SiriusXM. And finally, BMW have converted the main infotainment center to a touch screen so you can tap, pinch and swipe to your hearts content. But not wanting to offer merely everything the other guys already have, they went one step further by adding gesture controls that allow you to operate 5 common functions without touching anything.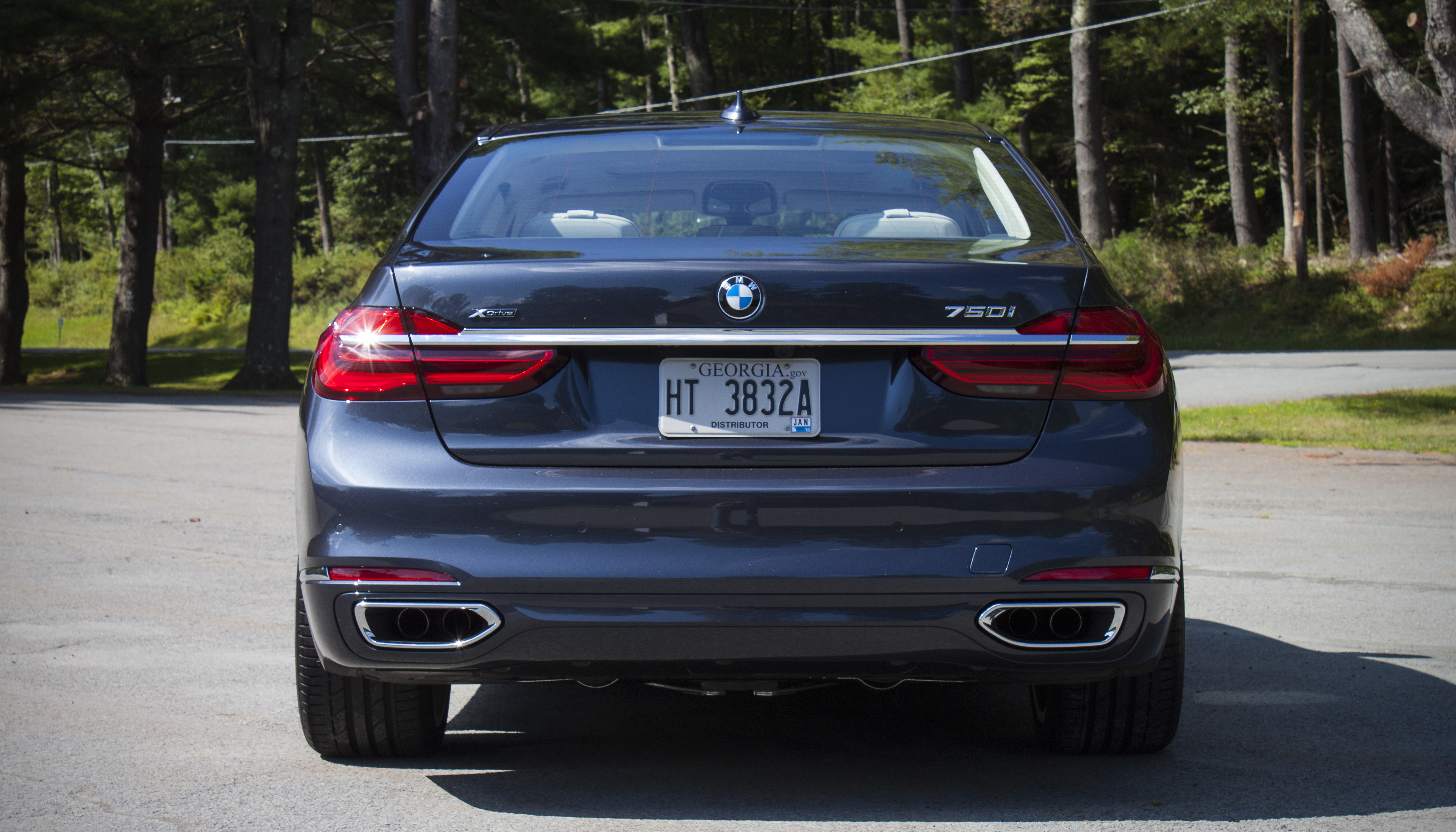 Want to crank up the volume on that classic rock anthem? Just put your hand in front of the screen and spin your index finger clockwise. Once it's over, a quick counter-clockwise spin will turn down the volume before they start playing a sappy ballad from Journey. Not interested in taking your broker's call to see how badly your portfolio has tanked in the latest downturn? Just wave your hand to the right and the call will be dismissed by this dismissive gesture. If you think it's going to be good news – my aren't we optimistic – you can answer the call by quickly jabbing your index finger toward the screen and pulling it back. The fifth gesture, a quick, two-fingered point at the screen (think Three Stooges eye poke nyuk, nyuk, nyuk) is programmable and can initiate any function – directions to home, a call to your favorite taqueria or open any one of the many apps available in BMWs connected drive system.
Okay, so maybe it's a bit silly, but gesture control is indicative of the lengths BMW have gone to try to keep the new 7 Series ahead of the competition.
In the really important areas they've been just as creative. They reduced the car's weight by 290 pounds with a frame made from a combination of steel, aluminum and carbon fiber, each used in the places it makes the most sense. By using carbon fiber for some of the structural elements at the top of the body, they have not only improved the rigidity of the car's frame, but because CRFP is so light, they've lowered its center of gravity, resulting in more confident handling. BMW have also done a lot of little things to reduce unsprung weight, like changing the design of the wheel flanges. By saving a pound here and an ounce there all over the car, they are able to add more content and still make a car that's quicker than last year's model.
So what's it like to drive a car that accelerates like a sports car and coddles like a limo? Let me put it this way…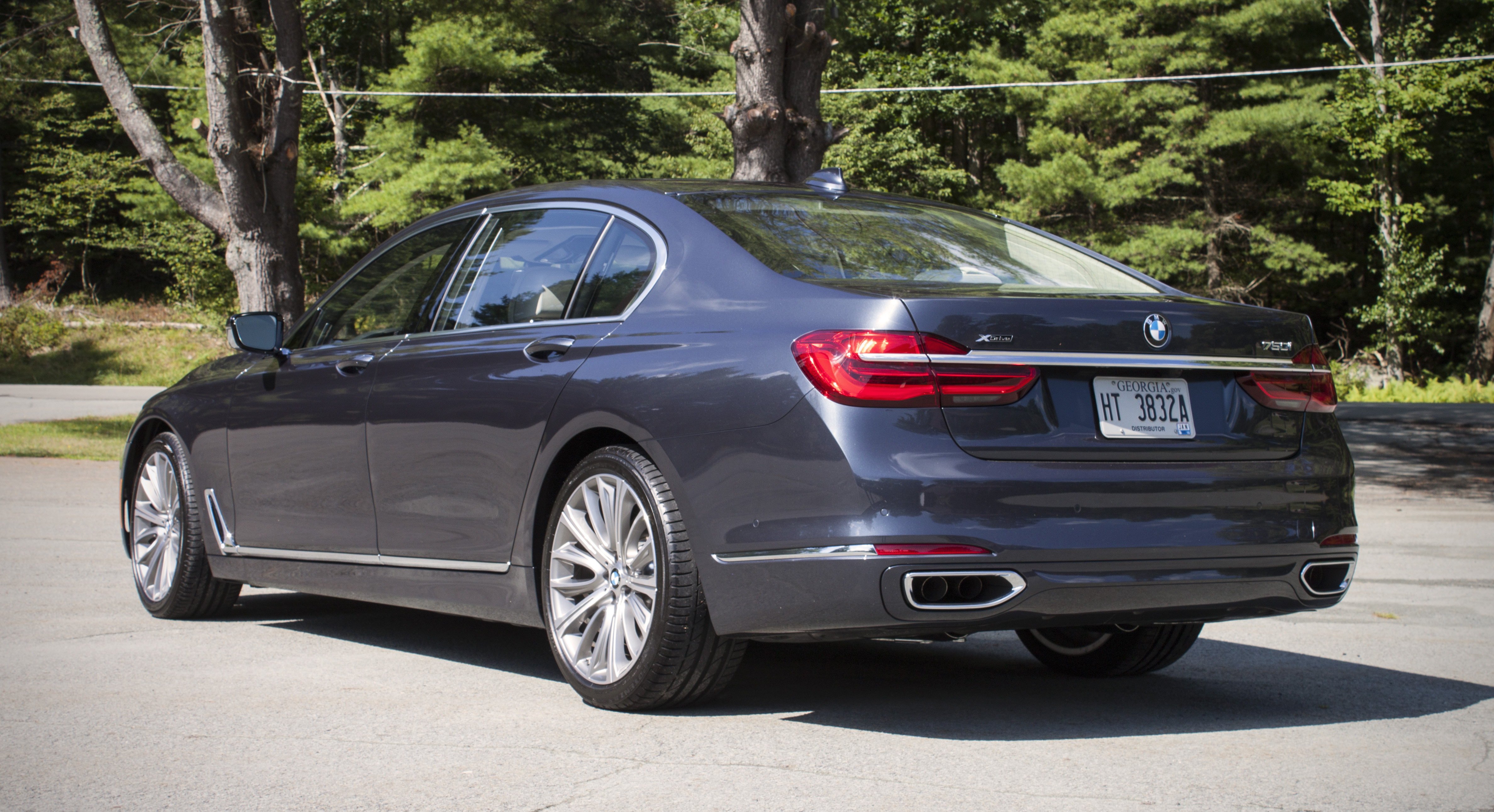 Somewhere about halfway around the track at the Monticello Motor Club it struck me. If I were a big-time executive who has made a few enemies over the years, I'd want to be in the back seat of a 2016 BMW 750i xDrive M Sport with someone like BMW pro driver, Bill Auberlen at the wheel. This car may have a ton of luxury features and technology baked into its 17 foot, 4600 pound frame, but it has the performance to shake any evildoers looking to do you harm.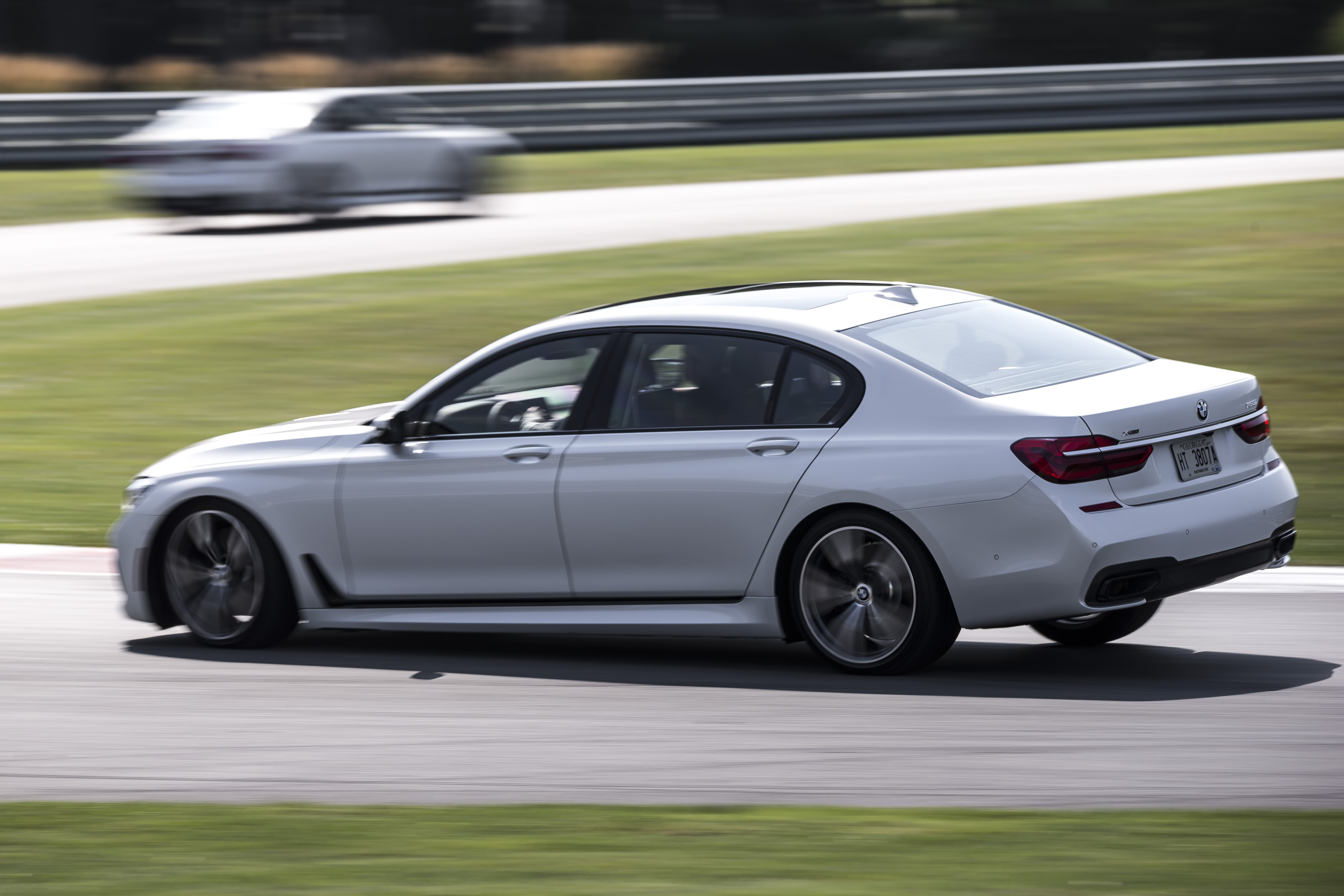 Driving on the track at the Monticello Motor Club gave me the opportunity to push this car to its limits in cornering, braking and acceleration. 60 Miles per hour comes up in 4.3 seconds (that's as quick as an Aston Martin DB9). The car tracks true through the corners and has the least amount of body roll I've ever encountered in a car this big. And when I tested the brakes in panic mode, they hauled it from 70 miles per hour to a dead stop faster than you could say, "ohne Scheiß."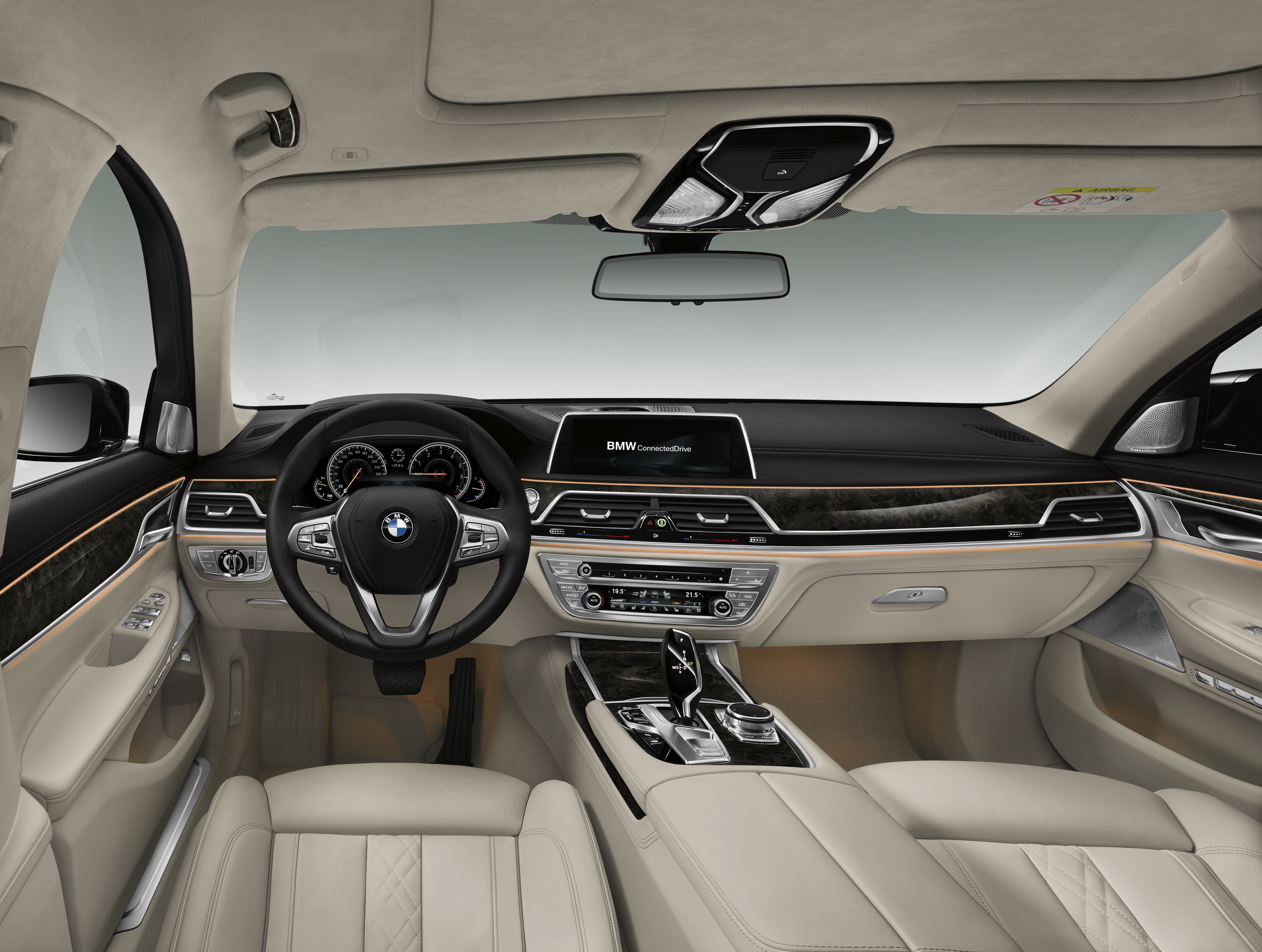 Get behind the wheel and the first thing you notice is the driving position and controls are pure BMW. The steering wheel, the gauges, the switches and knobs; all exude quality. To highlight that point BMW has galvanized all the knobs and dials so you're not touching plastic when you adjust the temperatures or tune the radio. You're touching metal. And that feeling makes all the difference.
As I mentioned, there are five ways to interface with the infotainment system so you can use the method you prefer. And just about every other system in this car is infinitely adjustable. With Driving Dynamics Control, the transmission, engine and air suspension are almost infinitely adjustable. The standard settings are Sport, Comfort, Eco Pro and, this year for the first time, Adaptive. You can also adjust elements individually to customize the ride and performance systems of the car the way you want. So if you prefer sporty acceleration, tight suspension but lighter steering, you can do that with just a few clicks. If you select Adaptive mode, however, you don't have to do a thing to go from comfort to performance mode. The car reacts to your driving style and the road ahead to select the proper vehicle set up for the situation. So if you go from a winding back road to cruising on the highway, the car will transition from sport to comfort mode for you.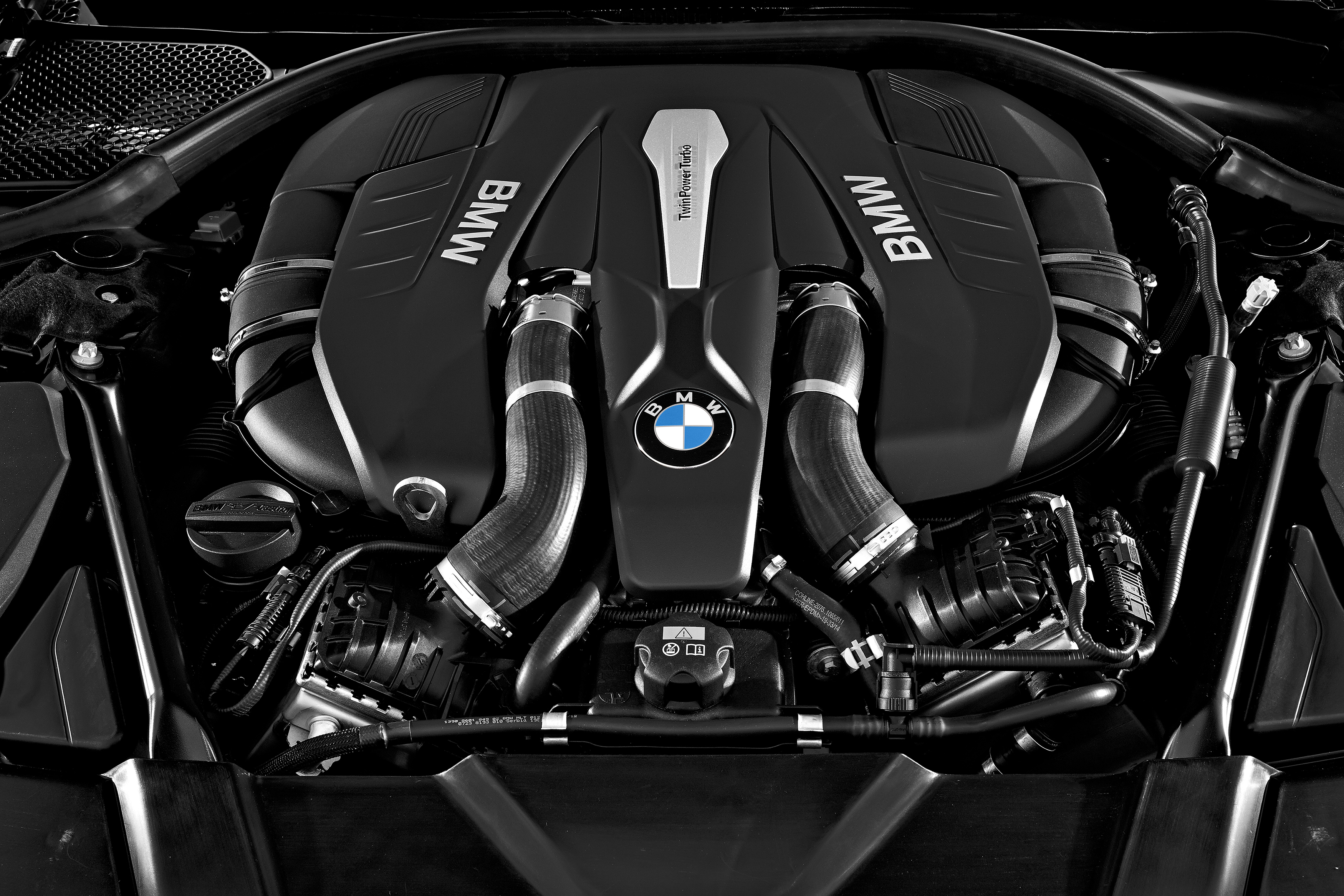 BMW has developed a new version of the 4.4 Liter twin-turbo V8 just for the 750i. It now features Twin Scroll turbochargers which spool up faster, improving acceleration both from a standing start and while passing. Many other changes, like increased compression, lowered air flow resistance and improved cooling boost the engine's efficiency while still delivering a very healthy 445 horsepower. BMW also offers the 740i with a 320 horsepower 3.0 liter twin turbo V6, and will have a hybrid powerplant in the lineup later in 2016. A BMW executive also confided to me that a V12 is in the works and will be available in 2016 as well.
The 750i mates the V8 engine to an 8-speed transmission that's connected to the car's navigation system. Already available in Rolls-Royce Wraith and Ghost, by linking the transmission to the nav system, the car can prepare for the road ahead and based on your driving style, select the right gear for either sport or comfort. In practice, the technology is nearly imperceptible – which is a good thing – I always felt like the 750i was in the perfect gear whether I was climbing a steep hill or accelerating through a corner.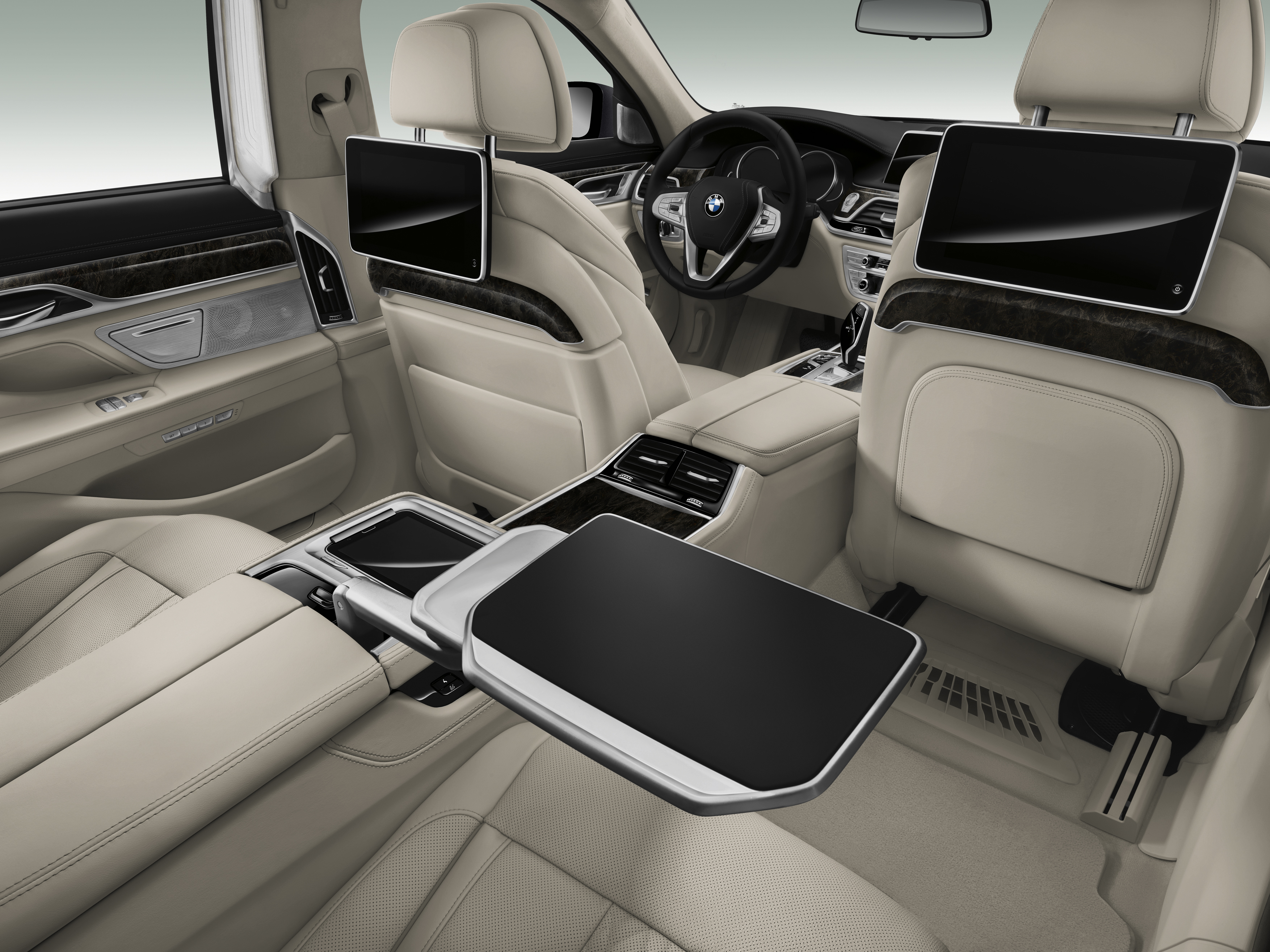 In addition to the a standard version of the 750i, BMW also offers an optional Rear Executive Lounge Seating Package. Slide into the right rear passenger seat, hit the recline button and while the seat back reclines to its maximum angle of 42.5 degrees, the front passenger seat moves and folds forward, extending a footrest from the back allowing you to lounge in comfort and style. The Nappa leather seats are also heated and cooled offering a message function to help you work out the kinks from your stressful day trading stocks, selling skyscrapers or litigating cases.
There are two rear seat entertainment screens on the backs of the front seats and they can be electrically adjusted to the ideal viewing angle for the rear passengers. The Executive Lounge rear center console also features a fold-out table, two cupholders and a storage compartment, as well as the new BMW 7-inch Touch Command Tablet which lets you control comfort functions such as seat adjustment, interior lighting and air conditioning, as well as the infotainment, navigation and communication system.
BMW also offers an M Sport package with an aero kit and trim enhancements. And for those who plan on high speed operation, there's an Autobahn package adding active anti-roll bars, larger brakes, and active 4-wheel steering.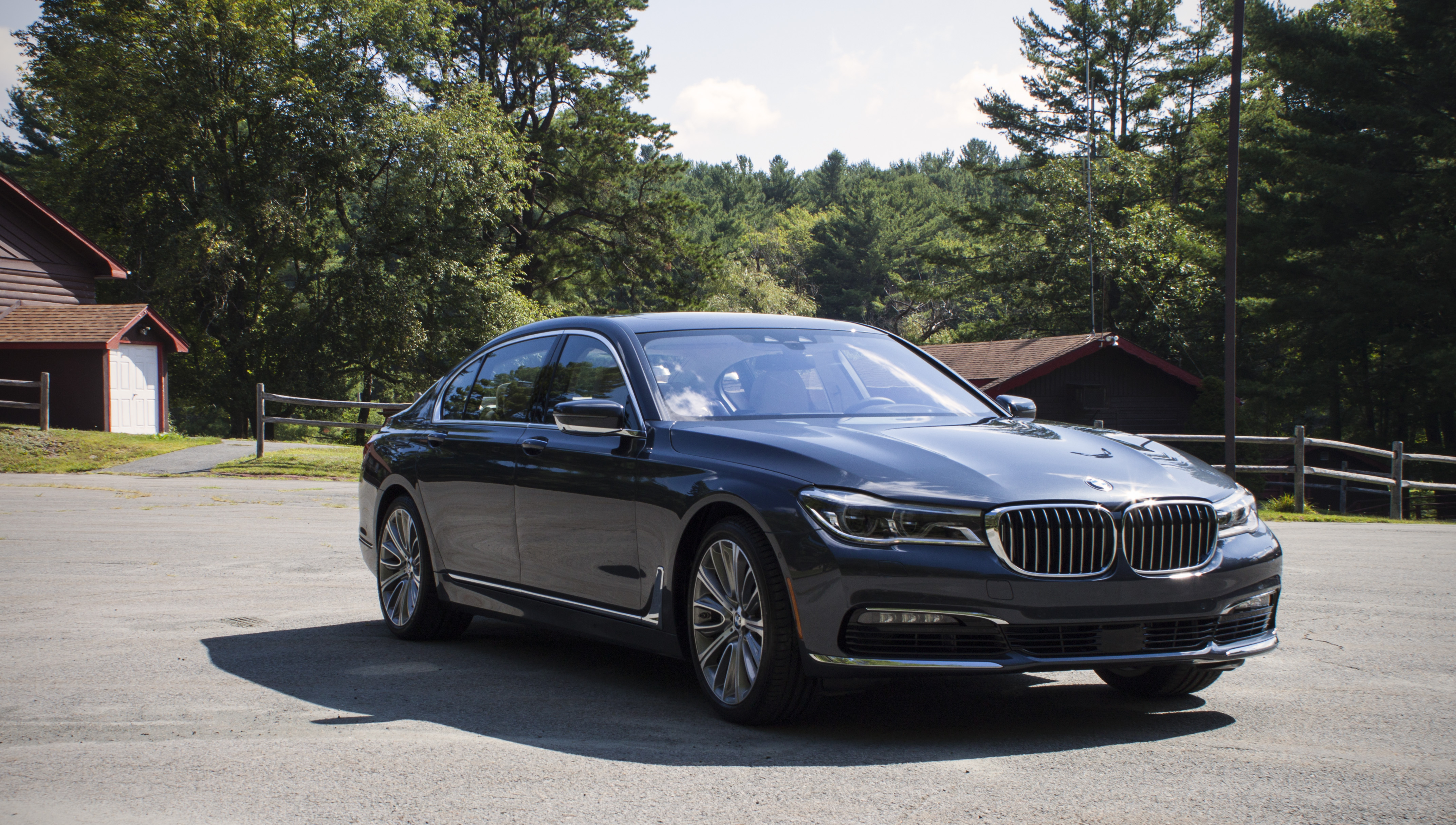 The technology in this car just never seems to stop. There's so much content designed to enhance performance, comfort, safety and the overall experience, it's mind-boggling. In addition to everything I've already covered, there's a very well done Bowers & Wilkins Diamond surround sound system, wireless cellphone charging, a larger heads-up display with improved graphics, the optional etched panoramic moonroof with LEDs to create a starlit sky effect when activated, 3D surround view with night vision that makes it easier to see not only cars, but people and animals that might be in the way when you're parking, and an active aero front grille.
Then there's the display key which, in addition to locking and unlocking the car, tells you if your windows are open and allows you to close them remotely. It also provides for remote start, lets you set the car's interior temperature so it's comfortable when you get in, and serves as a remote control for the self-parking feature. Available only in Europe for now, (hopefully U.S. regulators will get their act together soon and approve this and the exceptional laser headlights soon) you can pull the car in and out of spaces remotely.
One of the new programs that BMW have introduced given all this technology, is BMW Encore. This is a complementary followup delivery visit where, after you've owned and driven the car for a few weeks, a BMW representative will come to your home or work and answer any questions you have about the technology and show you how to use more of the features in the car to make sure you're getting the most out of your new 7 Series vehicle.
Whether you prefer to drive your full size sedan over winding country roads or ride in the back while someone else negotiates rush hour traffic, the BMW 7 Series does both in a way that only a BMW can.
The 6-cylinder 740i will start at $81,300. A two-wheel drive 750i starts at $94,900 and the 750i with xDrive starts at $97,400.
BMW 750i xDrive
5 passenger 4-door sedan
Base Price: $97,400
Engine: 4.4 L twin-turbo V8
Horsepower: 445 hp at 5,500 rpm
Torque: 480 lb-ft @1800 rpm
Transmission: 8-speed w/Satellite aided shifting
Overall length: 206.6 inches
Curb Weight: 4610 lbs
EPA MPG: N/A
www.bmwusa.com
While the manufacturer paid for all travel expenses and provided the vehicle for this review, the opinions and recommendations in this post are 100% ours.
A version of this review first appeared at Pursuitist.com