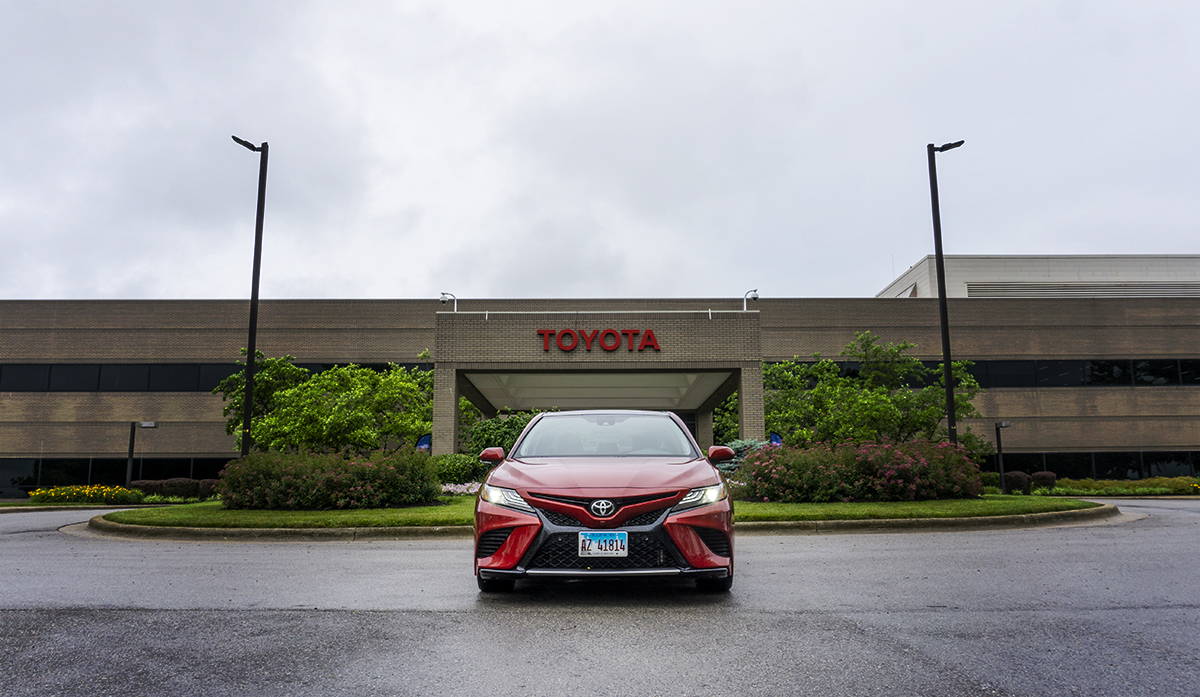 With all the talk coming out of Washington about trade, tariffs, and national security risks, it's not surprising that Toyota was eager to share with me and a few other journalists just how American this Japanese company has become. Though to be clear, they never said that out loud. The stated purpose of this trip was to see the expanded state-of-the-art manufacturing facility and learn how Toyota is staying ahead of the curve in an arena that's been a part of their DNA from the very beginning. The sweetener was getting to hold Ty Cobb's original Louisville Slugger, visiting Kentucky Derby winner Silver Charm, and sampling bourbon, rye, and gin at a new distillery in downtown Louisville.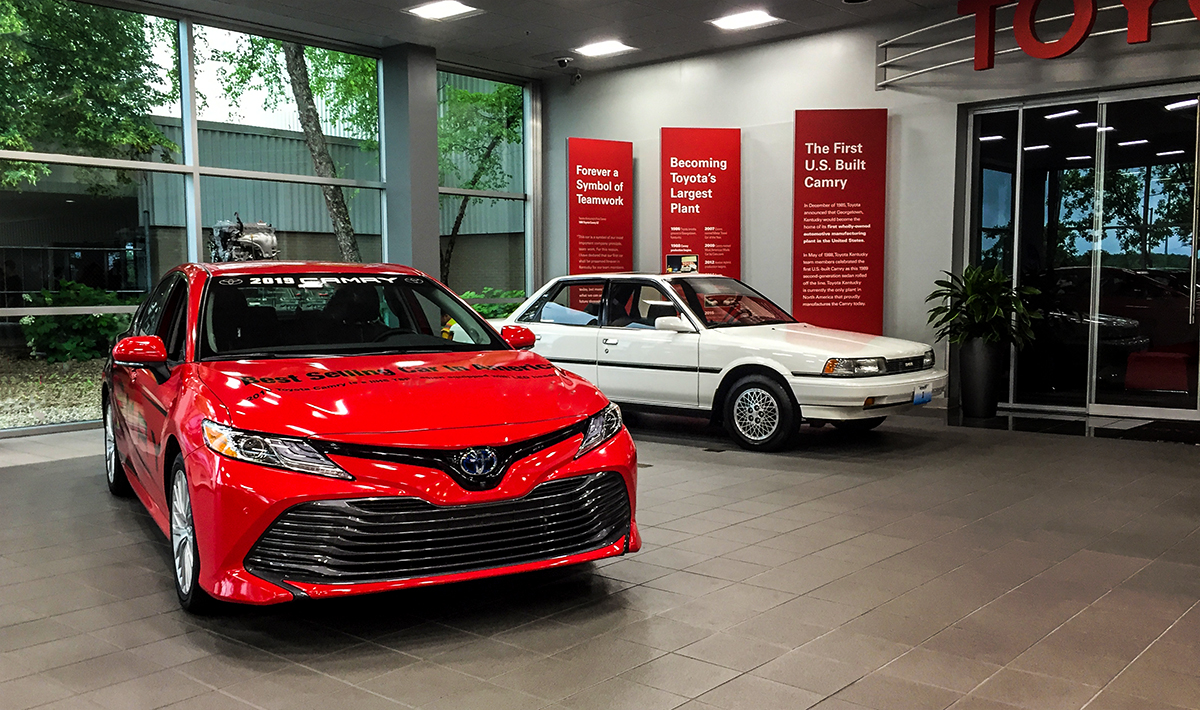 In 1988, when the first Toyota Camry rolled of the line of the assembly plant in Georgetown, Kentucky, the town had a population of just about 11,000 people and the main industry was agriculture. Fast forward 30 years and Georgetown is now home to over 30,000 people and Toyota employs more than 8,000 people at the plant, almost eight times as many as the city's second largest employer, the Scott County school system. Even more will join the ranks when the RAV4 Hybrid begins rolling down the line later this year.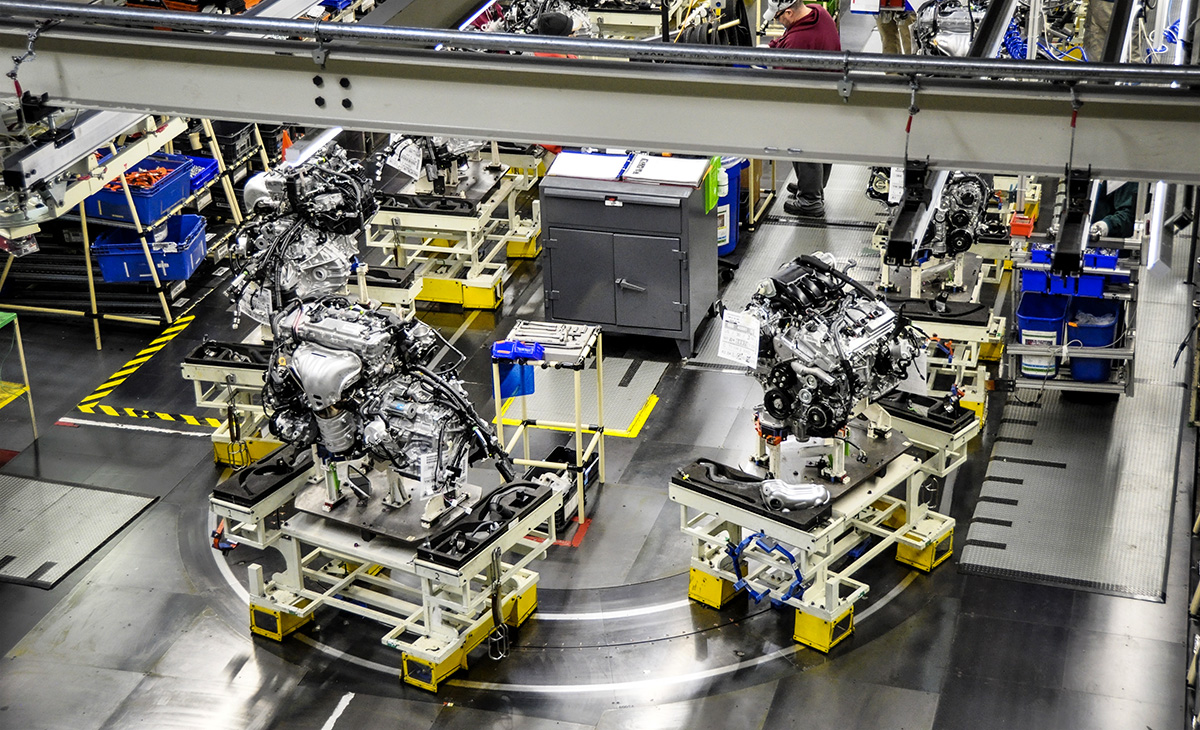 Toyota Motor Manufacturing Kentucky (TMMK) is also one of the company's most efficient factories, a fact that didn't go unnoticed by the leadership team in Japan. In 2017, the Production Engineering and Manufacturing Center opened in Georgetown, employing 800 engineers entirely focused on the process of building better cars. The PEMC works with assembly and production engineers from all the far flung reaches of Toyota's global manufacturing enterprise to figure out how to improve quality, reduce waste, increase worker safety, and improve production efficiency. At the core of this operation is the Tilt Lab, a skunkworks that combines the creative problem solving process with the latest innovation tools to go from idea to prototype in record time.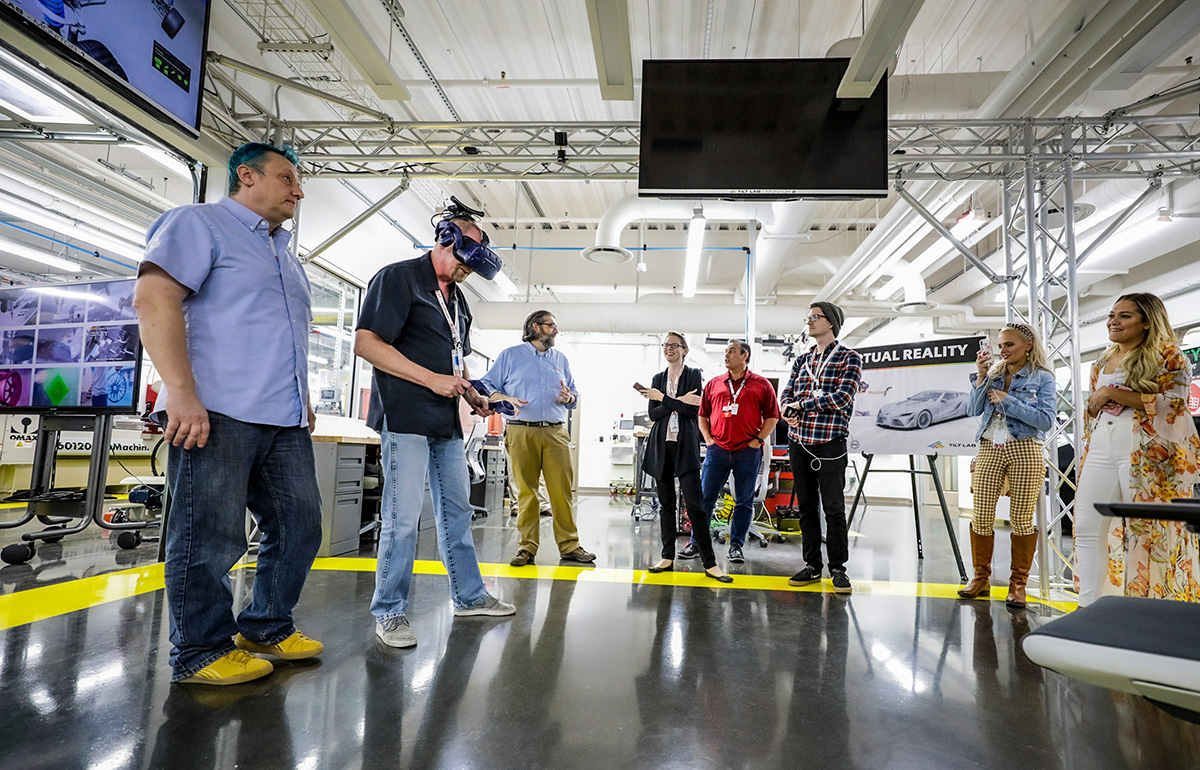 Wandering through the facility is like spending time in a maker's playground. Virtual reality goggles, 3D printers, programmable robots, design computers, digital welding trainers, along with metal machining and fabricating tools are put to use in a number of ways. Solutions are developed and prototyped in the PEMC before being rolled out to TMMK and other facilities. While I was there, I talked to electrical engineers who were putting the finishing touches on a hand held tool that uses LED lighting, cameras, and a small high resolution screen to help quality assurance workers inspect bolts in a hard to reach area of the frame. The idea originated on the line and the prototype was finished in just a few weeks. The next step after testing will be working with a tool manufacturer to produce enough for every facility that needs it.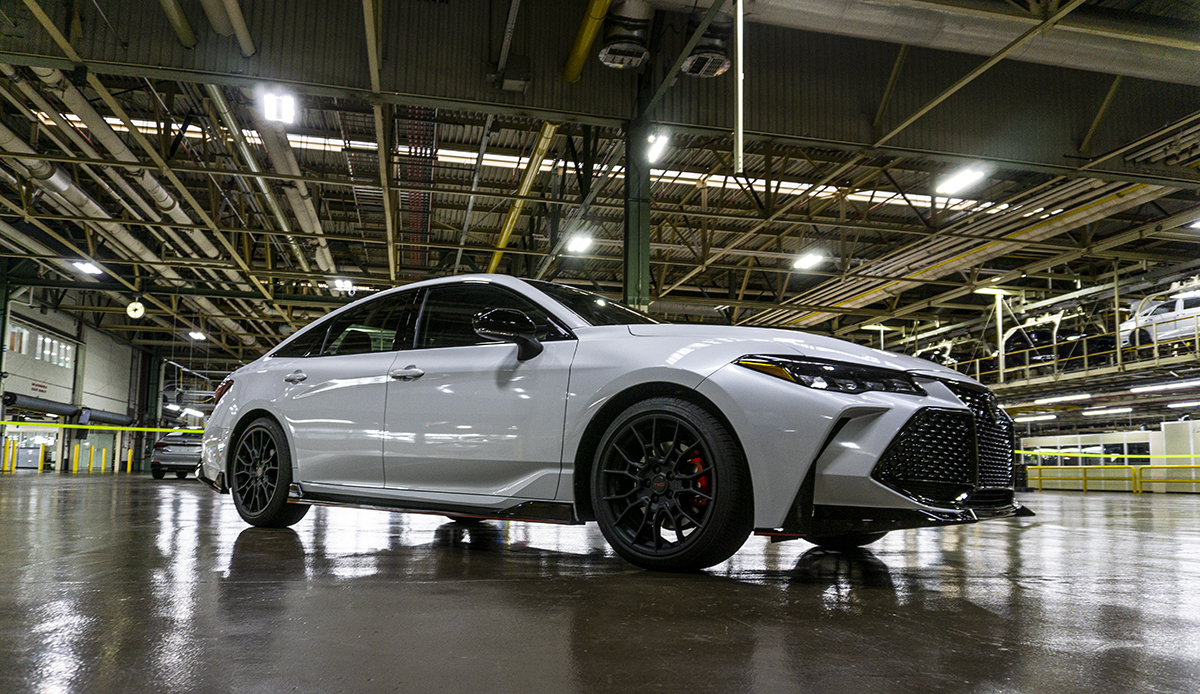 After giving us a tour of the facility where they are built, Toyota gave us the choice of either a Camry or Avalon – both of which we've reviewed before – to experience some of the more interesting attractions in the area.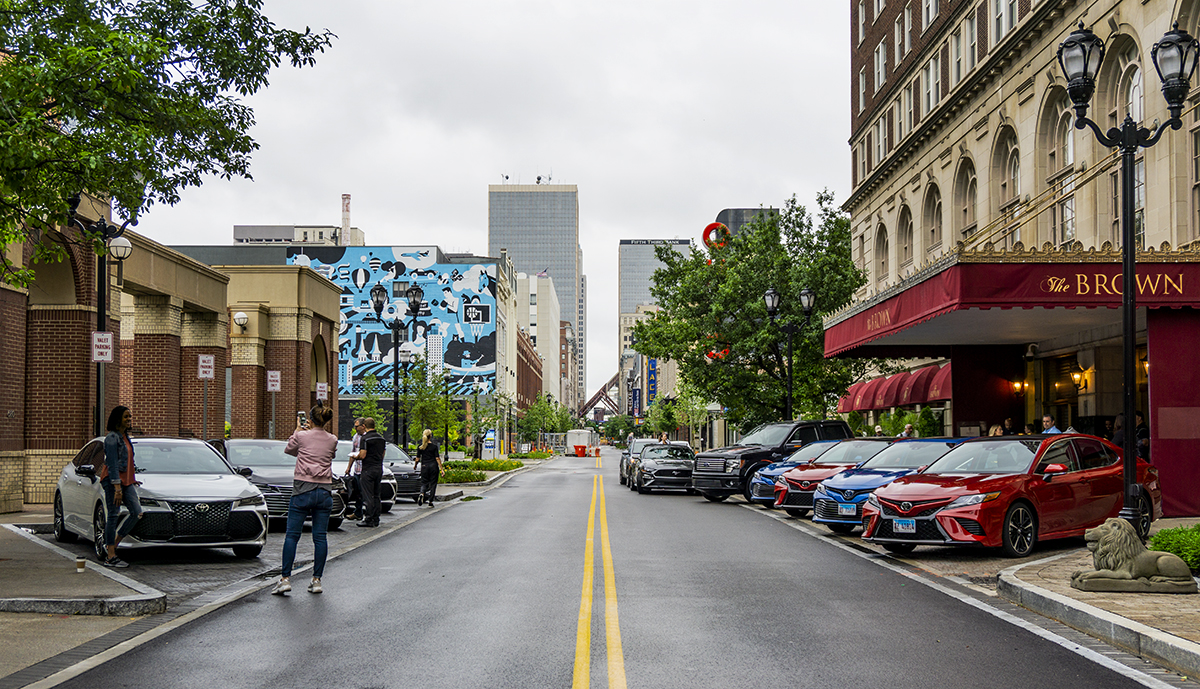 The Brown Hotel
The Brown Hotel is a classic old hotel that's been catering to well-heeled visitors to Louisville since 1923. At 16 stories and featuring a restored rooftop garden it provides an excellent view of the city's skyline. The 294 rooms maintain their old-school charm but have been updated with power ports and flat screen televisions. The Brown Hotel is also the birthplace of one of the city's gastronomic claims to fame, the Hot Brown, an open-faced turkey sandwich with bacon and Mornay sauce. Now found all over town, you can't stay at the Brown Hotel and not have the original.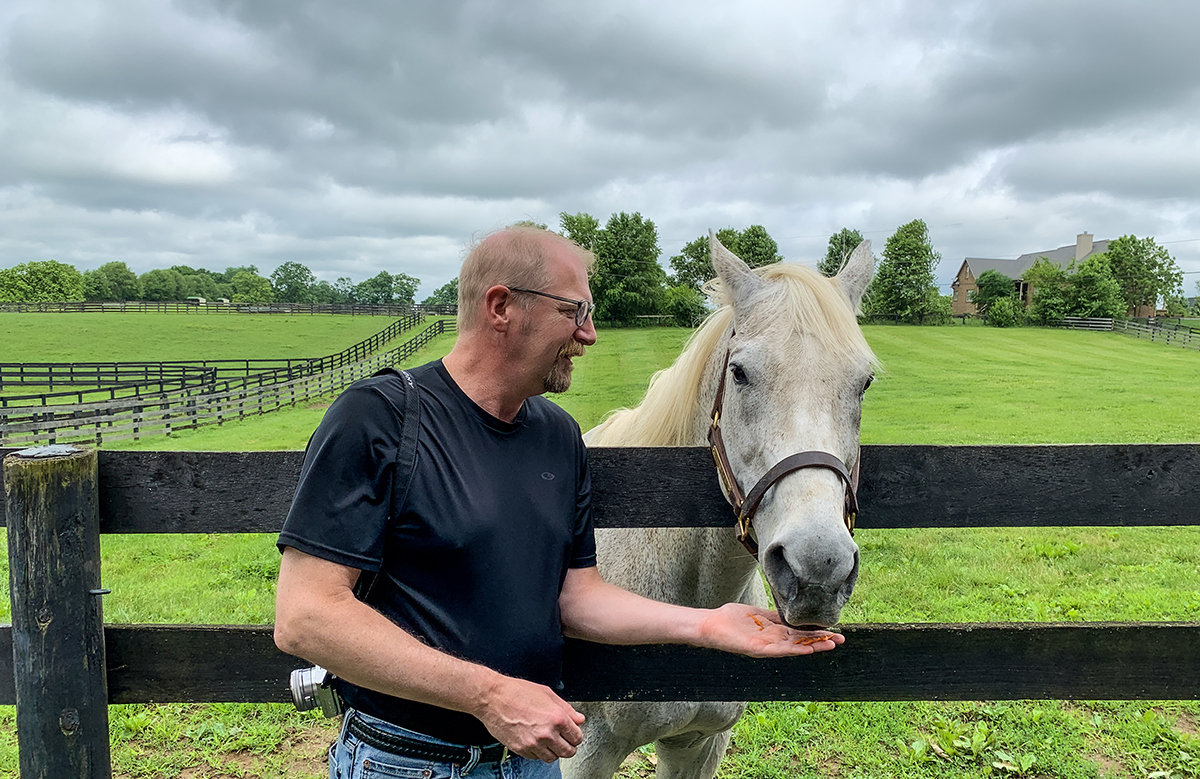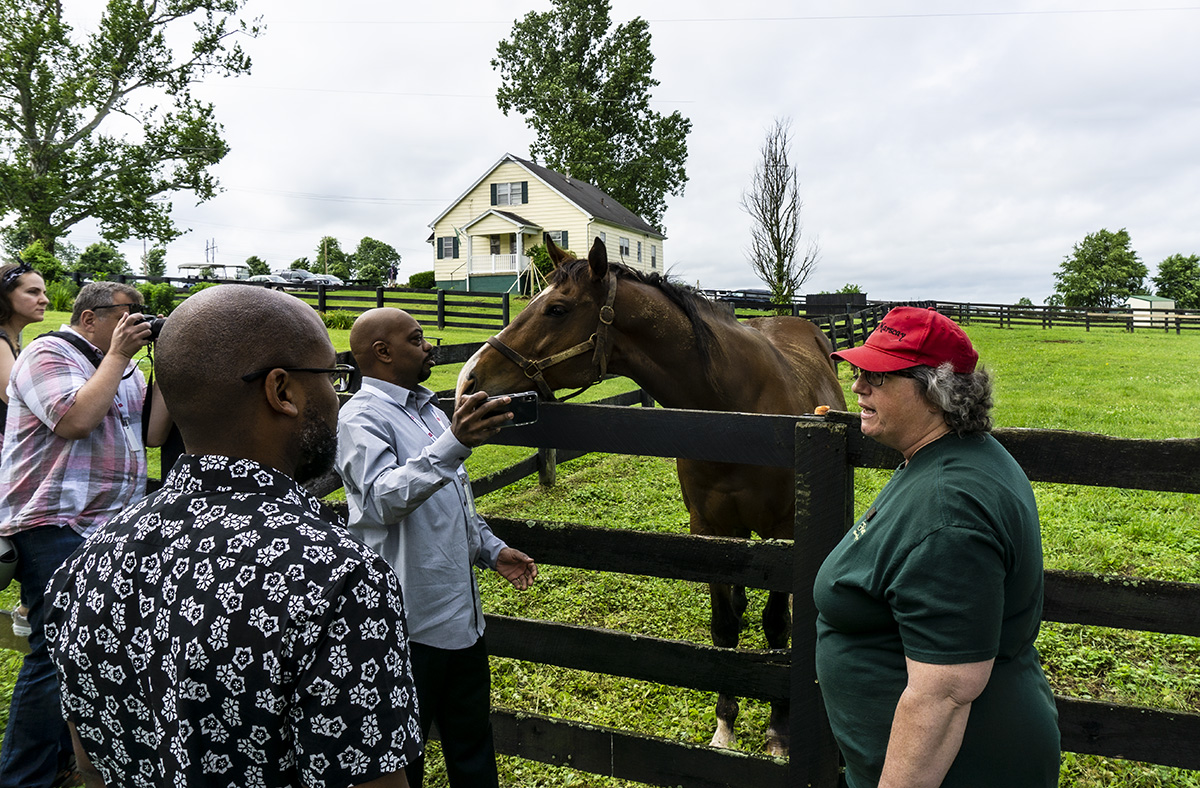 Old Friends Dream Chase Farm
Not far from TMMK is one of three retirement facilities for thoroughbred horses who've finished their racing and breeding careers. The brainchild of Michael Blowen, former film critic for the Boston Globe, Old Friends is home to dozens of former race horses, both stakes winning and also rans. The tour, which takes about an hour and a half, gets you up close and personal with almost all of them, allowing you to pet and feed Kentucky Derby winner Silver Charm, while learning about the history of the farm and the loving care all these magnificent animals receive.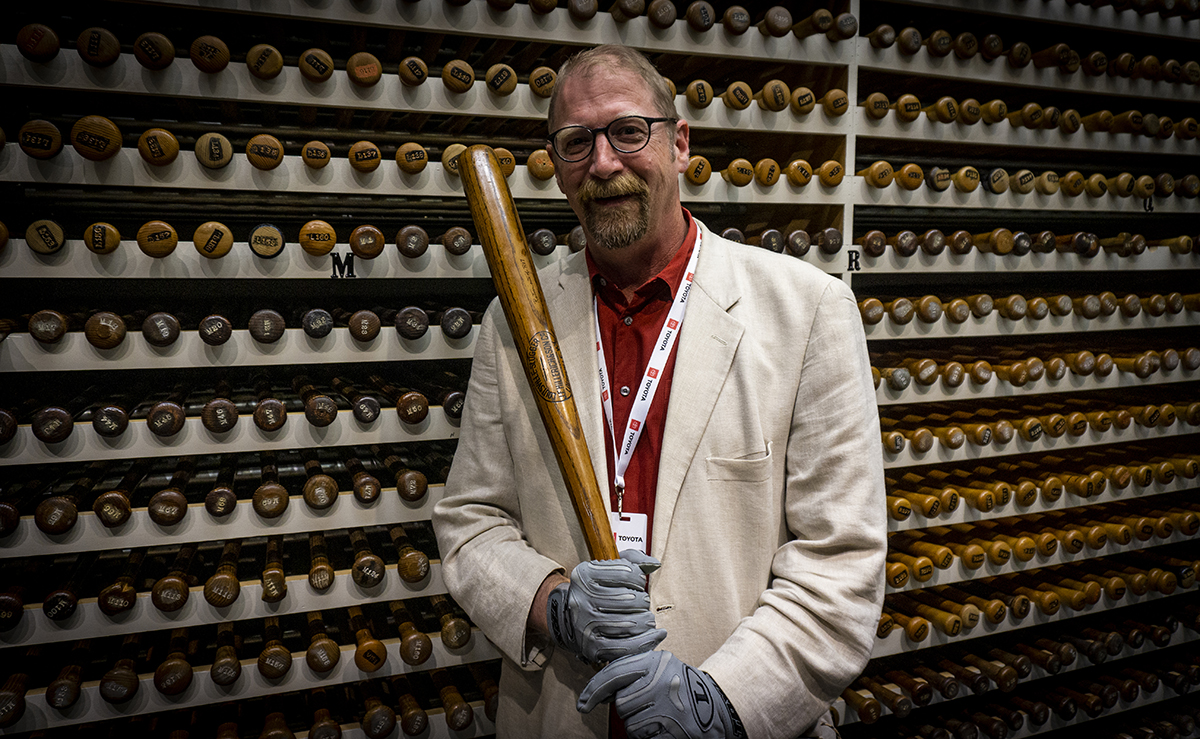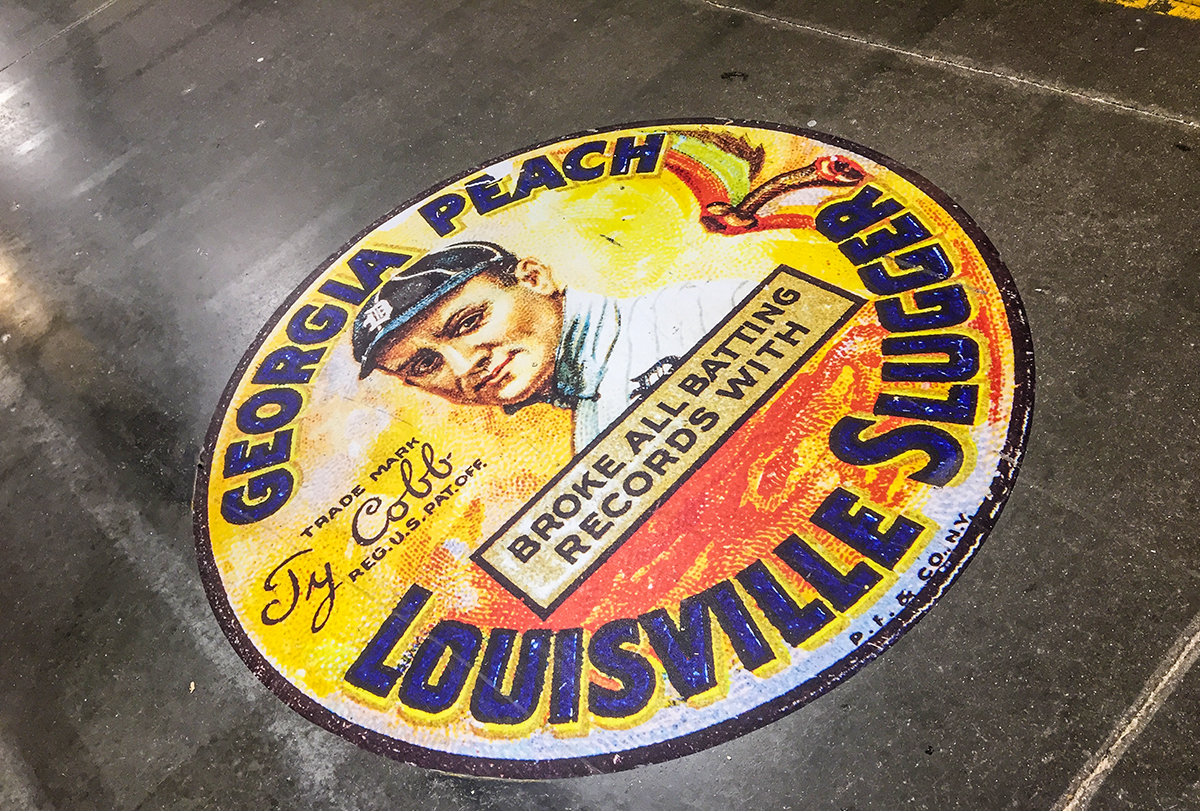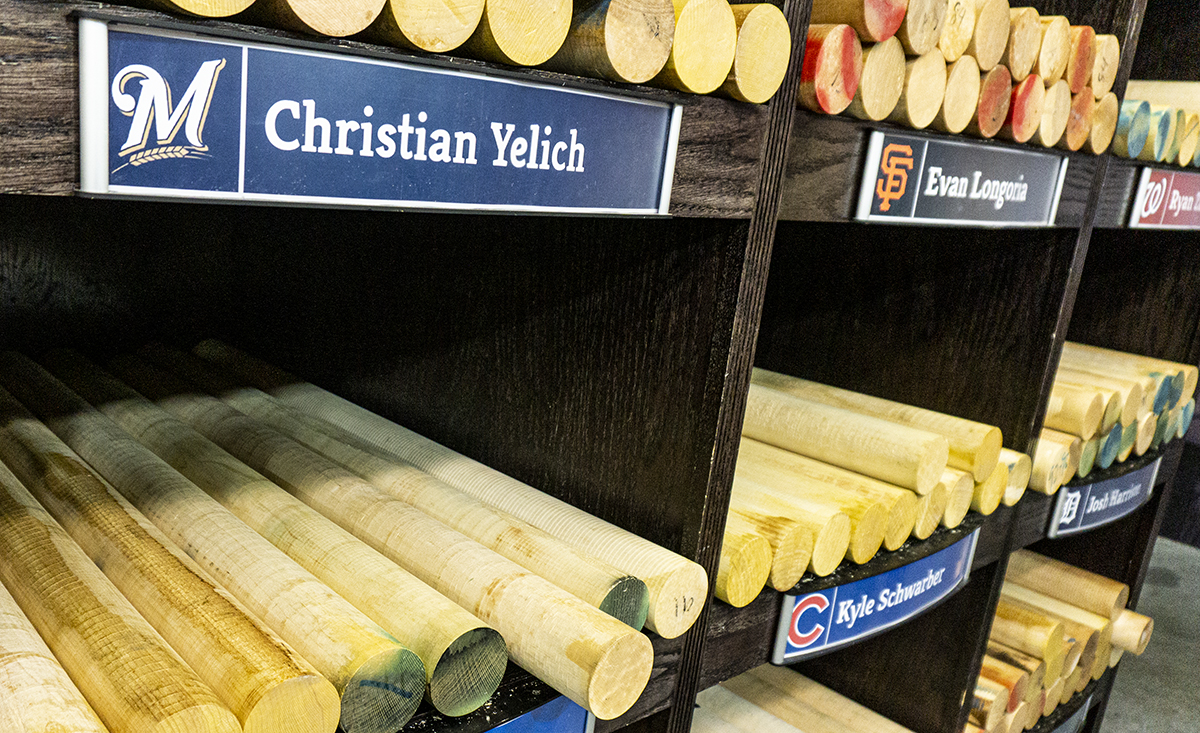 Louisville Slugger Museum and Factory
This wasn't my first trip to the place where so many legendary major league ballplayers – and little leaguers who dream of becoming one – get their bats. This is one tour that never gets old. Especially since on this particular occasion I not only got to watch the production of National League MVP, Christian Yelich's bat, but I also held a bat made for Hall of Famer, Ty Cobb. This particular piece of lumber resides in the company's Bat Vault. Back in the days before precision computer manufacturing, Hillerich & Bradsby kept template bats for each player in a humidity and temperature controlled environment. When the player needed new bats, the template was taken out, put on the lathe, and used to guide the creation of a new bat. This was serious business and players paid attention. Legend has it that Ted Williams returned a batch he felt weren't right. It turns out the handle was .05 inches thicker than he liked.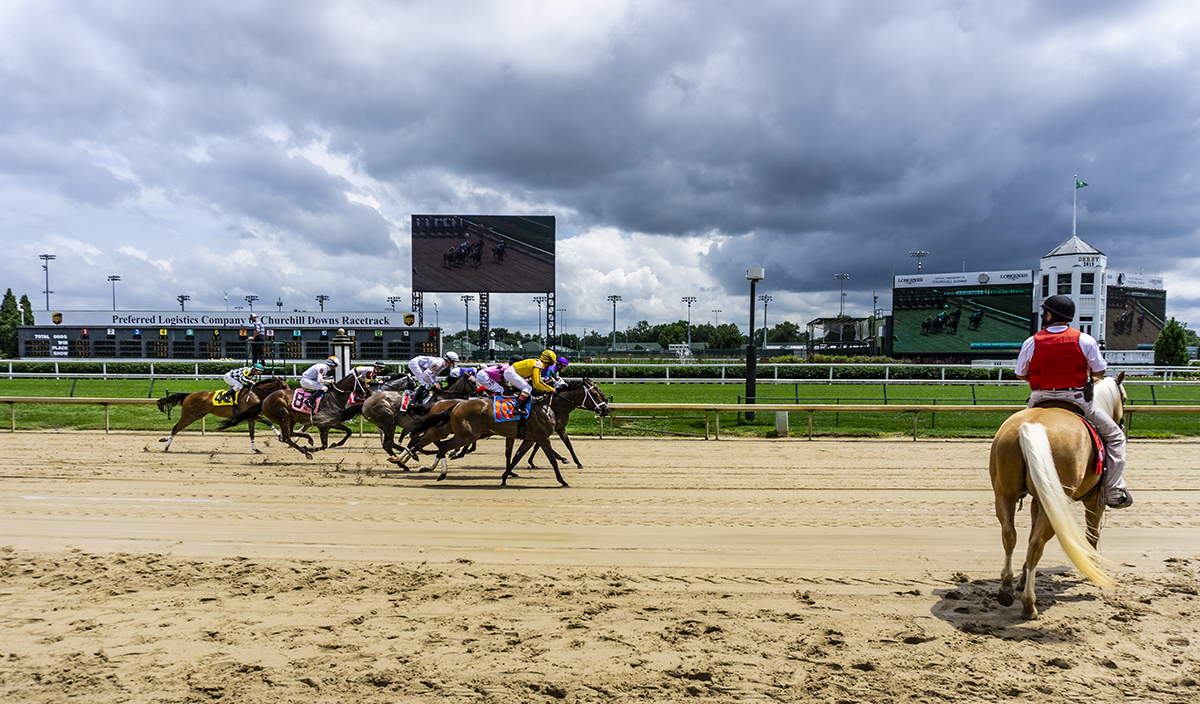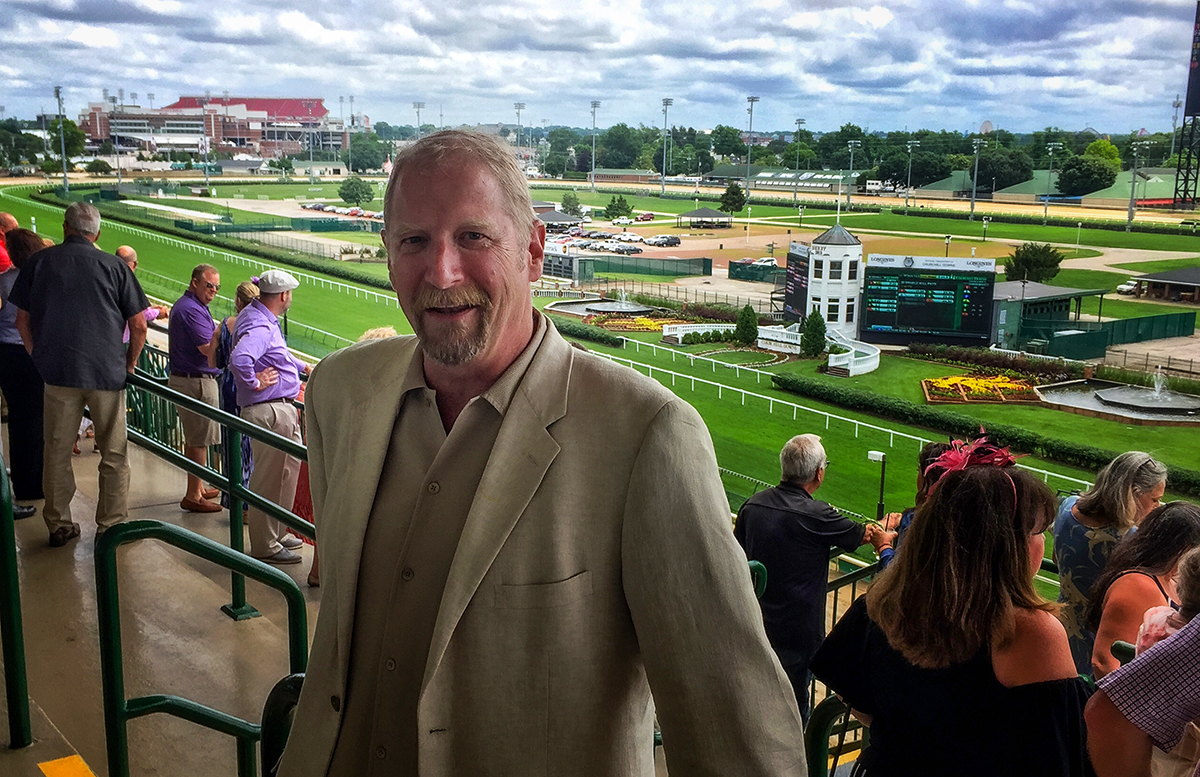 Churchill Downs
The legendary home of the Kentucky Derby is also home to racing three to five days a week during the racing season. Competition begins at the end of April with the Walker Stakes, runs through June and then picks up again in September when temperatures cool. We were there on the day the Belmont Stakes were being run in Saratoga, so it was a special event with several people dressed as if the Derby were in town. With access to Millionaires Row for brunch, cocktails, and viewing, I laid a few two-dollar bets throughout the day and came up almost $100 ahead thanks to hitting a boxed trifecta in the first and picking the show and place horses in the Belmont. If you visit, make sure you opt for a tour of the facility and visit to the on-site museum it gives you the kind of knowledge and access that will make your visit unforgettable.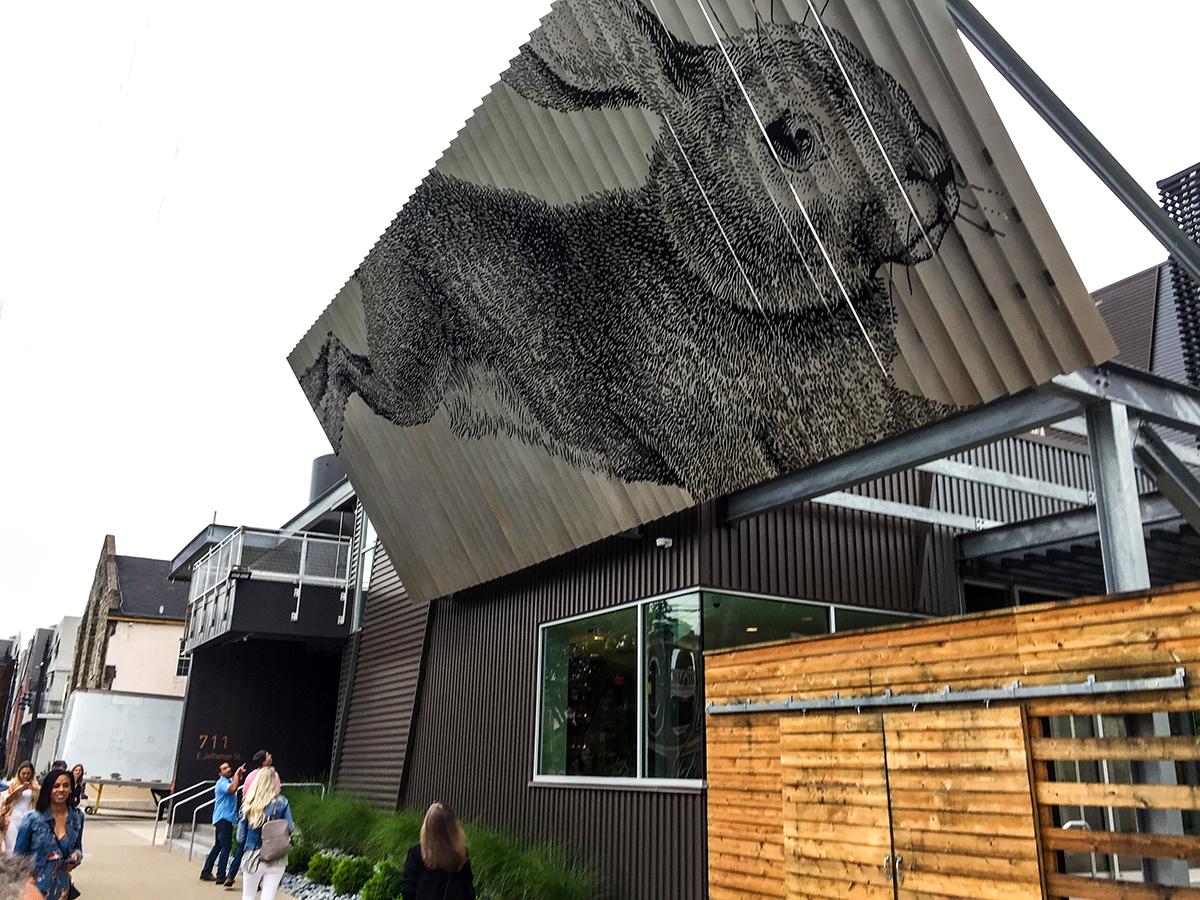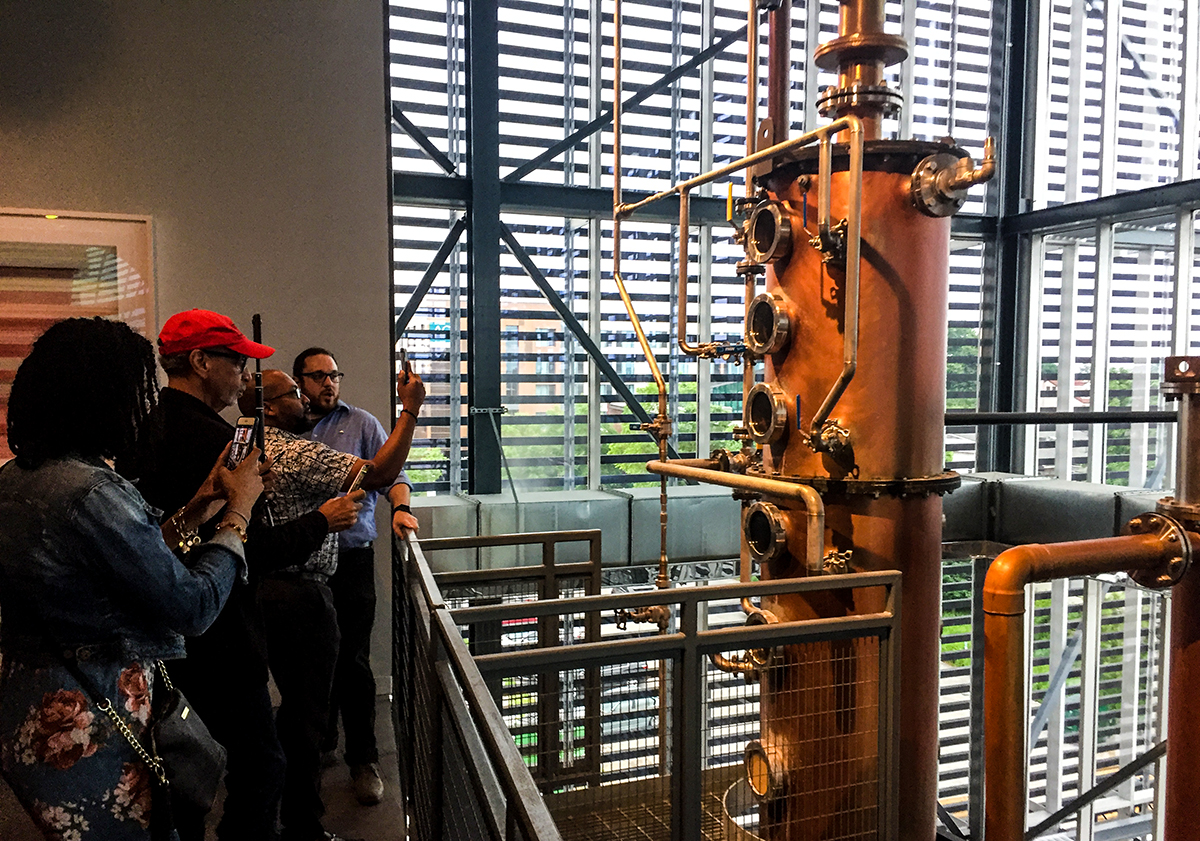 Rabbit Hole Distillery
One simply can't come to Kentucky and not visit a distillery. In this case, we left our Toyotas at the hotel and hopped on a bus to the Rabbit Hole Distillery, one of the state's newest. Like many craft operations, it's the result of the passion of its founder. Kaveh Zamanian was living in Chicago when his then girlfriend, now wife, introduced him to the pleasures of Bourbon. His love of the liquid quickly became an obsession and it wasn't long before he relocated to Louisville and began recruiting people to help him bring his vision to life. It's taken years – straight bourbon, by standard must be aged for at least two years in new charred oak barrels before bottling – but the Rabbit Hole Distillery on Jefferson Street is now fully operational with the sweet smell of mash and yeast percolating away in the open fermenters. Their copper column still rises three floors above ground level. Once distilled, the pure white liquid is barrelled and shipped to a rickhouse just outside of town for aging.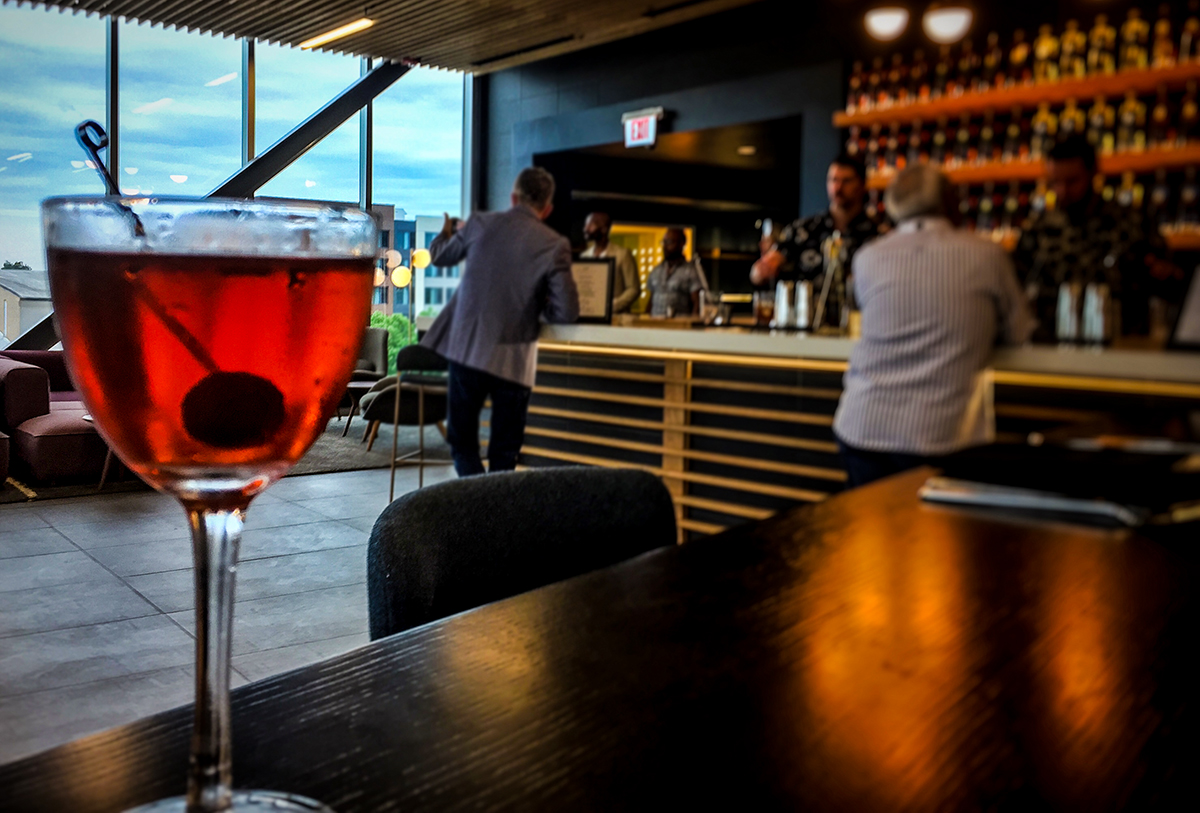 The Rabbit Hole currently has four products, straight bourbon, bourbon finished in sherry casks, rye whiskey, and gin. The mash bill on their bourbon is 70% corn, and 10% each wheat, malted barley, and honey malted barley. The result is a bourbon that's soft, sweet, smooth, and easy to sip. It's a fine cocktail bourbon, but I prefer more bite for something like a Manhattan, and their Rye filled that bill perfectly. Their sherry bourbon uses a slightly different mash bill with less corn and no honey malted barley. Finished in Pedro Ximénez sherry casks adds sweetness and winey overtones. The gin is lightly flavored, eschewing juniper for more floral flavors of geranium and rosewater.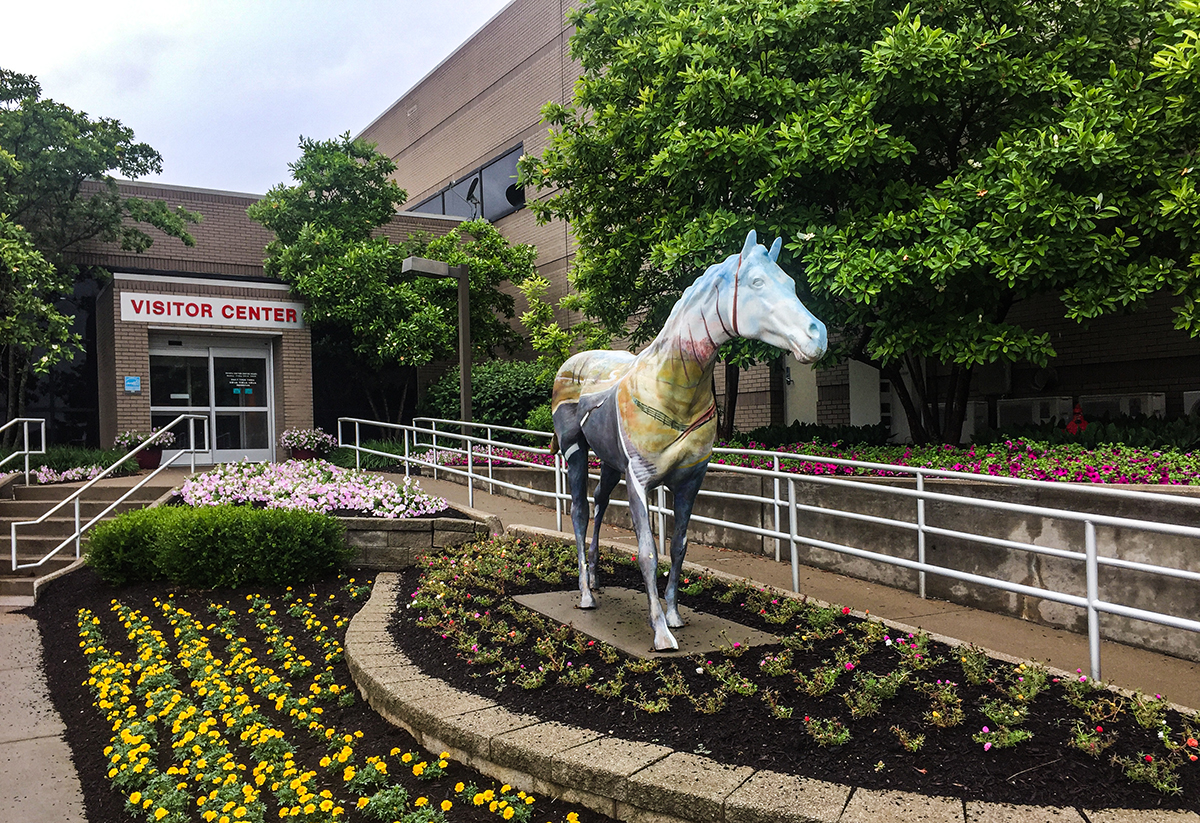 We live in a global economy and few companies have a larger global footprint than Toyota. They build factories and manufacture products in the places that make the most sense for their customers and their bottom line. Toyota executives realized this 30 years ago when they began manufacturing America's best-selling car in the states. Their commitment to our economy is in their best interest. Expecting them to build all their cars here, is not. Manufacturing is still strong in this country and its benefits are obvious just by looking at the Kentucky countryside around their plant. It's pretty clear Toyota isn't a threat to our national security. Rather, it's a boon to a community. Just ask the people of Georgetown.