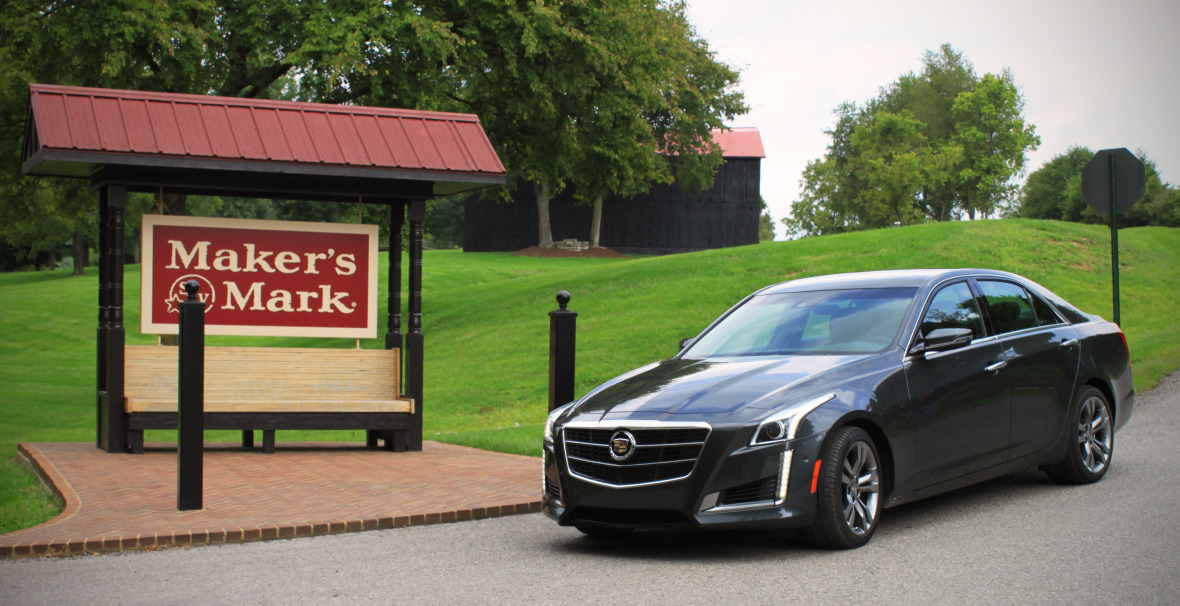 It was late on our first day and we were running a little behind.
A morning thunderstorm had slowed traffic near the Illinois border and even though we had been cruising comfortably for the past couple of hours at 85 miles per hour in our Cadillac CTS Vsport, we weren't going to get to Louisville in time to check into our hotel and change before dinner. It was time to improvise. Not wanting to show up at one of Louisville's best restaurants inappropriately attired, we pulled into a rest area for a quick change of clothes before the first stop on our pursuit of knowledge of America's favorite amber alcoholic beverage, Bourbon.
But before we get to dinner, let me start at the beginning.
I'm a fan of Bourbon, baseball is in my blood and I've been taking road trips since the day I got my driver's license. So when my good friend, bourbon aficionado, Maker's Mark Ambassador and co-author of this lengthy post, Bruce Geiger received his notification that his barrel was ready, he invited me to join him for a weekend in Kentucky exploring the Bourbon Trail. Now, I know a good idea when I hear one, so I quickly accepted and suggested we visit the home of my favorite bourbon, Woodford Reserve, as well as make a stop at the Louisville Slugger Museum for good measure.
All we needed was the appropriate car to carry us over the 1,000 plus miles that our trip would encompass. The criteria were pretty simple. We needed a car that was comfortable and fast on long stretches of interstate but still handled well on the backroads that wind from distillery to distillery through the Kentucky countryside. Since the trip was about an American original, Bourbon, the car should also be American. When it comes to American Luxury performance sedans, right now there are really only two choices: Cadillac CTS and Tesla Model S. For this trip, the Tesla just wouldn't work. Without a network of supercharger stations in place, it's hard to drive more than 200 miles per day without lengthy pit stops. So I contacted Cadillac and secured a fully-loaded CTS Vsport for our trip.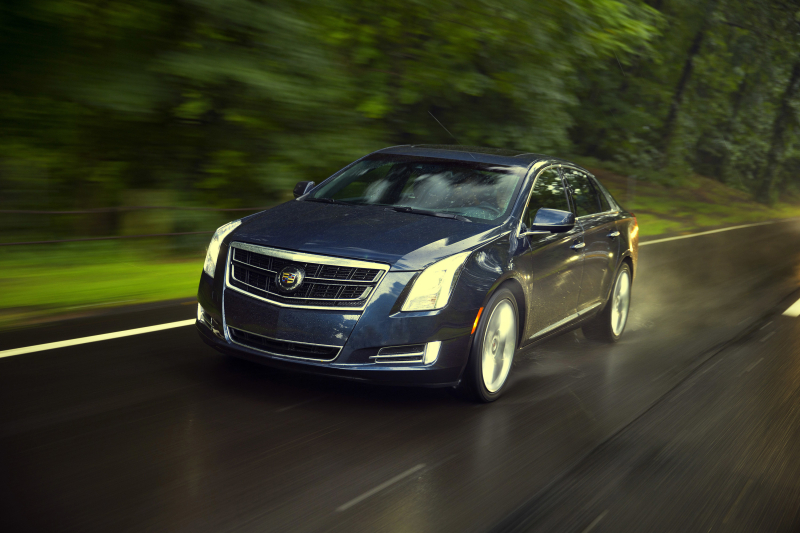 Equipped with a 420hp twin-turbo V6 that produces a more than adequate 430 lb.-ft. of torque, the CTS Vsport is capable of going 0-60 in an impressive 4.5 seconds. The 8-speed automatic transmission shifts smoothly through the gears at precisely the right moments as you apply the power, but if you must take control, there are paddle shifters behind the steering wheel. Also standard on this CTS is Cadillac's excellent performance suspension with adjustable magnetic ride control. Having driven several GM models with this setup, I'm not sure why anyone would order a luxury performance car without it. On the long-stretches of Illinois and Indiana Interstate, the car was exceptionally comfortable and confident at high speeds with the suspension set in touring mode.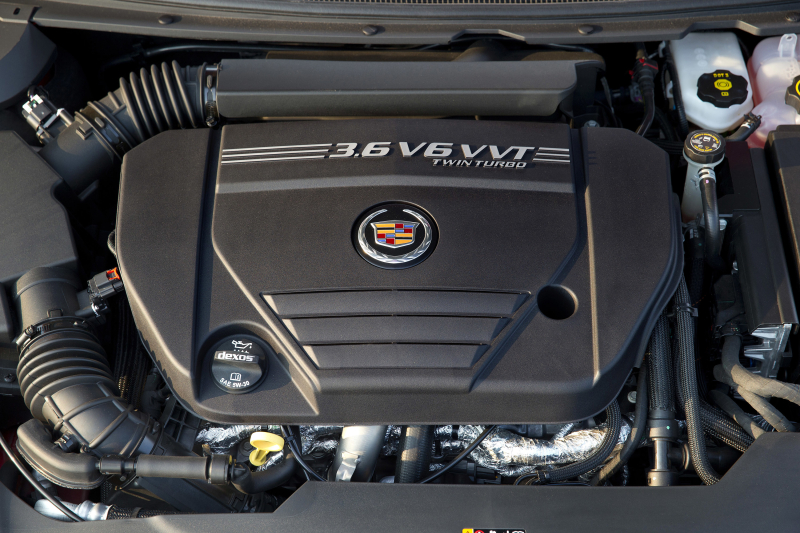 Which gets us back finding ourselves half naked with assorted truckers and vacationers milling about as we donned our dinner clothes in the men's room of a rest area just a few miles south of Underwood, Indiana.
In one of those happy coincidences that makes life so much more interesting, Michael Keyes, the President of the North American Region for Brown-Forman, and I both attended college at the University of Michigan and spent a significant amount of time together 30 years ago as teammates on the school's lacrosse team. So once I had locked in our schedule, I sent Mike a note hoping we could meet for a drink or two. In addition to catching up with an old friend, Bruce and I also hoped to get some insights from him about bourbon's rampant popularity and the future of the industry. Lucky for us, Mike was in town and knowing we wanted to experience the best of Louisville suggested we meet him at Jack Fry's for cocktails and dinner. We knew that we couldn't join the president of a major US company for dinner at one of his home city's finest restaurants dressed in jeans and t-shirts, and since we were running so far behind, our only option was to stop for a quick change at the last rest area before making it to Louisville.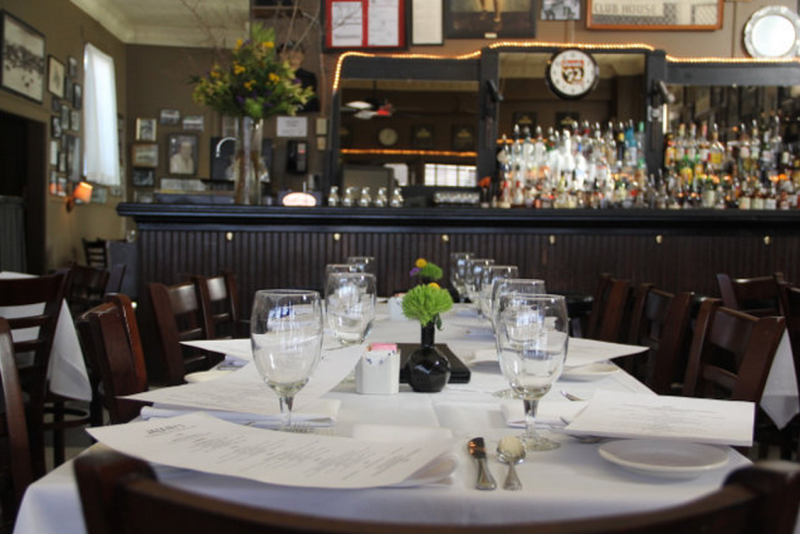 Jack Fry's is a classic Louisville eatery that's been around since 1933. Feeling more like a neighborhood hangout than a hotspot for gourmet American cuisine, it is in actuality both. Located on Bardstown Road in the heart of Louisville's Highlands neighborhood, Jack Fry's is named after its founder who according to local lore was a bit of a rogue, dabbling in bookmaking and bootlegging from the back room of his restaurant. That energy and character still permeates the place which features a gorgeous carved mahogany bar that, as one would imagine, is stocked with wide range of bourbons from across the state. In honor of our host, I ordered his company's Woodford Reserve. But in a show of pure chutzpah, Bruce asked for and received his old standby, Maker's Mark. Mike was good-natured about it, referring to Maker's Mark as a "friendly competitor." Though I'm sure the competition between the two brands is fierce.
Winner of 22 "Best of Louisville Awards" for its food, service, and atmosphere from Louisville Magazine, Jack Fry's did not disappoint us. Our table of five – we were joined by two other guests – started with expertly prepared fried oysters, shrimp and grits, scallops, escargot and house-made sausage. Punctuated by lively conversation about Louisville and bourbon, we did pick up one piece of insider information when Mike confirmed the rumor I'd heard that Woodford will be producing a Rye soon. Set to debut in 2015, this will be the latest addition to a brand that's fast becoming one of the most desirable in the whiskey category.
Our dinner plates ranged from lamb chops and steaks to veal tenderloin and braised hen with pumpkin and duck confit stuffed pasta, brussels sprouts, black truffle-sage butter. Served with an excellent Cabernet, it was a meal as satisfying in flavor as it was in conversation. We talked about the scarcity among the top shelf brands like Woodford and Makers, wherein Mike put in a plug for his company's popular priced bourbon, Old Forester, which we promised to try at some point during our weekend.
As we walked out to our cars after the meal, Mike stopped by the Cadillac to look it over, commenting how far the brand had come from the land yachts of our youth. It's the reaction most people have when they see and drive the sport version of their mid-size sedan, driving home the point that Cadillac really has changed.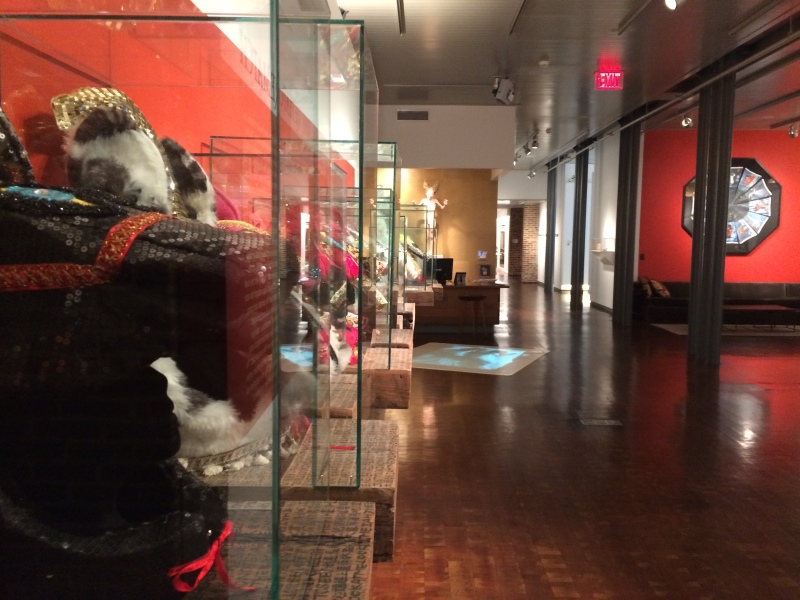 Our home for the evening in downtown Louisville was the 21C Museum Hotel, a spectacular boutique hostelry that is an art museum housing a collection of provocative modern paintings, sculpture and media installations. It is truly one of the most unique places I've ever stayed. It also is home to an exceedingly hip bar of the popular Louisville restaurant, "Proof." where I'll let Bruce, the Bourbon expert, pick up the story.
Isn't it wonderful that there are Bourbon reminders just about everywhere you turn in Louisville?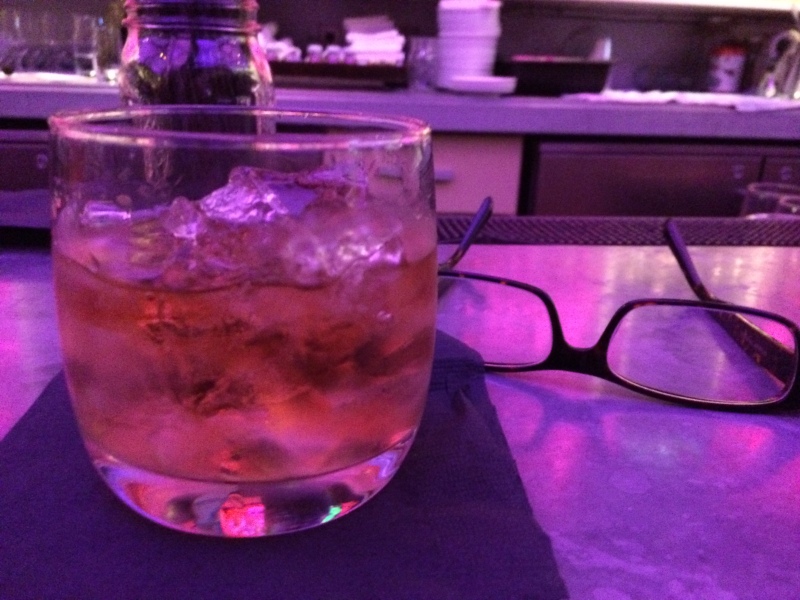 Thanks to Mike, our most notable Bourbon discovery of the night was Old Forester. Bottled and sold consistently since 1870 and modestly priced at only about $20 for a 750-ml bottle, Old Forester is highly regarded among Bourbon cognoscenti. According to our bartender, "It's what all the people in the [Louisville hospitality] industry drink." The mash bill of Old Forester is the same as is used for Woodford Reserve. There's no age statement on Old Forester, but we know it's at least four years old. We certainly enjoyed it – typical Bourbon nose of caramel, wood, and spice, smooth on the palate, with a medium-long finish. It did a highly credible job of smoothing over any remaining rough edges from the drive and priming us for the rest of the weekend.
The next morning came early after our long drive and late night, but with fresh cups of coffee in our hands, we made the one block walk from our hotel to the Louisville Slugger factory and museum. Baseball is history, and few companies are more deeply connected with that history that Hillerich & Bradsby. Originally a woodworking shop that made stair rails and butter churns, Bud Hillerich stumbled into bat manufacturing in 1884 when he offered to make a bat for a local all-star, Pete "The Gladiator" Browning. Seeing his success at the plate, others soon followed and in 1894, they registered the name Louisville Slugger and focused on bat manufacturing. A favorite of major leaguers from Honus Wagner to Derek Jeter, the company continues to dominate its category even though Major League Baseball has approved 7 other bat manufacturers.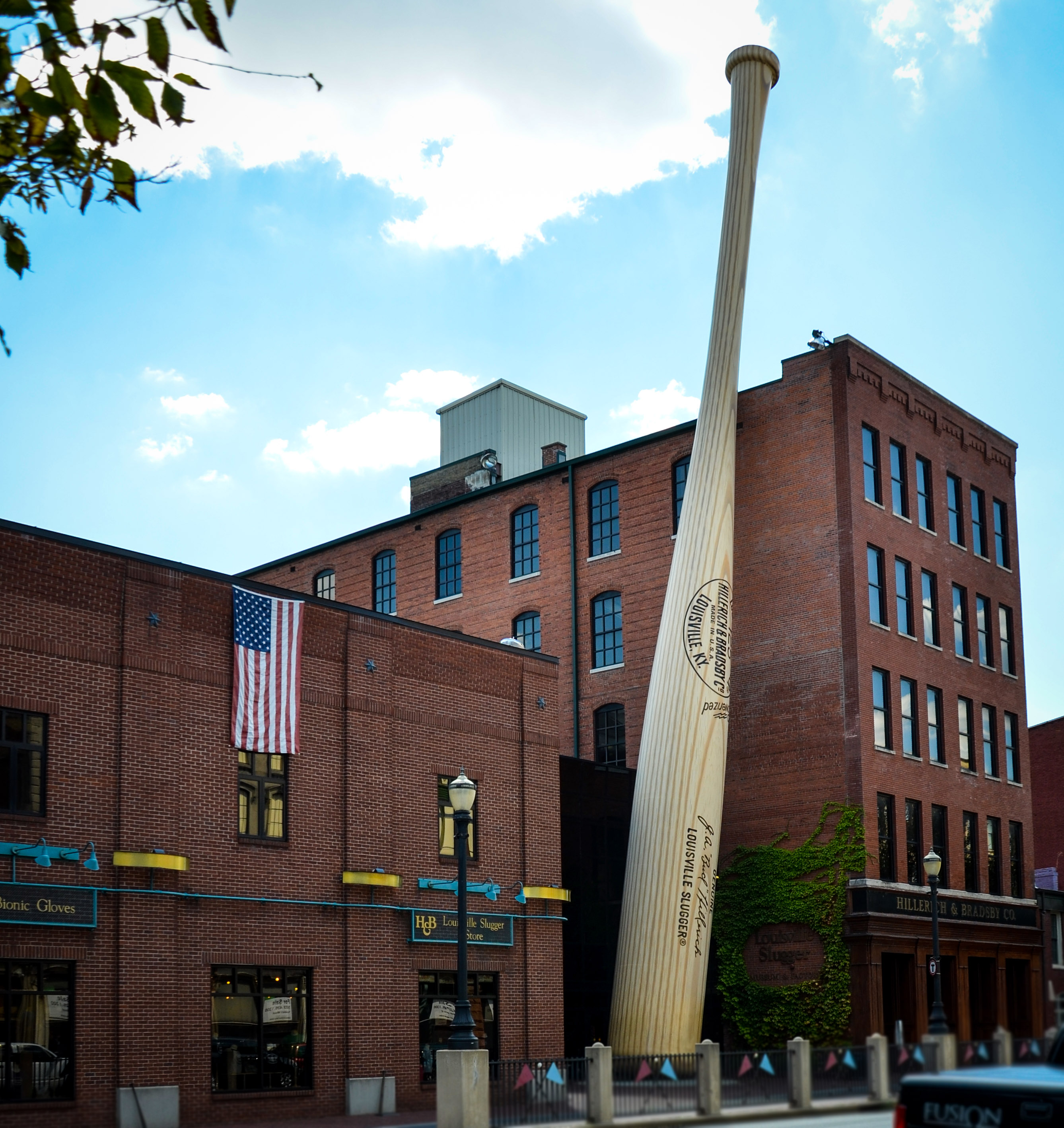 The tour was enlightening. While not many bats are made by hand anymore, the craft is still practiced by a few old-timers. Most are made to computer-generated templates on automated lathes. The wood is then fired, branded and dipped to protect the wood. The highlight of our tour came at the end where Bruce and I chose bats made to the specifications of our childhood idols, Mickey Mantle and Hank Aaron and stepped into the batting cages to hit a few baseballs. The factory tour and museum are not to be missed if you're a baseball fan and visiting Louisville.
After our morning at the Museum, it was time for a drive through the spectacular Kentucky countryside to visit a few of the state's most iconic distilleries. With the Cadillac's Magnetic Ride Control set to sport, open roads ahead and blue skies up above, we made excellent time to our first destination. Again, here's Bruce:
Our first stop on the Bourbon Trail was a quick visit to the Buffalo Trace Distillery in Frankfort. We didn't have time to stop for the distillery tour, so we simply viewed the grounds, taking in the sights and smells. I'm glad we did. It's a picturesque site. The current distillery was opened in 1920, but there's been distilling going on there since as far back as 1773. We decided on the quick stop because Buffalo Trace is one of only three distilleries in Kentucky to be designated as a National Historic site. Not surprisingly, the other two are Woodford Reserve in Versailles and Maker's Mark, near Loretto.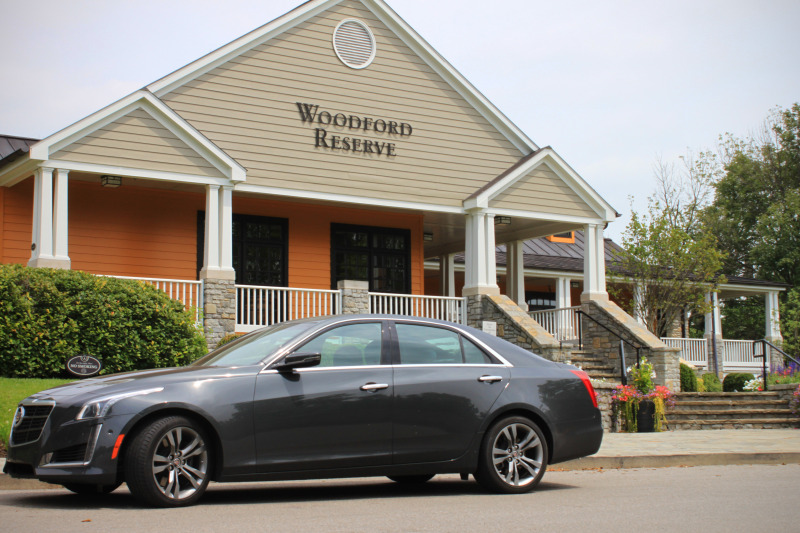 We arrived at the Woodford Reserve grounds right on time. Because we were on a VIP tour arranged by the company president, as soon as we identified ourselves in the beautiful newly renovated Visitor Center, we were met by Tim Knittel, our private tour guide and Woodford Reserve's Homeplace Host. The job fits him well.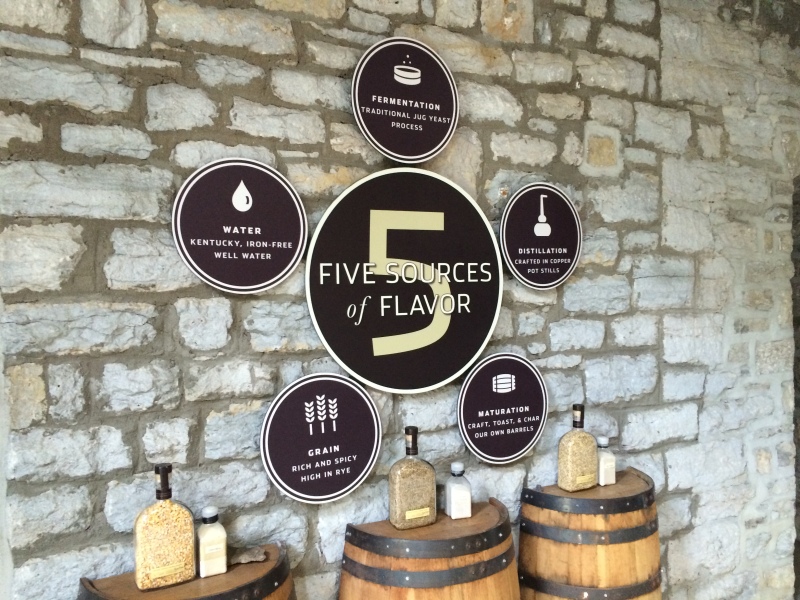 The Woodford Reserve grain bill is 18% rye, 10% barley and 72% corn. This gives the bourbon a smoky, earthy flavor where the rye influence is prominent. According to Woodford Reserve Master Distiller Chris Morris, there are only five potential sources of flavor in Bourbon: grain, water, fermentation, distillation, and aging. The Woodford Reserve grain is mostly locally sourced, and the water is naturally limestone filtered creek water from Glenn's Creek, which runs right next to the distillery. The mash, grain, water, and yeast, is fermented for a full six days, rather than the more common three-day-distillation. And Woodford Reserve Distiller's Select averages seven years' aging rather than four or five.
In addition to the grain bill, Woodford Reserve is also very particular about its yeast. We learned that this specific strain dates back to the very beginning of the Woodford distilling and is regularly tested at a molecular level in a DNA lab to ensure the yeast used today is identical to its ancestors, delivering consistent fermentation. Woodford is also the only bourbon brand that operates its own cooperage because the charred white oak barrels are such an important component in the flavor profile of the final product.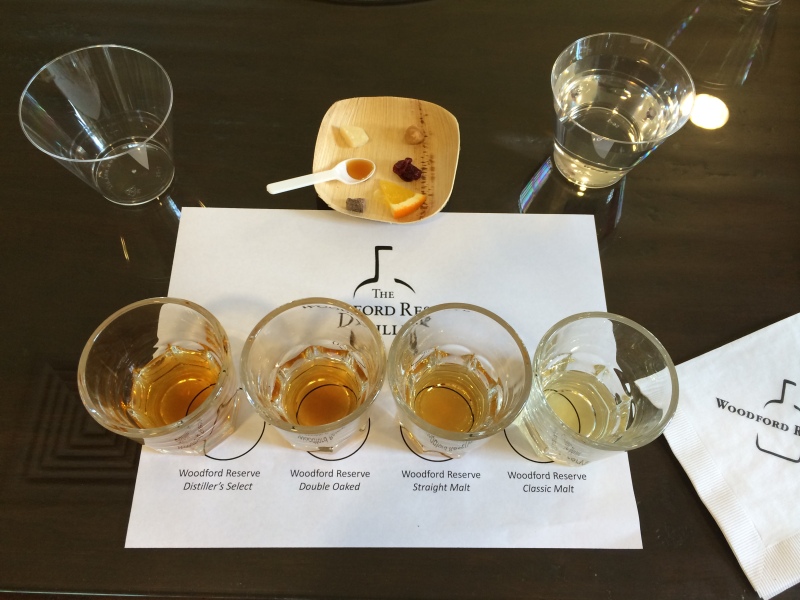 At the end of the tour, Tim ushered us into a blissfully air-conditioned cabin, where we were treated to a private, curated tasting that paired different foods (almond, hazelnut, dried cranberry, orange, dark chocolate, and sorghum) with different types of Woodford Reserve. Overall, I can say that the experience greatly exceeded our expectations for a basic Bourbon tasting.
Tim also made us aware of an intriguing custom option on us. It is possible to acquire your own custom-blended barrel of Woodford Reserve. 53 gallons of shimmering amber, smoky smooth adult delight can be yours for a mere $10,000. Admittedly, that's a stiff price tag. But it's also 212 quarts. It seems like you could keep a few years supply and still have plenty for gifts for friends, business associates and other lucky acquaintances.
One of the things you find on the Bourbon Trail is that the tastings are just that, tastings. The distilleries are very mindful of the consequences of drinking and driving thus its impossible to consume enough alcohol at any stop to impair your judgment and thus your driving.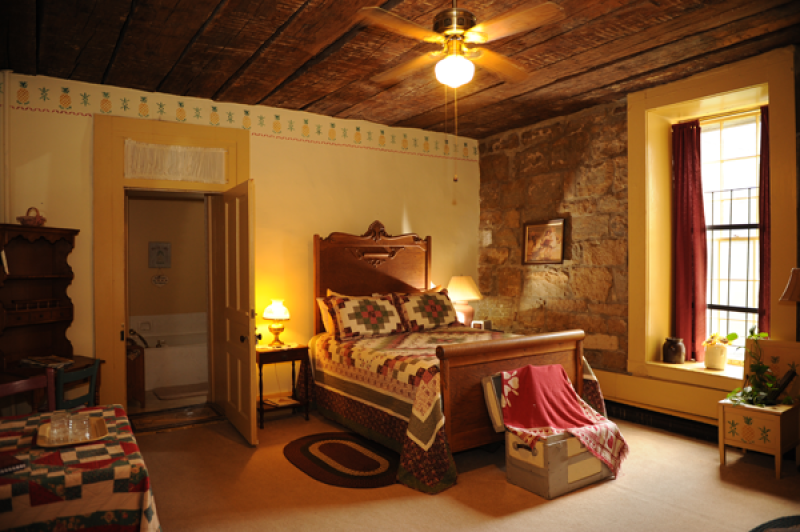 After parking the car for the evening, we were able to delve more deeply into the flavors of the region in Bardstown, a quaint old town that serves as the center of the Bourbon Trail. If you're going to overnight there, we highly recommend the Jailer's Inn. Built in 1874, the building served as the Nelson County Jail for 113 years, when it was converted into a bed and breakfast in 1987. With bars still on the windows, heavy steel doors and 30 inch thick stone walls, the experience is unlike any other B&B, but the accommodations are first class and with only six rooms, the hospitality as personal as it gets.
That evening we enjoyed a casual and well-prepared meal at the Old Talbott Tavern digesting what we learned and wondering how the process would be different the next day at Maker's Mark.

We awoke the next morning for the drive to Loretto and again the Cadillac proved to be a perfect choice. As we neared the home of Maker's Mark, the roads narrowed, the corners tightened and feeling the 3966-pound CTS Vsport dig deeply into the pristine pavement became part of the day's entertainment. That's one of the reasons we were judicious in the number of stops we made, so we could spend more time exploring the countryside behind the wheel of the Cadillac. With every mile, it became increasingly clear that from a performance and handling perspective this sedan is every bit the equal of comparable BMW 5-series and Mercedes Benz E-class sedans. I didn't want to stop driving this great car on these open roads but stop we must, so Bruce could serve as an ambassador for me at Maker's Mark.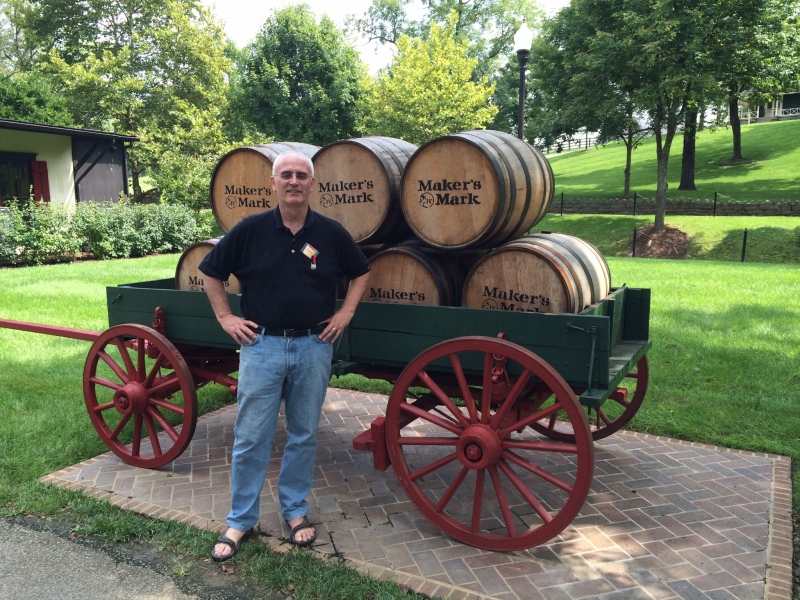 First, the record will show that Saturday, August 23, in Loretto, KY, was, officially, hotter than hell. Pro tip to anyone considering a similar Bourbon adventure: don't make the trip in August. We can only blame the decision to visit at this time on pure ignorance. Also, if you're going to Loretto, eat before you get there no matter what time of year you go. We had an unremarkable lunch at the only restaurant in Loretto before our visit to the distillery and would not recommend it to anyone.
The tour center at Maker's Mark is quaint, whimsical and fun. And, since I'm a Maker's Mark Ambassador, which in addition to securing me free admission, meant I was able to purchase personalized bottles of Maker's Mark that I would get to dip in the wax myself. I signed up for two.
Our tour guide was chatty, chipper, knowledgeable and fun. The tour was a bit dry (pun intended) since the distillery was shut down, for annual maintenance, which includes the cleaning, inspection, and repair of the fermentation tanks.

So, minus the aroma of fermenting mash, we learned that Maker's Mark is distilled in column stills which allow for liquor to be distilled continuously unlike the single batch pot stills at Woodford Reserve. The Maker's Mark mash bill also differs, using 70% corn, 16% soft red winter wheat, and 14% barley malt. Unlike most Bourbons, Maker's Mark includes no rye. Instead, the wheat gives Maker's Mark a noticeably sweet flavor, as opposed to the sharper flavors imparted by rye.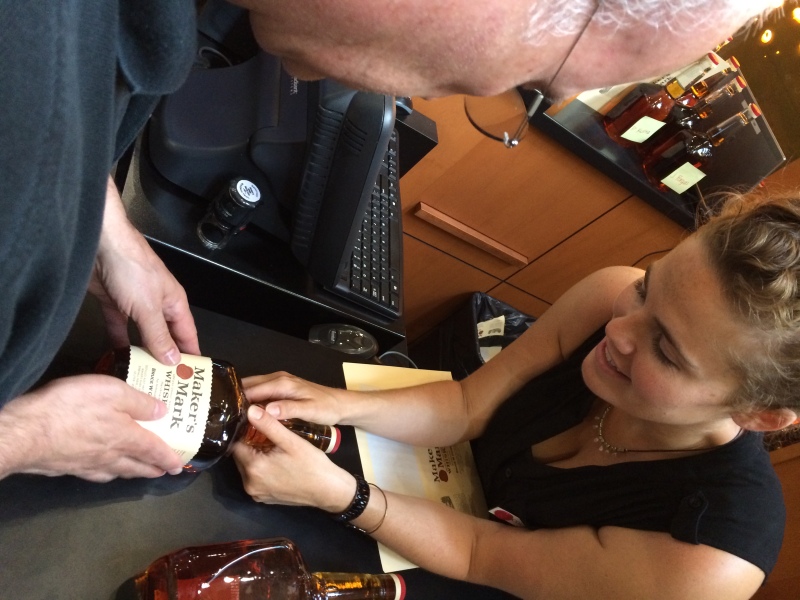 The tour finished up with a fairly standardized large group tasting, where we were given sips of not only finished Makers Mark, but the product at various stages of the aging process. After our tasting, we made our way into the gift shop. There, with the help of trained professionals, and appropriate protective gear, I applied the personalized labels to my two bottles, dipped them both in screamingly hot red wax, and marked the bottle tops with a "2014" stamp. We called it a day – a very good day, in fact – and drove back to our hotel to chill for a bit before dinner.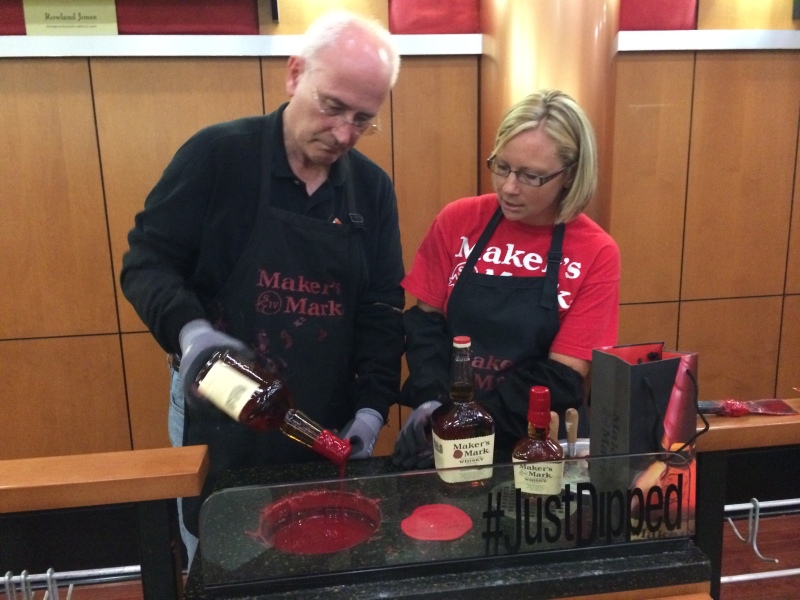 We had dinner Saturday night at our find of the weekend, the Rickhouse Restaurant in Bardstown. It was the perfect place to cap our bourbon-fueled weekend. The restaurant is tricky to find but that didn't prevent it from being packed on a Saturday evening. So rather than wait for a table we ate at the bar. From a Bourbon perspective, it was the best decision we could have made.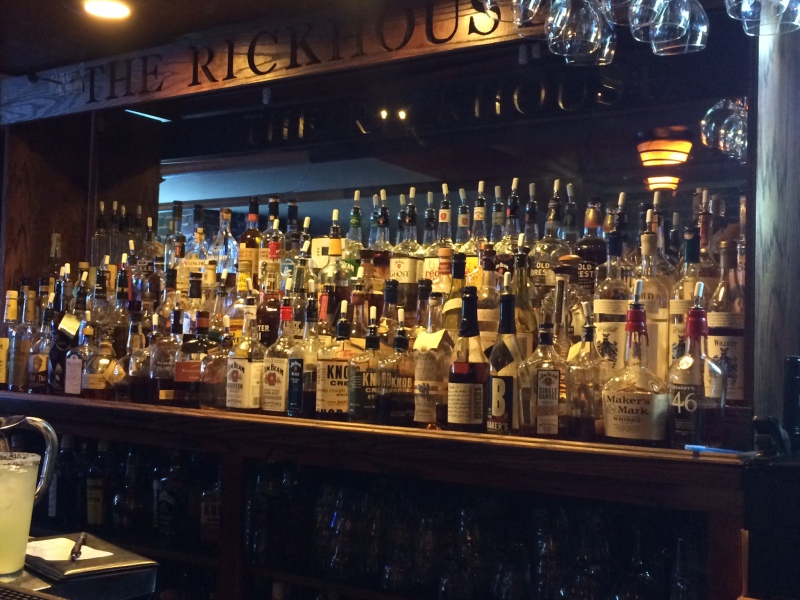 The back bar had more than 80 different Bourbons on display, including dozens that neither Harvey nor I had ever seen. So, we each more-or-less randomly picked one to sip while we inspected the menu and ordered our dinners. We also struck up an animated conversation with our bartender, who, it turned out, had an advertising background, just like Harvey and me. But, our true common denominator on this day was Bourbon. Before our food arrived, it was time to order another round, so we asked him for a recommendation. His response: "Let me pour for you." Boy, did he ever! We enjoyed a flight of bourbons that included Basil Hayden, Four Roses and Van Winkle 12. Spectacular choices each. We let him know.
After we'd finished our steaks, and were starting to think about heading back to the hotel, our bartender came over and told us that an older gentleman at the end of the bar had just bought us a round – servings of Knob Creek. When we turned to thank him, he said that he was retired from Jim Beam, the distillers of Knob Creek. "I wanted to make sure you tasted at least some good Bourbon before you left." We were charmed by his loyalty and enjoyed the bourbon, knowing full well that at this level, all bourbon is good bourbon. What you drink is really a matter of personal taste.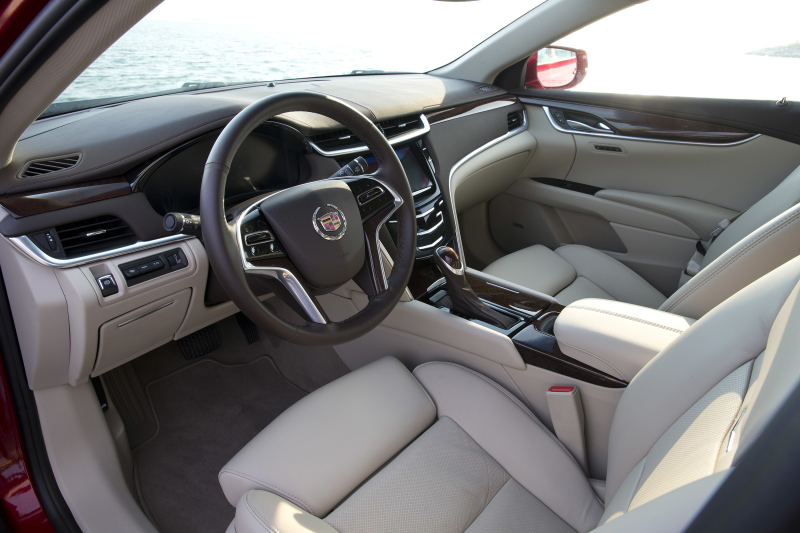 The trip ended with an uneventful long drive from Bardstown to Madison. Thanks to the Cadillac it was also comfortable and reasonably efficient, achieving nearly 24 miles per gallon at an average of 75 miles per hour. Everything about the CTS Vsport is built for a trip like this, from the comfortable seats to the precise climate control system, flawless navigation and satellite radio blasting blues at high volumes. Altogether, it was the perfect chariot for an all-American weekend.
Links to the highlights of this trip:
Cadillac CTS Vsport
Jack Fry's
21c Museum Hotel
Louisville Slugger Museum
Makers Mark Distillery
Woodford Reserve Distillery
Jailer's Inn
The Rickhouse
While the manufacturer provided the vehicle for this story, the opinions and recommendations in this post are 100% ours.
A version of this review first appeared at Pursuitist.com