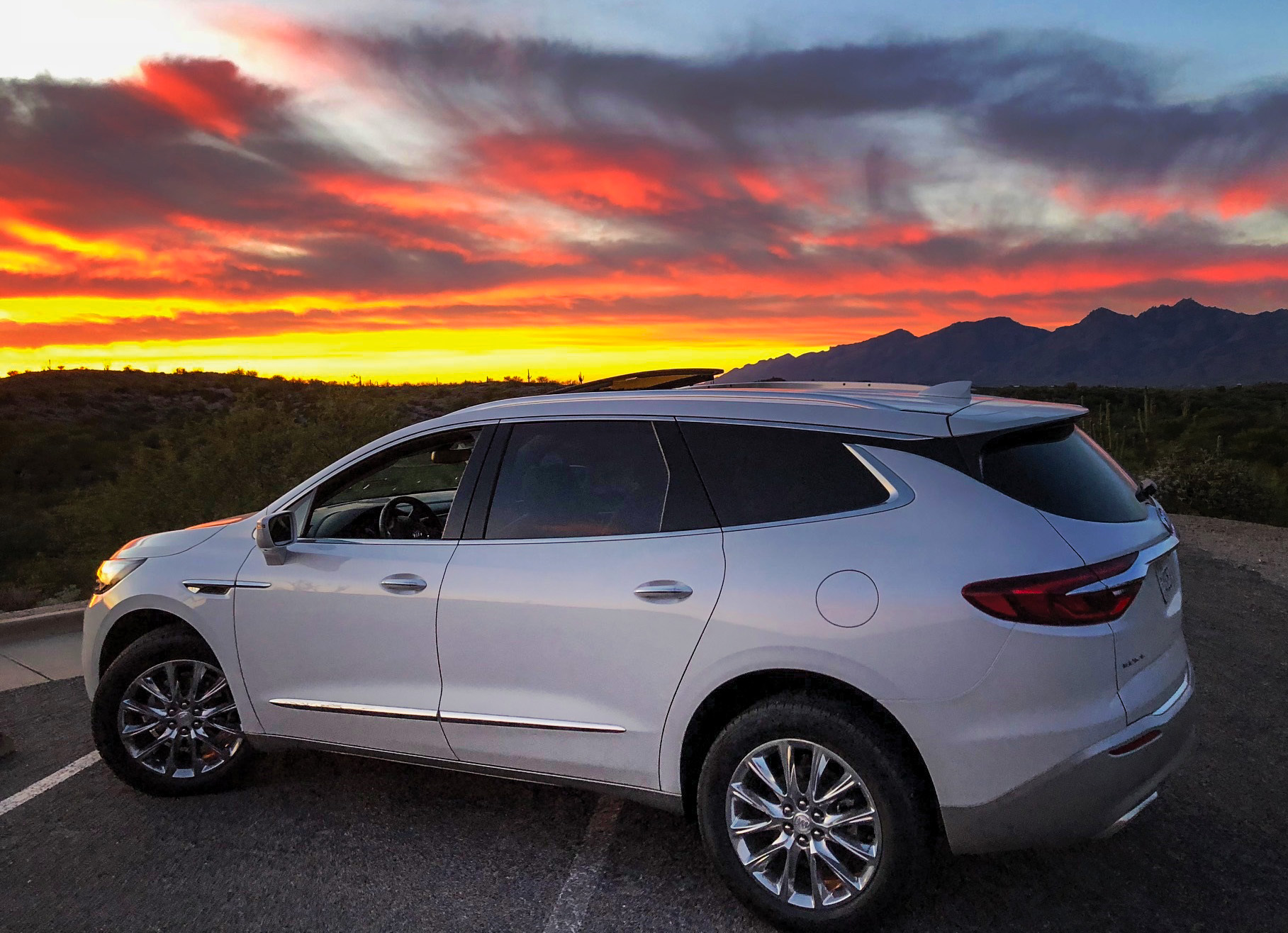 Chasing Bob Dylan, Frank Lloyd Wright, and Saguaro National Park
in a 2018 Buick Enclave Premium
On an ordinary Thursday in Arizona this Fall, the greatest singer-songwriter since Homer was a half-hours' drive away from the winter home and studio of the world's greatest architect. I got to make that drive, from Frank Lloyd Wright's Taliesin West in Scottsdale to see Bob Dylan in downtown Phoenix, and then on to Tucson for another show and the desert landscapes of Saguaro National Park, in a 2018 Buick Enclave Premium three-row crossover.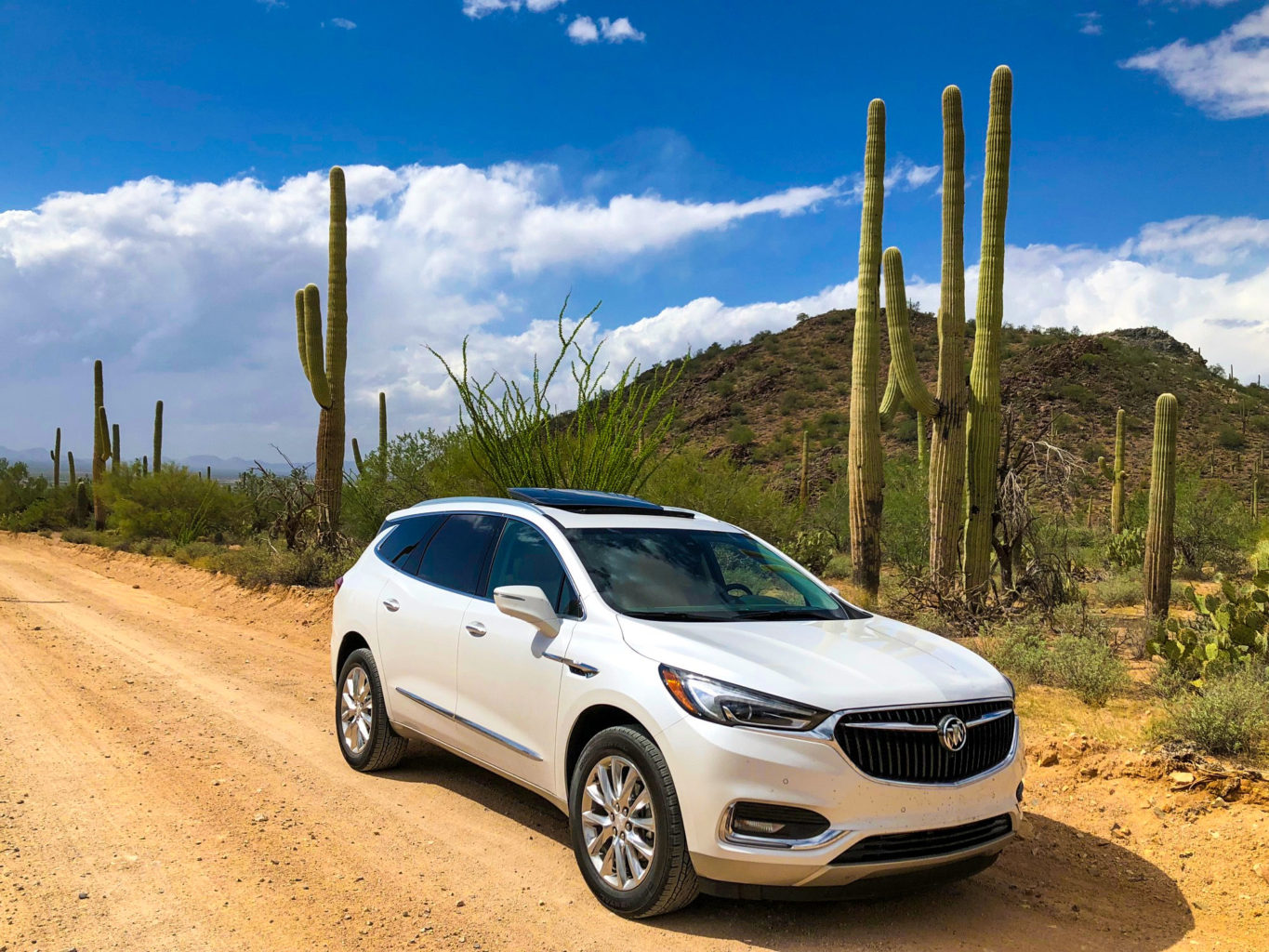 It was a smooth and stylish ride that Wright, a legendary aficionado of luxury performance cars – most famously a heavily customized 1940 Lincoln Continental, in his trademark Cherokee Red — would certainly have appreciated. And since Dylan long ago gave a shout-out to the company in "From A Buick Six" – Apple's Steve Jobs cited the jittery 1965 stomper as his all-time favorite song – I'm sure he'd have been cool with it, too.
Dylan was just passing through, giving spellbinding performances to open a 26-date tour through 20 states, culminating in a triumphant week at the Beacon Theatre in New York right after Thanksgiving (shows I would also be attending). In the thirtieth year of the "Never-Ending Tour," Dylan performed eighty-four career-spanning shows in sixteen countries on three continents – a neat feet for a 77-year-old. He and his crackerjack four-piece band were traveling by separate customized Volvo motor coaches.
Wright, who died in 1959, was probably in the area for good – his cremated remains had been moved from their original interment near the architect's Taliesin home and studio in Spring Green, Wisconsin (an hour west of my home in Madison) to Taliesin West in 1975.
By the time Wright opened the Scottsdale outpost 1937, he had long-established his (occasionally irresponsible) love of fast and luxurious cars.
Wright's first car was a yellow 45-HP Model K Stoddard-Dayton roadster, the same model that in 1909 won the inaugural automobile race at the Indianapolis Motor Speedway. Unfettered by community standards in all matters, Wright took to speeding through the gently rolling Wisconsin countryside in what his Iowa County neighbors called "the Yellow Devil."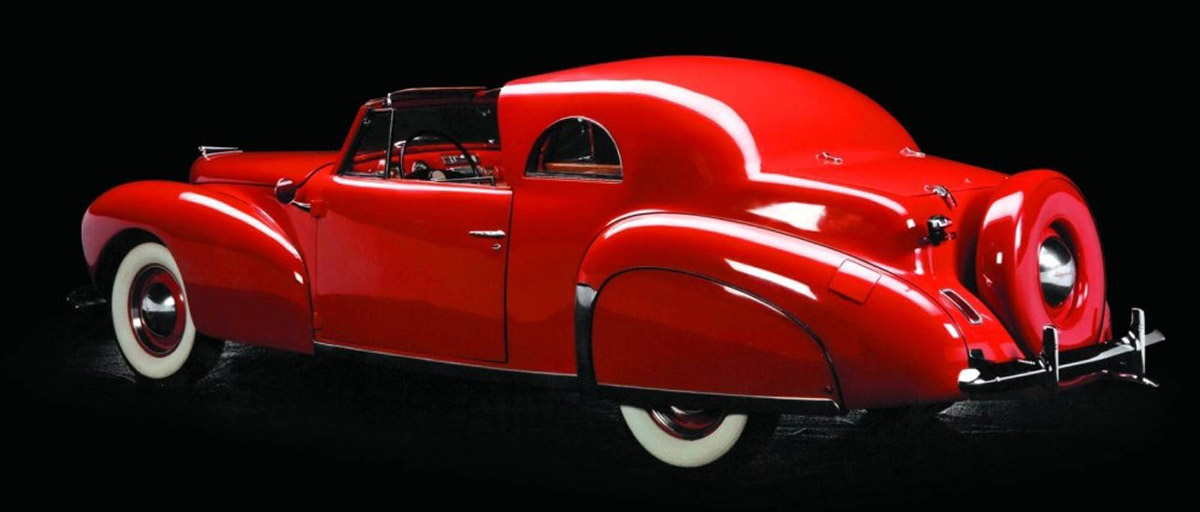 Before he acquired and heavily modified his Lincoln, Wright was particularly fond of his 1929 Cord L-29 Phaeton, the first publicly available American front-wheel drive vehicle. It had an astounding 137-inch wheelbase – nearly a foot-and-a-half longer than the 120.9-inch Enclave. In most other aspects, though, the 310-HP V-6 Enclave with a smooth new nine-speed automatic transmission and stop/start technology outclasses the 125-HP straight-eight Cord.
The Enclave is Buick's top SUV, positioned at the top of the premium segment, competing with the Acura MDX, Infinity QX60 and Lexus RX350L, a step below luxury SUVs from Mercedes-Benz, BMW, and Volvo. Whether they're in the sweet spot or no man's land is for potential customers to decide.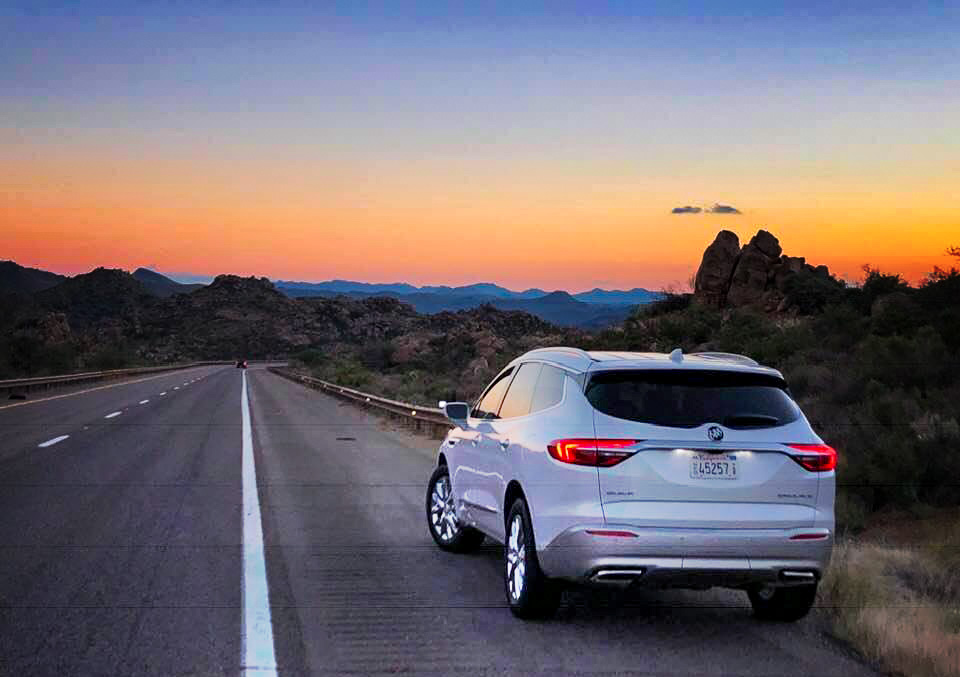 I liked more things than I didn't. The Enclave rode well and handled better than I expected, with plenty of highway power and surprising back road maneuverability. The crisp and simple 8-inch IntelliLink touch screen gave easy access to the infotainment package, built around standard Apple CarPlay/Android Auto capability, Bluetooth, and a Wi-Fi hotspot powered by a 4G LTE data connection. Living in Wisconsin, I definitely appreciated the remote engine start and heated seats and steering wheel. Power-folding for the 60/40 third-row seats and the hands-free power liftgate are very useful. The two-way lumbar support is nice; four-way is better.
The push-button parking on the stylish "Electronic Precision Shift" joy stick worked well, but I had trouble with the alignment of other functions. Shifting from forward to reverse required pressing and holding the shift lock button on the left side of the lever and moving the lever all the way forward and then left, an awkward and confusing dogleg that made parking a real pain.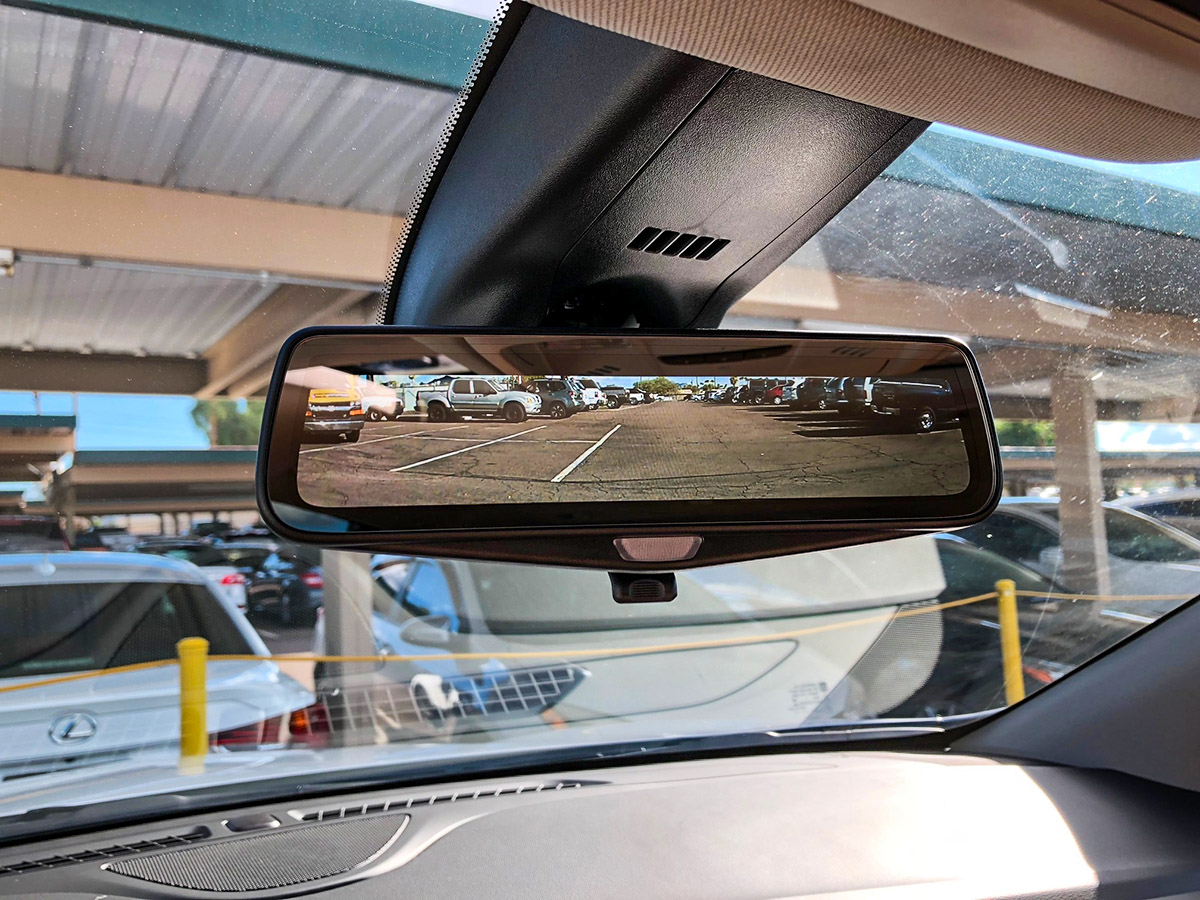 The reverse camera mirror took some getting used to, but was very useful when backing up. And really interesting when going forward – it was like watching a video in the mirror instead of reality. This are appearing more and more in crossovers and SUVs, they're real benefit coming when the vehicle is full of people or cargo obstructing the view behind.
One feature that still freaks me out is something GM has been putting in their cars since 2016 – using GPS data to display an image of the speed limit sign next to my current speed at my exact location. I know this is a safety feature – a subtle nudge to keep me from speeding – but it also feels a bit big-brotherish. With all the connected and telemetric technology, it's a reminder that in modern cars, someone is always watching.
The safety package ("Driver Confidence Package II") that comes standard with Premium and Avenir, provides lane keep assist and warning, safety alert seat, front and rear park assist, forward collision alert, low-speed auto braking, front pedestrian braking, following distance indicator and auto high beams. Unfortunately, given the several blind spots, the camera options and safety packages aren't really that optional, but are pretty necessary. It's also a problem that adaptive cruise control and highway speed automatic braking are available only on an Avenir – and then only as the optional $2,095"Technology Package," along with adaptive suspension.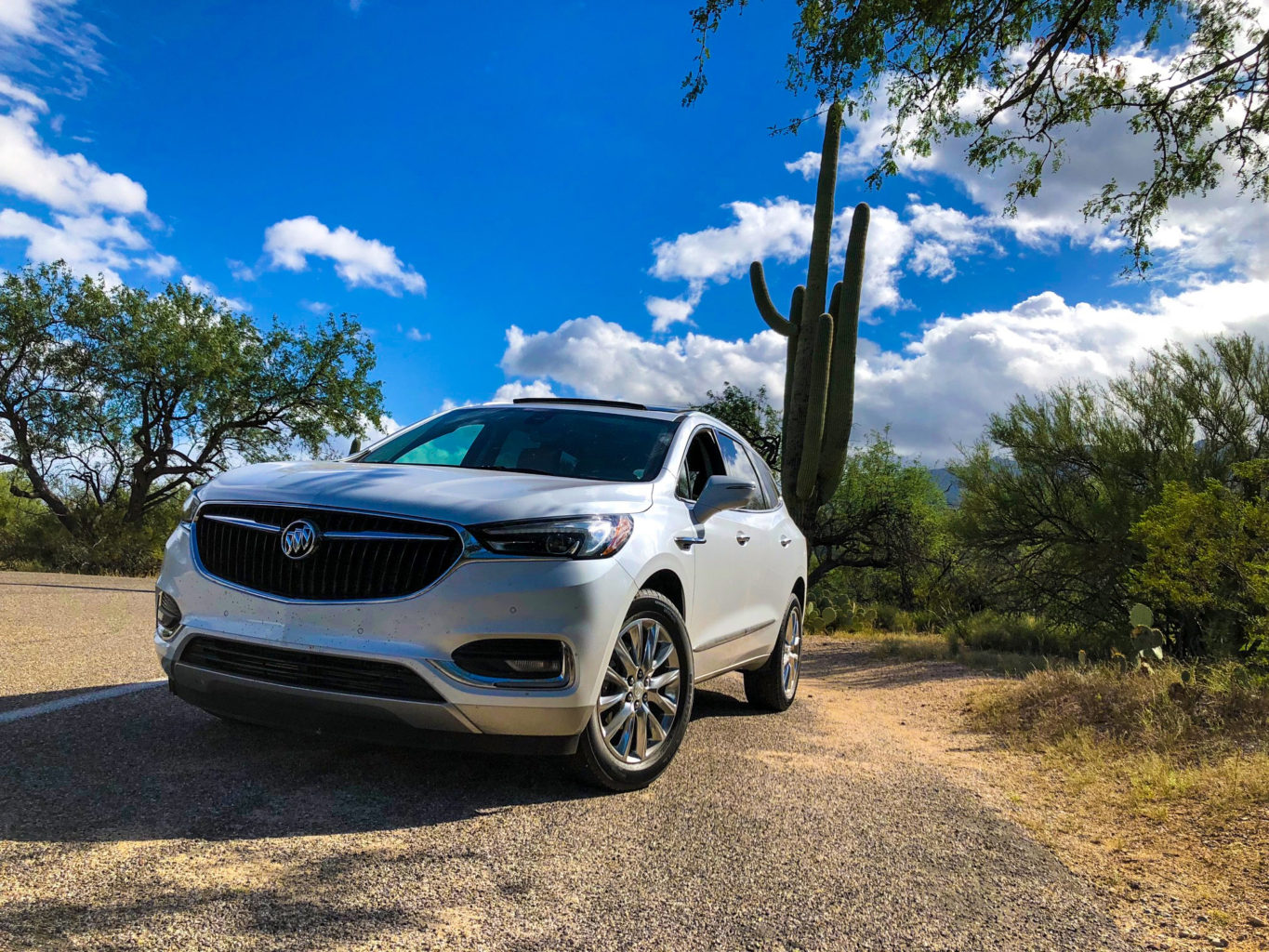 Buick knows its drivers like it quiet, and the Enclave is a mobile tranquility base, with an acoustic windshield, sound deadening and even an active noise-canceling system on all models. Rolling up the Beeline Highway into the Tonto National Forest – I took the long way from the airport to the hotel — my imaginary friend and I could hear each other very clearly.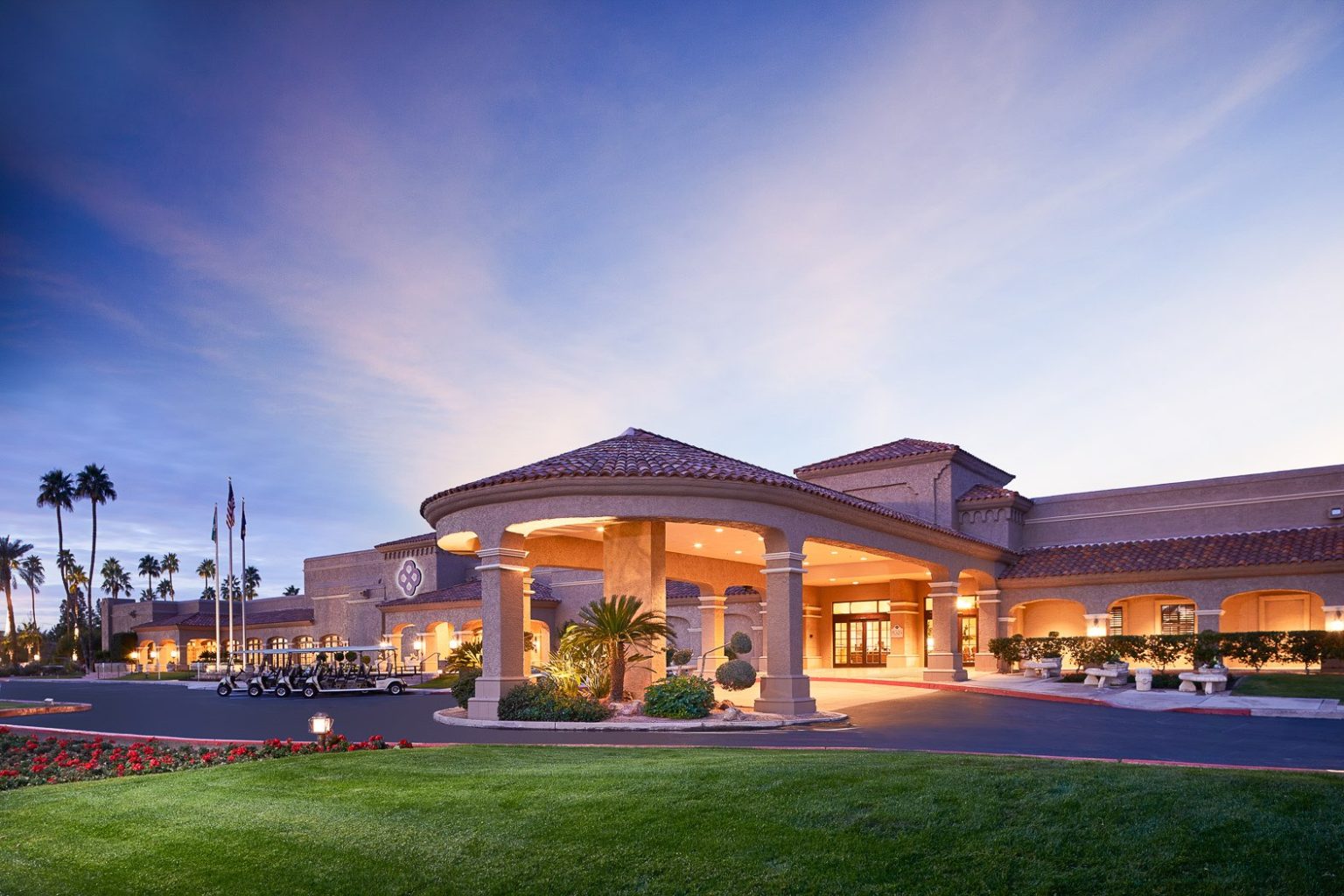 After checking in at the Scottsdale Plaza Resort – with an upgrade into a suite so sweet it had a patio AND a balcony facing the Camelback Mountains – I was finally able to take a long and close look at the Enclave's first redesign since its introduction in 2008. From the waterfall grill and aggressive fenders to the floating roof, it's a sleek and swooping silhouette punctuated by some very snazzy chrome accents, far from its somewhat boxy first look. Front and back LED lamps and lights and integrated dual horizontal exhausts hit the mark for both form and function. I'm not the only one who appreciated its good looks.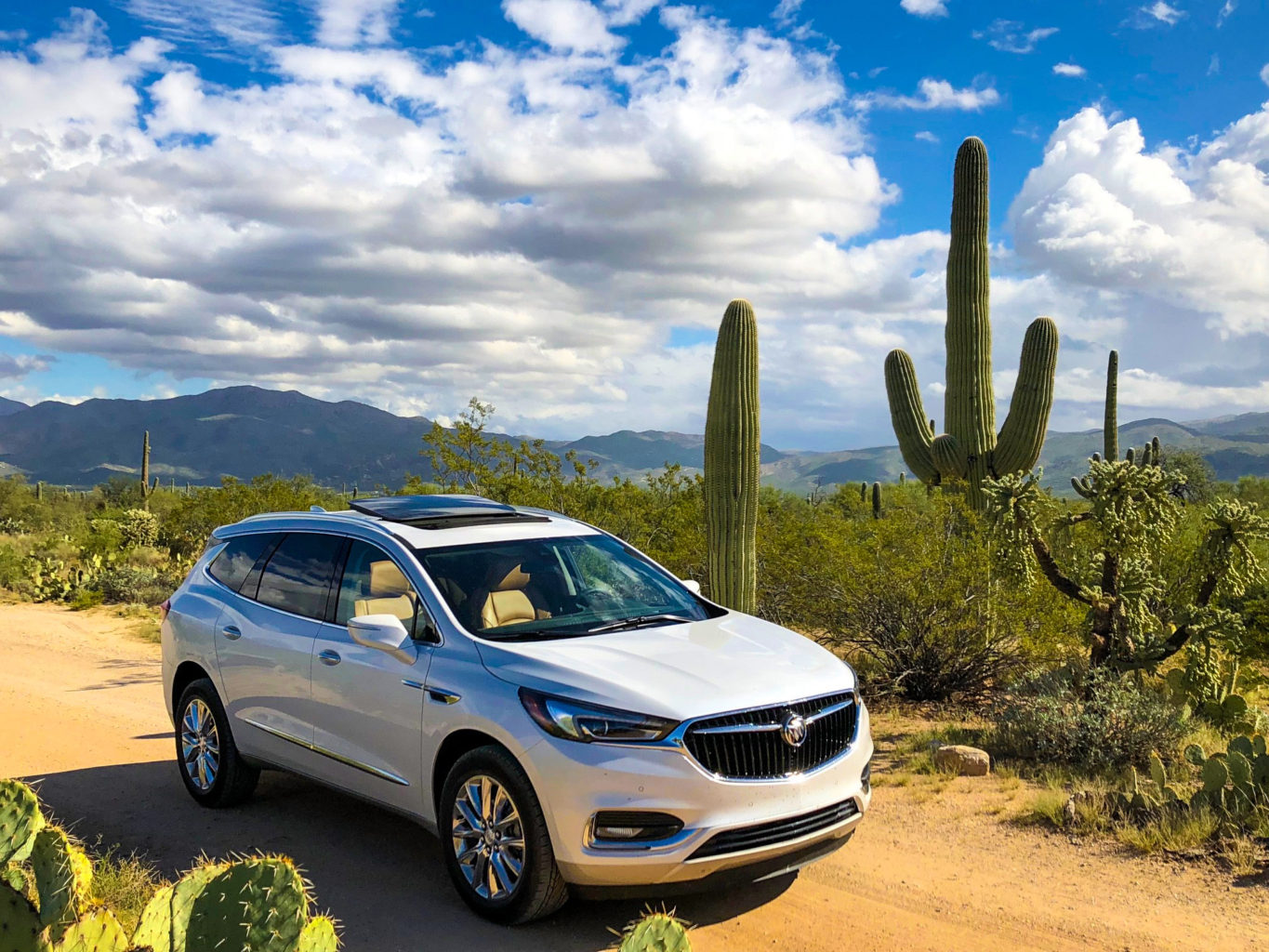 In Tucson two nights later, a blonde divorce from San Diego in a Lexus SUV stopped me in the parking lot of the historic Lodge of the Desert to tell me how attractive she found the Enclave. She said it had a feminine line which appealed to her.
The interior's total remake also scores. The dashboard design is clean and functional, with softtouch injection-molded upper section and stitched leather all tastefully done. Brushed chrome accents glisten, especially the ribbon that runs in varying width across the lower dashboard. And while I generally favor symmetrical design, the asymmetrical air vents that flank the infotainment screen, rimmed in chrome, give a subtle sense of motion even when standing still. I could have done without the bits of imitation wood, but overall this is a nice place to pass the time.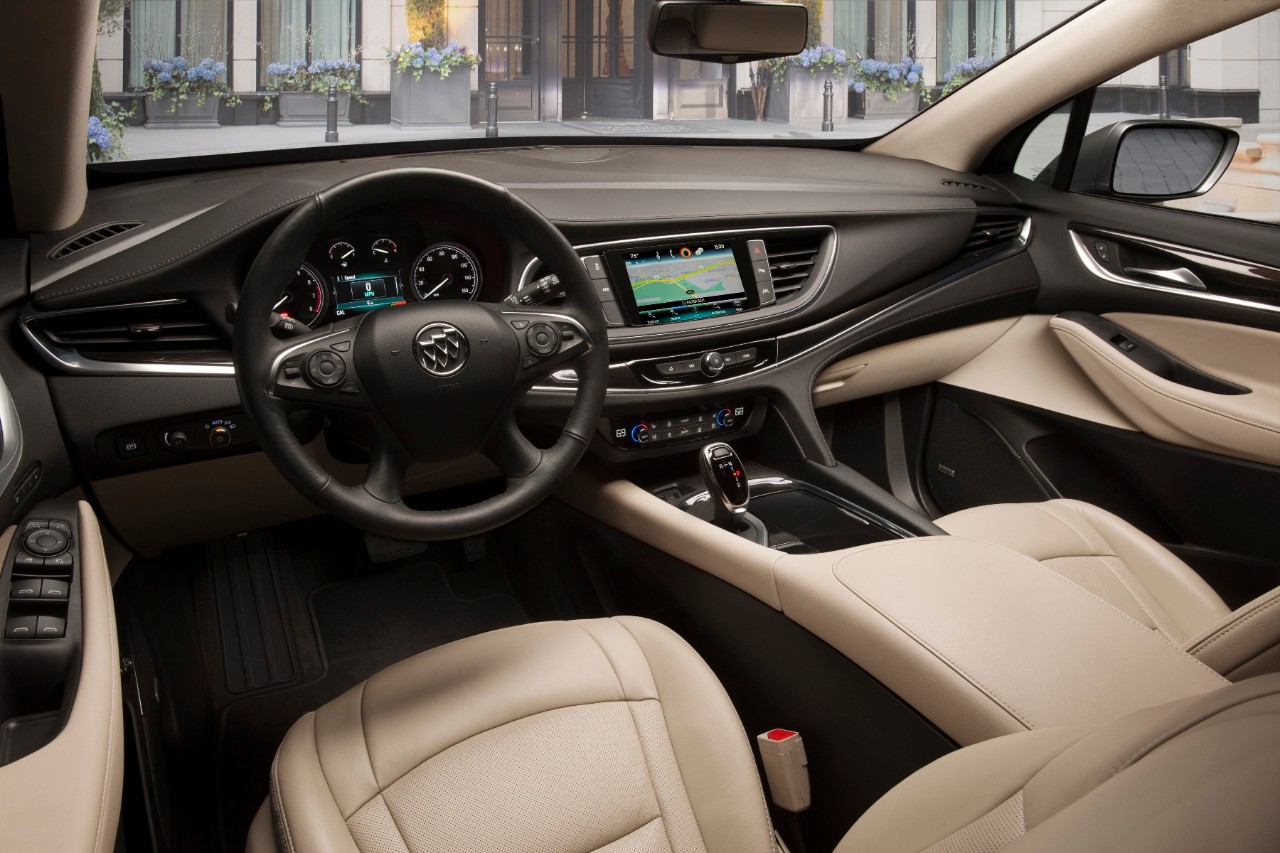 Front door panels have a softtouch injection-molded upper section, soft-touch stitched middle section, and hard plastic on the bottom. A large padded armrest covers a deep two-tiered compartment, with another large open-sided storage area underneath.
Form and function are excellent throughout the cabin, with ample room for people and things. There's easy access to the third row, which accommodates two adults or three children, either through the space between the second-row chairs, or by sliding and pitching the second-row passenger-side seat. And Buick is serving young families – there are several LATCH fittings, and the Slide Seat works even with an empty forward-facing child seat installed. Cargo space is ample, too; 23.6 cubic feet behind the third row, 58 cubic feet if the third row is down, and 97.6 cubic feet with the second row down as well.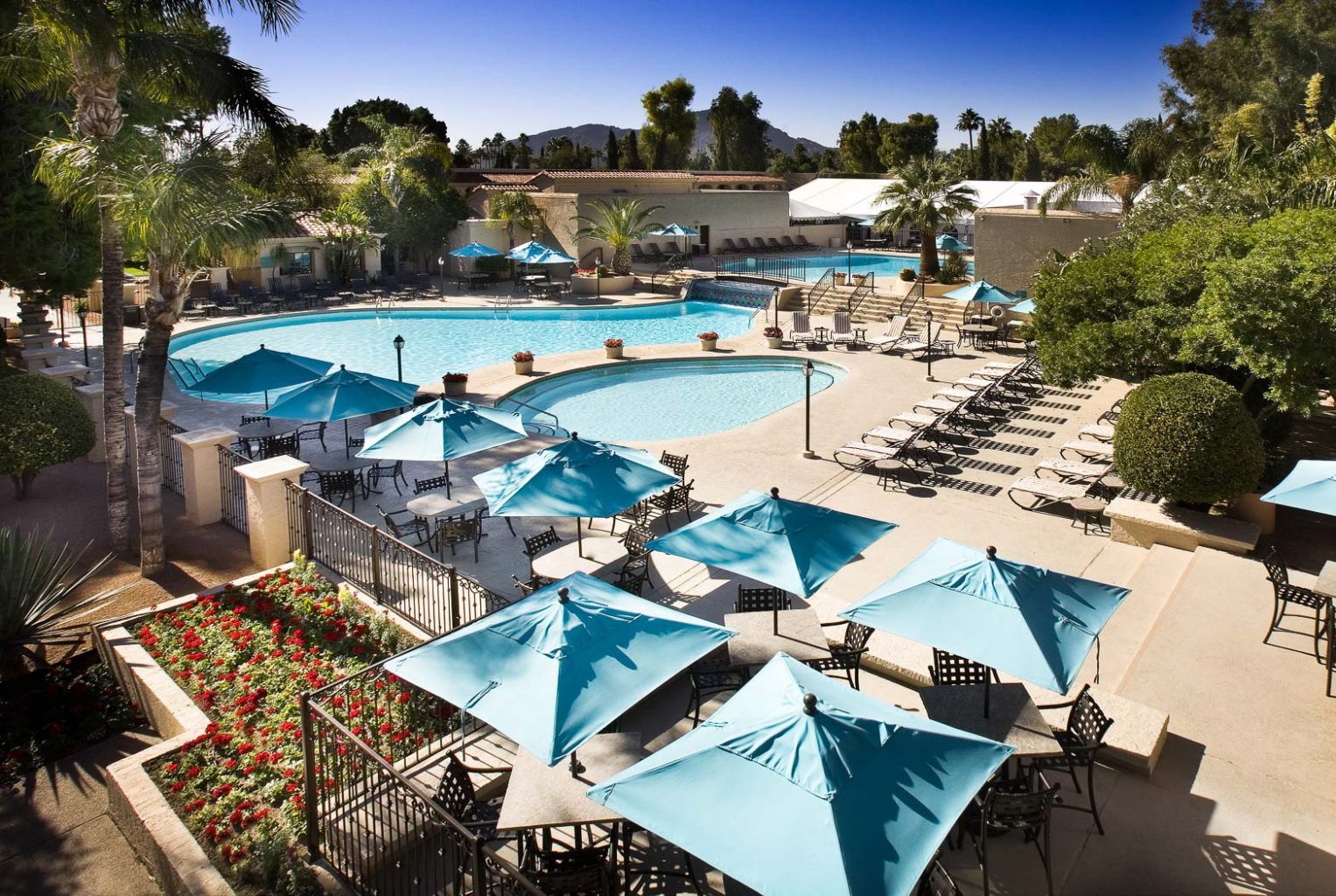 After a dip in one of the resorts five pools, I headed out for my first encounter with Wright's Arizona legacy, the 1928 Waldorf Astoria resort Arizona Biltmore. Designed by former Wright draftsman Albert Chase McArthur, brother of two of the three co-owners, with Wright's consultation and several post-construction Wrightian touches, it was birthplace of the Tequila Sunrise. As a part-time historian, I had to visit the Wright Bar to pay homage to mixologist Gene Sulit's original formula from the 1930s – tequila, cassis, lime juice and soda water, a crisper drink than the orange juice-based drink from the 1970s.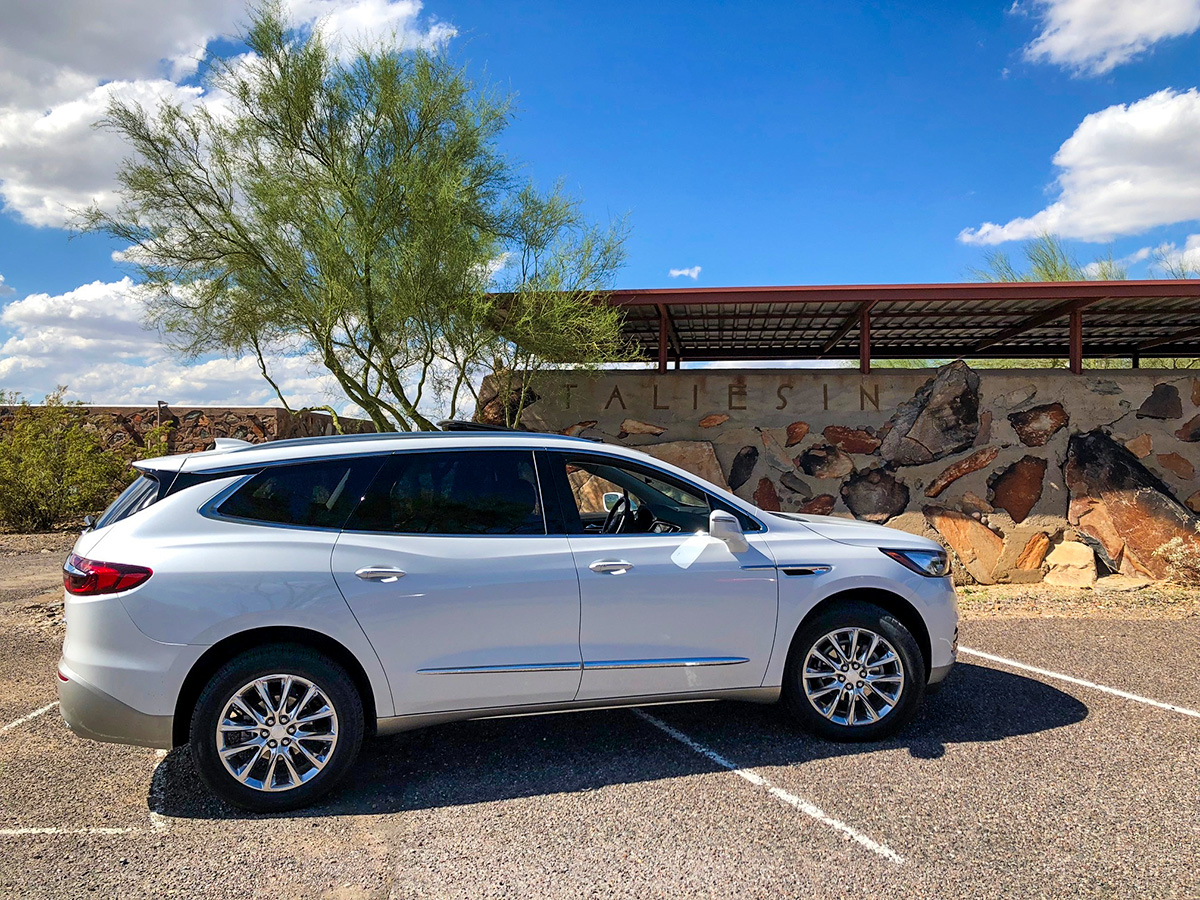 Driving up Frank Lloyd Wright Blvd. into the desert foothills of the McDowell Mountains the next morning, I sensed something special as soon as I passed the weathered Art Deco signpost in Wright's trademark red and entered the 620-acre sanctuary. Built and maintained almost entirely by the architect and his apprentices, Taliesin West is so embedded in the desert hills that it fully embodies Wright's "organic architecture," harmonizing humans with their landscape. Wright not only built with desert rocks and sand, he appropriated from the surrounding area several ancient petroglyphs which the Hohokam people etched into rock 450-1450 C.E., using them as architectural accents – a desecration of true organic architecture, now forbidden by federal law.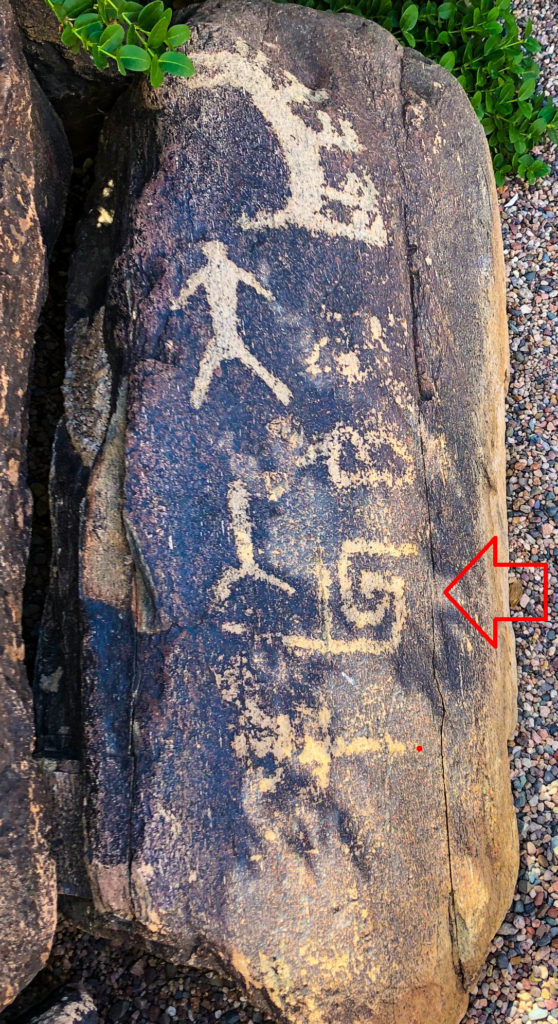 The master is gone, but Taliesin West is now home to a master's degree-granting School of Architecture, the Frank Lloyd Wright Foundation, and six separate guided tours. The tours, of varying lengths and focus, draw about 100,000 visitors annually; you can't go past the well-stocked gift shop except as part of a tour, so reservations are strongly recommended.
The site delights on three levels. Like all tours of famous homes, you get up-close and personal in Wright's private quarters, and can conjure social scenes from long ago in the public areas. But Taliesin West isn't just special because of who lived and worked here; it's special because it was all designed by the great architect who did.
The complex was added to the National Register of Historic Places in 1974 and designated a National Historic Landmark in 1982. Wright's original Taliesin home and studio in Spring Green, WI, with 600 acres of Driftless Area landscape, and seven surrounding buildings were designated a National Landmark Historic District in 1976. Both the Wisconsin and Arizona properties are included in a pending nomination for designation as a World Heritage Site.
Dylan, essentially a living National Historic Landmark, is continuing his remarkable late-stage resurgence with excellent performances in concerts that cover the range of his unprecedented career — eight songs from the 1960s, ten from the 21st century, three apiece from the seventies and nineties.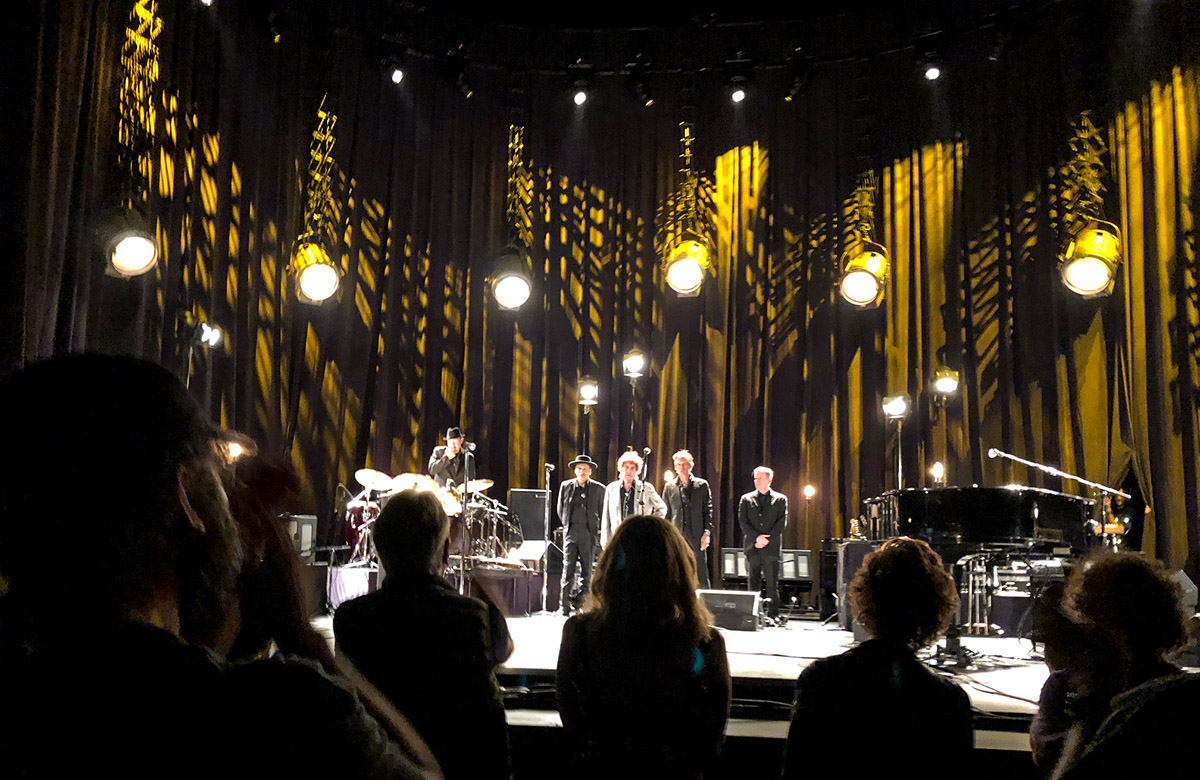 "I ain't dead yet, my bell still rings," he sings defiantly each night from 2012's ominous "Early Roman Kings," and it certainly does. Part of being a Nobel laureate in literature is not resting on your laurels, and Dylan is still swapping in new verses and couplets to several beloved song, including an entirely new version of the song which brought him his first solo Grammy, "Gotta Serve Somebody." Musical changes as well, even on a song that changed modern music; "Like A Rolling Stone" now features passages of quiet piano chords and bowed bass before the uplifting chorus (only Bob Dylan could write a song about alienation that became an anthem). There's also a quasi-calypso version of "All Along the Watchtower," because why not?
Dylan doesn't fully embrace publicity and marketing norms, but it was still a surprise that with a stunning 6-CD box set of his 1975 classic Blood on the Tracks being released during the tour, Dylan stopped playing the album's most popular song, "Tangled Up in Blue," which he had played throughout Europe and the Far East tours. And a disappointment; in a lifetime of music, I've listened to, and performed, that one more than any other song. I just hope it'll be back for next year's tour.
I'll certainly be there, as I've been at every opportunity. I've seen thirty or so shows over the years, my first in 1974 with the Band in Hollywood, Florida. I've seen Dylan in a range of venues, from a small club in Chicago to Woodstock II, with plenty of theaters and basketball arenas in between. In 1995, I was on the front rail when he opened for the Grateful Dead at RFK Stadium in Washington DC, the last time he played with Jerry Garcia.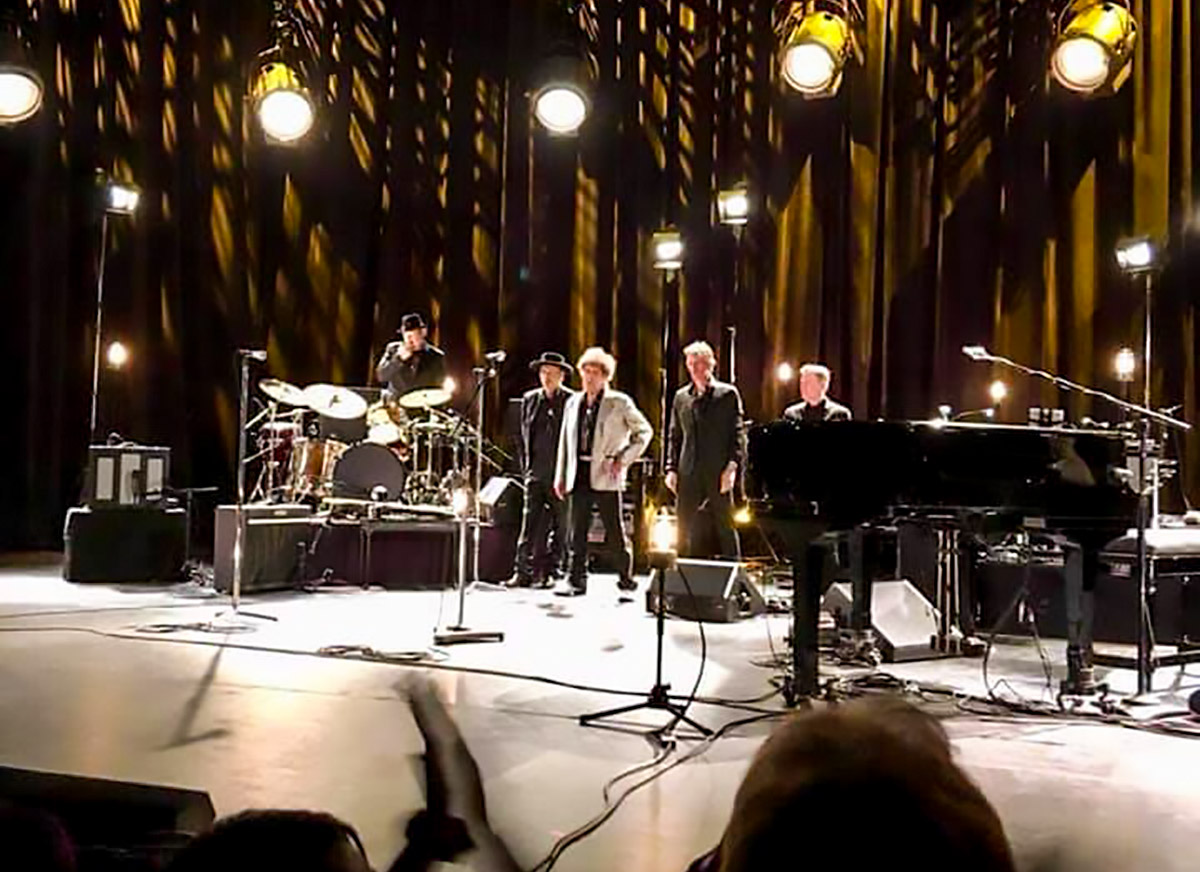 Even Bobcats like me concede Dylan doesn't sing with the crystal clarity of his contemporary David Crosby, but he can sing, bringing a feathery vocal to "Don't Think Twice, It's All Right," a rocker's snarl to "Highway 61 Revisited" and a prophet's menace in "Pay In Blood." He's entirely forsaken guitar for a grand piano, which he plays both standing and sitting, often to good effect, sometimes not. Once a night he ventures awkwardly to a mic stand center stage, where he sings with passion and focus, and a series of odd poses. On two or three tunes, he adds harmonica (usually excellent). And even when he's phlegmatic or flat, he's still Bob Dylan singing "Blowin' in the Wind," and you're in the same room.
When the encore's over, Dylan and the band line up as far back on the stage as they can and look out at the crowd; they hold the pose for about ten seconds, then walk off. They don't bow.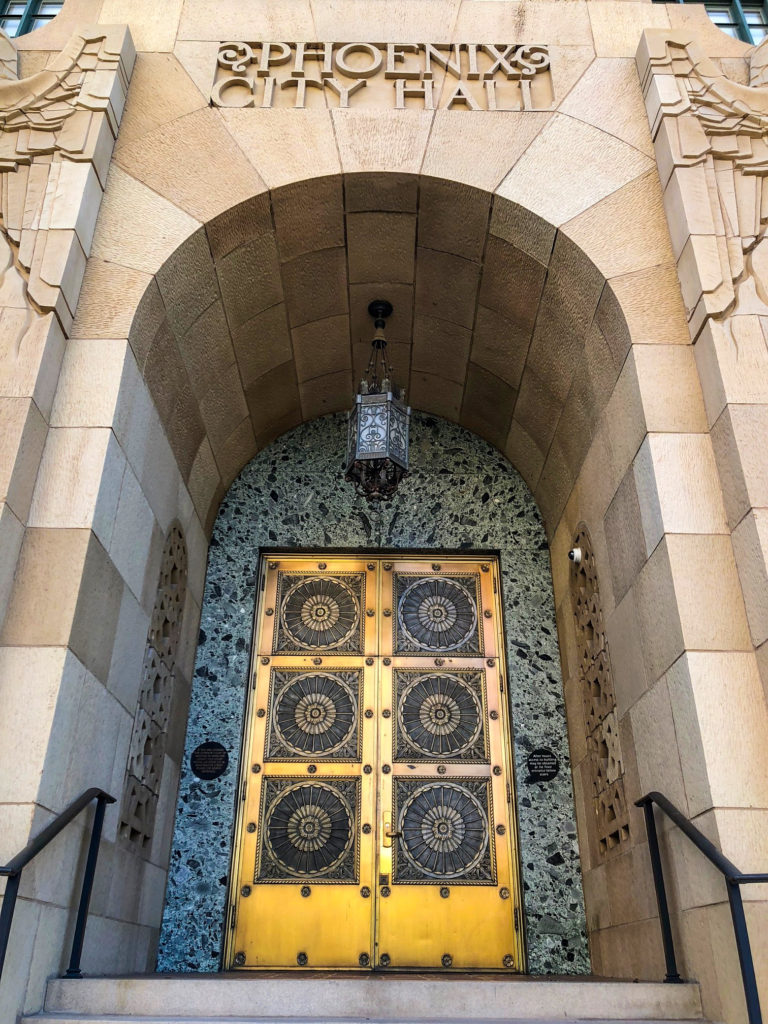 Friday morning, time for some historic preservation tourism, with visits to the 1929 Maricopa County Courthouse/Phoenix City Hall and the old 1901 Arizona Capitol Museum.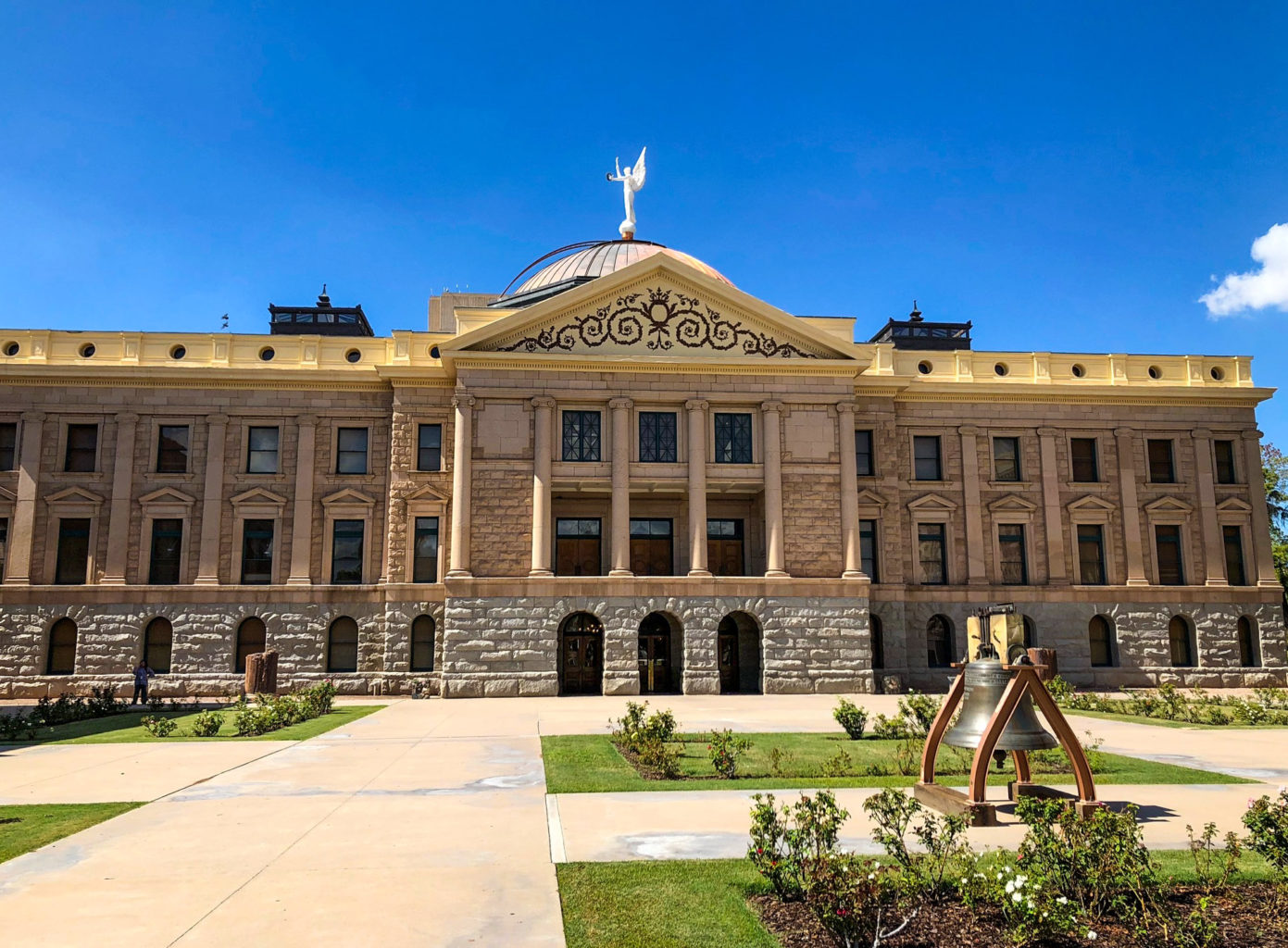 Then finally some serious highway driving, a seriously smooth and powerful ride down I-10 to Tucson for another, even better show and a visit to a wonder of the natural world even more historic than Wright or Dylan, Saguaro National Park.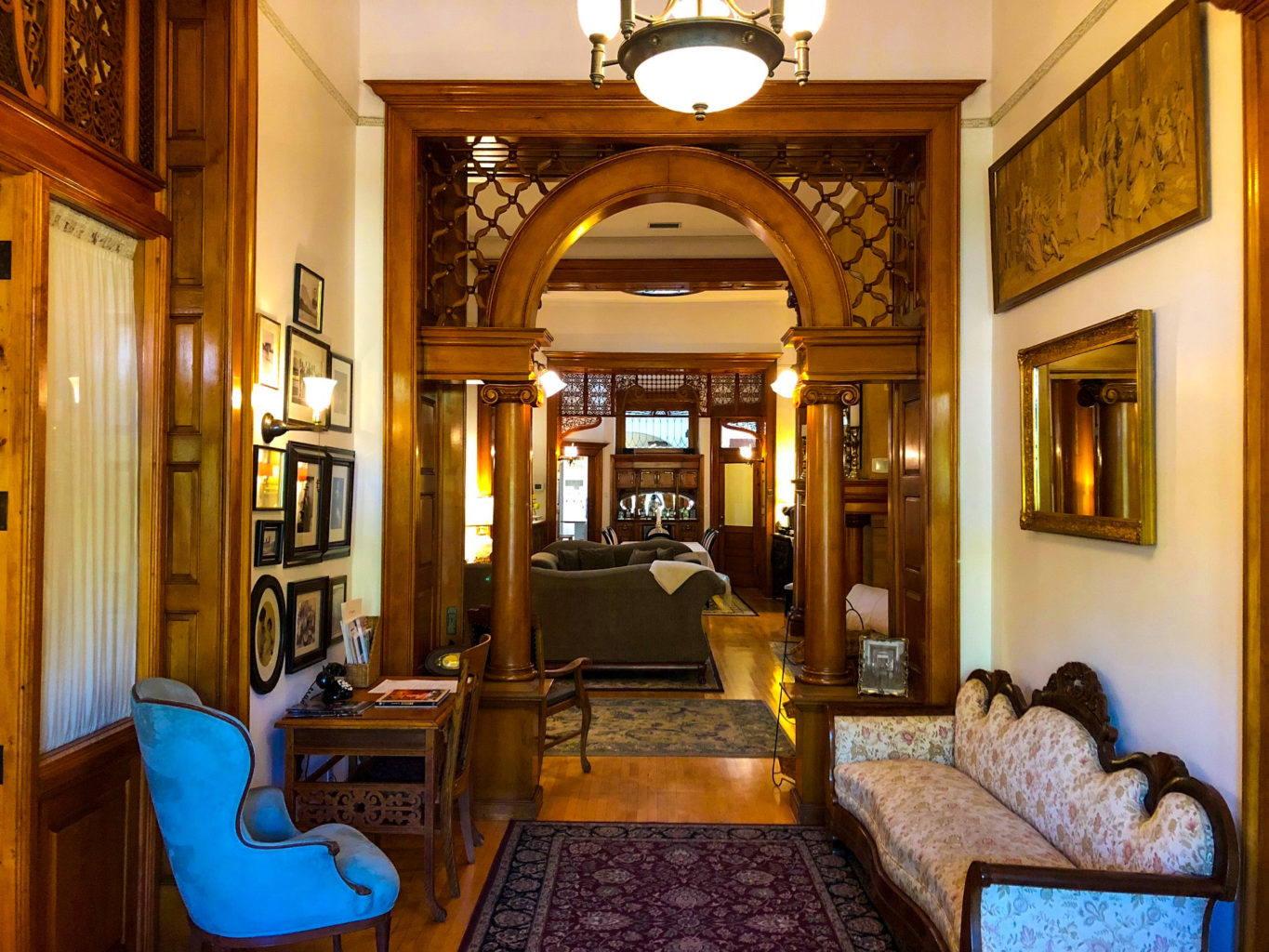 In keeping with the historic tenor of the trip, I stayed that night at the lovely 1878 Royal Elizabeth Inn (originally the Blenman House), listed on the National Register of Historic Places, and the only known adobe mud structure with a San Francisco Victorian interior.
Saturday was for some Tucson tourism – checking out the boutiques and galleries of the city's cultural hub, Congress Street, hitting the head shops on the student-oriented Fourth Avenue, and visiting the modest but moving Jewish History Museum and Holocaust History Center.
And then I set out for a world from another time, the two areas of the Saguaro National Park which flank the city.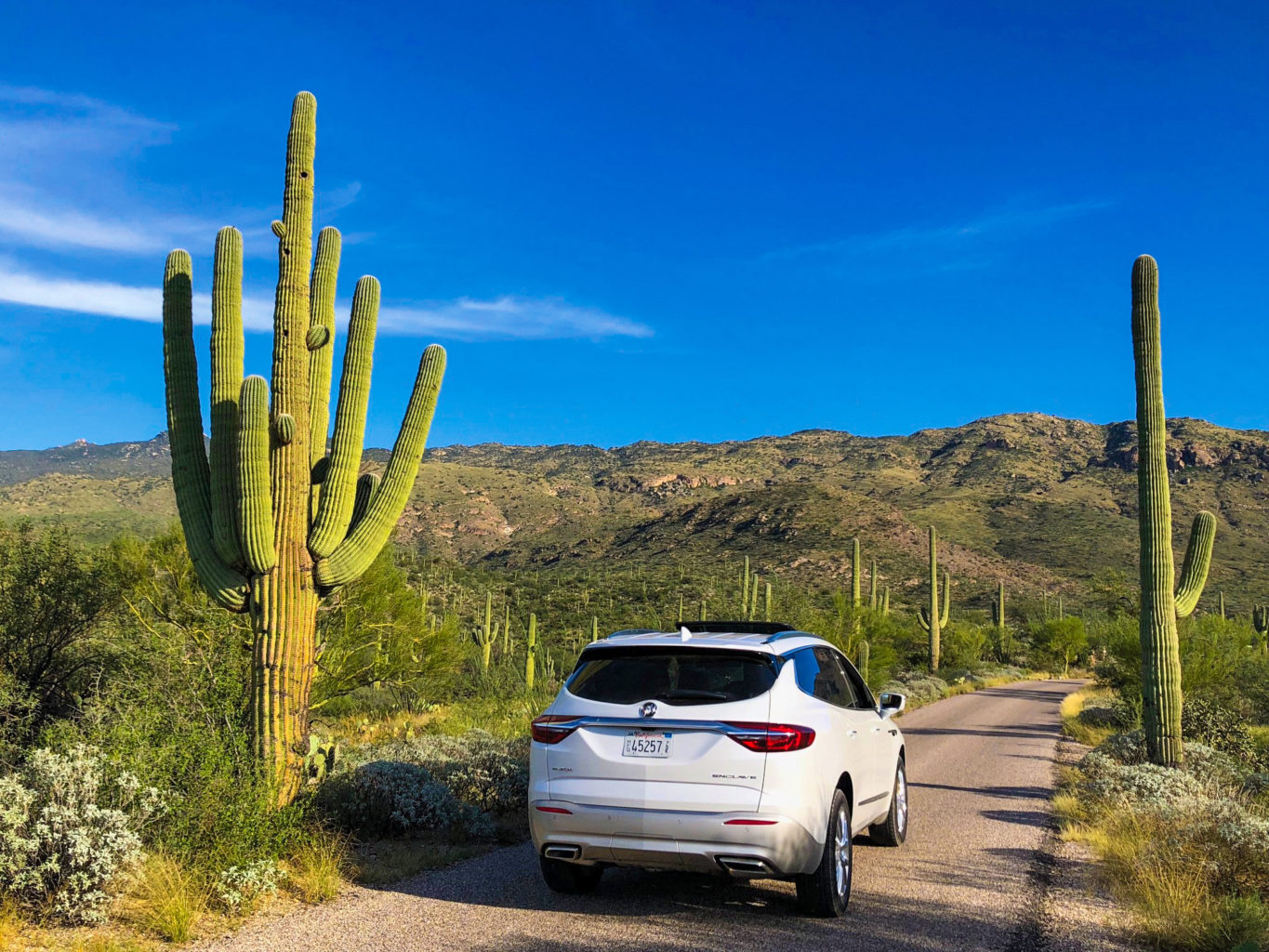 First to the east, and the Rincon Mountain District, 67,000 acres of huge Saguaro cactus, mile-high peaks, and the full range of Sonoran Desert life — thirty species of medium and large mammals, 107 bird species, 36 reptile species (including the commonly seen diamondback rattlesnake), and three amphibian species.
Twisting and hilly, the narrow 8-mile Cactus Forest Loop Drive that winds through the edge of the district isn't the natural enclave for a premium SUV, but the Enclave handled it easily and smoothly.
I stayed for hours, capping the day with a majestic sunset (and an unexpected but pleasant after-hours encounter with a National Park Service ranger).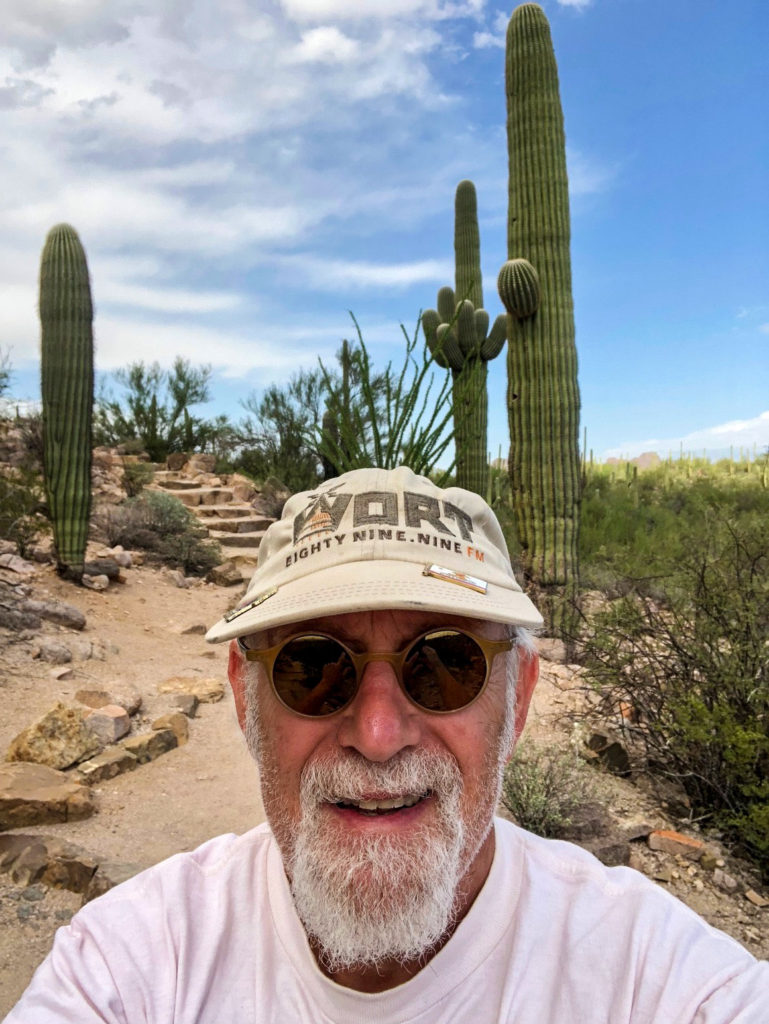 Sunday was for the 25,000-acre Tucson Mountain District to the west of the city and its Signal Hill, a collection of petroglyphs which the Hohokam people etched into rocks, 450-1450 C.E. — thankfully, too far from Scottsdale for Wright to pilfer. The five-mile Bajada Scenic Loop you drive to get there is unpaved and at times a bit axel-busting, but again the Enclave took it all in stride.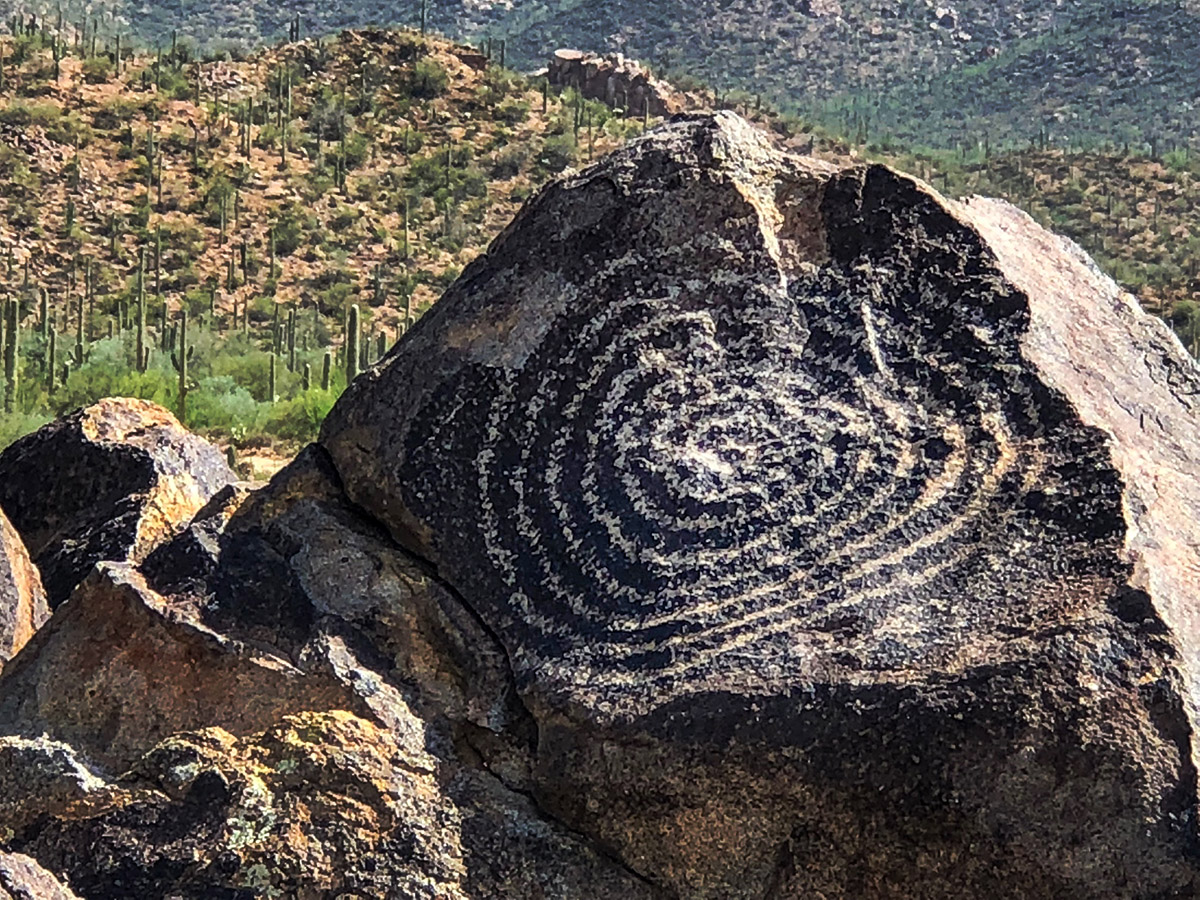 That's when it happened. And it was nobody's fault but my own. Maneuvering to get one last shot of the Enclave and a huge Saguaro cactus, I backed into a rock which was just low enough not to be detected by the rear sensors, but high enough to catch the under carriage. While damage was minimal, it was still a mortifying end to a great driving experience. I felt terrible about damaging a chariot that had treated me so well for the week and apologized profusely to the folks at Buick. Fortunately cars can be repaired and the damage forgotten. The memories from this trip, on the other hand, will be with me forever.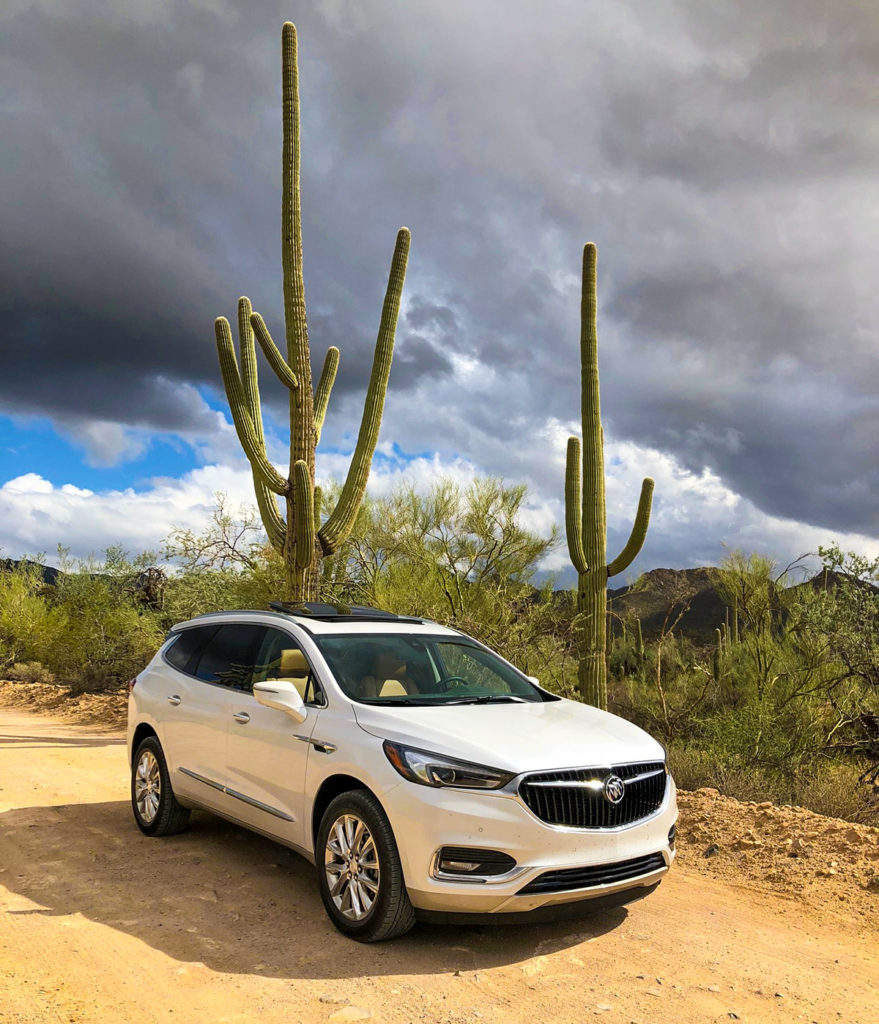 2018 Buick Enclave Premium
Four-door, seven passenger, mid-size premium crossover
Base price: $40,990
Price as tested: $54,860
Major options: Premium Trim ($8,010), dual power moonroof ($1,400), 20-inch aluminum wheels ($1,400), white frost tricoat finish ($995), rear camera mirror ($825), trailering package ($650), navigation ($495), destination charge ($995)
Engine: 3.6L double overhead cam V6 with direct injection
Transmission: 9-speed automatic
Power: 310HP @ 6,800 RPM
Torque: 266 lb.-ft. @ 2,800 RPM
Curb weight: 4,398 lbs.
EPA MPG: 18 city, 26 highway, 23 combined