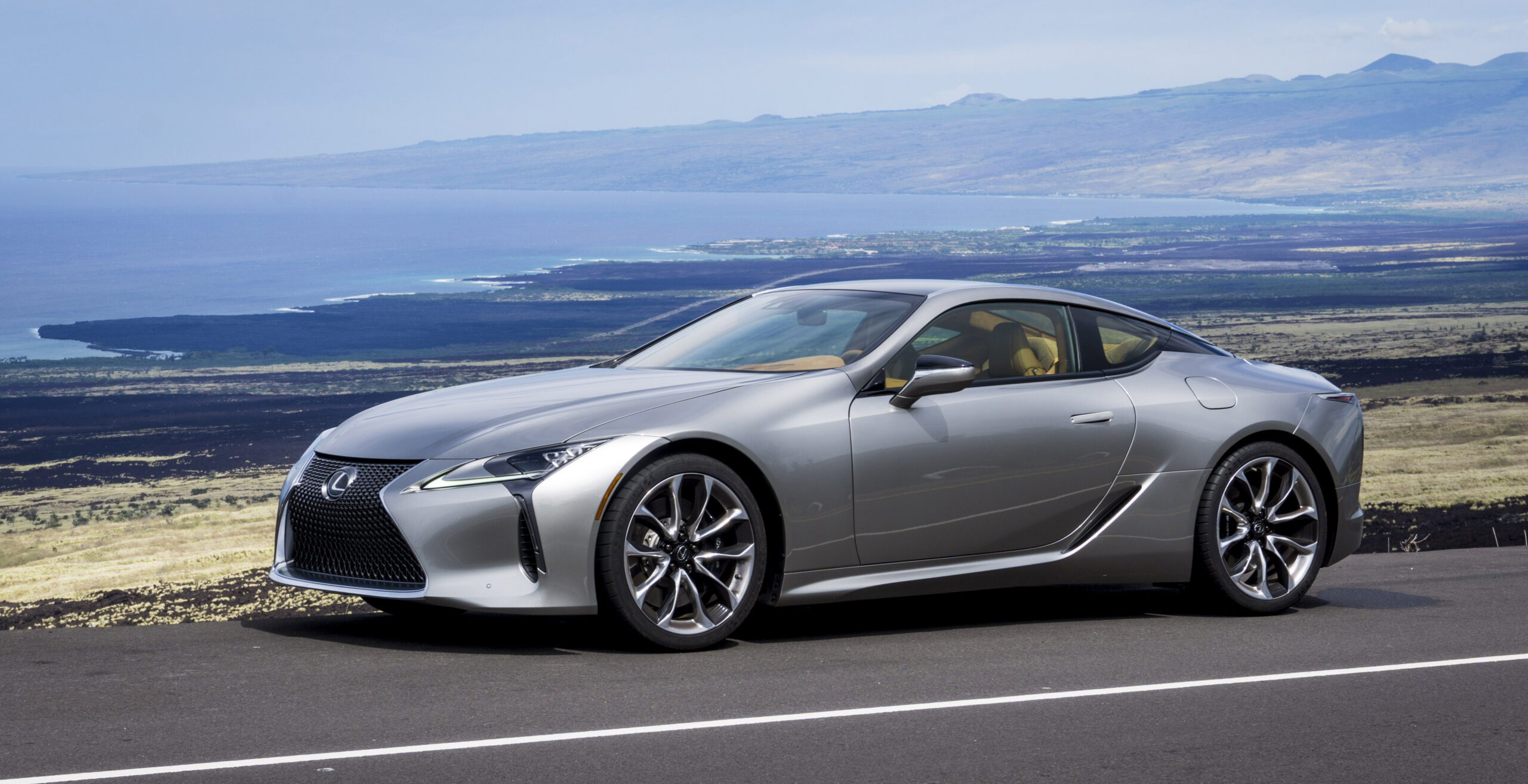 In case you haven't noticed. I love road trips. Driving interesting cars in beautiful places is sort of my thing. Thus when Lexus called and asked if I wanted to join them on the Big Island of Hawaii to drive a pre-production prototype of their new high performance luxury coupe, the LC500, it took about 4 microseconds for me to accept.
As I recall, the conversation went something like this:
Lexus, "Hello Harvey. LC500. Hawaii. Febru…"
Me, "Yes."
So it was I found myself comfortably relaxing on an afternoon flight from Los Angeles to Kailua-Kona (thank you Delta for the first-class upgrade) for three days of sunshine, driving, and indulgence. Yes, I was there to objectively evaluate the car, but it was clear from the outset, there were to be perks.
Let's start with the venue. Lexus, in no way hoping to influence opinions, saw fit to put our merry band of writers up in a modest little resort on the island's northwest shore, the Four Seasons Hualalai. And by modest I mean immaculately landscaped, with multiple pools, restaurants, a snorkeling cove stocked with rays and other indigenous aquatic life, championship golf, a world-class fitness center, and a wide array of rooms, suites, and villas with views of the pristine blue ocean. I take that back, it wasn't modest. It was spectacular.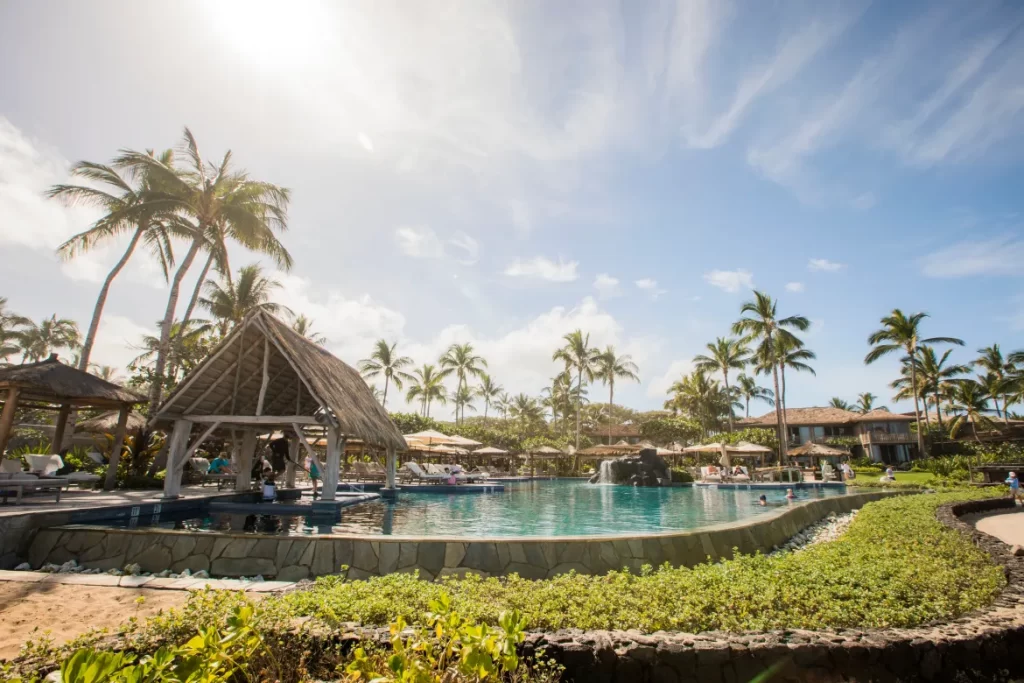 In spite of this brazen attempt to curry my favor, I resolved to stay strong and review the car on its merits alone. Because this, the 2018 Lexus LC500, is the brand's new flagship. As Akio Toyoda said when he introduced it in Detroit last year, it will set a new direction for Lexus and ensure that "the words Lexus and boring will never be used in the same sentence again." So my objectivity is paramount in evaluating this seminal car.
I arrived on a Wednesday evening, was given the keys to my room, which not only had a bed offering cloud-like comfort – with linens that must have had a thread count of about 587,000 – but one of my favorite features in a tropical resort, an outside shower. This one surrounded by black lava rock privacy walls with ferns, orchids, and anthurium providing a natural decor and tiny little lizards sharing the space. No, really, the accommodations would not impact my views. I am, after all, a professional.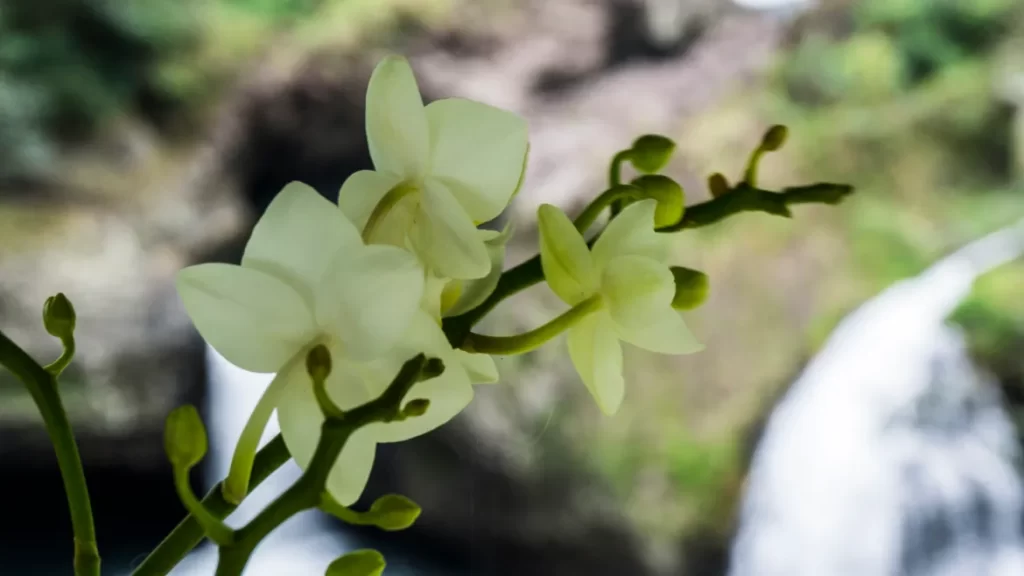 In fact, Lexus chose this location to highlight this new super coupe's intended target and the lives they lead. In a briefing before my first day behind the wheel, they called those they hope to attract with the LC500, "Experiential Adventurers." People who spend their money not on collecting things, but who value the memories and stories one accumulates through travel, attending events, and sharing those moments with friends. I guess if my wallet were a little fatter, I'd be among that crowd, but alas the $1,500 a night rack rate for my room at the Four Seasons is just slightly above the paygrade of a humble automotive writer.
And no, that evening's specialty cocktails, six station Hawaiian buffet and live entertainment, including 15-year old Ukulele sensation, Aidan James, had no effect either. I would drive the LC500 the next day and give a full and honest accounting of the $100,000 luxury coupe no matter how much yellowtail ceviche or how many rum drinks were handed to me.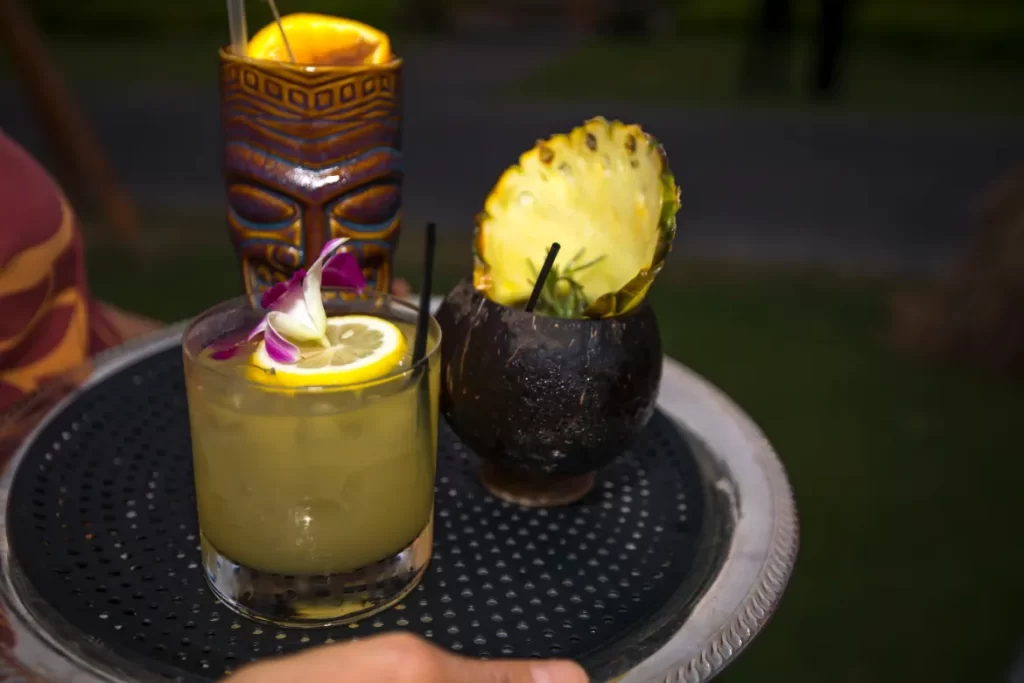 I slept that evening with a clear conscience and my room's sliding doors open wide so I could hear the surf crash against the rocky shore coaxing me into Morpheus' tender arms. Unfortunately it was the sleep of a 10-year old child on Christmas eve, because the next day would bring me the opportunity to drive a car I'd been thinking about for the past 13 months. When the sun finally began filtering through the wooden slats of the floor to ceiling blinds I was already awake and ready for a second cup of coffee. So I decided to use those few hours to read up on the cars I'd be flogging later in the day using the complementary iPad on which the press kit was delivered. (Have Lexus PR team no shame?)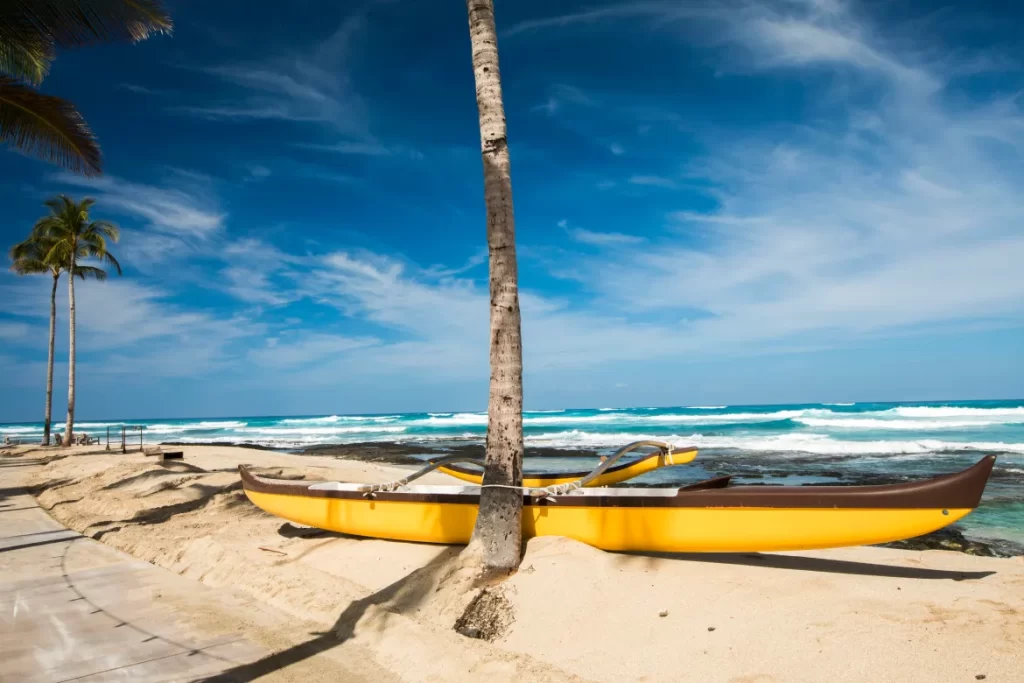 The 2018 Lexus LC500 is available in two trims: A V8 powered, all-out sport car, and a hybridized V6 that's more of a grand tourer. The naturally-aspirated 5.0 liter V8 makes 471 horsepower, 398 pound-feet of torque and has a redline of 7,100 rpm. Lexus claims 0-60 times of 4.4 seconds which while quick, is not groundbreaking in this day of sub three second land rockets like the Tesla Model S P100D, Corvette Z06 and Nissan GT-R. Other notable features include a 10-speed automatic transmission with paddle shifters. This is not a DCT, but a more conventional automatic. Shifts are calibrated to be quick, however, happening in just .01 seconds.
In the performance trim levels, the LC500's panoramic glass roof is replaced with carbon fiber, as is the trunk lid, and an active rear wing is added. It pops up at about 50 miles per hour and helps keep the rear wheels planted as the needle moves clockwise around the speedometer dial.
The LC500h, pairs a 295 horsepower turbocharged V6 with an electric motor – for a total output of 365 horsepower – driving the rear wheels through a multi stage transmission that combines a CVT with a four-speed automatic to mirror 10-speeds in manual mode. All the performance packages and other goodies from the LC500 are available on the 500h so you don't have to get the big motor to get the aero bits and adjustable suspension technology. The question for me in driving the cars would be, outside of power output, how different would the two cars feel when I finally got to drive them.
Satisfied I knew enough about the two models to evaluate them on road from Kona to Hilo, I finished my coffee, headed for the shower, and prepared for a day on the road.
Meeting up with the entire group for breakfast, we were given an in depth presentation on the car and a walk-around with designers and engineers for the LC500. They reiterated most of what was already in the press packet, but it's always nice to hear from the people who've actually worked on the cars. It's in these sessions where you learn about the details of the challenges they faced in bringing the car to life.
One of the biggest issues in turning the LFLC concept into a production car was maintaining the concept's striking low hood height.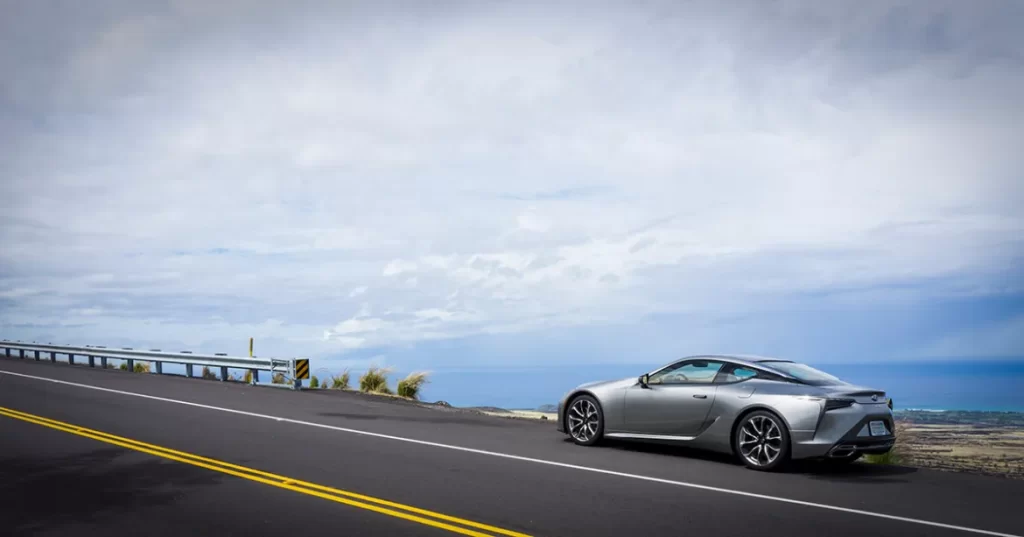 The car's multi-link front suspension has been designed from the ground up to deal with the design restrictions created by the low hood height. There's not much room for wheel travel, so to create a suspension that could supply a supple ride, the engineers had to work their magic. The answer, a double ball joint front suspension design that uses lightweight forged aluminum in all but one of the control arms. This reduces unsprung weight and makes the suspension both more supple and precise in its movements, allowing it to respond quicker to driver inputs and imperfections in the road surface. To make sure the LC500 delivered the desired sporting dynamics Lexus "spent more than triple the usual amount of R&D time to pursue linear steering and to find the sweet spot for road contact feel," according to Chief Engineer, Koji Sato. All of which I'd be able to judge for myself once I got behind the wheel.
Unfortunately, my turn wouldn't come until after lunch. You see, I was on what is known in the industry as a "Lifestyle Wave" on this press trip. And there was yet one more non-driving activity planned. Manufacturers divide the press into two categories, automotive and lifestyle. The former includes the usual suspects: Car and Driver, Road & Track, Motor Trend, Autoblog, Motor1, and other pure car sites. Lifestyle journalists are a mixed bag with serious automotive writers from outlets like Men's Journal, Bloomberg, and TechCrunch; newer automotive outlets like this one; and writers who have little to no car experience from sites that focus on fashion, travel, trends, and other topics. This means it's especially important to pick a good drive partner for these events, which is why I was lucky to team up with Laura Burstein (you can find her on Twitter @lauraburstein) from Robb Report. Not only is she a knowledgeable car writer, but an ace driver as well, so we'd be able to push the cars harder than if either of us were stuck with some random fashionista or food writer who know little about cars and even less about driving. (It has happened.)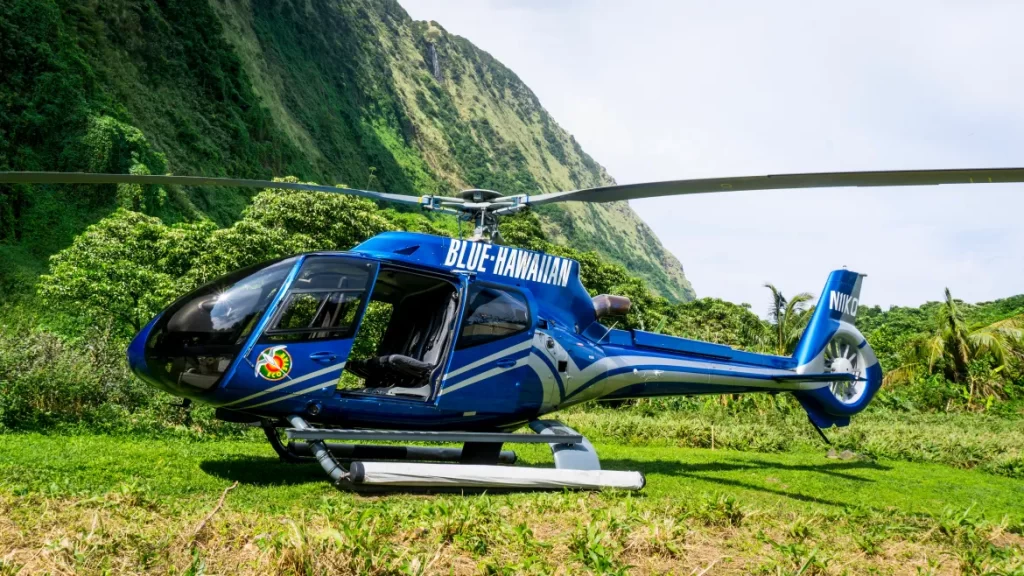 With our group split in half, the first group drove the cars from Kona to Hilo in the morning while the second half – of which I was a member – boarded helicopters for an aerial tour of the Big Island. As it turned out, this was probably a good thing. For the most part, the skies were clear and the winds were light in the morning. This made for spectacular views of the canyons, coves and volcanic action that the island presented. Our charter company, Blue Hawaiian Helicopters, flew beautiful and well maintained Airbus EC130 Eco-Star helicopters. Our pilot not only had a smooth and steady hand at the stick, but was also a font of knowledge when it came to the island's landmarks. Flying through the canyons, over rivers and past waterfalls, it felt as if we were recreating the arrival at Isla Nublar in Jurassic Park. Especially when we landed at the base of a 1,200 foot falls near the island's north shore for a quick snack and photo break.
The second half our our flight took us over Volcano Park where we were witness to a very active Kilauea, with hot lava flows streaming from its steaming peak. The red veins of molten rock ran quickly down the mountainside moving boulders the size of Volkswagens out of its path. But the truly spectacular phenomenon was what the locals call a 'firehose'. This is where lava flows underground toward the sea, eventually breakout of from the cliffs and pouring into the sea like water into a bath tub. The only difference is that when this superheated molten rock hits the water, it explodes violently shooting jets of water and steam hundreds of feet into the air. This is something that happens just once in a generation and we were lucky enough to not just witness it, but capture some video.
The final stop of our tour was OK Farms, a plantation just outside of Hilo that grows everything from spices, to herbs, macadamia nuts, fruits, vegetables, and, of course, coffee. Here we had the opportunity to eat macadamia nuts fresh from the shell (they are so good this way) and were treated to a lunch that featured fresh ingredients from the farm. Interestingly, agriculture is not the mainstay of the Hawaiian economy as it once was. The sugar plantations are long gone, and pineapples haven't been produced en masse here since the '70s thanks to competition from Thailand and the Philippines. Aside from coffee and the ever present macadamias, most farm production is consumed on the islands.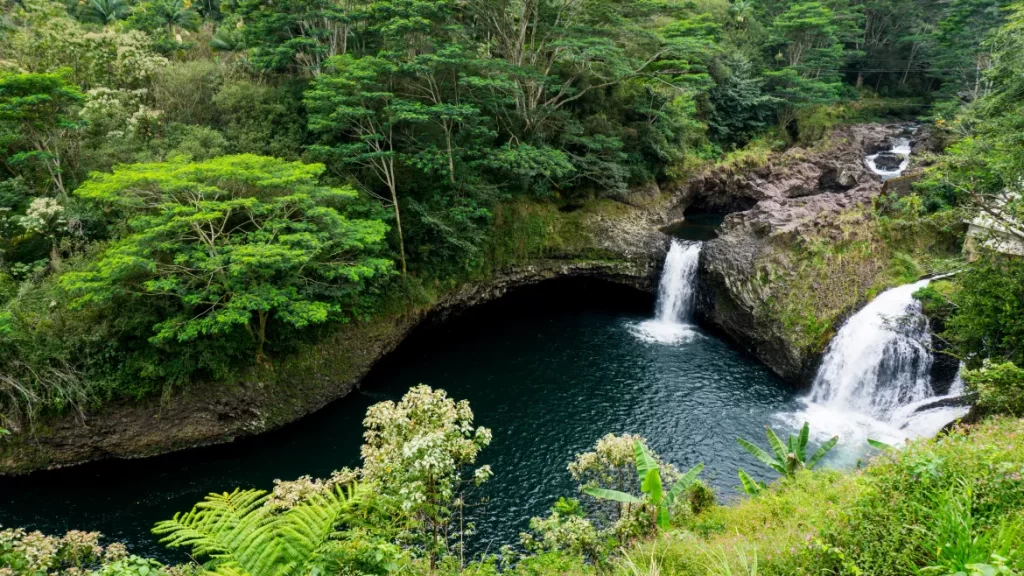 Lunch complete and the cars cleaned from their morning drive it was finally time to take possession of the LC500 and LC500h for a few hours, driving a prescribed route from Hilo back to the Four Seasons.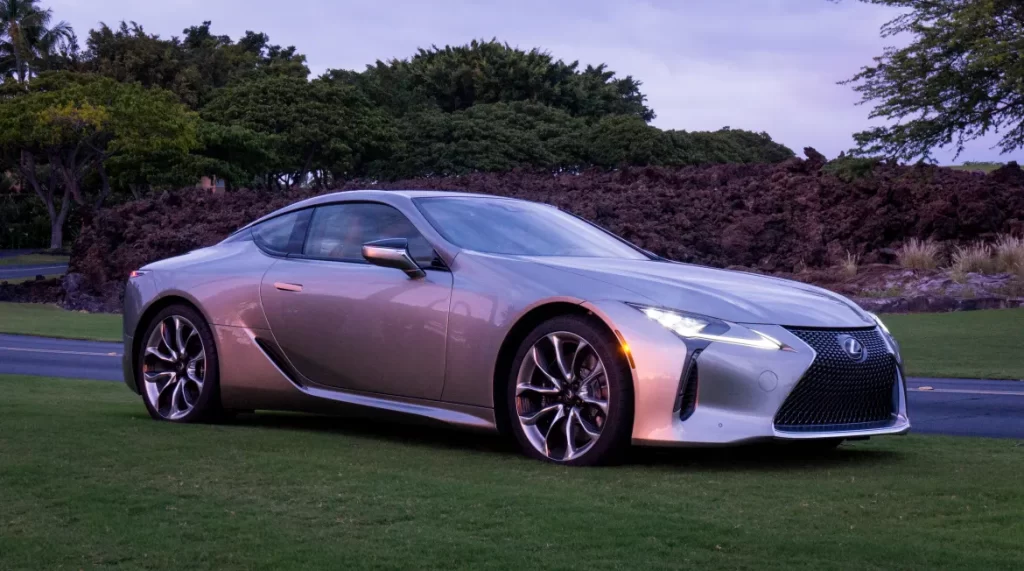 The first thing you notice about the LC is just how small and sleek it is. This is a good looking coupe, right up there with the Jaguar F-Type and Mercedes AMG. You will of course have to be a fan of Lexus' signature spindle grill, which while not my favorite front end of all time, works surprisingly well in this application. In fact, this may be the car the designers had in mind when they created it. The grill integrates nicely with the front headlamps which sweep up and out, the top line flowing smoothly into the shapely front quarter panel. Unlike many Lexus designs, simplicity is the watchword here, especially in profile. Devoid of the creases and folds that adorn the brand's SUVs, the LC500 feels both confident and elegant. The canopy tapers in the back accentuating the wide haunches, giving the car an aggressive feel from the back.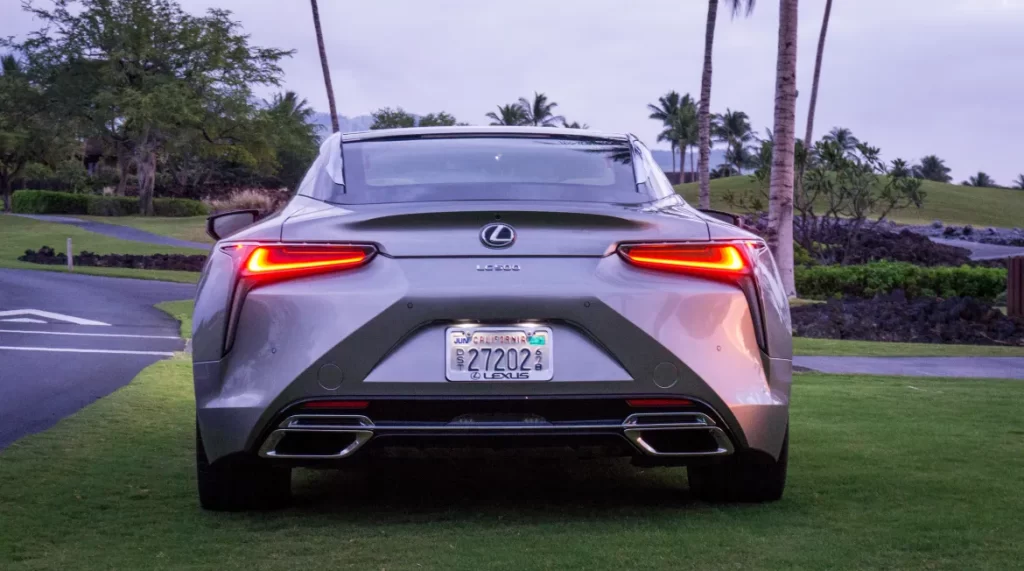 If there's any gimmickry on the exterior its the lighting. In front the auto-sensing headlamps nestled above the L-shaped running lamps, employ three LEDs that adapt as you drive. Say, for instance, you're flying down a country highway at night with your high beams on and a car crests the hill from the other direction. The driver's side headlamp will dim and lower, while the passenger side headlamp will continue to illuminate the roadside with full brightness. This helps you see any approaching hazards while reducing glare for oncoming traffic. In the rear, the tail lamps use mirrors to create an infinity effect for the lower LED running lights that mimics a fighter jet's afterburners.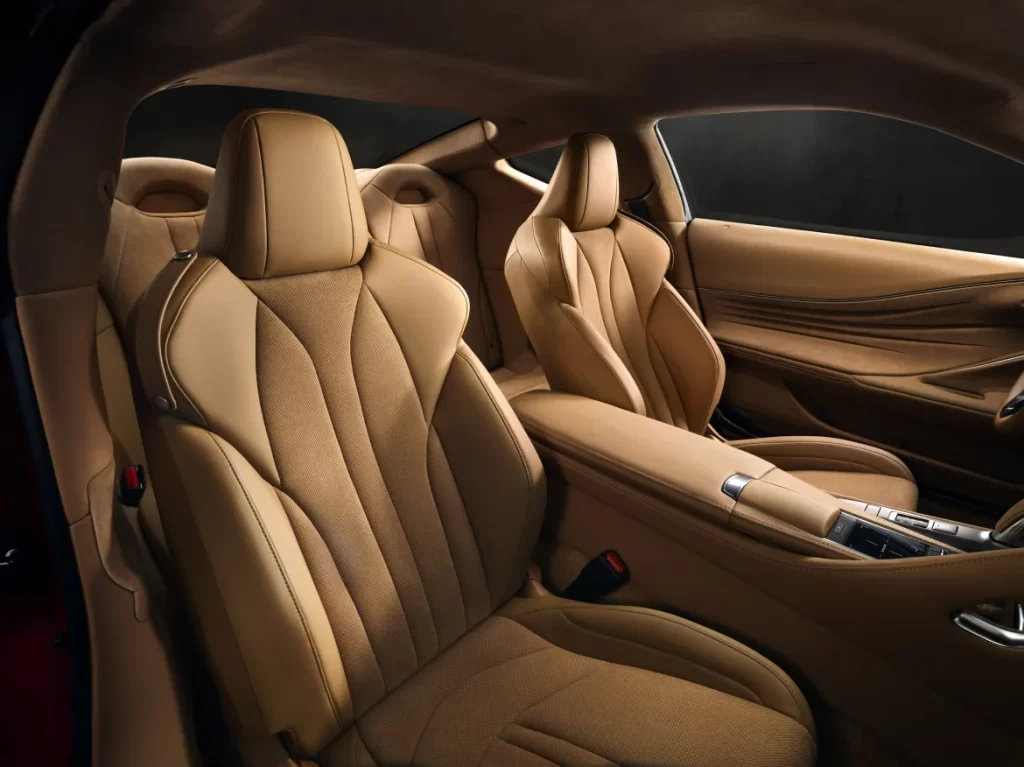 Inside, they nailed it as long as you're sitting in the front seat. The back seat as expected in a 2+2 of this size is for very young children, small dogs, and your overnight bag. You will need that space as the actual trunk is limited to just 5.4 cubic feet. The interior is driver-centric and features first-rate hand-sewn leathers, nicely draped Alcantara accents, brushed metal, and richly finished woods or carbon fiber trim, depending on the package you order. None of that is a surprise given Lexus' heritage, what did surprise me was how simple and focused the interior was. There are honest-to-god buttons on the center stack to get you to the important functions like the HVAC, audio, navigation, and telephone. Of course a multi-function steering wheel puts many of those same operations right at your fingertips. Where it all falls apart is car's touchpad interface for the infotainment system. It's difficult to operate when standing still and damn near impossible when the car is moving. On top of that it just feels cheap. It's so frustrating to see an interior that does so many things right, but completely whiff in this one area.
On the plus side, though, the optional Mark Levinson Audio compares very favorably to the best systems in the business. This optional 13-speaker premium audio system features Clari-Fi music restoration technology that enhances analyzes and improves the sound quality of compressed, digitized music sources like MP3s and satellite streams. Crank it up and there's almost no hiss or ambient noise produced by the cars amplifiers. Play it at low volumes and the full range of sound can be heard right down the the rumbling bass.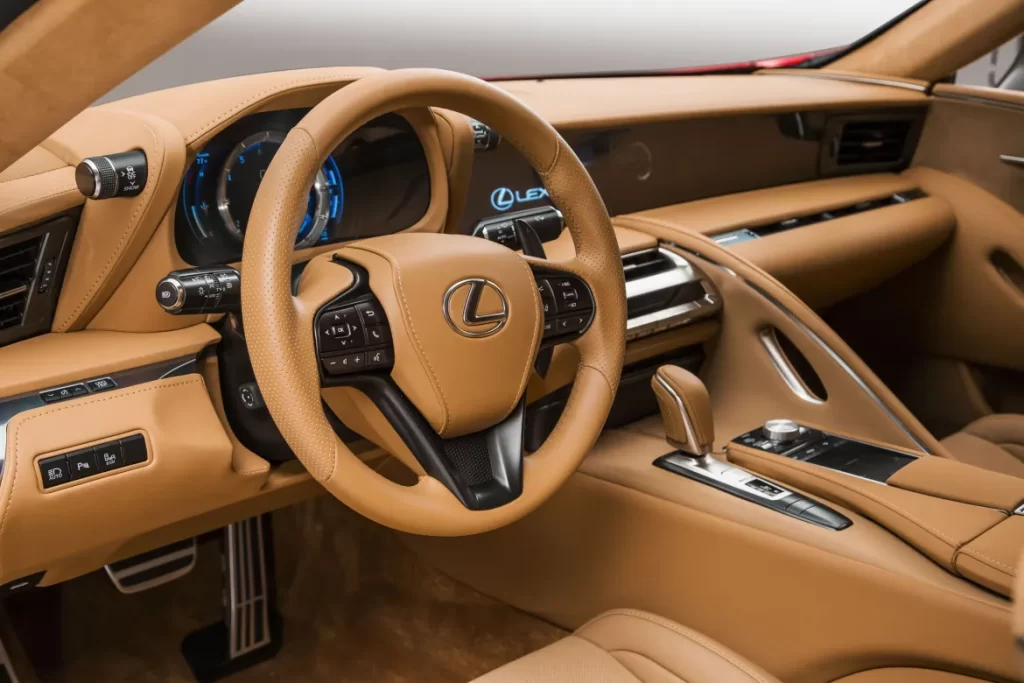 Lexus also did a lot of work on the driving interfaces. The optional heated and cooled sport seats in my car were comfortable and supportive, with leather bolsters and ventilated Alcantara seating surfaces keeping me firmly in place during the times when I found some clear roads and was able to push the envelope a little bit. The steering wheel is leather wrapped, heated and feels great. The magnesium alloy, wheel mounted paddle shifters are right where they need to be should you choose to shift the gears yourself. The drive mode select knob is easily accessible, extending from the upper right side of the instrument panel so you can change modes without taking your eyes from the road. All this beautiful design and engineering, however, is just a garnish to the LC500's main course. Its engine.
The internal combustion engine is a glorious thing.
It is especially glorious when it's massaged, tuned, and released in a package that inspires those of us who love to drive. The electric future is approaching, but in these waning decades of petrol power, I will revel in the sounds and sensory experiences a great engine generates. And let me tell you friends, the naturally-aspirated V8 engine that throbs beneath the hood of the 2018 Lexus LC500 is a thing of beauty.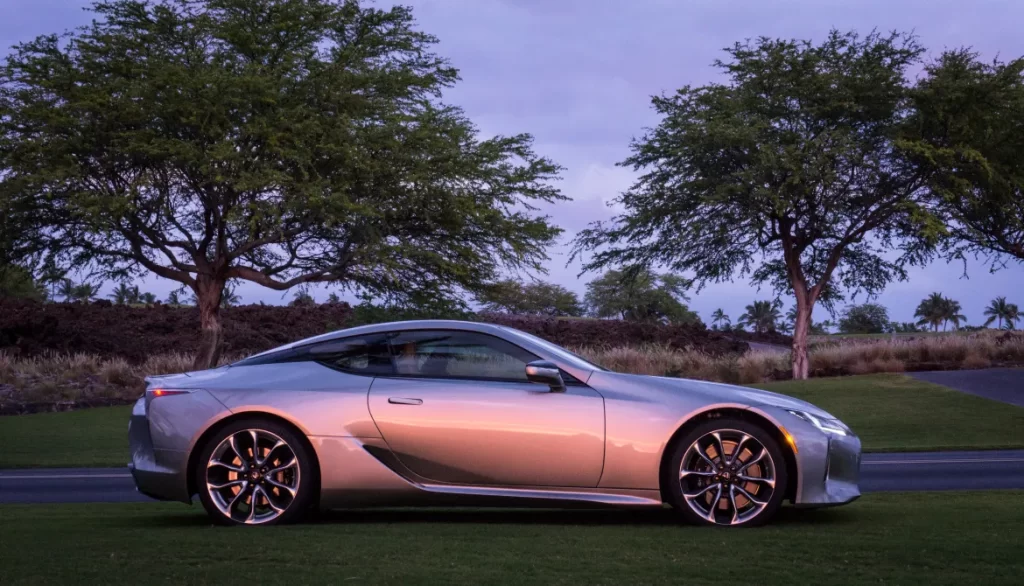 Is it the most powerful engine in its class? Not by a long shot. Is it the most efficient? Hardly. But in its own way its perfect, for both the car its mounted in, and those who should drive this machine.
Unlike many engines today, this 32-valve, high compression 5.0 Liter V8 is more satisfying higher in its rev range, developing peak horsepower at 7,100 RPM and hitting the top of its torque curve between 4,800 and 5,600 RPM. This means in order to really drive it spiritedly, you have to keep your foot deep into the accelerator. And you will want to, because the car's exhaust note is nothing short of spectacular. We're talking Shelby GT350 and Jaguar F-Type good here. In addition to going 0-60 in 4.4 seconds and reaching a top speed of 168 miles per hour, this Lexus screams, literally. Well maybe it roars. I don't know, you be the judge. Here's a video of a wide open throttle acceleration run I recorded at an undisclosed location with my microphone in the car's very small trunk.
Sounds good, right?
In part that's due to the variable valve timing and high compression ratio delivered by its direct injection system. It's also thanks to the active exhaust which opens up in sport mode, letting the engine spit fire. It also helps that in Sport+ mode the 10-speed automatic transmission delivers lightning fast shifts and holds the engine in its power band as long as you're driving it hard.
Handling is surprisingly nimble for this 4,200 pound coupe. With a front weight bias of just 54%, it's fairly neutral in high speed corners. Of course with all the electronic nannies in place everything stays right where its supposed to. Shut off the traction control and you'll be treated to lovely bit of oversteer that's easily controllable with the throttle and minor steering inputs. Sato-san was correct about the car's steering feel. There's none of the numbness you find in many electronic power assist systems of the day. It is speed sensitive, which means you can turn the car with one finger in parking lots, but have enough weight to help make high speed turns that much smoother. As Laura and I chased each other down a traffic-free mountain road late in the afternoon at speeds that certainly would have had us having to make a phone call to our hosts from the local sheriff's office had we been caught, it became increasingly clear how much work has been done on the LC500 to make it a credible high performance coupe, and just how right they got it.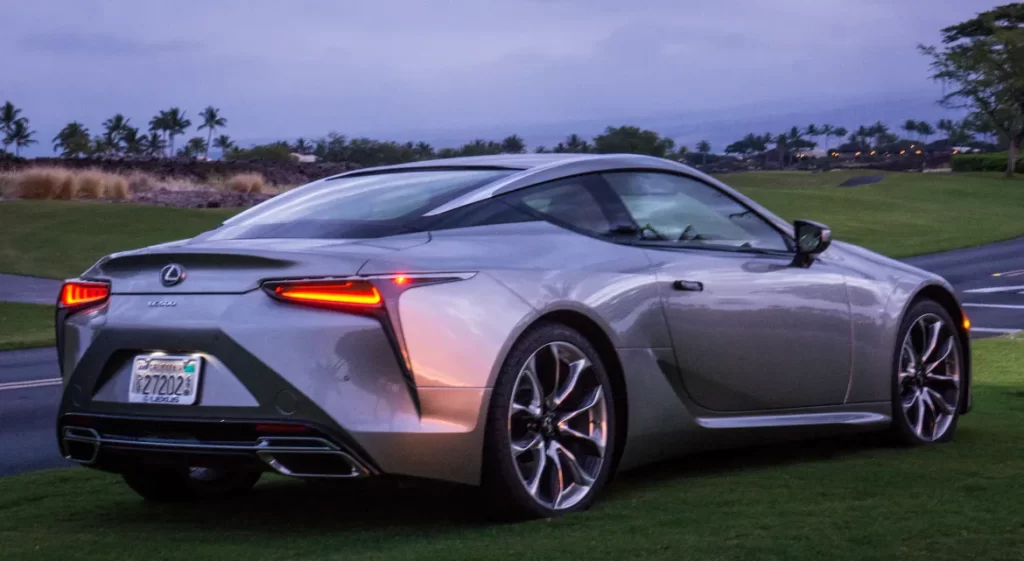 The LC500h, is a bit of a different animal. Clearly less powerful, but that doesn't always mean less fun. In this case, sadly it does. The V6 doesn't deliver the same aural thrills, and while 4.7 seconds 0-60 isn't slow, the car does feel sluggish even in Sport and Sport+ modes. Throttle response wasn't as crisp. The suspension just a little softer. Maybe if I hadn't driven the V8 first I would have enjoyed it more, but with extra weight and fewer ponies, what you get is a good looking grand tourer with very little room for anything other than you, a passenger, and a couple of overnight bags.
So after all the build up. All the hype. All the attempted bribery, how good is the LC500? It's so good in fact that Lexus could have saved a lot of money and had us drive the LC500 in Biloxi, Amarillo, Needles, or some other less than exotic location, and I'd still tell you I like this car very much. But hey, if they feel the need to launch cars like this in places like Hawaii, who am I to argue?
2018 Lexus LC500
2-door, 2+2 Sports Coupe
Base Price: $92,000
Price as tested: NA
Major options: Sport+ Package: Carbon fiber roof, 21-inch forged aluminum wheels, active rear steering, variable gear ratio steering, active rear spoiler, Alcantara headliner; Color head-up display, Mark Levinson Audio system, 10.3 inch display screen, limited slip differential, pre-collision system with pedestrian detection, dynamic cruise control, lane keep assist, intelligent high beam headlamps.
Engine: 5.0L 32-valve V8 with direct injection
Transmission: 10-speed automatic with manual mode and paddle shifters
Horsepower: 471 @ 7100 RPM
Torque: 398 lb.-ft. @ 4,800 – 5,600 RPM
Curb weight: 4,280 pounds
0-60: 4.4 seconds
Top speed: 168 mph (electronically limited)
EPA estimated fuel economy: 16 city/26 highway/19 combined
2018 Lexus LC500h
2-door, 2+2 Sports Coupe
Base Price: $96,510
Price as tested: NA
Major options: Sport+ Package: Carbon fiber roof, 21-inch forged aluminum wheels, active rear steering, variable gear ratio steering, active rear spoiler, Alcantara headliner; Color head-up display, Mark Levinson Audio system, 10.3 inch display screen, limited slip differential, pre-collision system with pedestrian detection, dynamic cruise control, lane keep assist, intelligent high beam headlamps.
Engine: 3.5L 24-valve V6 with a permanent magnet synchronous electric motor
Transmission: Multi-stage CVT and 4-speed automatic
Horsepower: 354 @ 6,600 RPM
Torque: 257 lb.-ft. @ 4,900 RPM
Curb weight: 4,435 pounds
0-60: 4.7 seconds
Top speed: 155 mph (electronically limited)
EPA estimated fuel economy: 26 city/35 highway/30 combined
www.lexus.com
While Lexus provided the vehicles and paid all travel expenses for this story, the opinions are 100% our own.