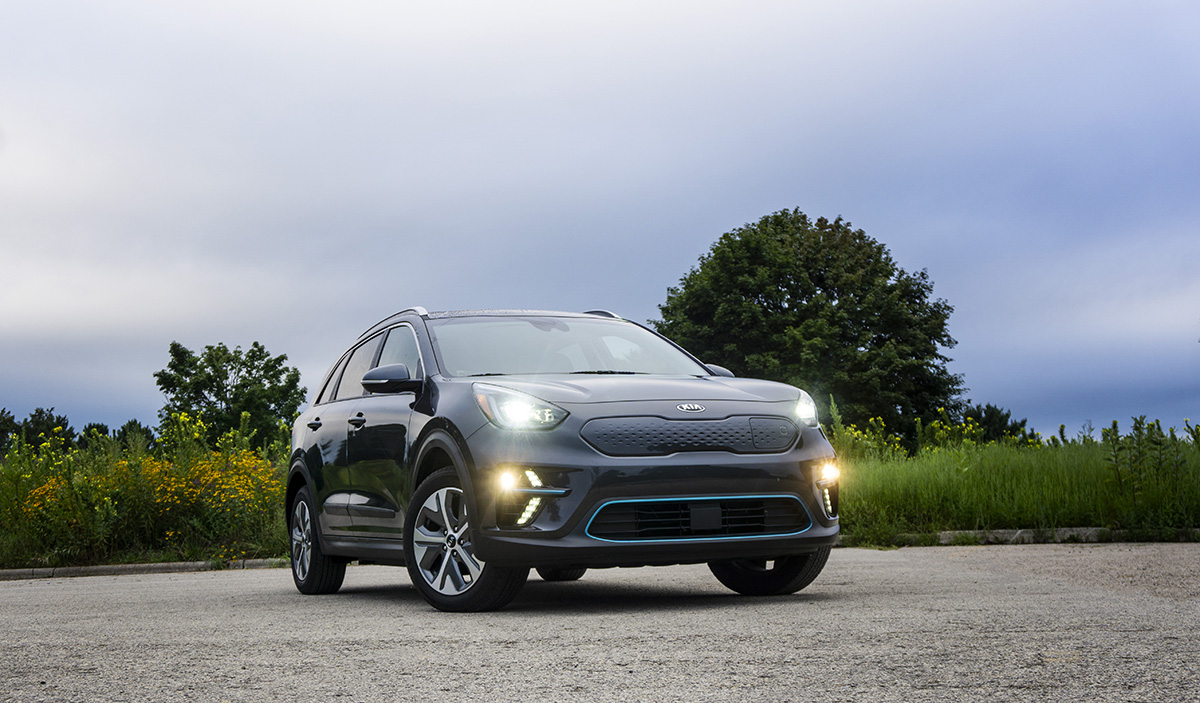 I left Madison around 4:00 headed to Chicago with the range gauge of the Kia Niro EV telling me I would be able to drive 310 miles. I found that to be curious since the EPA estimated range is only 239 miles. My destination was a meeting at the offices of Consumer Guide Automotive in the suburb of Morton Grove where I would be able to plug into a level 2 charger. Google told me the drive would be 286 miles round trip, so I was curious which was more accurate, Kia or the EPA. Either I'd be cutting it maddeningly close or I'd make it without breaking a sweat after adding about 40 miles of charge during my two-hour meeting .
About now, I'm sure your saying, "Not again. Did that idiot didn't run out of juice like he did with the Zero motorcycle?" Nope. I'm proud to say this time my EV road trip had a happy ending. I arrived home around 11:00 that evening with more than 75 miles of range left in the Kia's liquid-cooled, lithium ion battery. Apparently Niro EV's range projection is more realistic than that of most other EVs I've driven. Either that or I'm getting better at driving electric. I think it's a little of both.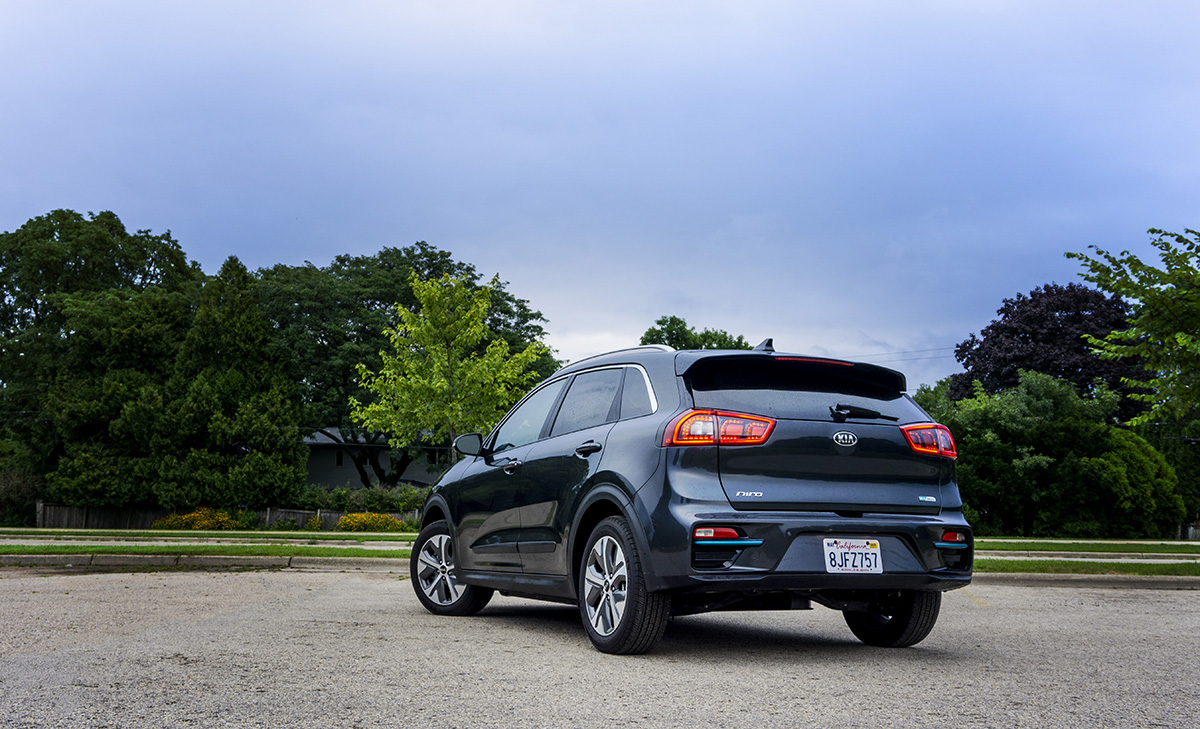 Driving and living with an EV is different from a car fueled with dead dinosaur juice. You can't just go and assume you can fill up anywhere along the way. First of all, the charging infrastructure is still being built. Currently, there are over 20,000 charging stations with 63,303 public combined Level 2 and DC fast chargers around the country. That sounds like a lot, but they're not always where you need them to be. And, when compared with over 110,000 gas stations with at least four times that many pumps, you can see the disparity.
The other issue is the time it takes to refuel versus recharge. Running low on gas? In about five minutes you can be back on the road with all the range your car will give you. Depending on what you drive, that's anywhere from 300 and 450 miles before stopping again. If you're driving an EV like the Niro, you can get 80% of your battery range back in about an hour using a DC Fast Charger (of which there are exactly zero on the route from Madison to Chicago). That's about 190 miles if you follow the EPA estimate.
Driving an EV takes two things, planning and patience. First off, I don't have a Level 2 charger at home so I can only add about 10 miles of range per hour using a standard 110v outlet. That's okay if you plug it in overnight. Eight hours will cover most peoples' commuting distances. But were I to own an EV, I'd definitely have a Level 2 charger at home. The other thing you need to have is an account with one of the large charging networks like Chargepoint, EVgo, or one of the many regional networks.
Using one of these apps on your phone makes charging easy. You can set the amount of charge you want, plug your car in, then go grab a cup of coffee and get some work done. The app will alert you when you're juiced up. Charge costs vary widely depending on your electric rates, the type of charger you use, and the time you charge.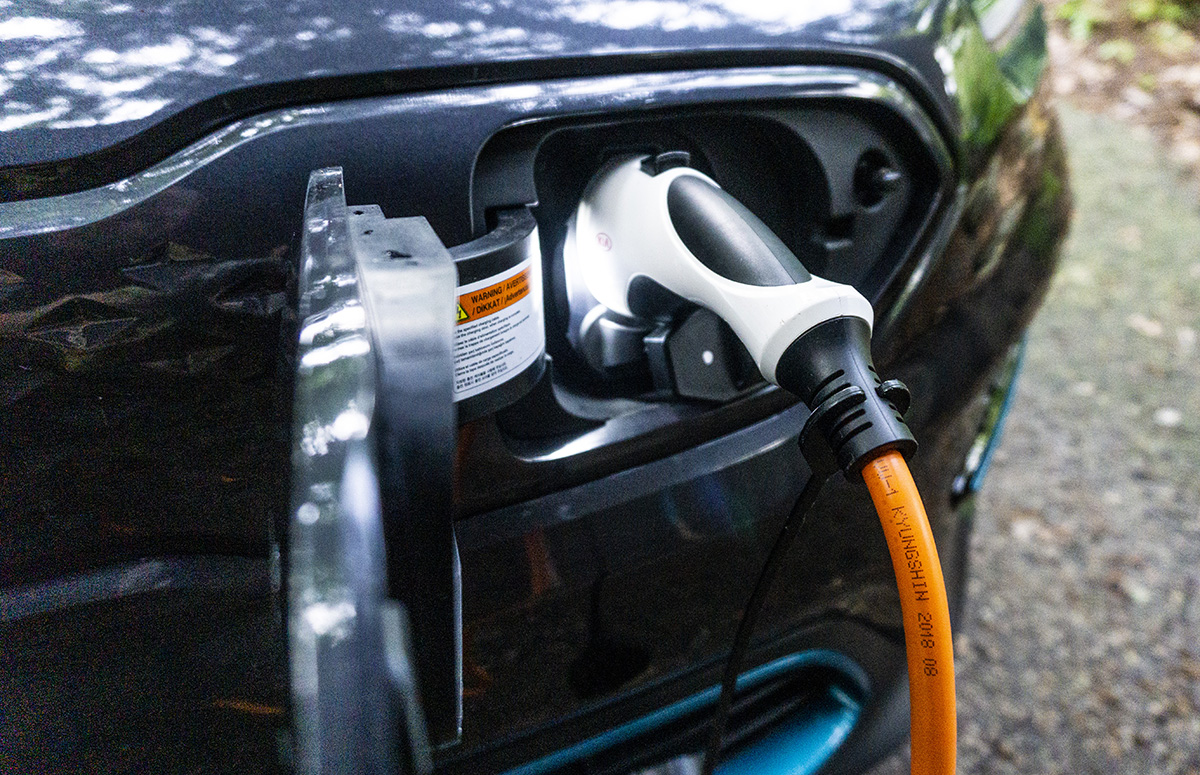 By now I've driven enough EVs (Chevy Bolt, Hyundai Ionic, Nissan Leaf, Jaguar I Pace, and Zero SR) to know what to expect… which is why I found the Kia so surprising. EVs are a great compromise as manufacturers balance the expense of battery capacity and range with amenities. On one hand, you have the expensive Jaguar offering a lot of luxury and features, but middling real-world range. Then you have the affordable Bolt which can go further, but feels every bit a stripped down Chevy. Somehow, the Niro EV EX Premium I tested does a great job of delivering all the range without feeling like you're giving up a comfort and convenience for a tick over $45,000. Granted that's a $15,000 premium over a similarly equipped gas-burning Niro, but it's about the same as a loaded Leaf or Bolt – and true to Kia form, it feels like a lot more car for the money.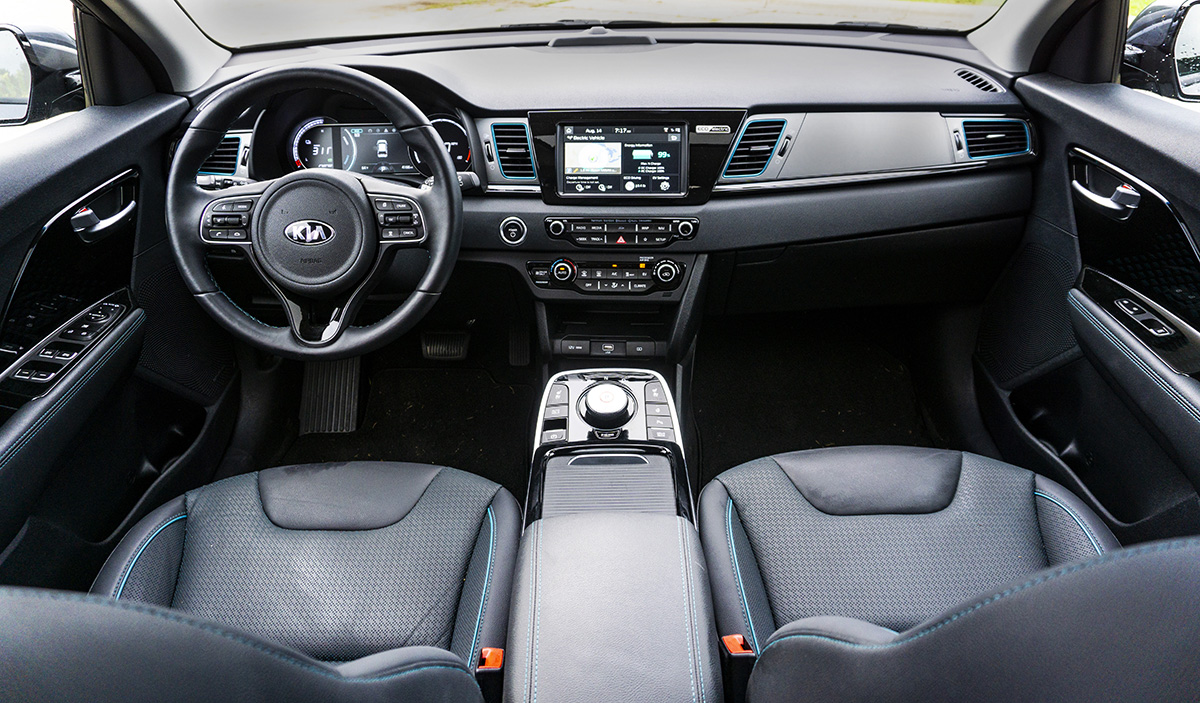 From a technological perspective, the Kia comes with DC fast charging capability standard. Niro's 64 kWh, 356 volt battery powers a 201 horsepower permanent magnet synchronous motor that delivers 291 pound-feet of torque between 0 and 3,600 RPM. LED lighting all around is also standard.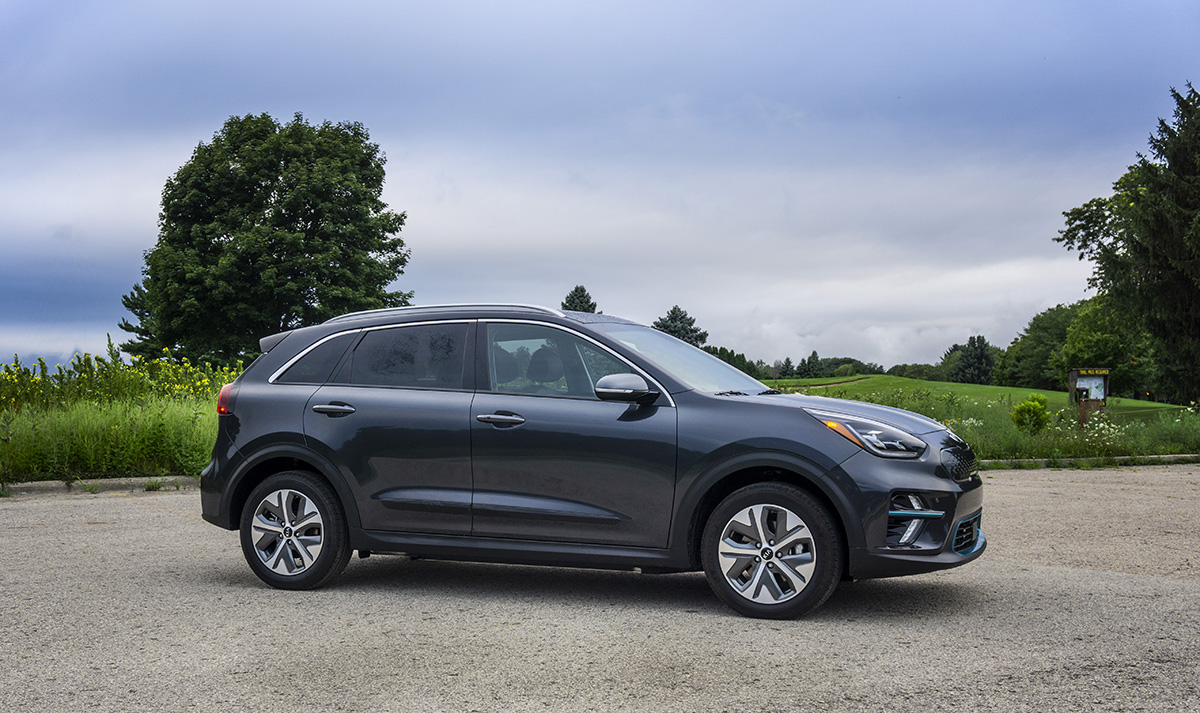 Its exterior is handsome. Nothing tricky or gimmicky, just a solid design that signals EV with the use of electric blue trim. Inside, the theme continues. There's nothing spectacular here, but it's all really good. Comfortable seats covered in well-tailored leather trim with contrast stitching and piping.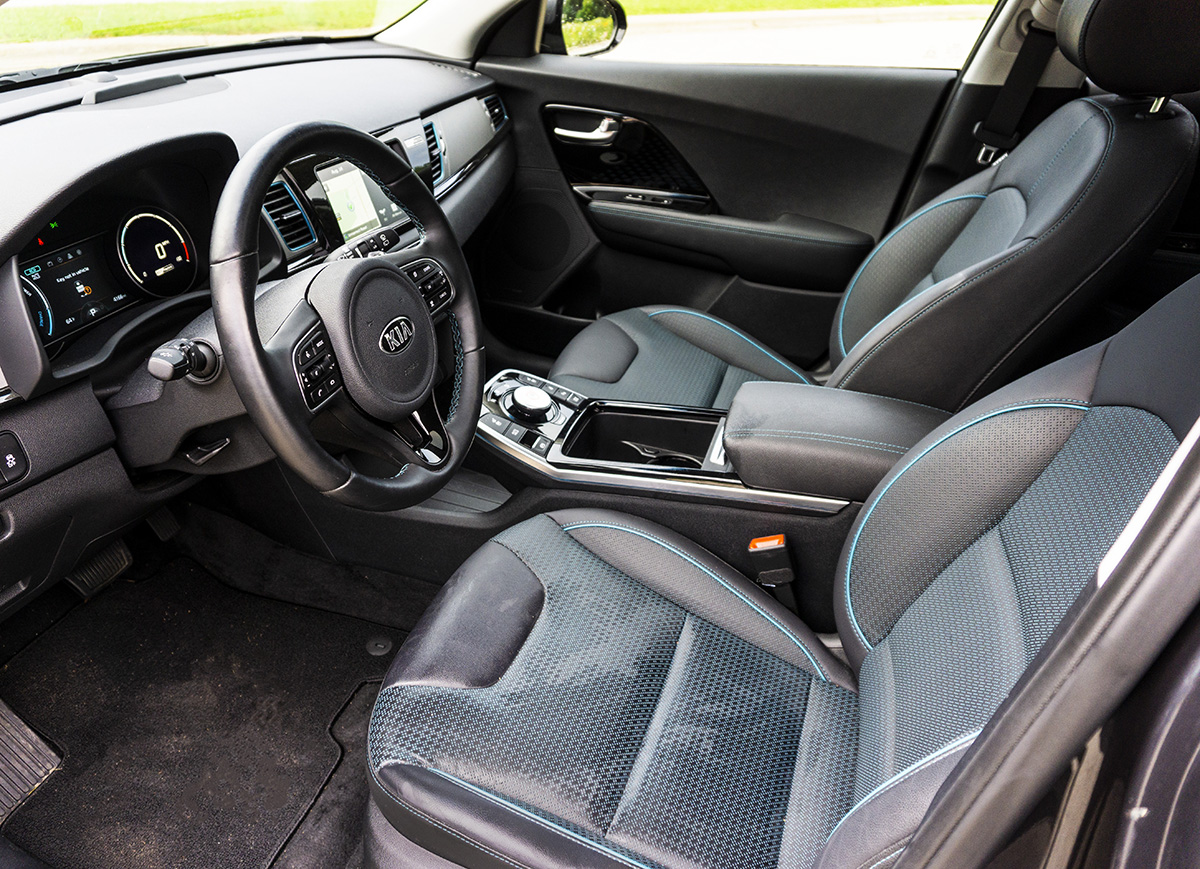 The rear seats offer plenty of legroom for full-size adults and plenty of versatility with their 60/40 split folding configuration.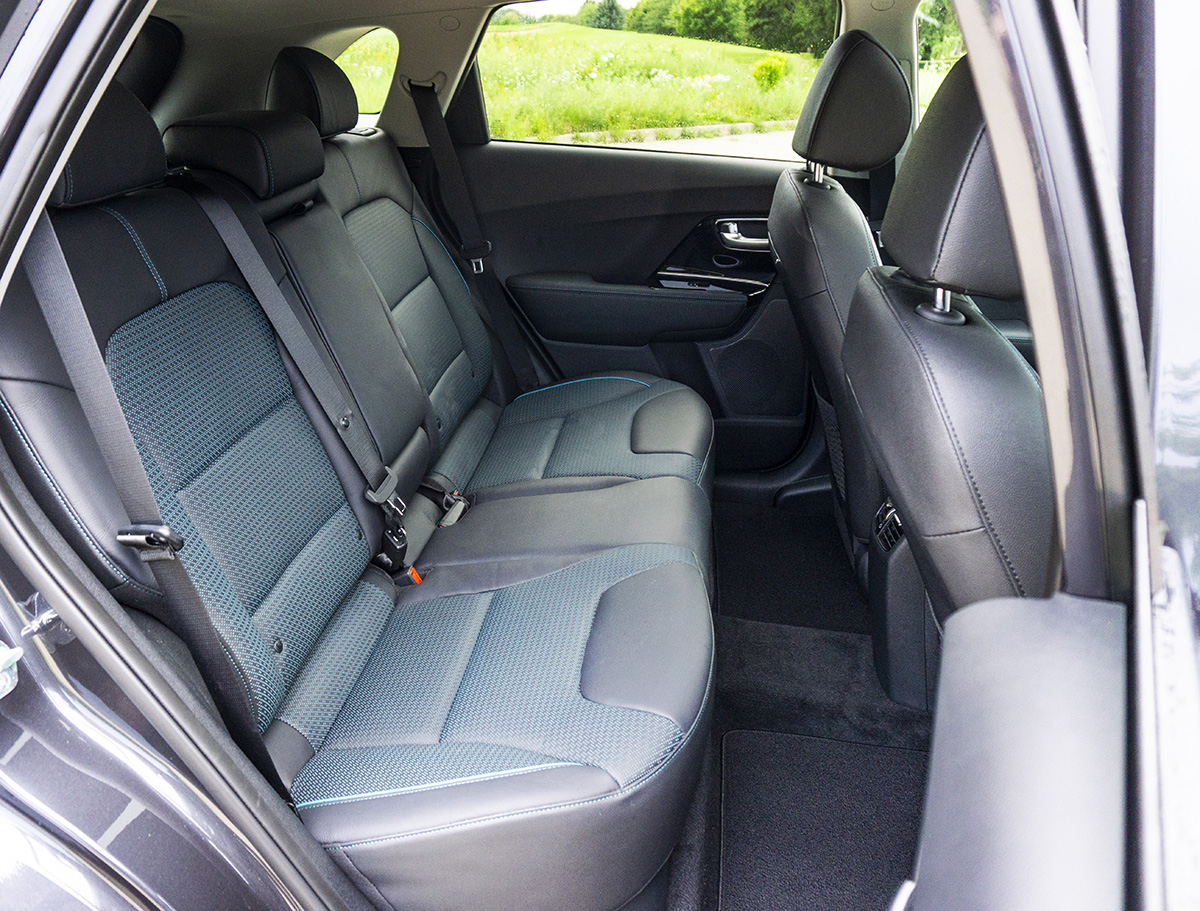 The infotainment system continues to be a strong suit for Kia with a well thought out user interface. Its eight-inch display is controlled by a proper mix of buttons, dials, and touch screen, to make getting to your desired functions easy. The information is displayed with clear, crisp graphics. Especially handy is the Navigation display with a function that helps you locate charging stations near you or along your route. Of course, you can use Apple Carplay or Android Auto, and Kia's UVO app system also increases the functionality.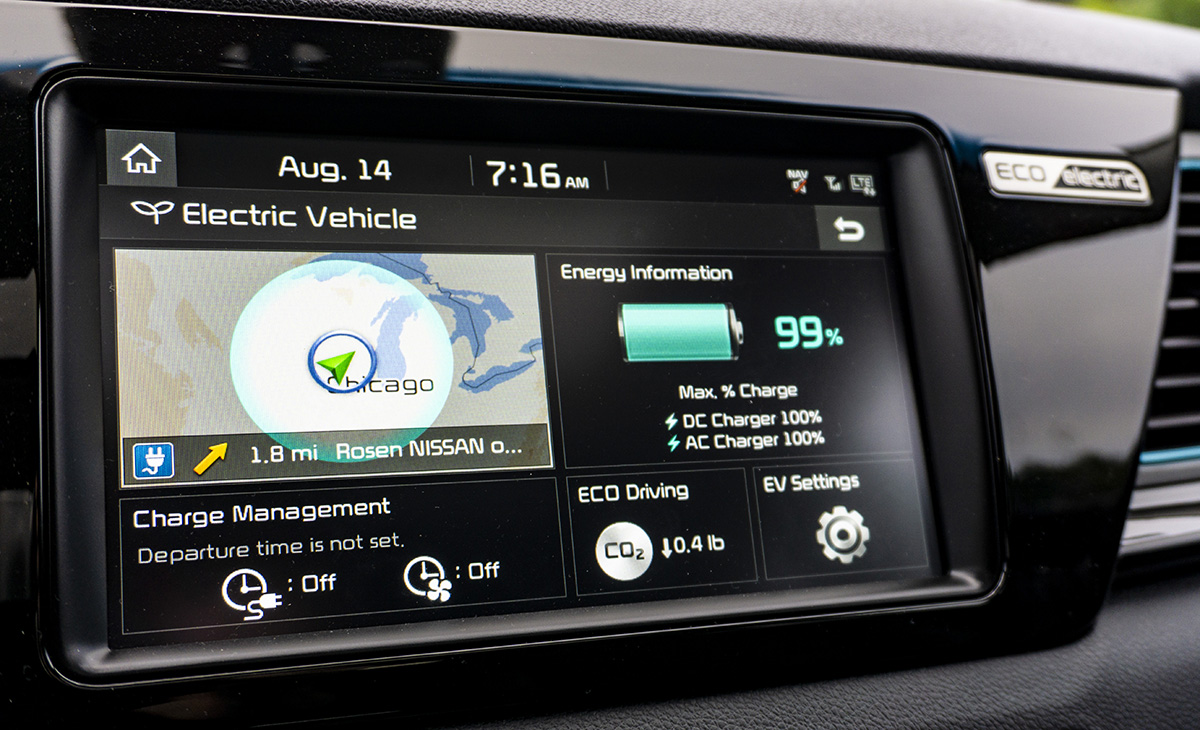 On the road the Niro EV delivers a premium small car experience. The ride is surprisingly sophisticated with a fully independent suspension featuring MacPherson struts up front, a multi-link unit in back, and twin tube shocks. Steering is light, but direct with solid on center feel and when you mash the throttle calling on all the power and torque the motor can muster, there's very little torque steer as you rush from 0-60 miles per hour in a very respectable seven and a half seconds. This isn't, pin-you-back-your-seat, retina-detaching ludicrous mode. It's quick enough.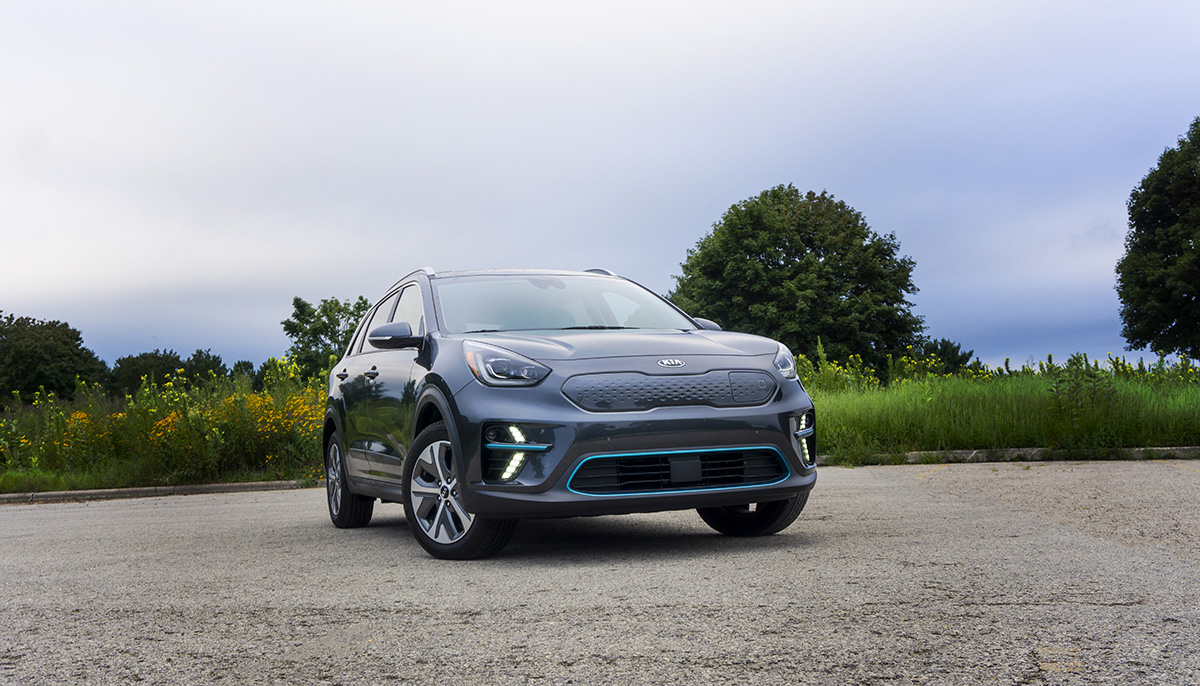 The other benefit of EVs is how quiet they are. At speed there's no engine noise, just the rumble of the tires and the rush of the wind around the glass. On long drives, it's pleasant and helps reduce fatigue. When you're cruising around town, Niro EV emits a futuristic whirring noise to let people know you're coming. It's a little Jetsons like and that's just fine.
It's always nice when a car exceeds your expectations and Kia seems to do that consistently these days. The Niro EV is no exception. Of all the EVs I've driven in the past 12 months it's the one I'd recommend most highly. It does the best job of blending efficiency, range, comfort, driving engagement, and technology in a package that falls on the more affordable end of the scale. It bodes well for the future of EVs.
2019 Kia Niro EV Premium
Four-door, five-passenger, electric compact hatchback
Base Price: $38,500
Price as tested: $43,500
Motor: 356 Volt permanent magnet synchronous electric motor
Transmission: Gear reduction unit
Power: 201 horsepower @ 3,800-8,000 RPM
Torque: 291 pound-feet @ 0-3,600 RPM
Curb weight: 3,854 pounds
0-60 MPH: 7.5 seconds
EPA MPGe: 123 city/102 highway
EPA Range: 239 miles