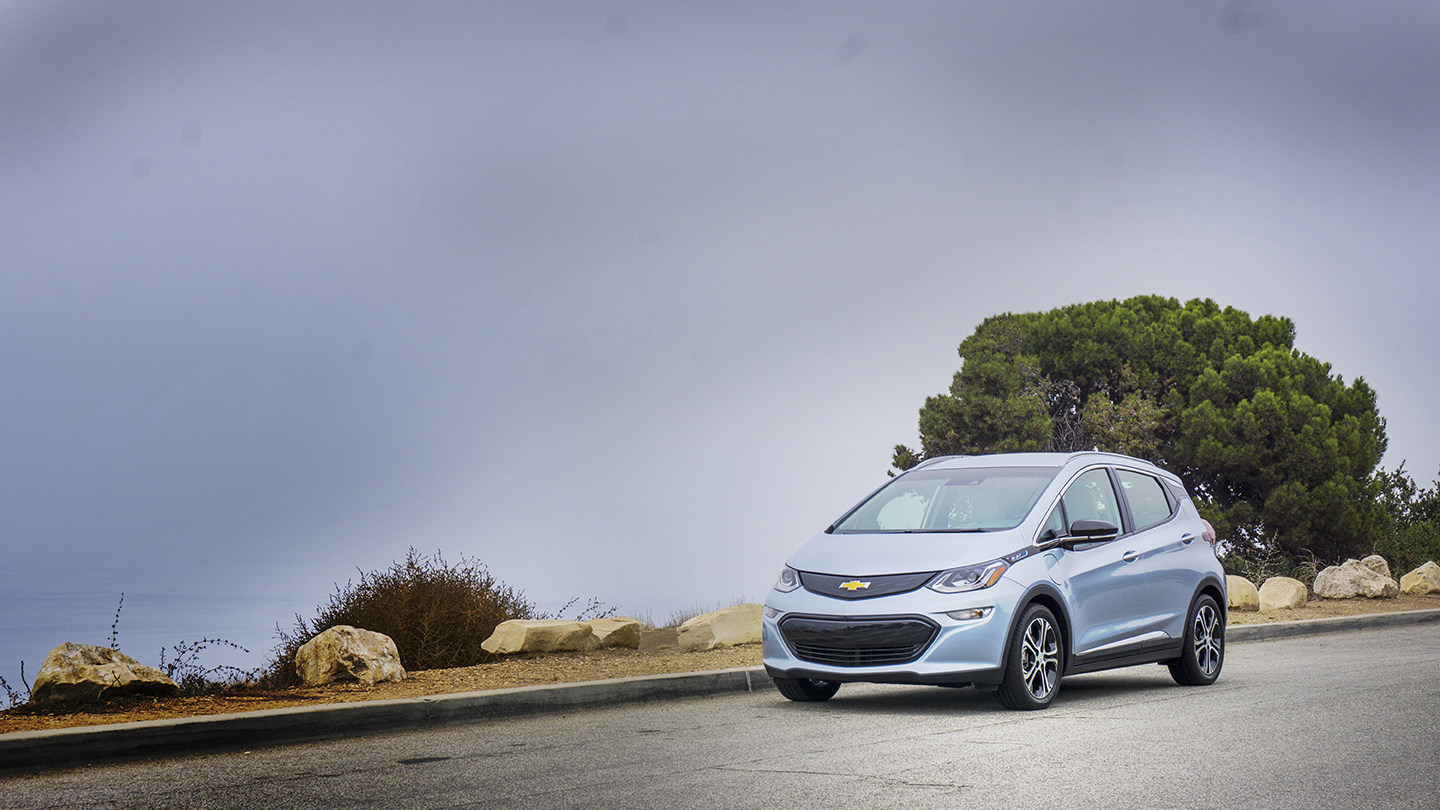 It was a beautiful morning in Los Angeles as my brother, his wife and I piled into the 2017 Chevy Bolt for a Sunday drive. Our destination was Studio City, but we would go by way of Palos Verdes with a quick stop at In-N-Out, because, well because I was in California and I can't visit without having a Double-Double, fries, and a chocolate shake. Overall the round trip which began in Marina del Rey would cover over 100 miles of urban streets, interstates, and boulevards to determine whether the Bolt is worthy of the praise it's received for both range and overall drivability. In addition to the obligatory In-N-Out stop, we'd hit the beach, spend the afternoon seeing one of the entertainment industry's biggest stars rehearse for one of network television's most popular shows, and finally enjoy a family dinner at an LA institution, The Border Grill. The Bolt, after all, was designed for LA and this day trip would determine whether it had accomplished that mission.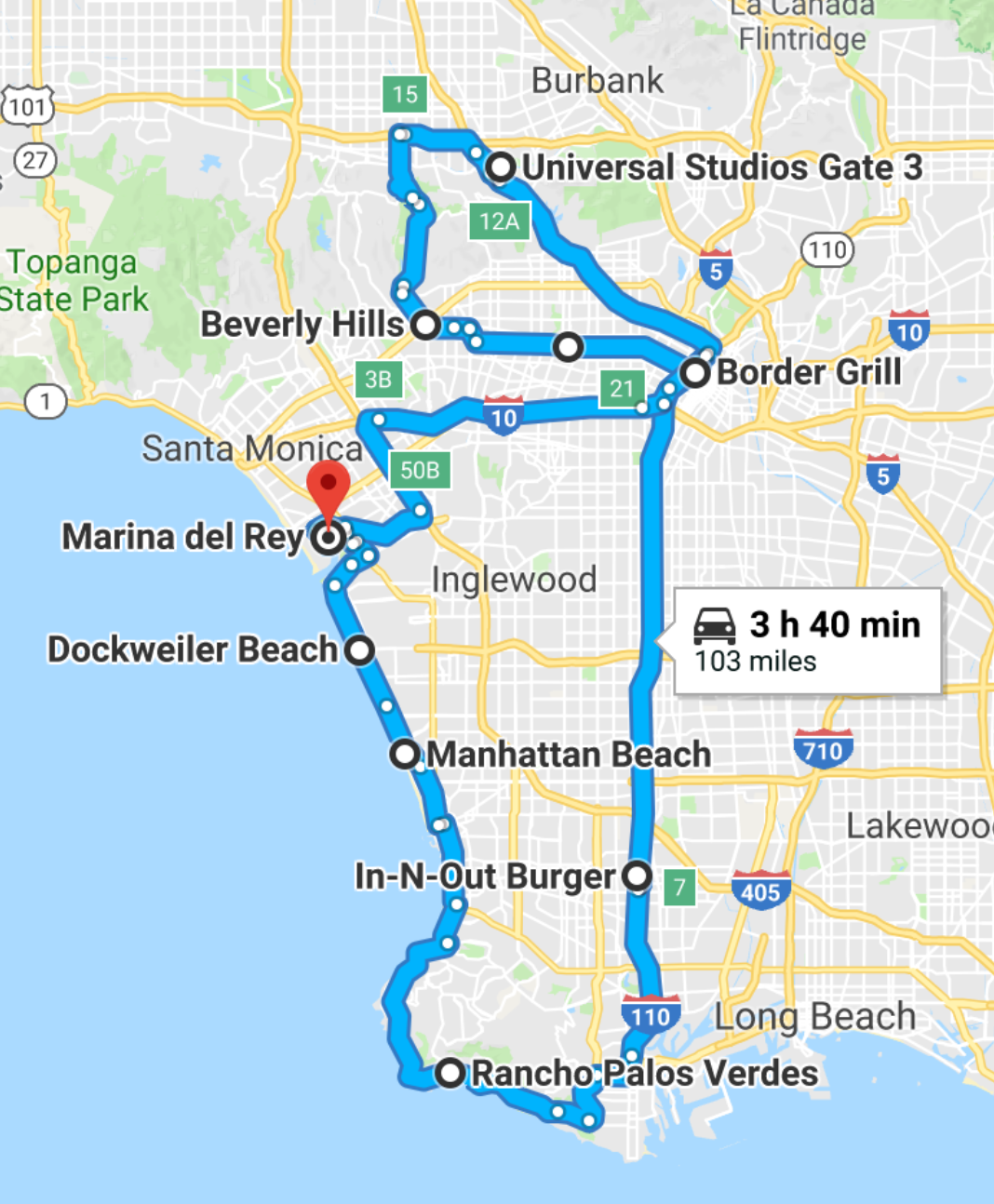 When most people think of the perfect LA car, they usually picture a high performance, luxury convertible like a Jaguar F Type SVR or Ferrari California T. If you've ever spent any time in LA traffic, however, you know those people are wrong. Driving in LA is about as much fun a performing a do-it-yourself vasectomy. Thus, in LA piloting a car designed to go fast is the equivalent of serving kobe beef to a vegetarian, a complete waste of money. LA traffic is impossible to negotiate without a police escort (as I discovered a few days later) and the highest gas prices in the continental U.S. mean filling your tank requires a home equity line on your Malibu beach house.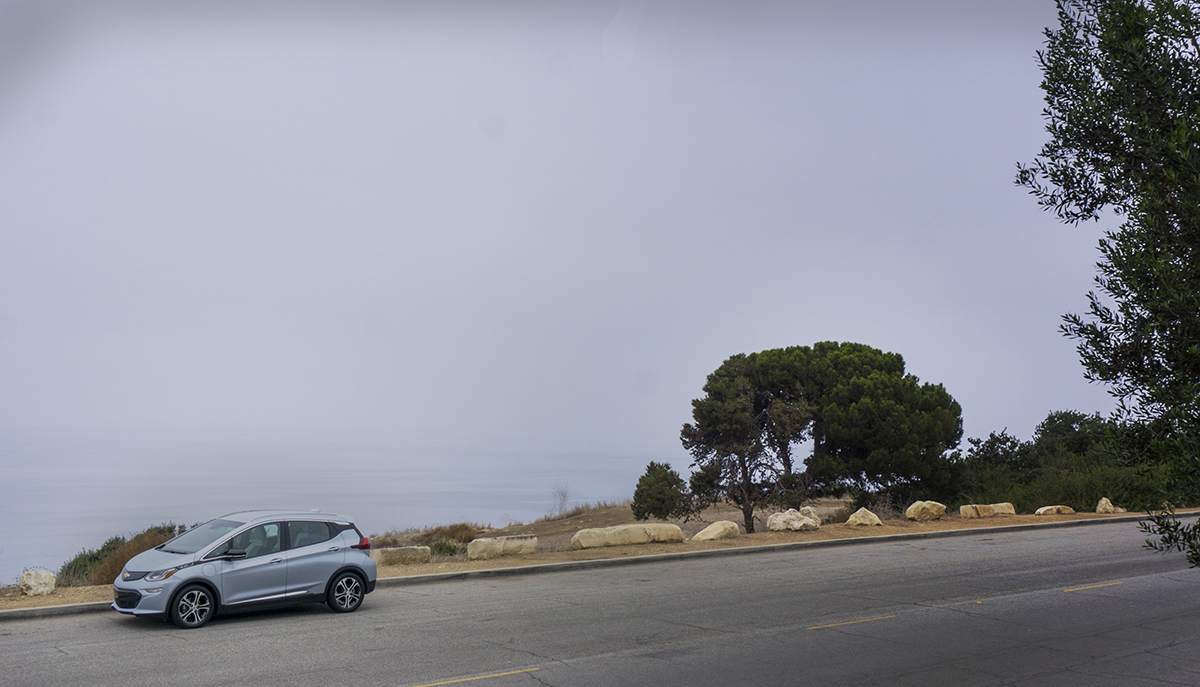 So it was with a nearly full charge on the Bolt's 60 kWh battery, we headed south along the Pacific coast under a moody gray sky thanks to the marine layer which hung around until late morning. Driving in stop and go traffic, I took the time to experiment with the Bolt's one pedal, regenerative braking system. Simply put, regenerative braking is a way to capture energy that would otherwise be wasted when you slow the car. With the car in low the motor becomes a generator when you lift your foot completely off the accelerator. The resistance from the motor is strong enough to bring the car to a complete stop in a reasonable distance without touching the brake. It takes some getting used to, but it wasn't long before I was gliding silently to a stop at lights along our route. Chevy says using this system – which also has a regen on demand paddle on the left behind the steering wheel for use when the car is in Drive – can add up to 5% to the car's range in typical city traffic.
Regenerative braking isn't the only thing that's different about driving a Bolt. The silent operation of the electric motor changes the experience significantly as well, no longer having to talk over the buzzy four-banger you find beneath the hood of most compact cars. There's also the fact that every one of the Bolt's 266 lb.-ft. of torque is available nearly 100% of the time, so acceleration is immediate no matter what speed you're traveling. From a dead stop 60 miles per hour comes up in just 6.5 seconds, which surprised the guy next to me in his BMW 320i.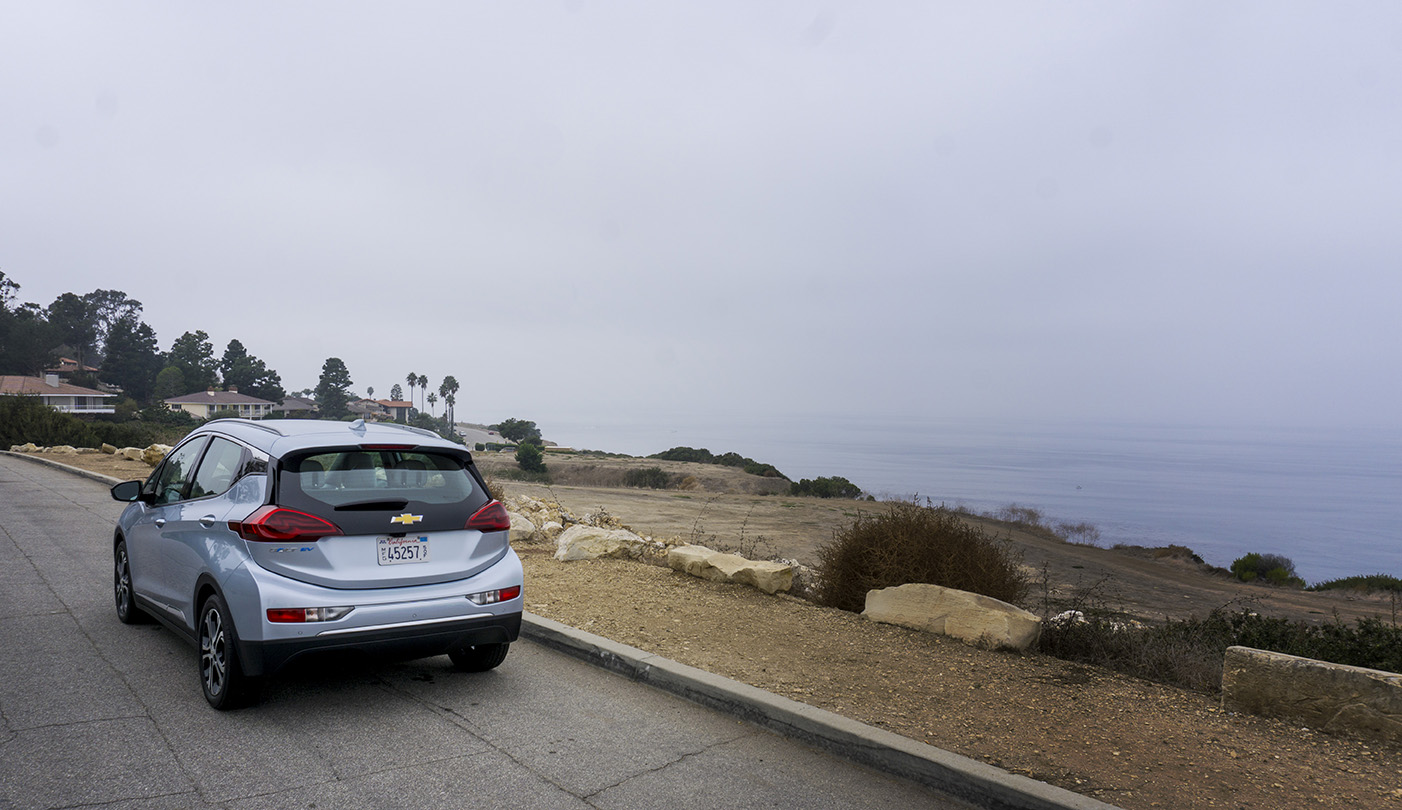 Unfortunately the weather wasn't perfect for time at the beach. So after stopping briefly at Palos Verdes to grab a few quick shots and wander down to stick our toes in the water, we slid back into the car and searched for the location of the most convenient In-N-Out Burger on our way north to Studio City. This took us through town and over to the 110 where I was able to first drive the Bolt for a few miles at highway speeds. Road and wind noise weren't excessive, but without the sound of an internal combustion engine in the mix they were noticeable.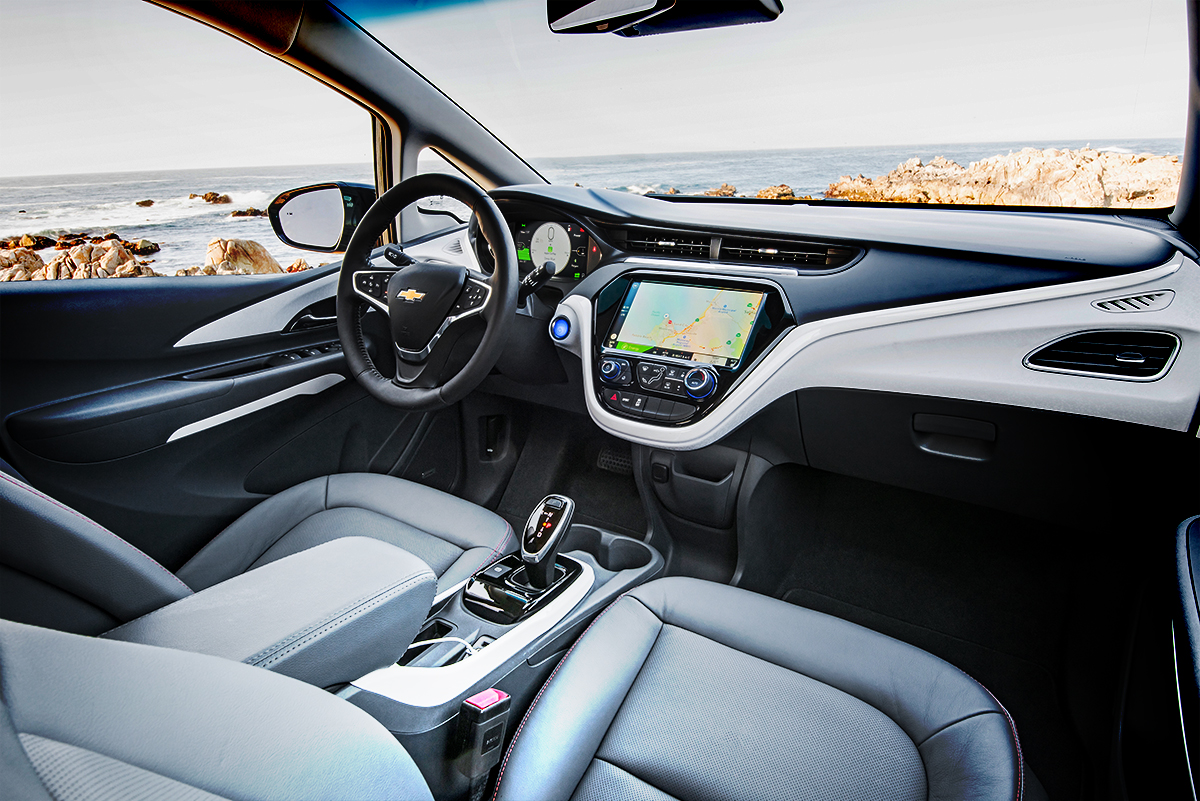 My Bolt was decked out in Premier trim with the optional Driver Confidence and Infotainment packages. These along with DC fast charging pushed the sticker price to more than $43,000 which even after deductions for all the available tax incentives feels like a fair piece of change. For that change you get a lovely 10.2-inch diagonally mounted touch screen on the center console (take that Tesla), Android Auto, Apple Carplay, Sirius/XM radio, OnStar's basic plan, heated leather-trimmed seats front and rear, a heated leather wrapped steering wheel, and a configurable 8-inch instrument panel. The Premier trim includes blind spot warning with lane change alert, but you have to add Driver Confidence package to get the most advanced safety features like forward collision alert, lake keep assist, autonomous emergency braking, pedestrian detection. Adaptive cruise control is not available even as an option.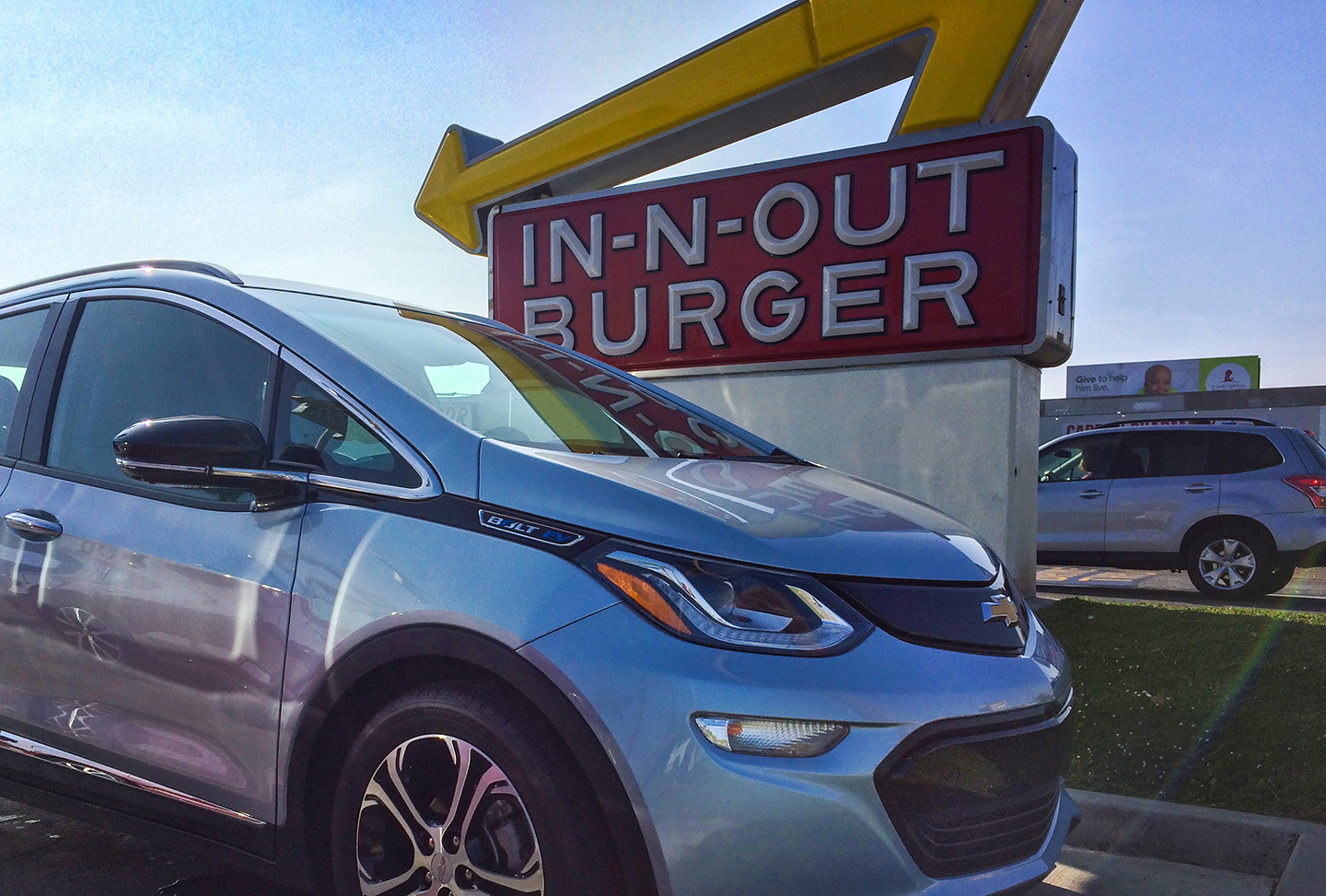 We pulled into the In-N-Out parking lot a little after noon and though it was crowded we were able to score rock star parking for our little electric sled. I know there are those who sing the praises of their burgers to the highest mountain. While I certainly enjoy them, they are not in my opinion (for the five of you who may not have had one yet) life changing. Sure, when compared to a McDonald's double cheeseburger, it's like the difference between a Mercedes S Class and a Toyota Corolla. I know I'm committing burger blasphemy, but I'll go out on a limb and say that an In-N-Out burger is not better than those that come fresh of the grill from my other favorite regional chains, Culver's and 5 Guys. Some day we'll have to do a taste test to either prove that hypothesis or change my mind, but until that day, I'll stand by my words.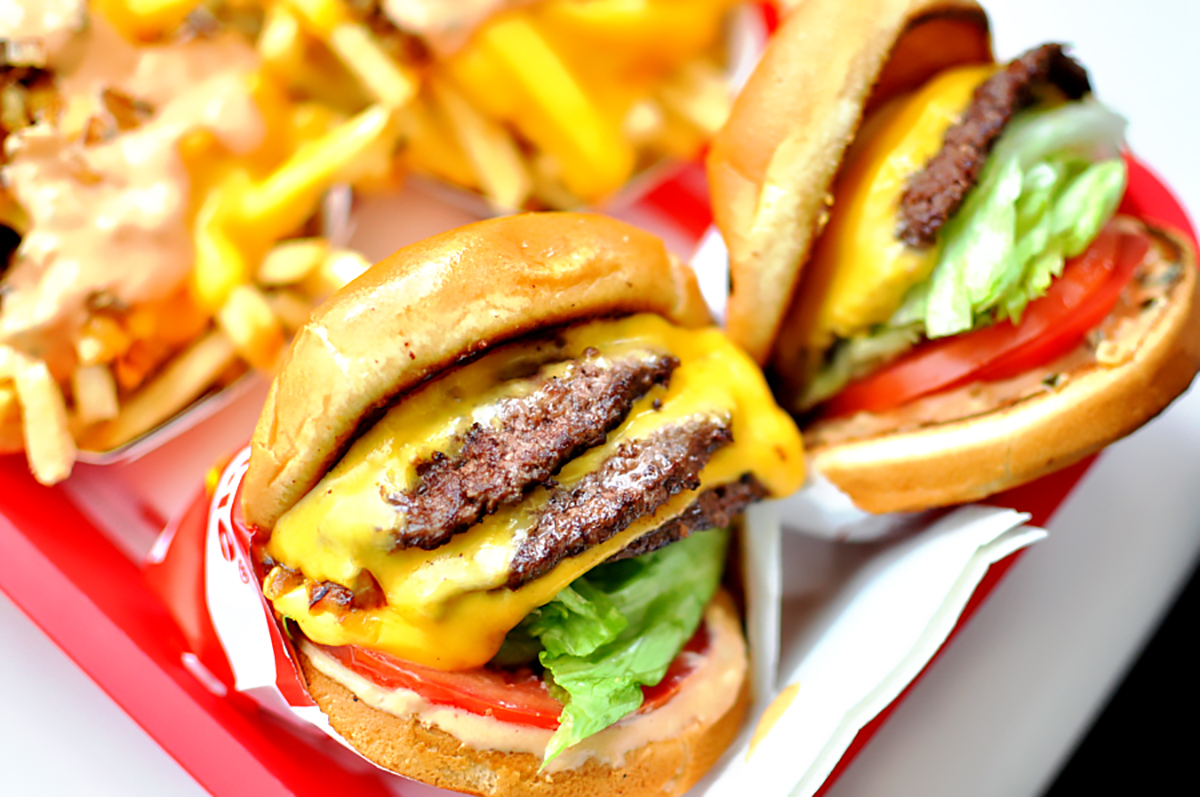 Back in the car, it was more freeway time up to Studio City in traffic for LA that I'd consider light. Still there was enough lane changing, accelerating to pass, and braking for an overloaded old Ford F-150 that I swear was propped for a reboot of the Beverly Hillbillies. What you appreciate in traffic like this is the expansive greenhouse. Visibility is excellent allowing you not only to enjoy the scenery, such that it is, but also see traffic hazards before they show up in the car's sensors. Another thing you appreciate the more time you spend in the Bolt is the sheer volume of its interior. This is a small car. It's more than four inches shorter than a Mazda CX-3 (a similarly packaged hatch) yet it has 8.1 more cubic feet of interior volume and over an inch and a half more rear seat legroom. You won't confuse it for a limo, but there's enough room in the Bolt for four full-size adults, even if one of those (your faithful editor) eclipses 6 foot 3 inches in height and weighs a few donuts over 200 pounds.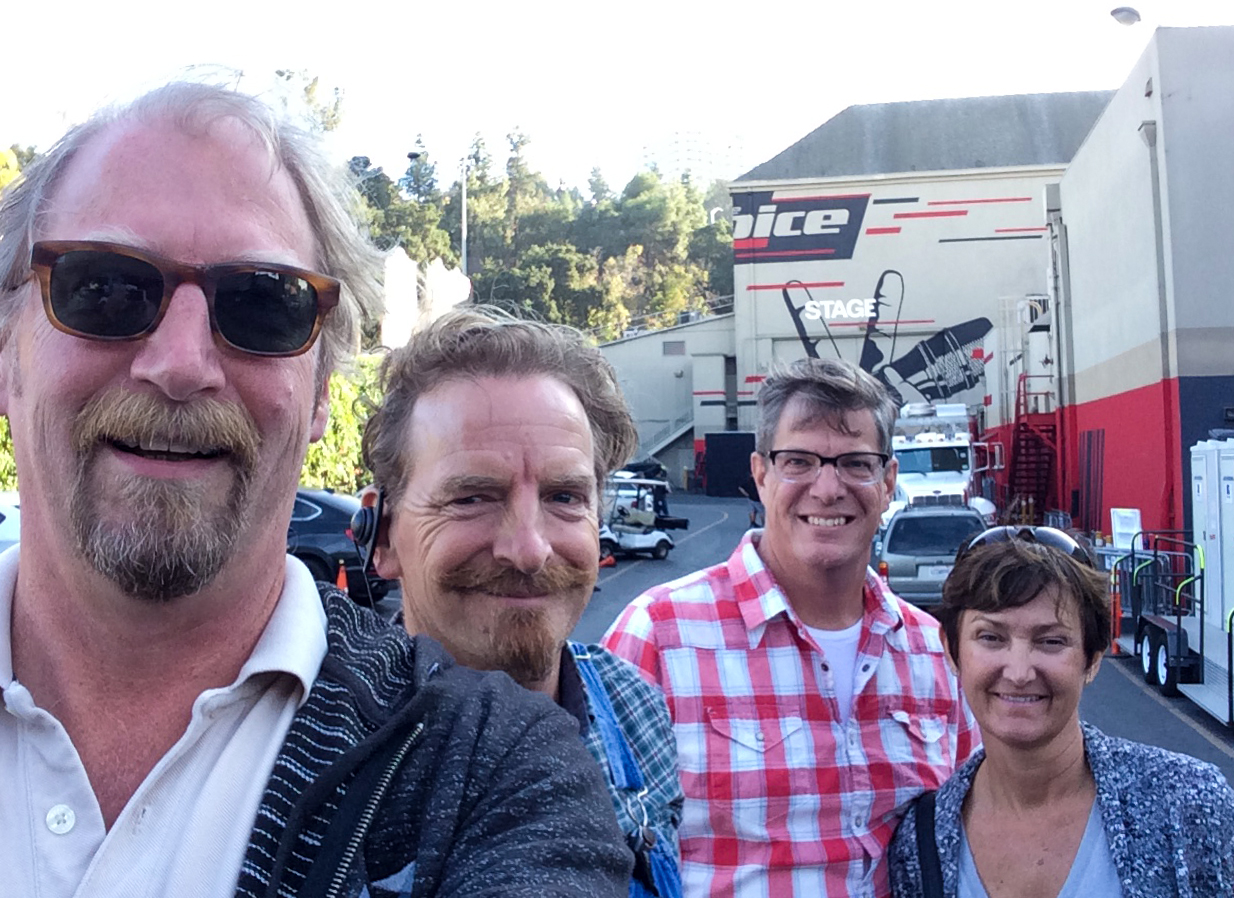 We pulled into gate three at the NBCUniversal lot, picking up passes that gave us access to the Jack Foley Stage where they were rehearsing for Monday's live airing of NBC's singing competition show, The Voice. We were lucky enough to secure this because my youngest brother is the assistant property manager on the show. After parking we walked from Gregory Peck Drive to Main Street then onto Alfred Hitchcock Lane where our destination was at its dead end.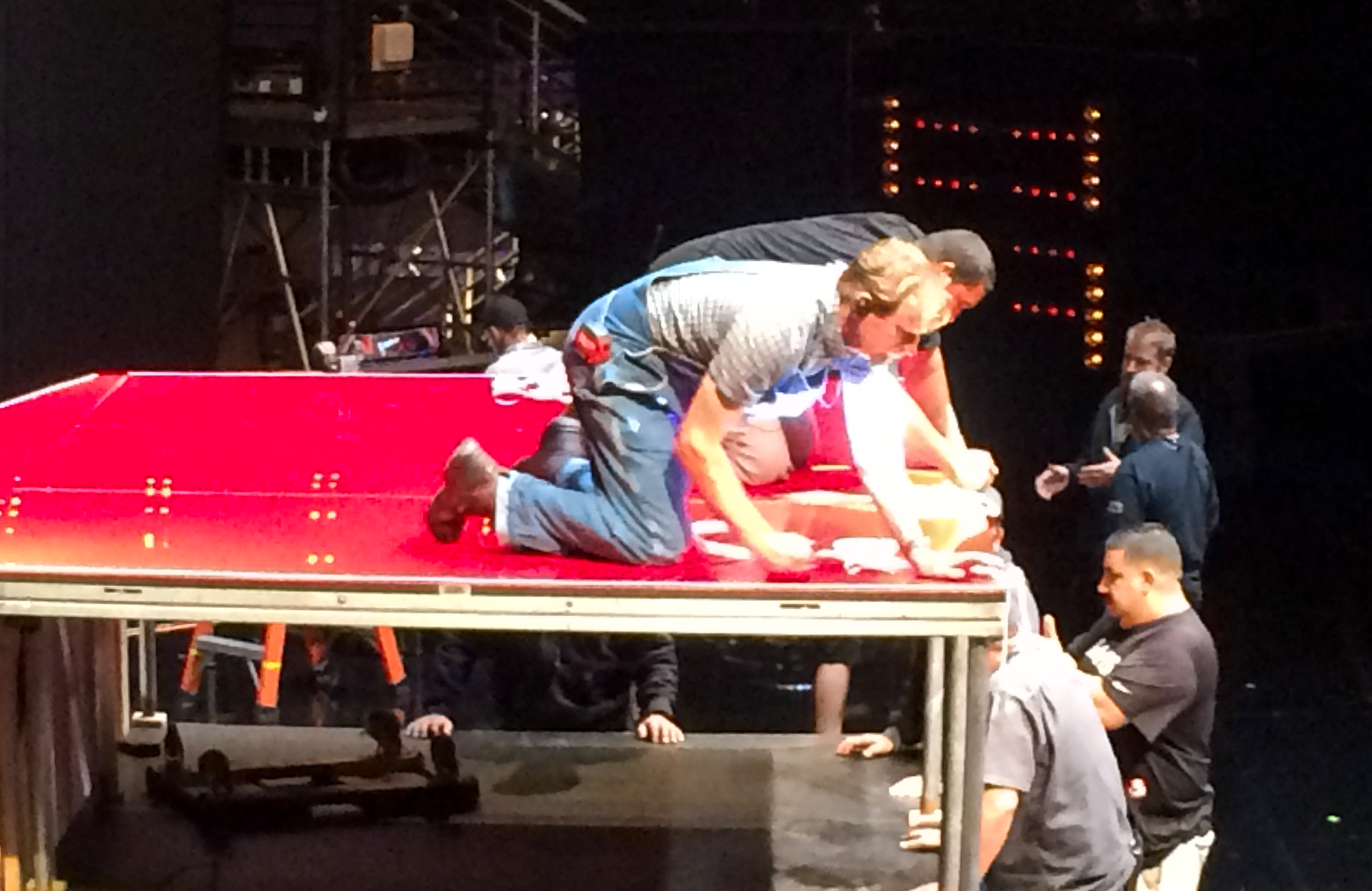 The Voice is an amazing production and a throwback to another era of entertainment. Since the show is aired live, there's no opportunity to stop and reshoot when mistakes are made. The crew is massive. The sets for each number are built, propped and staged like parade floats outside the stage door. During the two-minute commercial breaks the doors open and one set is moved out while the next is pushed in. This also means a lot of rehearsal not just for the talent, but also the stage crew, cameramen, lighting techs, band, and everyone else involved with the production. My brother's role as a property master means he makes sure every set has the right props on it and all the on-stage talent have the accessories they need for their numbers.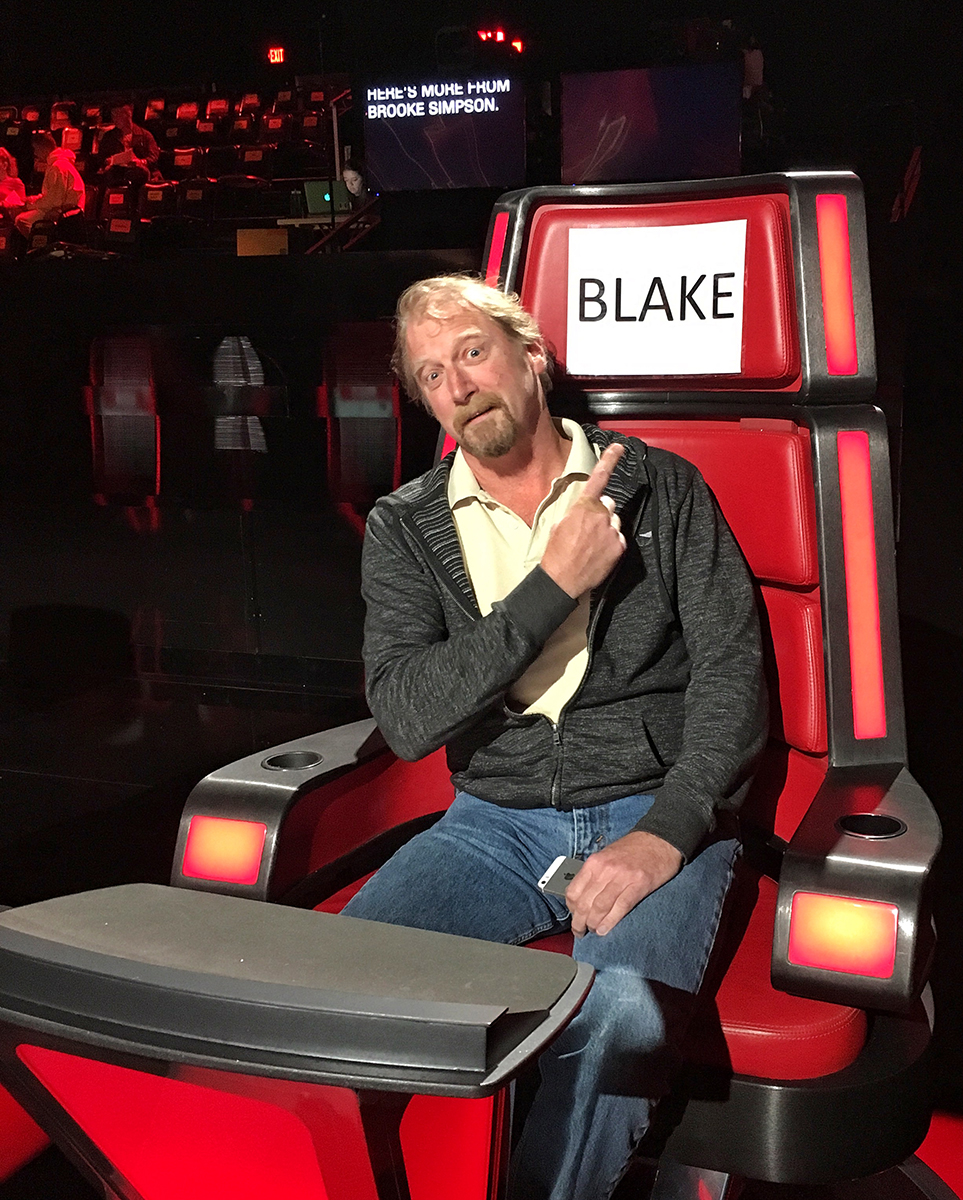 After a brief tour of the set construction area, backstage, and surrounding lot, we walked into the sound stage itself where I was able to see how it felt to sit in the chair of the man People Magazine had just declared the "Sexiest Man Alive." I think the word, inadequate comes to mind, but it was fun nonetheless. The highlight of the day came when we were witness to Miley Cyrus and her crew rehearsing their number for the next evening, the Shania Twain song "Feel Like A Woman."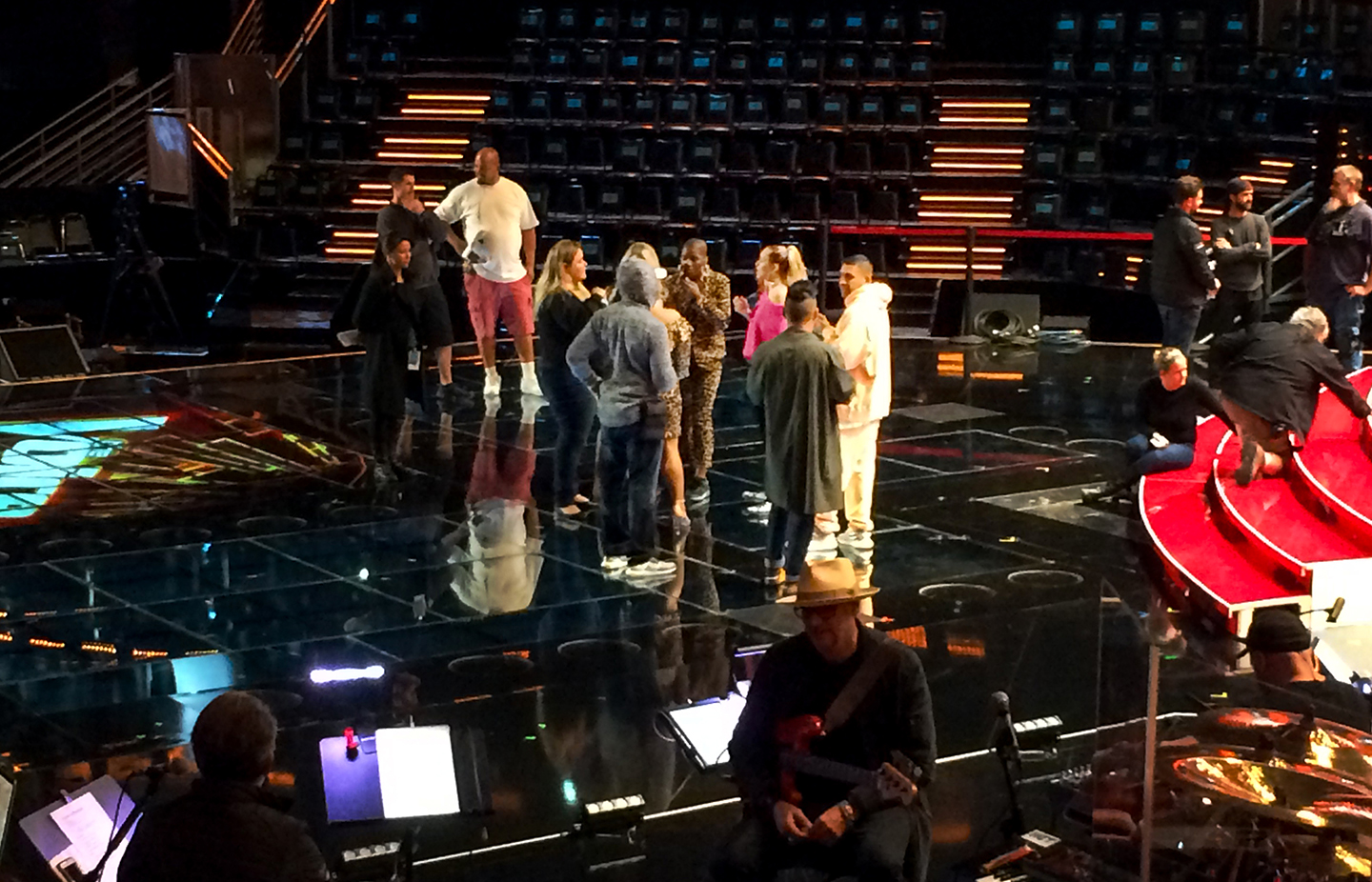 The interesting thing to me was that with just a quick demonstration from the choreographer and two run-throughs for blocking and sound, Miley and the women on her team were prepped and ready for the live show. As someone who's performed in regional and local theater and produced commercials and short films throughout my career, I had a new-found respect for the talent and professionalism on display.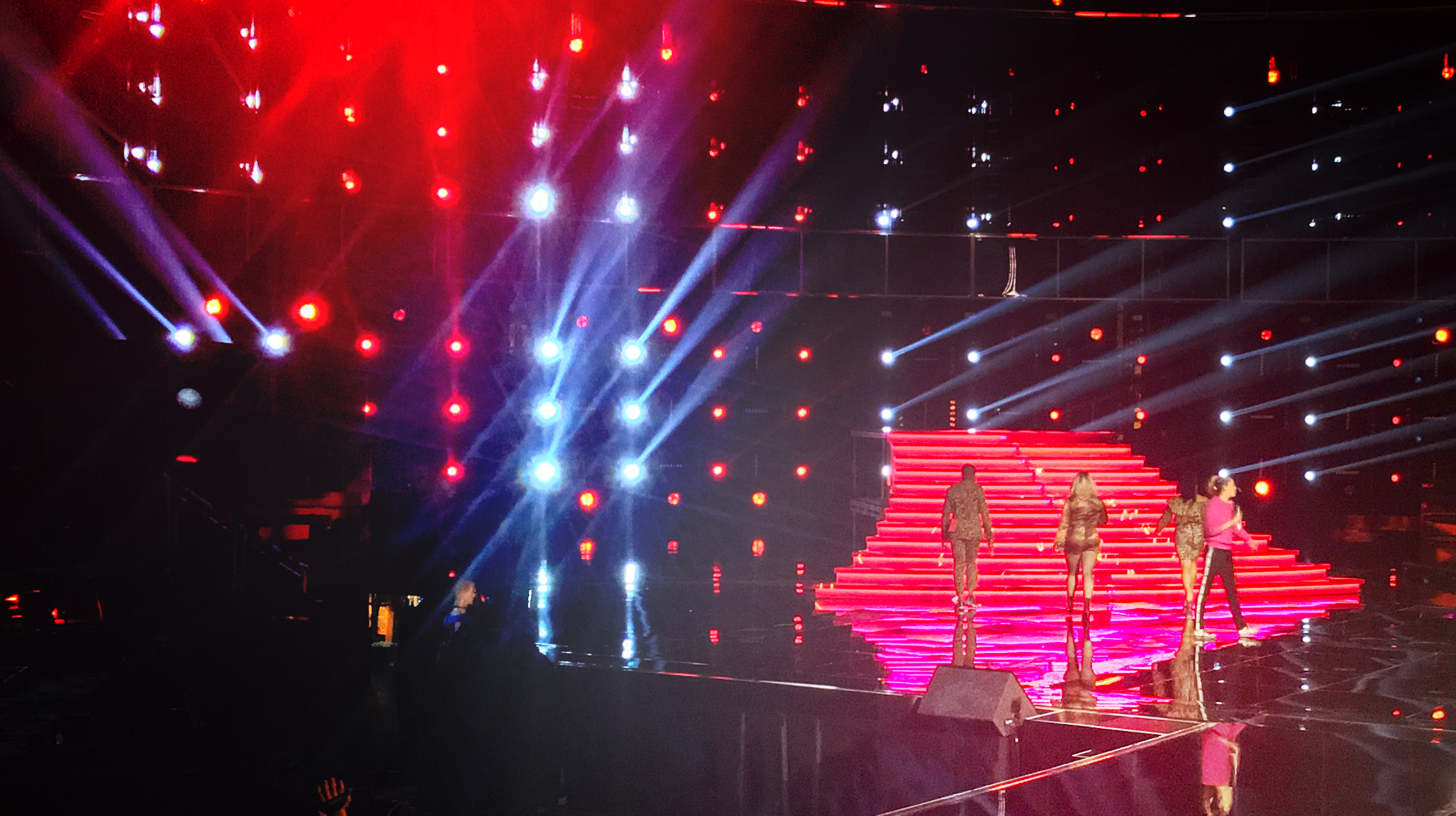 After two hours of watching rehearsal from every angle in the theater, we all headed to the Border Grille in Downtown Los Angeles via the streets of Beverly Hills. While the Bolt is fine on the freeway, it's really a town car, meant to be driven on surface streets where it's regenerative powers and instant torque enhance its appeal. As exceptional as the powertrain is, Bolt won't win any awards for design. It's not ugly, but fairly unremarkable, a car that doesn't go out of its way to pronounce itself different and special like the Toyota Prius does. As much as Chevy protests and calls the Bolt a crossover, it's really an unassuming four-door hatchback. And that's okay.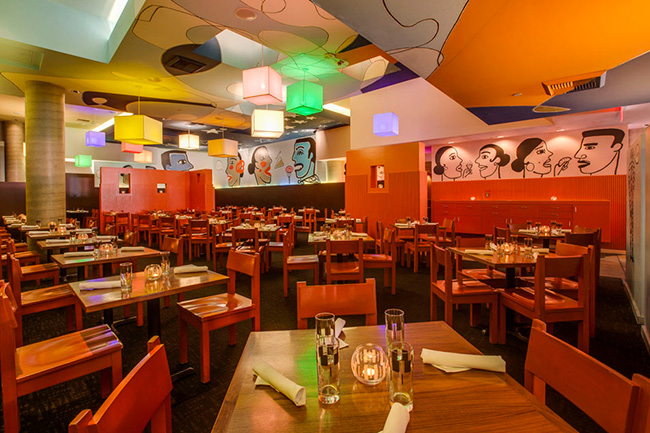 The Border Grill opened on La Brea Avenue in 1985 when chefs and co-onwers Mary Sue Milliken and Susan Feniger returned from a trip to Mexico. Inspired by the authentic street food they discovered, the created a new kind of restaurant, that served un-Americanized Mexican food in a casual, comfortable, and contemporary environment. In 1990 they moved to Santa Monica and then opened a downtown location years later. While the Santa Monica location closed its doors a little over a year ago, the downtown store upholds the tradition nicely and my Yucatan Pork Tacos served with black beans and rice and washed down with a margarita on the rocks proved to be a satisfying end to an altogether spectacular day.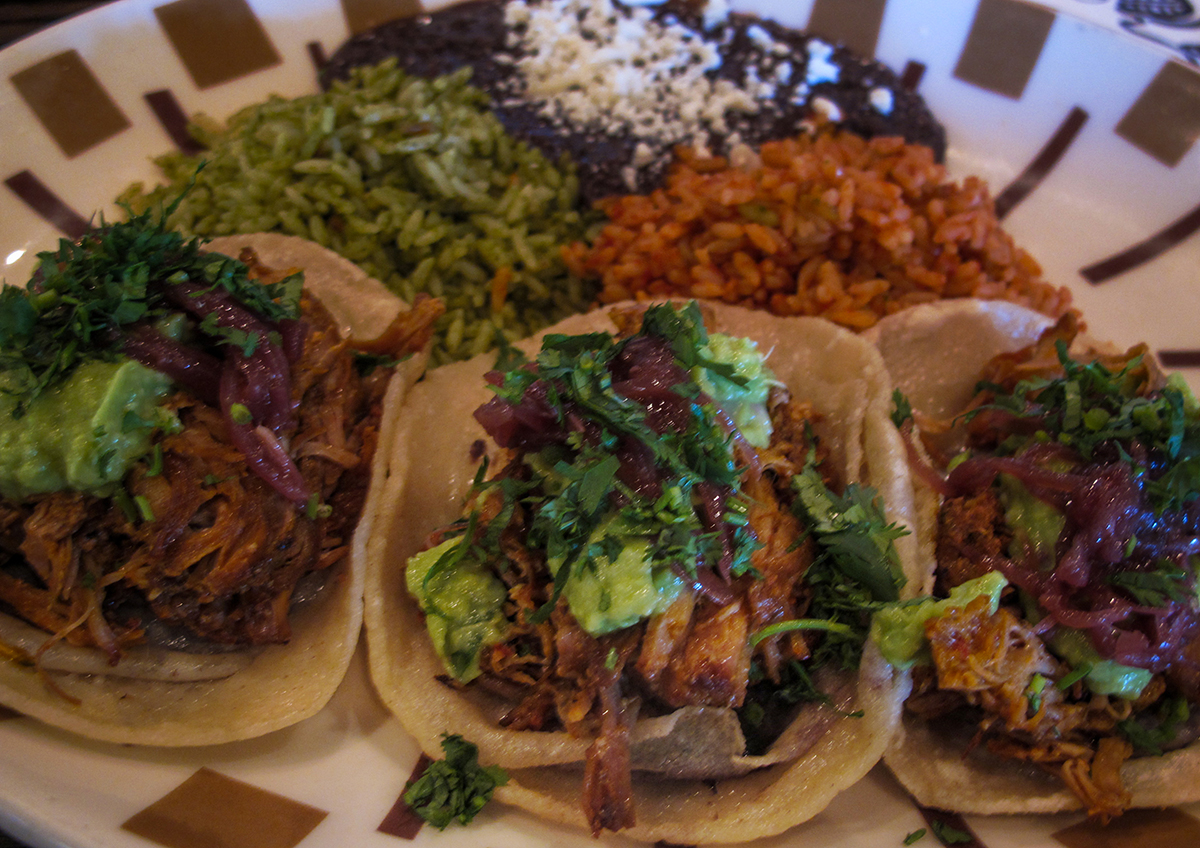 After dinner and saying our goodbyes we retrieved the Bolt from the parking lot for the final leg of our day, for the 19 mile jaunt back to Marina del Rey. Starting the day with 228 miles of range on the meter, we ended having driven just over 104 miles and our remaining range showing 115 miles. Plenty to get me to the hotel for the next day's start of the LA Auto Show and then back to LAX for my flight home on Thursday. In then end, the Bolt proved to be everything it promised, and nothing more. It's a comfortable, utilitarian, thoroughly satisfying economy car that happens to use a battery pack and electric motor instead of a gas tank and internal combustion engine. It is also every bit a Chevrolet. This means an interior that's nice, but not luxurious. If you come into it expecting Tesla level interior appointments, you will be disappointed. But then again you'll also save at least $10,000 versus a similarly equipped Model 3. That's real money, whether you live in LA or someplace a little more modest, like Madison.
2017 Chevrolet Bolt EV Premier
Four door, four passenger front wheel drive, electric subcompact hatchback
Base price: $37,495
Price as tested: $43,510
Major options: Premier Trim ($3,410) includes surround vision camera, blind spot detection, rear cross traffic alert, 17″ aluminum wheels, heated power mirrors, roof rack side rails, keyless entry, leather appointed heated seats, leather wrapped steering wheel; Driver Confidence II Package ($495) includes auto high beams, follow distance indicator, forward collision alert, lane keep assist, autonomous emergency braking, pedestrian detection with auto braking; Infotainment Package ($485) includes wireless charging, Bose 6-speaker premium audio, 2 rear seat USB ports; Destination ($895)
Motor: Permanent magnetic drive motor
Transmission: Electronic Precision Shift system
Battery capacity: 60kWh
Power: 200 HP
Torque: 266 lb.-ft.
Curb weight: 3,580 lbs.
0-60 Acceleration: 6.5 Seconds
Top Speed: 91 mph
Range: 238 miles
MPGe: 128 city, 110 highway, 119 combined