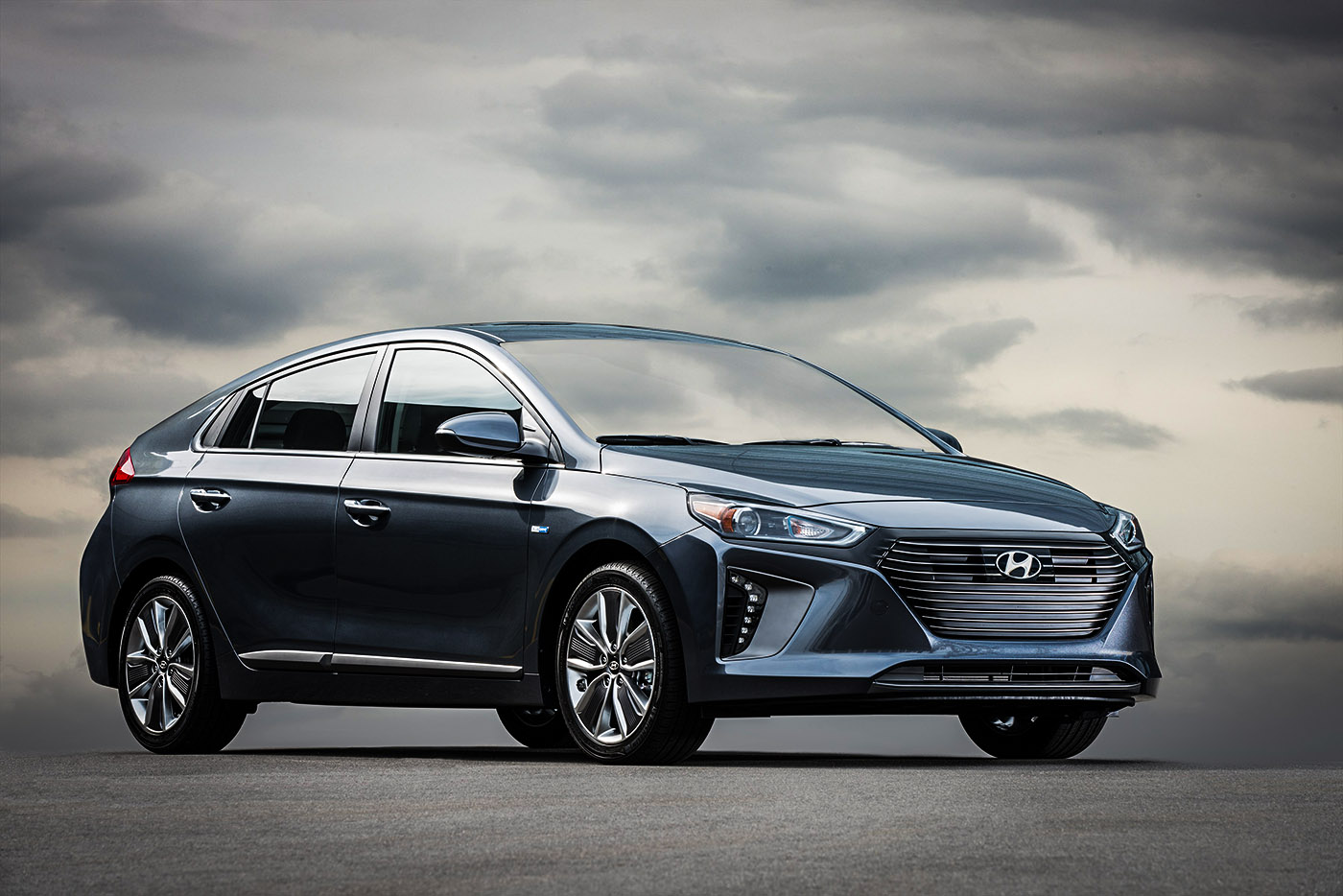 As I sit in the 23rd floor of my hotel in Hong Kong staring over the smog shrouded skyline, my eyes burning slightly while I get used to the particulates that hang in the air, I find myself contemplating the value of strong regulatory bodies that are looking out for the public good well into the future.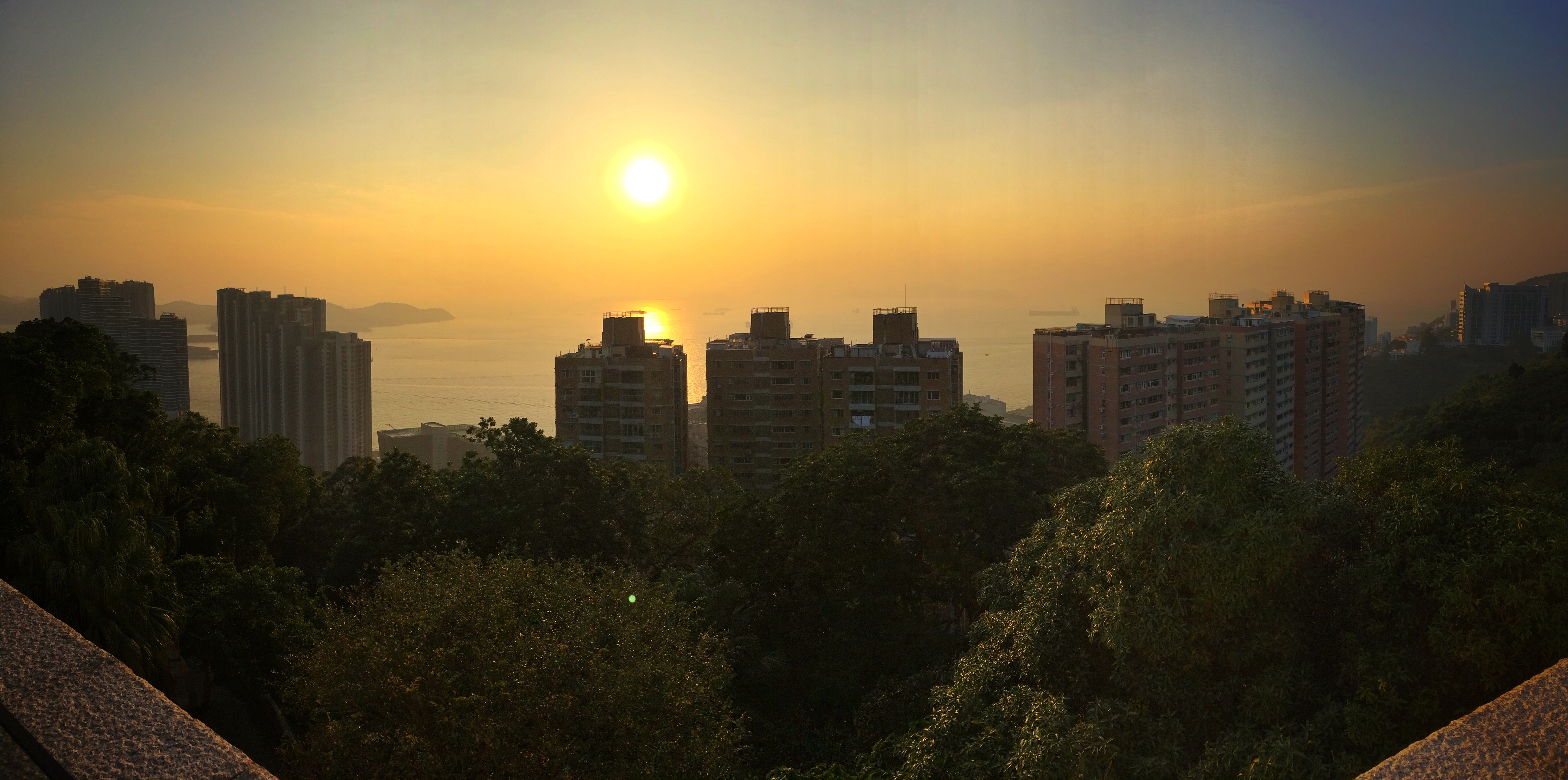 There was a time when Los Angeles looked like this on more days than not. When you had to squint hard just to see the outline of the San Gabriel Mountains. When air quality warnings were issued on a regular basis and those with respiratory issues were encouraged to stay indoors. Then, to the howls of both automotive executives and enthusiasts, President Richard Nixon created the EPA, which promptly stepped in and said, "enough." The 1970 Clean Air Act set standards which forced the auto companies to literally clean up their act, authorizing control of motor vehicle emissions for the first time.
With each successive update in 1977, 1990, and 2011 auto companies were challenged to do more and produce vehicles with fewer and fewer emissions as science told us more about the impact vehicles have on air quality and climate change. Along with this the DoT set ever more stringent fuel efficiency standards, the latest of which can only be met with the an increase in the percentage of alternative fuel vehicles like hybrid, battery electric, and hydrogen fuel cell powered cars and trucks on the road.
Now with the political winds swirling and the the 2025 CAFE standards are in jeopardy of being rolled back by regulators who are more friendly to the fossil fuel industry, the auto companies are left in a quandary: do they move forward with plans for alternative fuel power which – in spite of the visibility of brands like Prius and Tesla – have yet to gain significant traction in the mass market, or shift their future planning back to petrol-burning, internal combustion powered products they won't have to work hard to sell?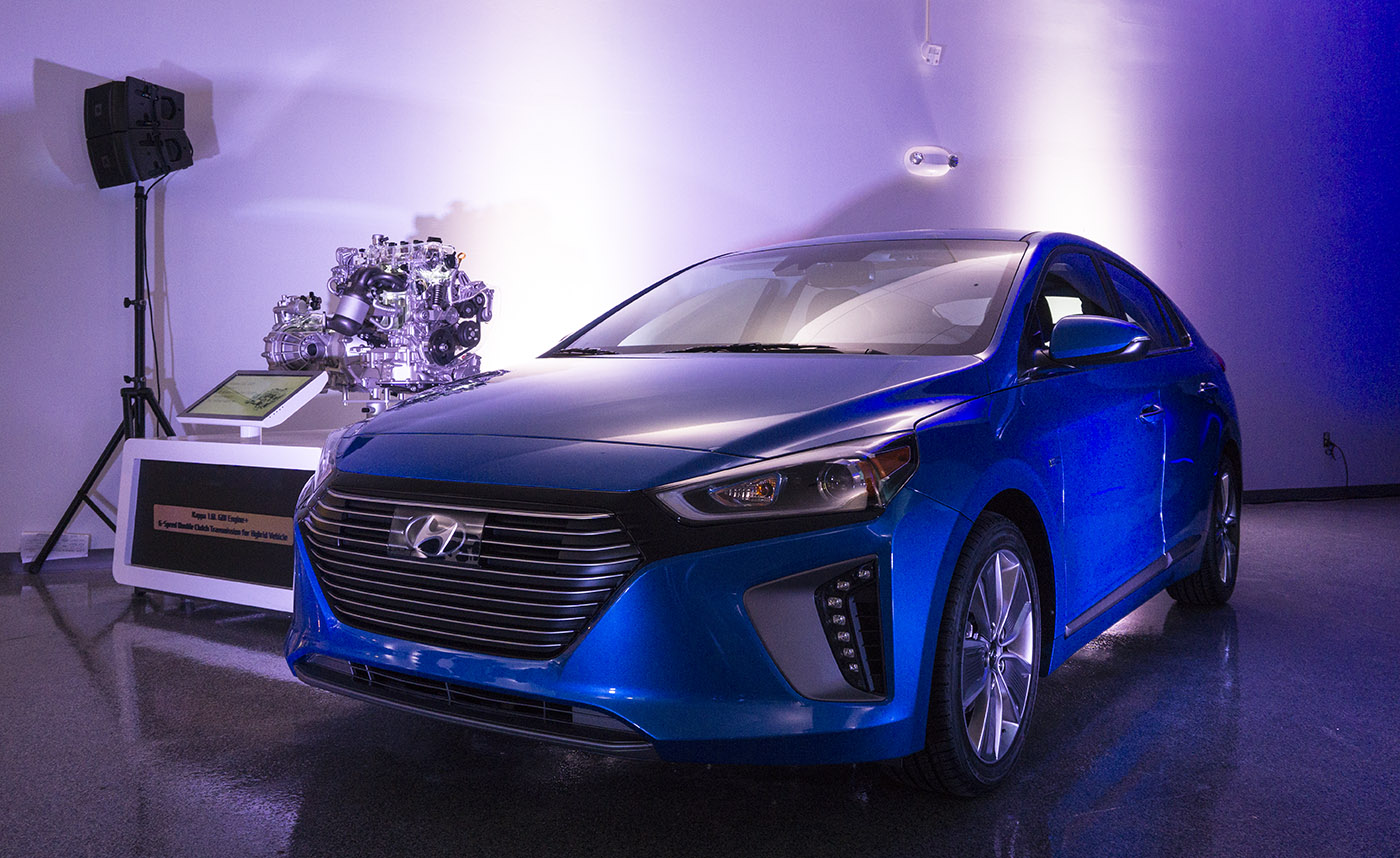 Those were the questions that swirled in my head as I watched Hyundai engineers power through slide after slide explaining the modern propulsion technology inside their new Ioniq line of vehicles. Available in three versions: all-electric, traditional hybrid, and plug-in hybrid, the Hyundai Ioniq has been designed from the ground up to be an electric/hybrid vehicle as opposed to many hybrid models – including their Sonata hybrid – which are just modified internal combustion platforms. What this means is engineers can use space differently, so even though the Ioniq is classified as a compact car based on its exterior size, its interior dimensions are more generous than many midsize sedans.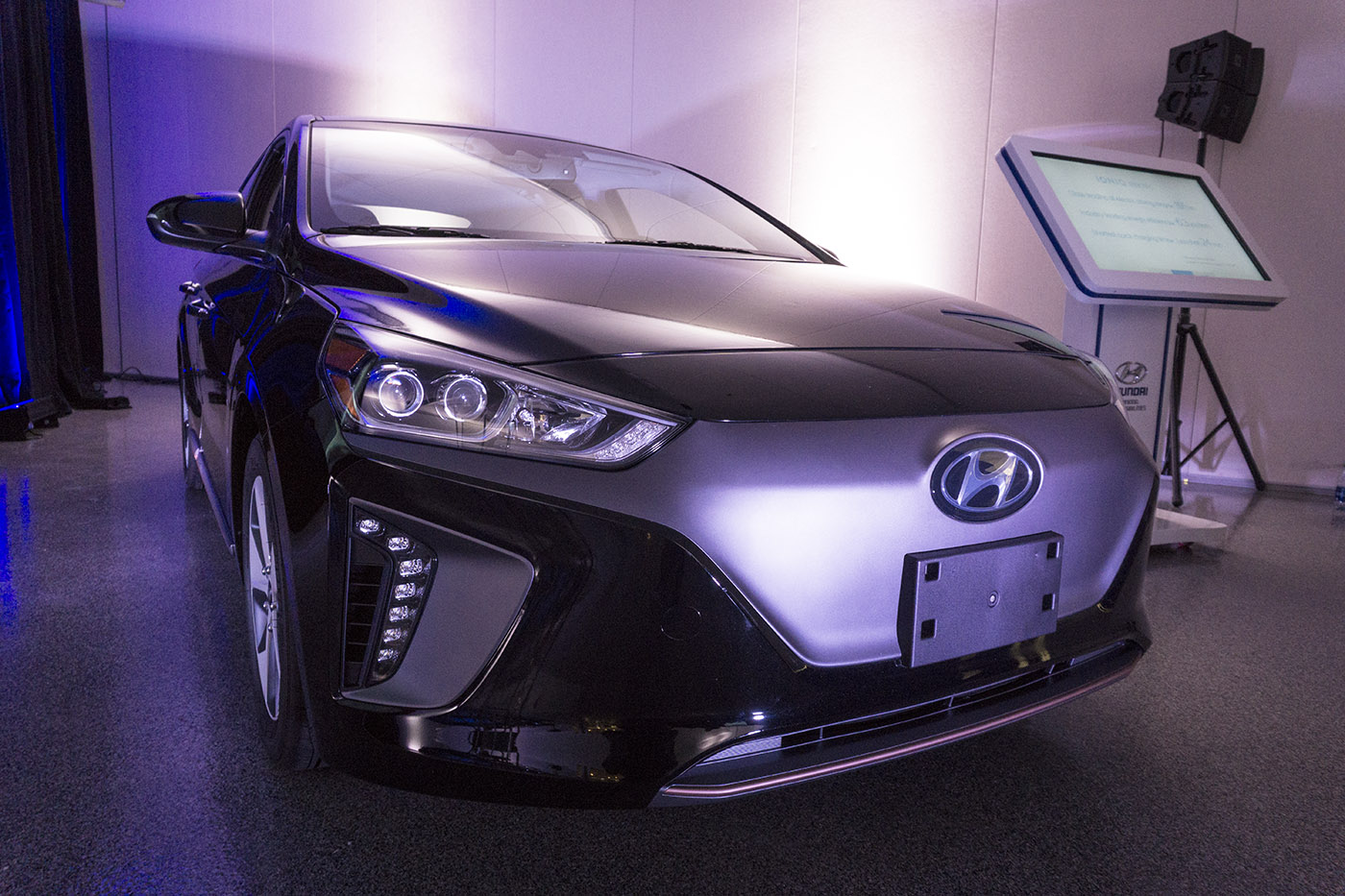 Currently making up just 2.2% of the market, hybrid and electric vehicles are struggling to gain share even with generous manufacturer and tax incentives intended to spur their sales. Much of this is due to the fact they tend to be more focused on economy rather than the driving experience. Hyundai claims Ioniq will be engaging to drive with features like a 6-speed dual clutch transmission – the same type you'll find in high-end performance cars like Ferrari, BMW, and McLaren – along with lots of torque to help the car accelerate quickly off the line. In spite of this focus on performance, the Ionic Hybrid delivers 58 miles per gallon.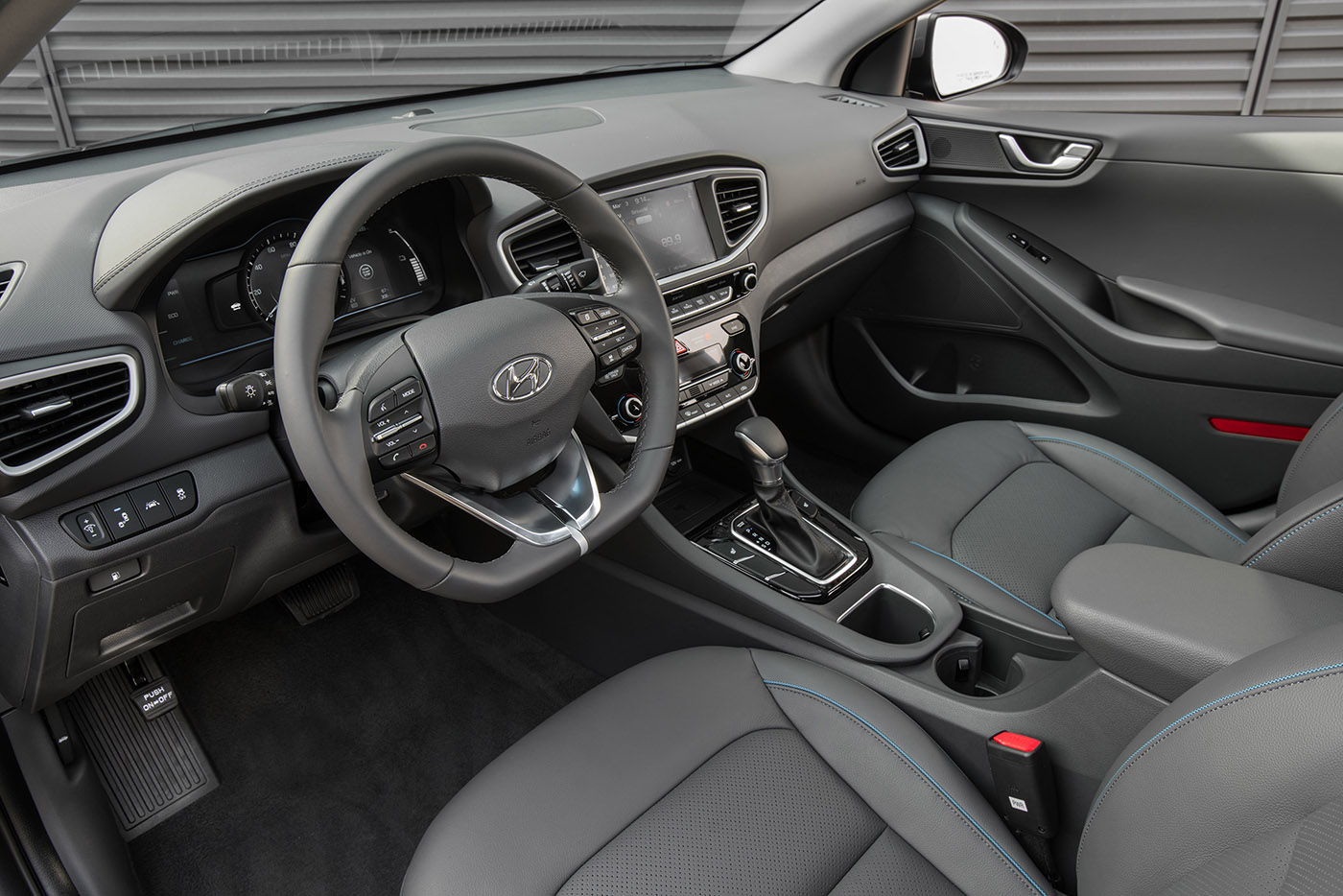 Inside, the car looks more sporting than any of its hybrid competitors from Toyota, Ford, and GM. Nicely contoured seats, a leather-wrapped, flat-bottom steering wheel, center shift console with manual mode, all are cues that Ionic isn't just about MPG. It also has plenty of passenger room both front and back, with more interior space than the Chevy Malibu.
The 1.4 L engine, inline electric motor, and 6-speed DCT create a powertrain that is unlike any other in the category. Most hybrids opt for a constant velocity transmission, which has that rubber band feel most drivers really dislike. In addition to providing a more engaging experience, the DCT also transfers torque more efficiently allowing you to enjoy more of the power off the line and under acceleration at speed.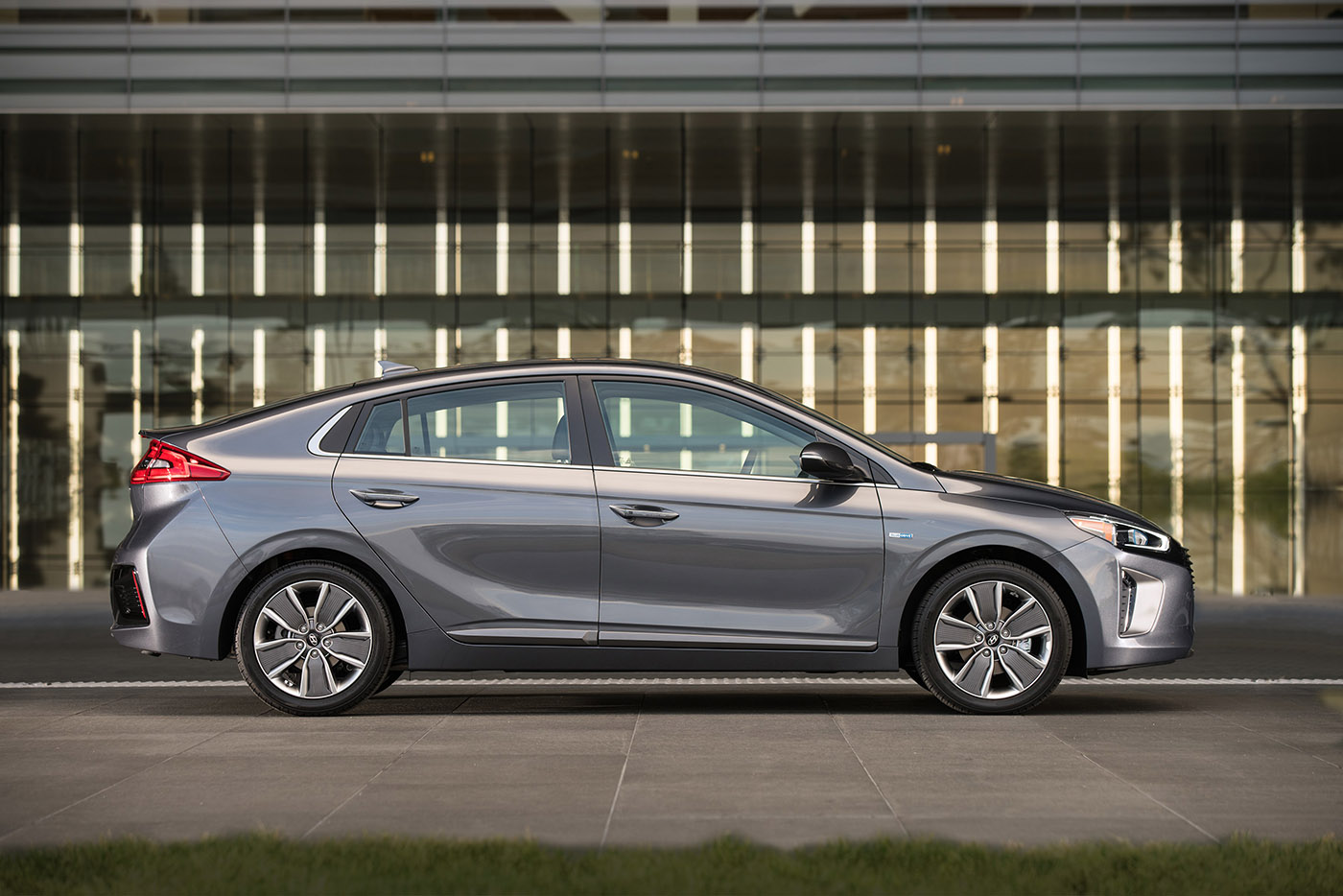 The traditional hybrid will be available early in 2017. The electric version will follow along shortly after with the plug-in hybrid making its debut sometime in the 3rd quarter of the year. I'm looking forward to spending some time behind the wheel to see if it lives up to its promise both from a performance and efficiency standpoint. I'm also interested in seeing if the next generation of car buyers will be more accepting of these types of cars.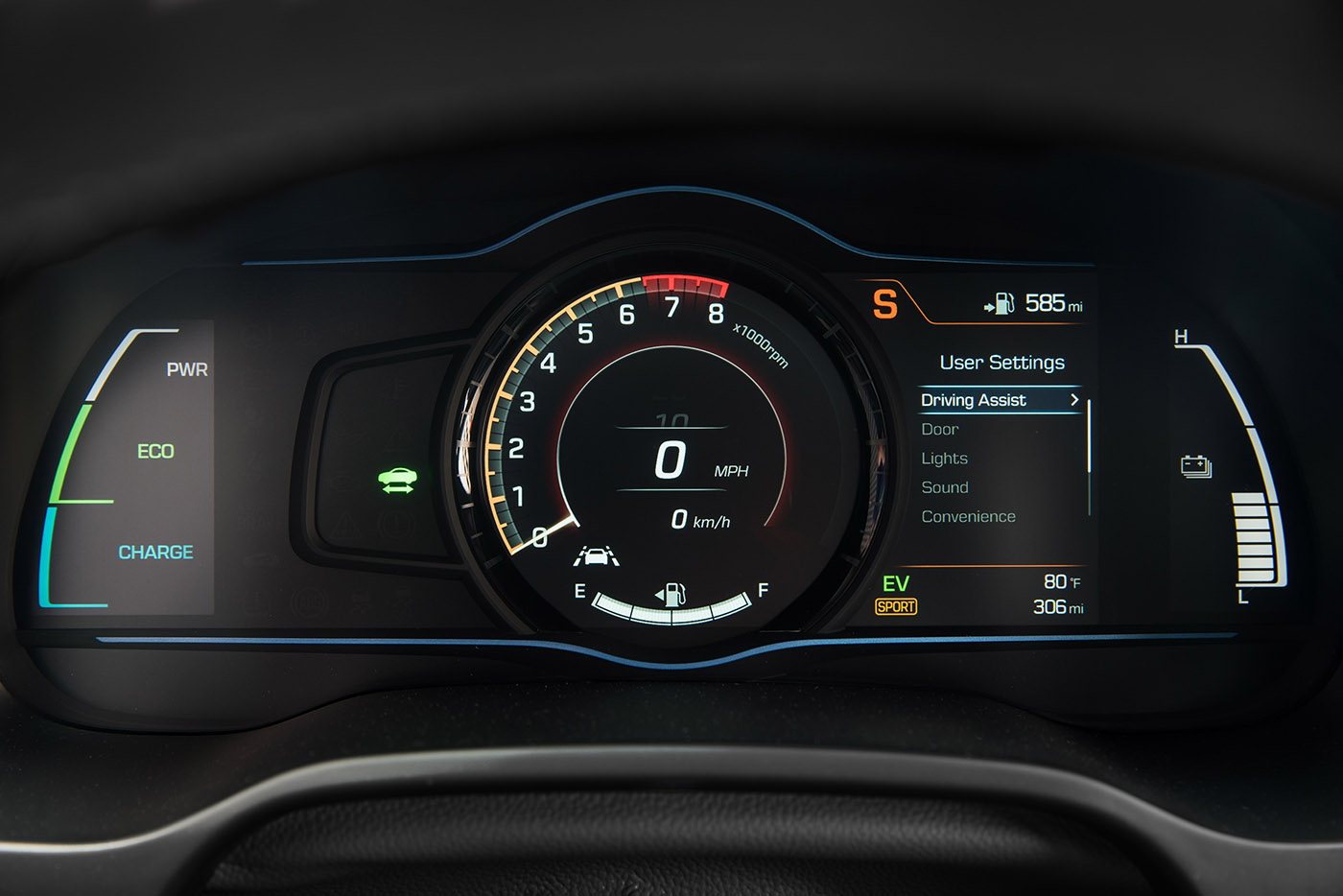 From an emissions perspective, they are better for the earth and thus its inhabitants, than our current stable cars and trucks with their gas and diesel engines. They are not, however, without fault or impact. Mining the rare earth materials for the batteries has a significant impact to the areas around those mines. And unless the electricity that charges the batteries is generated 100% by solar and wind, there are still emissions from the coal and gas power plants that dot our countryside.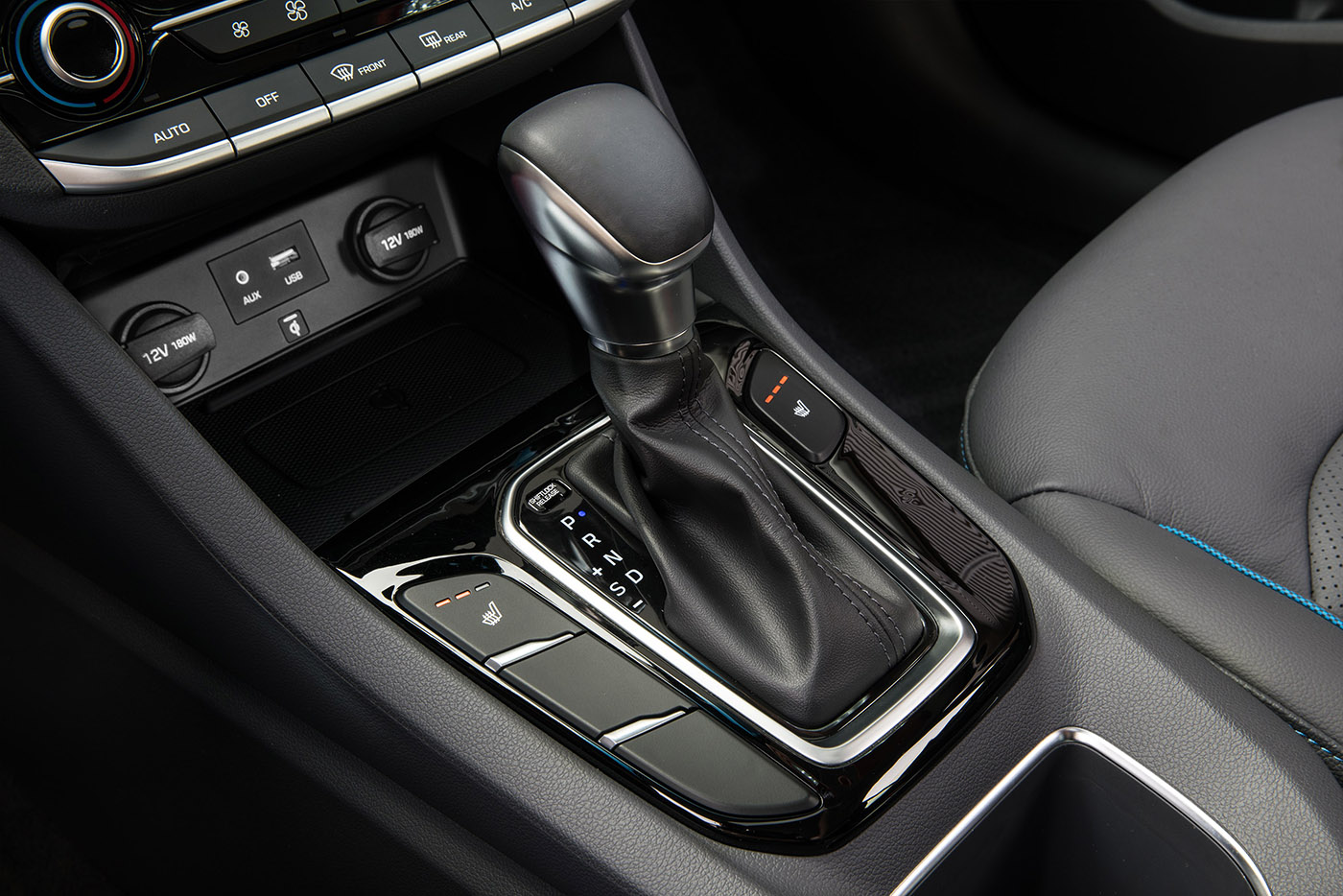 It's going to be interesting to see how companies like Hyundai balance short-term sales and profits against the long-term effects of their products on our world, especially in these next few years. Even if the financial incentives aren't as advantageous to produce and sell hybrid and electric vehicles under a new administration, I'm hoping it won't stop this important work.
In the immortal words of Martin Luther King, "It's never the wrong time to do the right thing."