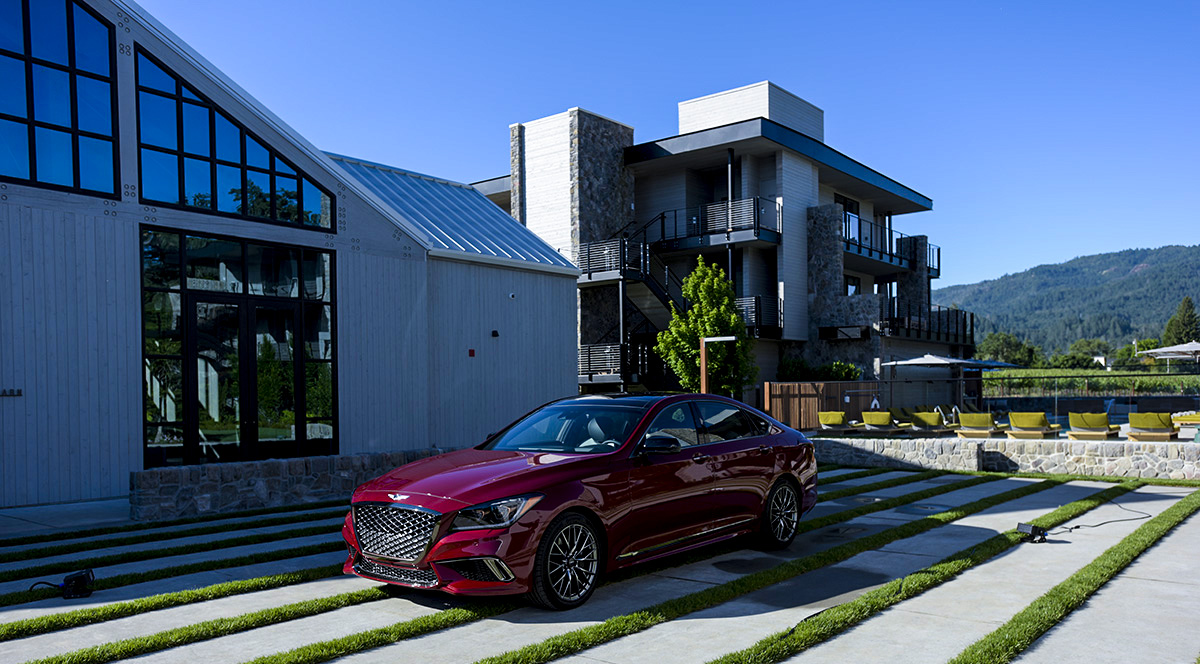 There are few places on earth where labels matter more than Napa. You may be a dedicated oenophile who regularly uses terms like bouquet, nose, balance, acidity, legs, and terroir after taking an aerated sip of your Lewis Cabernet, but the rest of us need labels to tell the difference between a Beaujolais and a Bordeaux (horrors, I know). I tend to rely on vineyards I've come to know and trust – Stag's Leap, Opus One, Mondavi Reserve, etc. – when I choose a wine for fear of not getting the most from the modest sum I usually spend on a bottle. No Screaming Eagle for this wine simpleton. While I do enjoy my wines and shy away from swill, I'm pretty sure my undiscerning palate couldn't tell the difference between a cab costing $50 and another at $5,000 were I ever lucky enough to sample one.
All this makes Napa an interesting place to experience the new Genesis G80 Sport. As you'll recall from a recent encounter with its larger sibling, the G90, Genesis is a new luxury automotive brand from the Hyundai. Having hired an all-star team that includes former Audi and Lamborghini designer Luc Donckerwolke (check out our conversation here) and former BMW M chief engineer Albert Biermann, Genesis was developed to help the Korean juggernaut play in the rarified air with BMW, Mercedes, Jaguar, Cadillac, Lexus, and Audi while adding some of those sweet luxury car profits to the company's bottom line.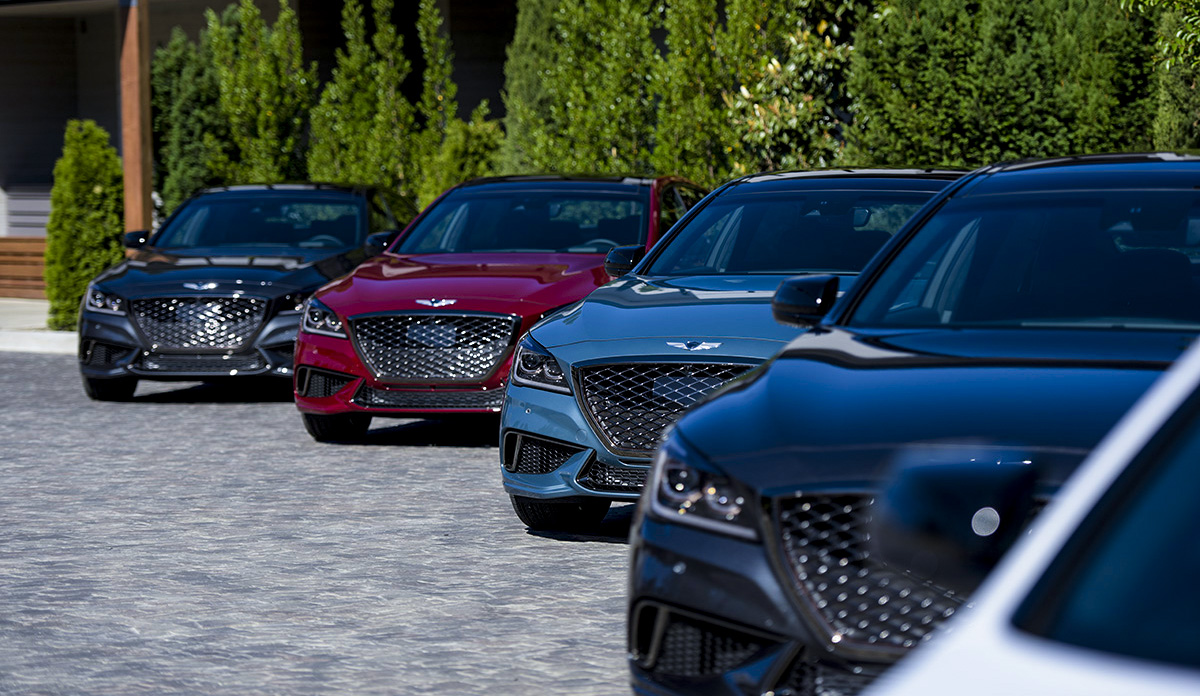 So here's the question: is Genesis the three-buck Chuck of premium sport sedans, passable to people who know nothing about cars, but on the surface a good value; or a hidden gem that quietly challenges the other more famous and respected players? Luckily enough my destination at the end of the day was the Brasswood Winery, a newer vineyard that would provide ample opportunity to complete this tortured analogy.
When you slide behind the wheel of a BMW, Mercedes-Benz, Audi, or Lexus you have certain expectations of luxury, technology, comfort, and performance. Their badges make a promise that the car has to keep. Genesis isn't burdened with, nor does it benefit from that past. Other than the shadow of its parent company, Hyundai, the brand is an empty vessel waiting to be filled by the products, experiences, and communications the company has with customers and prospective buyers. Like Lexus 30 years ago, that's a curse and a blessing. With great products, stellar service, and brilliant marketing, Genesis can become whatever its leaders envision it to be, but that takes time. Lexus didn't become Lexus overnight. So like its Japanese predecessor, Genesis will have to spend each day proving it can run in the fast lane with the big boys. Otherwise, the company's only claim to fame will be that its cars offer all the same features for 20% less.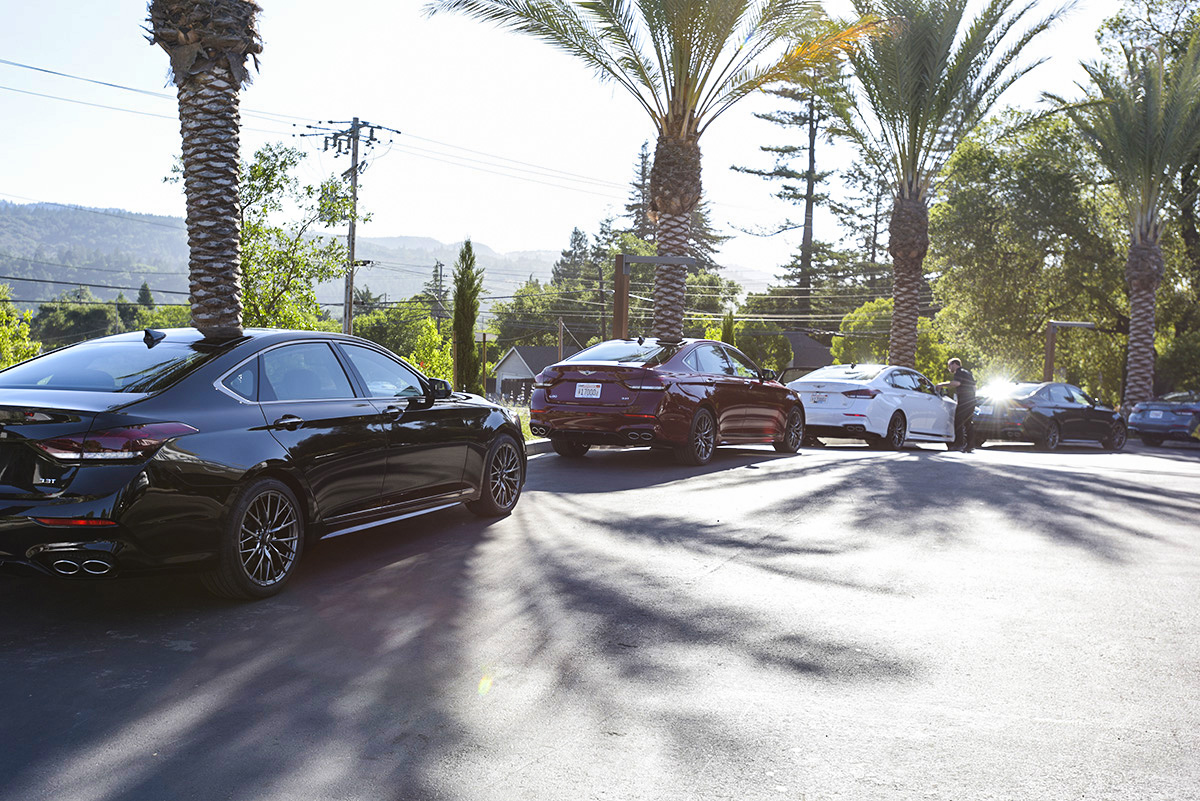 Seeing the car on display at the grounds of the newly opened Las Alcobas Inn in St. Helena (Pro Tip: while a lovely property, they're still going through some teething pains at Las Alcobas – give them a few months to sort things out before booking there), the G80 Sport fit right in with the BMWs, Mercedes, and Audis driven by the hotel's patrons. The design is sleek and sporty. A parabolic arc creates a tension line that runs from nose to tail and the C-pillar sweeps nicely into the short deck lid with just a hint of a lip at the back. The front wheels are pushed well out to the corners and the fascia has been updated with larger air intakes and a smoked chrome mesh grill with copper accents. A slight bulge in the fenders defines its athletic stance without feeling PED enhanced. In back, the chrome tipped quad exhausts, darkened taillamp and rear diffuser hint at the car's dark intentions.
Let's get one thing out of the way right away. The G80 Sport isn't a sports car. It's a luxury sedan with sporting aspirations. Its twin-turbo 3.3L V6 makes 30 more horsepower than a BMW 540i. The sport adaptive suspension firms up noticeably when you go from normal to sport mode and were I to own this car, I'd drive it that way 90% of the time. The ride isn't Lincoln Continental soft, but even in sport mode you'll never mistake the G80 Sport for a track car. The 8-speed automatic transmission shifts smoothly and quickly in both automatic and manual modes, it has enhanced front and rear brakes that provide excellent, fade-free stopping power. Nothing here is anything other than all kinds of good. However…
Maybe it's because I drove the G80 Sport around Napa on a Saturday with a spandex-clad bicyclists seemingly around every corner. Maybe it's because this car is bigger and heavier than it's competitors. Maybe it's because it's so damn comfortable, but as nice as it was, I never once heard it whisper in my ear begging me to push it harder. You can certainly drive it fast, but it just doesn't feel like a car that wants to be flogged. A masochist, the G80 Sport not.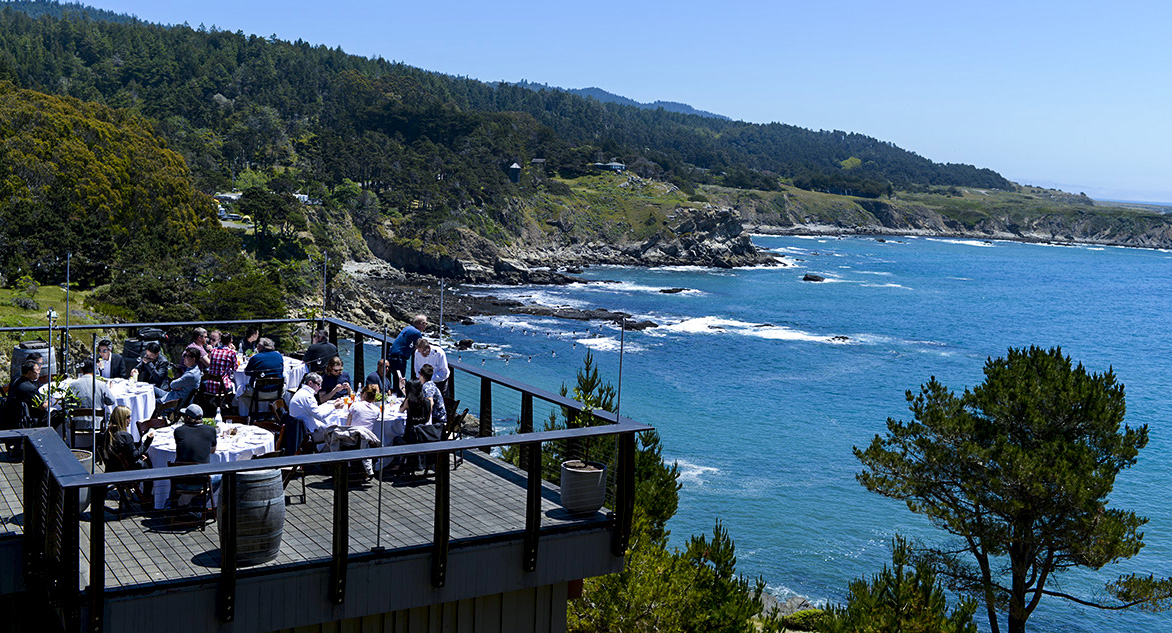 Carving up the curves on the Pacific Coast Highway at a few ticks over the speed limit, the G80 Sport is quiet, confident, and composed. This is a luxury car that's been sharpened with sporting features. The variable gear ratio electric power steering gets the boost out of your way at higher speeds, but like most EPS systems it's a bit numb, isolating you from the road. Turn in is precise, on center feel is solid, and it tracks nicely regardless of whether the road surface is smooth or broken, there's just not a lot of communication between the tires and your hands. Part of this is due to a stiff chassis that includes 51% high strength steel. While many other cars in this category are using carbon fiber, aluminum, magnesium and other exotic alloys, Genesis sticks with the tried and true to good effect. Not only does it provide a solid platform for the steering and independent suspension to do their jobs, it reduces noise and vibration creating a ride that while sporting, is unruffled. When we pulled up for lunch at the Timber Cove Resort after a two and a half hour morning drive, I didn't need the sanctuary of the deck overlooking a placid Pacific Ocean to refresh myself for the second half of my drive, but I was glad to have it.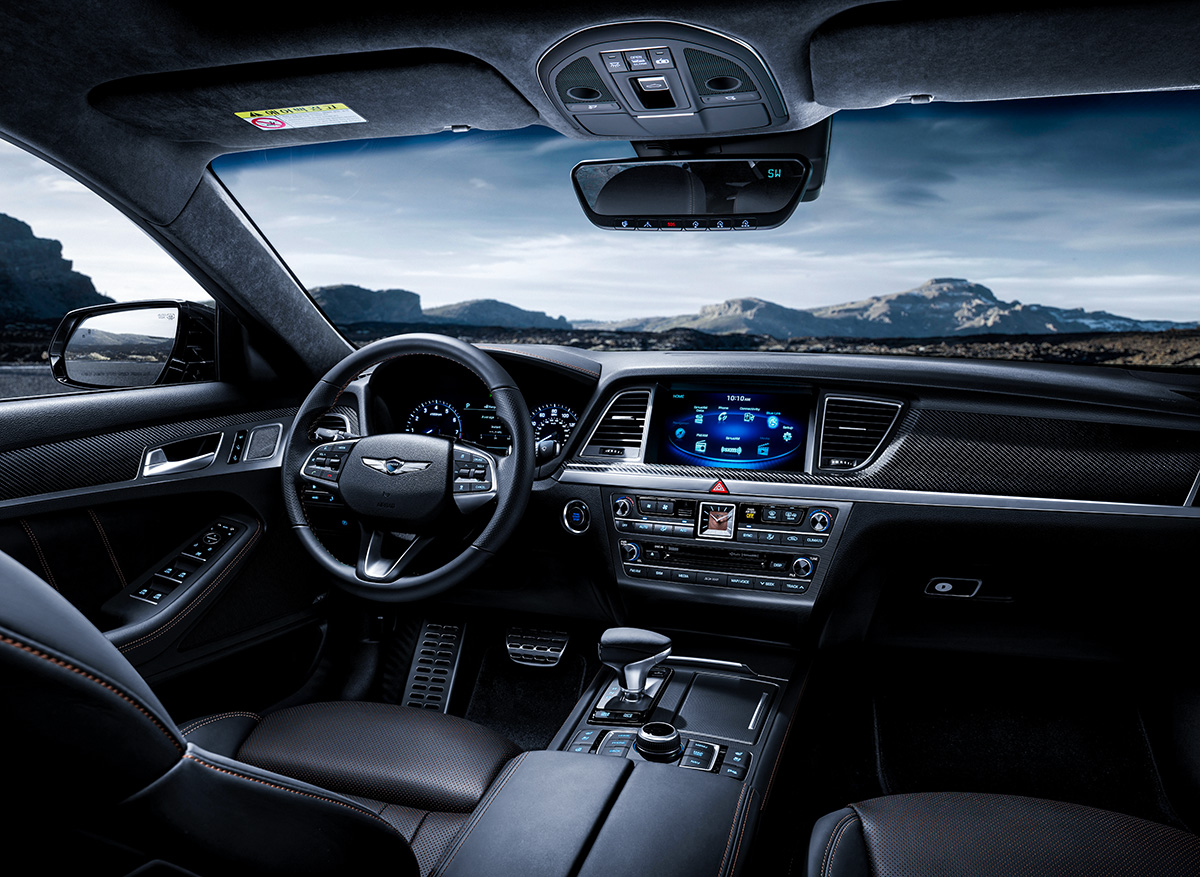 Where the G80 Sport really shines is inside. Soft, supple, perforated Nappa leather covers the heated and cooled front sport seats. Additional side and thigh bolsters provide more support without being intrusive. Copper colored contrast stitching adds a nice, hand-crafted feel to the seats and leather wrapped heated steering wheel. The dash, center stack, and console are well laid out, with intuitive controls that are easy to reach. The plastic switches feel okay, but don't rise to E-Class or 5 Series levels with their metallic finishes. The aluminum accents are really nice breaking up all the dark surfaces, and while I appreciate that they used real carbon fiber for the inlays on the horizontal surfaces, they feel a little out of place here. The G80 Sport is no McLaren or Ferrari and I associate carbon fiber with high performance in a car that needs to shave every ounce to shave milleseconds off lap times. This detail promises a sporting character the car just doesn't deliver. A dark matte wood finish would be much more appropriate.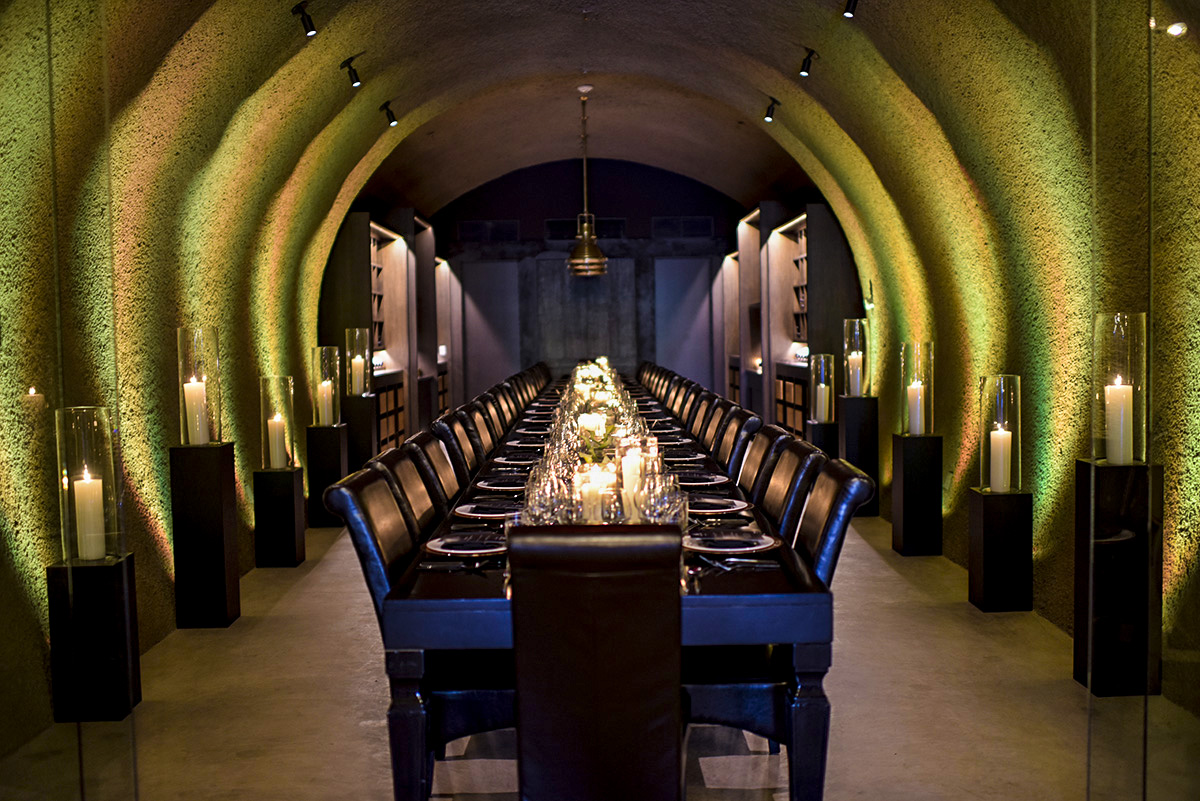 That evening once the key fobs were all put away, we boarded a bus for the short trip to Brasswood Estate, a newer winery located in the heart of Napa Valley. With 57 acres on site and contracts with some of the vest vineyards in the area, Brasswood produces excellent wines under its own label and leases its space to other winemakers in the area. They also have a very comfortable tasting room, award winning restaurant, and over 17,000 square feet of wine caves. Our dinner that evening was set up in one of those caves where chef David Nuno and sommelier Joshua Fisher, treated us to a meal and wines that still linger in my memory weeks after the event.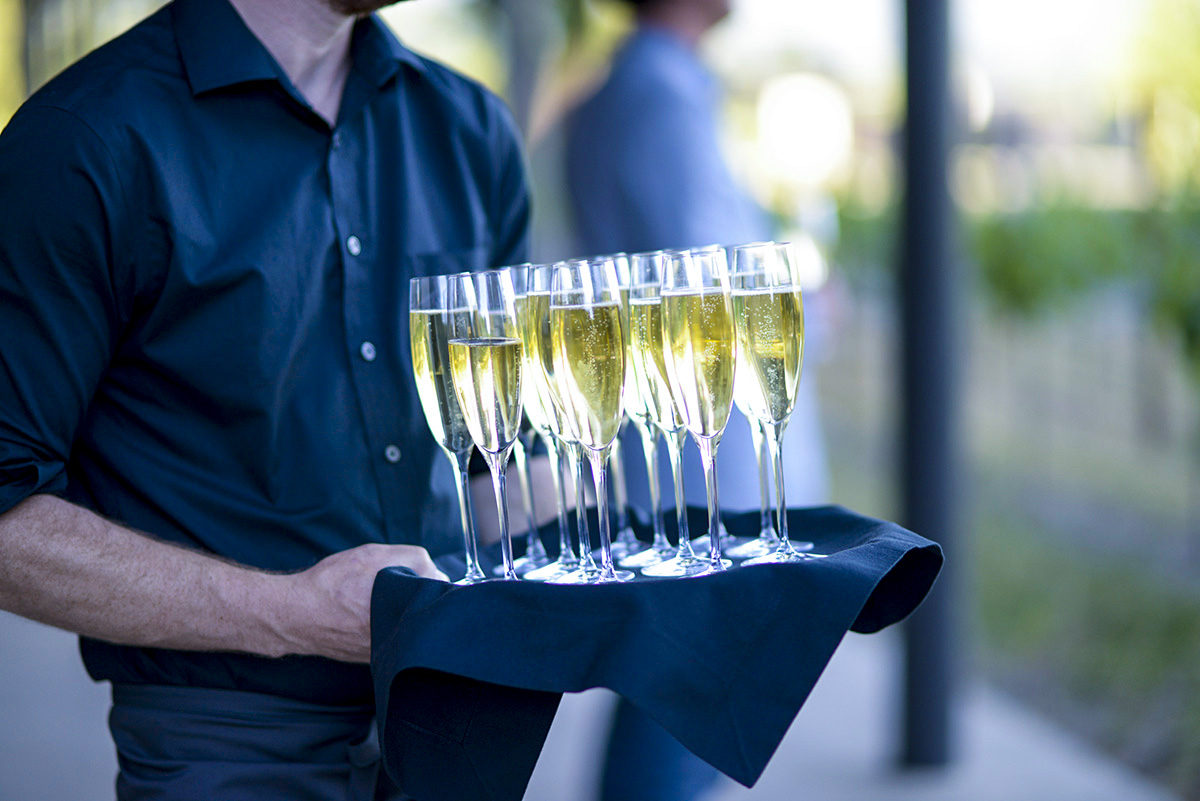 Which brings me back to Genesis and the G80 Sport. Much like Brasswood, the car is an undiscovered gem that provides all the features you could want in a luxury sedan. It has the comfort, the performance, the technology – including a comprehensive safety suite with forward collision warning, lane keep assist, blind spot detection, cross traffic alert, 360º camera, adaptive cruise control, and more – and the handsome good looks that will have those considering a BMW, Mercedes, Jaguar, or Audi looking in its direction. Whether they can live without the status of a well-established badge is another matter.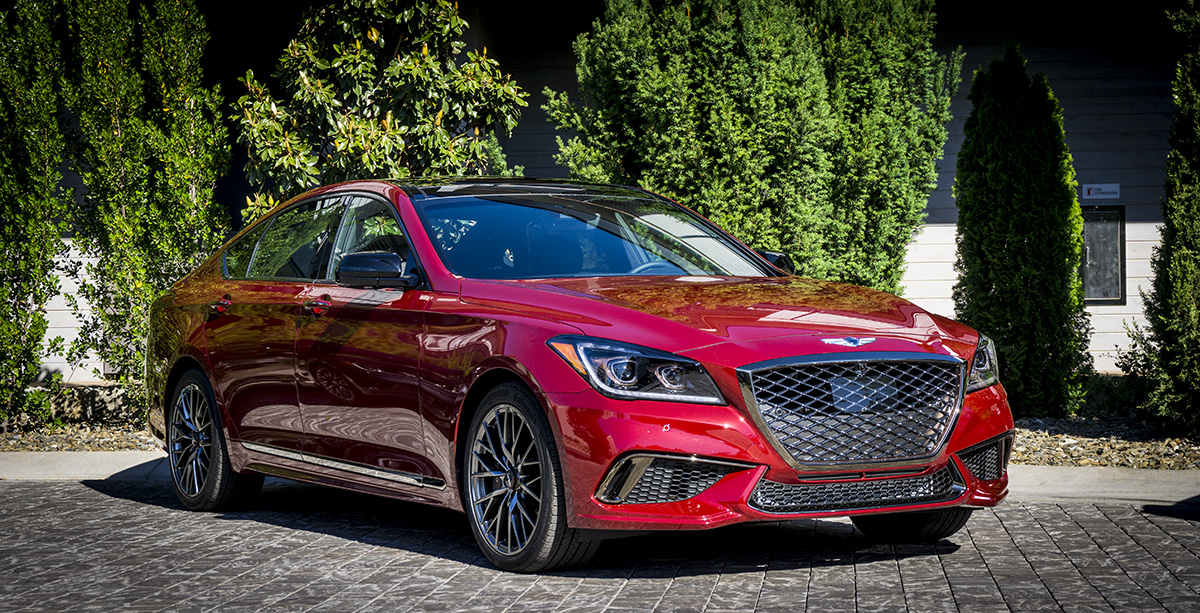 2018 Genesis G80 Sport
Base price: $55,250
Price as tested: $57,750
Major options: All-wheel drive. Everything else, and we do mean everything, is standard.
Engine: 3.3 Liter twin turbo V6 with continuously variable valve timing
Transmission: 8-speed automatic with manual and sport modes
Power: 365 hp @6,000 rpm
Torque: 376 lb.-ft. @1,300-4,500 rpm
Curb weight: 4519
0-60: 5.0 seconds (estimated)
Top speed: 135 mph (electronically limited)
EPA MPG: 17 city/24 highway