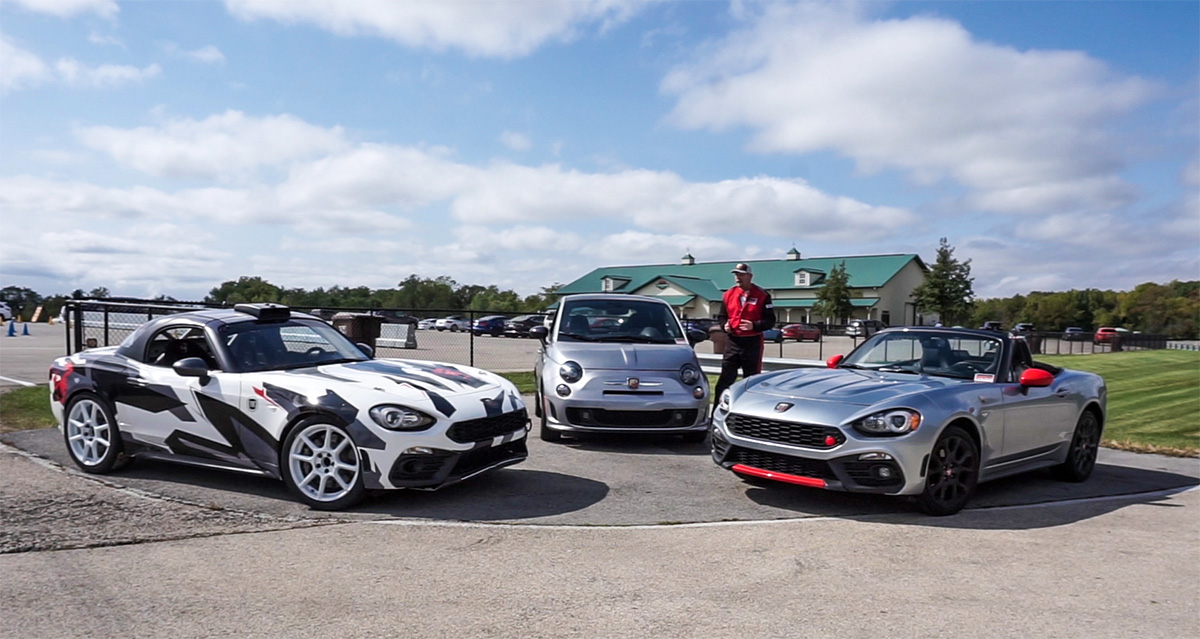 I think it was as the ass-end of the Fiat 124 Abarth was heading toward the edge of the skidpad, when Skip Barber chief instructor Terry Earwood implored with exasperation, "Don't break the string," that I finally realized we had met before.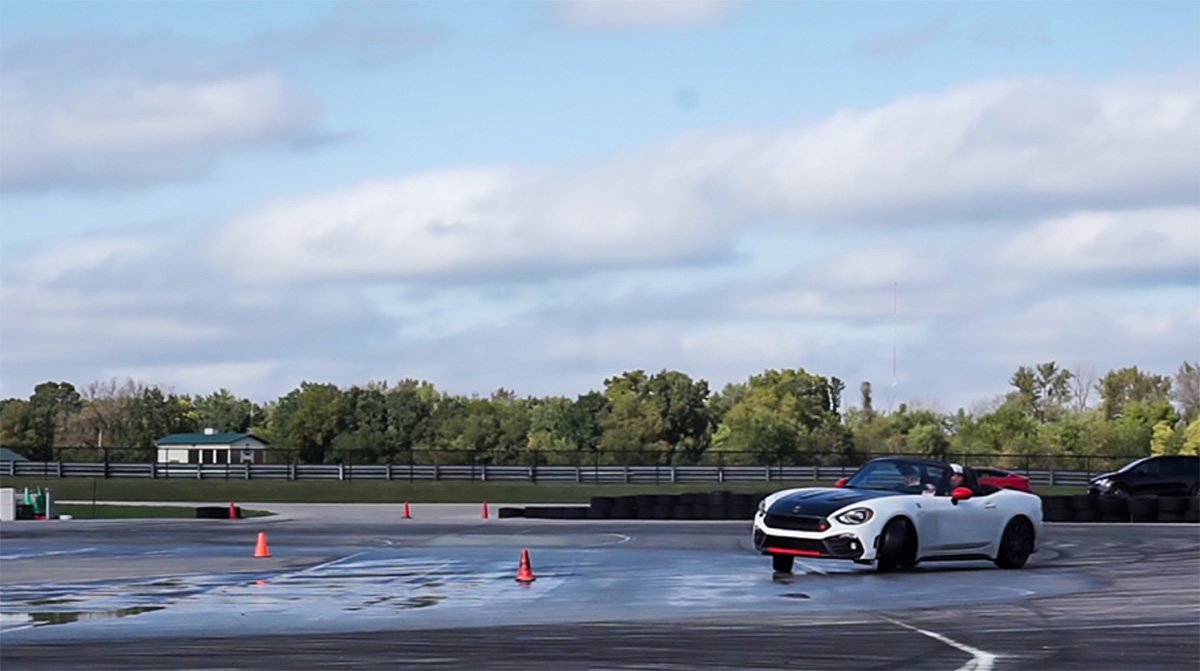 I had my first Skip Barber experience in 1989, attending a two-day, Chevrolet-sponsored car control course at Lime Rock Park in Connecticut where we drove the Camaros, Corvettes, and Berettas of the day on the track and skidpad. Terry and I were both much younger then. He was as entertaining as I remembered, and I was just as nervous. You see in addition to being a great instructor – he's the driver-development director for the SCCA Trans Am Series – Terry is a legendary driver having won more Firestone Firehawk Endurance races than anyone. Prior to that he was a drag racing star whose achievements include the 1973 NHRA Super Stock National Championship.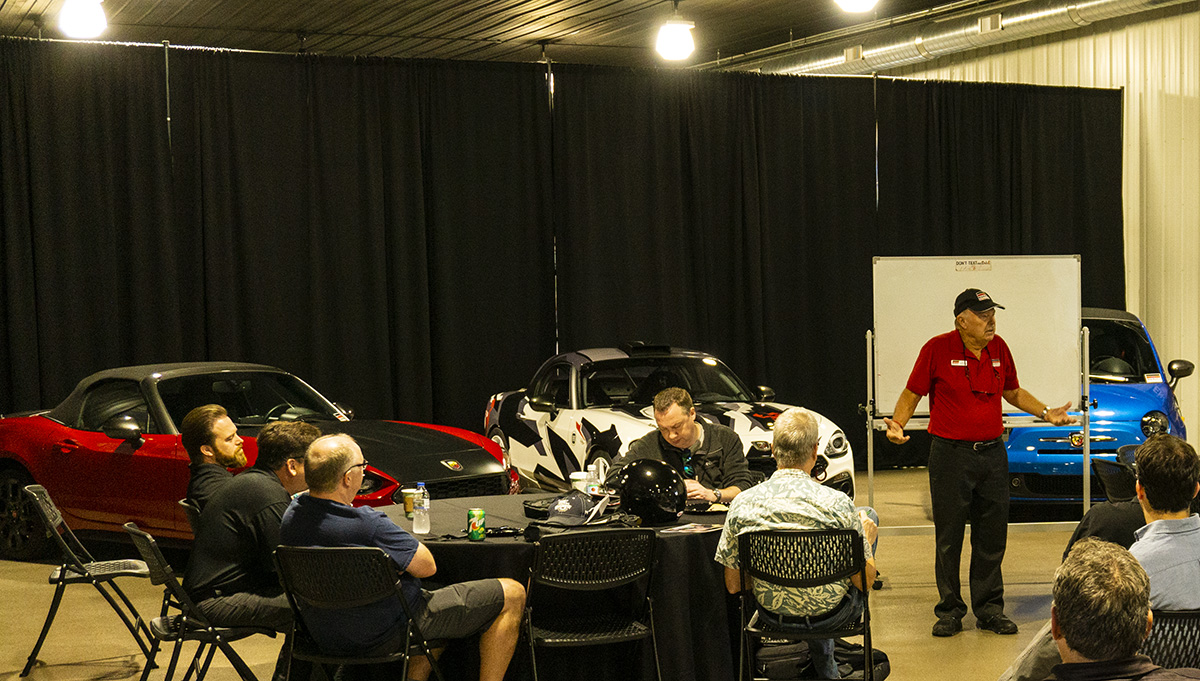 The metaphorical string Terry was referring to brought it all back to me, sitting in the classroom watching a chalk talk about basic physics and vehicle dynamics. There are two forces acting on a car, longitudinal and latitudinal. In simplest terms, the accelerator and brake control longitudinal force. The steering wheel controls the force to the sides. That means you can only use so much steering and so much of the throttle or brake at one time and maintain control. Use 90% of the throttle, you can only use 10% of your steering. Let off the gas and you can turn the wheel a little further. Thus Terry asked us to imagine an string connecting the pedals and steering wheel. If you use too much of both at the same time, you break the string and lose control of the car. It's a lesson that has applications well beyond the track and skidpad, and one I wish more driver's ed instructors would use with their students.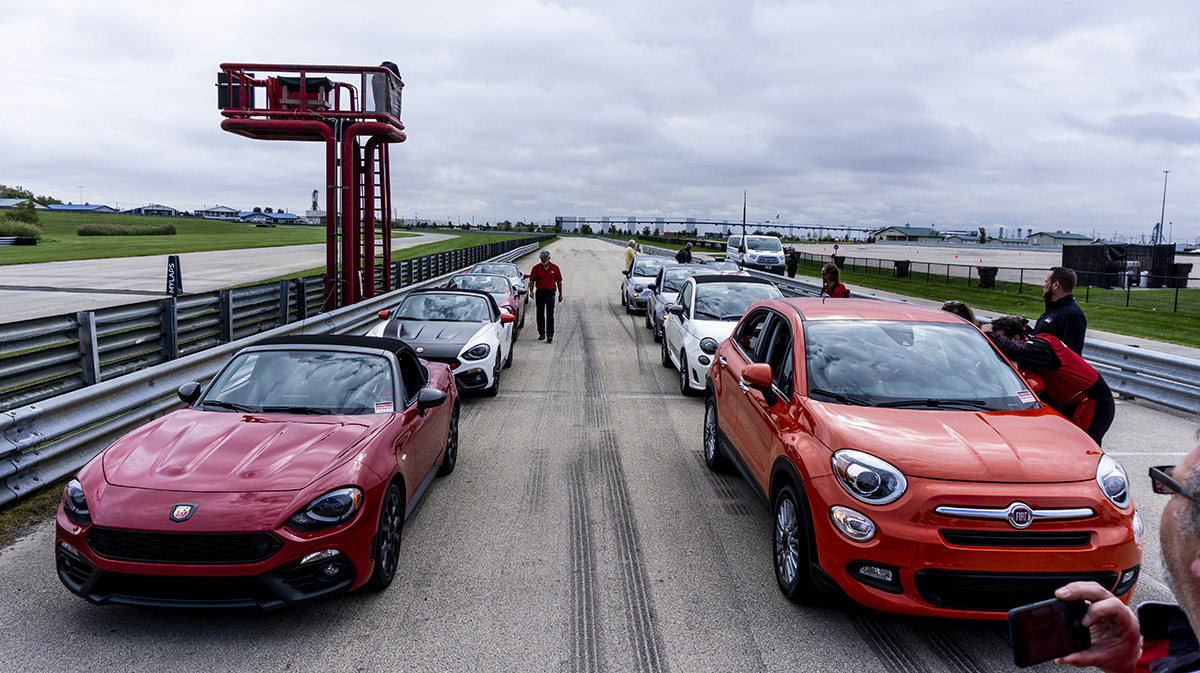 The lesson learned, it was back to the track at Autobahn Country Club in Joliet, Illinois, where I used my eyes to focus at the entry, apex, and exit points. The seat of my pants was my g-force meter, helping me determine the balance between my hands and feet. I was lucky enough to be doing this behind the wheel of the delightfully light, nicely balanced, and appropriately powered Fiat 124 Abarth. And I was getting faster with each lap as I flirted with the limits of adhesion.
The Fiat 124 is built on the same platform as the much beloved Mazda MX-5 Miata. The differences between the two lie in the sheet metal, engine, transmission, and suspension tune. The Fiat also has a beefier leather-wrapped steering wheel, but everything else in the interior except the badging is identical.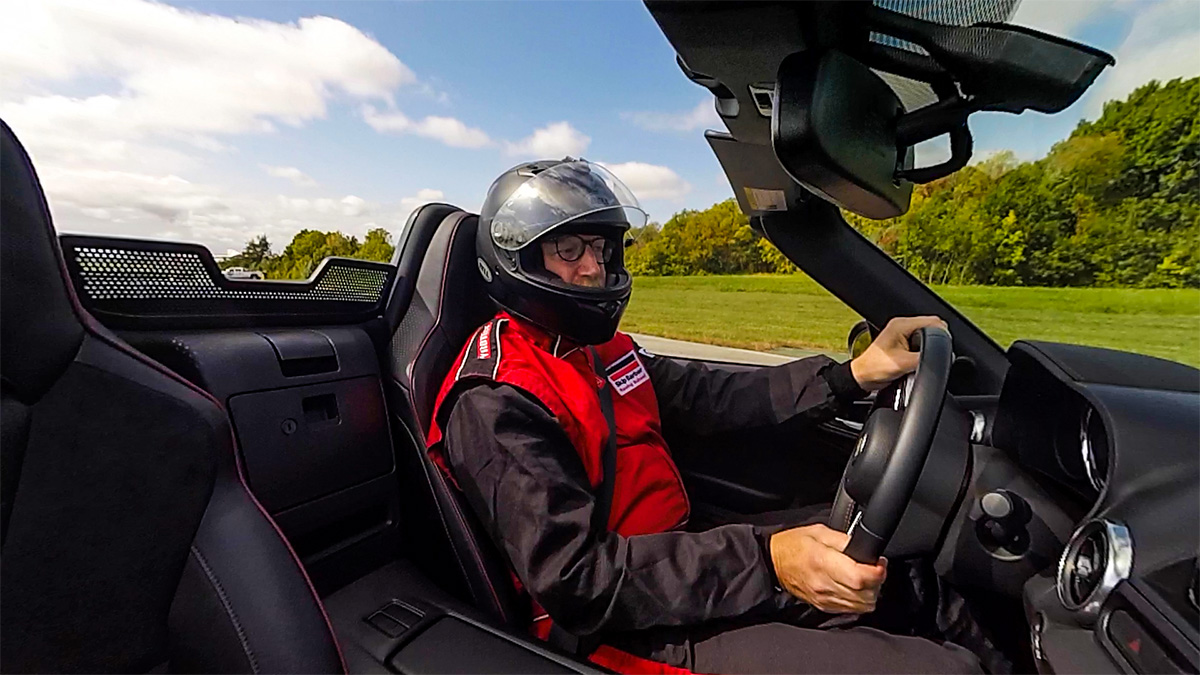 In its Abarth spec, the 124 weighs just 2,477 pounds and the 1.4-liter turbocharged four-cylinder engine makes 164 horsepower, up four from the base engine. The engine has a relatively low 6,250 RPM red-line, but has a lot of low-end grunt with 184 pound-feet of torque available at just 2,500 RPM in sport mode. This means you don't have to drive it way up in the rev range to accelerate out of corners, making that foot/hand balance a little easier.
Abarth is an independent, yet wholly-owned subsidiary of Fiat Chrysler Automobiles and has long been associated with highly tuned Fiat street and racing cars. Founder Carlo Abarth began his career as a driver and builder of racing cars, and founded the company that still bears his name in 1949. Over the years, one of their claims to fame was performance exhaust systems for cars and motorcycles that significantly improved performance. One of the best things about the 124 and 500 Abarth vehicles is the exhaust note. The burble at idle, growl under acceleration, and snap and crackle when you lift are grin inducing and really add to the experience of driving Fiat Abarth vehicles.
I have owned two Fiats before in my life. Without going into the gory details, lets just say in neither case did it end well. So when the brand was relaunched in the US with the 500 a few years ago and the 124 joined the fold in 2017, I was intrigued but skeptical. What I've found are cars that have a joyous personality. They stand out from the crowd and offer a driving experience that stays true their Italian roots. Taking the track in the 500 Abarth, I was struck by how well it handled. I expected the short-wheelbase, front-wheel drive two-door to push into the corners and lots of body roll as I drove through them. The twin-tube shocks and stabilizer bars ensure the car stays surprisingly level under hard cornering. And while there is a bit of initial understeer, the 500 rotates quickly (as long as your hands and feet are in harmony) and drives through the corners with confidence.
Autobahn Country Club is a great track for these cars. It's smaller and tight where handling and control matter more than flat out speed. We were on the 1.5 mile north circuit that gives you plenty of opportunity to toss the car around and see what it's capable of. Like many private club tracks, there's plenty of run off to prevent anything except egos from becoming seriously damaged, and as far as I know, no one took any off-track excursions. Private race tracks are a fairly new phenomenon, but are sprouting up all over the country. Places like Autobahn in Joliet, M1 Concourse in Pontiac, Michigan, Monticello in Palm Springs, and others offer more than just a track where members can drive both high performance street and race cars to their full potential without fearing retribution from local law enforcement. Many have garages and suites where owners can keep their cars and work on them. Autobahn features several "GarageMahals" that house entire collections and have entertaining space for members and their guests. While they are member-only facilities, many have days where they are open to the public for special events.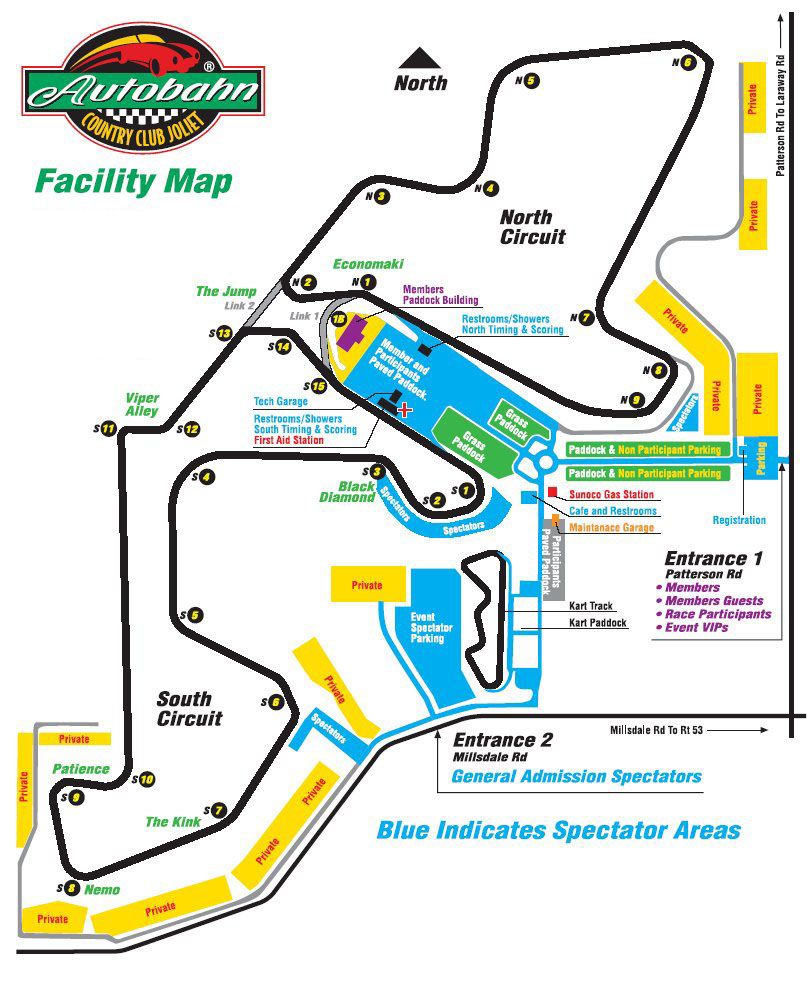 The Fiat 124 and 500 Abarth models offer performance and style at a price that's within reach for most people. If you have access to a track where you can take advantage of that performance, even better, though they are a lot of fun on the street. If you're driving quickly, just remember not to break the string.