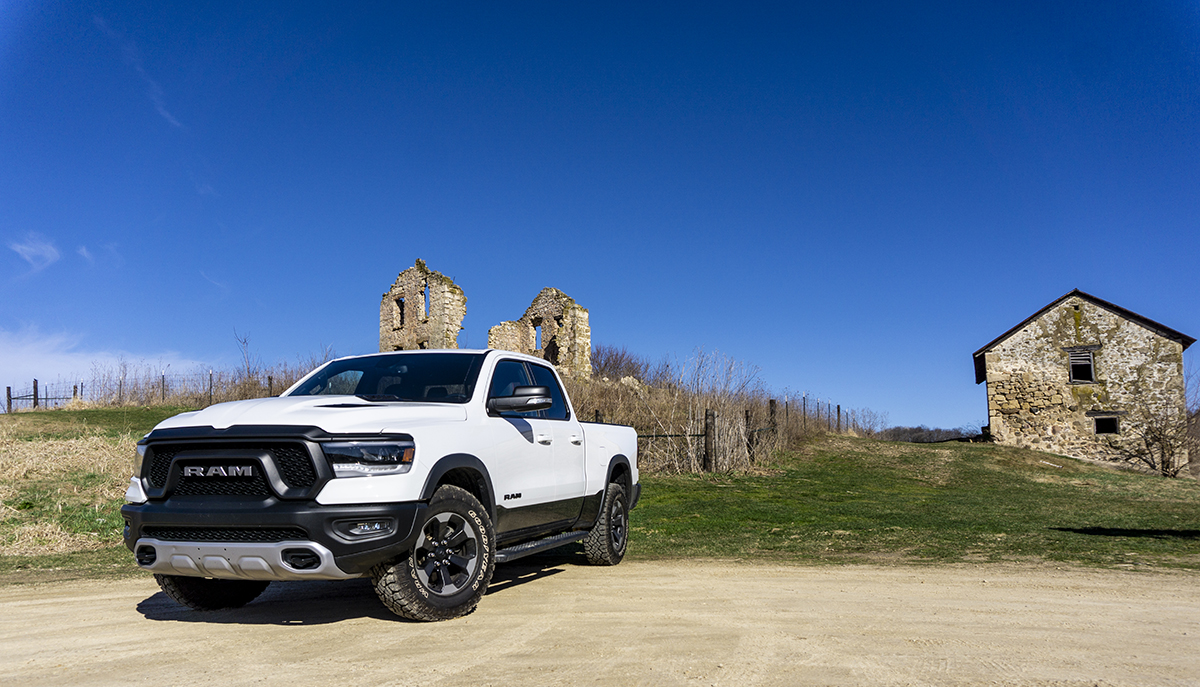 As immutable as gravity, as reliable as an atomic clock, as certain as the the sun setting in the west, since as long as I can remember the pickup truck hierarchy has been Ford, Chevy, then Ram. 'Twas ever thus, until just a few weeks ago when apparently the world shifted on its axis and Ram blew by Chevy in second quarter light-duty truck sales, making significant gains on Ford in the process.
The reason? GM hasn't adapted their products to the changing attitudes of new truck buyers while FCA has. It was clear at a launch event I attended for the 2019 Silverado last year that GM still looks at trucks as utility vehicles and is trying to differentiate on functional features and benefits. Sure, utility and capability are important – the torque, towing, and hauling pissing contest between the big three is still a nuclear level arms race. A whole slew of the new generation of truckers, however, wear their pickups like Levis and Tony Lamas, enhancements to their personal brand, fashion statements. A plurality of pickup truck owners today will never haul a boat or bring a load of 2x4s home from the lumber yard. More often than not their trucks are family vehicles with an empty box in the back and a very lonely hitch. People don't buy trucks because they have to anymore. They buy trucks because of how they make them feel. Ram gets this and the fact that their sales are up more than 20% over last year proves it to be true.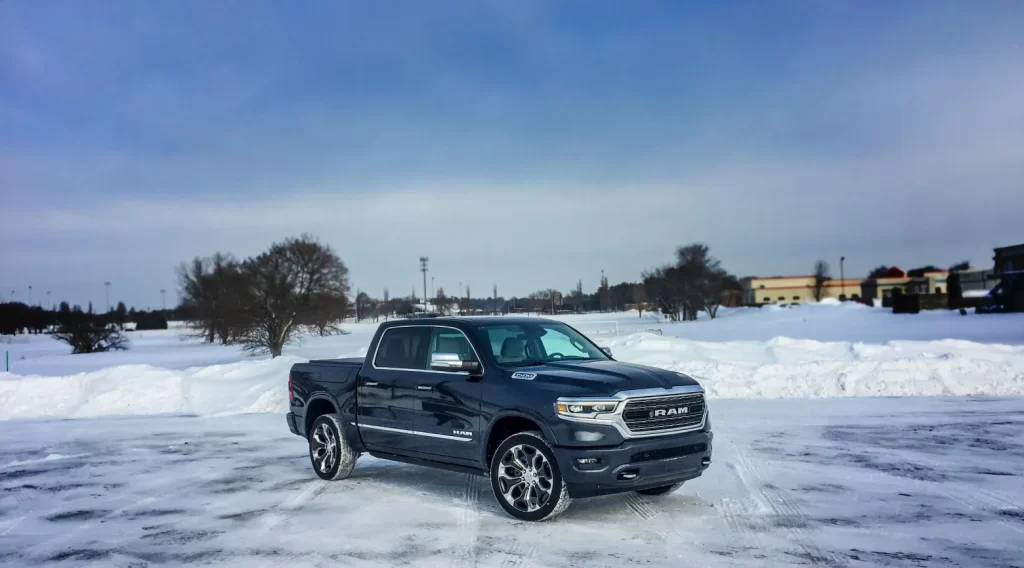 Pickup trucks have come a long way from the spartan, utilitarian, work vehicles of my youth. Gone are the days of bench-seated single cabs with crank windows, AM radios, and rubber floor liners you could hose out at the end of a day in the fields or on the jobsite. The 2019 Ram 1500 gives you the ability to do work while expressing a self so archetypical, Carl Jung's estate should be collecting royalties. There's no better demonstration of this than the two pickups I drove recently, the 2019 RAM 1500 Limited Crew Cab and Rebel Quad Cab.
My first stint came late last winter in the luxurious Ram 1500 Limited when a polar vortex was bearing down on the midwest plummeting us to temperatures so low they had me convinced a new ice age was on the way. At $67,255 as tested, my Limited was pretty much Ram's ultimate expression of luxury; engraved metal, pinstriped panels, and leather with hand-stitched accents adorning the cabin in a way that evokes the Governor's Suite in a wild west bordello. This is definitely the boss's truck, rich, tailored, elegant, with a bit of a John Wayne swagger. In archetypical terms, this truck embodies the heart of The Ruler, the ultimate expression of success.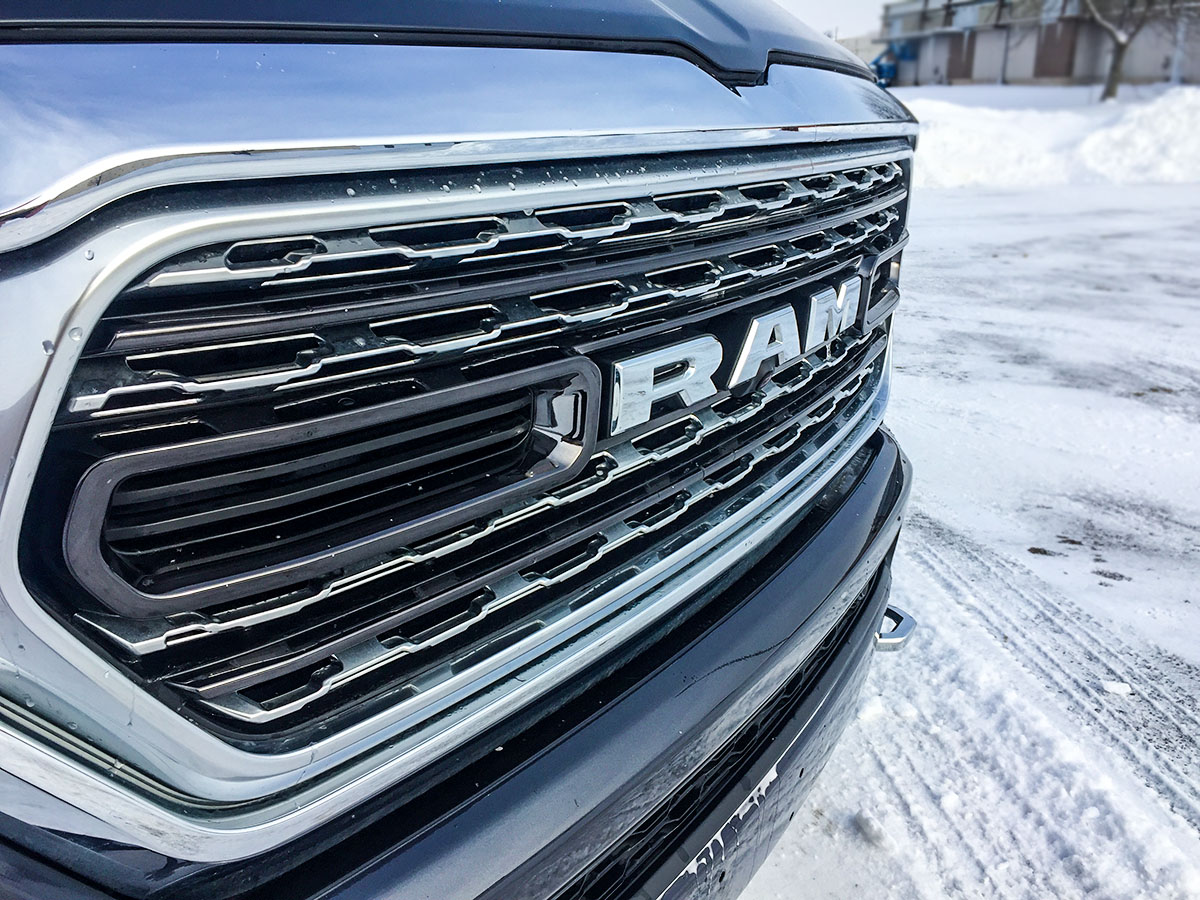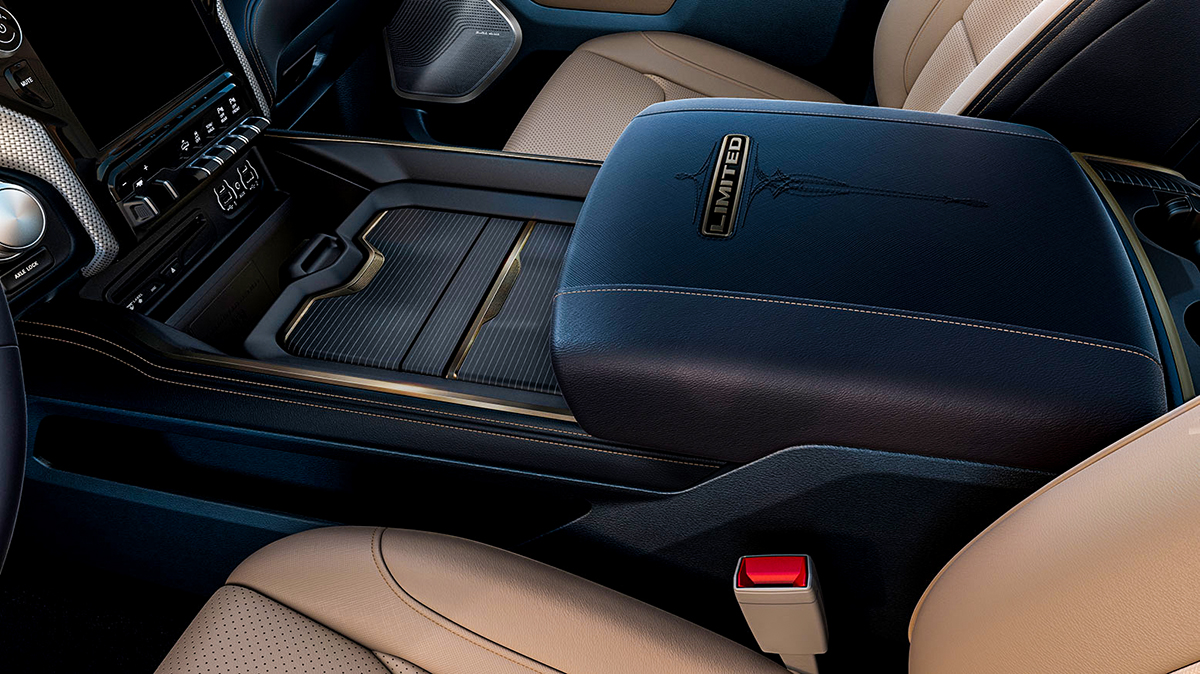 Truck two came just as spring was finally pushing winter aside. The white Ram 1500 Rebel lived up to its name with blacked-out trim, fat knobby tires, factory lift kit, racy red interior accents, and an exhaust note that burbles menacingly at idle and roars defiantly under acceleration. This is another side of Ram, fun, exuberant, a little bit bad, and at $51,220 a little more down to earth. It is, in archetypical terms, The Outlaw, which is all about freedom and a disdain for authority. By differentiating their trucks on an archetypical level, Ram is getting past mere features and appealing to people on a visceral level, tapping into the lizard brain so the attraction is almost instinctual.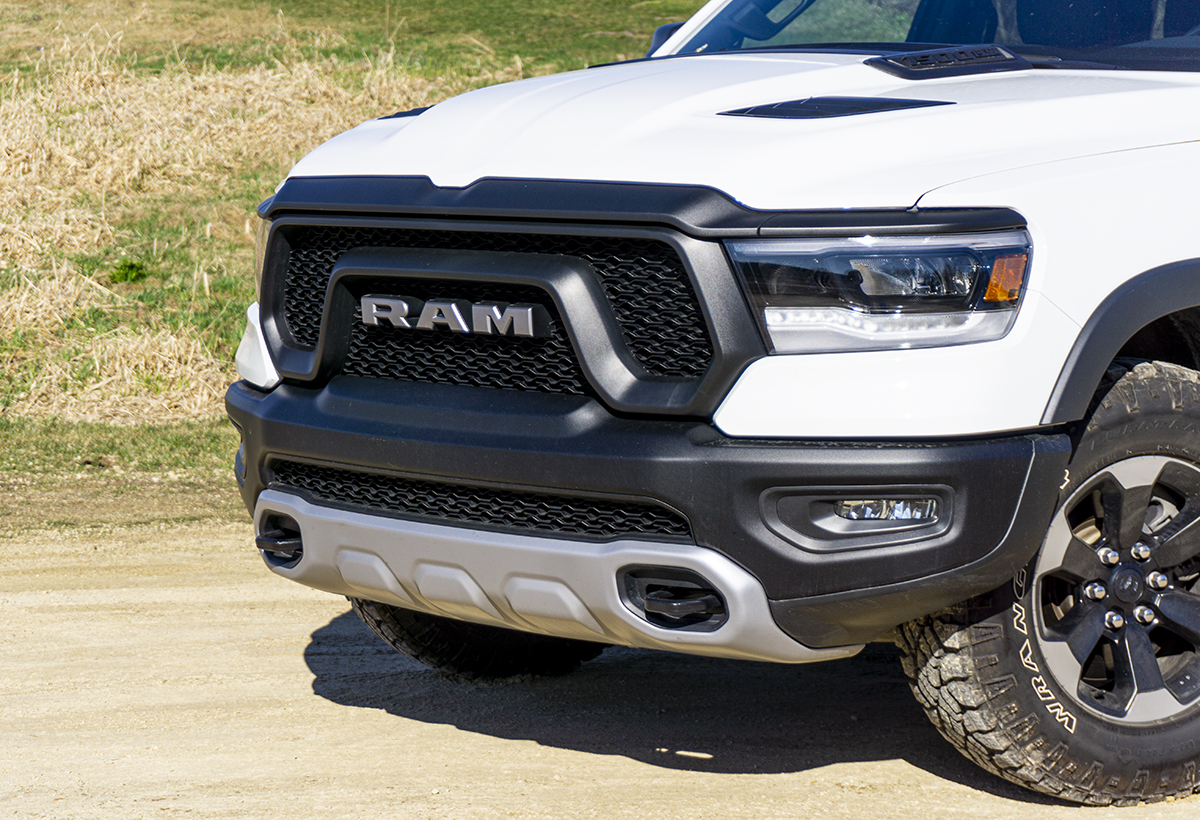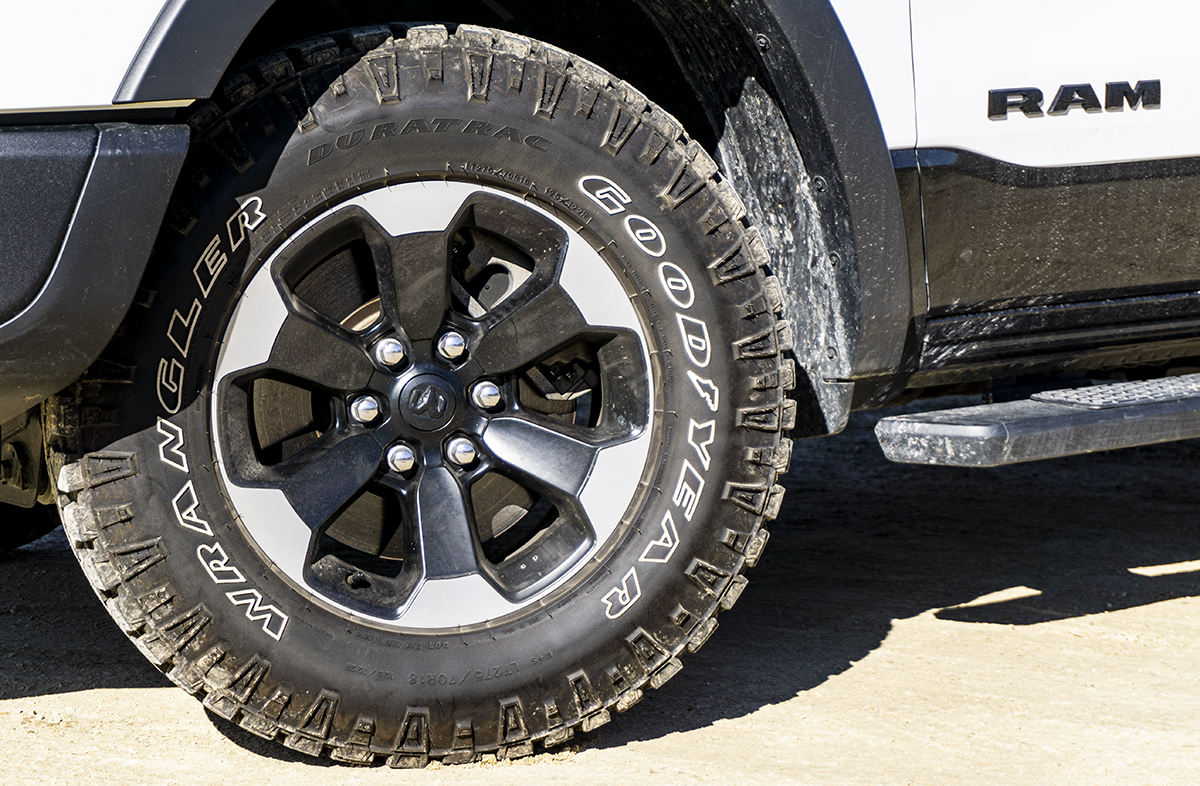 Despite the outward differences, underneath the trucks share most mechanicals, tuned appropriately for each truck's specific mission. It starts with RAM's boxed steel frame, 98% of which is high strength steel. This strong backbone means a rigid platform to bolt on the independent front suspension, hybrid 5.7-liter Hemi V8 eTorque engine mated to a well-sorted, 8-speed, Torqueflite automatic transmission, and all the other bits that matter. The two-speed locking transfer case on both my trucks offered an auto mode, shifting from two to four-wheel drive on its own as needed. You can also select 2WD high, 4WD high, and 4WD low.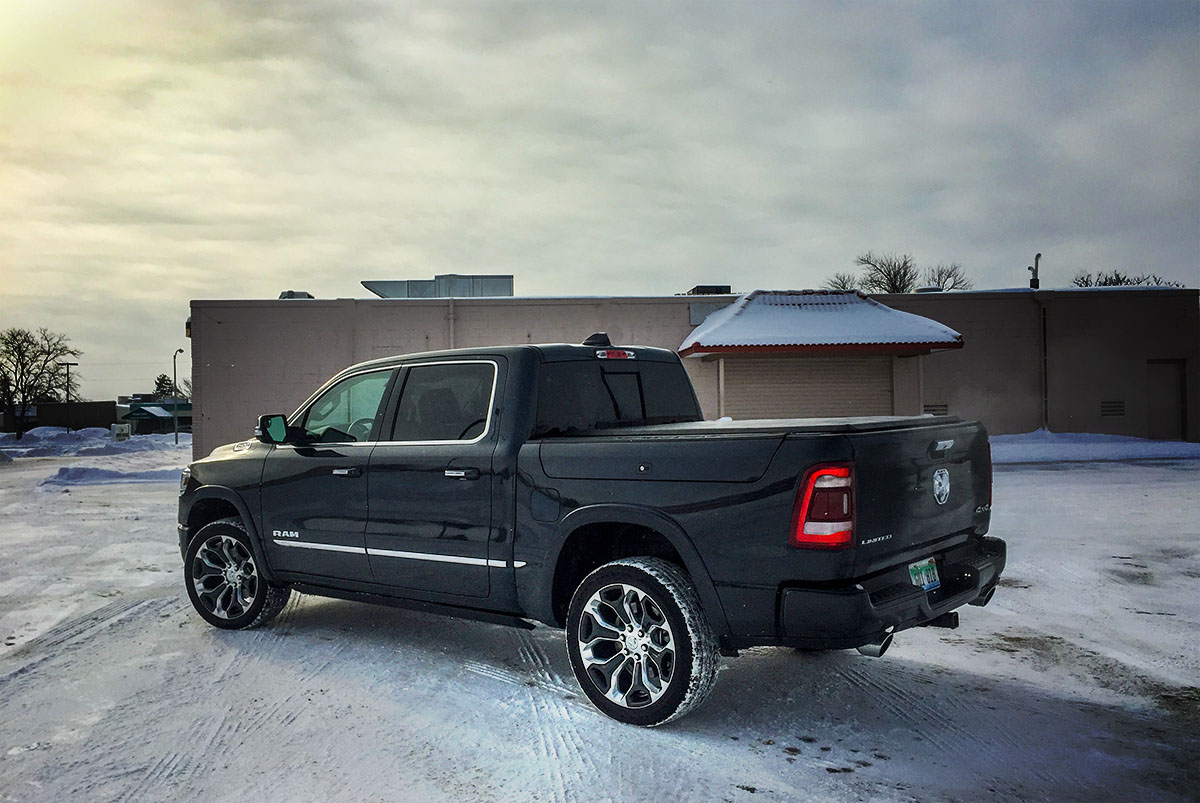 Both the Ram 1500 Limited and Rebel are capable of towing and hauling more than any non-professional will ever need in a light duty truck. With the additional 130 pound-feet of torque delivered by the eTorque engine at launch, the Ram 1500 can tow up to 12,750 pounds, just a few hundred shy of the class-leading F-150 but a few more than Silverado. You can put 2,200 pounds of stuff in the bed, which is just shy of Ford and Chevy's max payload numbers. Tuned for the specific duty of each model, the Hemi V8 is a joy to drive and listen to. Acceleration off the line and at speed is excellent. Cruising along on the highway the Ram 1500 rumbles along confidently. Get off the beaten path, switch to four-wheel low, and you have the crawl capability you need to get through all the muck and mire you can encounter.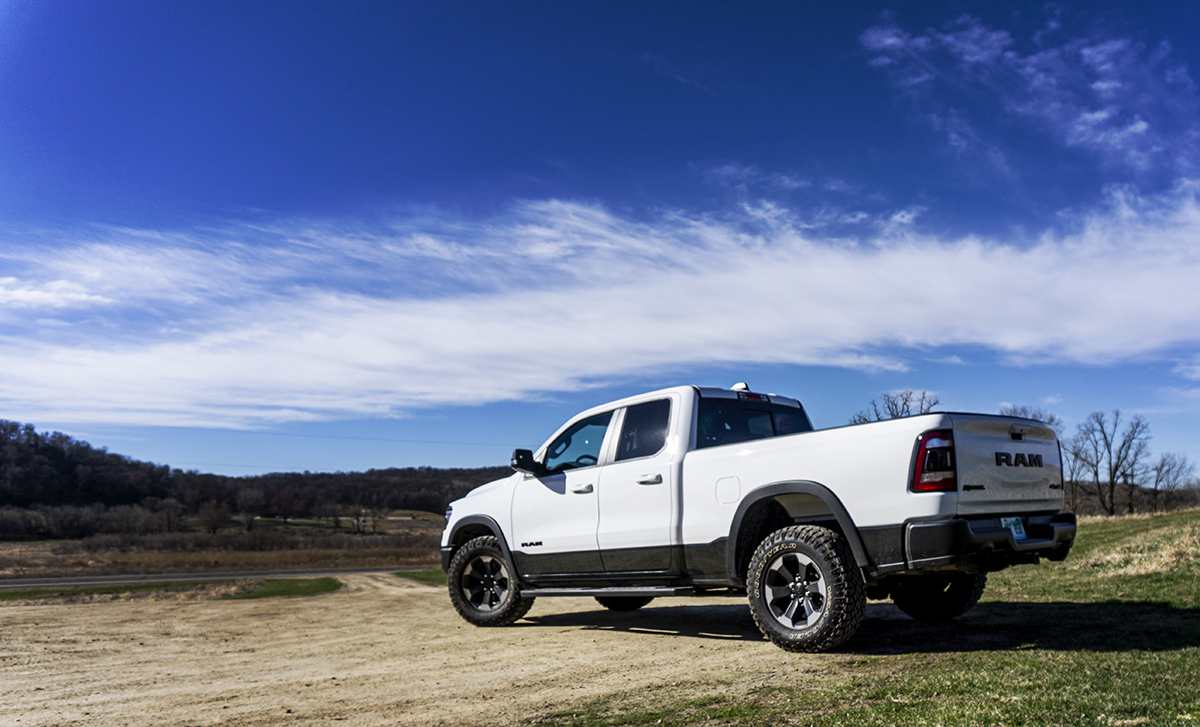 Where the Ram really separates itself on a functional level from its two competitors is ride quality. Their base multi-link, progressive rate rear coil suspension is light years ahead of Ford and Chevy's traditional leaf spring setup. Move up to the optional air suspension and it's another quantum leap in comfort. The cost paid for this added comfort is the slight difference in towing and hauling, but it's more than a fair trade. This is simply the best riding, best handling, full-size truck on the market.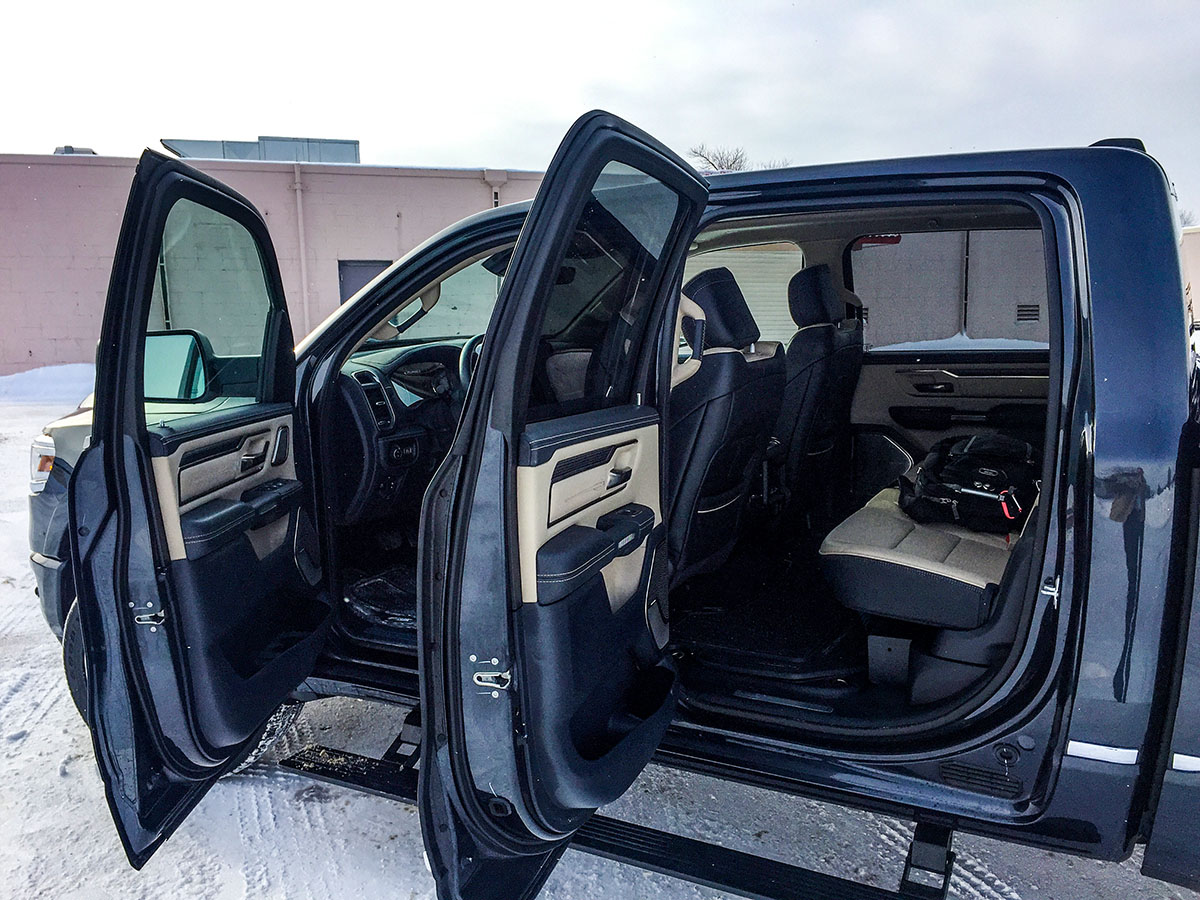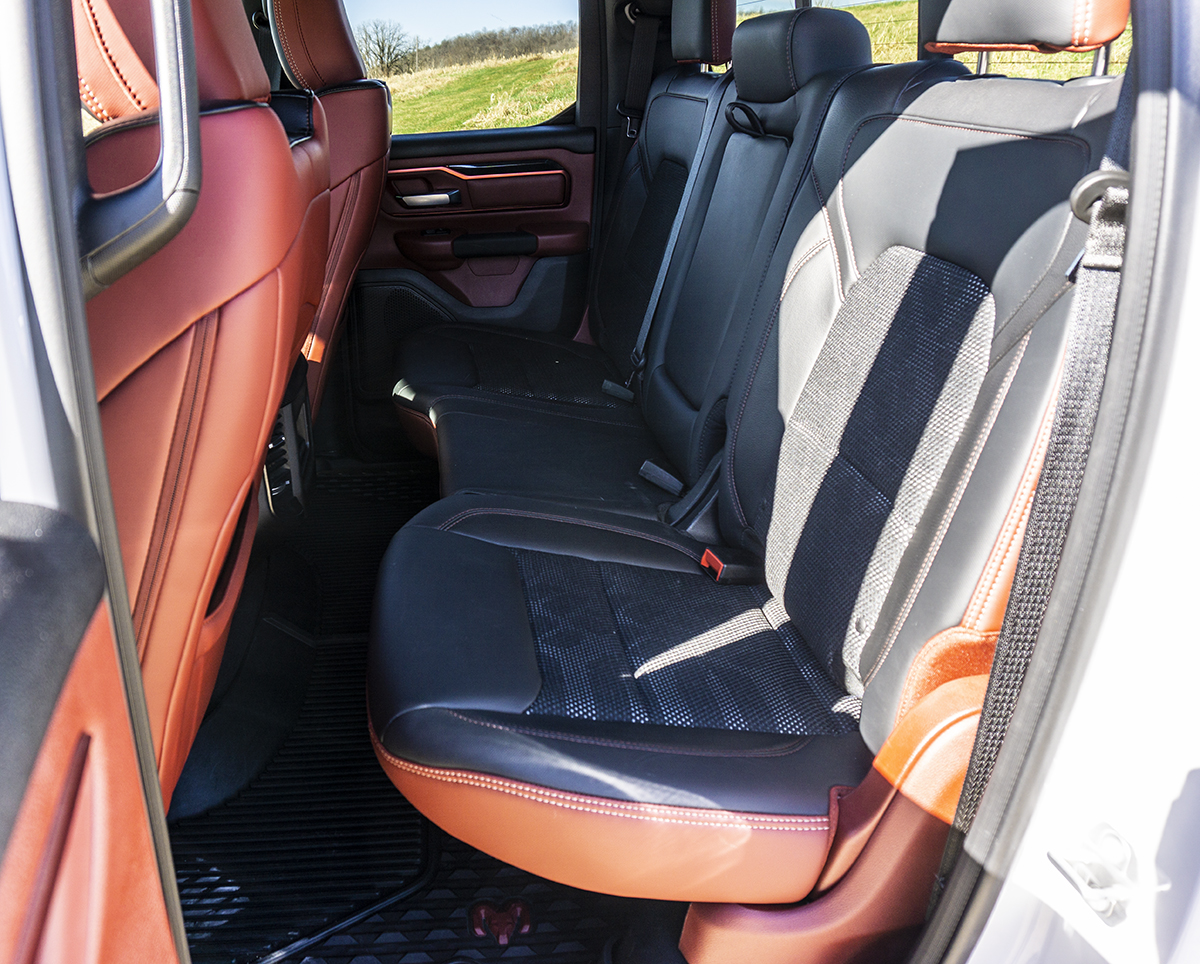 Inside, the Crew Cab Limited felt larger than the four-inches of added interior length might indicate. Giannis Antetokounmpo could sit comfortably in the back seat. The Quad Cab Rebel was less generous, but still useful for kids and as a place to stash gear that you'd rather not expose to the elements in the bed.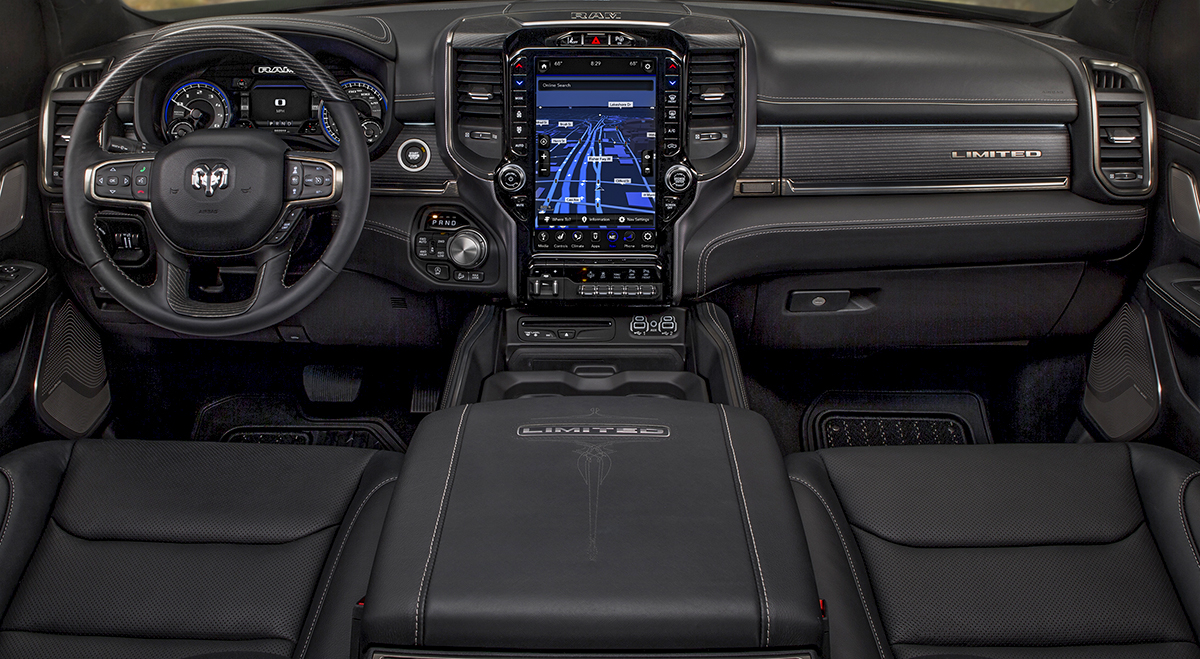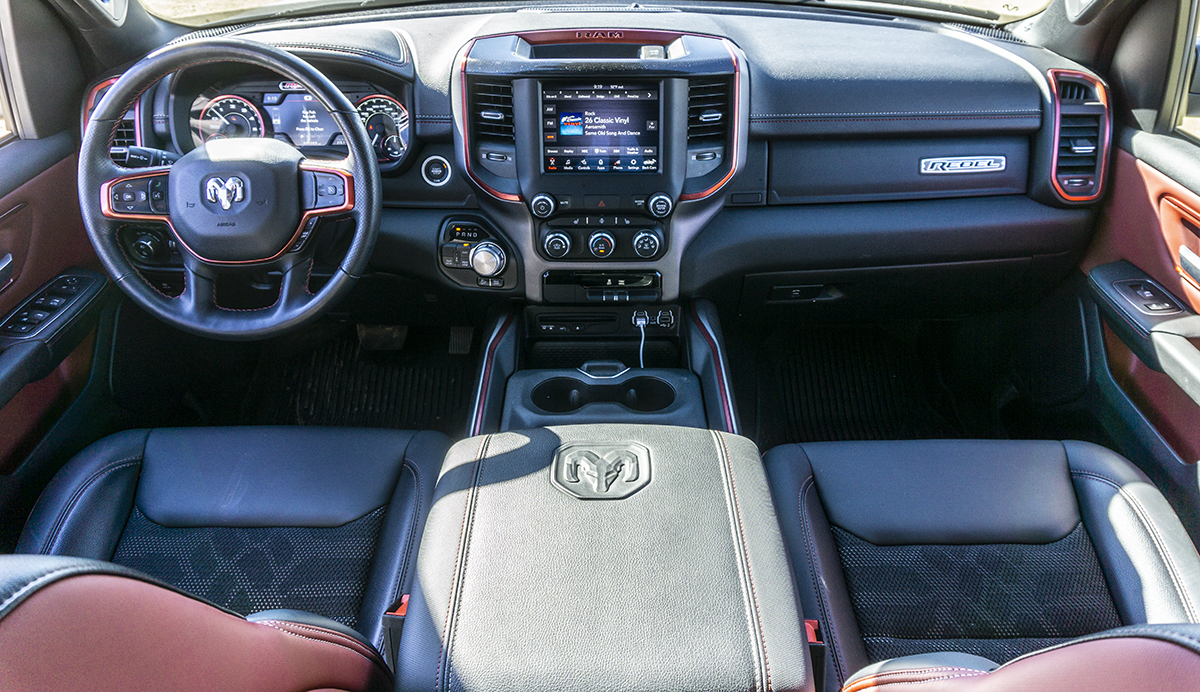 With the 2019 upgrade, technology is plentiful, with Ram adding a couple of touches that move it well into the forefront of full-size trucks. The most obvious is the top-of-the-line 12-inch UConnect touch screen on the center console. With dual screen capabilities, it's a radical change in pickup truck infotainment systems. Even the mid-trim 8.4-inch unit is expansive and displays everything you need clearly. Apple CarPlay and Android Auto are included when you get both larger screen packages and a premium sound system that offers plenty of power rocking out at for high volume is also an upgrade.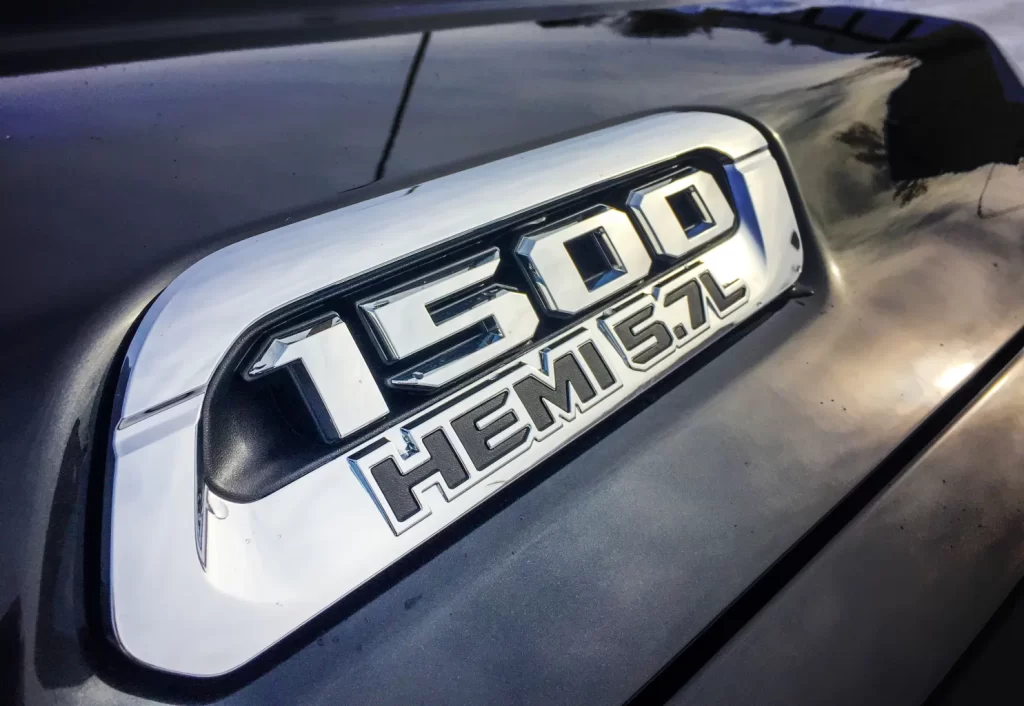 Ram 1500 now offers all the modern driver assist technologies including adaptive cruise control, lane keep assist, blind spot warning with trailer detection, surround view camera, forward collision warning, and lane departure warning. Standard on every trim level is electronic stability control, brake assist, electronic roll mitigation, hill-start assist, traction control, trailer sway control, an electronic parking brake, and hill-descent control on all off-road trucks.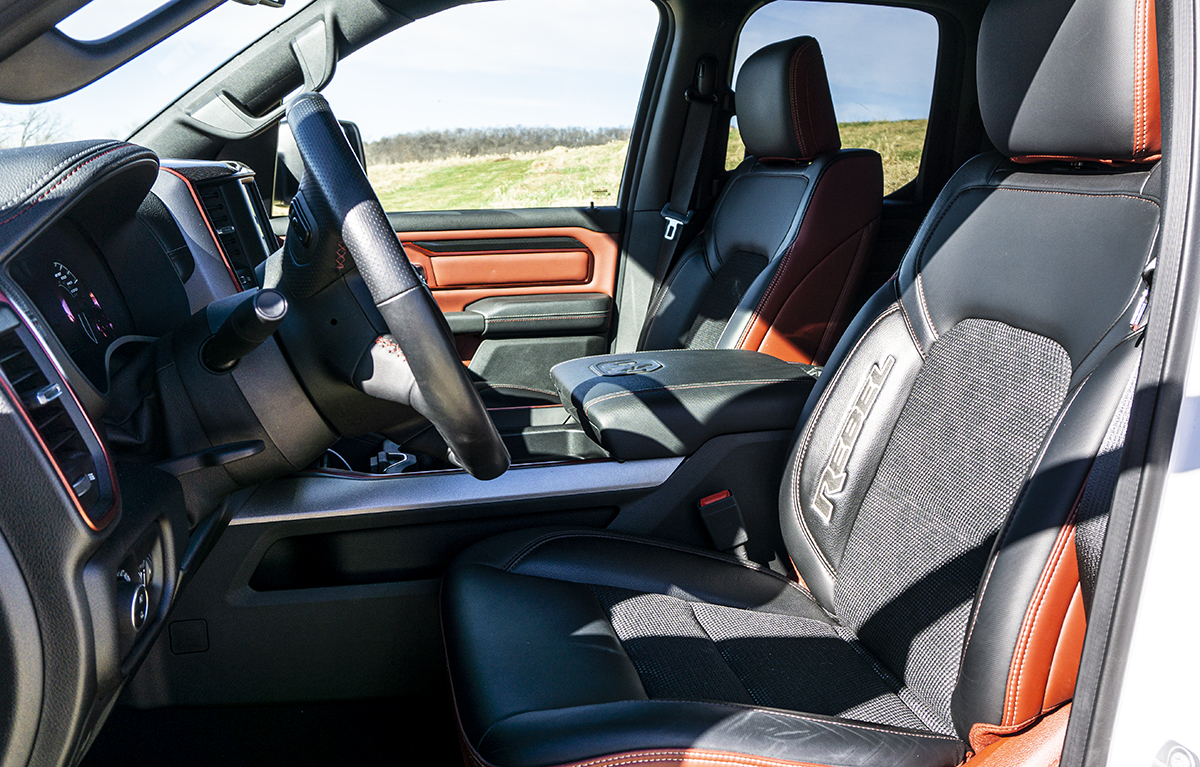 Ram has climbed into the number two position by understanding the new generation of truck buyers better than anyone else and building capable trucks that fit their self-concepts. In the past, FCA has struggled with reliability and quality issues, the hope is with this latest generation of Ram 1500 Trucks that has been sorted out, but only time will tell. If that's the case there's no reason the recent rise won't continue. While I don't see the Ram 1500 catching the Ford F-150 anytime soon, unless GM does something radical, it will continue to leave Chevy further and further in the rearview mirror.