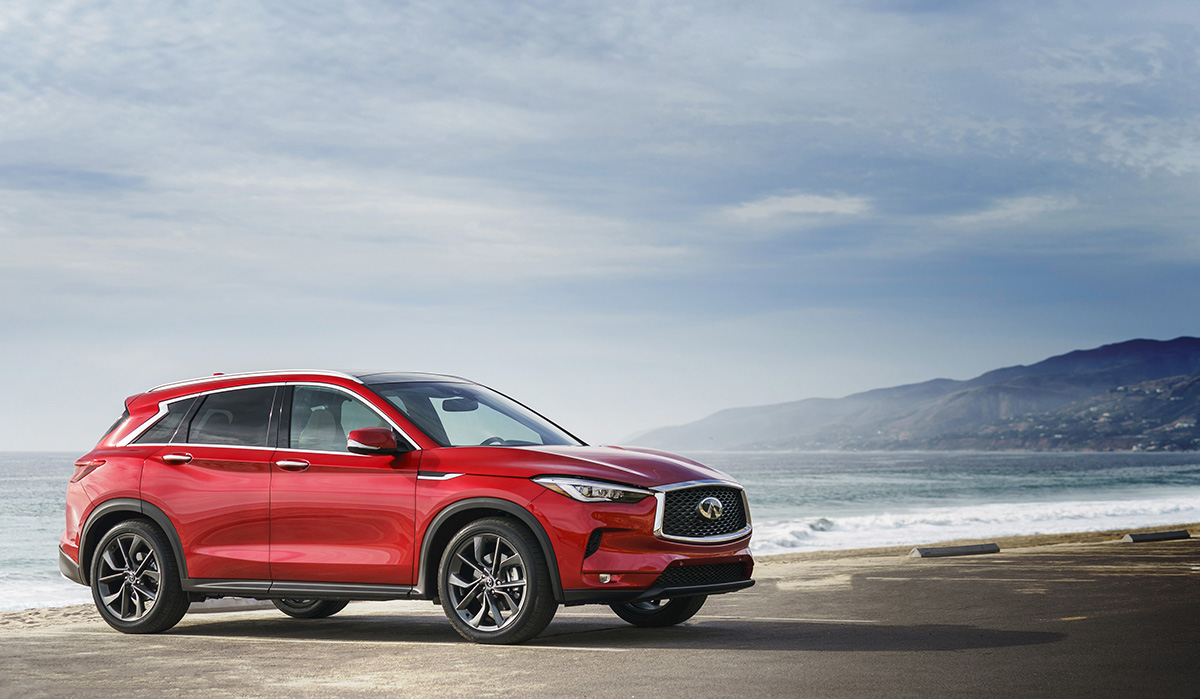 Apparently Infiniti is tired of making exciting crossovers targeted at driving enthusiasts that don't sell very well. The company, once known as the maker of the hotrods of premium Japanese automotive world has shifted its aim to the heart of the mainstream luxury market with this latest rendition of its QX50 crossover. While the exterior design is sharper, more cohesive, and greatly improved, everything else about this vehicle has had its rough edges smoothed over and aggressive tendencies tamed. That's not necessarily a bad thing, but it's a different direction for Infiniti.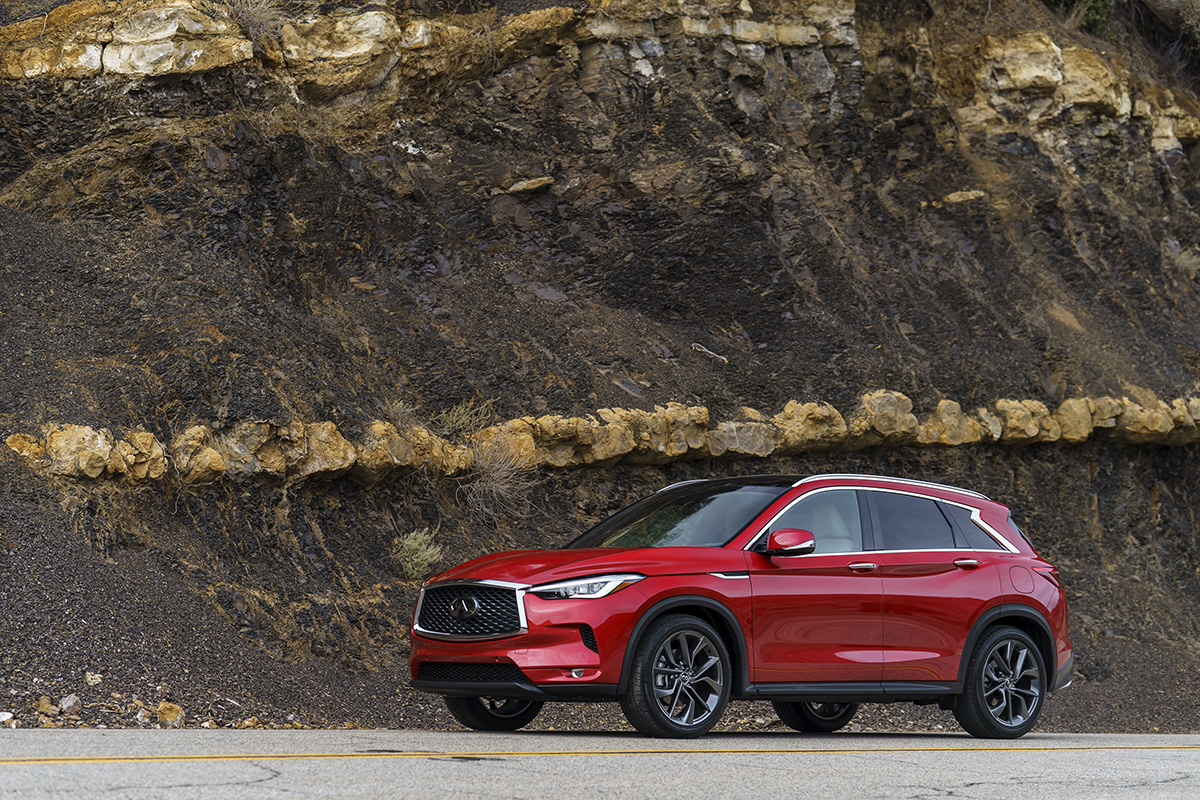 Normally with a car that looks this different from its predecessor, I'd start with the design, but that's not the big news here. It's a very well done expression of the Infiniti design language that brings the QX50 into the fold with all its other products. The big news among a lot of news in this mid-size, five-passenger crossover is a brand new engine with technology Infiniti engineers have been working on for 20 years. Under the sculpted hood purrs what according to executives is "the world's first production-ready variable compression ratio engine." What is it and why should you care? The first part of that question is hard to answer. The second is easy so I'll start with that.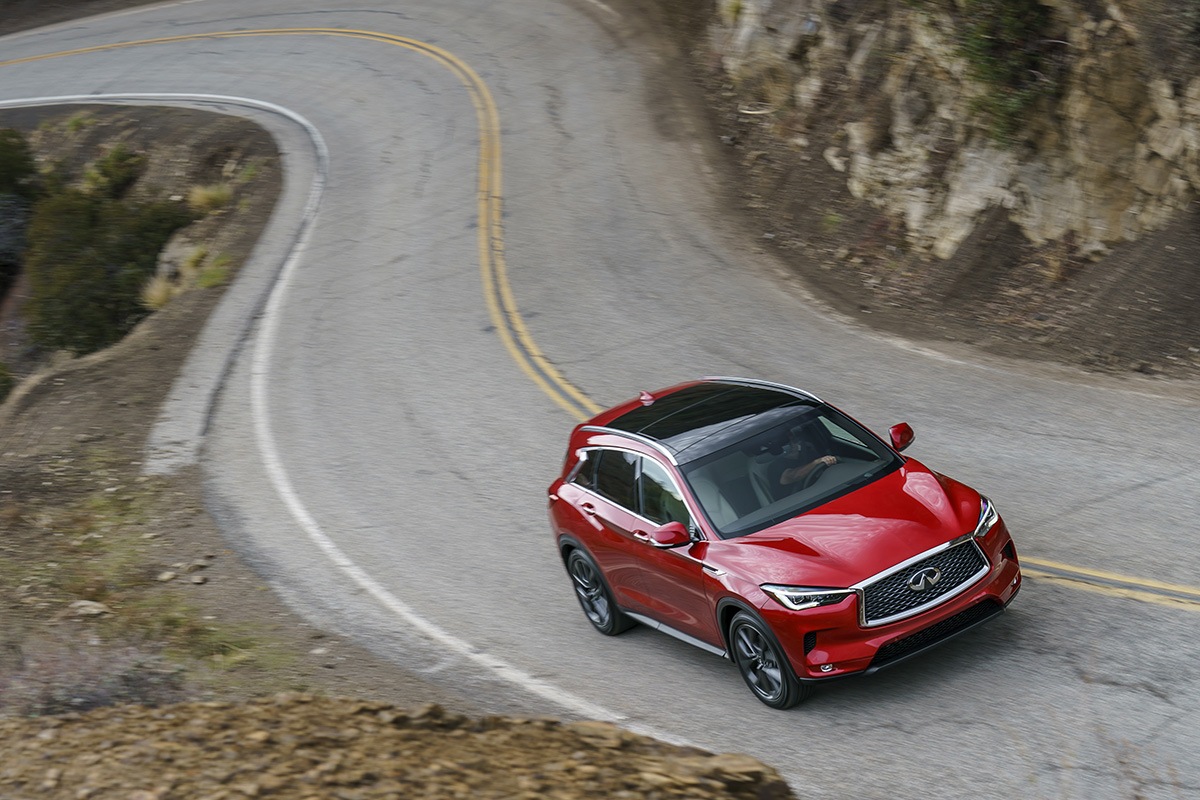 The 2.0-liter VC Turbo engine is really the first engine to deliver on the promise made by so many others, "the power of a six-cylinder engine with the efficiency of a four." When you stomp on the throttle summoning all the horses this engine has to give, you get 268 of them and a truly impressive 280 lb.-ft. of torque. Those are solid numbers – but what really separates the VC-Turbo in this 3,800 pound crossover is the mileage. Drive it economically and you'll eclipse 30 miles per gallon on the highway. For comparison, the V6 in the Lexus RX puts out 295 HP, 268 lb.-ft. of torque (the number you really care about), and gets 27 miles per gallon on the highway.
Now the how. Bear with me because I was a Latin major, not an engineer. So as near as I can tell they sprinkled some magic dust into each of the four cylinders.
Actually, after having Infiniti's chief powertrain engineer, Shinichi Kiga, explain it to me several times very slowly, I believe it goes something like this: The VC-Turbo employs a multi-link mechanism at the base of the connecting rod to change the length of the stroke by a few millimeters, altering the compression ratio from a low of 8:1 to a high of 14:1. So say you're accelerating up an entrance ramp onto a busy freeway, an onboard computer reads your intent, shortens the stroke, and you get all the power of a low compression engine. If you're laying back and cruising, the stroke is increased and you get the efficiency of a high compression engine. It sounds simple, but apparently it's hard to pull off which is why it took 20 years for Kiga-san to make it work. Advancements in computer processing power, manufacturing technologies, and metallurgy were all necessary to design, manufacture, and implement the mechanism. When I asked if the added complexity might create more opportunities for reliability issues, I was told the engine was tested on the dyno and in real world conditions for more than a million miles with a failure rate no higher than that of a traditional four-banger.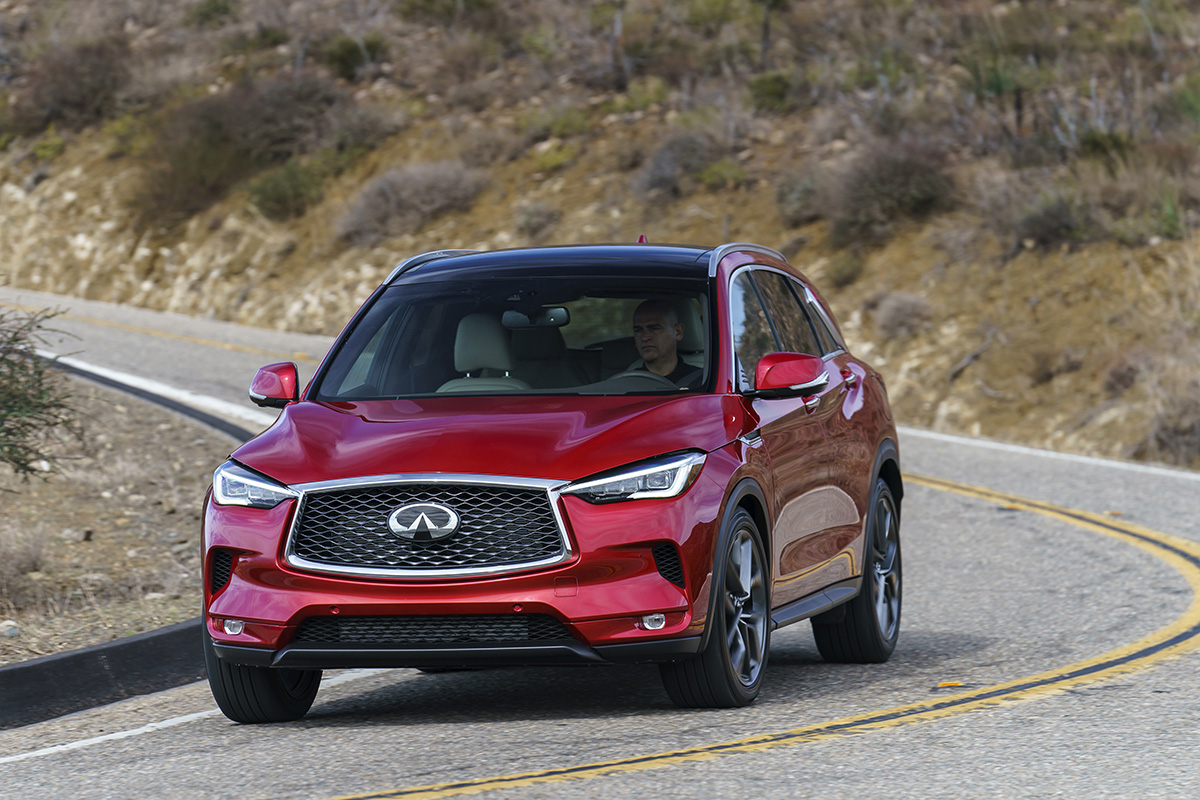 So enough about the engine, because while it's a breakthrough achievement and all, that's really not what the QX50 is all about. If it were, they wouldn't have chosen to mate it to a continuously variable transmission. I'm sure this was done for weight, cost, and efficiency, and it probably makes sense because performance is not this vehicle's raison d'etre. The QX50 is all about getting you from here to there in comfort and style with as little stress as possible. The CVT makes that happen but with the typical laziness one finds in even the best units of this ilk.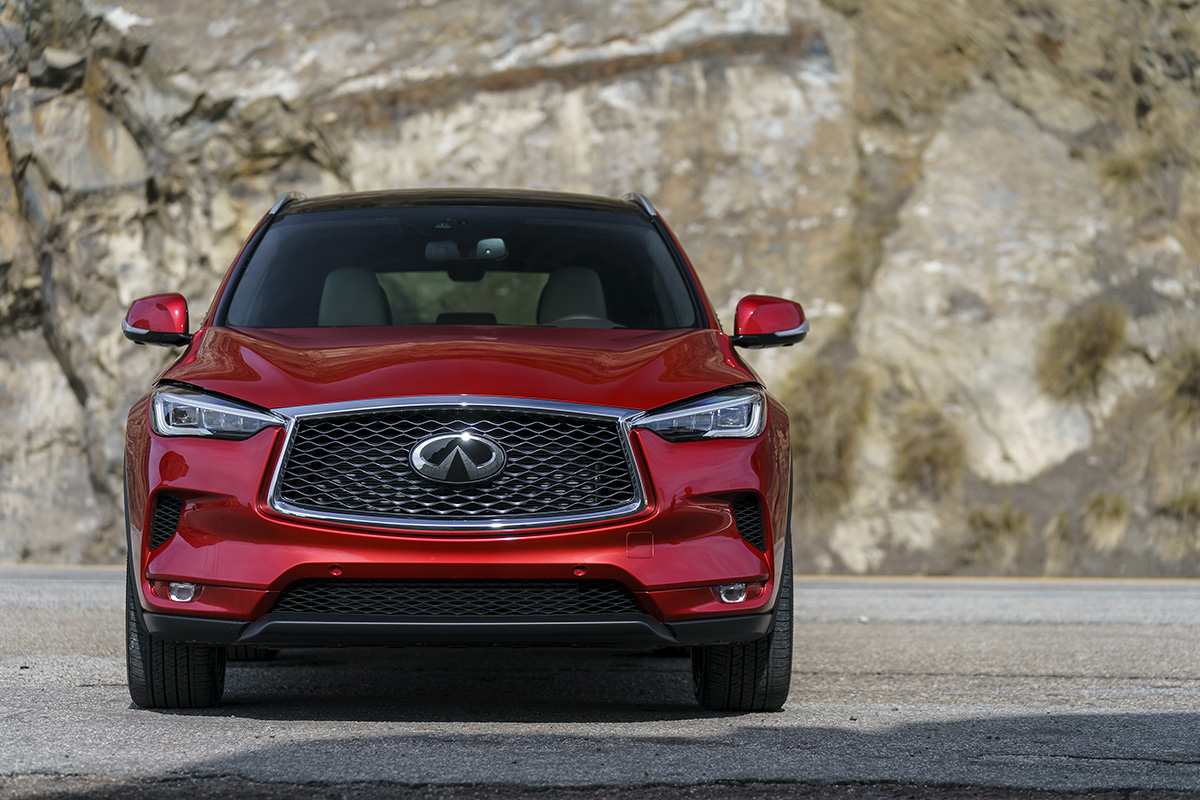 This all new engine is wrapped appropriately in all new bodywork. And it's gorgeous. I have been a fan of Infiniti's design DNA since I sat down with Alfonso Albaisa at Pebble Beach a few years ago and he sketched out the concept for me on a napkin. The simple lines translate well to a number of vehicle types and sizes. On the QX50, it transforms what was the most dated product in their lineup. Starting with the signature double arched grill and "human eye" headlamps, the look is unmistakably Infiniti. One of the things I like about this look is that it is distinctive without trying too hard. Though the curves and creases of the bodywork are actually very complex, you can feel the intent behind the designer's pen.
As good looking as it is on the outside, the QX50 is most impressive when you open the door.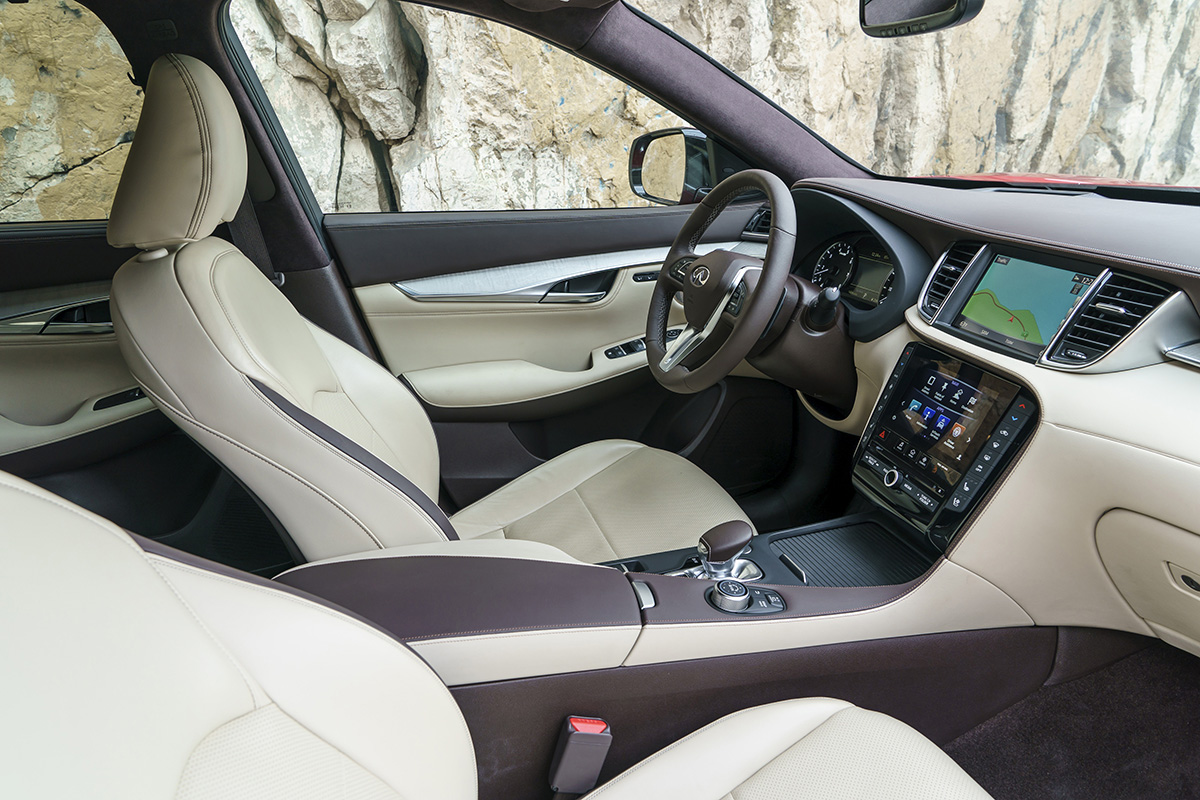 In a theme that continues from it's Q60 Coupe, QX80, and Q50 Sedan, Infiniti's interior work rises right to the top of the class in the QX50. We're talking Mercedes level here both in design and execution. Granted I was driving the fully decked out Essential model with the Autograph Package which features quilted, semi-aniline leather seats and blue Ultrasuede accents on the door, instrument panel, and center console lid. The QX50 employs Infiniti's zero gravity seats which are designed to hold the body in a neutral position reducing stress on the spine, muscles and joints, thus alleviating stress and fatigue on long drives. Given how well my co-driver for the day slept during the afternoon portion of our drive, I'd say they work pretty well.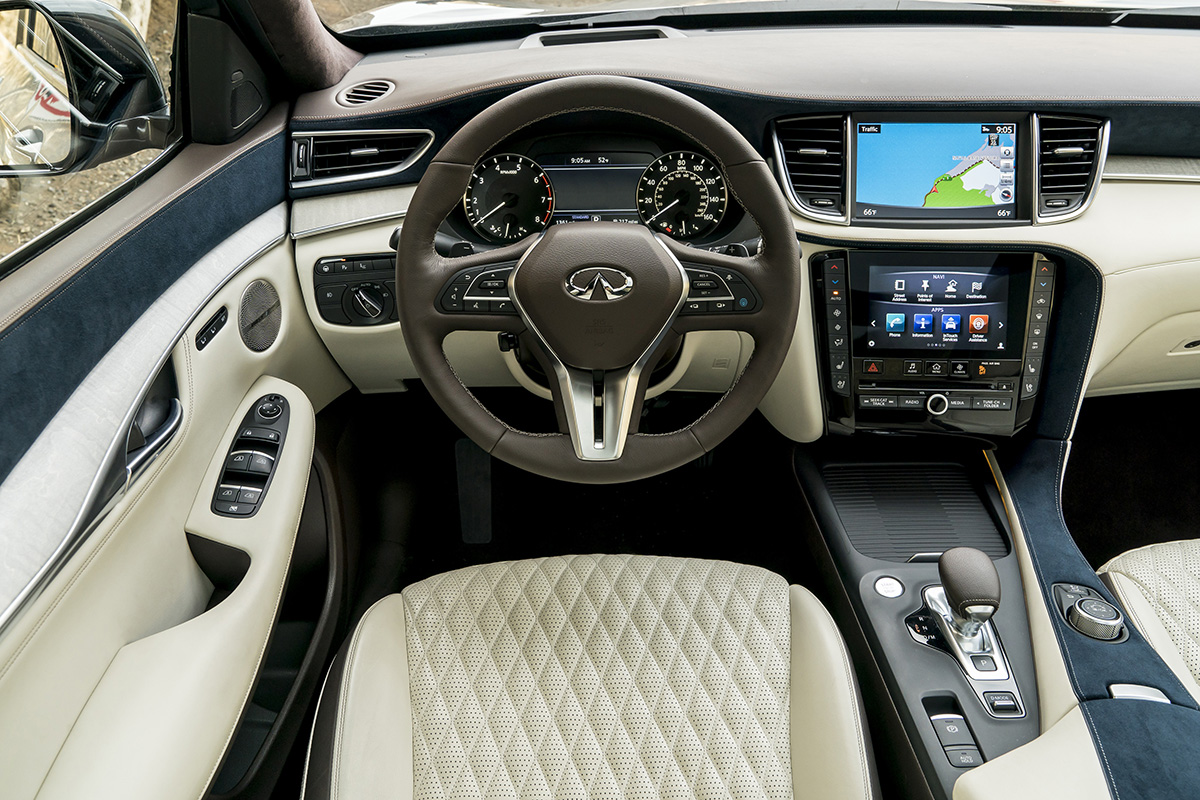 When optioned up, the QX50 also includes all of Infiniti's safety driver support technologies. From ProPilot Assist that engages active lane keeping and adaptive cruise control with the touch of a button, to predictive forward collision warning, rear cross traffic alert, and blind spot detection, you won't be left wanting for help in this vehicle.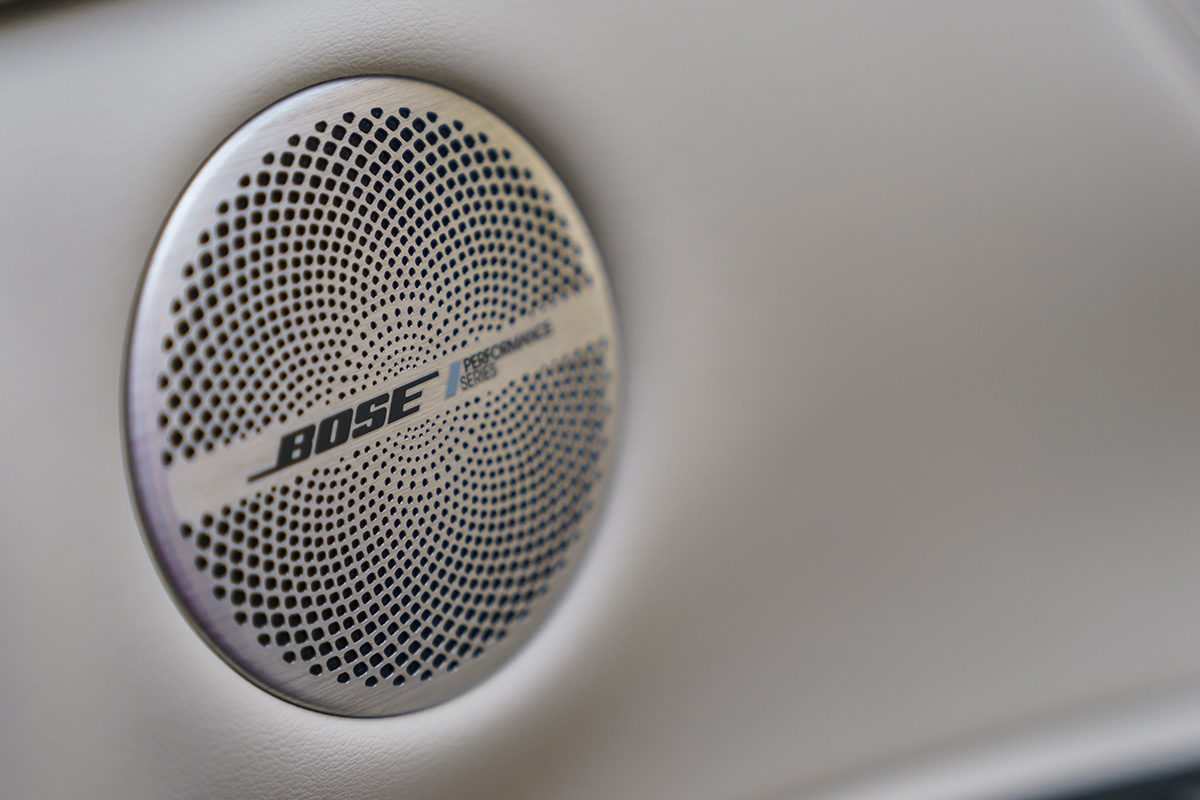 Other interior highlights include plenty of rear seat space for two more adults (you can squeeze a third in the middle), an instrument panel that is classic, clean, and easy to read, while providing a fairly large TFT screen between the gauges allowing you customize the information, and a 16-speaker Bose Audio system that delivers excellent dynamic range at low volumes and brilliant clarity when you crank it up.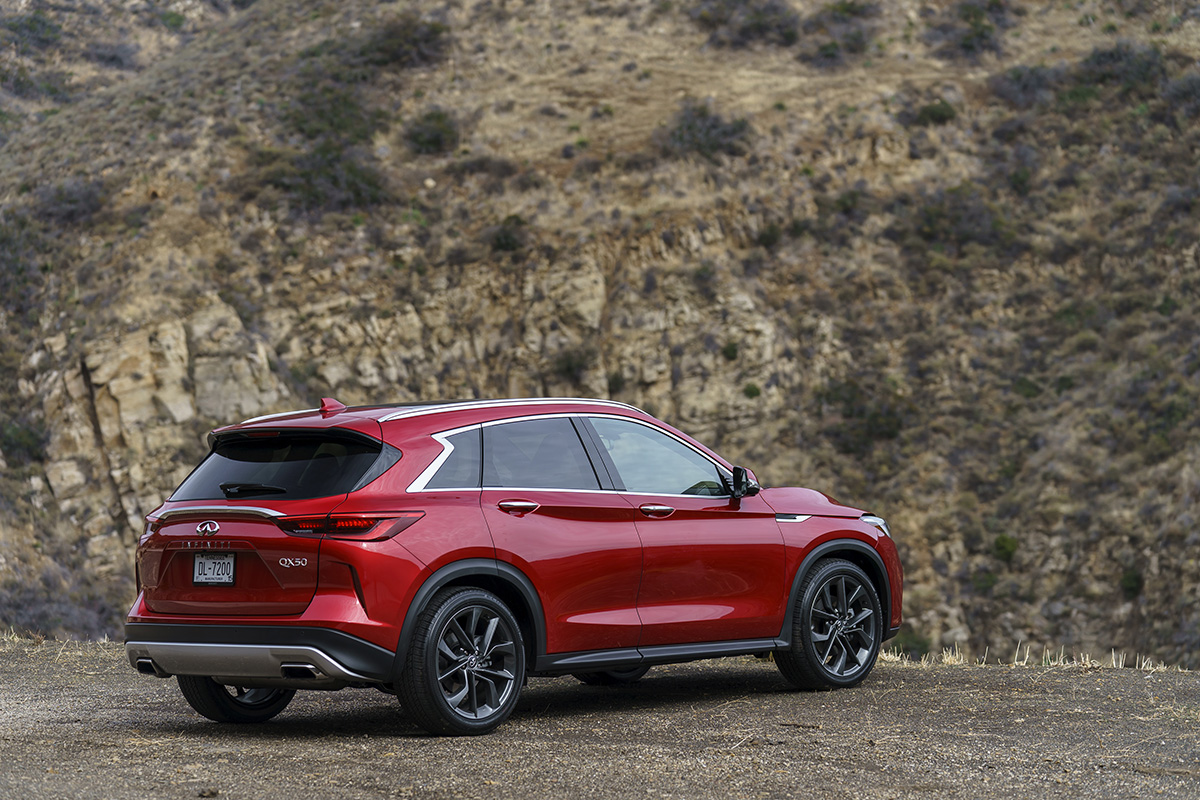 So with the QX50, Infiniti is heading down a different road. A road that's more luxurious, more comfortable, and a tad more expensive. While you can get a 2019 QX50 for a few bucks over $37,000, when you check all the boxes you'll end up at a price that's a couple lattes short of $60,000. That feels like a step up for Infiniti and puts it squarely in line with the X5, Q5, and GLC. Having spent the day with it driving through the Malibu canyons, parking it at Nobu on the Pacific Coast, and cruising through the streets of Hollywood, that's exactly where it belongs.
2019 Infiniti QX50 Essential AWD
Four-door, five-passenger, midsize premium crossover.
Base Price: $36,550
Price as tested: $59,895 includes destination
Major Options: All wheel drive ($1,800), Essential Model includes leather seating, navigation, around-view monitor, parking sensors, remote start heated mirrors, rain sensing wipers, panoramic moonroof, aluminum interior trim accents ($6,800), Sunstone Red exterior ($800), tow package ($900), Autograph Package includes white semi-aniline leather seating, quilted stitching, blue ultrasuede interior accents ($2,000), Sensory Package includes heated and cooled front seats, heated steering wheel, power tilt steering wheel, Bose premium audio, 20-inch aluminum alloy wheels, advanced climate control, maple interior trim, motion activated liftgate ($7,500)
Engine: Variable compression ratio, turbocharged 2.0L inline 4-cylinder
Transmission: Infiniti XTronic CVT with simulated driver selectable preprogrammed gears
Power: 268 horsepower
Torque: 280 lb.-ft.
Curb weight: 3,810 pounds
0-60: 6.2 seconds
Top speed: 130 mph
EPA MPG: 24 city/30 highway/27 combined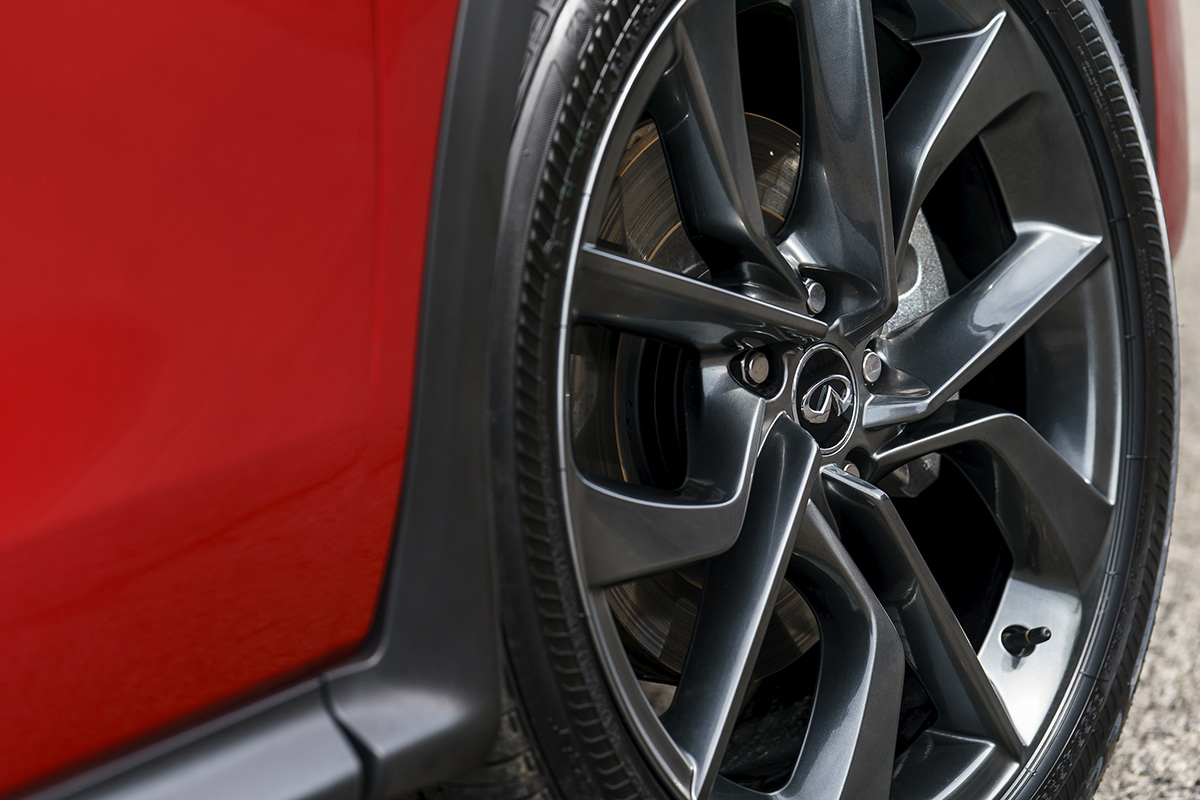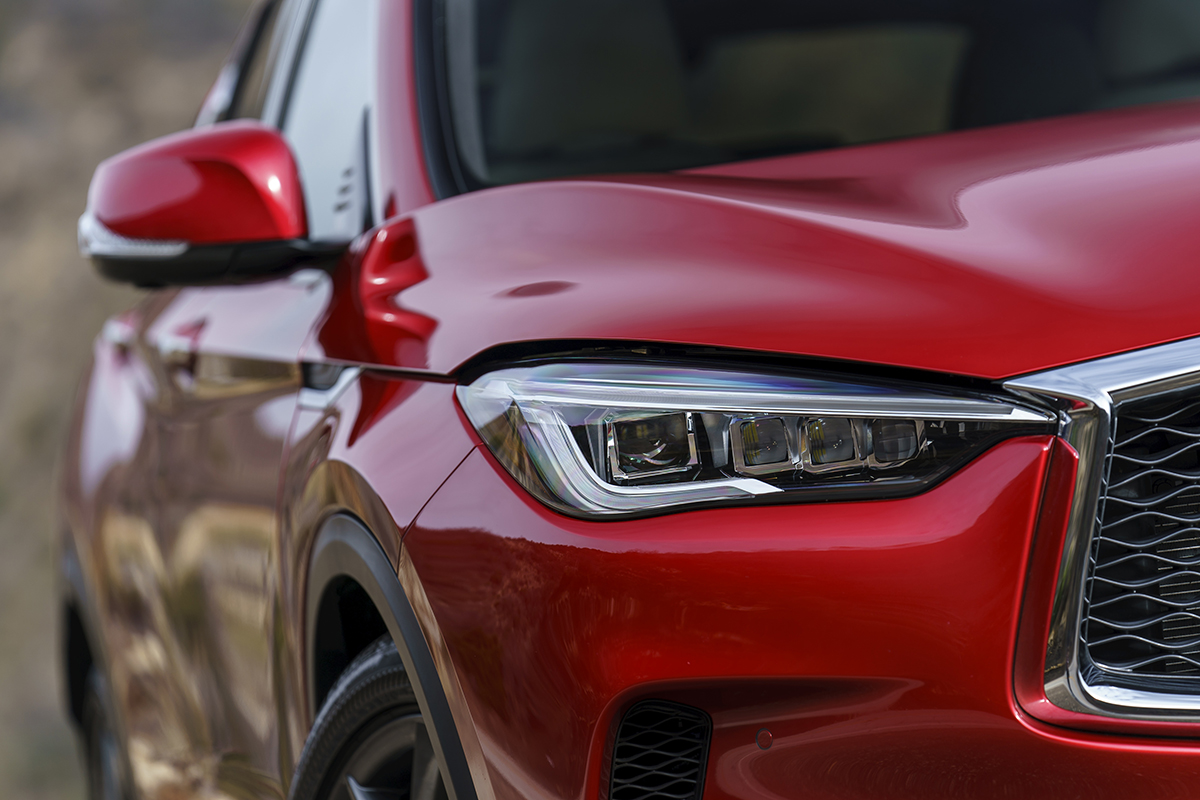 While the manufacturer paid for travel expenses and provided the vehicles for this story, the opinions and recommendations in this story are 100% ours.