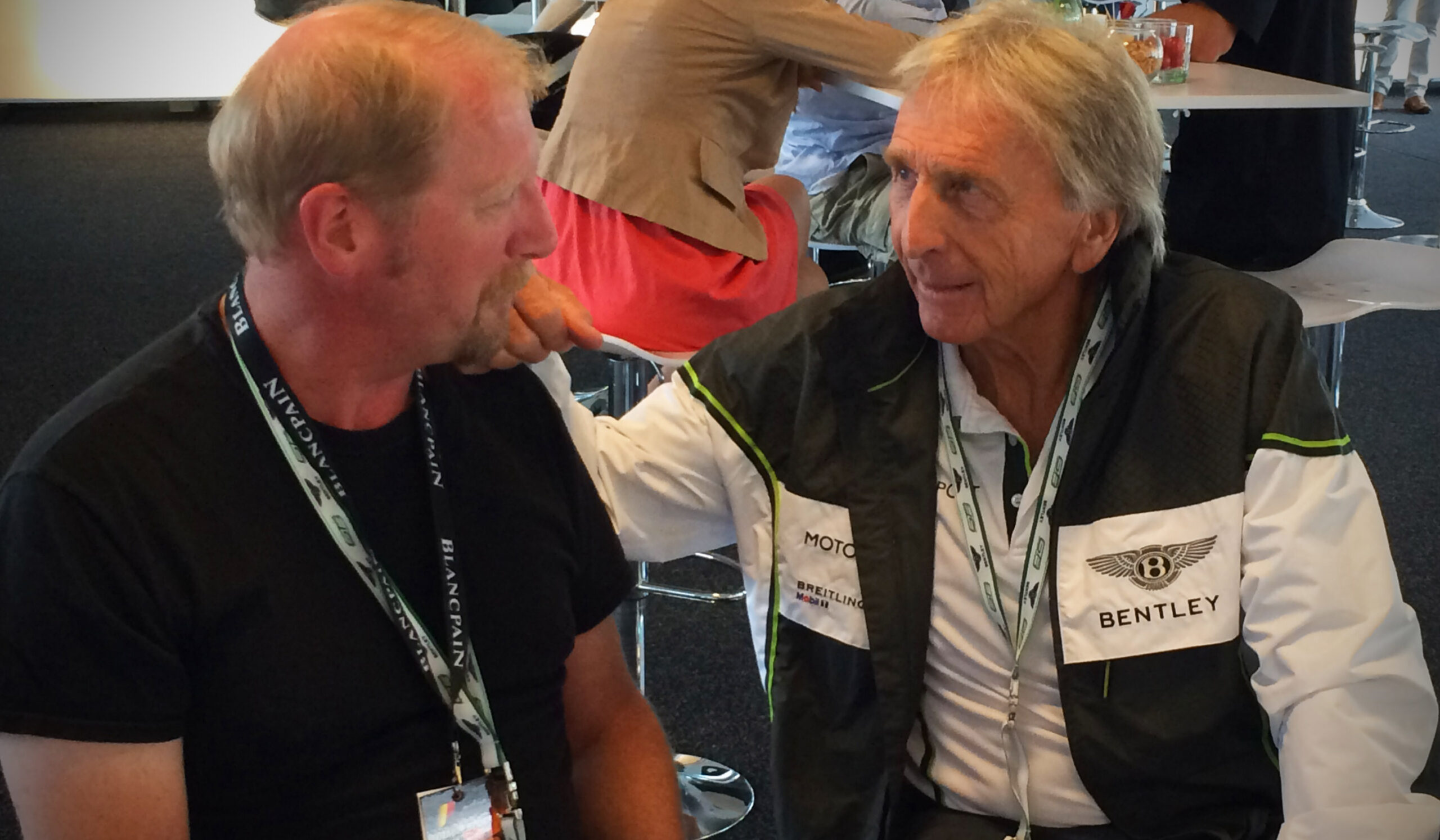 When you travel halfway around the world with Bentley to drive their Continental GT V8S from Frankfurt to Francorchamps, you can expect a few surprises. One of the more pleasant was running into a terrific gentleman and racing legend, Derek Bell, an official ambassador for the Bentley brand. We sat down during a lull in the action at the 24-hours of Spa in Belgium where Bentley was competing in its first 24-hour race since their stunning victory at Le Mans in 2003. We had a wide ranging conversation about his role with Bentley, their current cars, his racing career and participation in the Steve McQueen classic racing film, Le Mans.
Derek joined Bentley in 2001 to help the company prepare for their return to the race that made Bentley famous, the 24 hours of Le Mans. Mr. Bell is one of the most accomplished sports car racers of all time, having driven for legendary teams that include Porsche, Ferrari, Brabham, and McLaren. His many victories include five 24-hours of Le Mans titles, three 24-hours of Daytona wins as well as several World Sportscar Championships.
What brought you to Bentley?
I was asked by my friend, Brian Gush Director of Motorsport at Bentley to come in and help the team prepare the Speed 8 for the 2003 Le Mans. It was my job to let them know what to expect and help them understand how to win. It was a great team and a lot of breaks went our way, so we won Le Mans on the 100th anniversary of Bentley's first triumph at that track. That led to what I'm doing now, speaking on behalf of Bentley and the things that make the cars and the company so good.
You were one of the featured drivers in the Steve McQueen film, Le Mans. How did that come about?
1970 was my first year at Le Mans and only my second race worldwide in sports cars. Jacques Swatters who had hired me for my first sports car race at Spa asked me to drive his Ferrari at Le Mans for him, but Enzo Ferrari wanted me to drive for the factory team. After much discussion I had to agree to drive for Enzo (which I was not happy about). After the 24-hour race, Jacques hired his car out for the movie, so he asked me to drive it in the film as he trusted me for some reason. During the filming I got a chance to drive the Gulf 917 on many occasions. Based on that, I was offered a contract with Gulf Porsche for the 1971 season and stayed with the team until 1975 when we won Le Mans with the Gulf Mirage. There was no one in particular that selected drivers for the film, it was mainly down to the car owners who trusted the likes of me and Jo Siffert to drive their cars responsibly.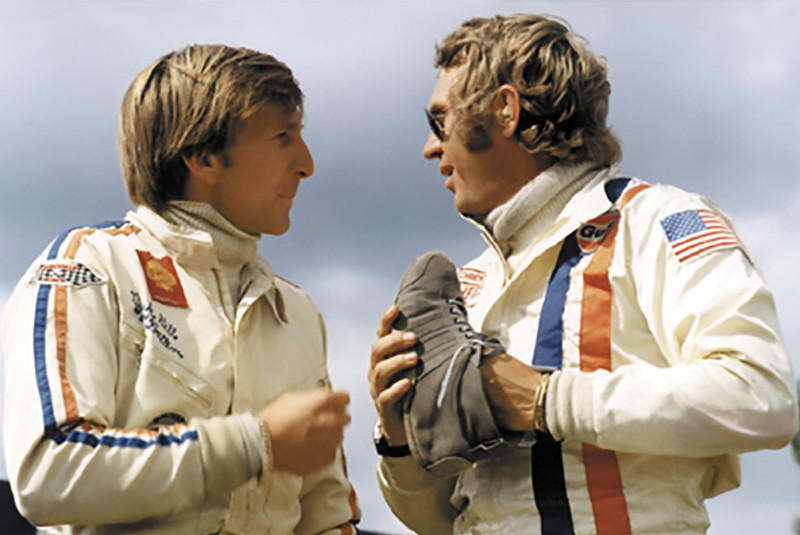 How good a driver was Steve McQueen?
He was bloody good. When we were filming the movie, the decision was made to film everything at speed. We were not going to drive slower and then speed up the film. Steve had to keep up. He trained hard and went to school to become a better driver. Sometimes it seemed he didn't know how good he was. In one scene, I was driving the Ferrari while Steve and Jo Siffert were driving the Porsches. Steve was in between us as we made several passes through the White House corners. Now this is a very fast part of the course, up to 180 miles per hour. We came in pretty fast and he kept up. Each time we went a little faster and he was right there. The last pass, Jo was practically pushing him through the corner flat out. After the take, Steve got out of the car and he was white as a ghost. The director, John Sturges asked him what was wrong. Steve said, "Those bastards tried to kill me. They went through at full speed." and Sturges said, "Well, you made it, didn't you?" That's how good he was.
What does it take to be successful in a 24-hour race like this? And, how can Bentley improve on their result next year?
There are five things you need to be great in a 24-hour race: a great design, great engineering, great teamwork, great drivers and great luck. If you miss just one, you will lose. Bentley had bad luck today at Spa. Having a piece of debris puncture a brake line was very bad luck. It cost them 7 or 8 laps. Without that their finish in their first 24-hour race would have been very high. Still, they fought hard and earned a respectable finish. They learned a lot that they'll be able to bring back here next year.
Which Bentley do you drive and what impresses you most about it?
I drive a Continental GT V8S in my capacity as Brand Ambassador at Bentley having been involved with various tests with the different models over the years. In fact, I just drove it to the South of France and back. The trip was 775 miles each way and I averaged 77 mph at 24.8 miles per gallon! It is an incredible piece of engineering. Last year, I did some winter driving on the ice in Finland with the W12 Continental GT Speed. In just one run down a 10 mile stretch we averaged over 160 mph. On that same trip, Juha Kankunen, 4-time World rally Champion did 205.8 miles per hour over the two runs required for a World record on regular Winter tires, not studs. The car is truly amazing.
Those are all the my questions. Thanks so much for joining us at Rides & Drives.
It has been a real pleasure. Enjoy the rest of the race.
Bentley paid for my travel to spa allowing me to conduct this interview. All I have to say to that is, "thank you."