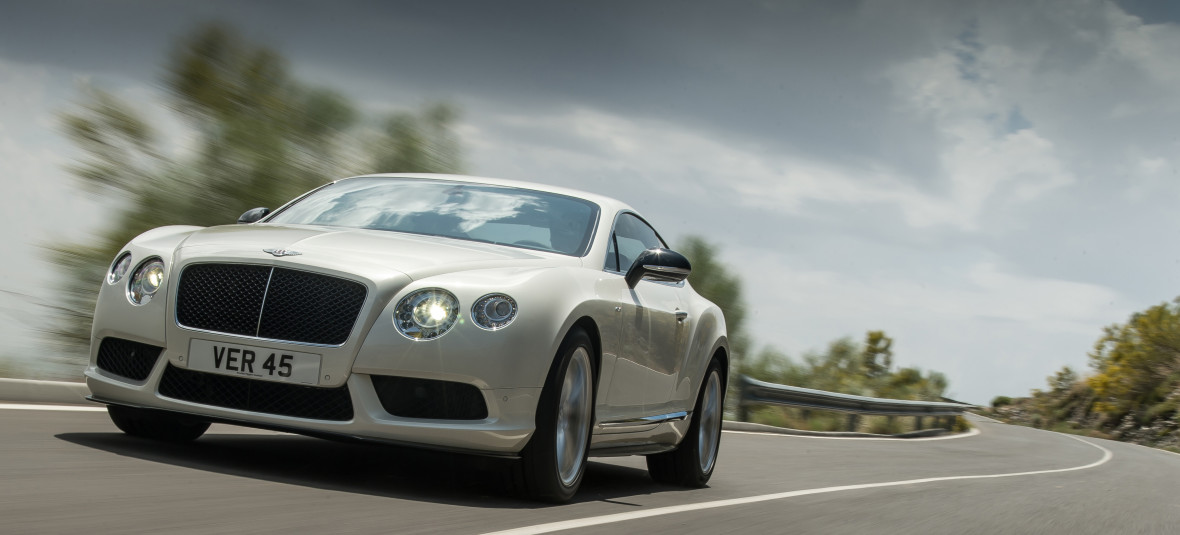 When I spent four days with the Continental GT Speed earlier this year on American roads, I dreamt of driving it in a place where ridiculously low speed limits and oblivious drivers who camp out in the left lane didn't exist. In August, Bentley made that dream come true when they invited me to join them in Europe to see their new GT3 car compete in the 24 hours of Spa.
The trip began for me and four other journalists as we were flown into Frankfurt where after a day of rest and preparation, we would begin the drive to the Spa-Francorchamps race track to witness Bentley's return to endurance racing. Bentley invited us because this would be the first 24-hour race the company was participating in since winning the 24-hours of Le Mans in 2003 with their Speed 8 prototype. From Bentley's very founding, racing has been essential to fulfilling W.O. Bentley's vision, "To build a good car, a fast car, the best in class." So returning to the track with Continental-based GT3 race cars makes sense as a way to burnish the performance credentials of the marque.
My Delta flight arrived at 8:30 in the morning, and while the business class cabin does offer very comfortable seats and a meal almost good enough for a top-flight restaurant, the first order of business after our ride from the airport was a quick bite to eat and 3-hour nap.
Feeling refreshed and ready to drive, with a choice of three Bentley Continentals at my disposal, I grabbed the keys to a Monaco yellow GT V8S Convertible and headed out for a tour of the countryside north of Frankfurt.
The route was as varied as it was beautiful offering a few kilometers of urban streets, about 30 minutes of restricted freeway time and a whole lot of two lane roads that wound through the farms, forests and villages of the Rheinhessen. In the city with the Continental in comfort mode, the car glided over both cobblestones and trolley tracks. Its size was very manageable even on the tight urban streets. And while the stares from passers-by come standard with a yellow convertible, the car didn't feel overly conspicuous or ostentatious.
On the freeway with the top down the wind and road noise are kept to a minimum and the Bentley's power becomes more noticeable and appreciated. The engine in the GT V8S offers a very progressive power curve that peaks at 521 hp at 6,000 rpm. What really makes it useful is a flat torque line that gives you 502 lb.ft. of from 1,700 all the way up to 5,500 rpm. Paired with a smooth shifting eight-speed ZF transmission, this means there's always oomph available to move you quickly around and past any obstacle that happens to be in your way.
But urban freeways are not really where the Bentley Continental GT V8S Convertible is at its best. It wasn't until I left the four-lane highway and started climbing the Taunus mountains that the Bentley really came alive.
While the GT V8S is a performance car, it's not a sports car. It's a touring car that allows you blast down open straightaways, but because of its substantial curb weight of 5,400 pounds, with 56% of that weight over the front wheels, cornering is not an all-out exercise. In sport mode, the stiffened suspension and all-wheel drive system keep the car balanced. There's no noticeable understeer which inspires confidence, but you can definitely feel its weight. With the top down and incredible scenery at every turn, however, driving this car isn't about achieving maximum G's in every corner as it is about optimizing enjoyment.
Unfortunately, my first-day's drive ended in a light rain. Putting the top up was an easy, one-button operation with no latches to fuss with. With grip compromised, the the all-wheel drive and 16-inch anti-lock brakes were much appreciated. Especially since the timing of my drive meant I had to negotiate rush-hour traffic. I managed to make it back to the hotel in time for a quick cocktail and a change of clothes before traditional German dinner at Restaurant Druckwasserwerk on the Main River. While most of my companions opted for the Wiener Schnitzel, I chose the Tafelspitz vom Kalb – boiled veal with parsley potatoes and an original Frankfurt green sauce along with an excellent Riesling.
After dinner we returned to the bar at our hotel, the Villa Kennedy, and listened to American jazz standards performed live by an excellent piano/vocal duo. We took the opportunity to make final plans and work out the details for our drive to Belgium which would provide us with ample opportunity to experience the Continental GT V8S on the Autobahn before arriving in Belgium.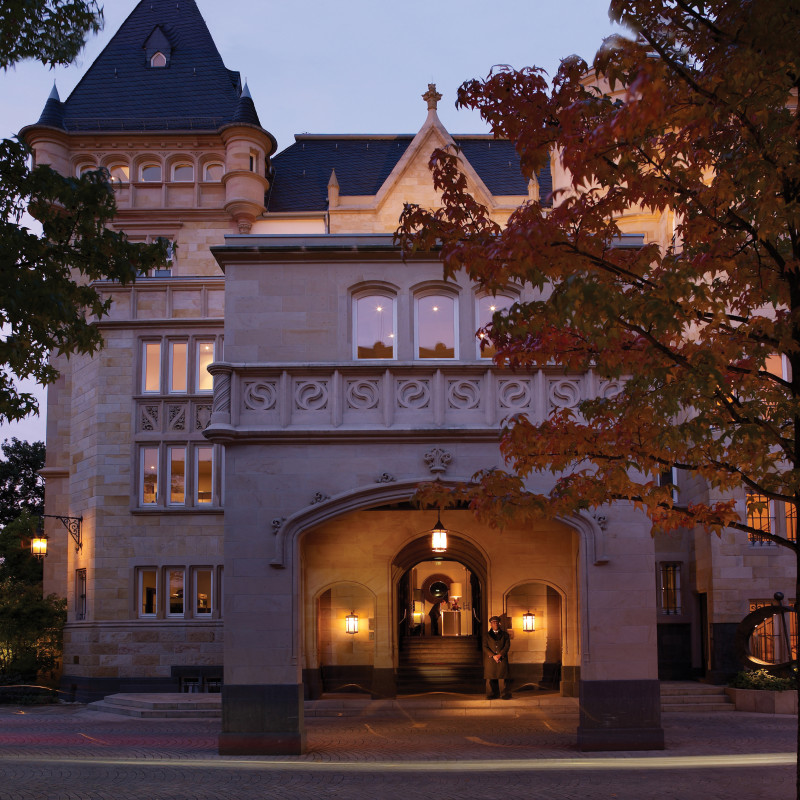 Even though the Villa Kennedy is located in the heart of Frankfurt, it is surprisingly quiet, and the rooms offer a myriad of luxury appointments including one nice surprise, standard U.S. electrical outlets in the walls. This meant my computer and phone were charged and ready to go the next morning without having to fuss with adapters.
Early the next morning, we fueled up on a well stocked German breakfast buffet which not only included the expected assortment of baked goods, fruits berries, cereals and yogurts, but also locally-sourced sausage and cheese. Then it was off to the cars which were smartly staged in the hotel's driveway for our high-speed run to Belgium.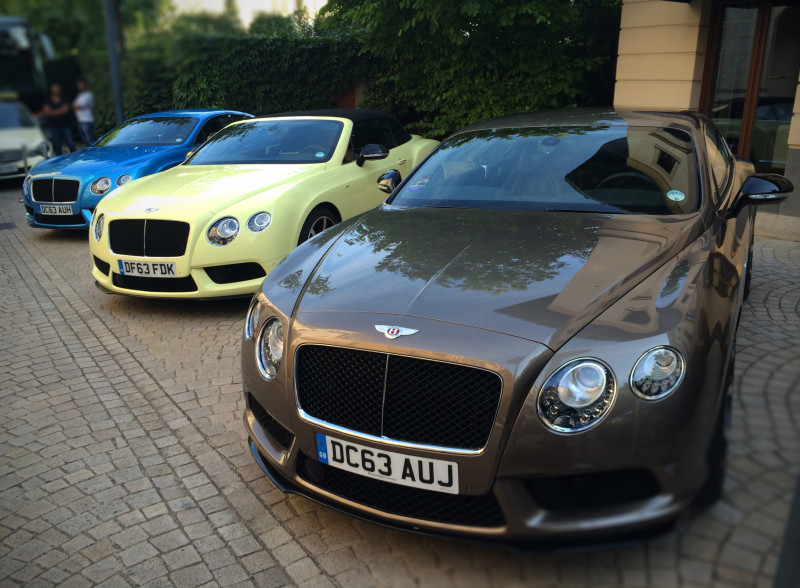 If you've never driven on the Autobahn, there are a few things you should know. First, on the stretches where there is a speed limit, obey it. Traffic laws are strictly enforced in Germany and the last thing you want to do on your vacation is spend Euros you were planning on using for dinner to fund the Autobahnpolizei. Second, stay in the right lane unless you're passing. After you've made your pass, get back to the right immediately. No matter how fast you're going, someone always seems to want to go faster. And third, when there isn't a speed limit, drive as fast and comfortably as your car and traffic will allow. In general, it's not speed that kills. It's speed differential. When an Opel Astra hauling a camper pulls out in front of you (yes, it happens in Germany, too), it's your responsibility to slow down and prevent a collision that would look like something out of the final sequence of The Road Warrior.
Our early Saturday morning departure meant that we spent most of the drive on the unrestricted portions of the autobahn at speeds of well over 170 kph with bursts of up to 250 kph when the road was straight and traffic was light. The first thing you realize at speeds like this is the Bentley's weight really works to its advantage. The car is supremely stable and the speed sensitive power steering, while light doesn't overreact to feedback. This means that it's easy to drive smoothly at speeds that would exceed twice the legal limit of most American interstate highways. In addition, the Bentley's aerodynamics and sound insulation keep wind and road noise to a minimum.
And then there are the brakes. If you're driving at more than 130 kph, you'll use them and sometimes you'll need to use them hard. Between the large carbon-silicon-carbide rotors and eight-piston calipers, you have all the stopping power you need to reduce speeds from from triple digits while you wait for slower traffic to move over. The Continental GT V8s also features a revised suspension, that has been lowered 10mm and offers significantly stiffer spring rates, which reduces dive under heavy braking and keeps the car tracking straight. Our car was equipped with 20-inch 275/40 Z rated tires. All together this package is capable of hauling the car down from 70 to 0 mph in a very respectable 156 feet.
Inside, things are just as good. The leather seats offer 14 power adjustments and the steering wheel also is power adjustable, telescoping in and out as well as moving up and down at the touch of a column mounted switch. So if you can't find a comfortable driving position, you may want to visit a chiropractor. On second thought, just set the seat as best you can and turn on the heaters and optional massage function for a few minutes. If you still can't get comfortable then you might have bigger issues.
The other thing that I like about the Continental is the classic, simple instrument panel. The large tachometer and speedometer are easy to read, and the heads up display ensures you always know how fast you're going and in a Bentley on the Autobahn, that was usually very, very fast. The infotainment center on the other hand, could use a significant upgrade.
When we reached the Belgian border, speed limits came back into effect and we cruised along at 130 kph until we reached Spa-Francorchamps and what is one of the most interesting race tracks in the world.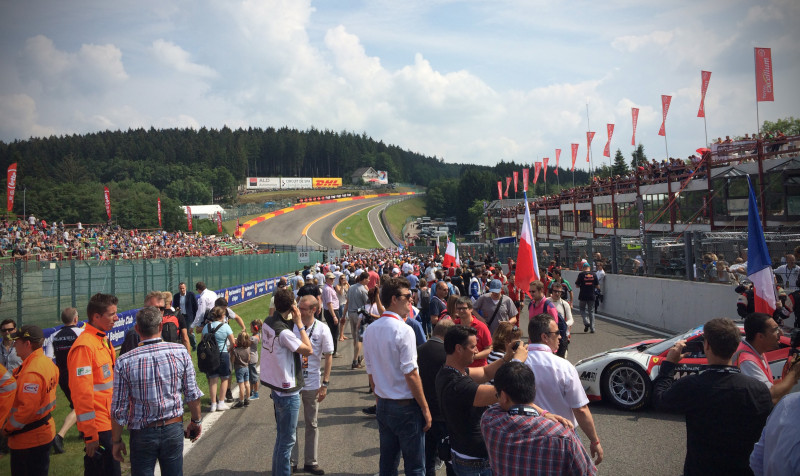 The race itself was an exciting event. As with all racing luck plays into it. The Bentley team had their share of bad luck early on, with the #8 car of Jérôme D'Ambrosio, Duncan Tappy and Antoine Leclerc having a run in with a slower competitor forcing them to make a stop to replace a front track rod, costing them six laps. Even with that mishap, they managed to finish 19th overall. The #7 car of Guy Smith, Andy Meyrick and Steven Kane finished 13th after losing several laps due to a brake line that burst after it had been punctured by debris from an earlier accident. Overall, the team was happy with the result, getting two top 20 finishes in their first 24-hour outing. It should be noted, however, that Audi's win with the R8 meant that they now hold the major European 24-hour titles: Le Mans, Nurburgring and Spa.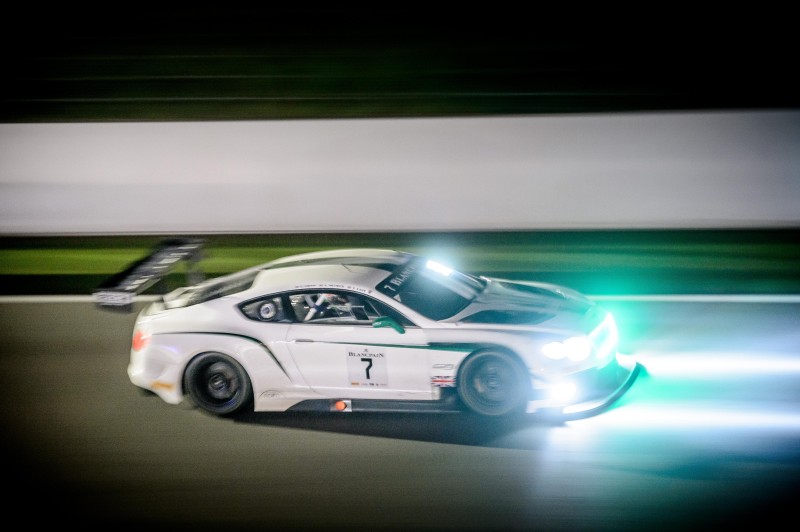 Guy Smith remarked, "Even though this was a very hard race, I'm proud of what we've achieved here this weekend. While we've done long endurance tests, you can't recreate a race environment and so this was the sternest test of our GT3 car yet. To have two cars finish well, with no self-inflicted failures, is fantastic."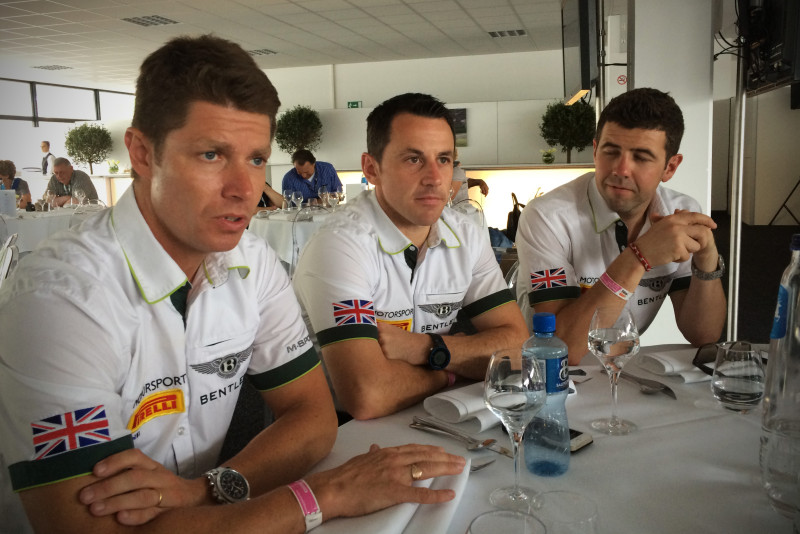 In addition to seeing great racing at a track I had always wanted to visit, I also had the pleasure of meeting one of my racing heroes, former F1 driver and five-time Le Mans champion, Derek Bell. He told some great stories about his experiences at the track and even gave me insights into his friend Steve McQueen, which I've recounted in this interview.
All in all, it was a terrific weekend driving a stellar car on the roads for which it was made and seeing top flight sports car racing at a track that most drivers consider to be the toughest in the world. The only disappointing part of the weekend was when I finally had to hand over the keys to the Continental before boarding our KLM flight back to the states. Other than that, it was damn near perfect.