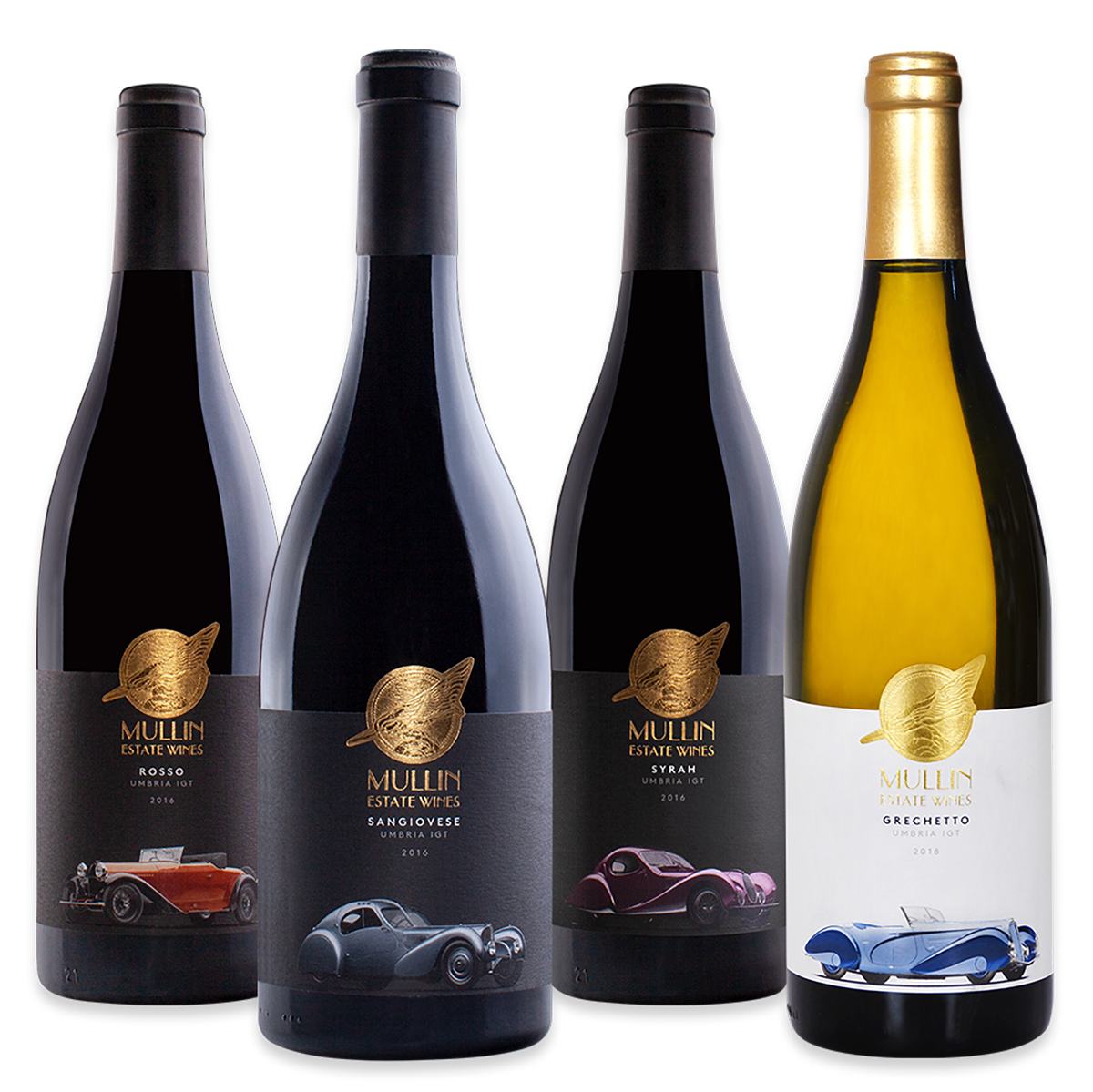 It should come as no surprise that award-winning car collector, Peter Mullin – Founder and CEO of Mullin Automotive Museum in Oxnard, California – is also an avid collector of some of the world's finest wines. Now his passion for the grape has become his latest business venture: Mullin Estate Wines from the family vineyard in Doglio, Umbria where Etruscans began growing grapes thousands of years ago.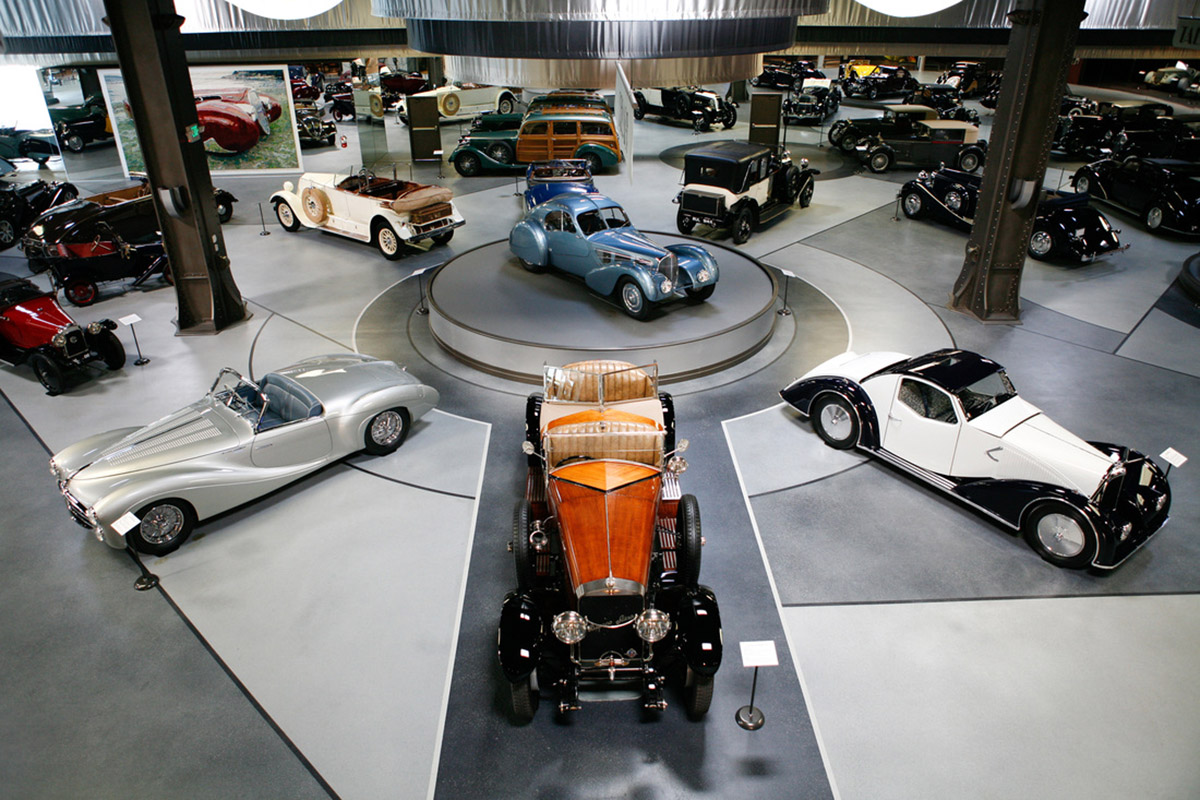 The vineyard was planted in 2008 with two main varieties, Sangiovese and Syrah, plus a few rows of Merlot. Each variety is harvested and processed separately. The wines are then fermented in temperature-controlled stainless-steel vats and transferred into French oak barrels where the malolactic fermentation takes place and the aging process continues. Made by third-generation winemaker Paolo Trappolini, the wines are bottled, labeled, and packaged in Italy for shipment to the US and UK.
"With Mullin Estate Wines, we've strived to expertly blend the artistry of both fine wines and the automobile," said Peter Mullin. "These are my two great passions in life, and I'm proud to share that passion with this unique pairing to wine connoisseurs and car enthusiasts alike."
Peter Mullin has one of the world's finest collections of classic automobiles, featuring unique treasures from French marques such as Bugatti, Delage, Delahaye, Hispano-Suiza, Talbot-Lago and Voisin. He chose four of his iconic French autos to park on the labels of his debut wine collection of four Italian Mullin Estate vintages:
2016 Rosso Umbria IGT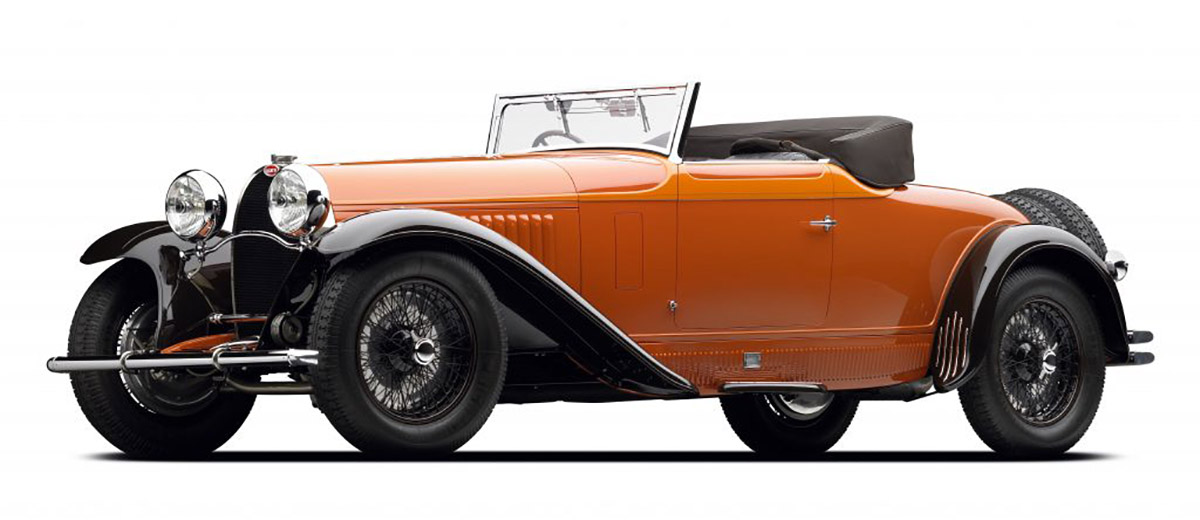 The youngest and most versatile of the family, the "little" Rosso Umbria is Mrs. Merle Mullin's personal choice. Best paired with simply prepared red meat, pasta with ragout and roasted poultry, this red blend is full bodied with an intense flavor and smooth tannins. The label features the Mullins' 1930 Bugatti Type 46 Cabriolet, a scaled-down version of the expensive Type 41 Royale from 1927, bridging the gap between the Royale and the three-liter Type 44 from 1929. The Type 46 is one of the few Bugattis owned by the Mullins that was not bodied by the Bugatti factory. The body was by French coachbuilder De Villars Courbevoie, who styled the Type 46 as a convertible coupé with a rumble seat. Merle Mullin chose the orange, yellow, and black color scheme, and the interior's woven deerskin fabric to match the pattern of a favorite Bottega Veneta handbag. Only 60 of nearly 500 Type 46s survive.
2016 Syrah Umbria IGT

Like the 1937 Talbot-Lago Type 150-C-S "Teardrop," the Syrah Umbria is elegant, serious and powerful. Delicious with braised red meat, steaks and seasonal cheeses, this wine has a round and silky flavor composition with equally round and rich tannins. It is represented on the label by an elegantly powerful 1937 Talbot-Lago Type 150-C-S, a version of which won the 1937 French Grand Prix. Coachbuilder Joseph Figoni worked with the Talbot-Lago company to produce a touring version that would dominate concours d' elegance. These "teardrop" works of art marked the peak of the Streamline Moderne movement of the 1930s. Of the 14 Type 150-C-Ss Figoni produced, 13 still exist. The Mullin Teardrop, Chassis 90106, has an aluminum alloy body, a foldout windscreen, a sunroof, and competition-style exhaust headers.
2016 Sangiovese Umbria IGT

Made with the best available grapes in limited quantities, Sangiovese is the leading indigenous grape of both Tuscany and Umbria. With deep, warm flavors of plum, spices, dark chocolate and tobacco, this wine has good minerality and a long-lasting taste. It's the crown jewel of the collection, much like the 1936 Bugatti Type 57SC Atlantic on the label. The Atlantic is one of the rarest and finest cars in the world; the masterwork of Jean Bugatti, an artist who understood Art Deco aesthetics and an engineer who learned his mechanical craft from his father, Ettore. The Mullin Atlantic is one of two surviving Atlantics built between 1936 and 1938. It was originally produced as a Type 57S (surbaissé) but was returned to the factory in 1939 to be converted to a Type 57SC (surbaissé, compressor), or supercharged model.
2018 Grechetto Umbria IGT

With an intense scent of white flowers, white peach and hazelnut with a pleasant, yet slightly bitter, almond aftertaste, the Grechetto Umbria is Mullin Estate Wines' first white wine. It's made to pair especially well with seafood, shellfish, pasta with ragout, legume soups, and light sheep cheese. The 1938 Delahaye "Star of India" on the label is one of three surviving cars with the fluid Figoni body shapes that established the standard for the streamlined Art Deco "French curves." Figoni's designs were inspired by aviation, particularly by René Couzinet's Arc-en-Ciel ("Rainbow") plane; the shape of the pontoon covers on the landing gear of Couzinet's plane are distinctly mirrored in the Type 135's voluptuous fenders. This Type 135M, chassis 49150, was commissioned by explorer and businessman Casimir Jourde. In 1939 chassis 49150 was shipped to Bombay (present-day Mumbai), where it was eventually sold to Prince de Berae Mukarran Jah. It was rediscovered in 1982 sitting in a garden shed in Jodhpur.
While we never condone drinking and driving, we're happy to encourage driving then drinking once the keys have been put away for the night. We could hardly think of a better selection of wines for automotive enthusiasts than those from Mullin Estate.