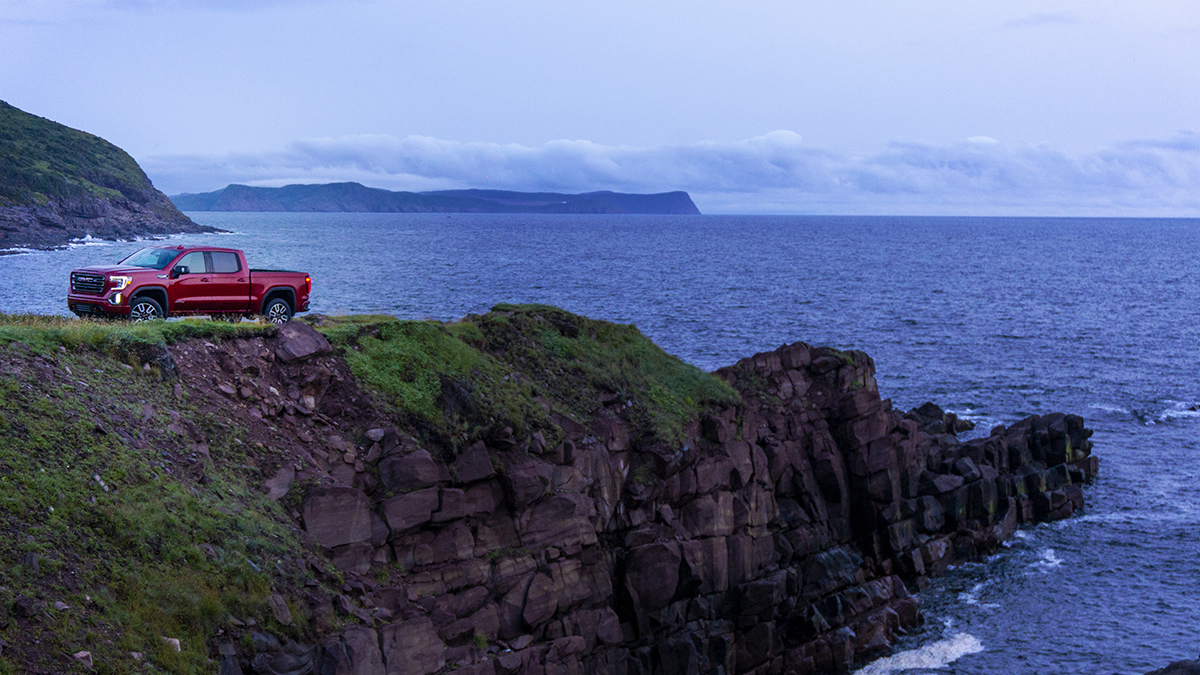 Newfoundland is a hard place. So hard, in fact that the residents of this remote Canadian island refer to it as "The Rock." Part of that has to do with the granite landscape, but after spending a few days there, it strikes me its alias has more to do with culture than geography.
The folks here are a tough lot. Living off the sea and the land will do that to you, especially when summer barely lasts longer than the career of a Youtube celebrity. It's clear the residents here have a dark sense of humor. How else can you explain a town named Dildo and a welcoming ceremony that involves kissing a slimy fish? "Hey Walter, can ya believe we got dat guy to french a cod?"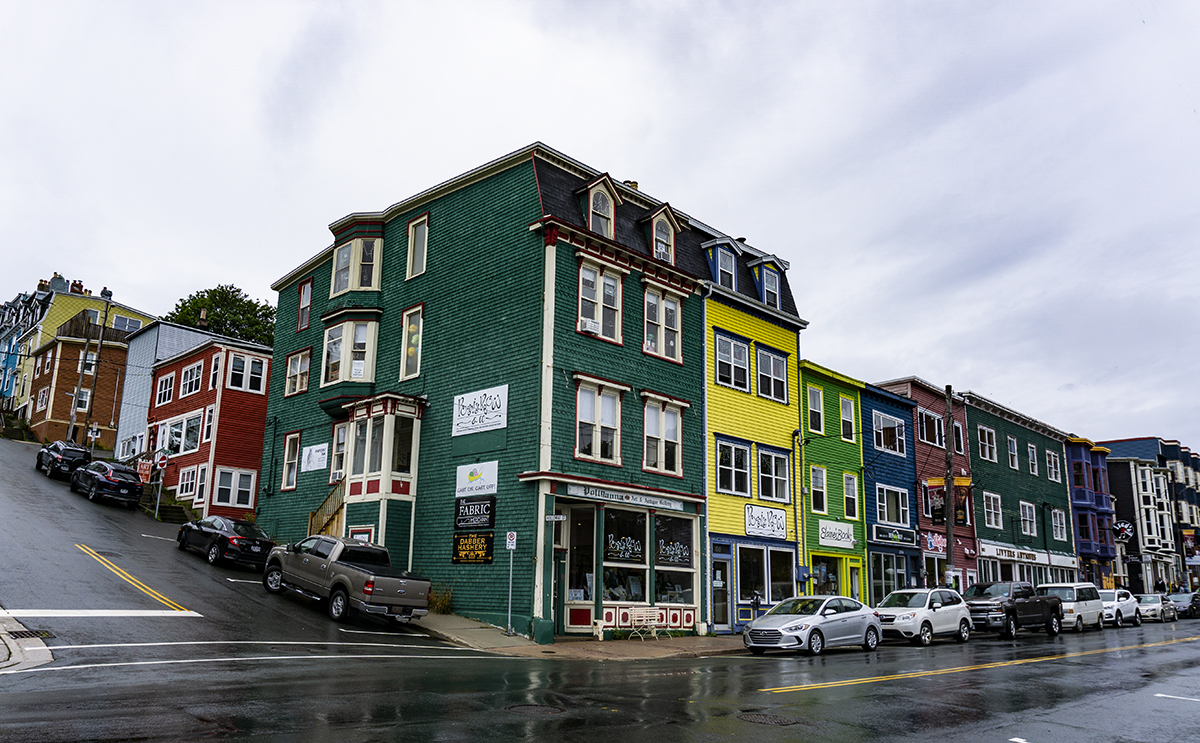 It was mid August when I traveled to Newfoundland to test the new GMC Sierra Denali and AT4 off-road pickups but the weather felt more like a typical October day in Wisconsin. A light rain was falling and temperatures were in the low 60s as my plane from Toronto touched down in St. John's. It had been a long day. The phrase, "you can't get there from here," kept running through my brain after 15 hours and four airports. By the time my traveling companion, Sue Mead, and I had collected our bags and arrived at the Jag Hotel, it was just after 10 PM and the restaurant was closed. The Jag is a nice enough place, built around a rock & roll theme, which makes it feel a little like a knock-off Hard Rock hotel. Cool, casual, fun but without all the amenities.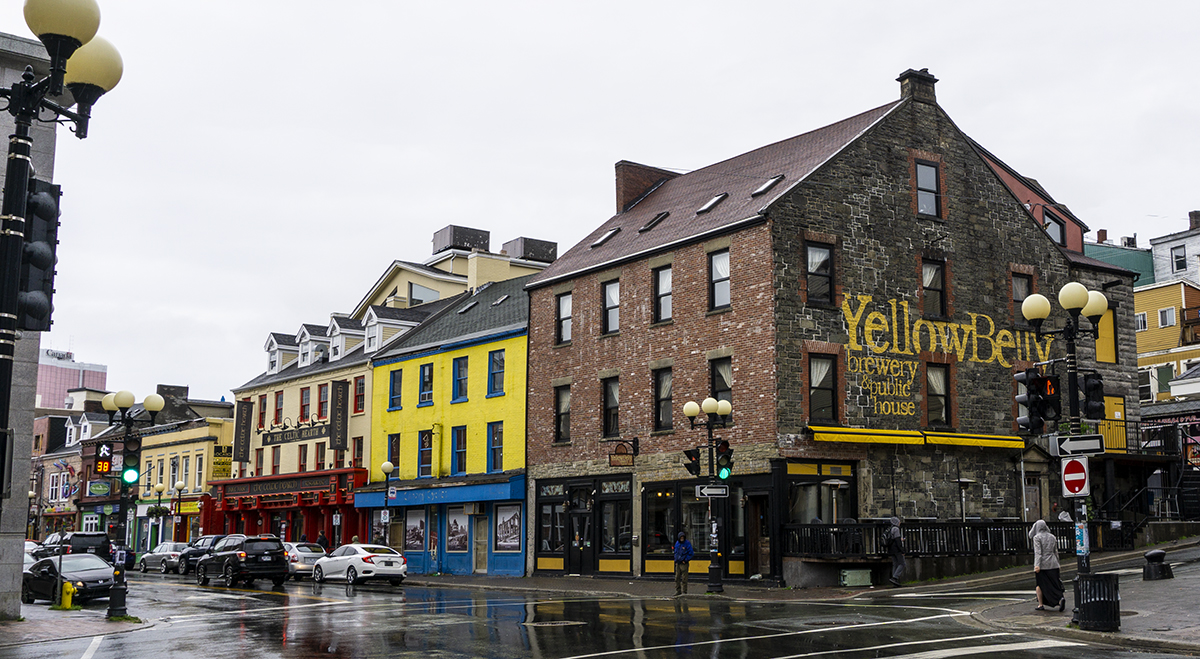 The rain had stopped so we ventured out to find some sustenance. Not sure what downtown St. John's would be like late on a Saturday night, we were happy to find lively nightlife and a number of options for a quick meal. We passed on the Shamrock City Pub even though the menu looked good. The loud rock band playing in the corner wasn't quite the atmosphere we were looking for. Staff at the hotel had recommended the Yellow Belly Brewery and were headed there when we walked past a quiet restaurant, Mussels On The Corner which seemed more our speed.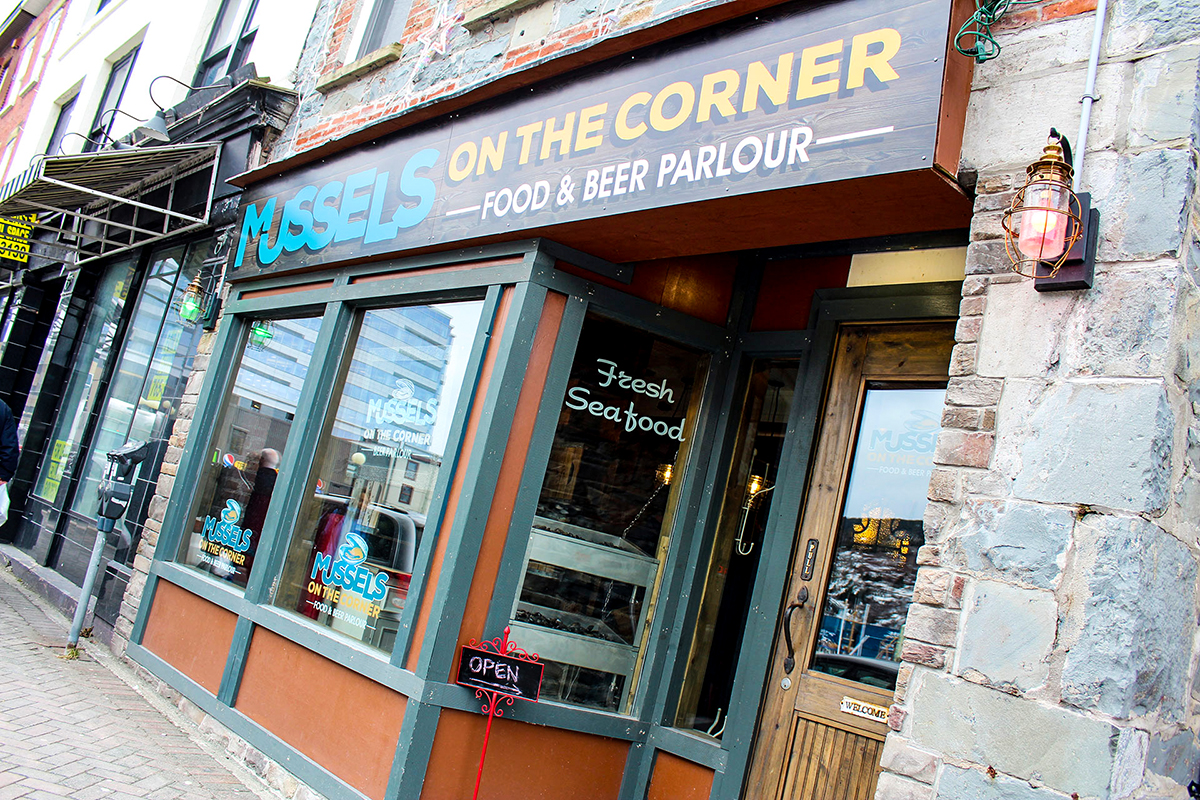 With live Irish/Newfoundland music being played upstairs in their sister venue, O'Reilly's Pub, Mussels was fairly quiet. The menu offered a lot of options in addition to mussels. While the seal poutine and moose bolognese spaghetti looked, erm, interesting, I ordered the Drunken Mussels, steamed in red ale with onions, garlic, parsley, and lemon zest along with a side of fries while Sue settled on the salt and vinegar Fish and Chips after announcing she wasn't a fan of mussels. This surprised me. In addition to being a first-rate automotive journalist, Sue is one of the most adventurous people I know. She's a pilot, outdoor enthusiast, and an accomplished off-road racer having won the Baja 1000 twice, competed in the grueling Dakar Rally, and raced in other events in Borneo, Mongolia, Argentina and Central America. Given that, I'm sure she's eaten more disgusting fare like monkey brains, ox blood soup, and McDonald's hamburgers. But being a true adventurer at heart, she tried mine and pronounced them edible. It turns out she'd just never had them well prepared.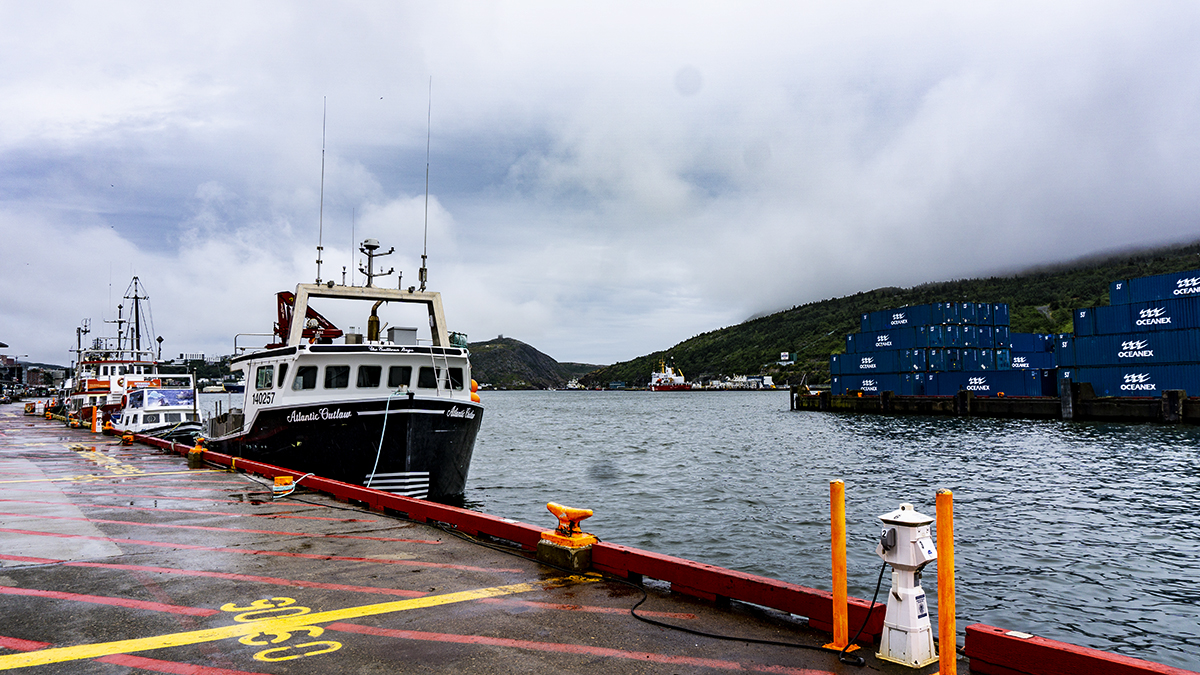 St. John's is a classic Eastern seaport which like Portland, Maine and Charleston, South Carolina is reinventing itself for the 21st century. While shipping and cod fishing are still important elements of the city's economy, those traditional industries don't exactly excite a generation that's been brought up with access to the entire world via television, digital, and social media. Cod fishing is still struggling to come back after a 1992 moratorium was placed on the industry in order to save the fishery. An oil boom and bust has depressed the economy as well. But walking around the downtown, you can feel the ethos of the area fighting to find a new way forward. Arts, food, fashion, technology, tourism businesses are all evident. And though the economy is changing, the sense of history remains a pillar of the local culture. Public art and well-kept historic buildings are prominent features of the downtown landscape. Walking through the city, I found colorful storefronts, independent retailers, and lively pubs.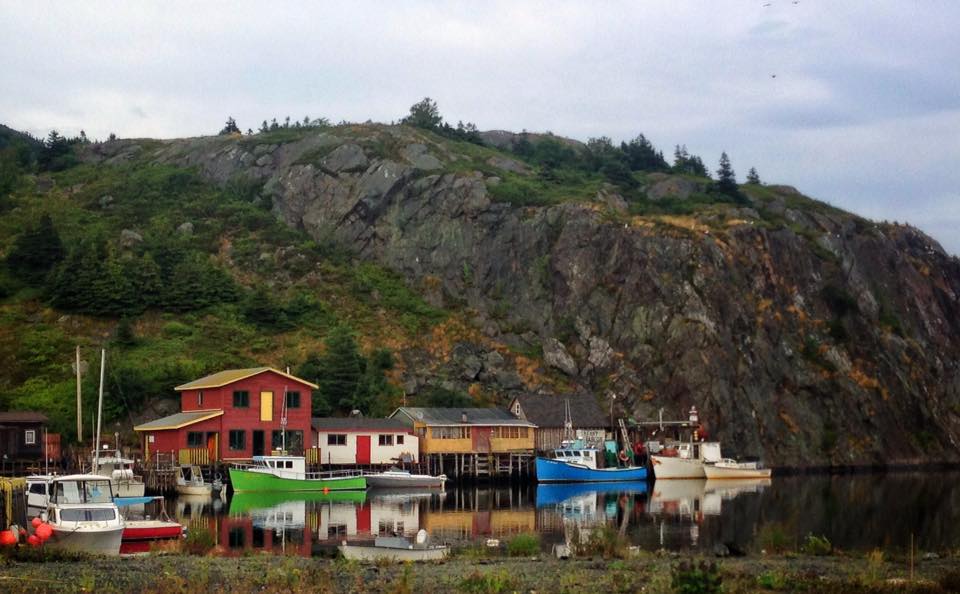 That evening, we enjoyed dinner at a small inn just north of town, across an inlet from a traditional fishing village. The colorful buildings reflected in the water drew an entire pack of journalists to the rugged shoreline hoping to capture in ones and zeroes what our eyes actually saw. With the sun setting, its soft light bathing the fronts of the buildings, I thought I was looking at a movie scene lensed by Vilmos Zsigmond.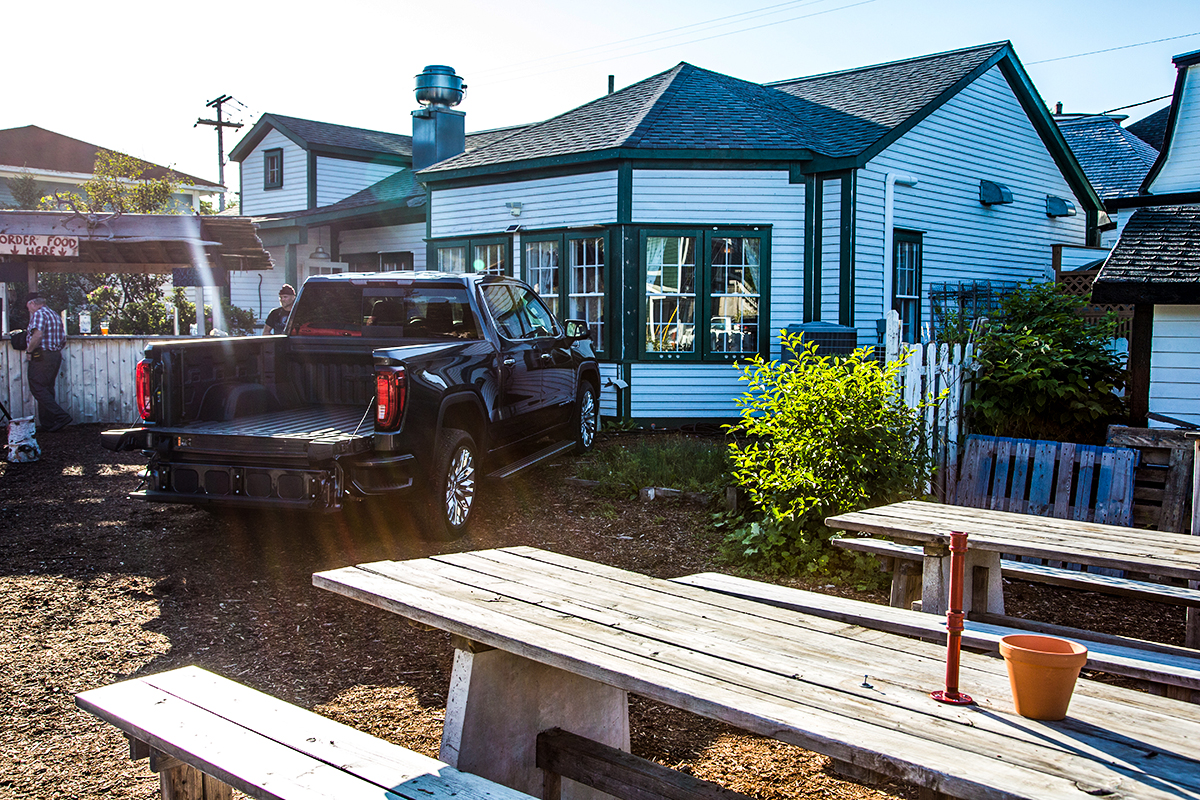 One thing you seemingly can't get away from in Newfoundland is traditional music. Upon entering the Mallard Cottage in Quidi Vidi Village (pronounced "Kiddy Viddy" and don't ask what the name means, its residents don't even know), we were serenaded by a quartet of veteran musicians playing a selection of the area's greatest hits. Just the start of our total Newfoundland immersion. After being handed a pint of ale from the local microbrewery, it was out to the fire pit where we were about to be "Screeched in."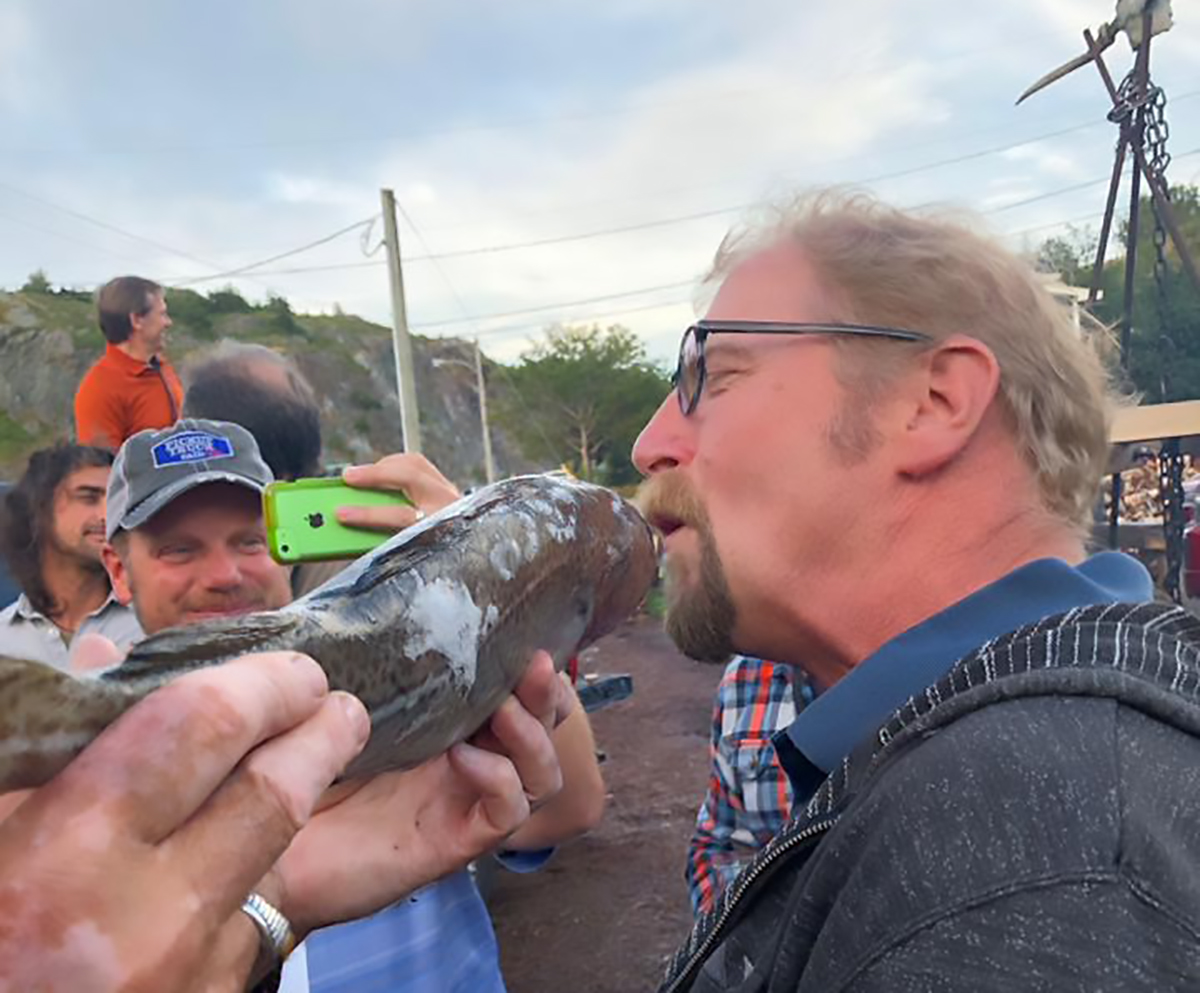 Many places I've traveled have iconic ways of welcoming new visitors. Hawaii has its leis. The French still kiss you on both cheeks. In Newfoundland, however, you're expected to kiss something a little slimier, a frozen cod. That happens only after you've eaten a hunk of "Newfie steak" (a slice of baloney), then answered the question "Are ye a Screecher?" with the bawdy double entendre "Deed I is, me ol' cock! And long may yer big jib draw!" Only then are you allowed to drink your shot of Screech, a Jamaican rum which, thankfully, is potent enough to disinfect your lips after you've swapped spit with the cold blooded creature from the North Atlantic. Back inside, dinner was a family style affair and like all press trips featured enough perfectly prepared natural and organic delicacies to feed an army of journalists who would happily be eating ramen were they at home. Seeing as we'd be up before sunrise the next day to finally get behind the wheel of the new GMC Sierra Denali I was happy to load up on the carbs and protein spread across the table.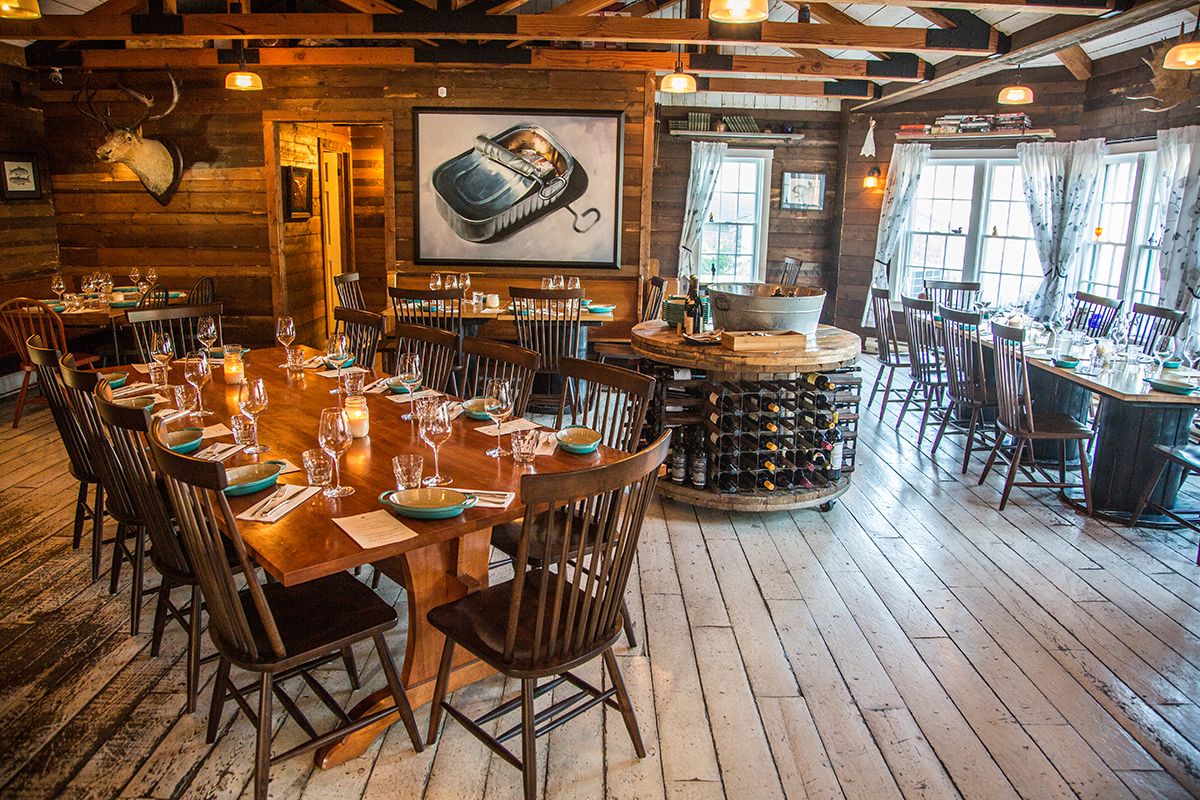 My alarm blared at the ungodly hour of 4:30 AM and by the time 5:00 rolled around I was showered, shaved, and walking out of the front door of the hotel with a cup of hot coffee in my hand. I loaded my gear into the Sierra and began the drive east to Cape Spear where we would be the first people in North America to see the sun rise. The fleet of trucks for the morning drive was about a dozen identically spec'd Denali trimmed crew cabs. Loaded with every conceivable option – heated and cooled leather seats, dual zone climate control, heated steering wheel, navigation, satellite radio, panoramic moonroof, and more – at first blush it oozes premium. Equipped with a 420 horsepower 6.2 liter V8 gas engine, there's plenty of oomph on tap when you bury your right foot. Torque is abundant 460 pound-feet and comes on damn near instantaneously at 1,500 RPM. Rigged like this our Sierra has a payload capacity of 1,610 pounds and can tow up to 9,300 pounds, plenty for your horse trailer or a 1959 Chris-Craft 27-foot Constellation.
Trailering is one of the Sierra Denali's strong suits, with a lot of new technology added to make trailering easier. An in-vehicle app allows you to load trailer profiles into the system so you can set up the vehicle for each trailer with just the touch of a button. It includes a pre-departure checklist that walks you through everything you need to do to tow safely. The automatic light sequencing program allows you to inspect your lights without the aid of a second person, and if something is amiss, the diagnostic program will help you fix your lights before you hit the road.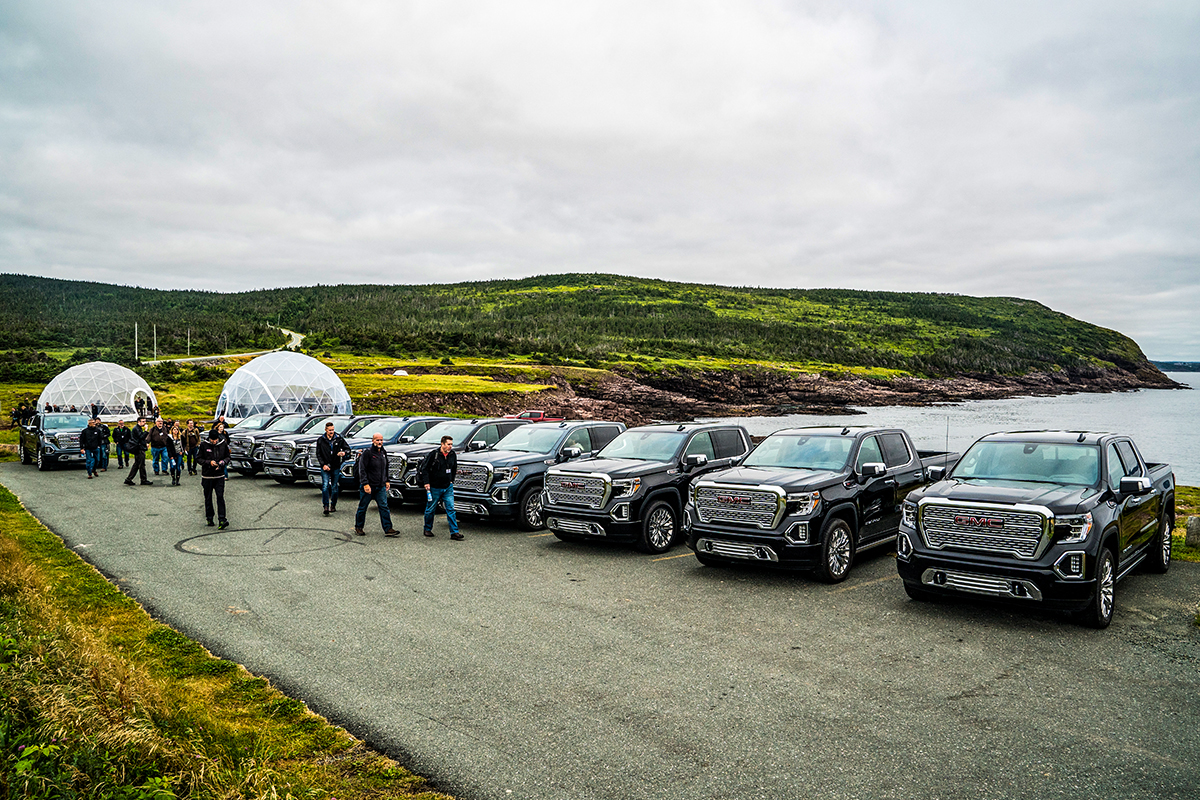 Upon arrival at Cape Spear we walked out to a promontory where GMC had set up a couple of large domed tents that served as our briefing and breakfast rooms. We received a full demonstration of the truck's features, including the very slick MultiPro tailgate. Mechanically there are very few differences between the Sierra Denali and its Chevy-badged twin, the 2019 Silverado I drove a few months ago. Frame, suspension, engine, transmission, and technology packages are all the same. Where the two part ways is in looks and trim.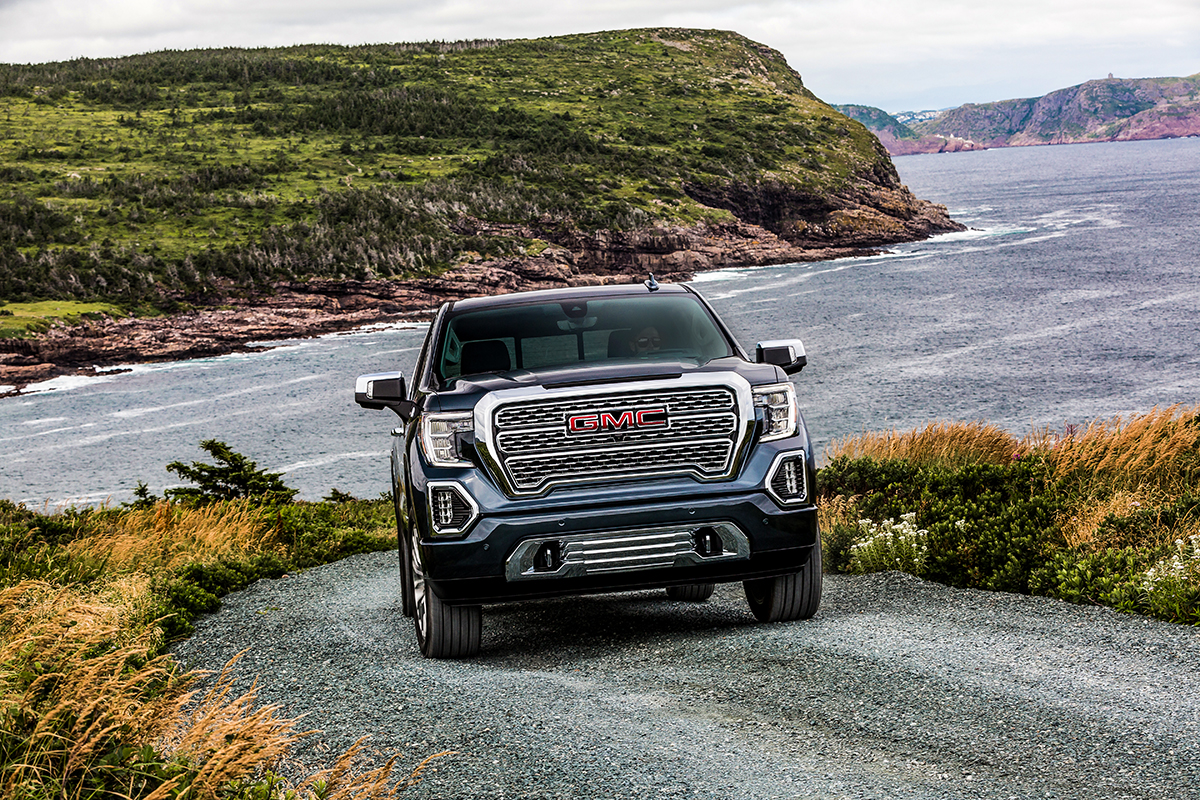 Looking at the GMC Sierra Denali for the first time in broad daylight, the thing that struck me most was its overall presence. This is a big truck that looks and feels even bigger than it is. The only common body panel with the Chevy is the roof. Everything else is unique. Broad shouldered and chiseled with a large chrome grill, it exudes power and control. When I worked in Detroit, we used to refer to GMC as "The Boss's Truck." The new Sierra, especially in Denali trim, feels like the CEO's truck. Chrome everywhere and all LED lighting with C-shaped head and tail lamps give it a distinctive look. You won't confuse this truck with a Chevy from the outside. Inside, however, there are too many similarities for its own good.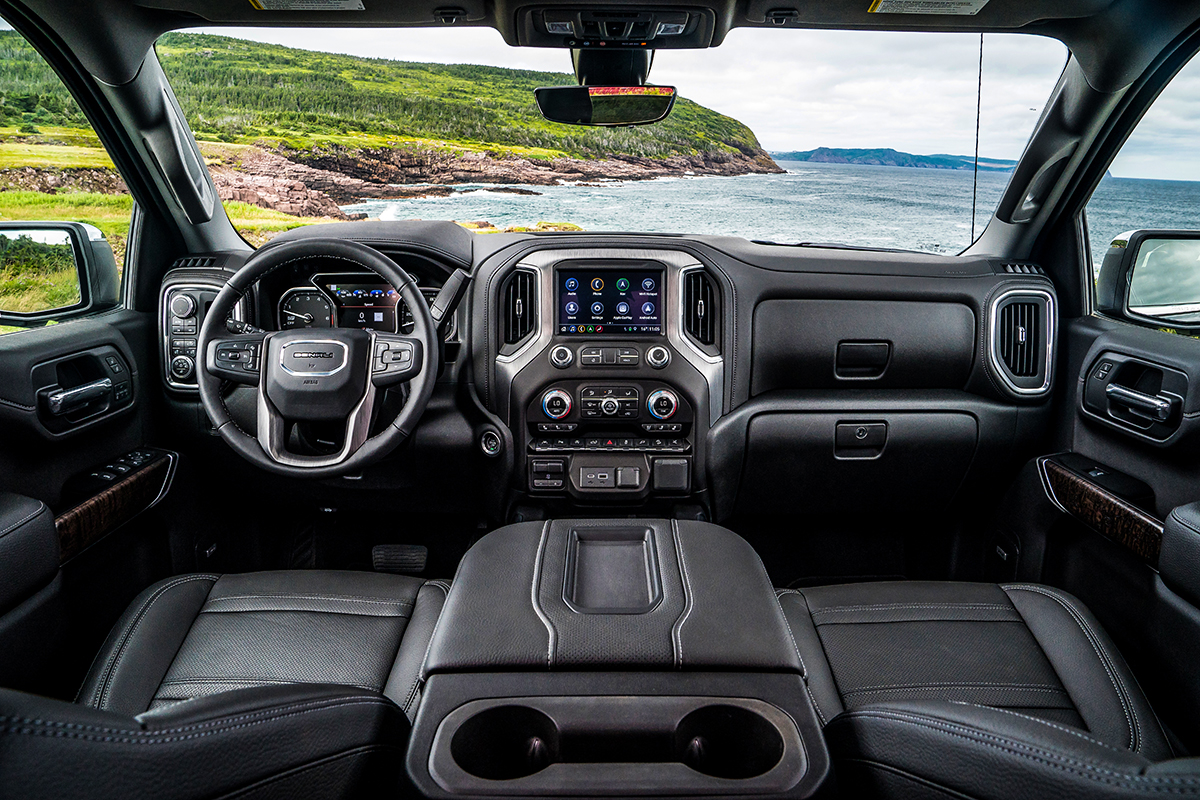 The overall interior layout is identical to the Silverado. The difference comes in the materials. The leather gracing the seats is a big upgrade, but other than that, a couple of bits of wood trim, a large four-color head up display, and the first ever rear camera mirror, nothing feels significantly different. The Sierra uses the same instrument panel layout. The same center stack. The same shift lever. The same turn signal stalk. Even the grab handles on the a-pillars are molded plastic with a seam running along the back. They look cheap and feel even worse. Contrast that with the leather-wrapped handles in the Ram Laramie Longhorn and you start to see why the interior in this premium-priced truck is a disappointment. Another shocker is the lack of adaptive cruise control a feature that's available on almost every car on the road today. Someone spending close to $70,000 on a truck deserves better. Don't get me wrong, it's comfortable – the three extra inches of rear seat legroom are more than welcome – and functional with abundant storage and power outlets. It just doesn't feel as premium as it should.
The team at GMC proudly talks about having a higher average transaction price than Mercedes-Benz and BMW, and people have been moving from luxury sedans and SUVs to pickups. It's time for GMC (and Cadillac for that matter) to take a long, hard look at the interiors being delivered by competitors from Europe and Asia and raise their game if they expect luxury buyers to consider them in the same class.
Okay, rant over. Now let's talk about what's good about the GMC Sierra, and that's pretty much everything else.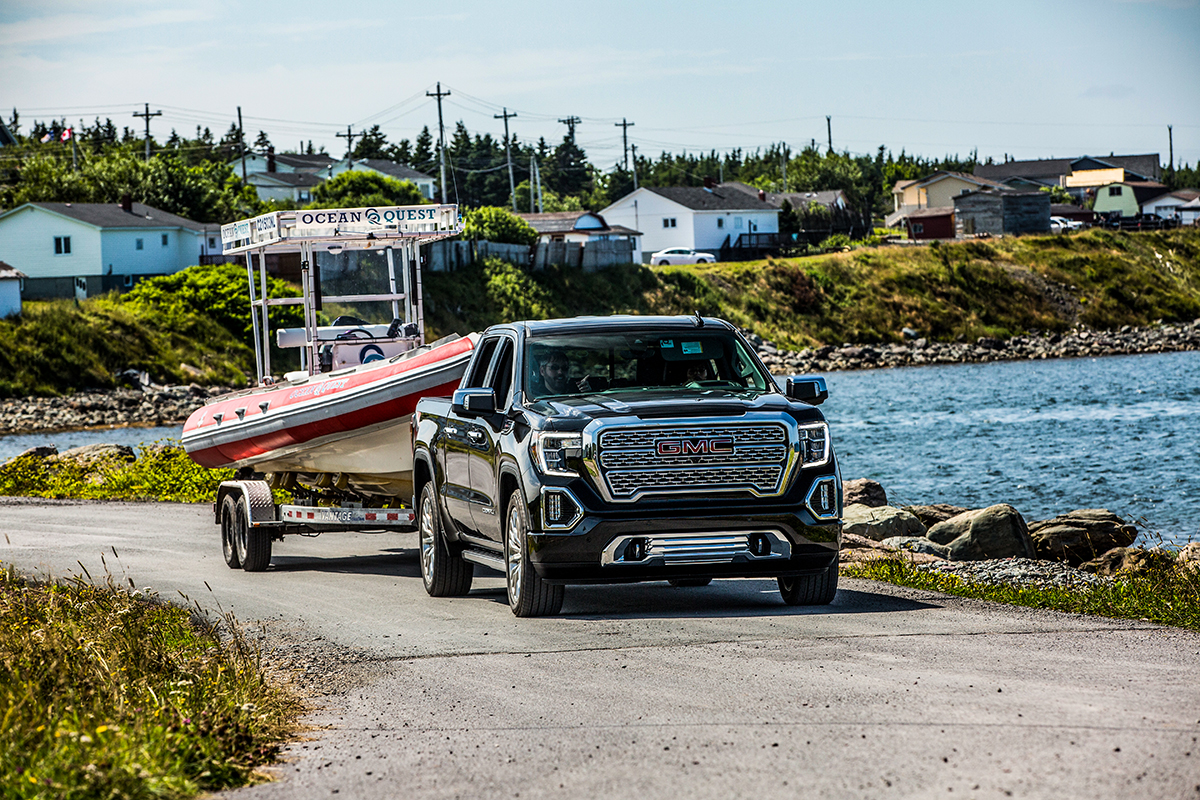 This truck features some pretty incredible engine technology to aid in fuel efficiency. Both the 5.3 and 6.2-liter V8s feature active fuel management. Using 17 different firing sequences, they run on anywhere from one to eight cylinders in a number of different configurations to deliver all the power you need and fuel economy you used to get from a truck with with a V6 engine. The 5,300 pound truck with four-wheel drive gets 21 miles per gallon on the highway and 15 around town. To achieve that, sensors read your power inputs, and then change the fuel delivery and firing pattern based on the need. When a cylinder is deactivated, the two-piece lifters effectively collapse on themselves to prevent them from opening the valves. When the cylinder is reactivated, solenoids send an oil pressure signal to the control ports on the lifters and the latching mechanism restores normal function, allowing the valves to open and close. It can do this up to 4,800 times per minute and you never feel it. NEVER. It's so smooth and seamless you'd swear all the plugs were firing all the time.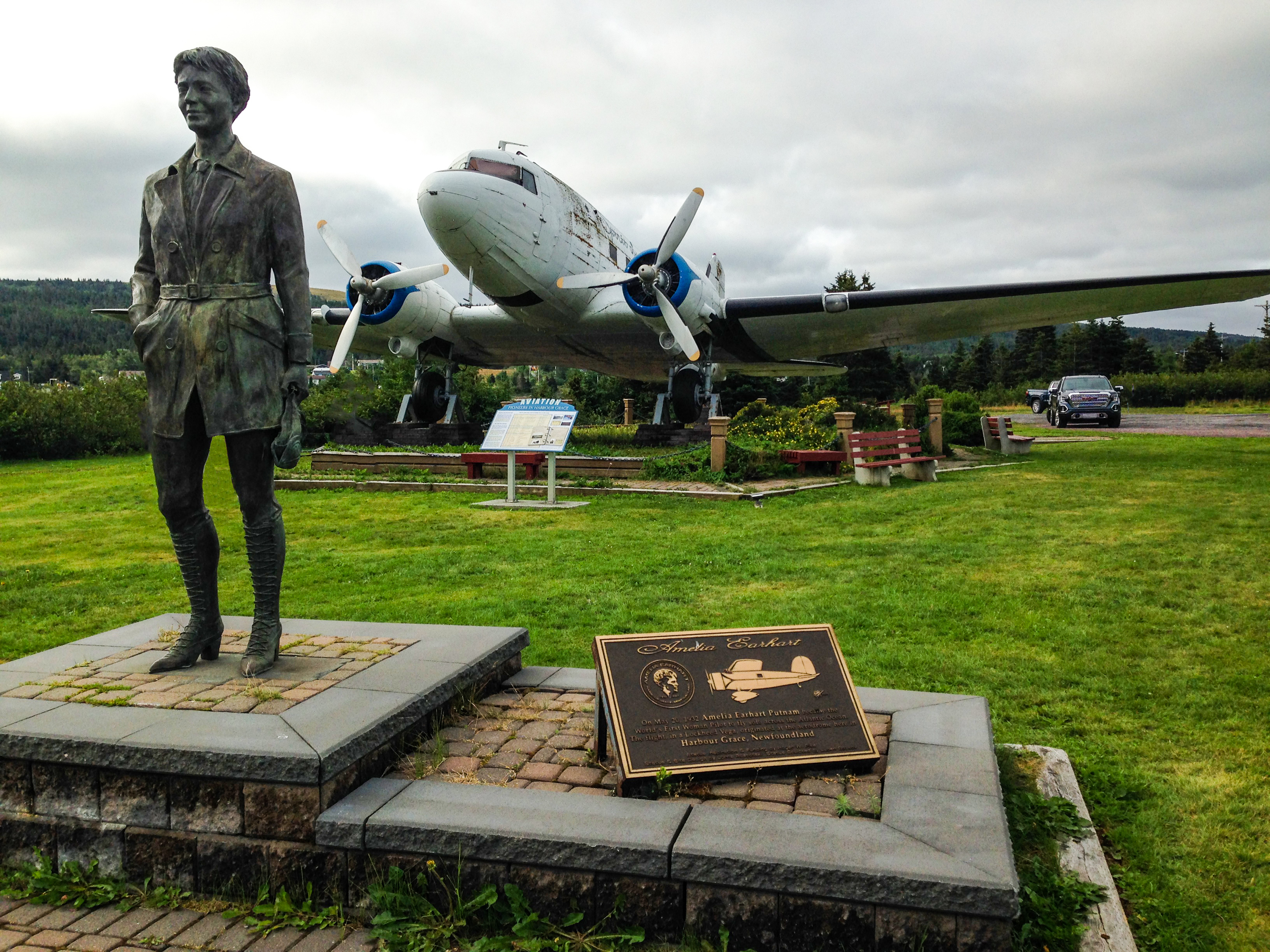 Our first destination on the drive was the town of Harbor Grace, famous as a jumping off point for aviators hoping to cross the Atlantic due to its relative proximity to Europe. A statue along the water commemorates Amelia Earhart's trip which left from Harbor Grace on the 20th of May in 1932. Planning on flying to Paris, she was forced to land in Ireland due to mechanical issues. She described the unexpected touchdown thusly, "After scaring most of the cows in the neighborhood, I pulled up in a farmer's back yard."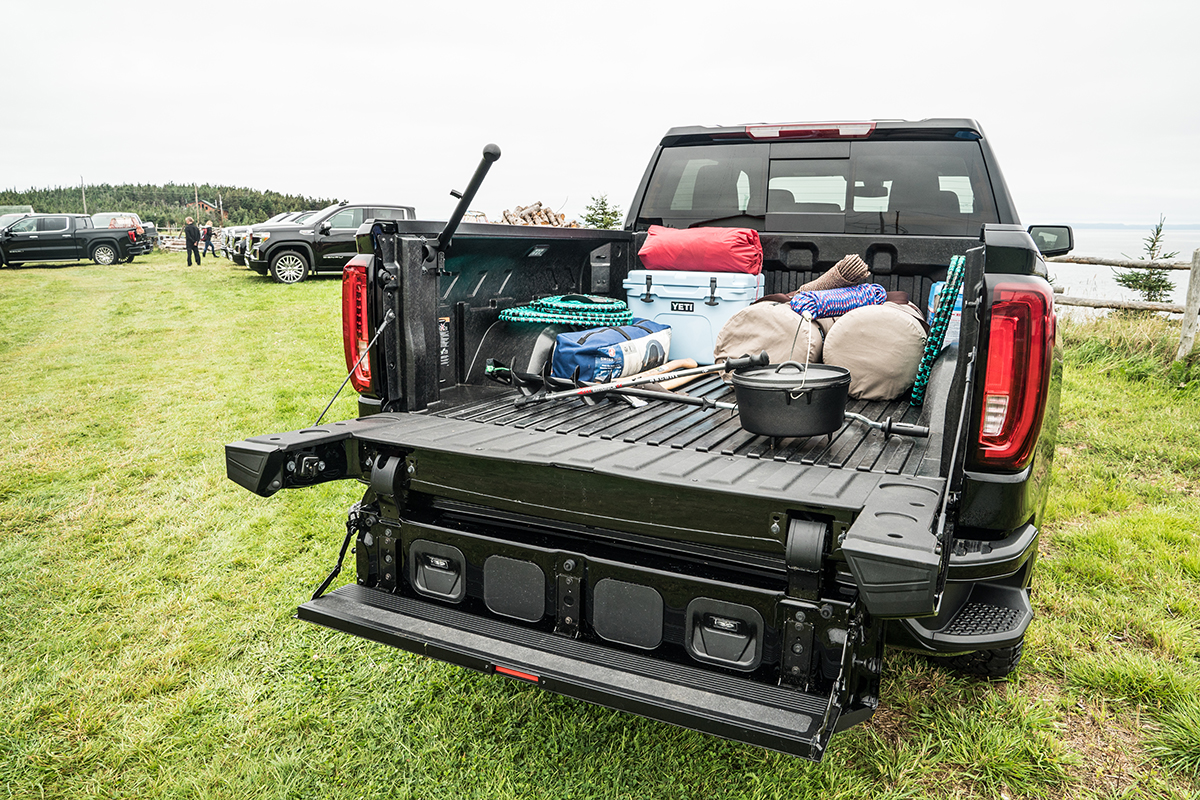 At Harbor Grace we got to test the aforementioned MultiPro tailgate. After loading the bed with all manner of coolers, supplies, building materials, and fishing gear, it's clear this feature is a game-changer. With a smaller hinged panel inside the traditional tailgate you can open it a number of different ways so it can be used as a step, a work table, a stop for eight-foot pieces of lumber or drywall, and more. Combine that with the increased cargo capacity, and all the standard tie downs, and the Sierra becomes the most useful pickup truck on the road today. You can also get optional speakers or lights installed in the step.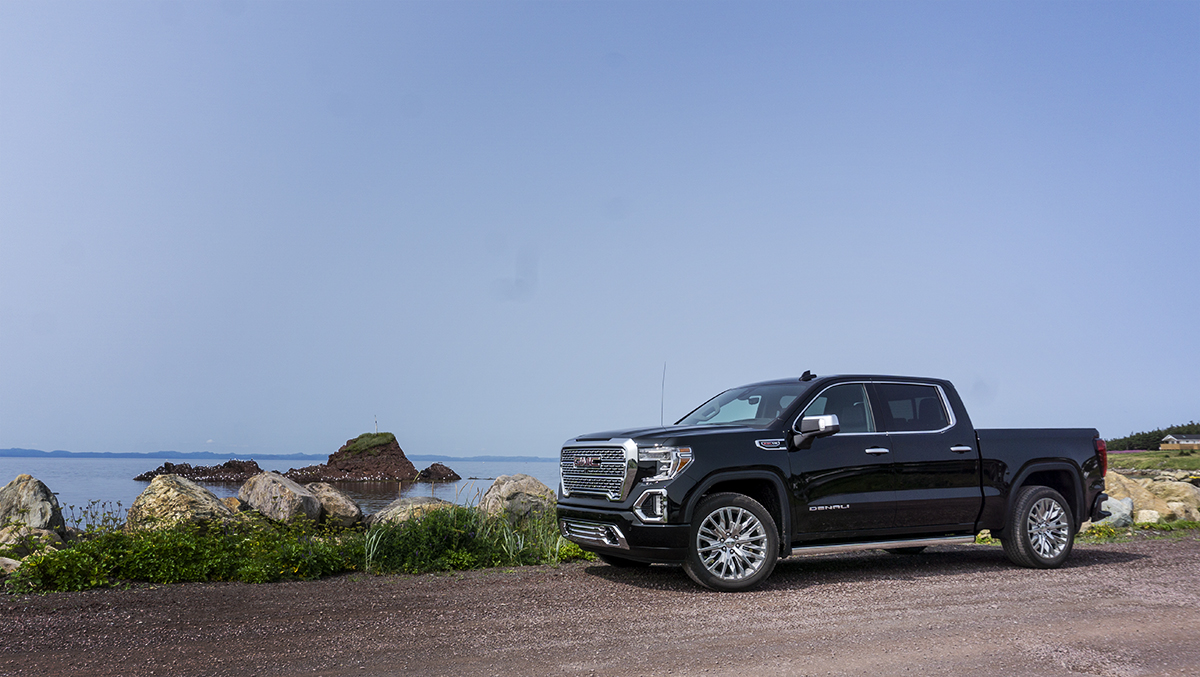 Road manners are just fine and as we drove from St. John's to Heart's Delight, past Dildo (yes, the folks in Newfoundland do have a sense of humor) I appreciated the quiet comfort of the Sierra Denali. Riding on 22-inch wheels with P75/50R22 all season truck tires, equipped with the independent front and two-stage rear leaf spring suspension and adaptive ride control, road noise was kept to a minimum and wind noise was damn-near non existent, a pretty remarkable feat considering the Sierra has the aerodynamics of an aircraft carrier.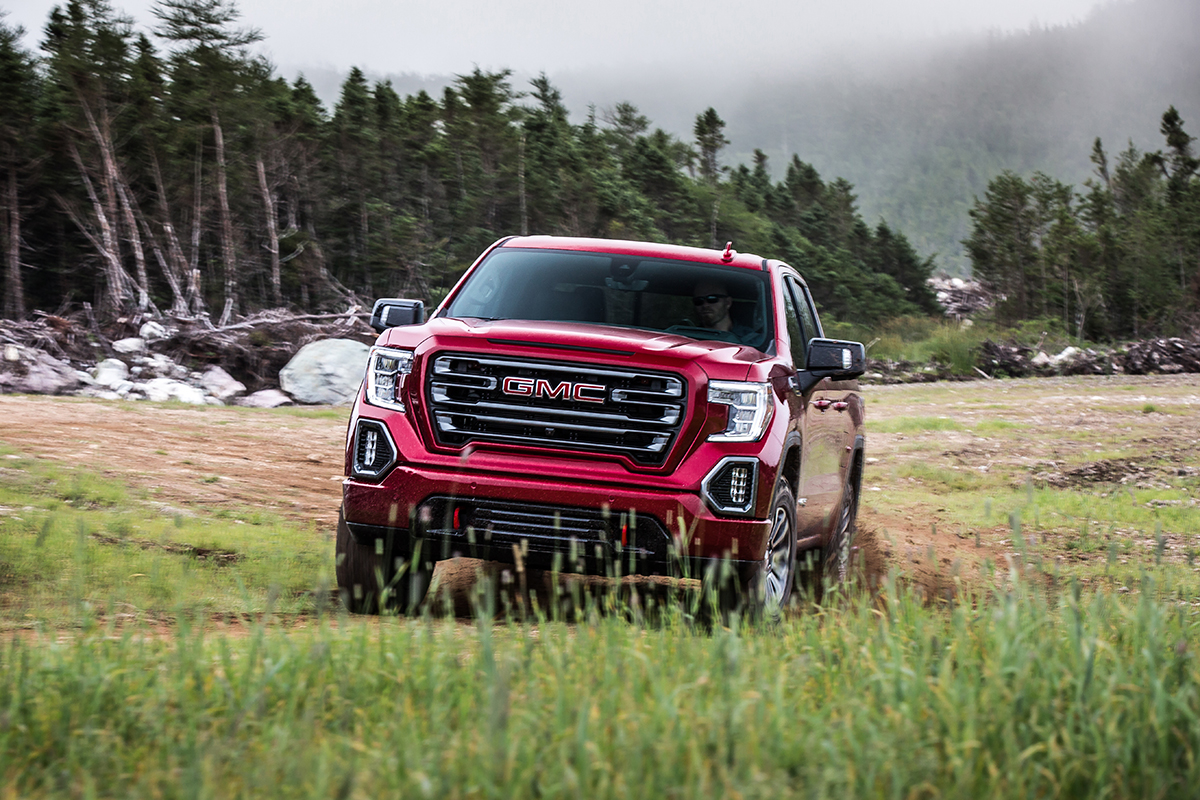 I did get to spend some time in the Sierra AT-4, driving it on rough gravel roads and a two-track through a farm field which it handled easily. This package is almost identical to the Silverado Trail Boss, so my assumption is it will do everything the Chevy did and more. The only difference between the two is you can get the 6.2L V8 in the Sierra AT4 so that should give it even more rock crushing, mud splattering power.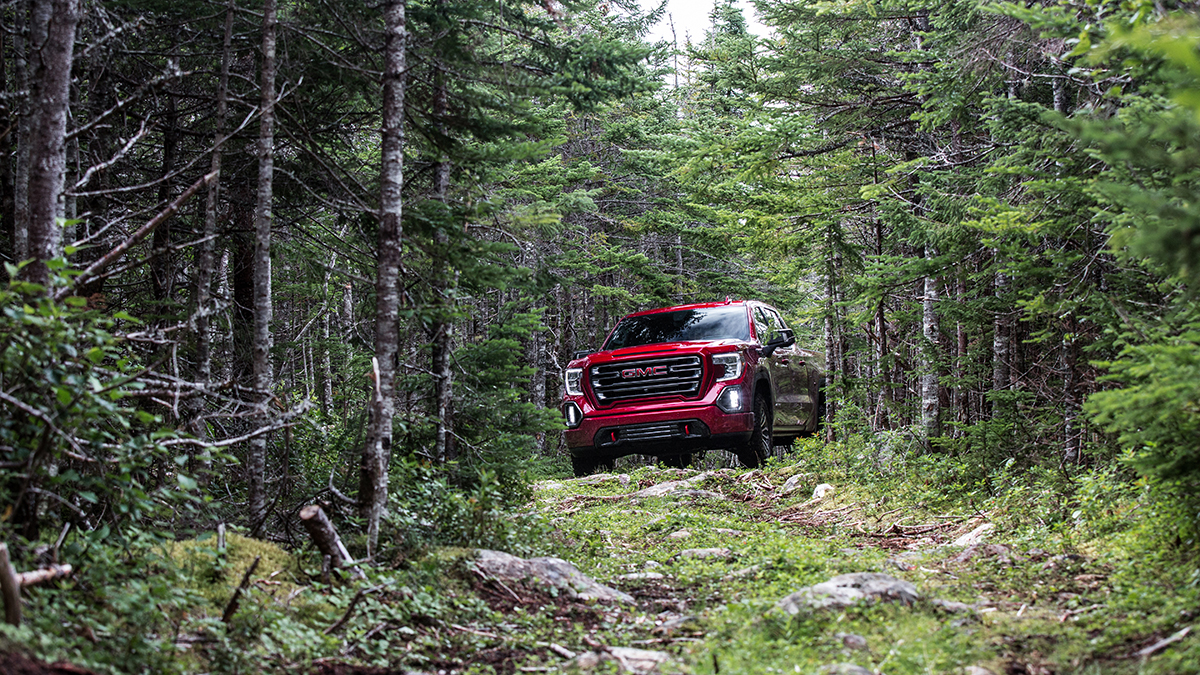 The more I thought about the Sierra and why we'd been brought to Newfoundland to experience its goodness, I did start to see some parallels. Both are rugged, have a long, storied heritage, and both are authentic to their core. What you won't find in St. John's or the GMC is a true premium experience. No matter which you choose, you have to be prepared to rough it a bit.
2019 GMC Sierra Denali AWD Crew Cab
Four-door, five-passenger, full-sized pickup truck
Base price: $58,000
Price as tested: $67,200
Engine: 6.2L fuel-injected V8 with active fuel management
Transmission: 10-speed automatic
Power: 420 HP @ 5,600 RPM
Torque: 460 ft.-lbs. @ 4,100 RPM
Curb weight: 5443 pounds
Payload capacity: 1,610 pounds
Towing capacity: 9,300 pounds
EPA MPG: 15 city 21 highway