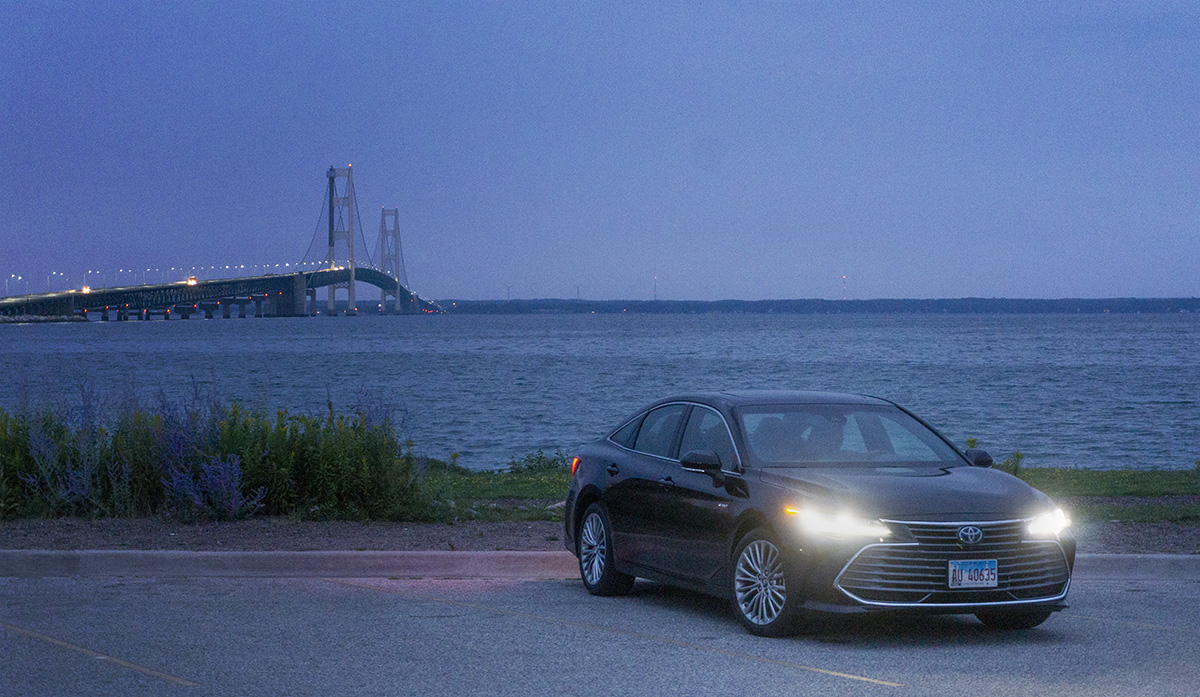 My alarm went off at 2:15 AM, an ungodly hour for anyone who's not a night watchman or getting up to make the donuts. After a quick shower and brewing enough coffee to fill my Yeti, I was behind the wheel of the 2019 Toyota Avalon Hybrid headed north hoping to arrive in Mackinaw City by 10:00 AM EDT. What could possibly force me to rise four hours before the sun and drive 400 miles before most people finish their morning coffee?
A promise I made to my brothers, sisters, and parents.
I'm from a big family, one of eight kids who scattered across the country after graduating from high school. We all went our separate ways not because we didn't like our home, our childhood, or each other. We left because our parents encouraged us to find our own way. They weren't subtle about it either, selling the family home in New Canaan, Connecticut and moving to a loft in Soho before my youngest brother had even graduated high school. That ensured none of us could ever return to the nest for more than a brief visit.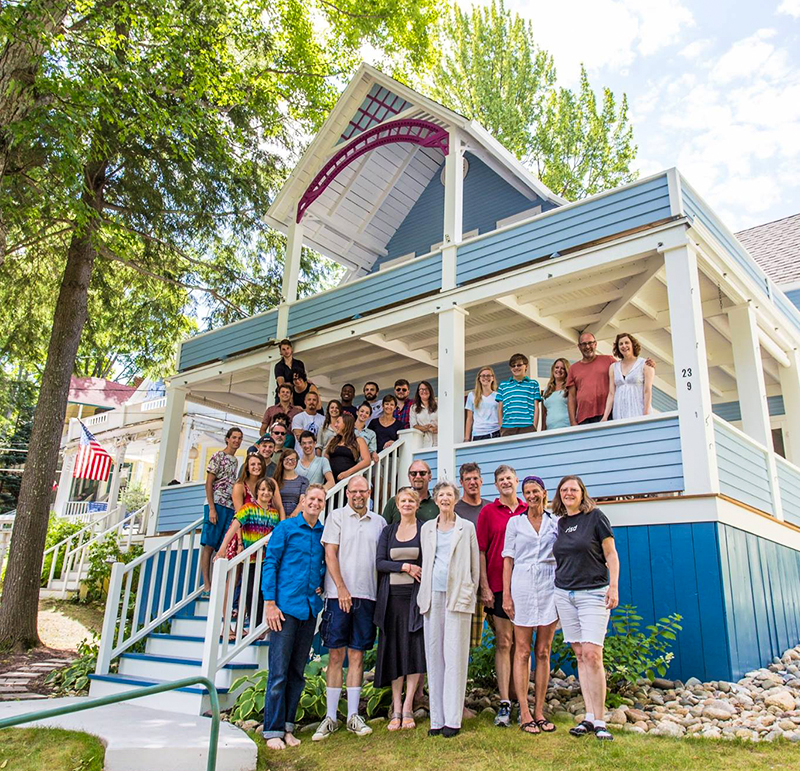 Once we started having children of our own, however, our parents were happy to start seeing us as a group again and we began a tradition of meeting every two years for a week-long family reunion. While the location varies, we return to Northern Michigan most often since we made the quaint harbor town of Petoskey our home from 1973 to 1976. It has helped my brothers, sisters and me stay close and our kids to know the joy of cousins.
We've been doing this for decades, but this year was different. This would be the first reunion without either of my parents around to preside over the week, my mother having passed away the previous spring. At her memorial service we promised ourselves we would keep the tradition alive. So even though I only had a few days between work trips to Jackson Hole and St. John's, I was determined to keep my promise.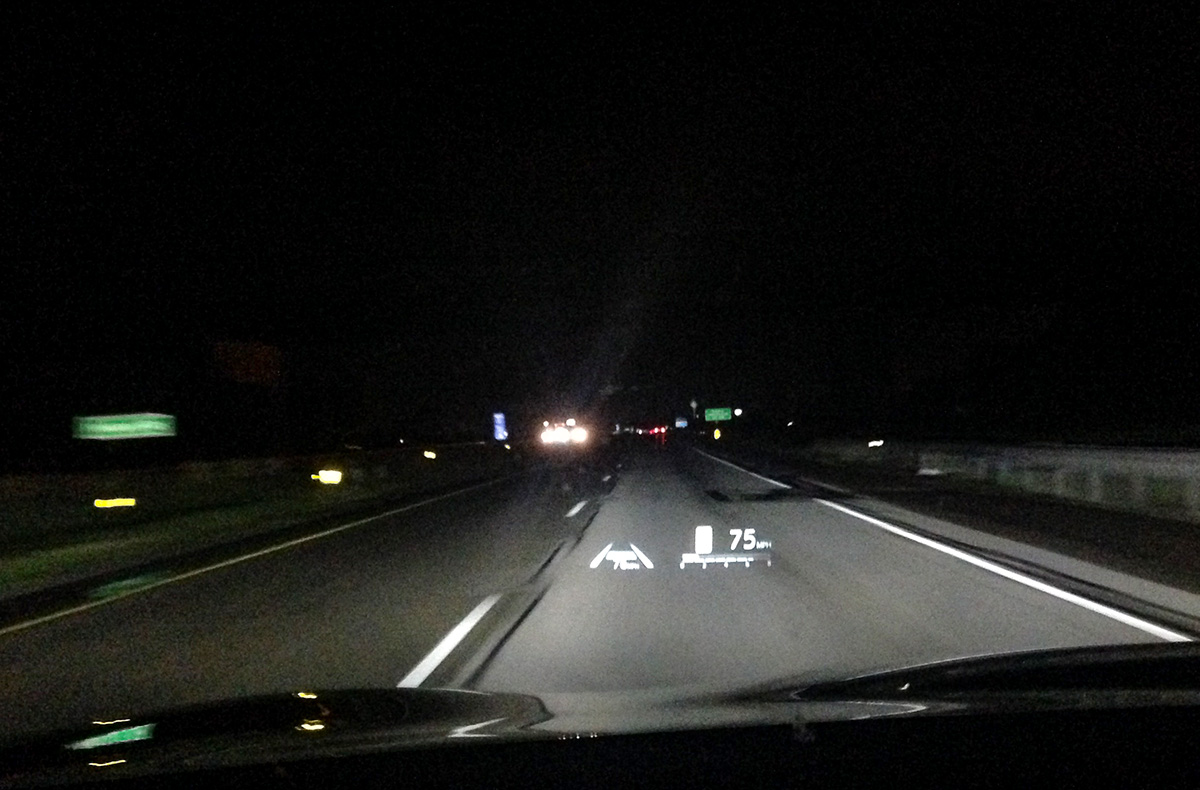 The drive from Madison to Mackinac, though long, is relatively easy and takes you through some of the most scenic areas of the Midwest. All of it is perfectly suited to the Avalon's intent. U.S. 151 is a limited-access four lane road that winds through the farmland of central Wisconsin past the towns of Columbus, Beaver Dam and Waupun. WI 26 is a two-lane highway that takes you through the Rosendale where you'll want to check your speed. So famous is the town as a speed trap it has its own T-Shirt.
After connecting with Highway 41 in Oshkosh, it's a straight shot past the city of Green Bay to the town of Peshtigo, which on Sunday, October 8, 1871 was at the center of the deadliest wildfire in American History. It all began when small fires intended to clear woodland for the railroad got out of control. By the time it was all over, more than 2,000 people had died and 1,200,000 acres of land destroyed. Descriptions of the scene tell of houses and train cars being thrown through the air by the violent winds whipped up by the blaze. Residents sought shelter in the freezing river where some survived but many more succumbed to hypothermia having spent more than five hours in the frigid waters. The town and its Fire Museum is just one of the many historic spots along the route.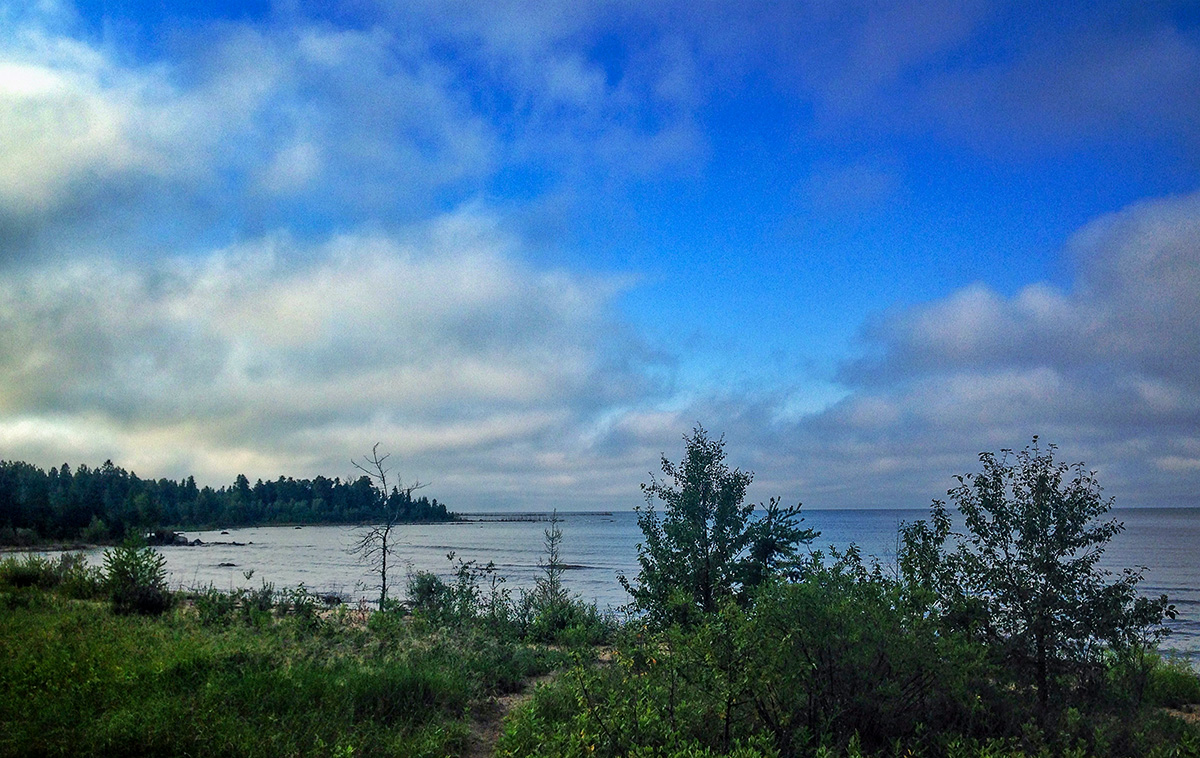 From there, the road turns east and you make your way to the shore of Green Bay until you reach the twin towns of Marinette and Menominee on the border of Wisconsin and Michigan. Follow Highway 35 from here and you'll be treated to a gorgeous view of the bay as you make your way north to Escanaba. My early morning departure meant I got to see the sun rise over the waters a little more than halfway into the trip. I was feeling great thanks to the Avalon's comfortable seats and excellent JBL Audio system. I greatly prefer the interface to this system to that of its sister vehicle, the Lexus ES300h. Toyota keeps it simple with knobs, buttons, and a touchscreen – no dreaded trackpad.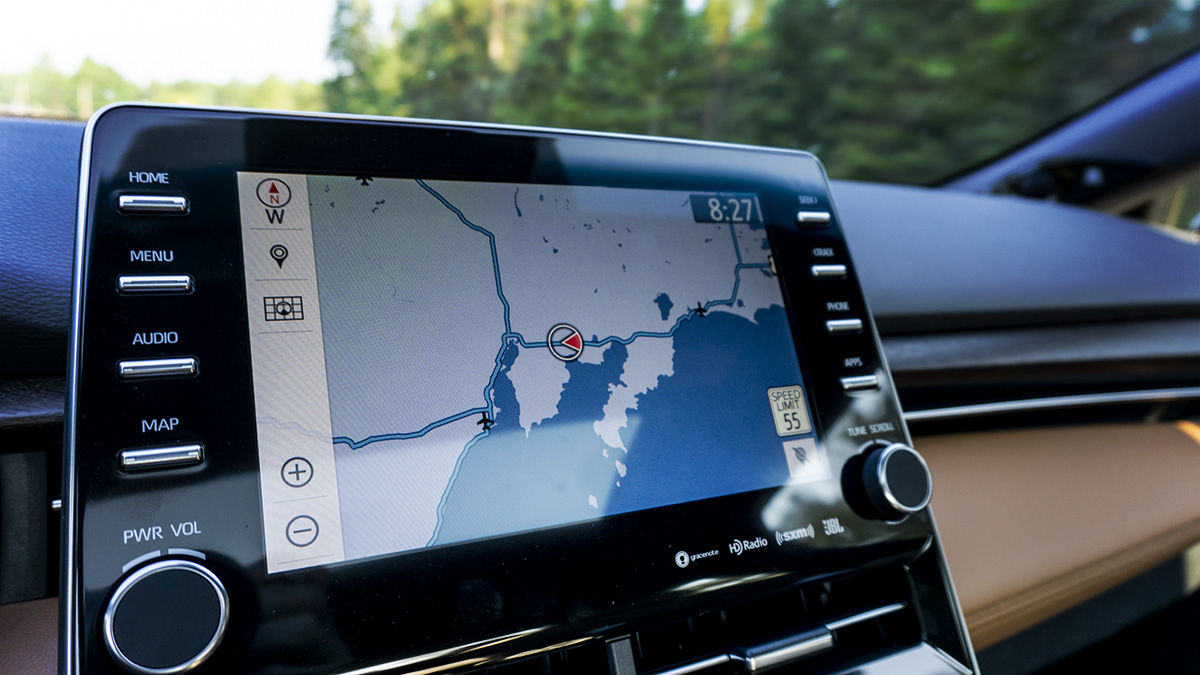 U.S. Highway 2 runs alongside Lake Michigan's northern shoreline, which is one of our country's natural treasures. Sand dunes, pine forests, and peat bogs create a landscape worthy of a three day drive where one can stop and soak up the desolate beauty of this sparsely populated area. Unfortunately, I was on a deadline, so I sped along passing Big Bay de Noc, through the Hiawatha National Forest, and the towns of Manistique (one of the many purported homes of legendary logger, Paul Bunyan), Naubinway, Epoufette, and Brevort, before rounding a curve and seeing the five-mile long Mackinac Bridge looming in the distance.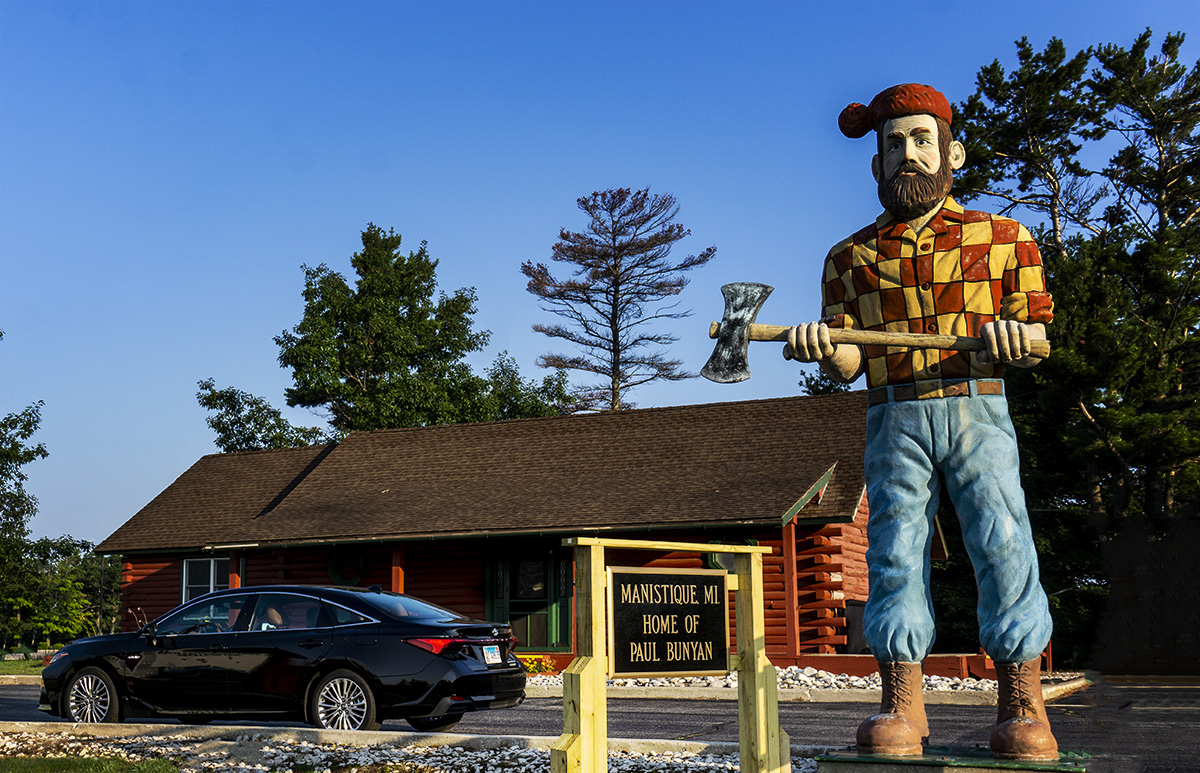 Opened in 1957, the Mackinac Bridge connects Michigan's Upper and Lower peninsulae. Crossing requires a fee of $4, a great deal of trust in midcentury engineering, and confident car control skills especially when the winds blow. The suspended portion of the four lane bridge uses concrete for each outside lane and steel grating for the inner lanes in each direction. It has been known to incite extreme acrophobia and gephyrophobia in enough drivers that the Michigan Department of Transportation offers a Drivers Assistance Program which provides a professional who will pilot your car across the bridge for free. This fear is not completely unfounded as two cars have plunged over the side in the 62 years the bridge has been opened. One was an apparent suicide. In the second incidence, high winds were believed to be a contributing factor when a Yugo went over the side of the bridge. Luckily for me, the weather was perfect as I paid my toll and headed south over the Mackinac Bridge to Mackinaw City.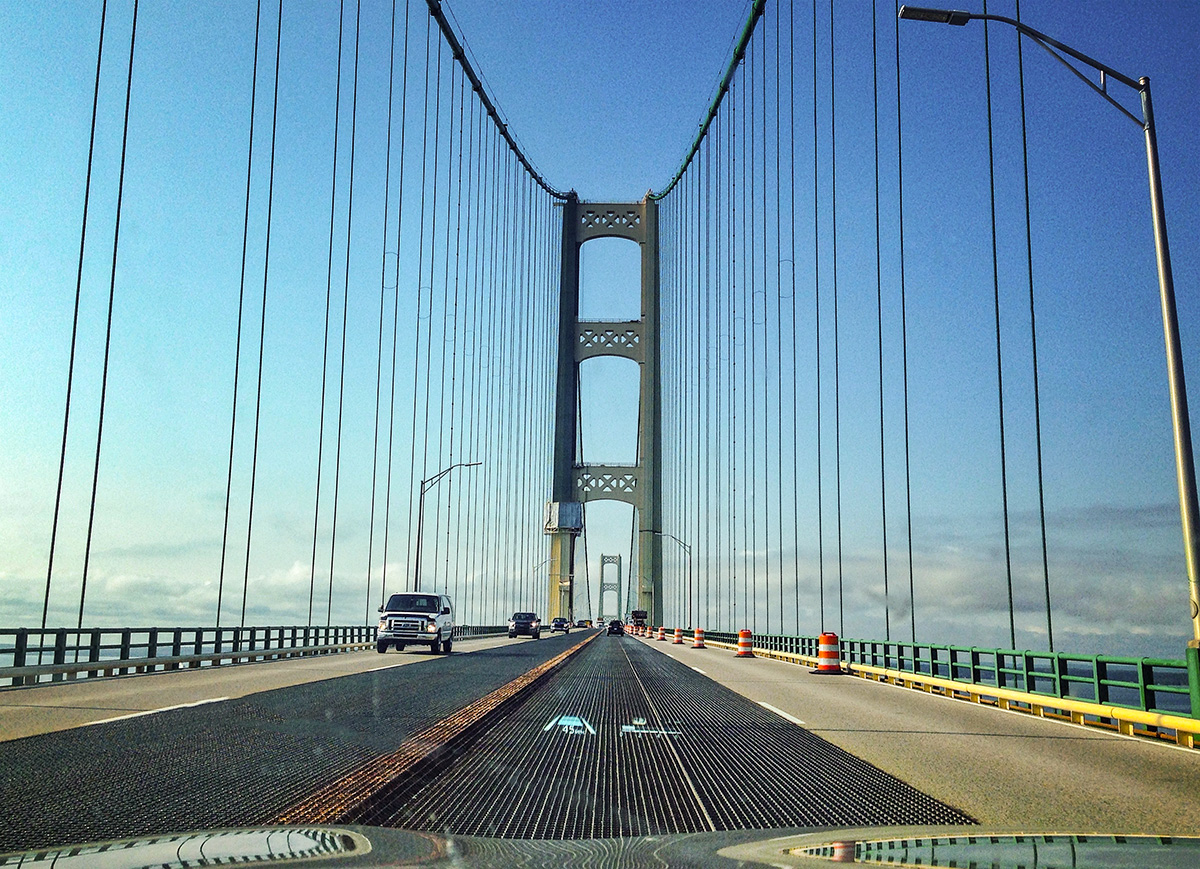 You're probably wondering why there are two different spellings for a word that's pronounced the same way. I know I was. It comes down to the history of the region which was originally inhabited by the Ojibwe, Odawa, and Potawatomi tribes. It was colonized by the French in the early 1700s and then taken over by the British in the 1760s during the French and Indian War. The native name for the area was Michilimackinac. The French shortened the name to Mackinac changing the pronunciation to the Francophonic "aw" ending. When the city was founded in 1889, the British used the odd but phonetically accurate spelling, creating the confusion we have today.
When I pulled into the Starbucks parking lot for a snack and a much needed cup of coffee, I still had a quarter of a tank of gas remaining, meaning I had used fewer than 10 gallons to travel the 399 miles that morning. The Avalon Hybrid was made for this kind of trip. It's a long-legged, comfortable cruiser with a supple suspension, quiet interior, and in its Limited trim, darn near luxurious cabin. My week with the Avalon confirmed my first impressions developed on the launch event a few months earlier in San Diego. With adaptive cruise control, lane keep assist, a giant 10-inch head-up display and all the other safety and driver assist technologies, Avalon is an easy car to cruise in, so even having spent more than six hours behind the wheel, I arrived fresh and ready for my excursion to Mackinac Island. After a rendezvous with six of my seven siblings, several of their spouses, and more than a dozen of my nieces and nephews with hugs and smiles all around, it was off to the docks to catch a boat.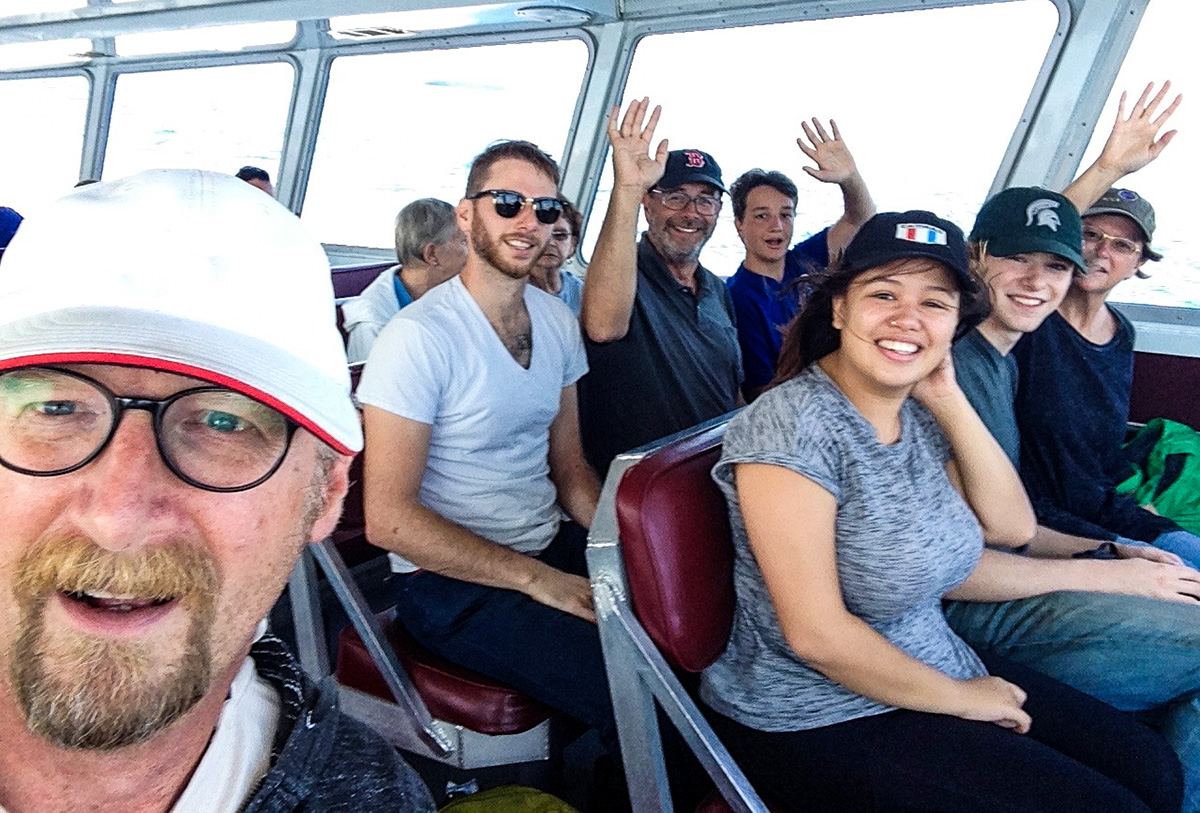 Time doesn't quite stand still on Mackinac Island, but the clocks do move slowly there. A small dot in the strait that connects lakes Michigan and Huron, an average of over 15,000 tourists visit Mackinac Island every day during the summer season. It might seem an odd destination for a car guy and his kin seeing as there are no cars or trucks on Mackinac Island except for emergency vehicles. The only modes of transportation are horse, bicycle, and your own two feet. You park your car on the mainland, either in St. Ignace or Mackinaw City, and take a ferry over.
If you only have one day on the island, there are a four things you must do: tour Fort Mackinac, ride a bike around the island, see the Grand Hotel, and buy some fudge. Everything else is optional.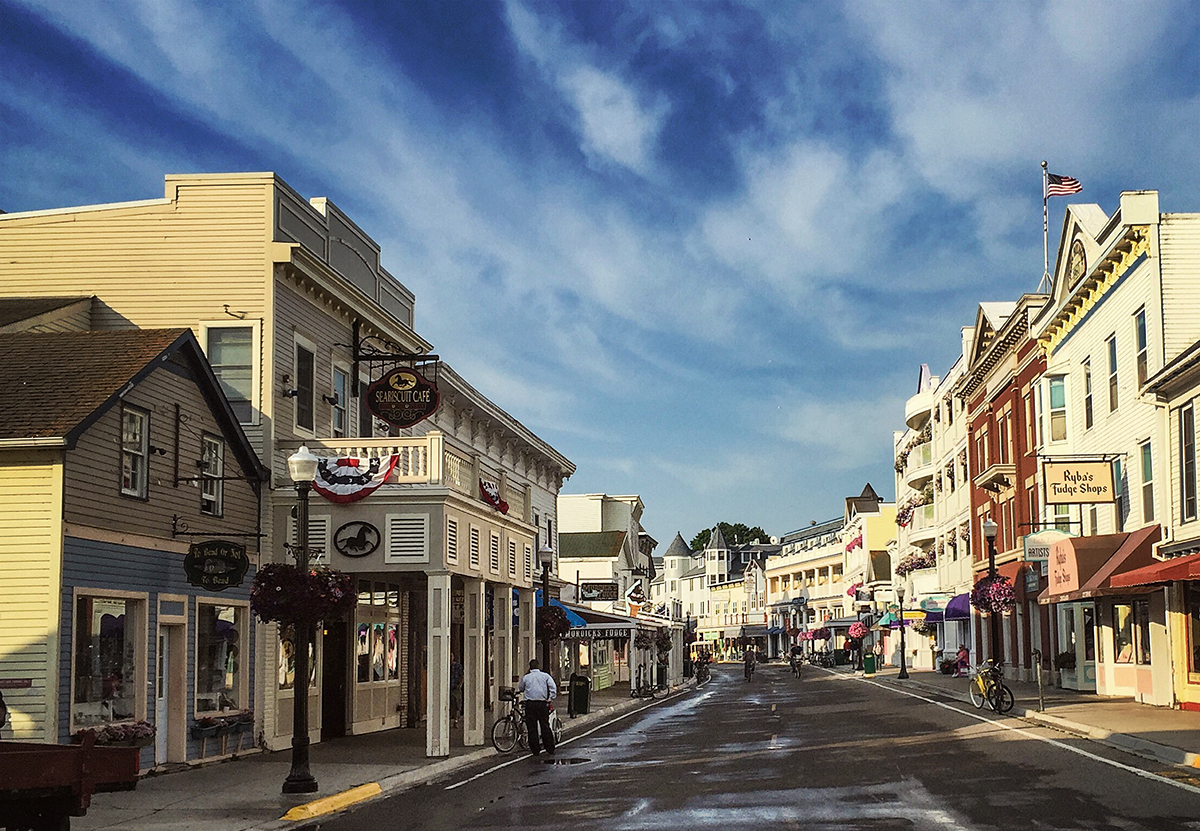 Once you get off the boat, stroll down Main Street. The primary shopping district is just three blocks long and where you'll find plenty of places to buy adult beverages, trinkets, and t-shirts. But you'll also find one of the things that makes Mackinac Island famous, fudge. It has been made at shops up and down Main Street since 1887 when Henry and Rome Murdick first poured a batch onto a marble countertop to cool. A simple recipe of sugar, cream, chocolate, corn syrup, and salt, each day 10,000 pounds of fudge are carried off the island by tourists. It's such a phenomenon that locals refer to out-of-towners by the less than flattering sobriquet of "fudgies." A few of my favorite fudge shops are the aforementioned Murdick's, Ryba's, and May's but really, you can't go wrong with any of the dozen or so fudge shops on the island. Unless you're planning on eating it right away, wait until the end of the day to buy your fudge so you don't have to schlep it around with you.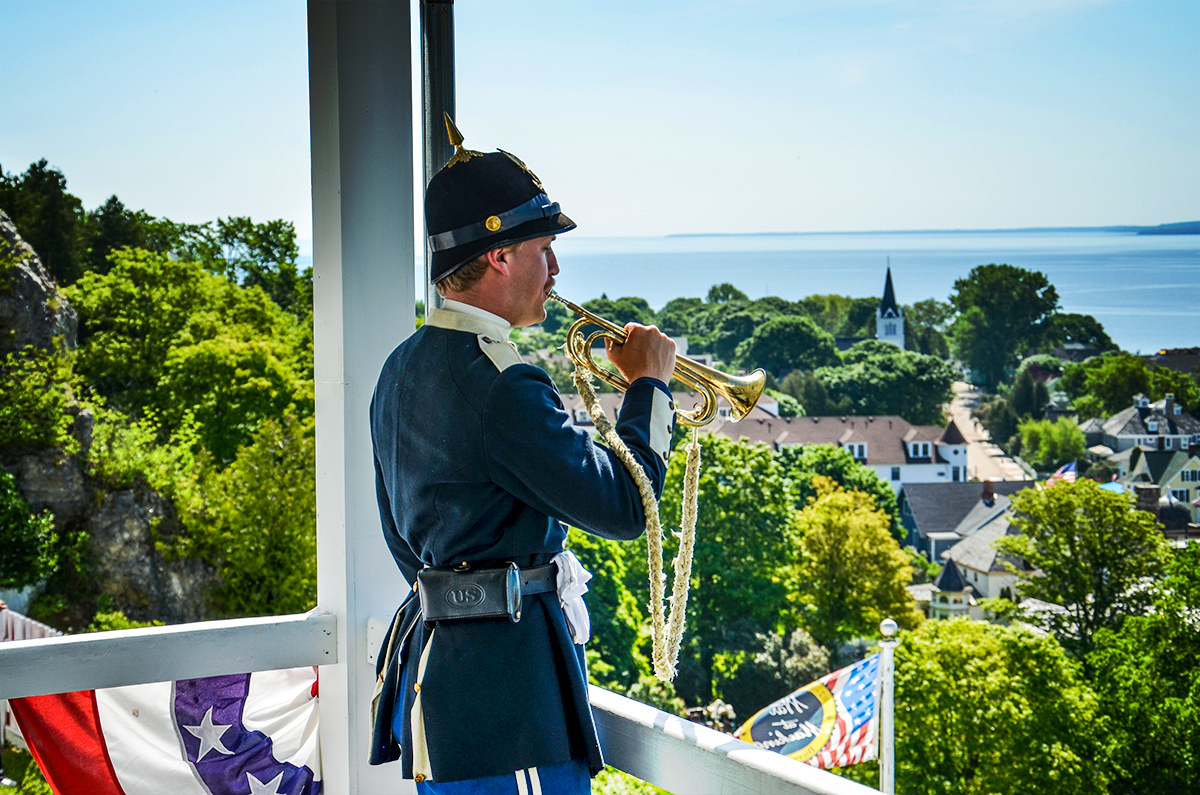 Our first stop was a tour of Fort Mackinac. Just a few steps up the hill from Main Street the Fort was built by the British Army in 1780 and used to protect their interests – mainly the fur trade – in the upper Great Lakes. Made up of 14 buildings, it's one of the few Revolutionary War forts still standing in its entirety and a living history museum complete with exhibits, videos, reenactments, rifle demonstrations, cannon firings, and of course, a gift shop. The view from the top of the 150 foot bluff is spectacular and standing at the nearly 250 year old walls it's easy to see why it was of such strategic importance to the Brits. It's well worth the $13.50 park entrance fee which also includes admission to the Richard & Jane Manoogian Mackinac Art Museum and several buildings in Historic Downtown Mackinac.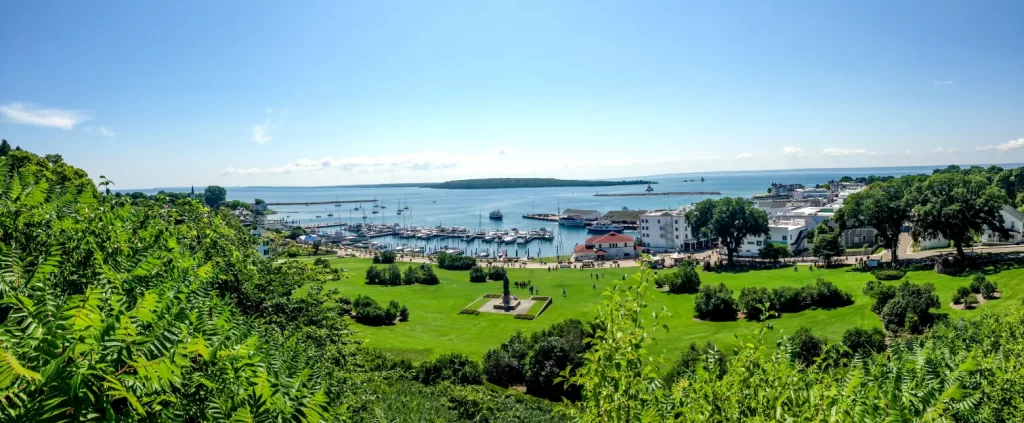 After grabbing a bite to eat at the Fort Mackinac Tea Room which has the best view of any lunch spot on the island, we headed back down the hill to find a bike rental shop for a few hours of pedaling and exploring. Like fudge shops, bike rental stands are everywhere and for around $30 you can rent a one-speed bike for a half day which is plenty of time. Bikes come with a helmet and a basket to make carrying your stuff easy. The road has only slight elevation changes and you can easily complete the 8.3-mile loop in an hour if you ride non stop. But you will want to stop along the way as we did to wade into the chilly waters and take in several landmarks including Arch Rock, the British Landing site, and Devil's Kitchen. Fun fact, Michigan 185 is the only state highway in the country where cars are banned.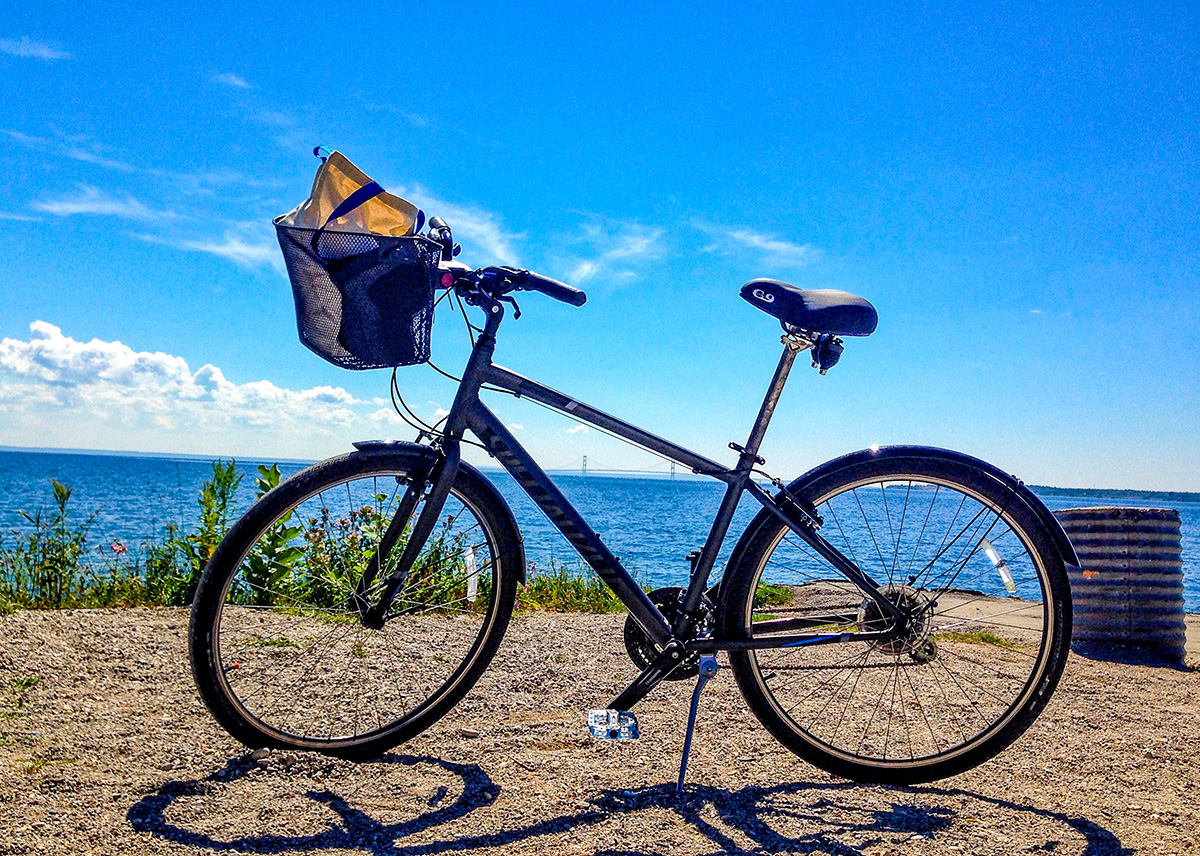 If you have enough left in your legs after biking around the island, you can walk up the hill to the Grand Hotel, otherwise hop on a horse-drawn taxi from Main Street. The Grand Hotel opened in July of 1887 and was designated a National Historic Landmark in 1989. Many notable people have stayed over the years including presidents Truman, Kennedy, Ford, H.W. Bush, and Clinton; John Jacob Astor III, Mark Twain, Esther Williams (the hotel's swimming pool is named after her), and Robert De Niro. Thomas Edison, a frequent guest, gave his first public demonstration of the phonograph on the hotel's massive front porch, that at 660 feet in length is said to be the longest in the world. It costs non-guests $10 to enter the hotel but that gives you full access to the porch, restaurants, lounges, and grounds. For an additional fee you can enjoy the pool or play golf if you have time. The Grand Hotel has been named one of the best places to stay in the world by Conde Nast Traveler, Travel + Leisure, Wine Spectator, and Gourmet Magazines. A monument to the style of the late 1800s, the Grand Hotel retains all of its authenticity and glamor, so much so that when director Jeannot Szwarc was looking for a location to film the romantic drama Somewhere In Time he chose the hotel saying he had to "find a place that looked like it hadn't changed in eighty years."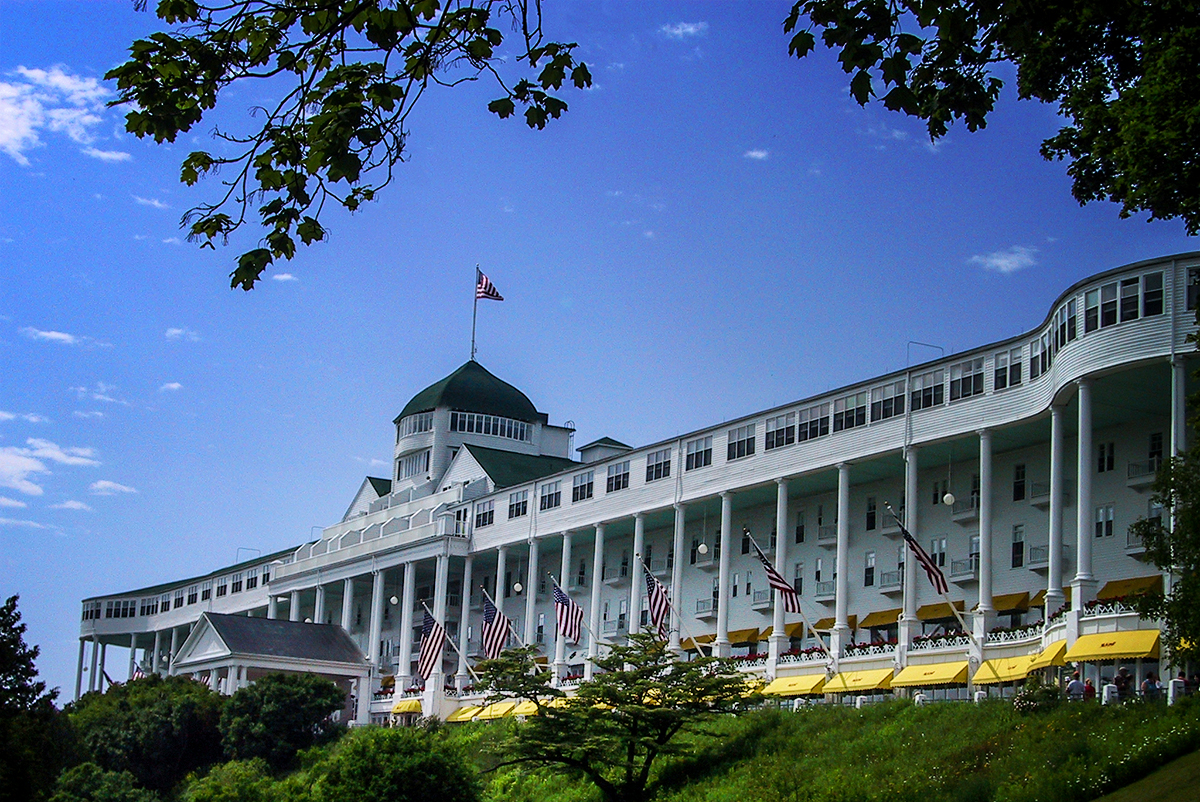 Our island adventure ended with a family dinner at the Ice House Barbecue. Located across from the marina behind the Island House Hotel, it's just a few steps off Main Street, but offers a quiet escape from the crowds and was perfect for our large group of more than 20 family members. It's traditional barbecue fare in a very casual environment with umbrella tables on a patio and family games on the adjacent lawn.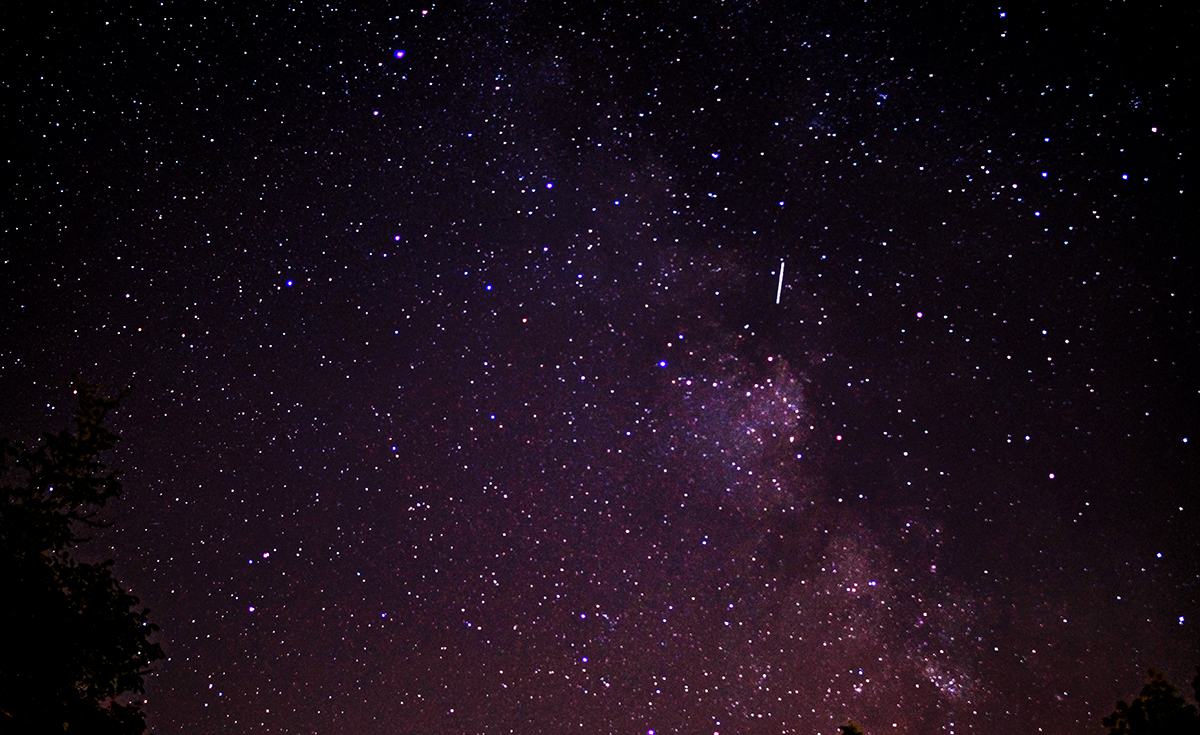 After that it was back on the boat and a short drive to the Headlands International Dark Sky Park and Observatory where we sat on the grass of the terraced amphitheater and witnessed the Perseid meteor shower. The park is open 365 days a year and has an on-site observatory. The meteor watching event was a special program hosted by an astronomer from Albion College. We were able to use their telescopes and peer deep into space, getting glimpses of Saturn's rings and several other heavenly bodies while meteors streaked across the sky. Even on an ordinary cloudless night, the park is worth visiting. With so little ambient light in the area, there's a dizzying canvas of stars spread out overhead that makes you ponder your place in the universe.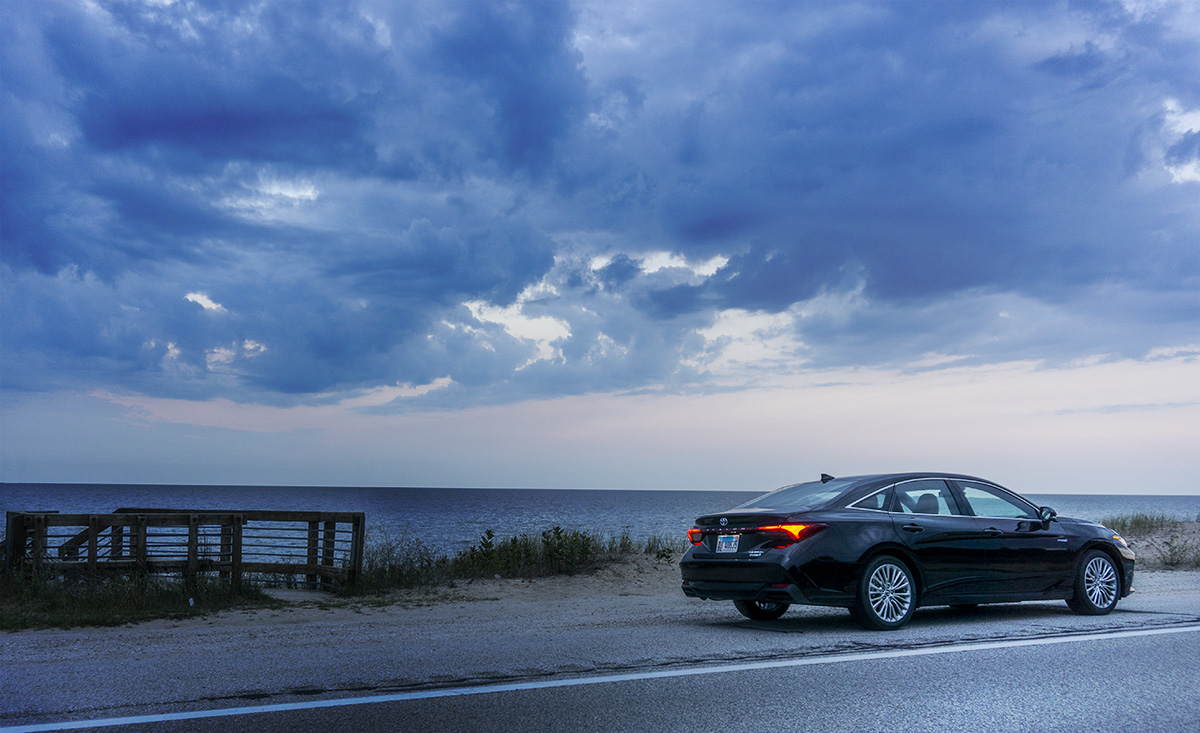 The show finally over close to 11:00 PM, we piled in our cars and headed back to Petoskey where we had rented a few houses for the week. By the time I had settled in for the night, it had been 22-hours since my alarm went off. I felt like I had packed a week's worth of activities into that span and most important, I had kept my promise thanks in part to Toyota. That made it was worth every minute of the six and a half hour drive to get there. After all, how often does one get the opportunity to spend a day on a magical island and then hang around with the greatest family in the world. I know, I'm biased, but after watching this video of our final night in Petoskey, I dare you to tell me that's not the case.