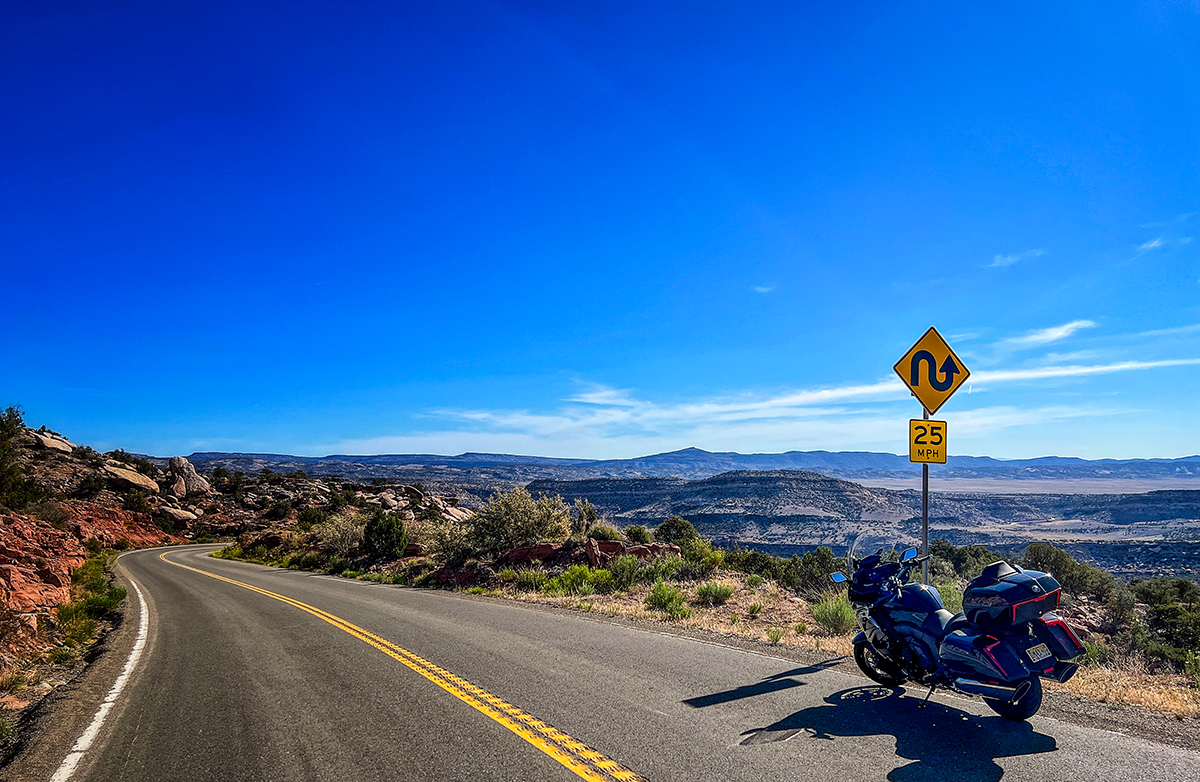 America may be the land of the free, but it is quickly becoming the home of the bland. Even as our population becomes more diverse, our towns are becoming indistinguishable from one another. Hampton Inns and Courtyards, Chili's, T.G.I.Fridays, and Chick-fil-A seemingly populate every exit of every interstate. Behind the windshield or handlebars, it's hard to tell Peoria from Petaluma. I blame McDonald's and Holiday Inn for the homogenization of hospitality. They taught us that mediocre consistency sells. It's a formula everyone from restaurant chains to hoteliers and network executives follow, sucking the variety out of life and the life out of culture.
Is there hope for the idiosyncratic? Is there still room for non-conformity? I went in search of the outré on a cross-country motorcycle ride I called "America Unchained." I'd be riding the shaft-drive BMW K1600 and trying to get from Riverside, California to my home in Madison, Wisconsin staying in affordable independent lodging and eating only in local restaurants – so no chains, get it? It's a mighty feat these days when tools like Google Maps and booking aggregators push you to the corporate establishments with the deepest pockets. But with a little bit of effort and a strategy I learned decades ago from David E. Davis, Jr., was able to find interesting places to stay and with a few exceptions, amazing meals.
The Mission Inn in Riverside, California was the jumping off point for my cross country motorcycle journey on the BMW K1600. It was built between 1876 and 1935 and is said to be the largest mission style building in the United States. Interestingly, since it was built over the course of a few decades, it's an amalgam of mission sub-styles all tacked together so it feels very eclectic. The hotel has hosted several U.S. Presidents over the years including JFK, Teddy Roosevelt, William Howard Taft, and most recently, G. W. Bush. Richard and Pat Nixon were married here. Ron and Nancy Reagan honeymooned here. I'm not sure why, because while the hotel is amazing, the surrounding area and the city of Riverside in general are a little meh. It's a swanky but surprisingly affordable (rates start in the mid-$200 range) start to a trip that would be much more egalitarian but no less unique for future stays. If you find yourself in Riverside, I highly recommend The Mission Inn Hotel & Spa and don't forget to enjoy one of their signature margaritas.
Day 1: Riverside, California to Peach Springs, Arizona
The trip began with a briefing from BMW on the updates to the K1600. Highlights include a more powerful inline 6-cylinder engine. There were no changes to the mechanicals. The additional oomph comes courtesy of a few new strategically placed sensors and even more computational wizardry. Also new for 2022 is an updated 12.25-inch TFT display instrument panel, a cooled smartphone charging compartment, and an updated audio system. One of the more useful new features are the favorites keys on the left fairing, which can be set to control any number of functions in the complex user interface, simplifying things just a little bit. You'll also find a full LED headlamp that compensates for lean angle to keep the horizon illuminated ahead of you.
My bike was the Grand America version which is essentially the K1600B with all the trimmings. It's designed for long-distance touring with two side cases and a cavernous top case. You also get the premium audio system with satellite radio, additional speakers in the seat back, the adjustable high windshield, engine protection bars, forward floor boards, center stand, keyless start, and LED auxiliary lights. It's a good looking package that in Storm Black Metallic looks like it could be Bruce Wayne's new Batcycle.
The first day, I was going to be riding with Andy Reid, the east coast editor for ClassicCars.com Journal, former NASCAR West driver, and like most racers I know, a motorcycle enthusiast. We left the Mission Inn close to 1:00 PM after struggling a bit to set up the electronics, pair our phones, and connect to our audio devices the bluetooth. Andy was headed for Cincinnati to judge a concours on Saturday. I was on a much more leisurely schedule. So we rode together that first day on I-15 to I-40 to make as much time as possible and familiarize ourselves with our bikes.
It was hot in when we left Riverside and by the time we turned east at Barstow, the thermometer eclipsed triple digits. The K1600 gets about 40 miles per gallon on the highway running at a steady 75 miles per hour, so we were able to go 200 miles before our first fuel stop where we paid a jaw-dropping $8.89 per gallon for the premium fuel required by BMW. First impressions were that the K1600 while comfortable, is not a great freeway cruiser. The front end is light and the steering is very responsive. There's an edginess to the bike that I would come to enjoy later in the ride, but as I passed semi trucks on the interstate, the 750 pound cruiser was pushed around by the wind more than I expected and at some points the front end seemed to oscillate with the buffeting caused by the semis we passed. That said, the riding position is excellent, even for taller riders. The temperatures peaked at 117 in the Mojave desert near Needles and when we got off our bikes in Kingman for our second fuel stop, we suffered our first casualty of the trip. The glue on Andy's old riding boots failed and the sole separated from the uppers. Fortunately he brought a spare pair and was able to continue without having to resort to the dress shoes he packed for the Concours.
When we reached the Grand Canyon Caverns Motor Inn at 7:30 PM, I learned an important lesson about staying at independent hotels, not everything is as advertised. We checked in only to find the restaurant closed and the nearest open restaurant was 7 miles in the wrong direction. Thus dinner came from the motel's convenience store. It was microwave pizza and a couple of Budweisers for me, a corn dog and a diet Pepsi for Andy. There had been no cell service for the last 15 miles of our ride and we both wanted to call home to let our respective spouses know that yes, we had survived day 1. When we logged onto the hotel wifi, however, it wasn't working. Several other guests told us it had been out all day. Apparently no one had bothered to tell the very helpful woman at the front desk who rebooted the router and just a few minutes later we were good to go. Disaster averted, bad food consumed, and cigars smoked, we decided it was time to turn in for the night. The rooms, while far from posh, were newly renovated, clean, and furnished with a rustic theme, exactly as you would expect for a motel in the middle of nowhere in Arizona.
Day 2: Grand Canyon Caverns, AZ to Monticello, UT.
After a good night's sleep, we rose early and hightailed it the 20 miles to Seligman, Arizona where I employed the trick from David E. on how to pick a good restaurant. Drive the main drag (in this case, Route 66) from one end of town to the other and stop at the restaurant with the most cars parked out front. In this case it was Westside Lilo's Cafe where their home-made fare more than made up for the previous night's meager dinner. My breakfast of chicken fried steak with gravy, eggs and hash browns was enough to tide me over at least until dinner. After that, Andy headed east on I-40 hoping to reach Amarillo before dark. I turned north at Williams, Arizona to get my first-ever glimpse of the Grand Canyon. One thing I learned about the BMW K1600 after leaving the interstate is this bike is much more suited to two lane highways with curves.
It wasn't much cooler on the second day of riding, with temps regularly hitting triple digits. The smartest thing I did was buy a hydration backpack for the trip. Drinking regularly in the heat is really important and being able to do so without stopping saved a lot of time. Unfortunately, I would lose that time waiting to get into Grand Canyon National Park. After buying a pass I took an hour to explore a bit of the south rim, but wearing motorcycle gear made hiking impossible. It did bring me my first interaction with a BMW fan who saw me and asked if it was my bike. We exchanged a few stories about riding and then I continued north through the magnificence of Monument Valley.
Four and a half long hours later, I reached my second independent hotel, the Atomic Blue Motor Inn, in Monticello, Utah. This place lived up to its billing with just the right midcentury modern vibe and very clean and comfortable rooms. Rather than rely on Google or Yelp for restaurant recommendations, I asked the front desk clerk where I could get a burger and a cold beer and she steered me to the Granary Bar and Grill. She didn't lie. The burger was excellent. They had plenty of craft beers on tap, and Charles, my server was happy to share ideas on things to do around the area.
Day 3: Monticello, UT to Idaho Springs, Colorado.
From a riding perspective, this is the day I was most looking forward to and for the most part it didn't disappoint. The day began spectacularly with bluebird skies and moderate temperatures. One of the nice things about classic motels is how quick and easy it is to load up thanks to being able to park right outside your room. As I crossed the state line I could see the mountains looming in the east and it was just north of Egnar on state highway 141 that I discovered that BMW lied to me. They said the K1600 Grand America was built for interstate cruising. And while it does that just fine, the bike comes alive on winding back roads.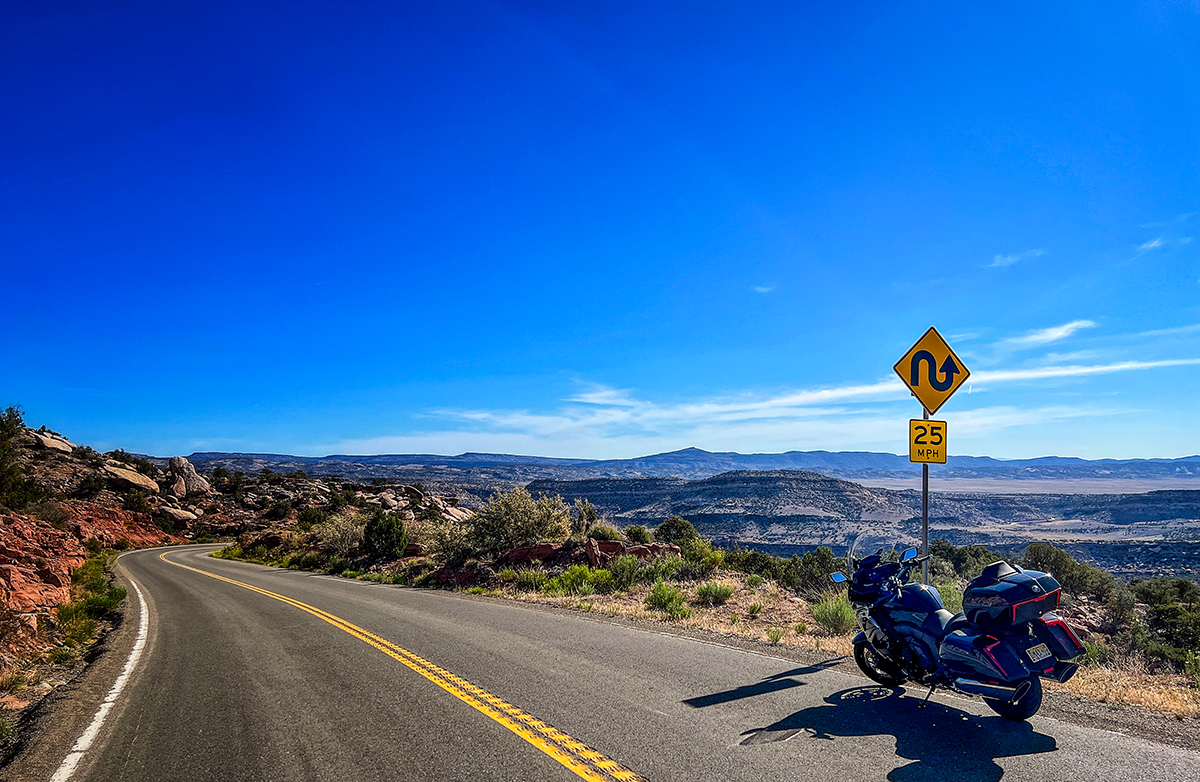 I have never ridden a touring bike that cornered so willingly, allowing me to power through sweeping turns or roll it easily from side to side on the switchbacks. The engine also shines here. On the interstate it hums along at 3,500 rpm at 75 miles per hour. On the back roads put the bike in dynamic mode, run the revs up another 1,000 and boy howdy are you onto something. The exhaust note goes from a muted song, to a full throated howl. This reminds me of the BMW X6 M, a big hulking wildly powerful SUV that seemingly defies the laws of physics. On a stretch of 145 that snakes alongside the San Miguel River, I regularly entered corners at 20 miles per hour over the speeds suggested by the signs and came closer to finding my limits than the bike's.
The morning ride ended in Montrose where I stopped for lunch at Montrose Donut and Deli. I was greeted by the owner's 10 year old son who was manning the register as she worked the grill just behind him. At one point he miscounted change for another customer, and his mother scolded him. He asked why it was such a big deal since it was only a few pennies and she said, "If you can't do the small things right, you'll never do the big things well." After lunch, with temperatures climbing to triple digits again, I went to pull my hydration pack out of the top case only to realize I that as smart as I was to buy it, I was dumb enough to leave it in the hotel room in Utah. Yes, it's the small things…
I had it timed out perfectly for me to ride across the state in about 5 hours. There would be plenty of time to stop and get epic photos. I would get to Idaho Springs, Colorado in plenty of time for a long, much needed soak in the healing waters of the mineral pool at the Indian Hot Springs Resort. And then construction which shut down U.S. 50 about 20 miles west of Montrose. When it did open it was one lane of traffic alternating between eastbound and westbound weekend travelers through at least three miles of winding canyon road. On the plus side, I got to meet a very nice family and play with their lovely Dalmatian pup, Lucy.
When traffic did roll after a two-hour delay, it was slow going for the next 50 miles so I ended up three hours behind schedule. No stopping for pictures from nearly 12,000 feet at the top of the glorious Monarch Pass. I just powered through over some of the best mountain roads in North America. This section of the trip did confirm one thing. BMW knows how to build an in-line six-cylinder engine. Whether it's under the hood of an M240i or between your legs in this K1600, the power is silky smooth and effortless. Unlike tourers with big twins, you have to wind this up a bit to use all of it, but that's what makes it different and adds to the K1600's charm.
I finally pulled up to Indian Hot Springs Resort at about 7:00, which still gave me time for a quick soak in their pool before heading out in search of sustenance. Indian Hot Springs is an old resort that has a lot of charm and tons of potential, but let's just say it's seen better days. Other than the mineral waters, there's not much else to recommend it, especially if you're staying in the "Historic Resort" as I was. The bathrooms are water closets, which means sink and toilet, no bath or shower. If you stay in the Inn or Lodge portion of the resort you do get an upgrade in amenities, for not much more money.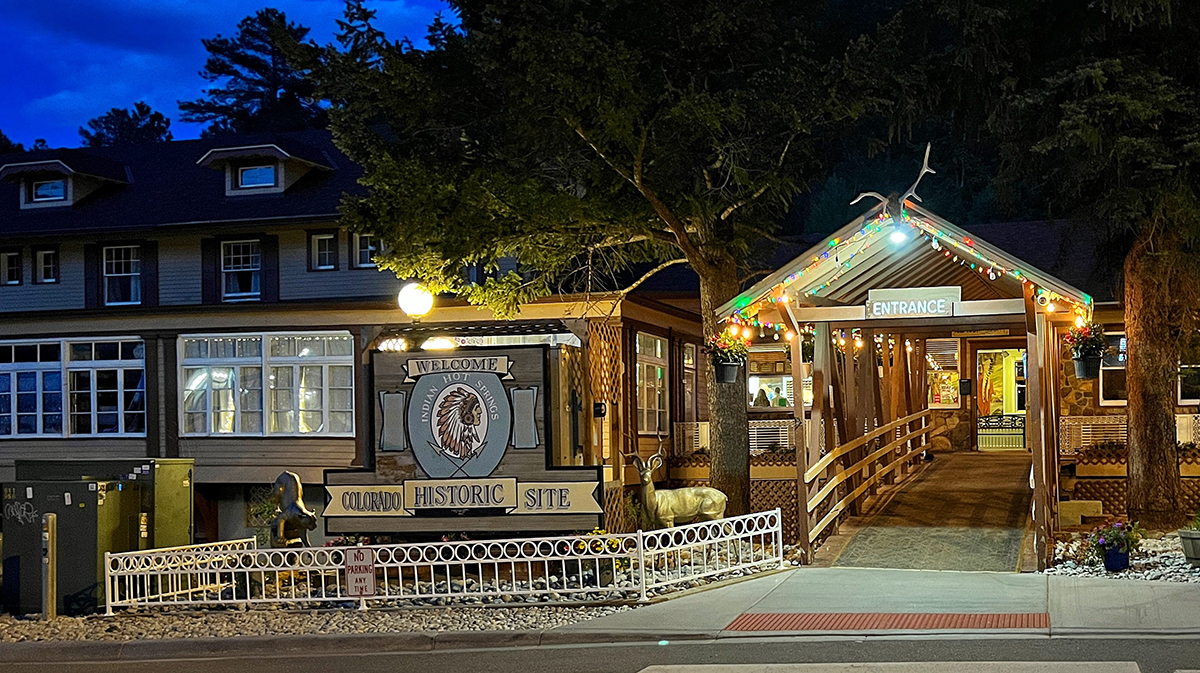 Dinner on the other hand was exactly what I needed. A wedge salad, a mid-rare ribeye, and a pile of French fries, all washed down with a dry crisp cider at Clear Creak Cidery. I did as I always do when I'm traveling alone and sat at the bar where I met a fun local couple who were fascinated to learn that people actually do make a living testing vehicles and writing about them.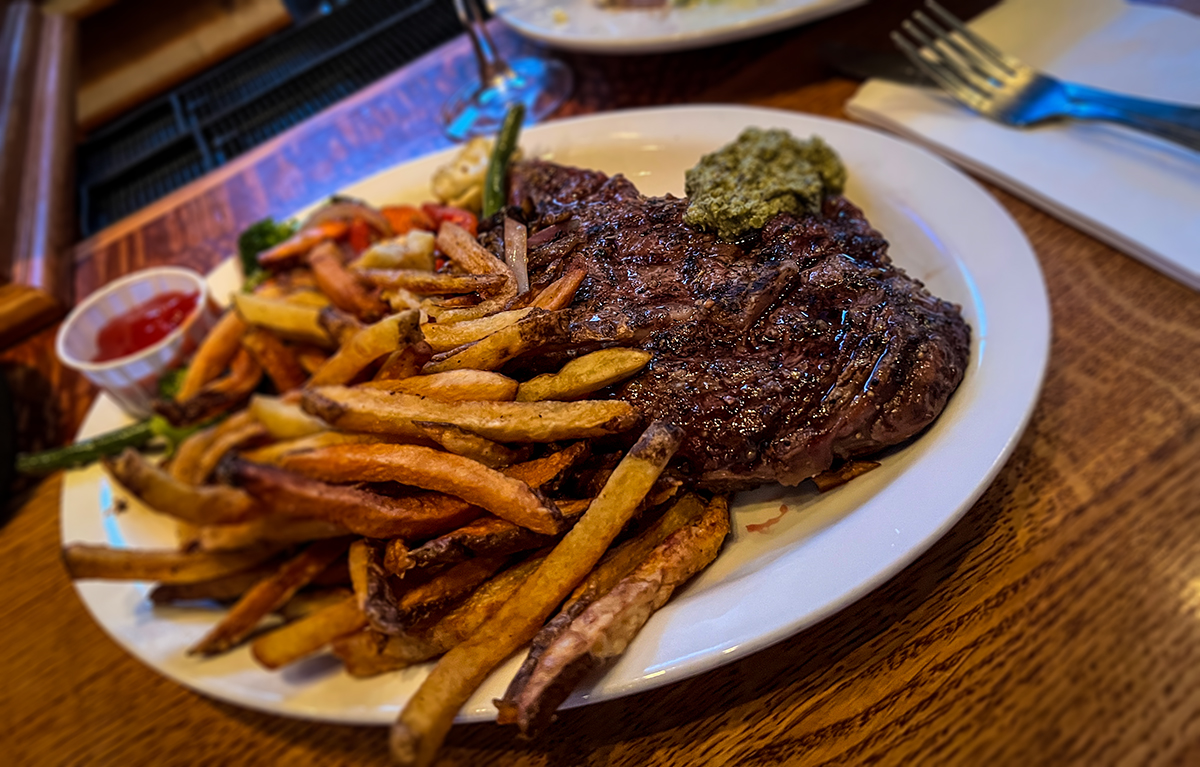 Day 4: Idaho Springs to Lincoln, Nebraska.
This was the day I dreaded. 530 miles across eastern Colorado and Nebraska where the most prominent features in the landscape are grain elevators and the roads go straight to the horizon.
I rode I-70 down the front range onto the high plains north of Denver. Merging on to I-76, I turned on the bike's stereo for the first time to catch up on the news. Cruising at 75 MPH with the windscreen up, there was very little wind and engine noise. After a catching few headlines to remind me that yes, the world is going to hell, I put on some music. Needing a cup of coffee, I pulled off the interstate at Wiggins and rode past the Starbucks in search of a diner. The Prairie Ranch House was packed with families and friends, so the kitchen was backed up and it would have been a 45-minute wait for food. I wasn't that hungry so I ordered a 75 cent cup of coffee with free refills and left a $3 tip figuring that's what Starbucks would have cost me.
I picked up U.S. 34 in Fort Morgan, and stayed on that most of the day. At a stoplight in town, a heavily tatted biker dressed in jeans and a muscle shirt pulled up next to me. I turned and nodded. He looked at me as if I was from another planet. At first I thought it was my mesh armor jacket and full face helmet, but then I realized Seals & Crofts was blasting through my speakers on Yacht Rock radio and the reason for his scorn became became all too clear.
I had a forgettable chicken sandwich at Beth's Bar & Grille in Benkelman, but the story the guy at the next table told about decapitating a goat with a 44 magnum will stay with me for a while. Temps climbed above 100 again, and with no traffic on the road, I decided to put my jacket in the top case and slather my arms with SPF 50 sunscreen. 2-hours later as I was riding through Hasting I guy leaned out of his truck to alert me to the fact that my case was open. I hope whoever has my jacket now enjoys it. Feature enhancement idea for the folks at BMW, a case open warning light on the I.P.
While the scenery was less than scenic in Nebraska, I did stop at the Massacre Canyon memorial to take in a bit of history. This marks the site of the last battle between the Lakota Sioux and the Pawnee in 1873. Over 150 Pawnee men, women and children were killed while on their annual buffalo hunt. Even though the U.S. government had promised protection, it never came and eventually the Pawnee left their homeland in Nebraska after realizing their treaties would continue to be broken as the government encouraged western expansion.
After 10 hours of riding and two hours of breaks, I pulled up to the Westview Bed & Breakfast, took a quick shower and headed out for my last dinner on the road in Lincoln's Haymarket District. It's about a four block area of converted warehouses that is now an arts, entertainment, and dining mecca which on this Saturday night in June was absolutely packed. Craving a big plate of pasta, I sidled up to the bar at Napoli's and was handed a menu and discovered they have three locations in the state. I quickly posted the question "Is it a chain if it has three locations?" Consensus was since they're all in the same state, I was good, so I enjoyed my dinner, made a new friend in the bartender, and then headed back just in time to catch a spectacular prairie sunset.
Day 5: Lincoln, Nebraska to Madison, Wisconsin
My final day began with homemade pancakes at the B & B. I still had 7 hours of riding ahead of me, thus I ate quickly said my goodbyes and got on the road. A light rain was falling as I loaded up the bike, so I donned my rain gear. I was glad not to have had to put them on the previous day when the temps eclipsed 100 otherwise I would have been sweating like a wrestler trying to make weight.
Deciding to make time early, I hopped on Interstate 80. 90 minutes later with the rain clearing, I pulled off in Avoca to change and top off my tank. As I was refueling, an older Silverado pickup pulled in spewing its fluids all over the pavement. The owner, a young man who had just bought the truck, said he had been driving it all morning with the check engine light on. A quick look under the hood confirmed my suspicions and I informed him he had a bad head gasket. The gas station attendant called her husband who is a local mechanic. I pulled out just as he pulled in, wishing the owner luck, knowing he'd need a lot of it to get the truck home.
My next stop was Marshalltown for lunch. I passed all the usual chain restaurants clustered near the Walmart and Dollar Store on the edge of town and headed for Main Street a mile or so to the north. What I found was a downtown that had been gutted but appeared to be on the rebound. Still most of the storefronts were empty. I was about to move on when I saw the sign for Adelina's Grill that promised authentic Mexican cuisine. The meal I had there was the best of my trip. I had a lengua taco and a pastor taco along with beans and rice for sides that were as good as any I've had anywhere, including Border Grill or Topalobampo.
The ride after lunch was unremarkable except I was reminded of just how beautiful Iowa is. Rolling hills, neatly kept farms, everything green and fresh. I crossed the Mississippi at Dubuque and a little more than an hour later I was home, tired, a bit sore, and thrilled after 2,251 miles to have made it all the way home without having to resort to a corporate option for any meals or hotels, and check one more item of my bucket list.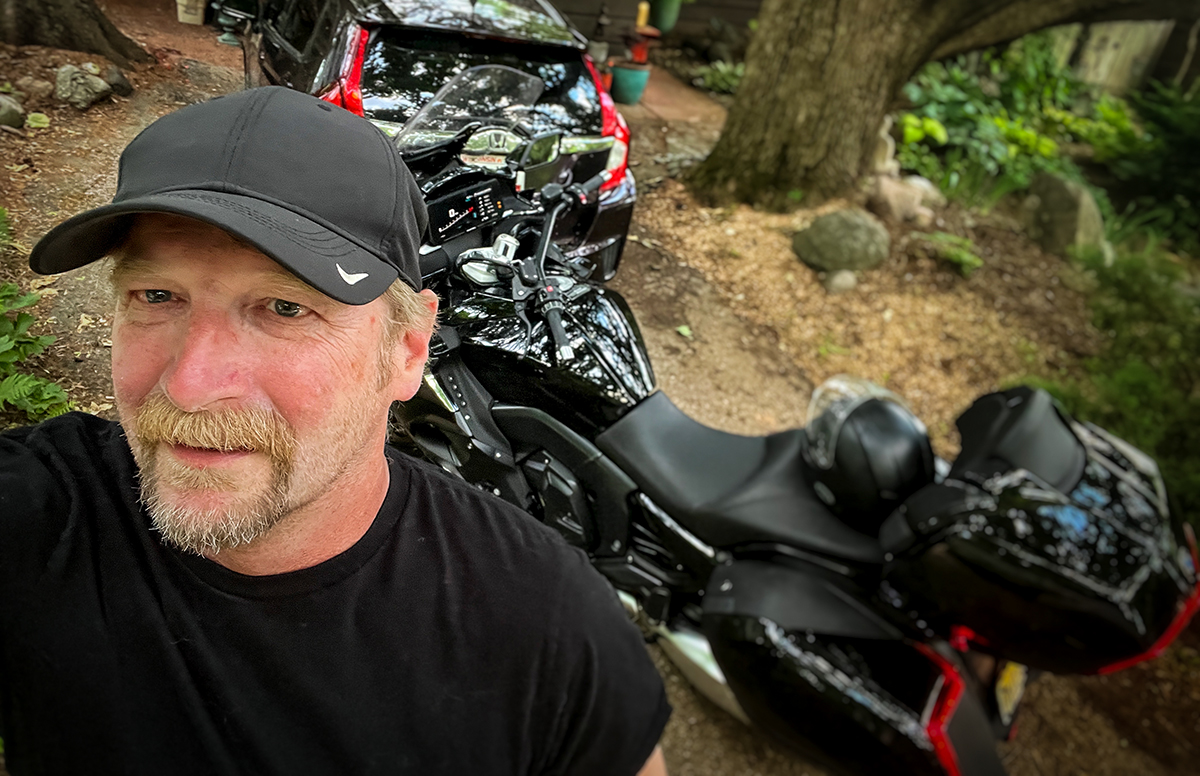 BMW K1600 Grand America
2-seat premium touring motorcycle
Base price: $23,350 (includes destination)
Price as tested: $28,640
Engine: 1600 cc inline 6 cylinder
Transmission: 6-speed manual
Power: 160 hp
Torque: 133 lb.-ft.
Observed fuel economy: 39.5 MPG