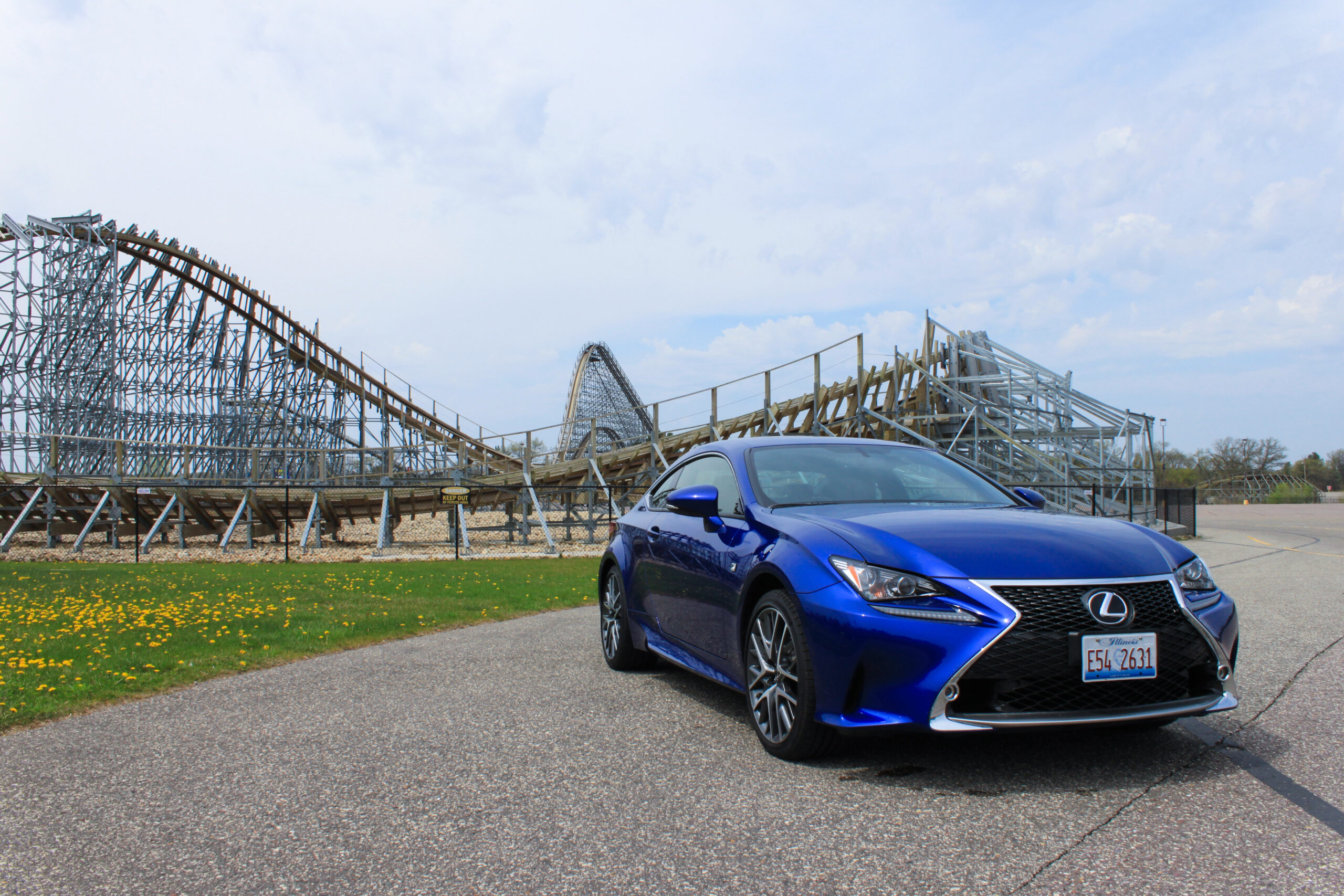 Lexus RS 350 F Sport takes us quickly to the Twin Cities in comfort and style
The Great River Road runs from the headwaters of the Mississippi River in Northern Minnesota and continues for 3,000 miles to the Gulf of Mexico in Louisiana. It contains breathtaking scenery and smooth pavement that winds along the river while passing through some interesting small towns and big cities along the way. I got to experience some of its charm as I drove from Madison to Minneapolis in a 2015 Lexus RC 350 F Sport.
Last fall, I had the opportunity to drive both the base Lexus RC 350 and the very hot RC F in New York where Lexus first unveiled the cars to the press. The car I wasn't able to spend any time in at that event was their middle sibling the RC 350 F Sport. As it turns out, I'm glad I waited to enjoy it on a four-day road trip rather than just a few hours at the launch. I have a much better appreciation for the car, what it can do and why you might want one after this weekend road trip.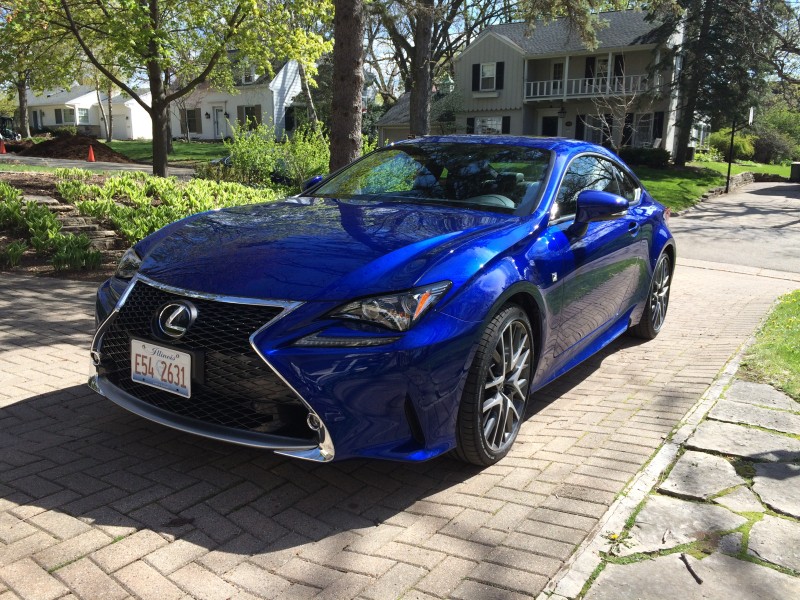 I hit the road on a Friday morning with my co-conspirator Bruce Geiger to spend a weekend focused on music, cars and great food in one of my favorite cities, Minneapolis. If you stick to the interstate the trip is a very easy, but uninspiring four and a half hours. We stretched it out significantly by heading due West out of town on U.S. Highway 12, then following State Highway 60 which traces the Wisconsin River until it meets the Mississippi.
This seemed like a perfect trip for this Lexus. In its F Sport trim with the 306 horsepower V6 engine, 8-speed automatic transmission, 19-inch wheels with summer performance tires, and adaptive variable suspension is really a grand touring coupe rather than a sports car. The car is quick, but not retina detachedly so, managing 0-60 times in the mid five seconds. Part of this is due to the fact that the RC 350 F Sport weights almost 4,000 pounds. Where that weight works against you in acceleration, it does make the car feel very stable at high speeds.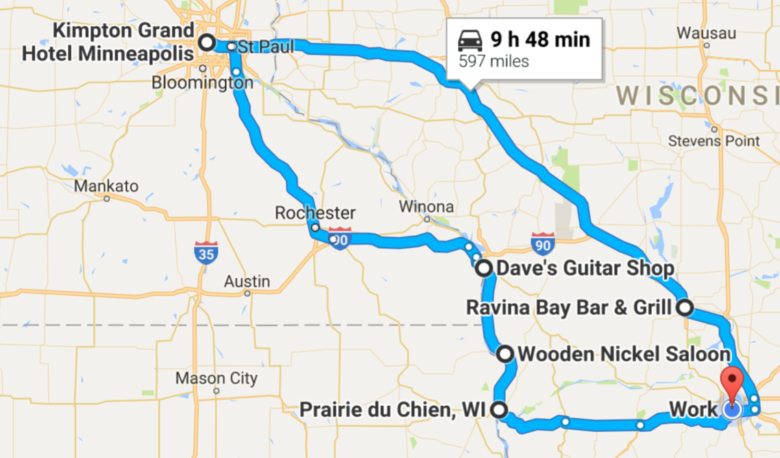 I don't know where you live, but around here it seems that road maintenance is optional. The rough surfaces proved to be a good test for the double wishbone front and multilink rear suspension systems. Whether blasting down a long washboard straight or carving through a potholed corner, the RC was completely unruffled, handling every imperfection with aplomb. Part of the credit goes to the excellent platform upon which this car is built.
The RC is built using the best ideas from two of its other cars – the front end from the GS platform and the rear from the IS – bolstered by extra structure in the middle to create a chassis that is quite rigid. In addition, Lexus uses laser screw welding, spot welding and special body adhesive to secure body panels in a way that actually adds to the structural stiffness.
What's so important about a stiff structure? It means your suspension can do it's job better, keeping the wheels planted to the ground to improve grip, traction and handling. And as we wound through the twists and turns of the Great River Road, with the RC's drive mode set to Sport Plus, the benefits of this stiffness became clearly obvious.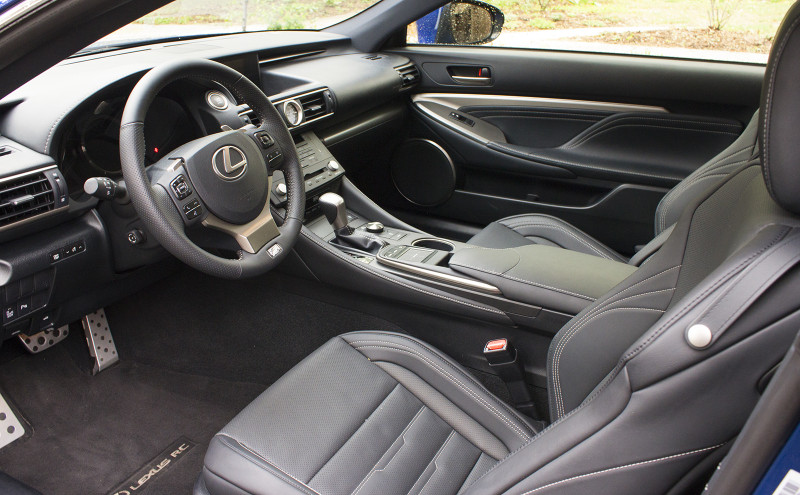 I also was very happy with the NuLuxe heated and ventilated, sport seats which provided both ample support while driving hard and excellent comfort for long drives. The steering wheel is big and beefy giving you a great sense of control and the instrument cluster is infinitely adjustable thanks to the liquid crystal multi-information display. All the switches and controls were right at my fingertips on the wheel and learning to scroll through the features was easy and intuitive.
After a fun morning's drive, we slowed our speeds upon arriving into the small river town of Ferryville, Wisconsin to grab a bite to eat. That's where I got to experience how the electric power steering with its variable gear ratio system made the steering effort lighter at slower speeds. This takes the effort out of low speed maneuvers and makes parallel parking easier.
One of the things I love about road trips is discovering new places to eat and we were lucky enough to feel pangs of hunger just as we were passing the Wooden Nickel Saloon. A quintessential Wisconsin tavern, the Wooden Nickel grilled up great burgers, and provided us with enough local color as we heard stories from other patrons about their cars, including the $500 pickup truck that just wouldn't die.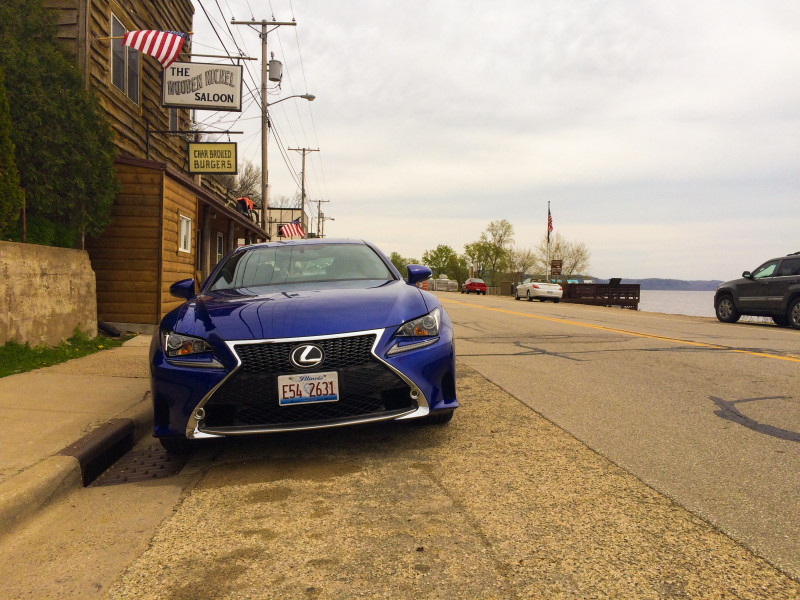 Having refueled for the next leg of our journey we hopped back in the Lexus for a quick jaunt up the river to La Crosse and one of several planned stops for the weekend, Dave's Guitars.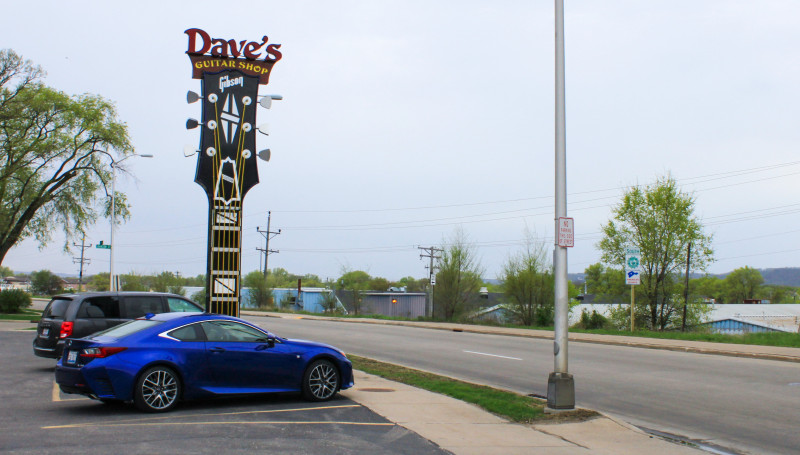 I had heard about Dave's from Bruce and several other musicians. As a guitar player, I was told I had to make a visit there someday and this trip provided the perfect opportunity. I won't go into detail here, because Bruce has written a complete review of the shop which you can read by following this link, but suffice it to say if you love guitars, music, the history of rock and roll or just want to see how a guy with no formal business education has created one of the most successful retail operations in the country, stop in and see Dave Rogers.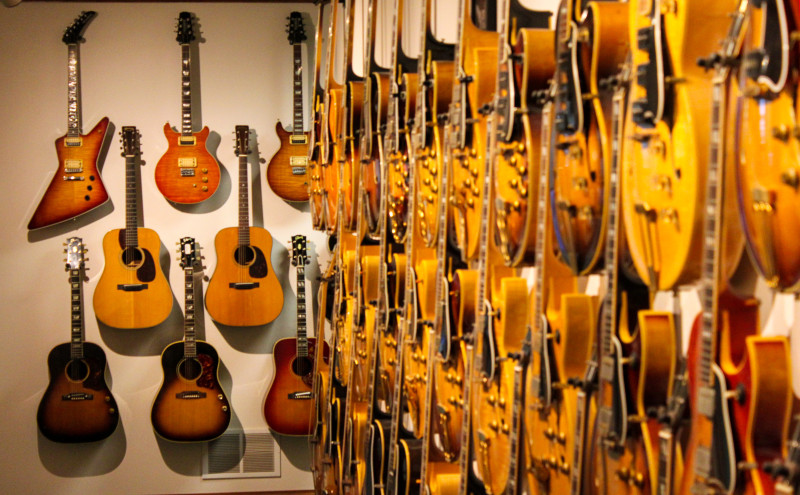 One of the surprises in store for us at Dave's was not just the opportunity to ogle and fondle several of the Fenders and Gibsons in his personal collection of over 500 vintage guitars, but to find out that he, like us is a car guy as well. Dave led us into the garage attached to his store where we saw a bevy of Porsches, BMWs, Mercedes, Jaguars, Aston Martins and Audis, all of which he drives depending on his mood and the weather in Western Wisconsin. Proof that you can make money in the music business especially if you're not playing for a living.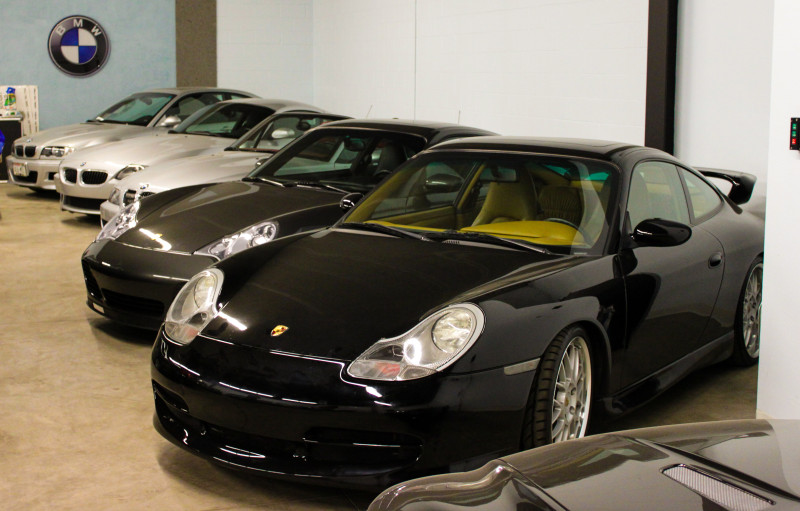 One thing about Dave's is it's a schedule killer. We had planned on spending an hour, but after two we still hadn't played or seen all the guitars we wanted to. But with plans set for the evening, we finally had to call it a day and hit the road up to Minneapolis. Having blown our schedule, we opted for the quick route, picking up I-90 just north of La Crosse then heading up US 52 into the Twin Cities. While the RC 350 F Sport was well behaved on the twisting river roads, this is really the kind of work it was made for; cruising quickly on long stretches of interstate with the 17-speaker, 835 watt Mark Levinson Audio system cranking out classic rock tunes at high volume.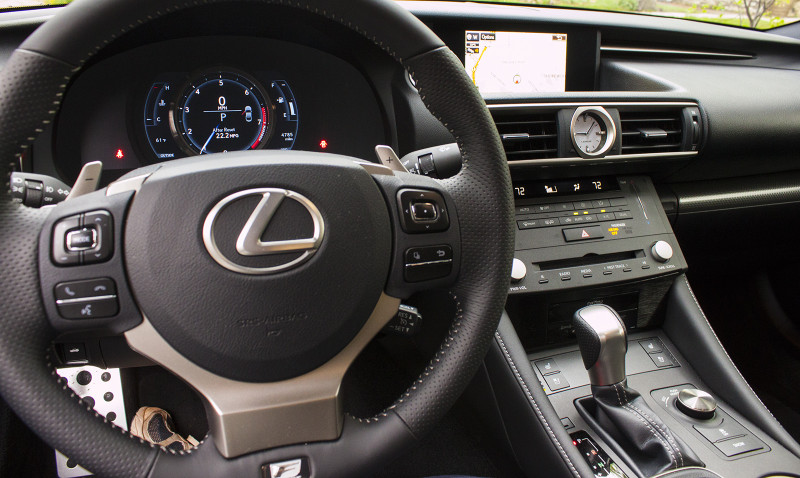 After a brisk 2-hour drive we pulled up in front of the Grand Hotel Minneapolis with just enough time to grab a quick bite to eat before heading to First Avenue to see a band whose name was appropriate for this road trip, the Drive-By Truckers.
Dinner was a casual affair at the bar of a classic Minneapolis eatery, Ike's Food and Cocktails where we watched a little baseball and questioned the bartender's judgment for moving to the frozen tundra from his boyhood home in Georgia. While Ike's looks like a standard cocktail lounge and restaurant, they serve classic food with a twist. As such our dinners ranged from lobster corn dogs to the blue plate special that evening, pot roast.
Dinner complete, we walked the four blocks to the First Avenue just as the show was getting started. If you've never been to First Avenue, you're in for a treat. Founded in 1970, Joe Cocker played the club's opening weekend. On par with such legendary venues as CBGBs and the Fillmore, First Avenue has hosted an eclectic array of national artists including U2, Wilson Picket and Lucinda Williams. It also served as a launching pad for Minneapolis based acts that include The Replacements, Soul Asylum, The Jayhawks and of course, Prince. Many scenes for the movie Purple Rain was filmed in the club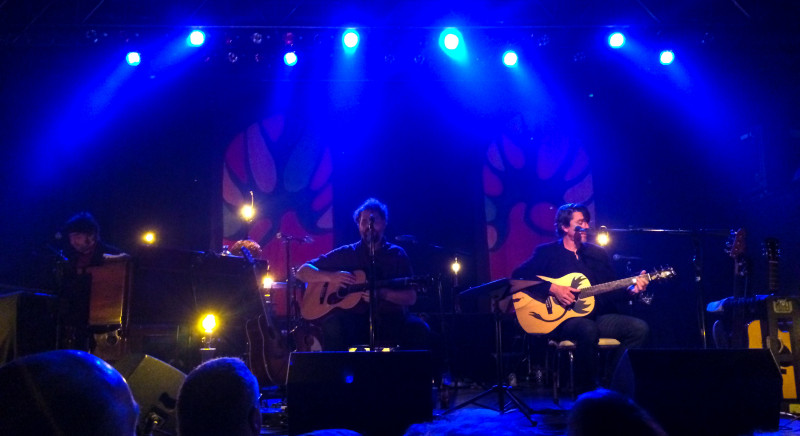 Drive By Truckers put on an excellent show, playing acoustic for the evening. In two sets they covered a wide range of their catalogue including some of their best known songs from A Blessing A Curse to This Fucking Job. Nothing beats seeing a great band in a great venue, and this evening didn't disappoint. One tip, however, if you're planning on seeing the Truckers: make sure you pack a plaid flannel shirt.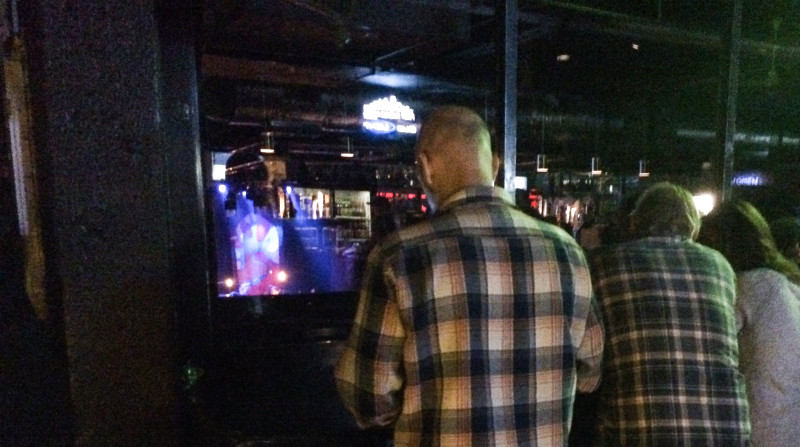 Day two began with the sun shining and the promise of a trip west of town to stop by the Cars & Coffee Event at the AutoMotorPlex in Chanhassen. Here's how I know that car enthusiasm is alive and well in America. This event, while the first of the year, is one of several that are held at the AutoMotorPlex throughout the summer, and we were forced to park three quarters of a mile away from the venue. Thousands of people turned out to share their passion for vintage and modern performance cars with everything from the hottest Ferraris to vintage Detroit muscle cars on display.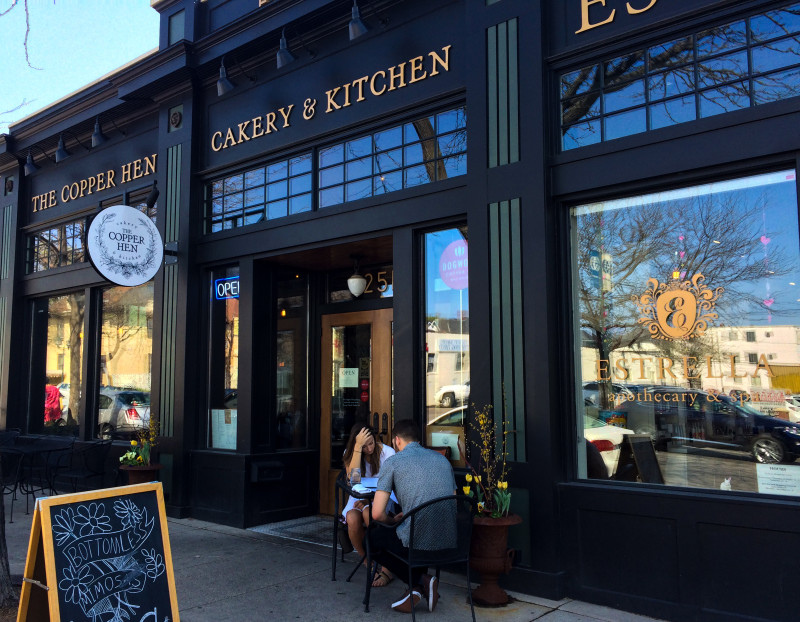 Having had our fill of cars, it was off to one of Minneapolis' newest and restaurants, the Copper Hen Cakery & Kitchen for a proper brunch and some quality coffee. A farm to table restaurant located just a few blocks from the Minneapolis College of Art and Design on Nicollet Avenue, The Copper Hen serves made from scratch baked goods and meals that feature ingredients sourced from local farms, dairies and butchers. The design is country chic, and it's quaint without being overly cute or precious. And my meal, which included their signature Bloody Mary garnished with a mini bacon blueberry muffin, was fantastic.
Our home for the weekend, The Grand Hotel, is a Kimpton Group property and follows the familiar formula that's proved to be so successful for them. It's an old hotel with great bones that has been updated and modernized with every conceivable convenience and luxury detail you could want. Located in the heart of downtown Minneapolis it's walking distance to everything from the Walker Art Center to a slew of great restaurants, theaters and other entertainment options. As we were in town on Kentucky Derby weekend, we had to find a venue to watch the race and were lucky enough to happen upon Brit's Pub.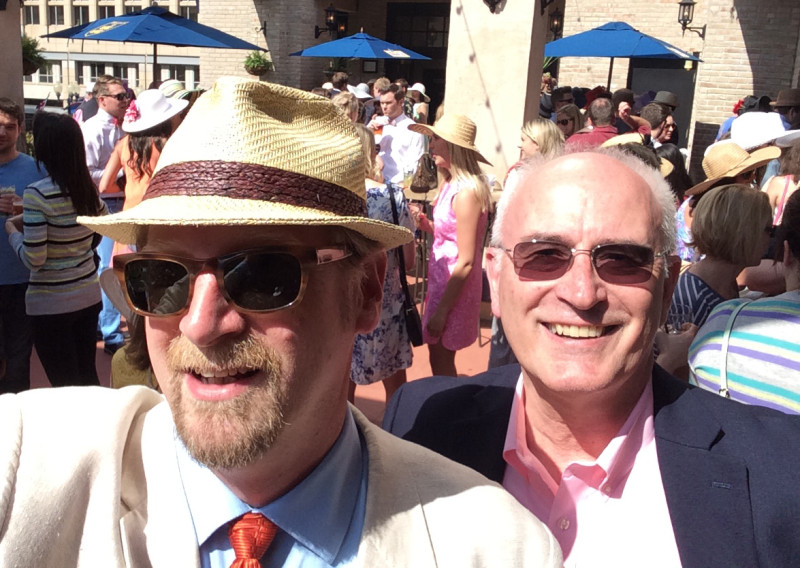 Brit's Pub is an English style pub located on the Nicollet Mall downtown that has grown from a two room street level tavern to three full stories. One of the unique features at Brits is its 10,000 square foot lawn bowling green located on its rooftop. Dressed in Derby appropriate garb, we climbed the stairs to the Clubhouse at Brits and joined a throng of nattily attired men and women sporting an array of spectacular hats, sun dresses and seersucker blazers. With large screen TVs around the room and on the deck we were able to enjoy a mint julep or three while we waited for post time. Since we couldn't be at Churchill Downs to enjoy the Derby in person, this proved to be a more than adequate substitute.
We had planned dinner that evening at one of my favorite downtown restaurants, Murray's Steakhouse. That idea went out the window, however, when I received a message from a friend and former co-worker who relocated to Minneapolis a few years ago inviting us to join him and some friends to watch the "Fight of the Century." While not a huge boxing fan, the idea of watching Pacquiao and Mayweather held some appeal and as an added bonus we were joined by ESPN reporter Myron Medcalf (@MedcalfByESPN) who was instrumental in helping us understand why the fight was such a stinker.
As we walked to the Lexus after the fight, I hit the button to unlock the car and discovered something else I really liked about the RC 350 F Sport, its unique ambient lighting system. Unlike other cars the Lexus features upward facing LEDs that create a welcoming effect as you walk toward the car.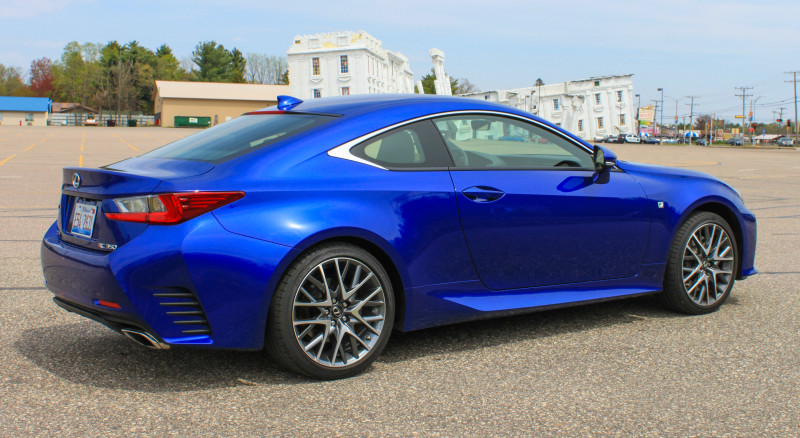 Sunday saw us hit the road early for our return to home. After grabbing a quick bagel and a cup of coffee, we powered onto the nearest entrance ramp for I-94 and headed east to Wisconsin. With light traffic and clean roads we let the Lexus really stretch its legs cruising quickly through the rolling countryside. In just a few short hours we pulled up in front of the perfect place to enjoy lunch on a glorious spring day, the Ravina Bay Restaurant in Lake Delton, WI. While the Dells have become the epitome of a tourist trap over the years, there's no denying its natural beauty. And, in the off season, you can enjoy a moment of respite there imagining what it must have been like before the waterparks and t-shirt shops irrevocably changed the area's character.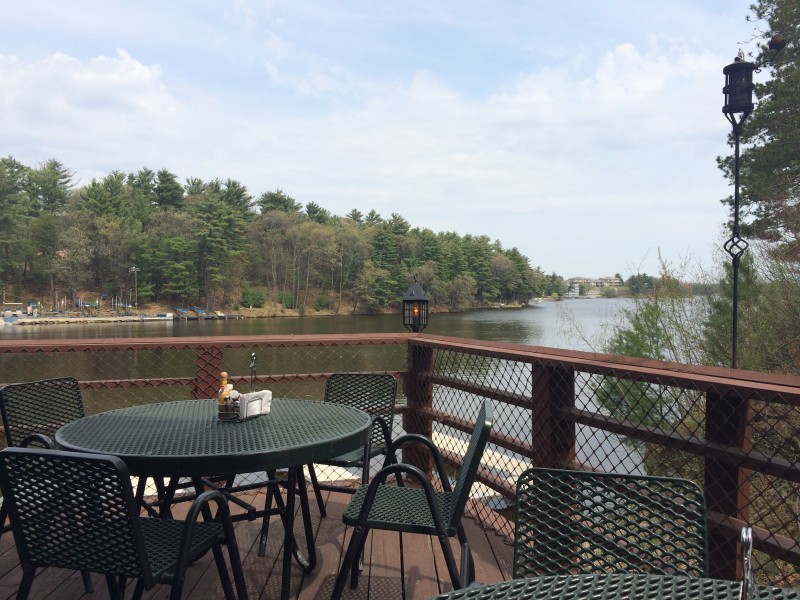 In just three days and a little over six hundred miles we were able to really get to know the Lexus RC 350 F Sport and what it's best at. Clearly that is cruising smoothly across long stretches of highway and interstate. If you're looking for a car to slice and dice up canyons and racetracks, however, opt for the added power and even more adroit handling RC F. But for a Grand Tour weekend of guitar hunting, music listening, Derby celebrating, prize fight watching and food binging, the RC 350 F Sport was absolutely the perfect choice.
While the manufacturer provided the vehicle for this story, the opinions and recommendations in this post are 100% ours.