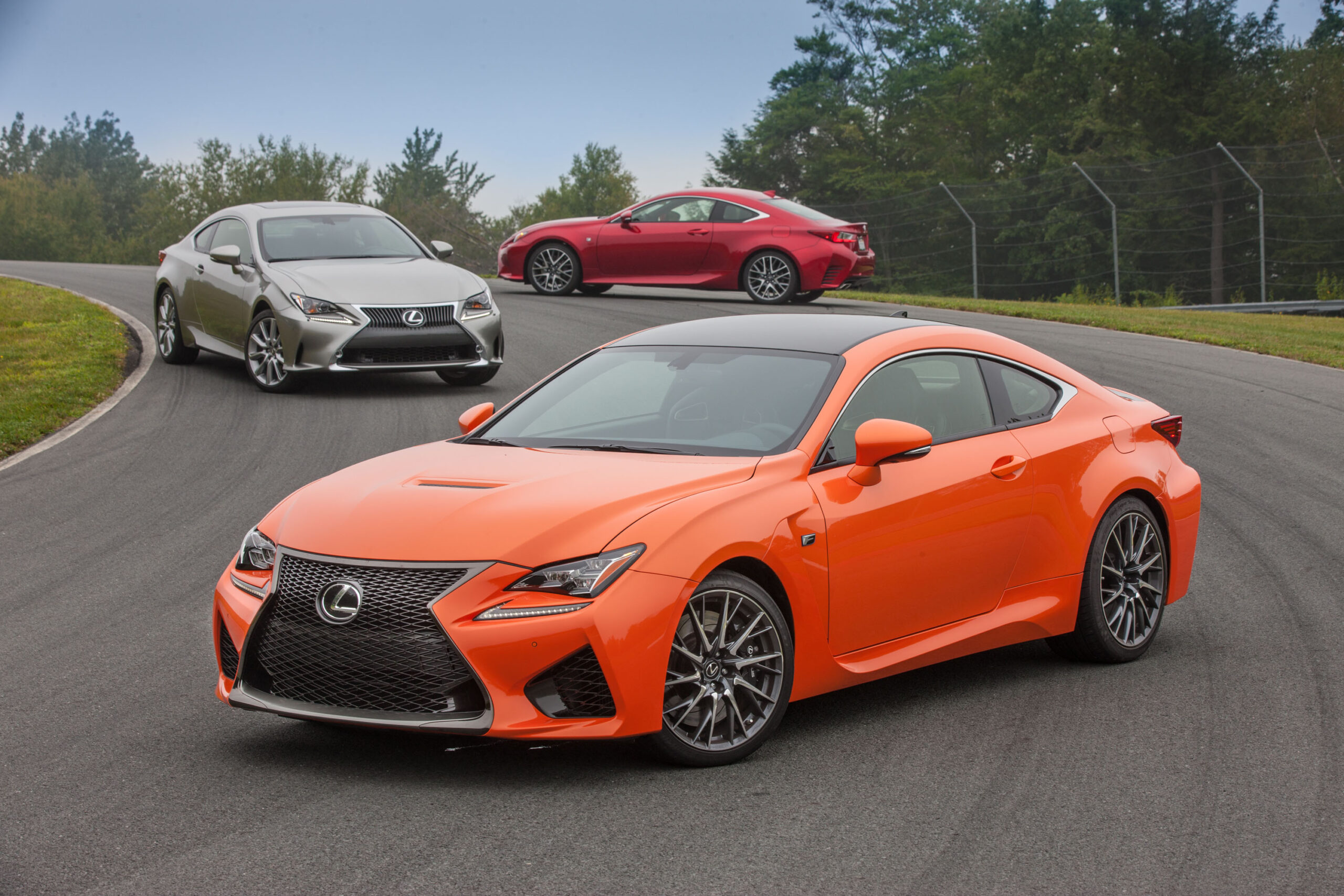 Dr. Henry Jekyll was educated, mild-mannered, stylish and sophisticated. His alter ego, Mr. Edward Hyde was rough, powerful, mysterious and dangerous. That pretty much sums up the difference between the Lexus RC 350 and its evil twin, the incredibly satisfying Lexus RC F.
It's rare that two cars built on the same platform and bearing the same nameplate are so radically different that they don't feel like siblings at all. But apart from their silhouette, about the only attribute the Lexus RC 350 and RC F have in common is that they both burn gasoline.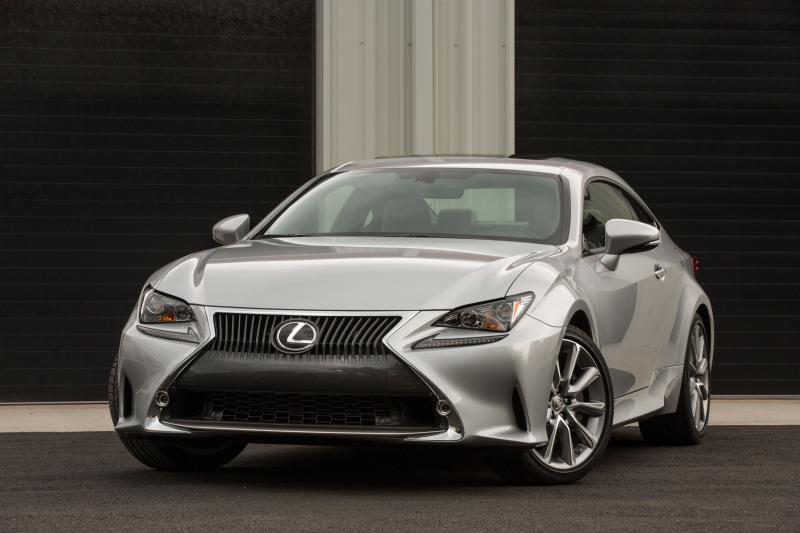 The RC350 is powered by a 3.5 liter, naturally aspirated, double overhead cam, V6 engine that makes 306 Horsepower at 6,400 RPM. It comfortably moves from 0-60 in just about 6 seconds whether you choose rear- or all-wheel drive. The rear-wheel drive RC350 sports an 8-speed automatic transmission with steering wheel mounted paddle shifters, though you'll probably rarely use them. This is not a sports coupe, but a comfortable tourer. The base double-wishbone front and rear multilink suspension system is set up not so much to dominate corners as negotiate with them. The electronic power steering is light, adding to the feeling of isolation from the road. The RC 350 doesn't dig in when pushed. It floats and wanders just a bit, politely suggesting you back off the throttle just a bit next time you encounter a similar corner.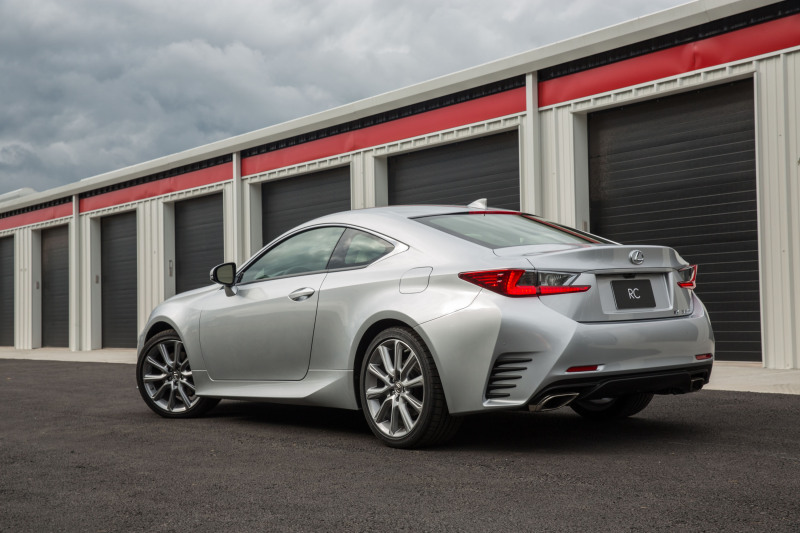 From the outside, the car looks very sporting with angles, curves, bulges and brightwork in all the right places. The standard 18-inch 5-spoke wheels are handsome, but the optional 19-inch wheels are a major improvement, filling the wheel wells better and giving the car a more aggressive appearance. The lines are crisp and the front fascia is one of the better expressions of the Lexus signature spindle grill.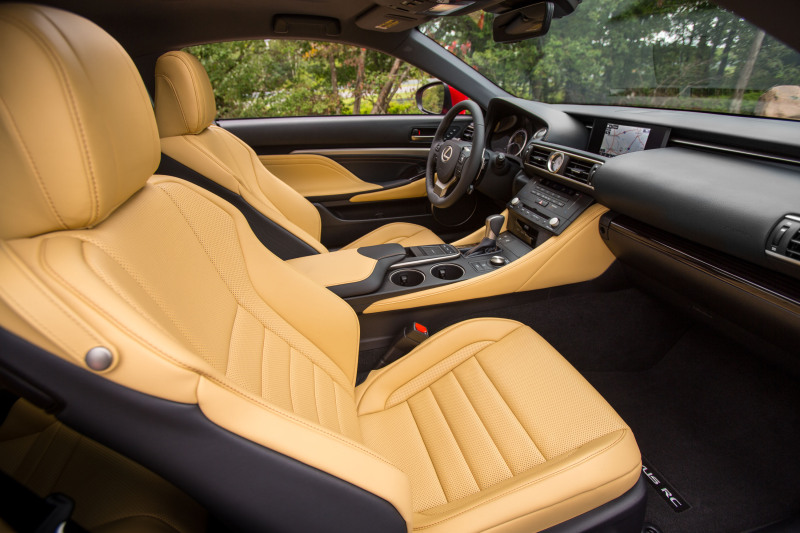 Inside, however, things are just a little bit softer. The seats offer modest lateral support. They are infinitely adjustable and very comfortable as long as you're not pushing the RC 350 to its limits. The standard NuLuxe fabric is very nicely crafted, but opting for the real leather trim adds significantly to the car's overall feel. The front seats offer plenty of leg, hip, shoulder and headroom, but like all 2+2s, the back seat only works if your trip is very quick or your legs are very short.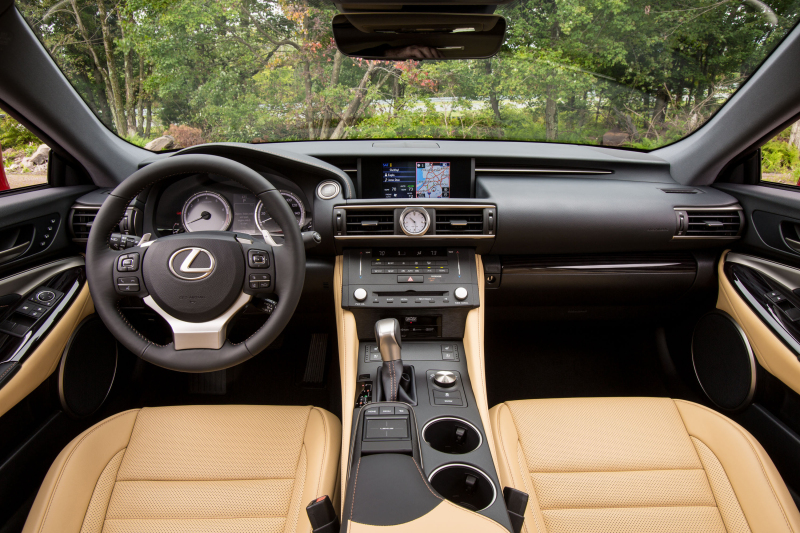 The RC350 is classic Lexus. Everything about it is expertly put together. Everything about it makes total sense. It's an almost perfect blend of style, luxury and practicality. It has every bell and whistle you could possibly imagine available, from Mark Levinson premium audio and navigation to all-wheel drive, heated steering wheel, heated and ventilated front seats, back up camera, blind spot monitor, park assist and adaptive cruise control. And yet, as someone who loves the thrill of driving, it leaves me wanting more. The more time I spent behind the wheel of the RC 350 the more clear it became this is a car is for people who want a stylish coupe with lots of content but are not particularly interested in driving.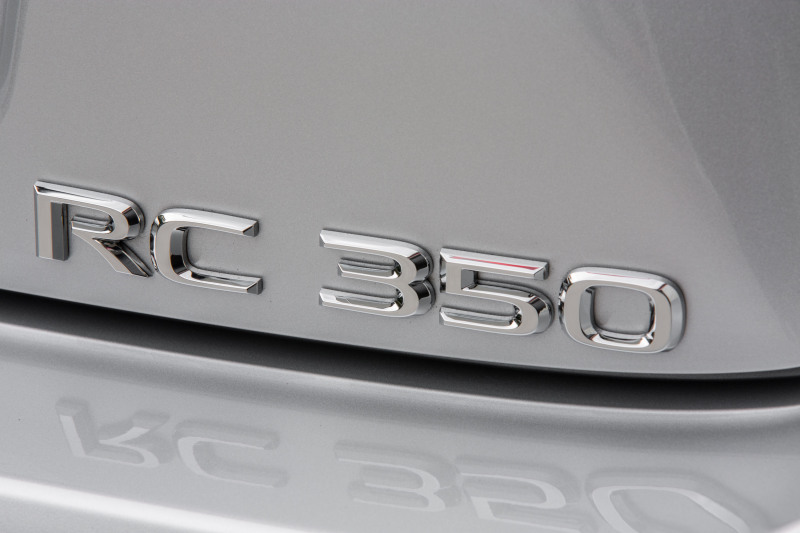 In this sense, the RC 350 succeeds spectacularly. It is the suave, sophisticated and very likable Dr. Jekyll personified.
But then Lexus took the RC platform into its lab and administered a sinister potion to transform the docile base coupe into the automotive expression of Mr. Edward Hyde.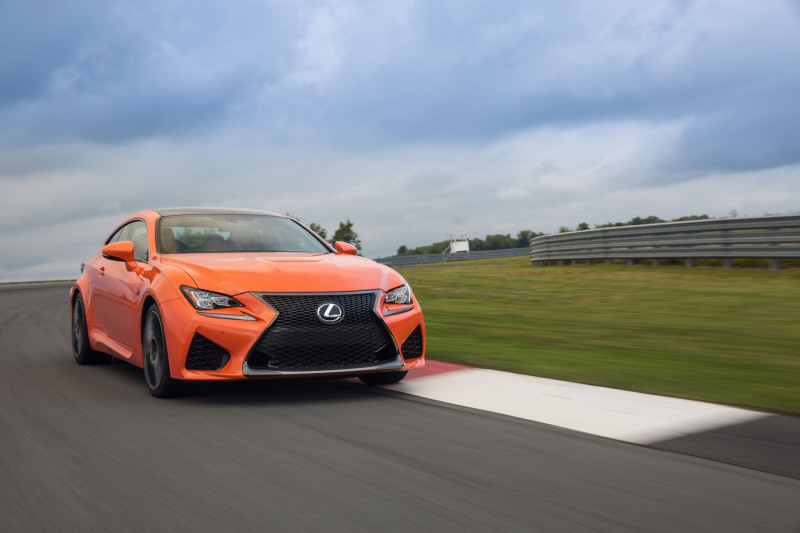 Its shoulders are broader, its stance is more athletic, its profile is just a little longer, all creating a sense that what's beneath the sharply folded sheet metal is more aggressive than its milquetoast sibling. Add the carbon fiber roof, rear spoiler, and 19-inch 20-spoke wheels and the RC's transformation is complete. In this trim the RC F makes its intentions clear to anyone who walks by or sees it coming up quickly in his rearview mirror. This is a badass coupe.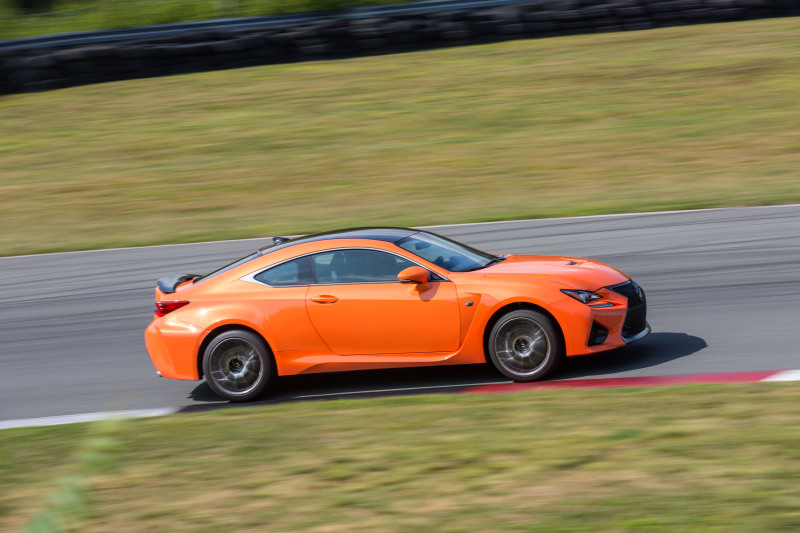 It's in the RC F that the chassis, that takes components from both the GS and IS, really starts to acquit itself well. This is highly rigid platform thanks to significant bracing in engine compartment, cowl and rear sections. Laser screw welding and special body adhesives means the body panels add to the car's overall stiffness. This creates a solid foundation on which the suspension does its work. The drive system is adjustable via a knob on the center console and can take you from Eco to Comfort, Sport, and Sport+ where the fun really begins. The result is a rear-wheel drive performance coupe that is ready to give the BMW M4, Audi S5 and Cadillac CTS-V and Mercedes E550 a run for their money.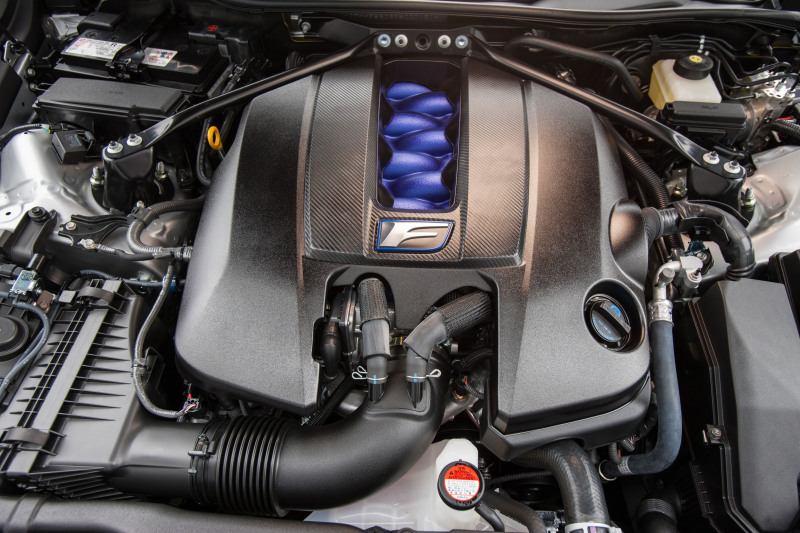 The RC F is powered by a 5.0 Liter V8 engine. It uses variable valve timing and electronic controls to deliver 467 horsepower at 7,100 RPM while still being infinitely manageable cruising through town. Here, the 8-speed transmission's paddle shifters are a very useful tool. Especially if you ever get the chance to take the RC F out on your favorite track. Holding the car at higher revs allows you to hang the tail and drift the well balanced coupe through just about any corner.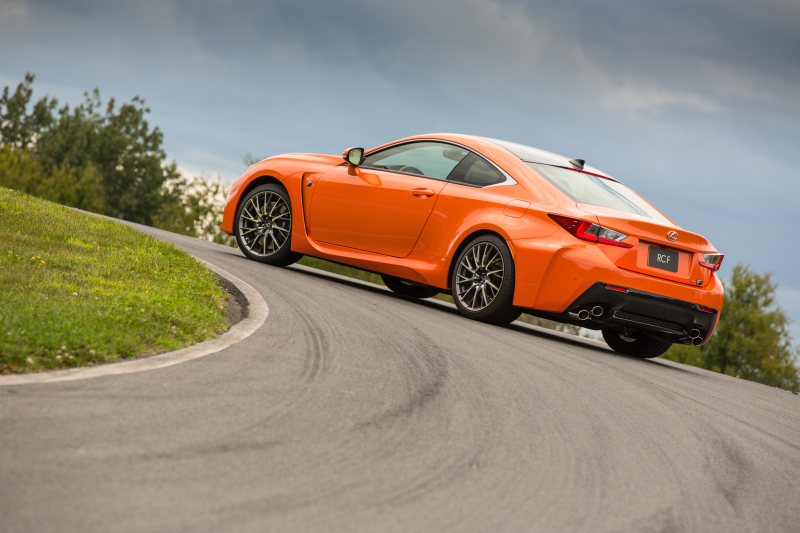 Inside the interior is transformed as well. The 10-way power driver sport seat includes power lumbar support and three-position memory for the driver and front passenger. The NuLuxe fabric works really well here and Lexus have also added significant side and thigh bolstering because in this version of the RC you need all the seat-hugging support you can get. The steering wheel is the right size and shape, making it easy to control the car. And the speed sensitive power steering adds feeling and feedback as your right foot angle increases. The instrument panel is also completely redesigned and infinitely configurable providing you with a wealth of information, including an integrated lap timer so you can measure your performance on the track.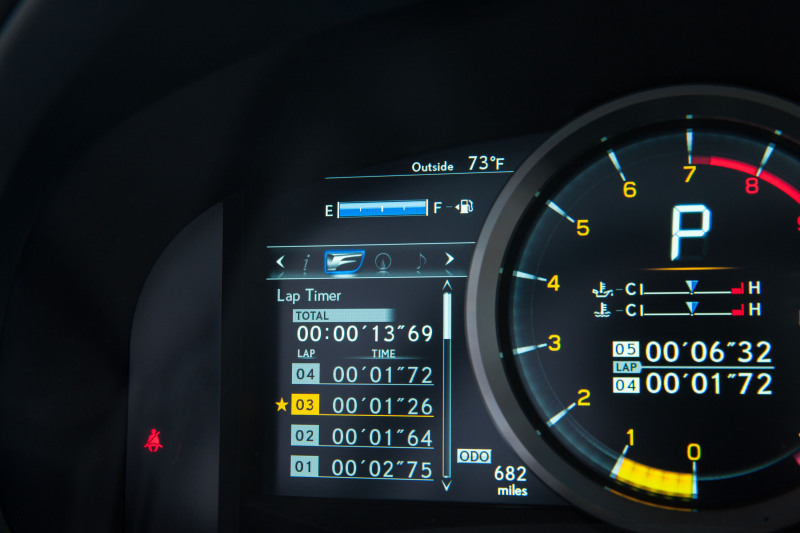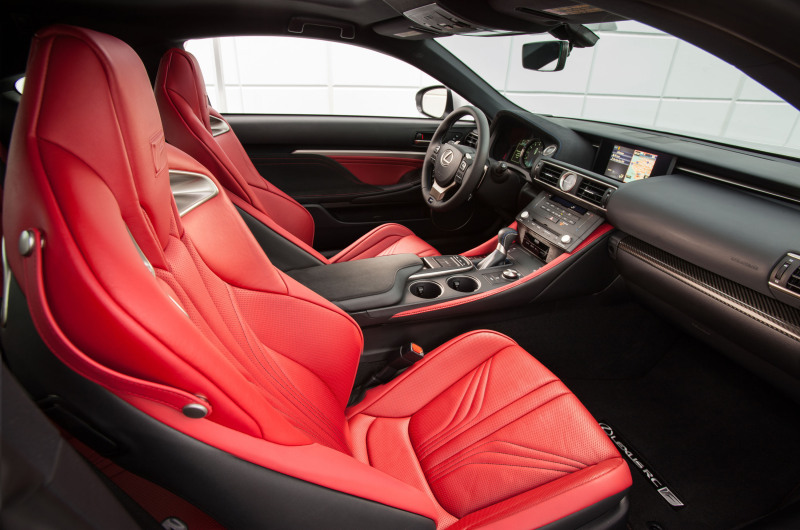 There's nothing subtle about the RC F. It's a high performance coupe that snarls and growls, looking to pick a fight with other cars in this class. Based on its performance numbers – 0-60 in 4.4 seconds and a 12.5 second quarter mile – those battles would be close and epic.
Pricing on the RC 350 and RC F are competitive, with the base model starting at $42,790 (RWD) and $45,025 (AWD), and the F version starting at $62,400. Add the Mark Levinson Audio, the carbon fiber bits, better wheels and tires and the HDD Navigation system and that price will climb to well over $70k. There is also an RC 350 F-sport which resides somewhere in between the two. But unfortunately we did not have time to test it. Once it becomes available, we'll drive it and provide our perspective.
So whether you choose the RC 350 or the RC F, you're getting a car that will perform as intended. You just have to decide whether the one you want is the genteel Dr. Jekyll or the sinister Mr. Hyde.
2015 Lexus RC350/RC F
Two-door 2+2 sport coupe/high performance coupe
Base price: RC350 $40,945 / RC F $63,325
Engine: 3.5 L V6 / 5.0 L Aluminum block V8
Horsepower: 306 @ 6400 rpm / 467 hp @ 7100 rpm
Torque: 277 lb-ft @ 4800 rpm / 389 lb-ft @ 4800 rpm
Transmission: 6-speed automatic with paddle shifters / 8-speed automatic with paddle shifters
Overall length: 185.2 inches / 184.8 inches
Curb Weight: 3750 pounds / 4048 pounds
0-60 mph: 5.6 seconds / 4.3 seconds
Top speed: 160 mph
EPA MPG: 19 city / 26 highway / 16 city / 25 highway
www.lexus.com
While the manufacturer paid for travel expenses and provided the vehicles for this story, the opinions and recommendations in this post are 100% ours.