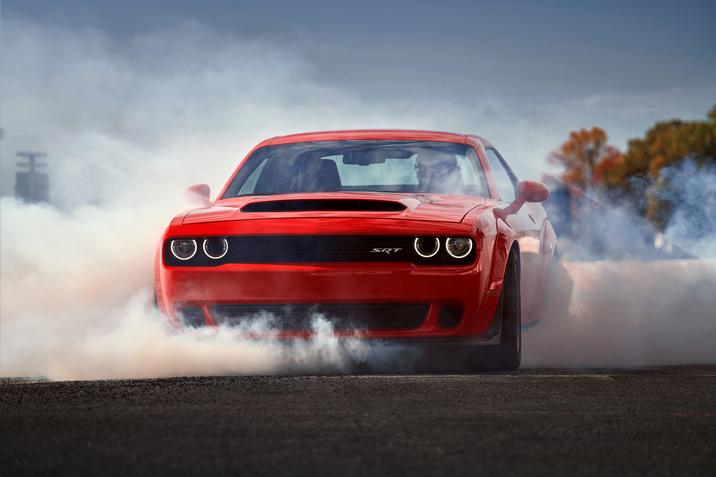 After months of teasing, countless press releases and 13 short videos, Dodge has finally unveiled the 2018 Challenger SRT Demon. For the first time in months we're seeing something new from Fiat Chrysler; they've showed up to every auto show this season empty handed, and frankly we've been getting impatient. The Demon is our first chance to get up close and judge what FCA is working on.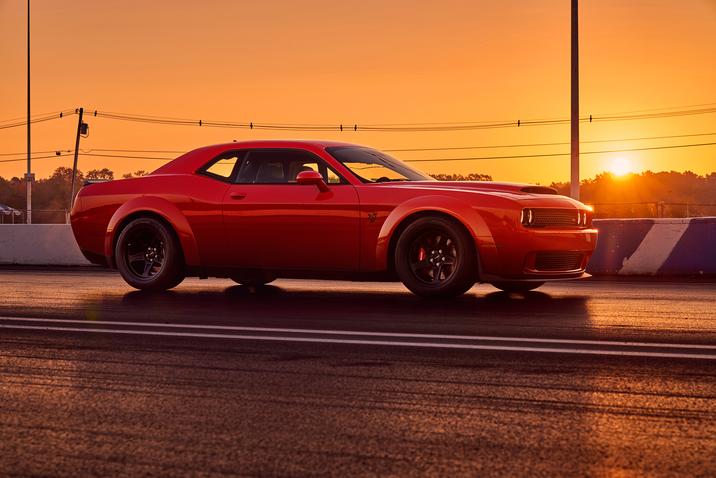 When you first look at these numbers, it just seems … awesome. It's the fastest quarter mile car in the world, with a National Hot Rod Association certified time of 9.65 seconds. It's also the world's fastest 0-60 production car; that'll take you just 2.3 seconds. 840 horsepower and 770 pound/feet of torque from the 6.2 liter HEMI Demon V8 engine make it the most powerful muscle car ever mass produced. No matter who you are, the feeling of pressing down on that accelerator must be incredible.
Power alone doesn't make a car one of the fastest in the world, it's also about weight. Dodge has done literally everything they can to cut out the pounds, even as going as far as to remove the front and rear passenger seats. There is no stereo system standard either. Of course, Dodge knows most people won't buy a stripper, so they allow you to add front and rear seats for $1 each, along with a 19-speakers 900-watt audio system for an undisclosed amount. No sound system at all or 19 speakers – this car really doesn't understand moderation.
While the engine got quite a few upgrades, they didn't change things up too much, looks-wise. Dodge's signature tail lights, front grille and giant hood vent are all unchanged, and the interiors are clearly designed to make you feel like you're in a drag racer.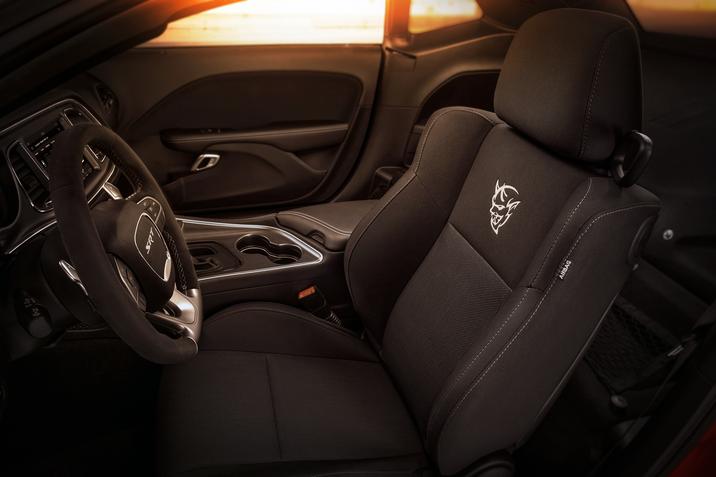 As with any Dodge, but especially any Challenger, you'll either like how it looks or you won't; it's all a matter of opinion here. One thing we can all agree on, though, is that they shoved about 30 too many little demon heads all over every square inch of real estate. Everywhere that it could make sense to put one, they did, then they threw in another five, just for fun. We get it. This is the Demon.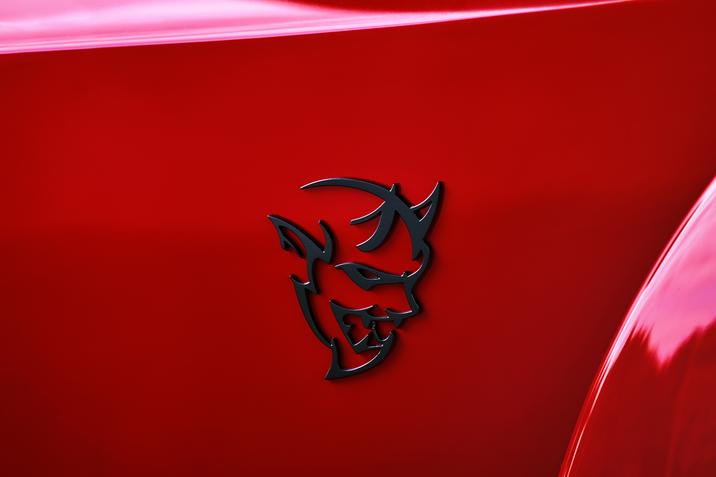 Are you sensing a theme here? Does it feel kind of like they just supercharged literally everything without much of a thought as to why? At the debut they stressed how this car would dominate on a drag strip; except it's been deemed too fast as equipped and banned by the National Hot Rod Association from any official events. It would need a roll cage, fire extinguishers, and a safety harness. That's right. All that power, and all the attention to making it as fast and light as possible, and you can't even use the car on a drag strip without making significant modifications. Is this a too cool for school kind of thing?
The whole car feels like this. Like the pursuit of speed and power distracted Dodge from the fact that someone will be driving this car to places other than drag strips, and a lot of what they've done isn't really practical. With a name like Demon we expect a little danger, but this car seems like it should really be named the Darwin.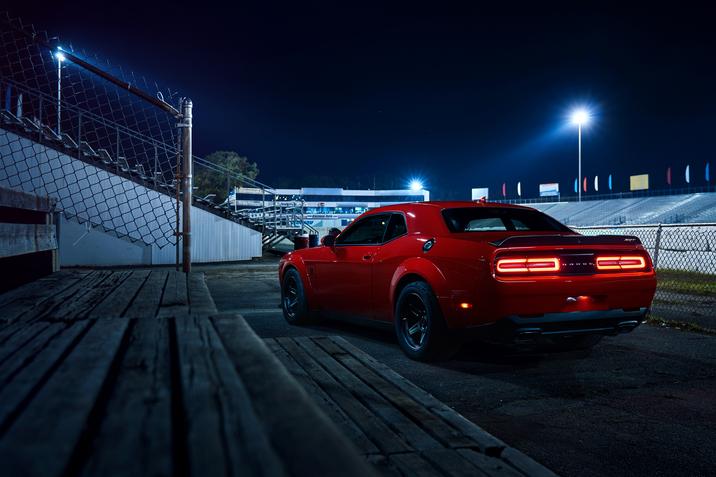 "With Demon, our goal was to build a car that would tattoo the Dodge logo into the subconscious of the general market, beyond even our loyal enthusiasts, said Tim Kuniskis, Head of Passenger Cars – Dodge, SRT, Chrysler and FIAT, FCA North America. "To do so, we had to set records that have never been set before, do more than has ever been done before, go beyond even the legendary Hellcat. The result: an 840-horsepower, 9-second muscle car unlike anything that has ever come before it."
It's tattooed in there alright. More horsepower is all Dodge seems to know. It's a brand of vehicles designed for Tim the Toolman Taylor, and even in the 90's we knew that guy was an idiot.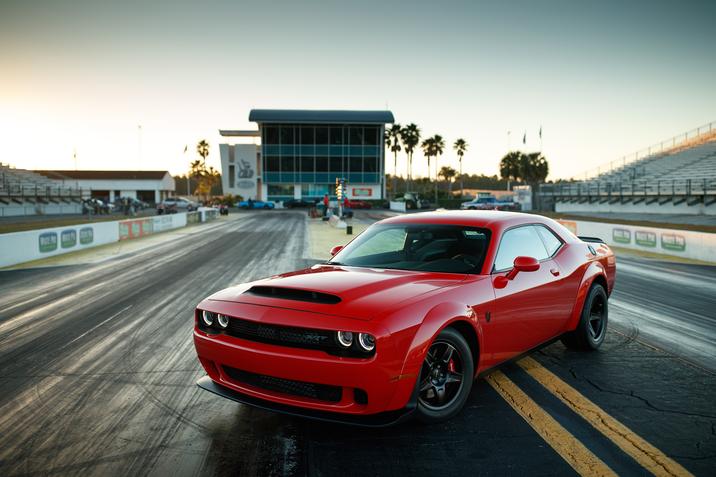 We understand making one crazy hot rod to complete a more well-rounded lineup, but unfortunately the Demon is just par for the course for FCA. We've written several times and not long ago that their idea of innovation seems like it's all about one thing: more power (insert Tim Taylor grunt here).
Had Dodge made an effort throughout the year to provide us with other cars that move us forward in lowering emissions, autonomous driving, even if they were introducing new materials and engineering processes, to complement this amazing performance machine, this might be a story about how cool the Demon is. Instead it's more about how the Demon is the perfect representation of Dodge as a brand, and FCA as a parent company: Sometimes they make some really badass cars, but overall they're just out of touch.