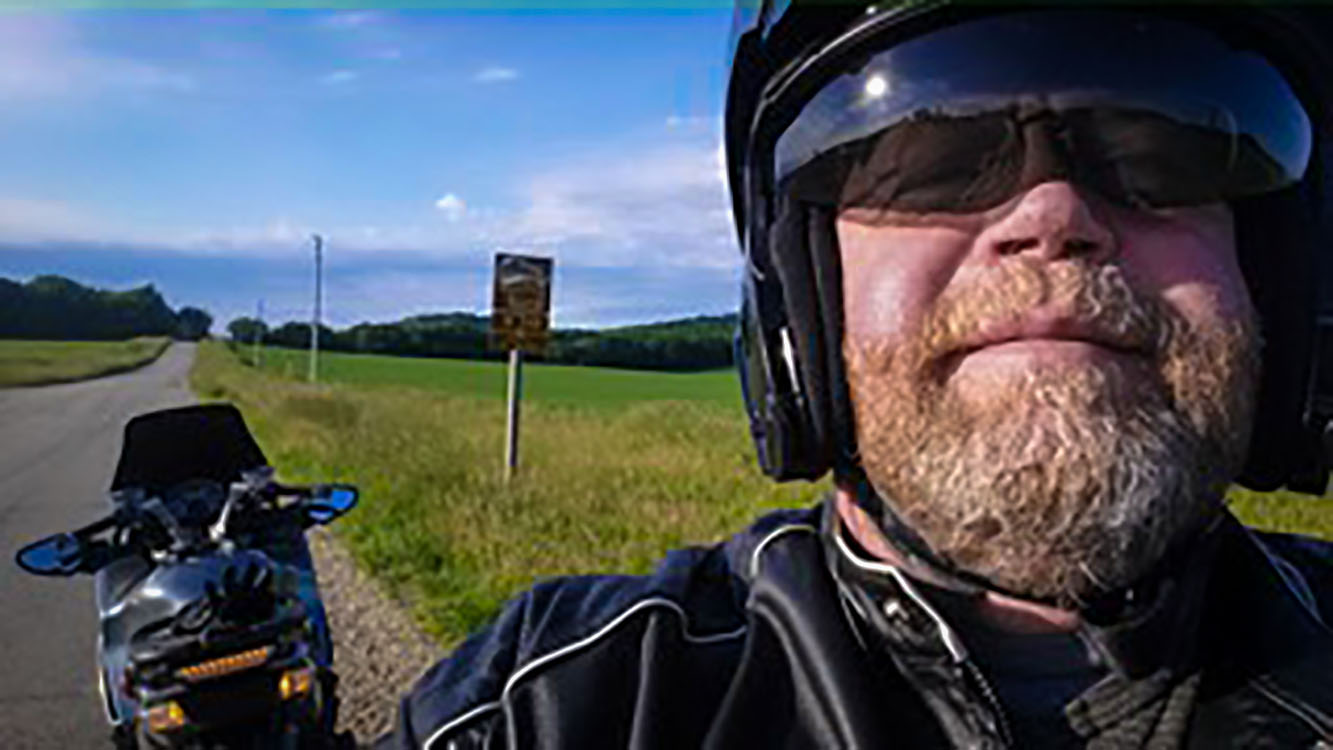 "There are no bad reasons to go motorcycling," Jerry Hollendyke muses, laughing easily. I can't argue with him.
He should know, too, since he's been riding some kind of motorbike since he was twelve years old. From that first dirt bike, he has most recently graduated into a sport touring bike more comfortable for the kind of longer rides he enjoys taking these days. Jerry's 2008 Kawasaki ZG 1400 has seen thousands of miles across Wisconsin. Lately, he'll put 500 miles on the odometer in a single day, chasing down beauty and adventure on some of the less traveled roads of the state.
Although he's been riding for decades, Jerry recognizes the importance of keeping his skills sharp and continuing to learn about bike safety. While researching advanced motorcycle driving courses, he discovered the Wisconsin Department of Transportation's Rustic Roads Motorcycle Tour. As far as good excuses for motorcycling go, Jerry had found the perfect excuse to strap on his helmet and head out to parts of the state he hadn't yet seen from the seat of his bike.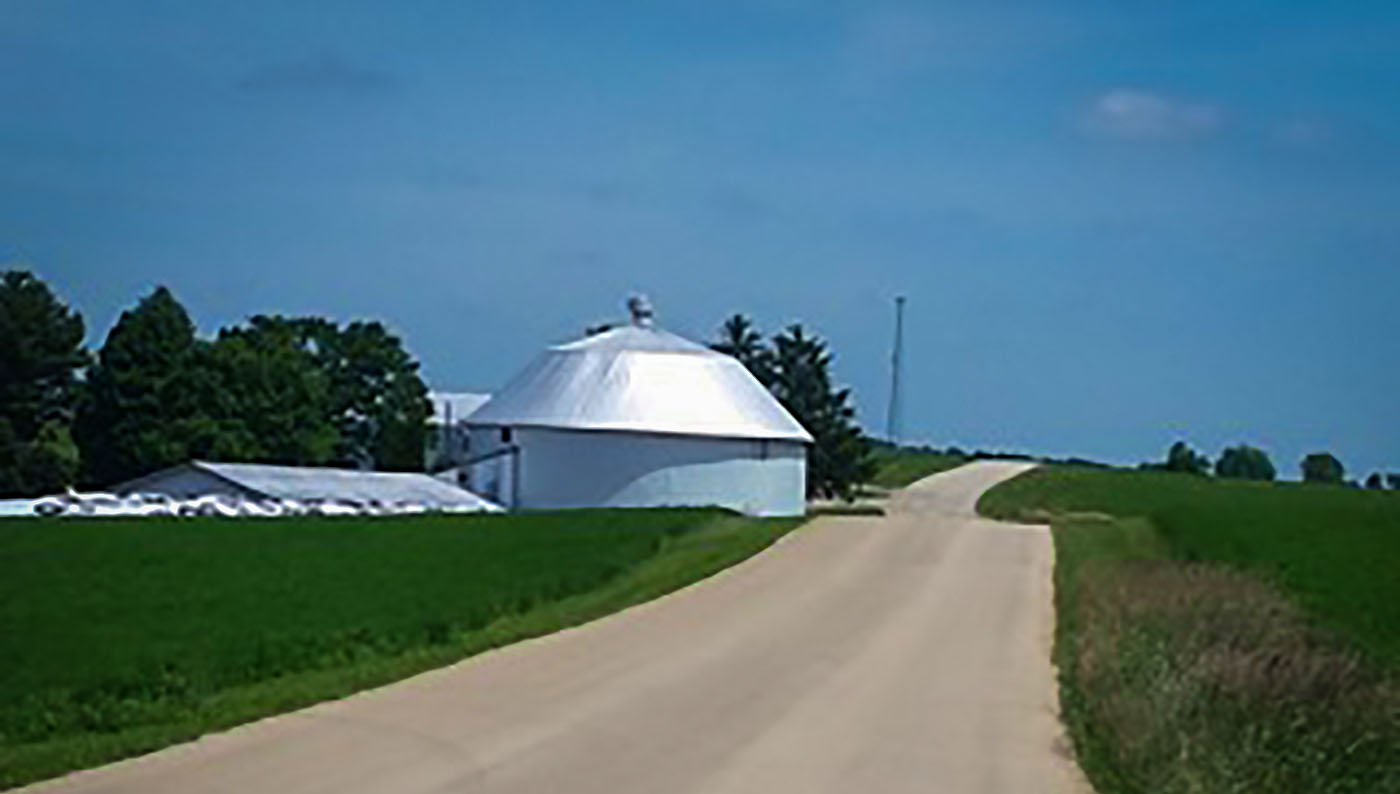 Wisconsin's designated Rustic Roads cover more than 700 miles and pass through nearly 60 of the state's 72 counties, 119 asphalt, dirt and gravel roads that don't see much traffic from anybody but the locals. Most of these designated roads are less than 10 miles long, and many are at quite a distance from the nearest township. They're roads that are meant to be experienced, roads that eschew the anti-experience of simply travelling from origin to destination. They're roads that highlight the remarkable ecological, agricultural, and geological features of a state known for its rural beauty, for rolling hills, lakes, streams, and rivers, and stunning vistas of farmland, flora, and fauna alike. Depending on the time of year, time of day, and weather, you're like to see wild turkeys, deer, hawks, and foxes along the roadway or in the surrounding fields and woods. You'll see the remains of structures created by Wisconsin residents over the last thousands of years; along these roadways you'll see octagon and round barns from the 20th century, cemeteries and building foundations from early European settlers, and pass the Natural Bridge State Park, where the remains of campfires built more than 10,000 years ago are found.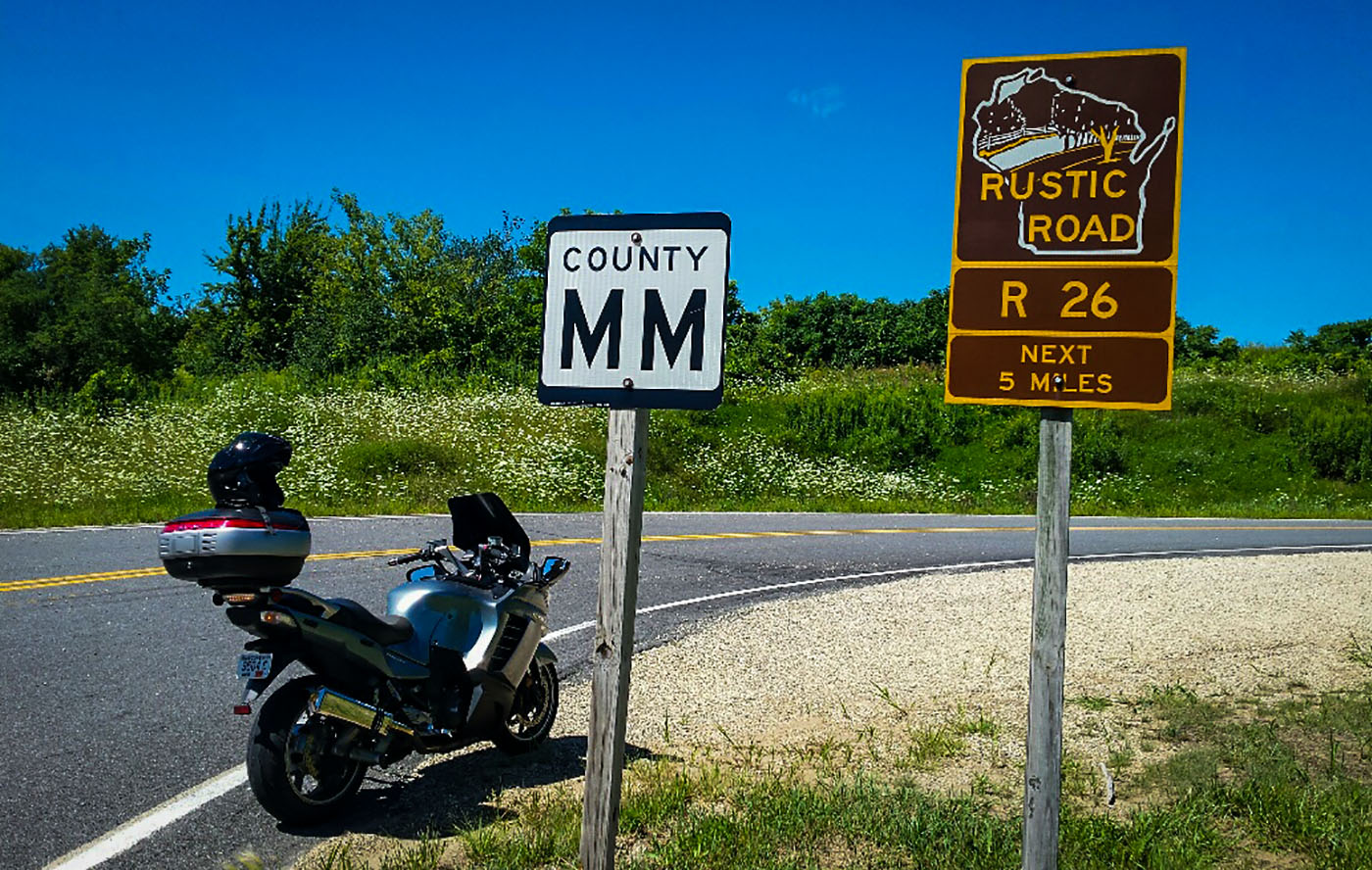 Wisconsin has been designating these routes as Rustic Roads for over 40 years, preserving their scenic beauty and the heritage that they tour. Motorcyclists in the state have an added incentive to drive these roads with the Wisconsin Department of Transportation's Rustic Roads Motorcycle Tour challenge. Riders who submit photos of themselves and their bikes in front of the rustic road numbered signs receive recognition of their participation. At 10 roads, the state will send a charming patch, and at 25, a certificate of achievement. The participation rewards may be simple, but they're a great way to show off your dedication to exploring some of the forgotten corners of the state, and there's nothing like connecting with another rider who recognizes your patch and starting a conversation about the Rustic Roads rides you've each taken.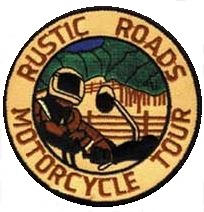 Some of these roads are more scenic than others, but discovering his favorites has been part of the fun for Jerry. His recommendations? In La Crosse County, County MM has been designated as R-26 and is the quintessential Rustic Road, with stunning vistas of the Mississippi River Valley and historical structures, more twists than a hairpin, and which passes through a wildlife refuge.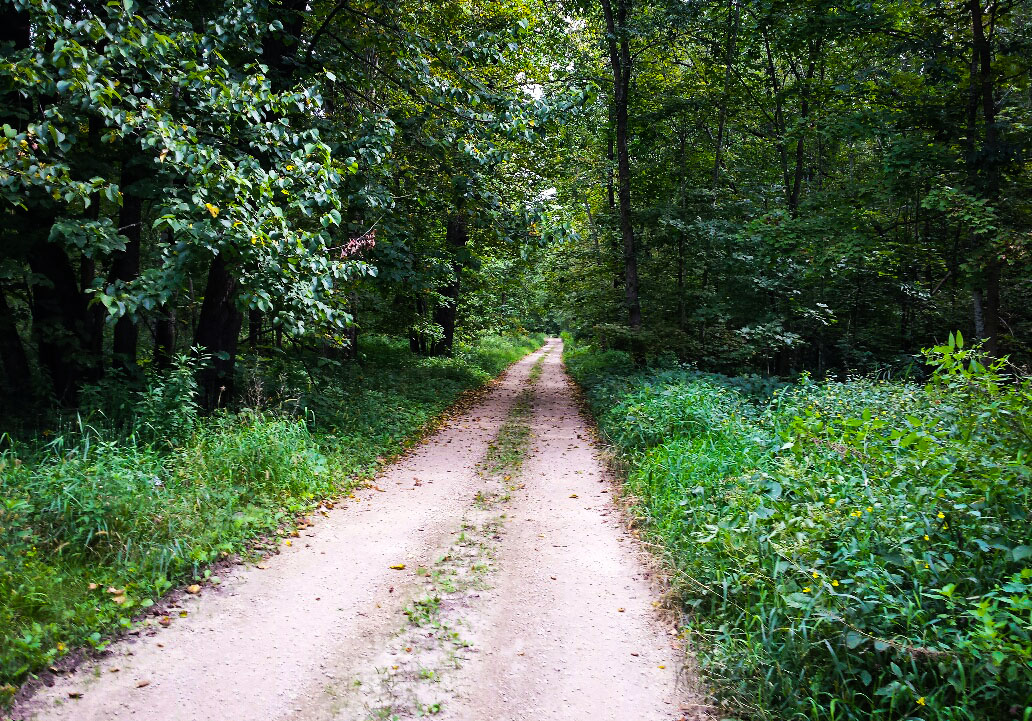 If you're up for more adventure and a bit of off-roading, make the trip to R-51, in Pierce County. Be forewarned, you'll probably get wet, as the route fords water in four places. "It is absolutely gorgeous," Jerry says, "but it is more like a glorified goat trail. There is a road, but it's not to be taken lightly. You could end up on your butt pretty quickly if you're trying to cross water. There are steep ravines on both sides of the road and times that there literally is no shoulder. It's definitely a rustic Rustic Road." And there are roads that require multiple visits. When we spoke earlier this summer, Jerry was looking forward to making a return trip to Portage, to drive R-49 again. A levee road that follows the south bank of the Wisconsin River in Sauk and Colombia Counties, this route through the Aldo Leopold Reserve boasts a stunning canopy that creates a "tunnel of trees." While the road is beautiful in the verdant abundance of the warmer months, Jerry was especially looking forward to experiencing the colorful changes that the shifting seasons would bring.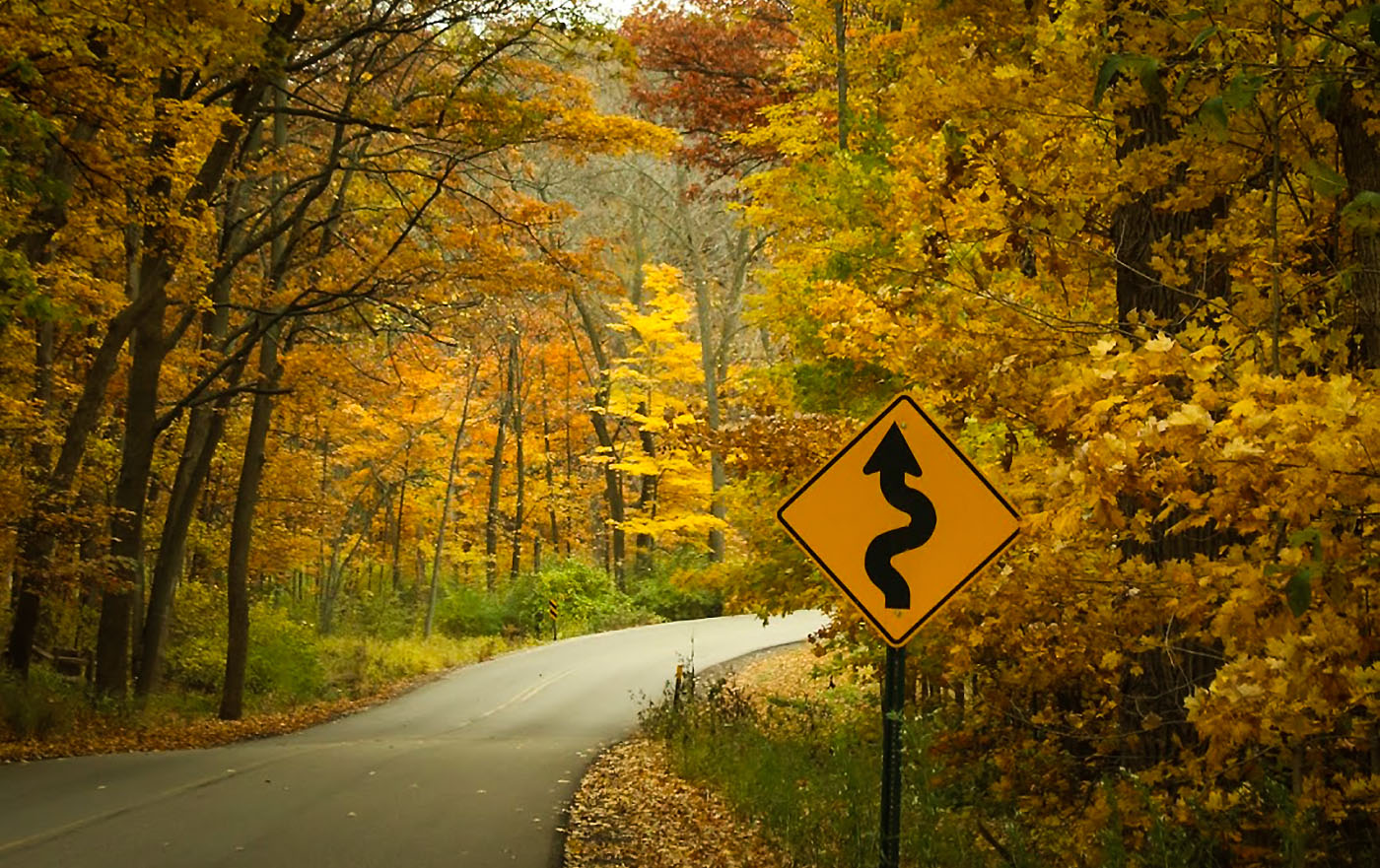 Because many of the roads are at quite a distance from each other, and from most well-populated areas, someone seeking out these roadways will spend quite a bit of time taking in the surrounding region. And that exploration is what we at Rides & Drives live for. The trip isn't about where you're going. It's about going. Jerry gets it. "Sometimes when we travel, we get so stuck in a rut that we have to go someplace. The space between where we are coming from to the place that we are going to gets forgotten, and if you have a different attitude, you can choose to just take this road and see where it goes."
Although he had hoped to get 25 Rustic Roads in this year and earn his certificate, Jerry stopped at 20 for 2016. "Weather got in the way," he told me. He says he's a fair-weather rider now, but he's being modest about his dedication to getting out on his bike. Just last year, seeing that the weather was favorable and with a holiday errand to run, he took a 10 mile ride on Christmas Eve. For the record, the National Weather Service reports a high temperature of 35 degrees Fahrenheit in his southern-Wisconsin hometown on December 24 of 2015, and it snowed the next day. He's been a road trip hero since his youth. In the late 70s, reporting for military duty in November, Jerry rode his bike (a Kawasaki KZ 440) from Wisconsin to Ft. Stewart, Georgia, taking state highways south through Illinois and into Tennessee – higher speeds on the interstates would have led to a higher wind chill factor, and he was driving without a windscreen. "Adventures in babysitting," he jokes. "I got into south-central Illinois right around the time the sun went down, found a hotel alongside the road, and drained the water heater trying to get out of the grips of hypothermia. It was probably 30 degrees and I was ill prepared. But I made it out alive."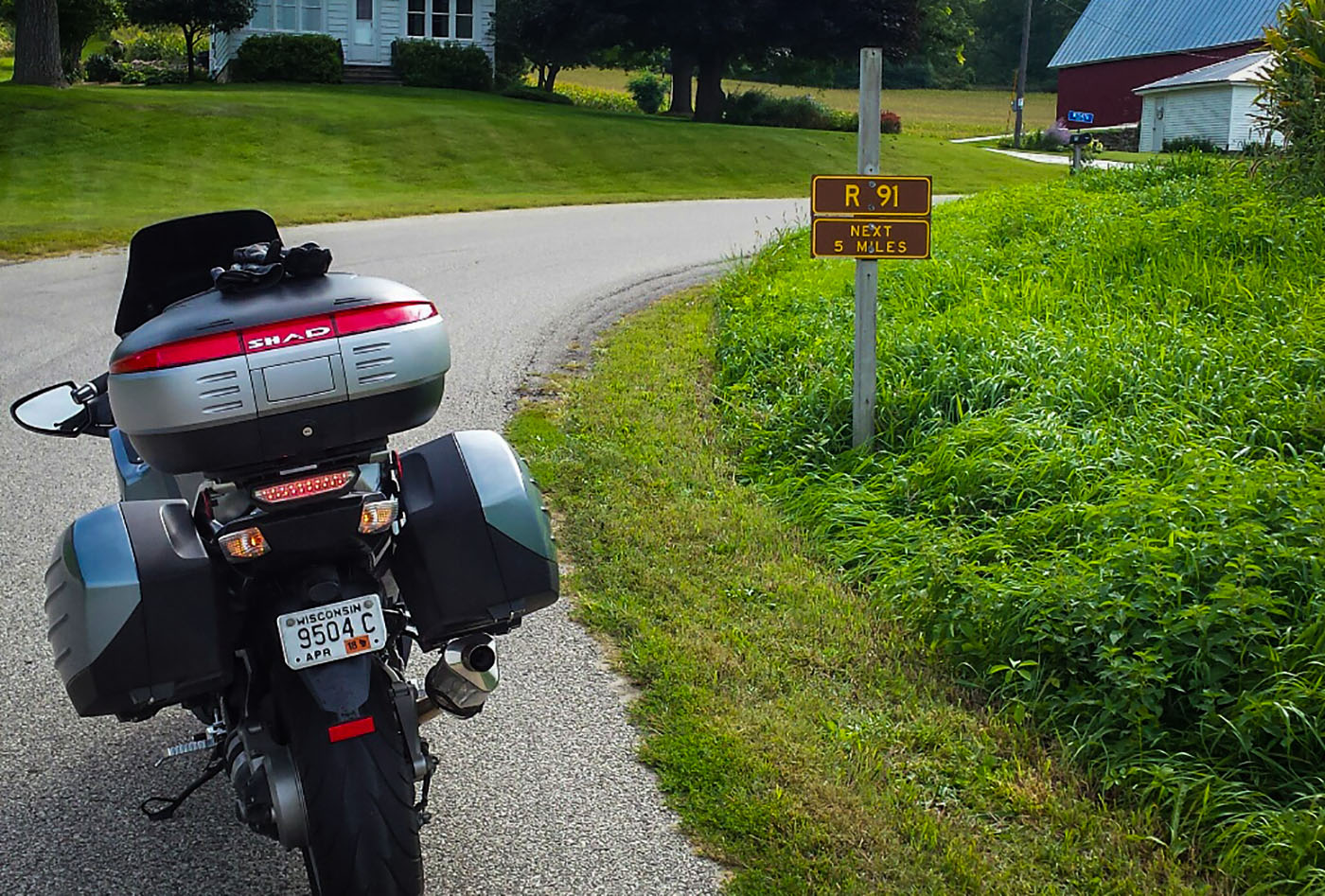 Getting married and having children has tempered the daredevil in him, but Jerry still prefers to travel by motorcycle. "I could get in a bus and be safe and insulated from everything, but I'd rather feel the wind in my hair. I'd rather see and feel the experience than hide from it." Again, I can't argue with him.