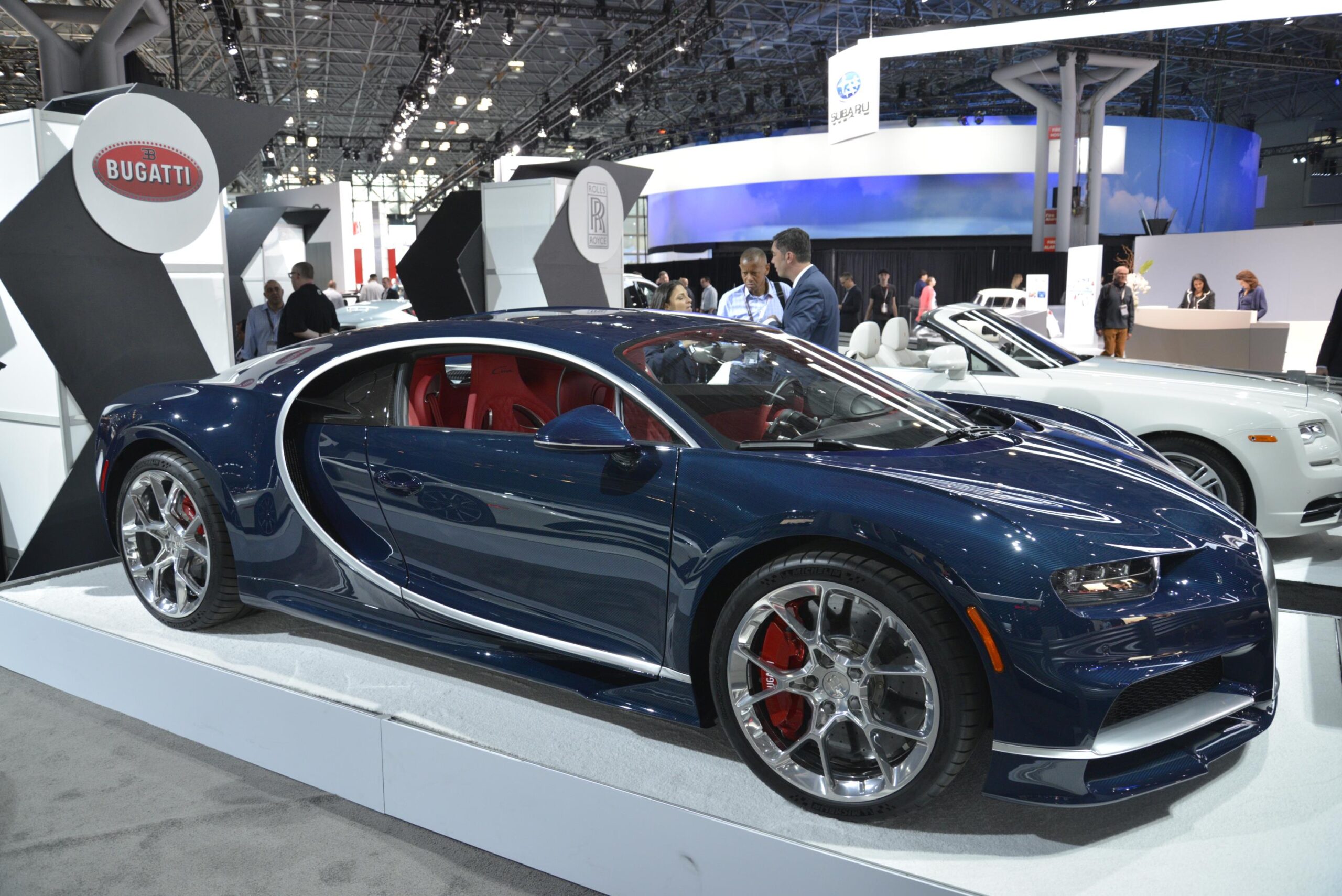 It's not easy being the New York Auto Show. It's the last major international auto show of the season and falls just a few weeks after Geneva. By the time Easter Weekend rolls around – the show's traditional opening – most manufacturers have already shown their all-new cars to the world. So while almost every manufacturer had some news, and you can see the 1,500 hp Bugatti Chiron in all its glory, there were really only two big global reveals at the show this year, the new Lincoln Navigator which we've covered in-depth here and the Acura TLX sedan. There were several interesting updates and four all-new concept cars (which we'll review on Monday), as well as North American Premieres to make attendance at the New York Auto Show a must for any car enthusiast. Here are our favorite cars from each manufacturer's stand.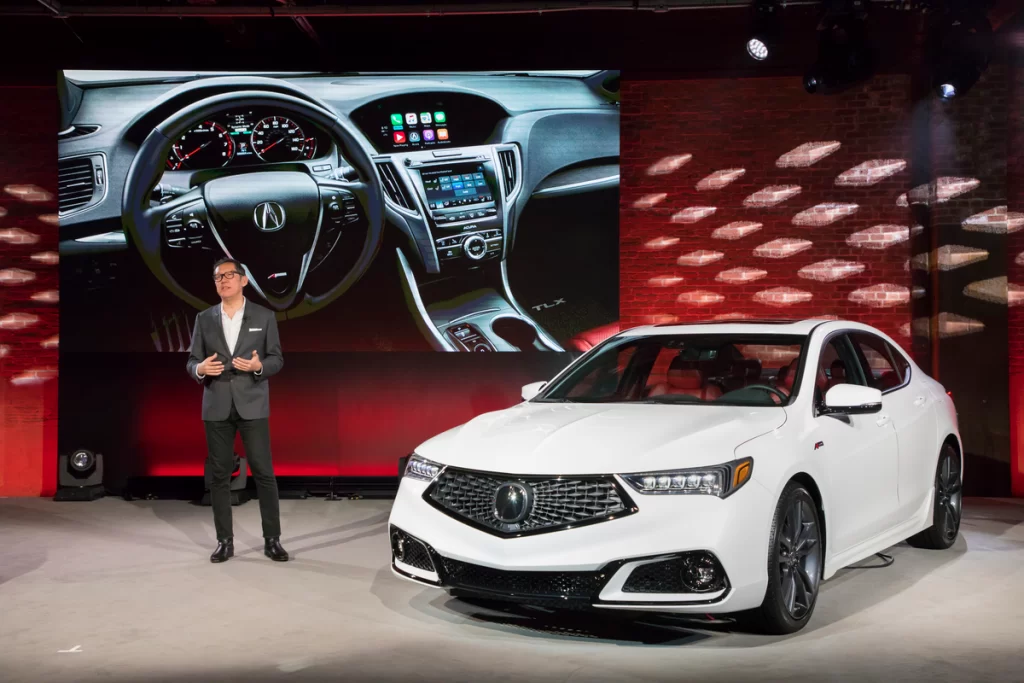 Acura TLX
When we talk about luxury and performance, Acura sometimes gets overlooked. The 2018 TLX should make it hard for us (or anyone) to leave them out of the conversation again. The stance is wider and the wheels are bigger, adding a lot to the car's road presence. The look is a little sportier than previous TLX models, which makes sense; Acura has not been shy about telling us they want to appeal to a younger market. The car is available with an inline-4 or V6 engine, and the true road lovers can upgrade to the V6 A-Spec, which features a sport-tuned suspension with more aggressive damper settings. The standard V4 and V6 are available in an array of colors, but the A-Spec is all black and red. There's no doubt that this is the TLX's cool older brother. On all TLX models, a nice multimedia system and the usual slew of autonomous features complete the package.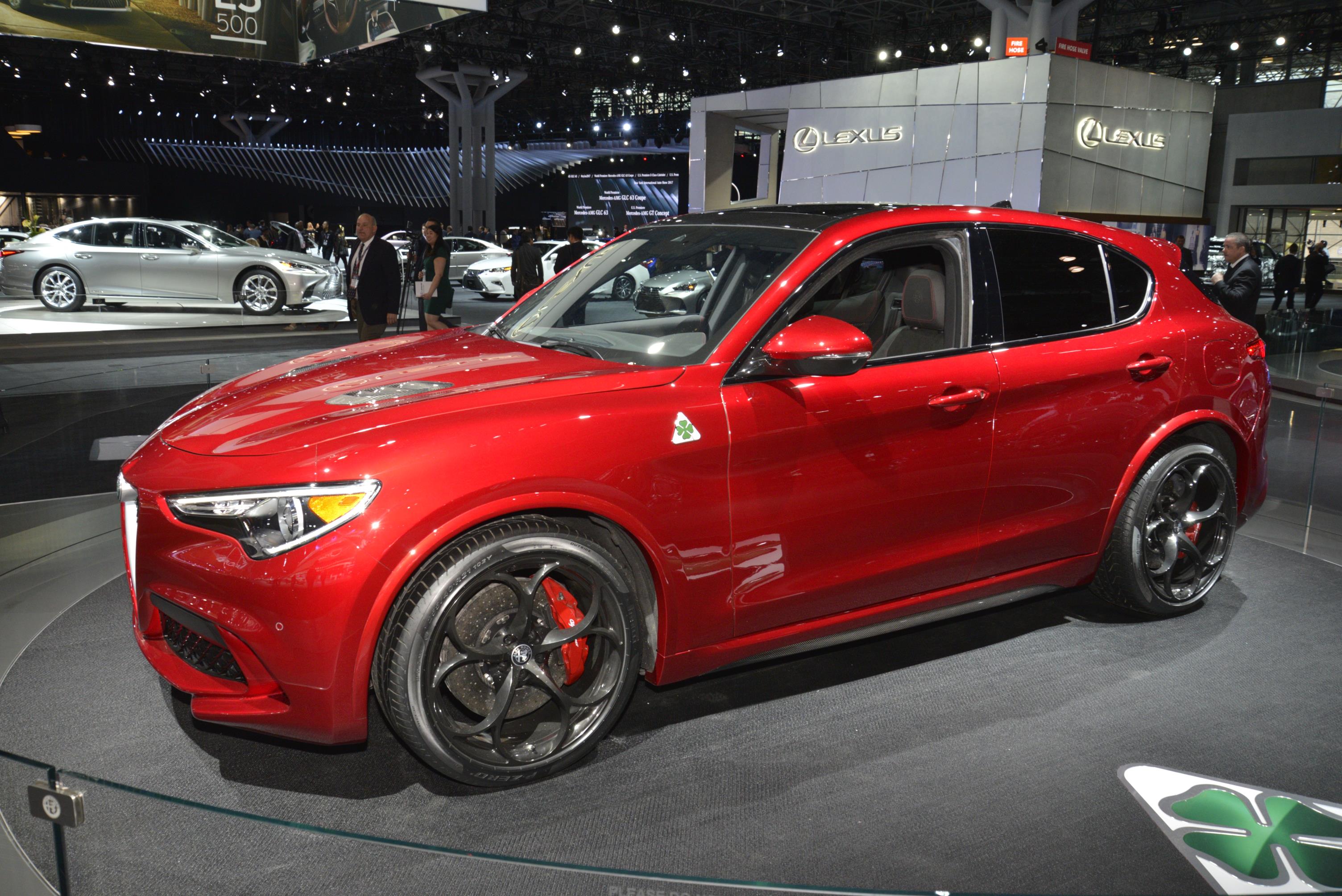 Alfa Romeo Stelvio
Hoping to add some volume to its line up – selling around 500 Giulias a month isn't going to cut it – Alfa revealed its full-line of Stelvio small SUVs. The Stelvio and Stelvio Ti feature an all-aluminum, 2.0-liter, direct-injection turbo I-4 engine paired to an eight-speed automatic transmission, making 280 horsepower and 306 lb.-ft. of torque. The Quadrifoglio pins the needle at 505 hp and would be a blast to drive on its namesake, the Stelvio Pass in the Italian Alps. Alfa touts their "iconic Italian design" which we love, and "genuine Italian craftsmanship" which makes us nervous. We'll let you know more about both when we get our hands on one.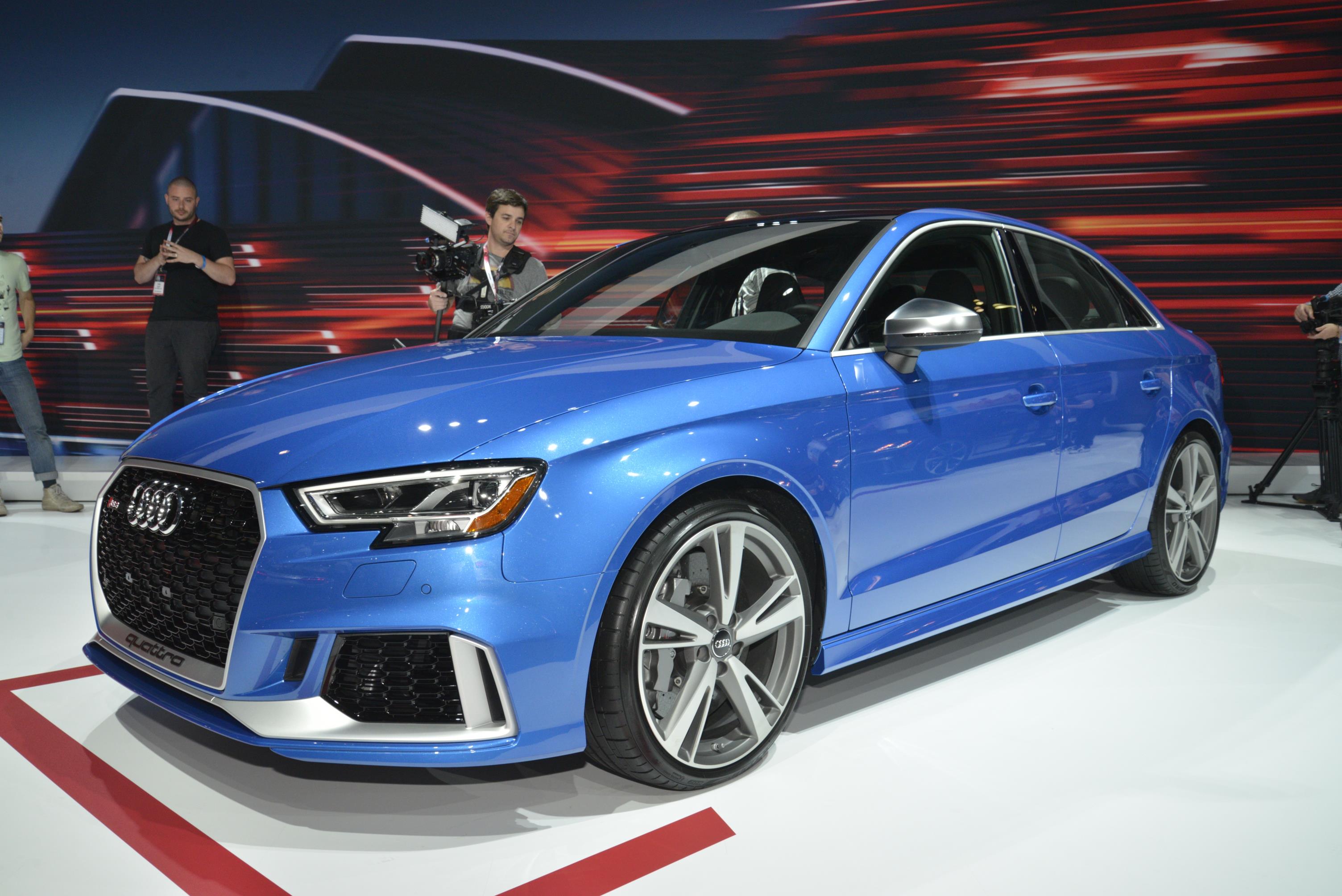 Audi RS3
The first of eight new Audi Sport models to launch in the next two years, the RS 3 finally comes to our shores after roaming the roads of Europe for the past few years in Sportback (read wagon) form. Because Americans hate wagons, we get a sedan version that features a 400 hp inline 5-cylinder engine mated to a 7-speed DCT automatic transmission. As would be expected from a car this small, light, and powerful, it is quick. 0-60 happens in just 3.9 seconds and if you opt for the dynamic package the top speed is 174 miles per hour. To say we're excited about this little sedan's immigration to America is an understatement.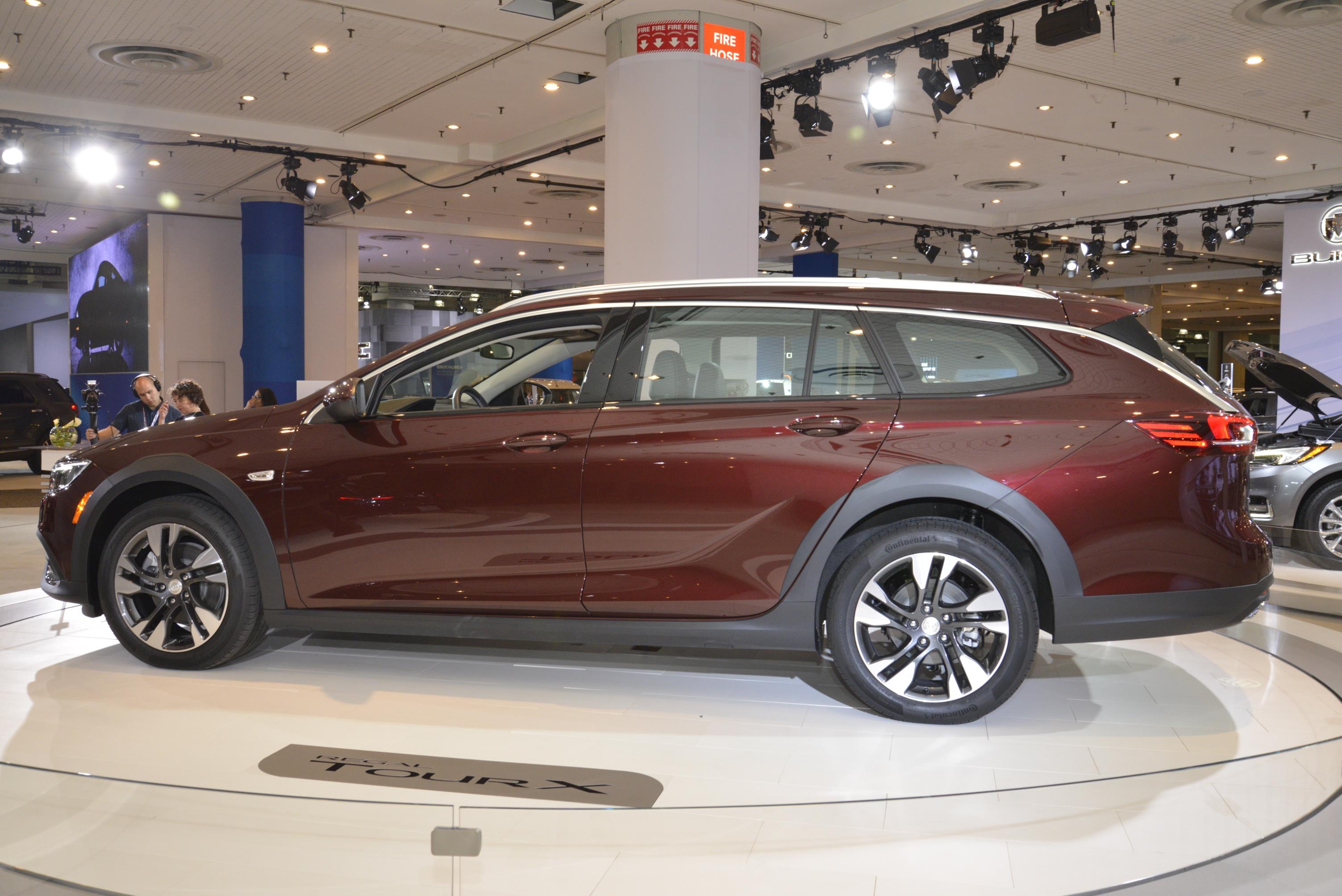 Buick Regal TourX
Audi won't bring us a wagon, but surprise, Buick will. The Regal TourX is a good looking, versatile wagon that hopes to buck the SUV trend. Not that Buick isn't hedging its bet having launched the new Enclave and upscale Enclave Avenir. The Regal TourX captured our attention because it stands out from anything offered by their American counterparts. Seating for 5, powered by a 250 hp, 2.0L turbo four with all-wheel drive, it seems to be taking a page right out of Volvo or Subaru's playbook. If this is the future of Buick, let's hope there's more of them on the way.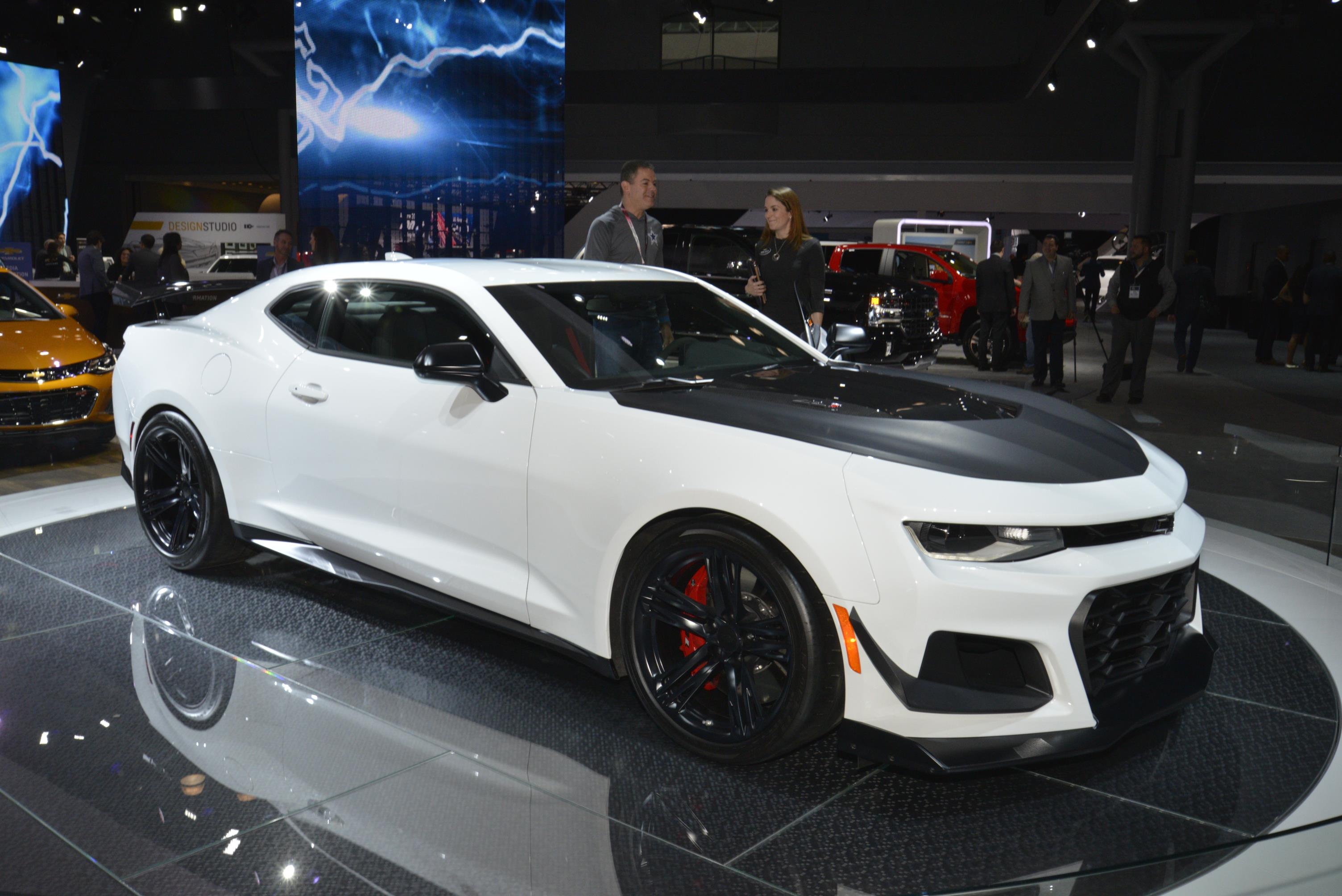 Chevrolet Camaro ZL1 1LE
There's a lot of going on with cars wearing the bowtie. Chevy Corvette Grand Sport, Bolt, and the new Equinox are all fine vehicles, but the white beast with the black hood perched in the front corner of the stand will not be ignored. Wearing summer high performance tires on lightweight rims, massive Brembo track brakes, carbon fiber aero bits including a sinister rear wing, and an adjustable suspension, it looks every bit the track star it is. It's fast – over 200 mph – powered by the 650-horsepower, supercharged LT4 engine, it's only available with a six-speed manual transmission. Posers need not apply.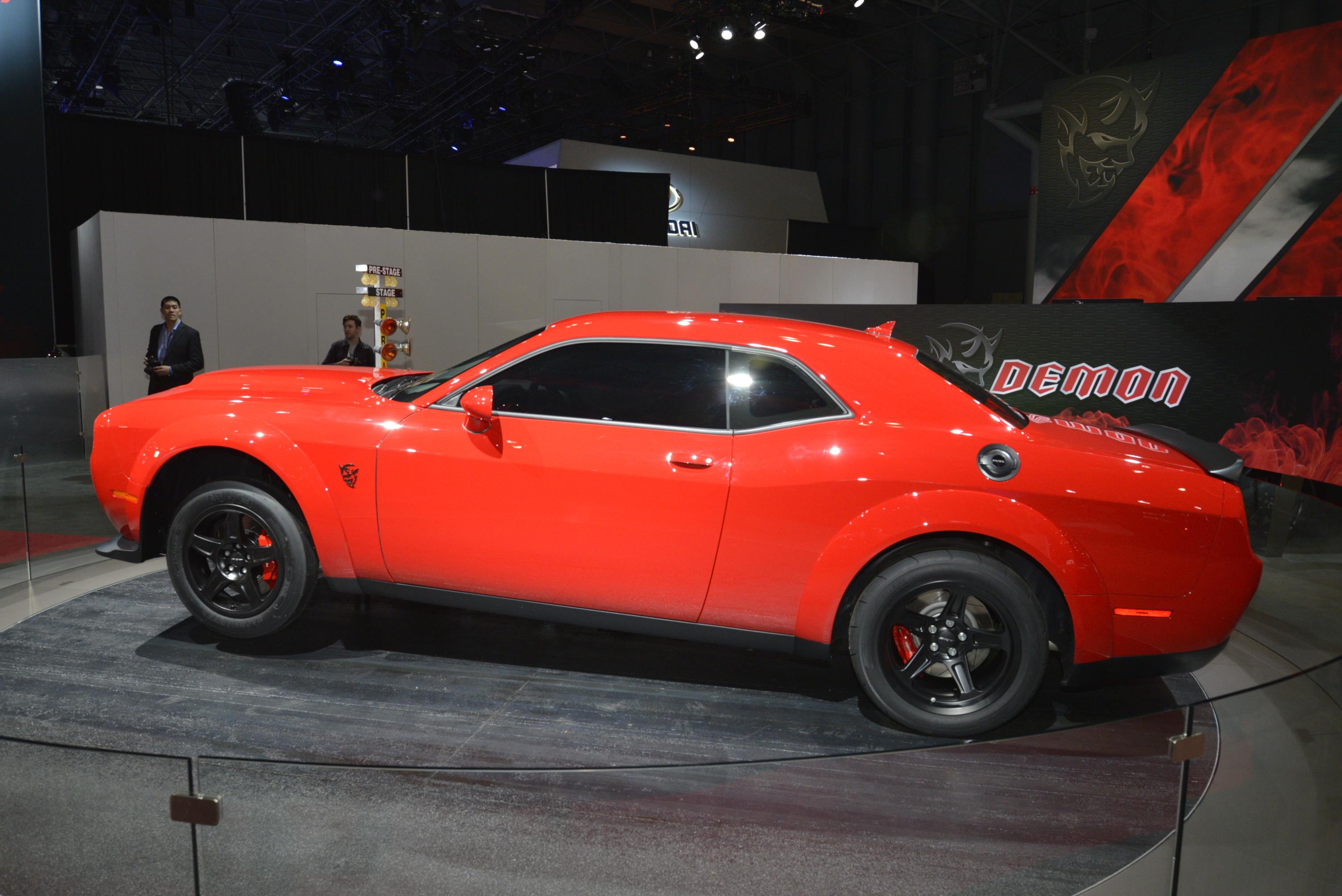 Dodge Demon
We've already done a full write-up on the Demon and what it says about Dodge and FCA as a brand, but here's the Cliff's Notes version: It's the fastest, most powerful muscle car ever to be mass produced. So fast, in fact, that it's been banned by the National Hot Rod Association because it lacks the required safety equipment. It's not practical in any way, but it's also not supposed to be. On it's own, the Demon may be the most fun car we've seen in a while, but when put into context with the rest of FCA's lineup, it feels a bit like fun and powerful is all they know how to do.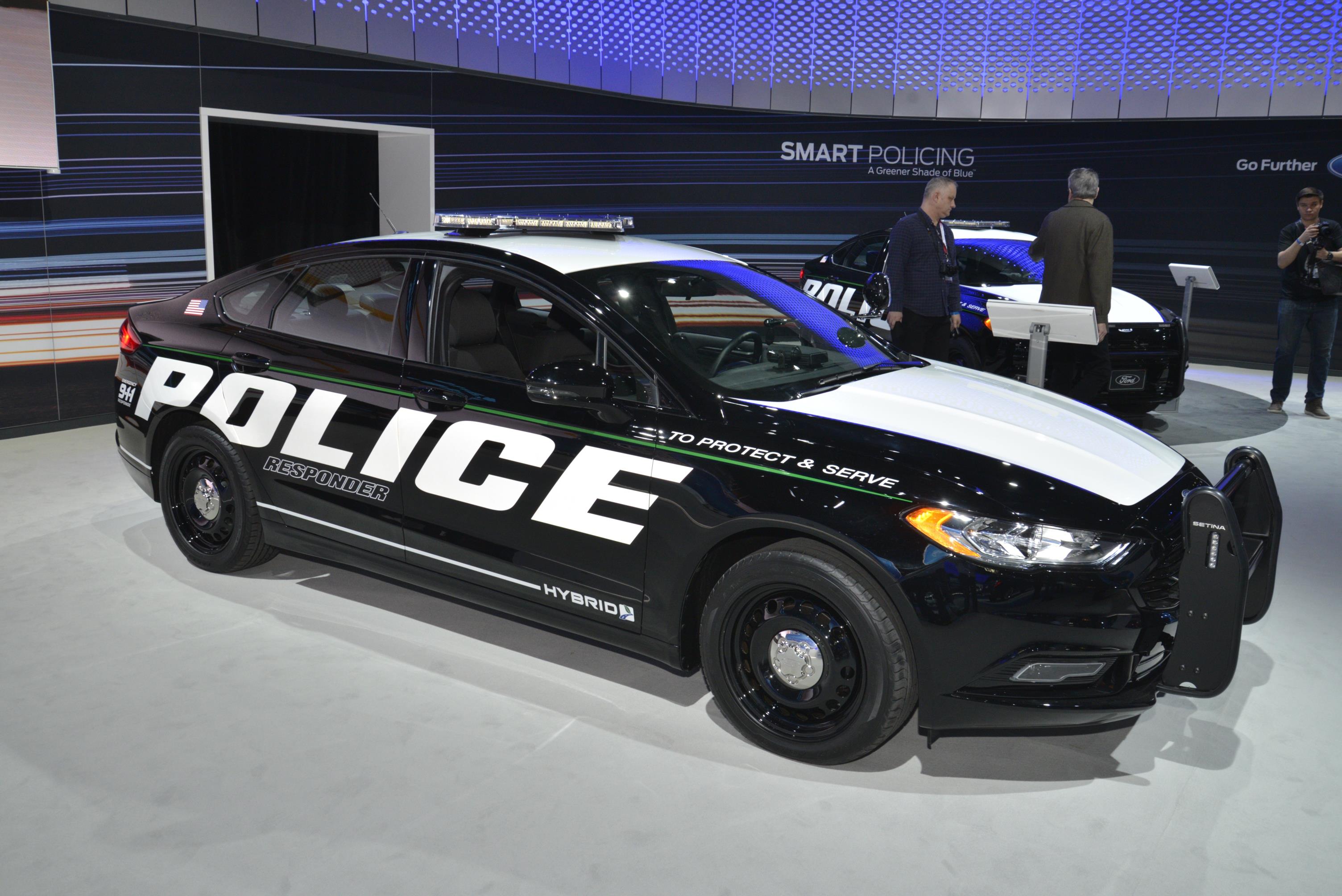 Ford Police Responder Hybrid
Generally we're never that excited to see police cars, but we'll make an exception for this one. Based on the Fusion Hybrid platform, everything about this car has been recalibrated to allow it to be the first "pursuit-rated" hybrid police car ever produced. Not only does it do everything a police cruiser must, it does it so efficiently it's expected to save police departments on average $3,900 per year. And that, my tax-paying friends is something we can all get excited about. Maybe the motto on the hood should read "To protect and serve and save."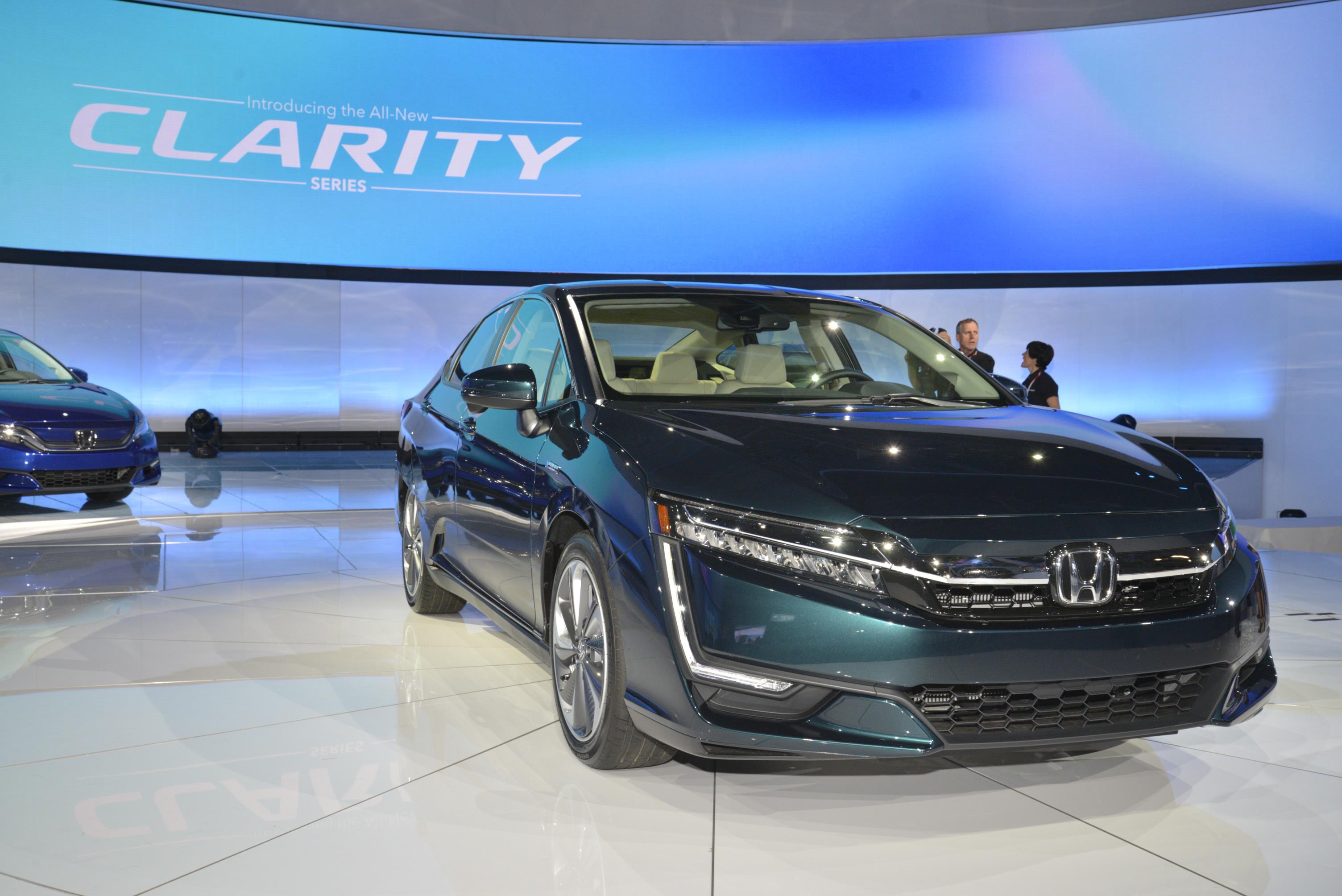 Honda Clarity
Whatever the future of driving holds, Honda is not going to be left out of it. The Clarity Fuel Cell, introduced late last year, got two siblings this week; a plug in hybrid and full electric. That makes the Clarity the only line of low or no emission vehicles to be available in these three vastly different powertrains. The plug-in will earn an all electric range of 42 miles, with an overall range of around 330. The full electric range hasn't been announced yet, but we do know the battery can be fully charged in just three hours, with 80 percent of that charge coming in 30 minutes. Low, wide, aerodynamic and quiet, all three versions of the Clarity put a focus on making your drive comfortable. No matter who or where you are, Honda wants you to find a version of the Clarity that's going to work for you.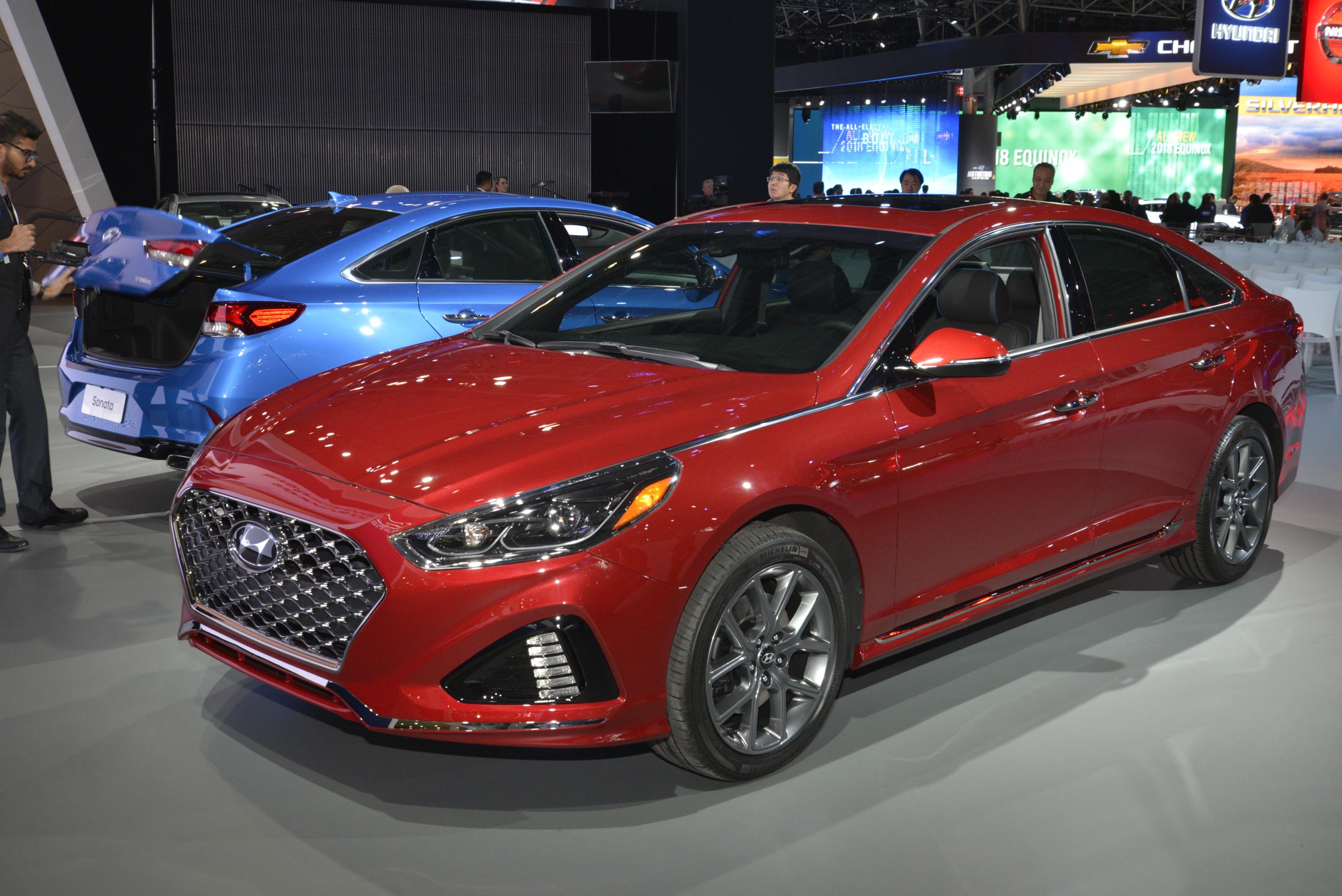 Hyundai Sonata
Following in Toyota's NAIAS footsteps, Hyundai took NYIAS as an opportunity to reinvent a volume leader that has seen interest and sales wane a bit over the past two years. The 2018 version receives styling updates front and rear that turn this notion on its head. Designed in their California Design House, the sleek lines, cascading grille and LED daytime running lights were absolutely designed to recall something a little more high-end. In addition Hyundai beefed up several suspension components and stiffened the steering column to improve ride, handling, and road feel. The 2018 Sonata might be a perfect choice for someone looking for luxury styling without the luxury budget.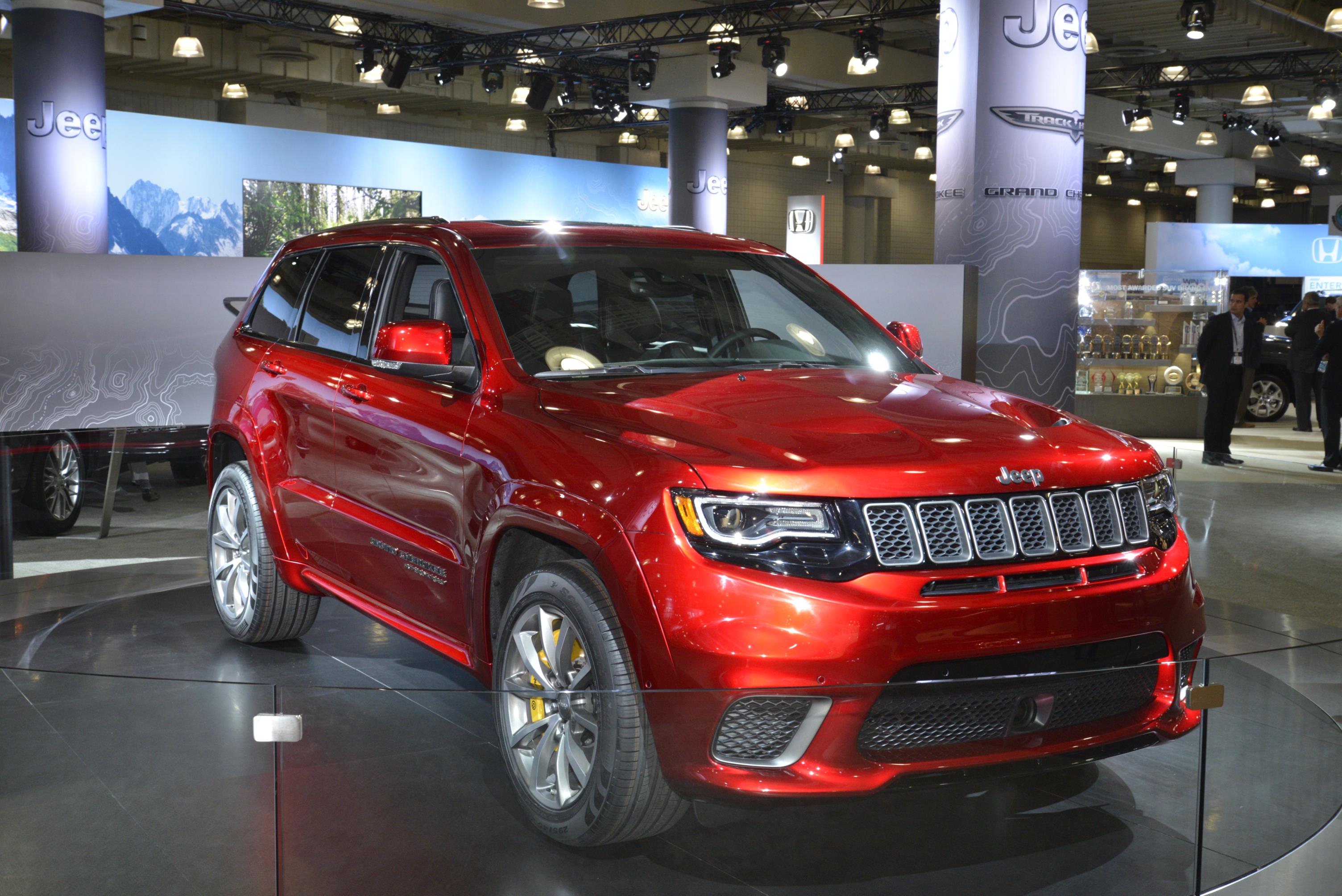 Jeep Trackhawk
Well, the folks at FCA are nothing if not consistent. It's as if they're bound and determined to "Hellcat all things!" The Jeep Trackhawk stuffs a 707 hp supercharged 6.2L Hellcat V8 under the hood of a Grand Cherokee. O-60 comes in 3.5 seconds which ties it with the Bentley Bentayga as the quickest SUV in production. 20-inch wheels, Brembo brakes, upgraded suspension and transmission round out the package. We'd like to be more excited about this, and are sure that some people will be. We'll start to get excited about FCA's domestic line up when they start showing a little more creativity.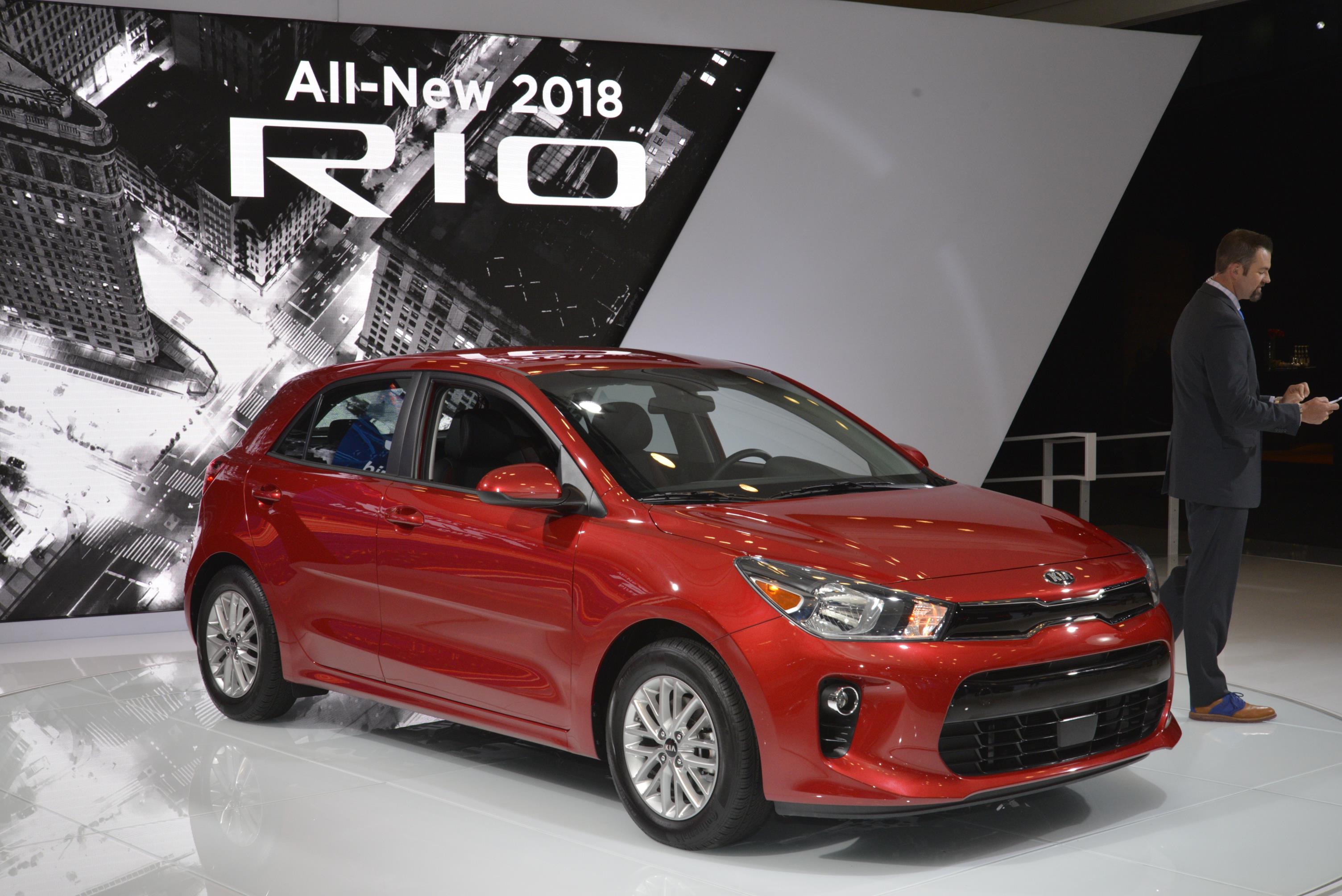 Kia Rio 5-Door
The sedan looks a little ungainly but the 5-door Rio is one of the better looking subcompacts out there. Kia Rio has always been about delivering as little as they can get away with to give first time buyers an affordable new car option. That trend continues but everything about Rio feels just a little bit nicer than before. The 130 hp 4-cylinder engine is lighter and more refined. The chassis uses high strength steel to improve the overall structure and reduce noise and vibration. And of course it's loaded with tech including Bluetooth hands-free functionality, a six-speaker stereo with satellite radio and a rear-view camera system, a seven-inch touchscreen is available as is voice recognition infotainment system and phone integration through Android Auto and Apple CarPlay.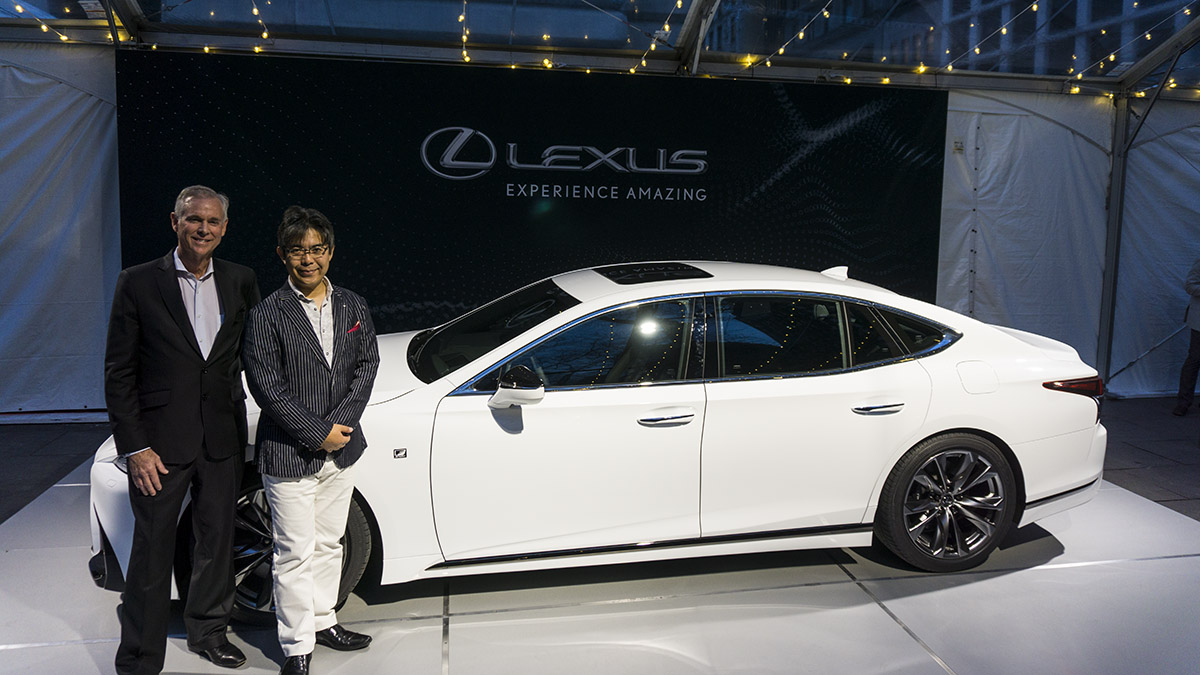 Lexus LS500 F Sport
Not willing to cede the full-size, high-performance luxury sedan market to BMW and Mercedes, Lexus has stuffed a more powerful twin turbo V6 under the hood of the new LS, tweaked the ride and handling, and made a number of styling changes to its flagship sedan to attract those who like big, fast, comfortable cars. 0-60 acceleration is a very respectable 4.5 seconds thanks to the engine's output and the same 10-speed automatic transmission you'll find in the LC500 Coupe. Selectable drive modes let you change the car's personality from smooth and subtle to exciting when you switch to Sport+.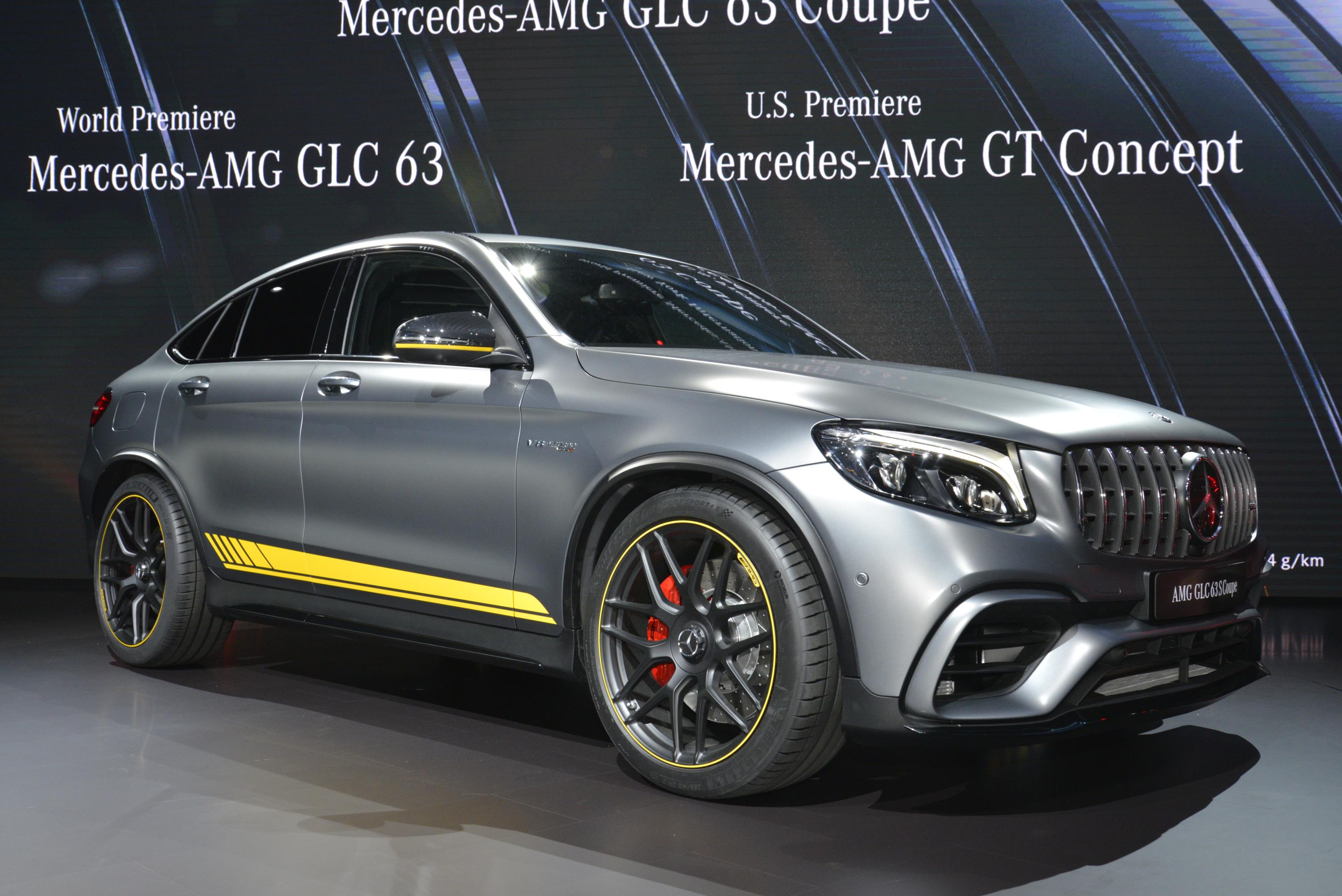 Mercedes-Benz AMG GLC63 S Coupe
Dodge isn't the only manufacturer stuffing big engines into SUVs. Mercedes-Benz continues with its AMG-ification of all lines by putting their lovingly handcrafted 4.0L biturbo V8 under the hood. In the S version that's 503 hp and 516 lb-ft of torque for 3.7 second 0-60 times. Not quite as quick as the Trackhawk, but certainly more sophisticated. The 9-speed multi-clutch transmission powers all four wheels through Mercedes 4Matic all-wheel drive system, which can go from rear-wheel drive to all-wheel drive instantaneously should conditions demand. Equipped with AMG's dynamic drive system, the S includes a "Race" mode because we all know how much fun SUVs are to drive on the track.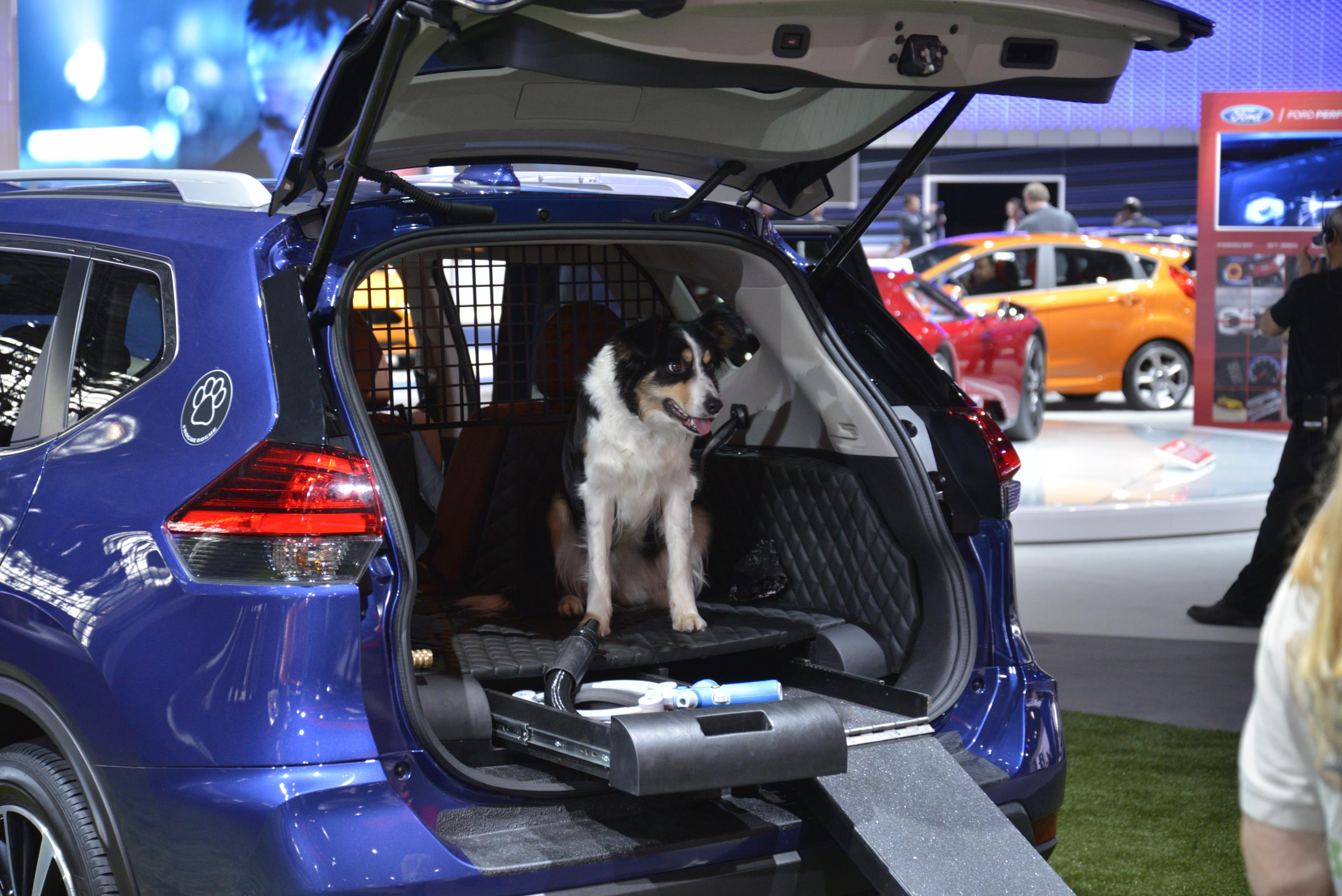 Nissan Rogue Dogue
The Nissan Rogue isn't new, but the company made it the centerpiece of their stand. In addition to the standard Rogue and Rogue Sport, Nissan brought a few unique concepts to the Big Apple: Rogue Trail Warrior project, "Rogue One: A Star Wars Story"-inspired vehicles, and our favorite a K9-friendly Rogue Dogue project car. Built by Dennis McCarthy, car coordinator for the Fast & Furious films, the Rogue Dogue has built-in food and water dishes, a removable dog bed, harness clips, poop bag dispenser, slide-out ramp, dog wash shower, and a dog-drying system. Nissan commissioned the concept after surveying 400 dog owners and discovering that 83 percent say it is just as important for their dog to be safe and comfortable in their vehicle as other passengers.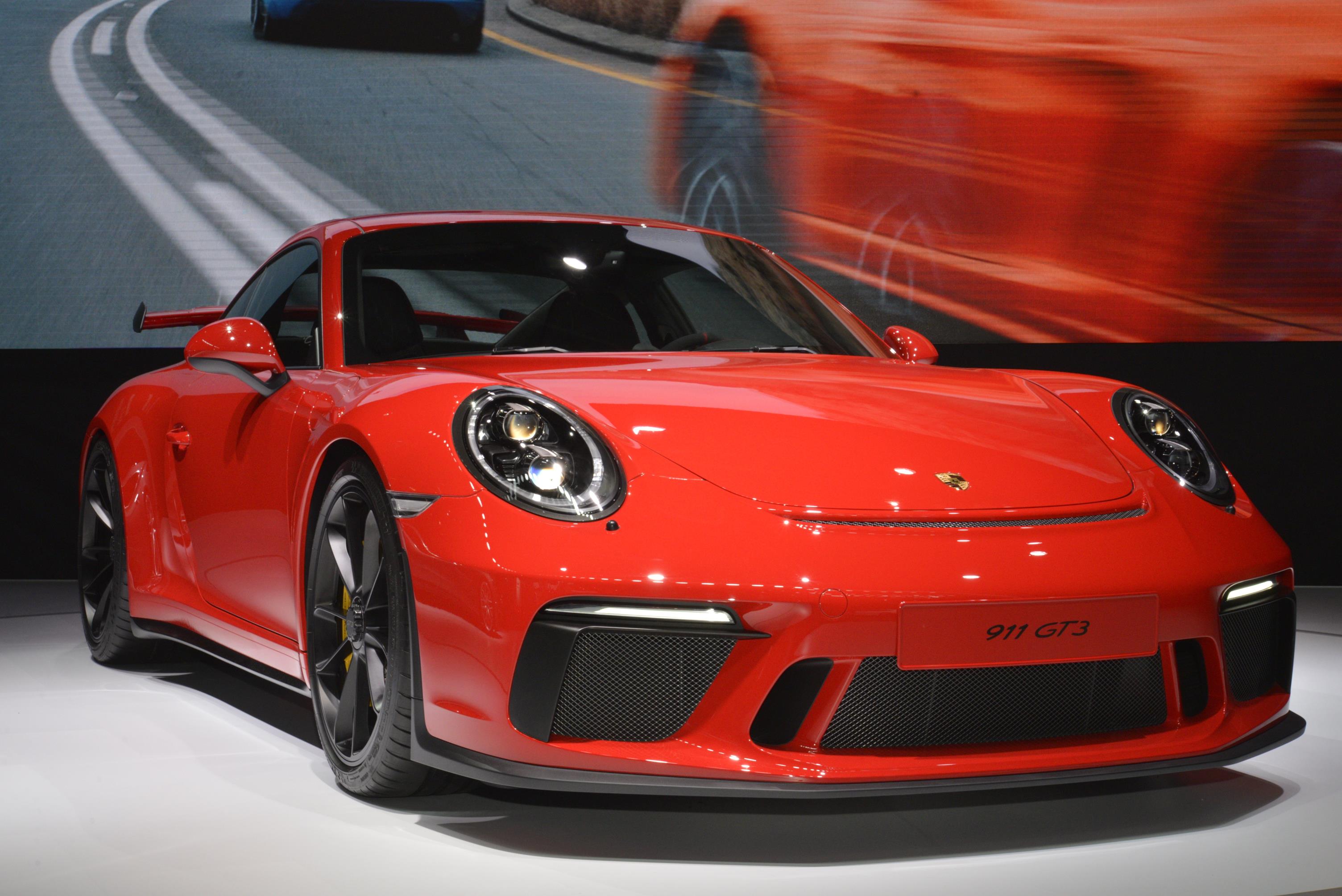 Porsche 911 GT3
There were no new cars on the Porsche stand. We'd seen the Panamera Sport Turismo, 911 GTS and 911 GT3 in Geneva. But that didn't keep Porsche from making news in New York. It's rare that automotive journalists cheer at a press conference, but that's what happened when Porsche announced they'd be selling the 2017 GT3 with a 6-speed manual transmission. That's right friends, now you can row your own gears, even though Porsche pointed out their 7-speed PDK dual clutch automatic is quicker at 3.2 seconds 0-60. Who cares about a few tenths when you get a third pedal and something to keep your right hand occupied while lapping your favorite road course.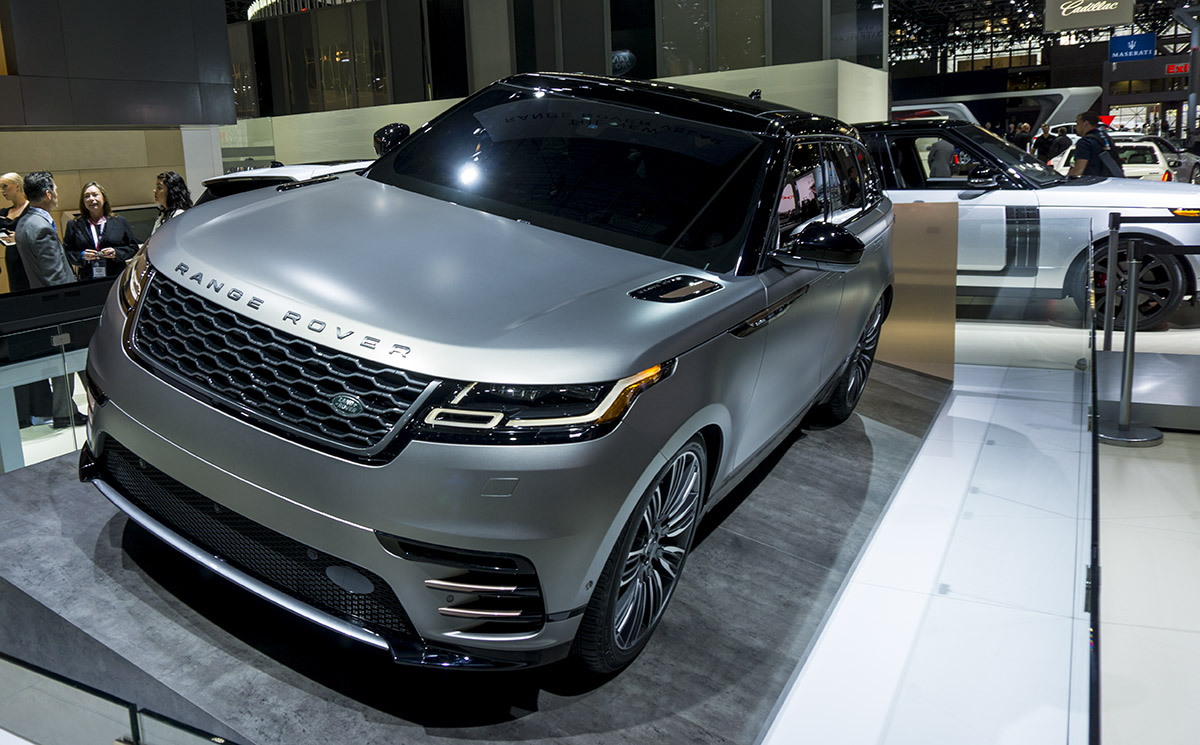 Range Rover Velar
Another Geneva veteran, the Velar makes its North American debut on the west side of Manhattan. Slotted between the Evoque and Discovery, it offers all the capabilities you've come to expect from Range Rover with a little more comfort and a whole lot of style. Yes, most of these will be seen riding curbs in Whole Foods parking lots, but it's nice to know you have the capabilities to cross and African dessert if you ever need to.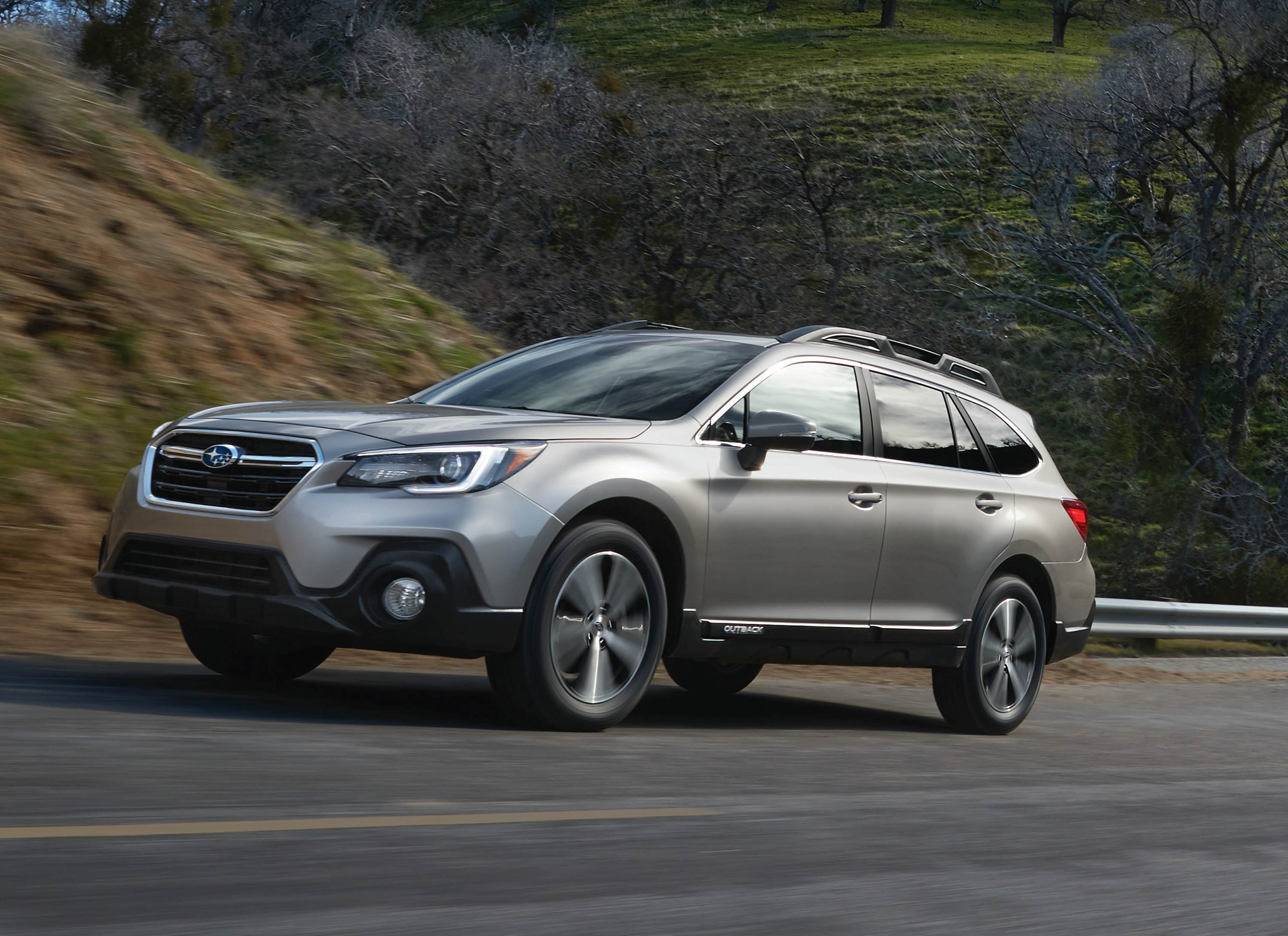 Subaru Outback
The Subaru Outback is such a likable car that it has posted month-over-month sales growth for the past 64 consecutive months. With that in mind, Subaru's 2018 update didn't have to change much; the upgrades the Outback received were all about comfort and safety. All trim lines include more premium materials than we've seen on an Outback, and they've updated their multimedia system. Headlights have been redesigned – they have a new look, high beams automatically turn off when they sense oncoming traffic, and the Steering Responsive technology turns the lights to the direction the wheels are turning. Essentially, you'll still be able to take the Outback anywhere, you'll just be a little more comfortable while you're in the car.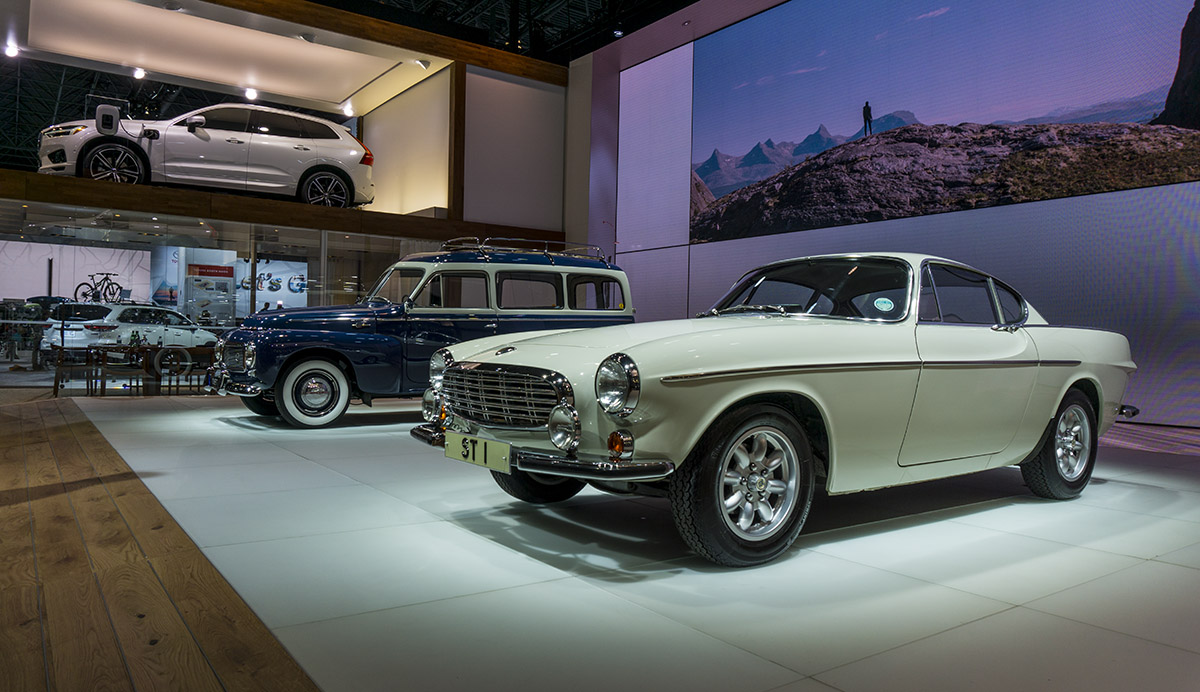 Volvo XC60
If you look closely, way up high behind the 1967 1800S and Duett wagon, you'll see the XC60 Hybrid. It's a very nice SUV built on Volvo's scalable global architecture platform. It has two powertrain options and a lovely interi… but O my god! Look at the Volvo 1800 and Duett. Those thing a so cool. So classic. So interesting. But back to the XC60, it has all of Volvo's latest safety features including the option to include Pilot Assist, Volvo's advanced semi-autonomous driver assistance system, which takes care of steering, acceleration and braking on well-marked roads up to 80 miles per ho… wait, look at the license plate on that car. ST1, that was Simon Templar's car in the classic TV show, The Saint. Awesome.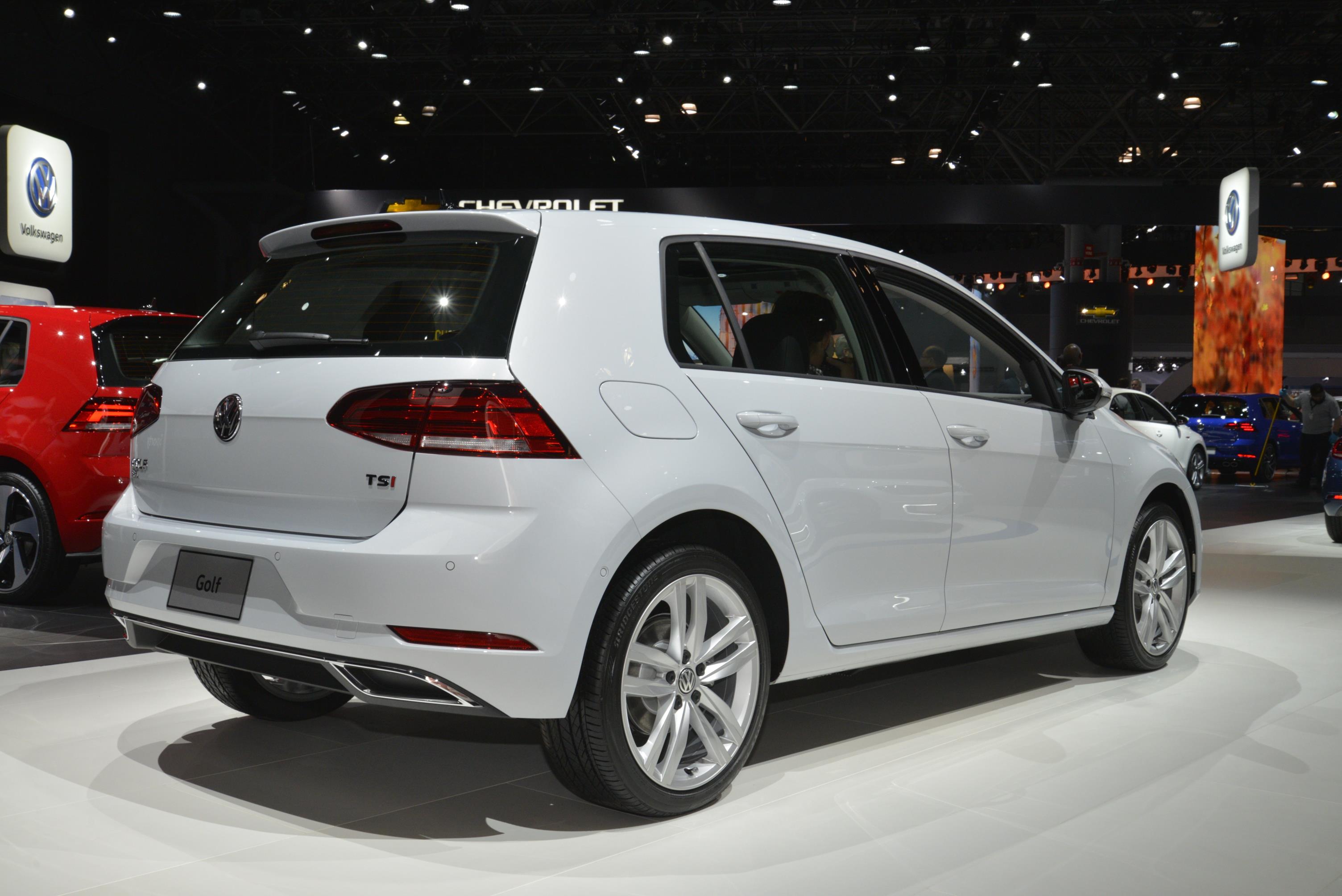 Volkswagen Golf
Volkswagen's goal for the 2018 Golf famiily was to give you more value for every dollar you spend than the outgoing version. With that in mind, the look doesn't change too much. They're all a bit sharper and sleeker than their previous incarnations, but still immediately recognizable as a Golf. The true upgrades come in the technology; the old 5-inch touchscreen has been updated to 6.5 (though you can pay to get a whopping 8 inch screen if you're into that kind of thing), and the Volkswagen Digital Cockpit allows you to customize your dashboard however you'd like. Forward Collision Assist and Autonomous Emergency Breaking is available on most Golf models, along with Blind Spot Warning and Rear Traffic Alert. More autonomous features are available, but not on every model.