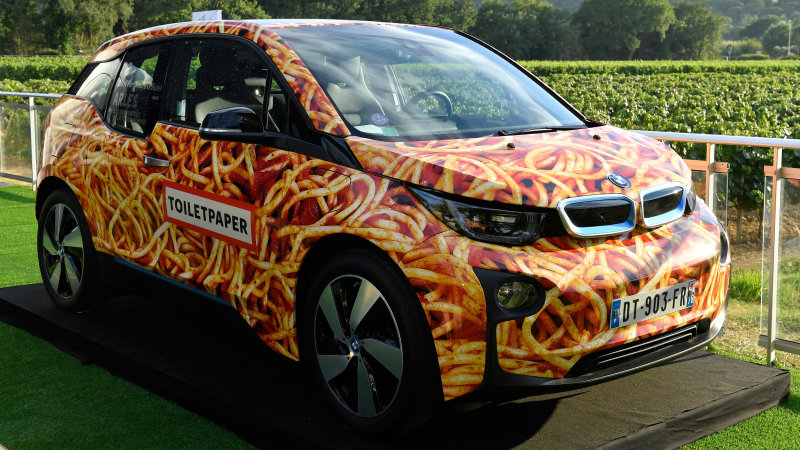 Proving, one can suppose, that BMW has something for every taste, a Swiss collector bought a BMW i3 painted like a big pile of marinara-drenched spaghetti for €100,000 (approximately US$116,775). The full-drivable electric vehicle was designed by satirical Italian artist Maurizio Cattelan and photographer Pierpaolo Ferrari — of the art publishing partnership known as TOILETPAPER (no comment) – and was sold this week in Saint-Tropez, France, during an intense bidding war at the Leonardo DiCaprio Foundation's Fourth Annual Gala to benefit global environmental projects.
BMW France donated the drool-worthy vehicle, which was created in 2016 by Cattelan and Ferrari as a "rolling sculpture" for BMW France and the Rencontres d'Arles Festival of Photography. To decorate the exterior of the BMW i3, TOILETPAPER employed close-up imagery in their signature style. "This is by far the best Spaghetti Car I have tasted," Cattelan commented at the time. "All those years of perfecting definitely paid off! Totally awesome!"
This year's LDF gala (which did not serve spaghetti) was hosted by Founder and Chairman Leonardo DiCaprio, foundation CEO Terry Tamminen, and the Global Fundraising Chairman Milutin Gatsby, honoring the Mayor of Paris, Anne Hidalgo. Event Chairs included Prince Albert II of Monaco, Cate Blanchett, Marion Cotillard, Philippe Cousteau, Penélope Cruz, Tom Hanks, Kate Hudson, Doutzen Kroes, Jared Leto, Tobey Maguire, Edward Norton, Emma Stone, Uma Thurman and Kate Winslet. Among the guests in attendance were Adrien Brody, Sean Penn, Iman Hamman and Gerard Butler. Lenny Kravitz performed in concert, featuring a surprise performance by Madonna.
Besides the pasta auto, the fundraiser also auctioned off dozens of non-motorized works by Jeff Koons, Tracey Emin, Urs Fischer, Paul McCarthy, Adrian Ghenie, Rudolf Stingel, and current BMW Art Journey recipient Max Hooper Schneider.
From Andy Warhol and Roy Lichtenstein to Robert Rauschenberg and Jeff Koons, BMW has been collaborating with artists to create Art Cars for nearly 50 years. Cattelan's works have previously sold as high as $17 million. It seems apropos to mention that the same year that he created the BMW Spaghetti Car, Cattelan also installed a solid 18-karat gold toilet (named "America") in the Guggenheim Museum's restroom for public use. Reports that Donald Trump has signed a Presidential order to have the golden throne relocated to the Oval Office little-boys-room could not be confirmed by press time.
Photo courtesy of Getty Images for Leonardo DiCaprio Foundation