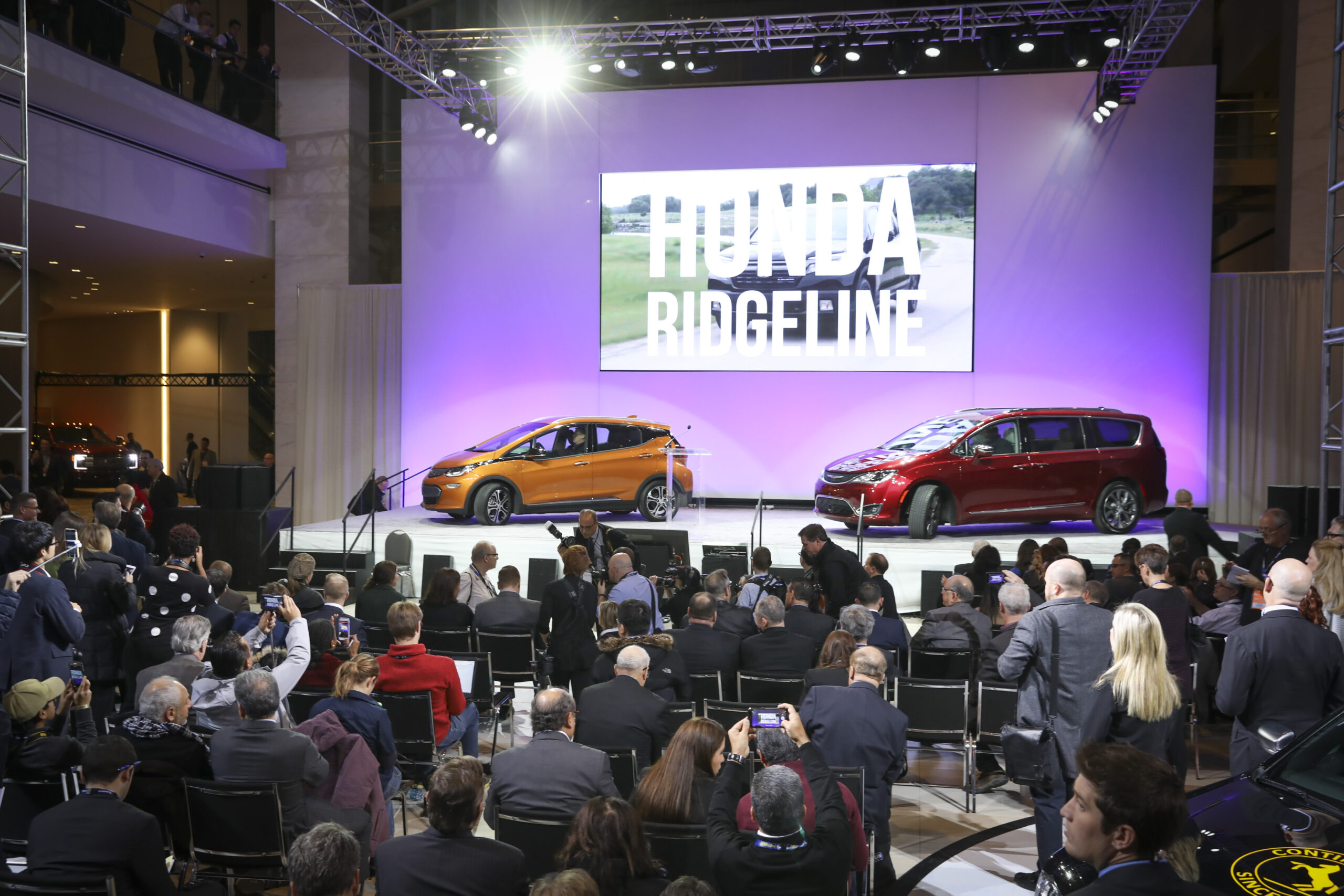 It's a new year, and that means another Detroit Auto Sh… excuse us, North American International Auto Show. While there were a few highlights this year, Kia's Stinger and the 2018 Toyota Camry were especially big surprises, for the most part the show was a little subdued. Maybe it's the uncertainty in the economy or the new political environment, but the energy was definitely lower than last year. There were some major names missing. No Jaguar. No Porsche. No Land Rover. No Bentley. No Mini. No Maserati. And other manufacturers chose to announce new vehicles the week before at CES or like Hyundai hold off a few weeks until the Chicago Auto Show.
The show started off with a bang with the Chevrolet Bolt, Chrysler Pacifica, and Honda Ridgeline winning the North American Car, Utility Vehicle, and Truck of the Year respectively. And it was great catching up with so many of our automotive industry and journalist friends. We have one request for next year, however. Move the show to June so we don't have to visit Detroit at its worst instead of its best.
Acura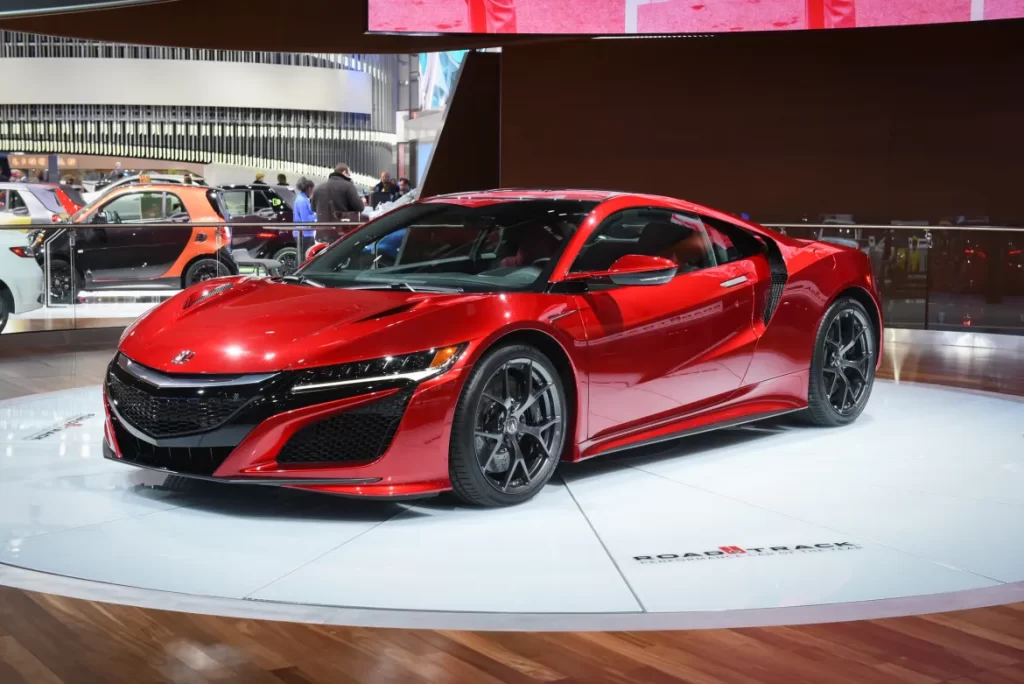 While its sister brand Honda was busy sharing the new Odyssey minivan with the world, Acura sat quietly with nothing new for the automotive press. Their stand includes a red NSX for the third year in a row, their GT3 racer, their soon to be redesigned sedans and their RDX and MDX crossovers sporting the new front end they debuted last year. Hopefully we'll hear more from Acura soon, but we're not holding our collective breath.
Alfa Romeo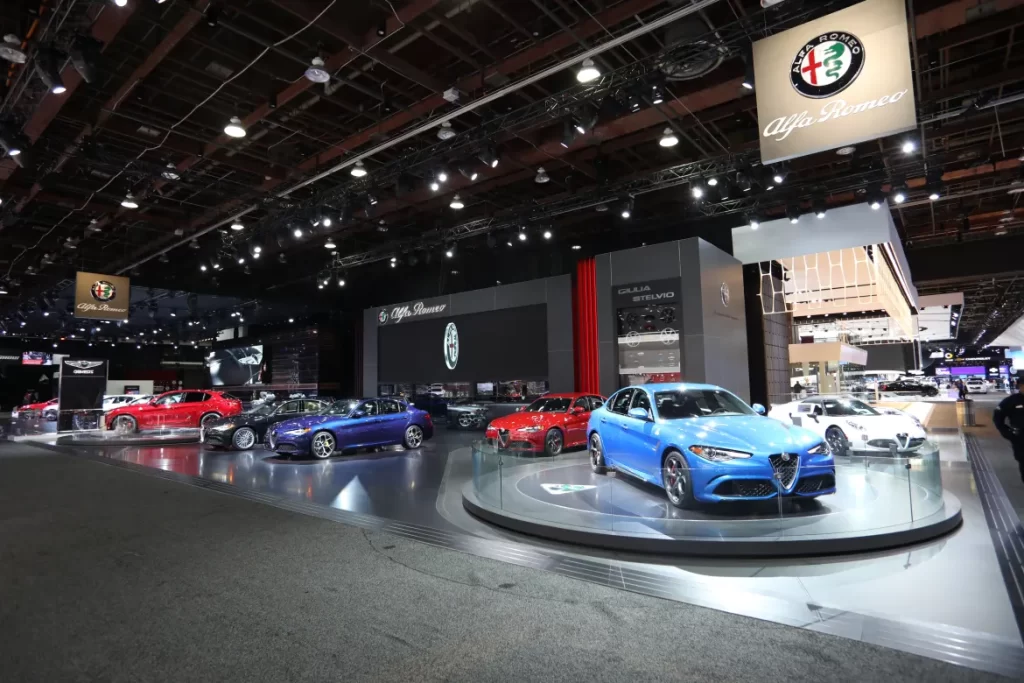 Like all of the FCA brands, there were no world premieres on the floor of Cobo Hall for Alfa Romeo, but that doesn't mean there was nothing to see at the Alfa stand. Because, apparently, you're not a real car company without an SUV, Alfa had their new compact crossover, the Stelvio, on display. Named after northern Italy's famed Stelvio Pass, it features an available 505 hp bi-turbo V6, an 8-speed automatic transmission and three different drive modes. Alfa also had several versions the Giulia including the high performance Quadrifoglio model, and the 4C coupe and Spyder on display.
Audi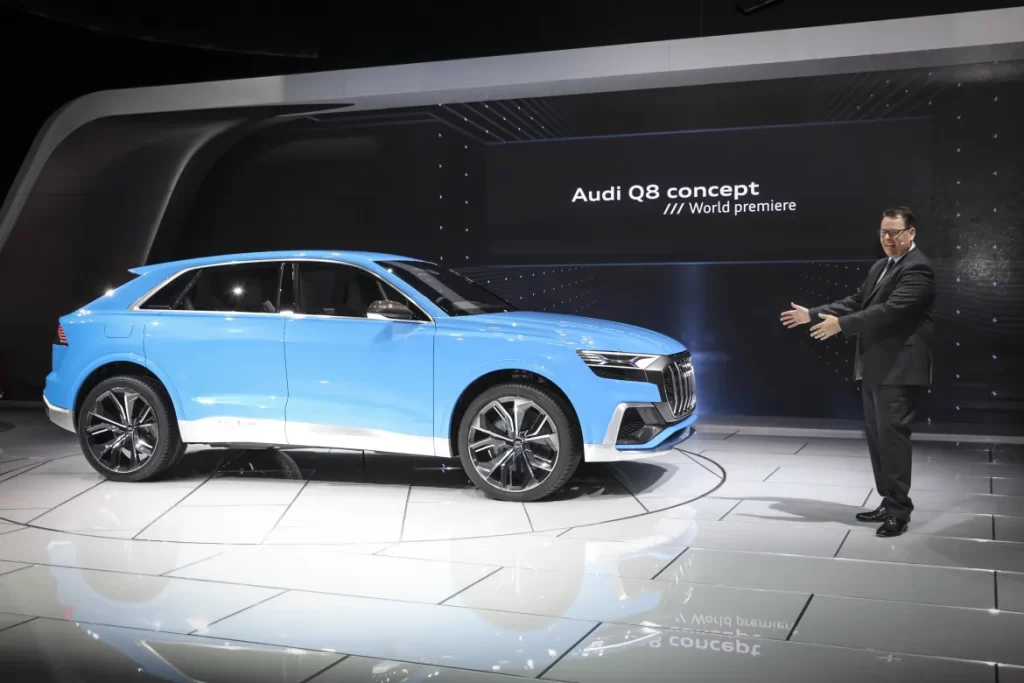 Audi presented early in the day, a hazard. When everyone else presents after you you need to do something special to stick in our brains. Audi went for it, providing us with two updates and a brand new concept.
They updated two members of the A5 family, the A5 and the S5 Cabriolet. The design language is drawn straight from the A5 coupe with a wider flatter grille, lower and longer hood lines and a more pronounced shoulder wave design. While things look updated, everything is very distinctively Audi, and not at all off the beaten path.
They also presented the Q8 concept, a crossover SUV that they describe as "Full-size SUV in coupe design." We don't really know about all that, it doesn't really seem like a vehicle designed for true wilderness utility, but it's roomy and comfortable, with all the features you need driving around the city or on a long road trip.
The whole thing does feel more diminutive than the typical crossover. The roofline curves and slopes, and does in fact look coup inspired, and the whole exterior has an elegant and minimal feel. The interior feels roomy despite the smaller look, it can comfortably seat four. The design inside and out is, like the A5 additions, very distinctively Audi.
All in all, Audi gave us three concepts, but more of the same. That's not a bad thing – Audi's been making great looking cars for years and these three are no exception. If you're a fan of the brand go check them out and prepare to be very happy. But if you're looking for the biggest exciting surprise at the show don't prioritize this one.
BMW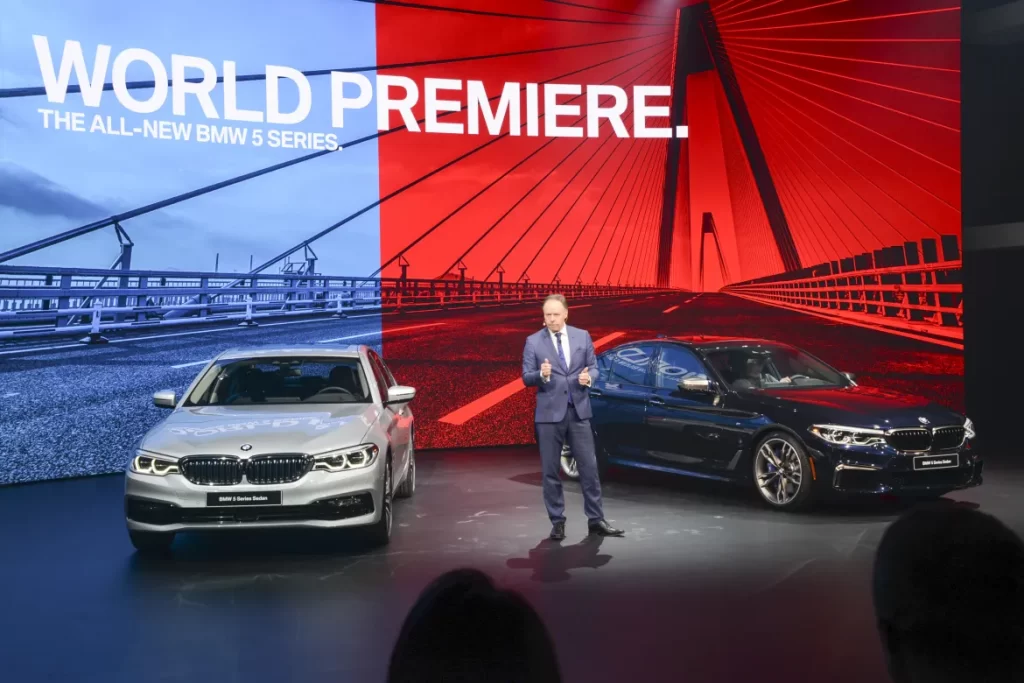 BMW, seeking to turn its sales fortunes around in the US, introduced a new 5 Series sedan in Detroit along with several other ePerfomance hybrid models and the X2 Crossover concept.
Highlights for the 5 Series include improved performance, updated design, and enhanced electronic systems. Engines include a 3.0 liter turbocharged V6 making 335 hp in the 540i, a 456 hp twin-turbo V8 in the 550i, and a 4-cylinder gas/electric hybrid that develops 248 hp in the 530e. All are available with xDrive all-wheel drive. Advanced electronic upgrades include improved voice control, remote control parking and semi-autonomous driving features like active lane keeping with a traffic jam assistant that steers the car for you in stop and go traffic situations.
BMW also has ePerformance Hybrid versions of its 3 Series, 7 Series, and X5, as well as the i3 and i8 performance electric cars on display.
The X2 concept, first shown in Paris, sets the direction for a new sportier crossover for the brand and will slot in between the X1 and X3. While no production date has been announced for the X2, this sportier SUV should go head to head with the Alfa Stelvio and Porsche Macan.
Buick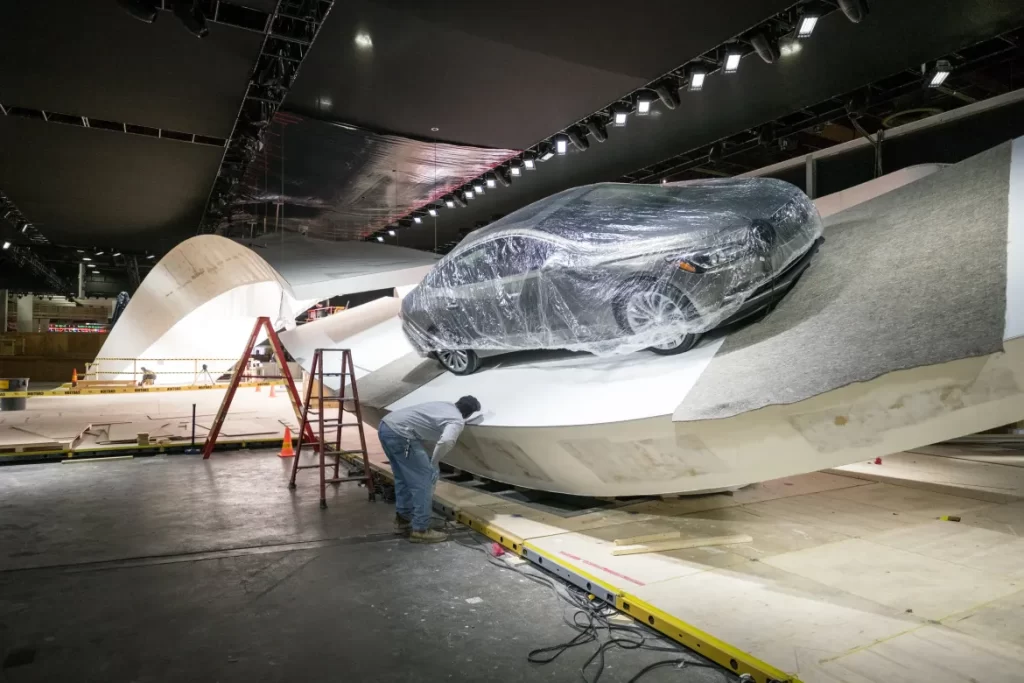 After making a lot of noise last year with its Avista coupe, Buick is quiet in 2017, letting other GM brands take their turn in the spotlight. The Lacrosse, which was unveiled late last year in LA, is on display above the stage for dramatic effect. It will go on sale early this summer. The rest of their large stand was adorned with every model in the current lineup.
Cadillac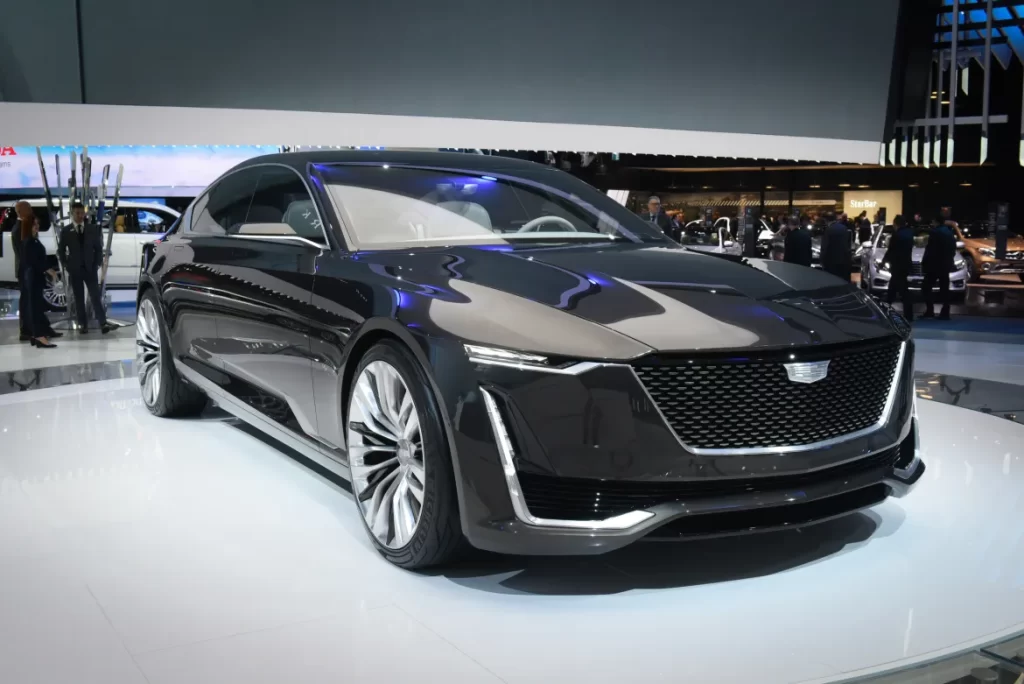 Having introduced two new cars last year, the XT5 and CT6, Cadillac was content to bring its Escala concept to Detroit. Unveiled in August in Pebble Beach, the Escala is a beautiful study designed to showcase the future of Cadillac's overall design language and a platform for future technologies. It features a new front design that Cadillac's president Johan de Nysschen says will begin appearing on next generation vehicles. Inside there are 3 large OLED display screens and the overall design is said to serve as a prototype for future connectivity and driver controls. With their history of not producing gorgeously penned concepts – see the Ciel convertible and Elmiraj Coupe – don't expect to see the Escala in showrooms, but several ideas in this car will make it into future Cadillac cars and crossovers.
Chevrolet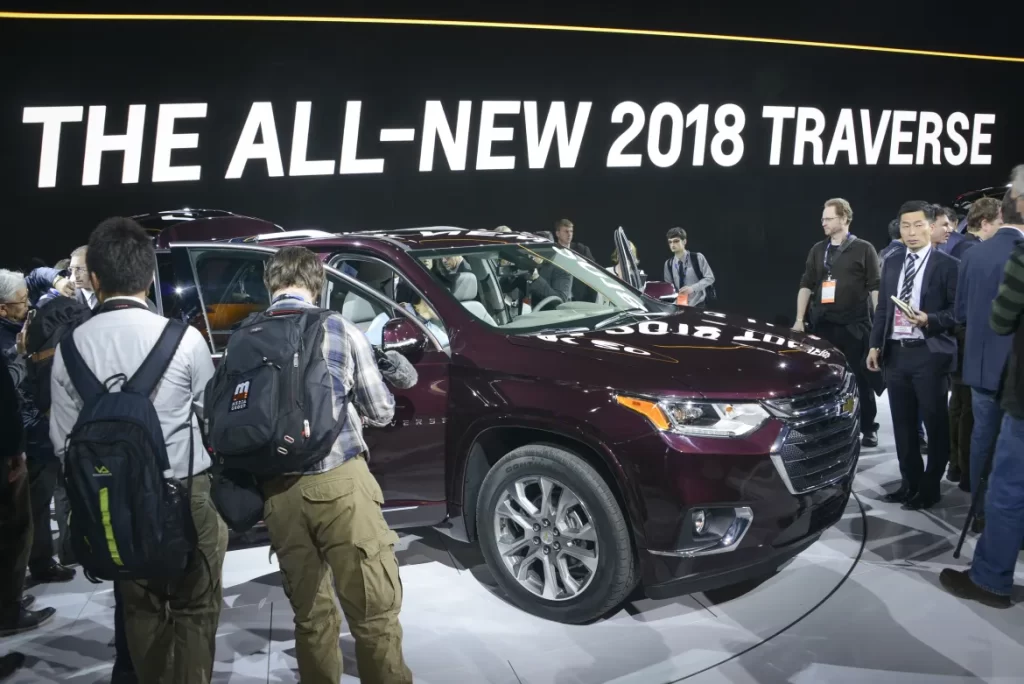 Chevy had a pretty good day. That may be the understatement of the show.
They kicked off Monday morning bright and early with an expected but well earned North American Car of the Year award for the brand new Chevrolet Bolt. No one in the press room was surprised by this one. The Bolt blew away the maximum range for any other fully electric car, and comes with an affordable price tag to boot. Owners are giving it highly positive reviews and it really feels like the Bolt is doing what we all hoped for from Tesla – it's pushing the industry in new directions.
Temper your expectations for this week, though, because the Bolt at the show is display only. The public will not be allowed to sit in or even touch it at NAIAS.
Later in the day they introduced us to the redesigned 2018 Traverse. While it's only midsized, the shape and styling of the exterior look more like a full sized SUV – they're not trying to make it seem smaller from the outside. It can seat up to eight, with what they expect to be a best in class in third row legroom. It comes loaded with all the connectivity and entertainment features we expect out of a Chevrolet SUV, and we were pleasantly surprised by the design and detailing of the interiors. It felt richer than what we've come to expect here. Based on look and feel, you can line the Traverse up against any other mid-priced SUV, and it stands out.
FCA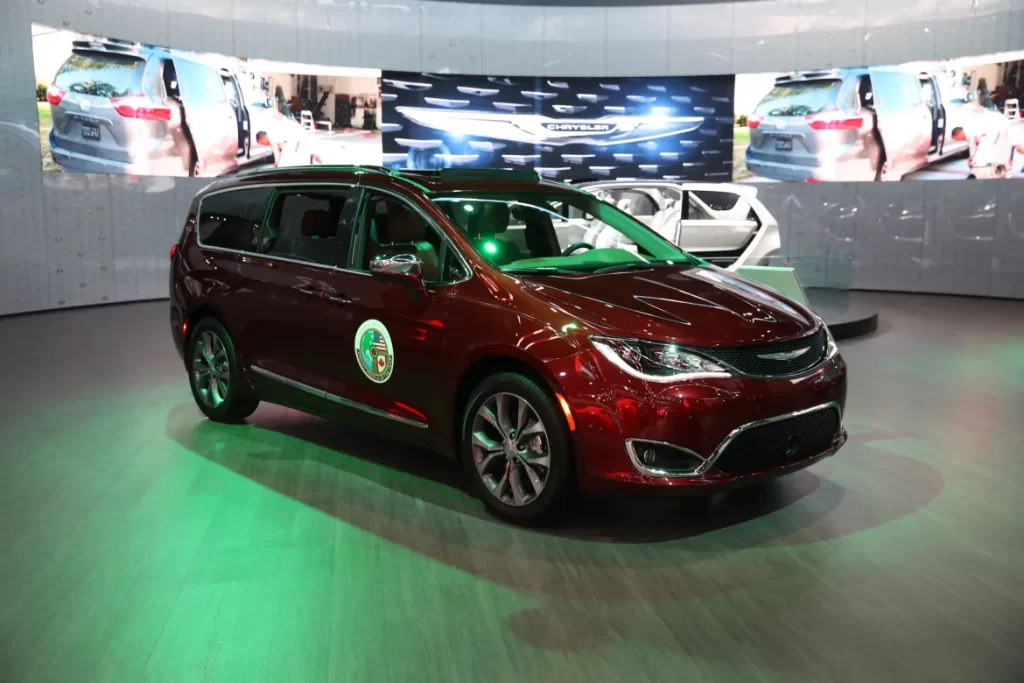 Where to start with this agglomeration of brands: Chrysler, Dodge, Jeep, Ram, and Fiat. The big news here is that there was no news. No new cars. No new engines. No new models. They did have a fun Hellcat Challenger racing simulator and they blacked out the trim on a Ram Rebel pickup and called it the Rebel Black. The all-around excellent Pacifica was named the North American Utility Vehicle of the Year. And they announced that they would soon be reintroducing the Jeep Pickup truck and the Wagoneer. Finally, in an attempt to stay out of the President-elect's Twitter feed, FCA reiterated their announcement from last year that they would invest a billion dollars in its plants in Warren, MI and Toledo, OH with a promise to add 2,000 jobs.
Ford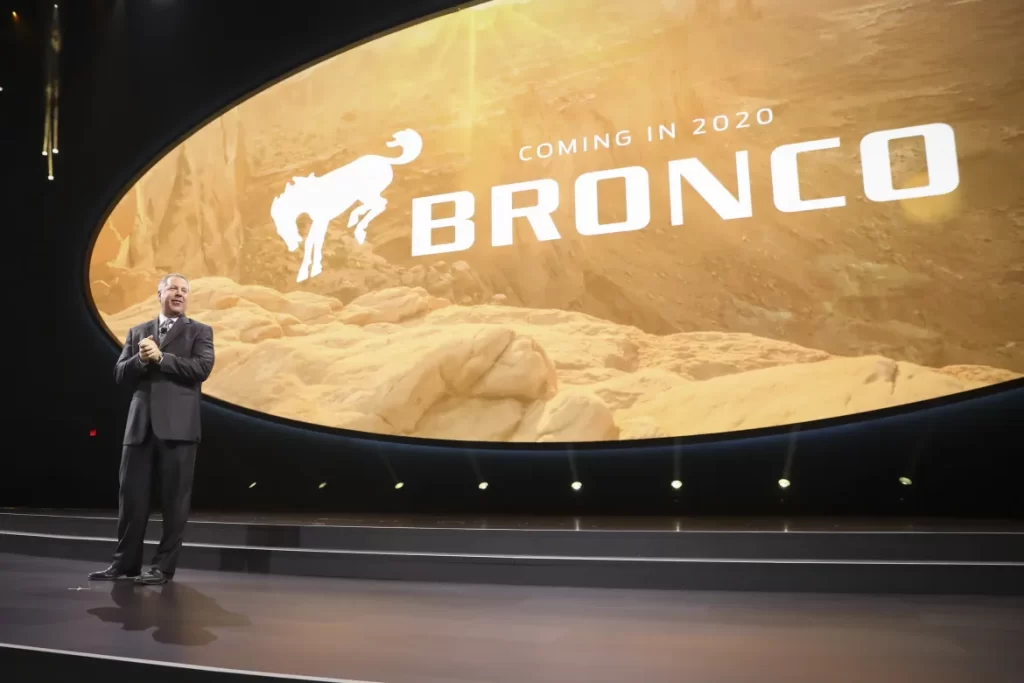 Ford builds a behemoth of a booth at the Detroit Auto Show with what seems like hundreds of cars and a second level this year devoted to trucks. The news of course was the refreshed 2018 F-150 which we covered earlier. But music to our ears was that Ford will be bringing back the Bronco and Ranger in the next few years. Other items of interest on the stand, is a great VR racing experience, a beautiful red Ford GT street car, and the Ford GT racer that won at Le Mans, complete with all the dirt and grime still on it from the race.
GAC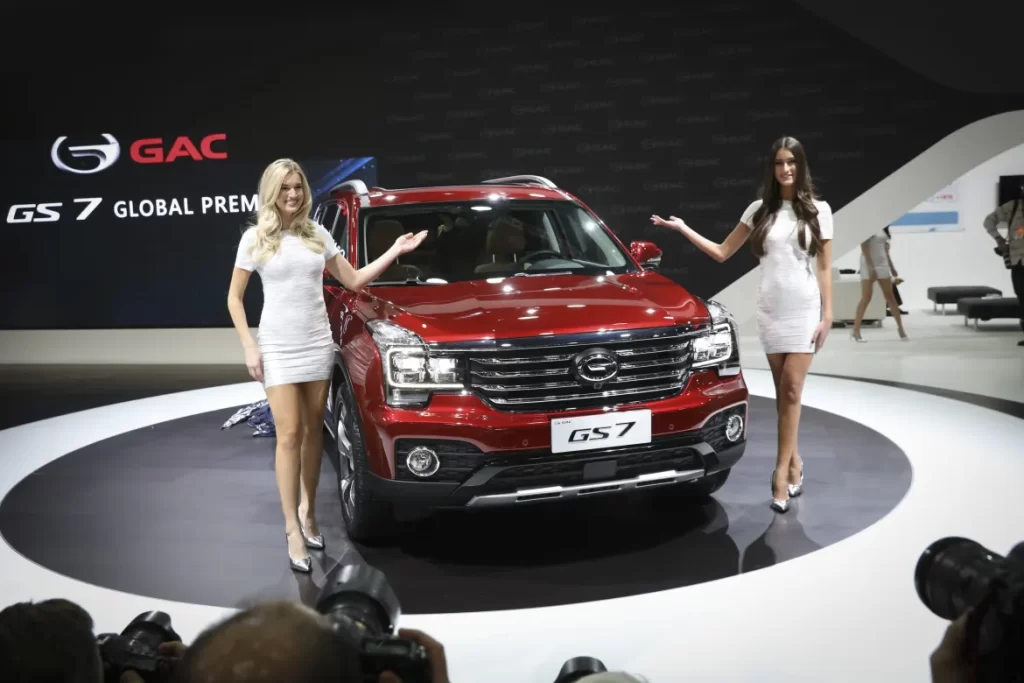 State-owned Chinese enterprise, Guahzhou Automotive Company (GAC) made their first appearance in Detroit and introduced three vehicles intended for U.S. import named (and we're not making this up) Trumpchi. Their four models at the show include the GA8 full-size sedan, GS7 mid-size SUV, EnSpirit plug-in hybrid crossover, and GE3 all electric compact with a range of about 170 miles. They expect to begin selling cars in the U.S. in 2019. While it's easy to dismiss GAC as a second-tier car company with inferior products, that's pretty much how people felt about the Koreans 25 years ago. Only time will tell if GAC is the next Hyundai or Yugo.
Genesis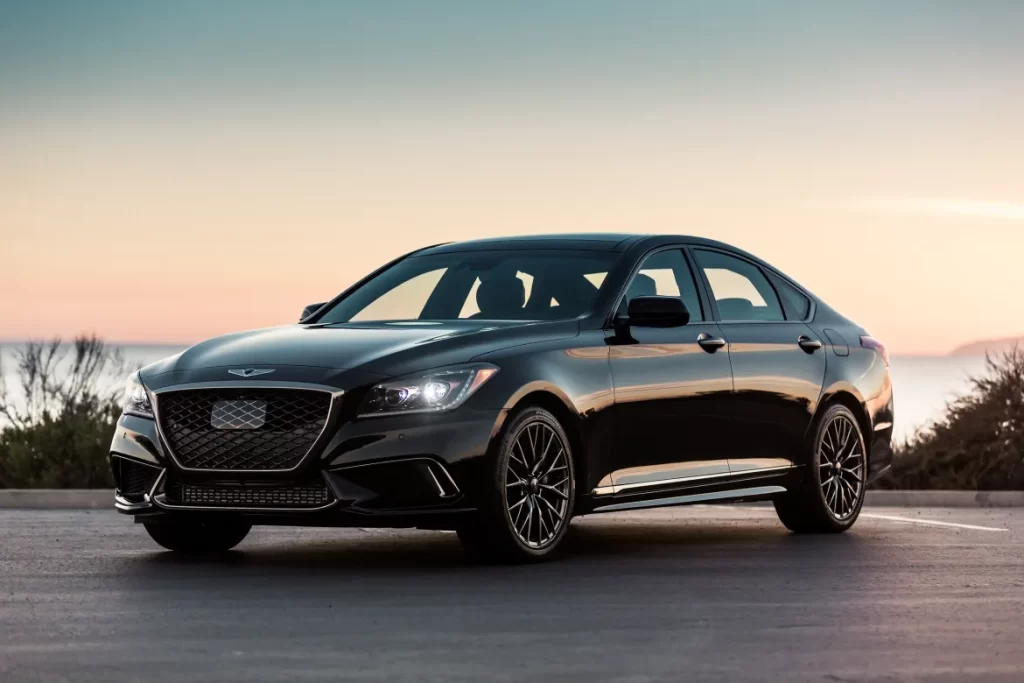 Genesis made a splash last year in Detroit launching its upscale brand to the world and laying out its product plans. Currently with just two models in the line, the G80 and G90, more are slated to arrive in the near future. For Detroit, Genesis handed the G80 to Albert Biermann, former head of the BMW M division, and told him to go wild. He did and the result is the G80 Sport. The mid-size sport sedan features a 365hp V6 engine, sport-tuned 8-speed transmission and an upgraded suspension that is promised to deliver greater agility in either two or all-wheel drive configurations.
GMC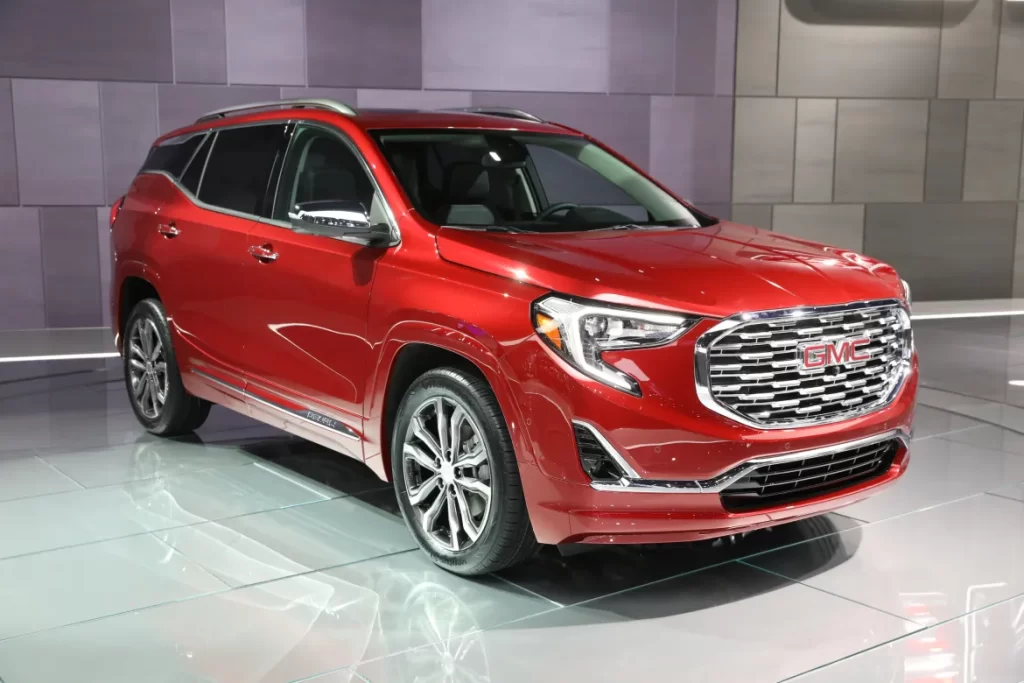 GMC got a jump on the proceedings, unveiling the 2018 Terrain at the Museum of Contemporary Art Detroit Sunday night before the official opening of the show. Smart move, because this was one of countless crossover SUVs and crossover concepts that journalists would be looking at. By moving it the night before, they ensured we'd remember.
So what do we remember? First off, this SUV is on brand. The exterior is classic GMC SUV, with the giant signature grill and molded aerodynamic body. The crossover is available with three turbocharged engines, a 1.5L, a 2.0L, and an all-new 1.6L turbo-diesel.
The interior details are thoughtful and seem intuitive. The big news here was the introduction of a push-button gear shifter. Six buttons on the dashboard move the car from park to drive to reverse, freeing up a ton of center console space. They used this new room to give us side-by-side cupholders, and an extra deep pocket for phones and other devices.
While the cabin is roomy and comfortable, there was a little something missing. We've come to expect a certain amount of near-luxury from GMC that the new Terrain interiors just didn't project.
Honda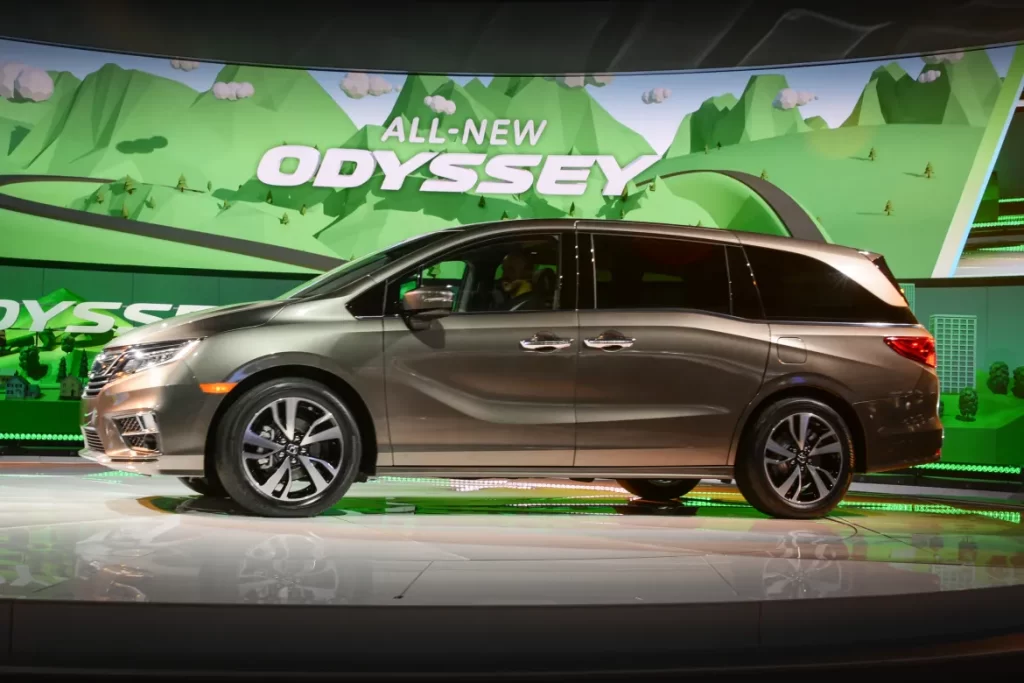 This was a pretty eventful show for Honda. The excitement started first thing in the morning when the Honda Ridgeline was named North American Truck of the Year. It was our favorite going in against the F-250 Super Duty, and the Nissan Titan, because it expands the definition of a truck offering things like a more car-like ride and an in-bed trunk.
Then they brought out the new Odyssey. You know, it's hard to get genuinely excited about a minivan, but there were several memorable moments with the updated 2018 version. It's as safe and powerful as the previous version, with an updated body and chassis design underpins which help keep the cabin incredibly quiet.
It's also coming packed with features that would be a huge help in hauling kids (adult kids included). Each seat has an entertainment system, which can be connected or used individually. A virtual jukebox allows up to eight passengers to add their music to a playlist. With Cabin Watch and Talk, the driver can keep visual tabs on the very back seat, and even send them messages through the speaker system. Remember your mom telling you she has eyes in the back of her head? Well now she kind of does.
The most innovative piece of the car were the two seats in the second row. Unlock the position, and they glide easily between four different configurations, making it easier to get extra people, luggage, groceries, or anything else in and out of that third row. It's such a simple but elegant solution to the awkwardness of climbing out of the back of a van that we can't believe noone has thought of it before.
So is the Odyssey a showstopper? As much as any van can be.
Hyundai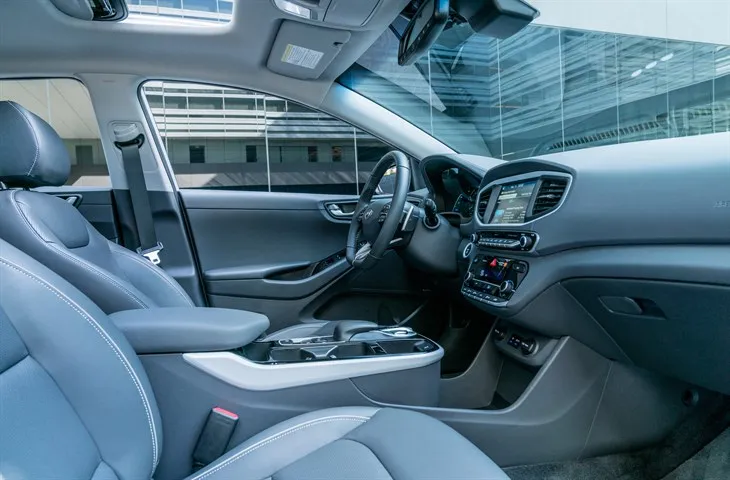 Hyundai elected to take their moment at CES last week. While this does mean there was nothing brand new, it certainly didn't mean there was nothing to look at. The IONIQ, first seen at CES, is available as an electric, a hybrid, and a plug-in hybrid, making it the only car currently available with three electrified powertrain options within a single platform. Inside, the IONIQ felt like a high end electric car – by which we mean it will sell well to people who are focused on environmental concerns, but we're not sure it's going to attract people who aren't looking for an electric car.
Unfortunately the "Future of Mobility" display from CES did not make the trip to Detroit, but there's enough futuristic tech packed into the IONIQ for one day.
Infiniti
Infiniti continues its assault on boring design in 2017 by introducing the QX50 mid-size crossover concept at NAIAS. Unlike Cadillac's Escala, the QX50 is a production-intent concept that should look very close the the production model that will be released in the next year or so. Taking many cues from Infiniti's beautiful Q80 concept, the front end features the brand's double arched grille and swept back wing headlamps. Inside there it plenty of room for 5 passengers, use of high end materials, and a new design technique "dot-quilting" that is inspired by old leather furniture with button quilting. The QX50 concept fits in very nicely with the Q60, QX30 and Q50 sedan already on the floor. Next up for Infiniti, redesigning its full-sized SUV, the ungainly QX80.
Kia
Kia made a big move at the NAIAS, following through on their promise to make a production version of their GT concept. The 2018 Kia Stinger is brand new territory for Kia, and they didn't hold back. And the Stinger is a nice car. The outside is sporty and aerodynamic, but with maybe one too many details and a few disruptive seems. The back especially looks like a fast, cool car. Interiors feel high end, although the dashboard does look a little busy. All minor details that Kia can work to correct as they move forward.
The bigger issue is that the car feels like something we've seen before. It's as if the designers picked the things they liked best about what's already out there and put it together like a scrapbook. As a result we have a car that looks nice and is filled with great features, but doesn't have much of a personality. The good news is, personalities develop. We look forward to seeing Kia grow and figure out who they are as a brand as they go forward with the Stinger.
Lexus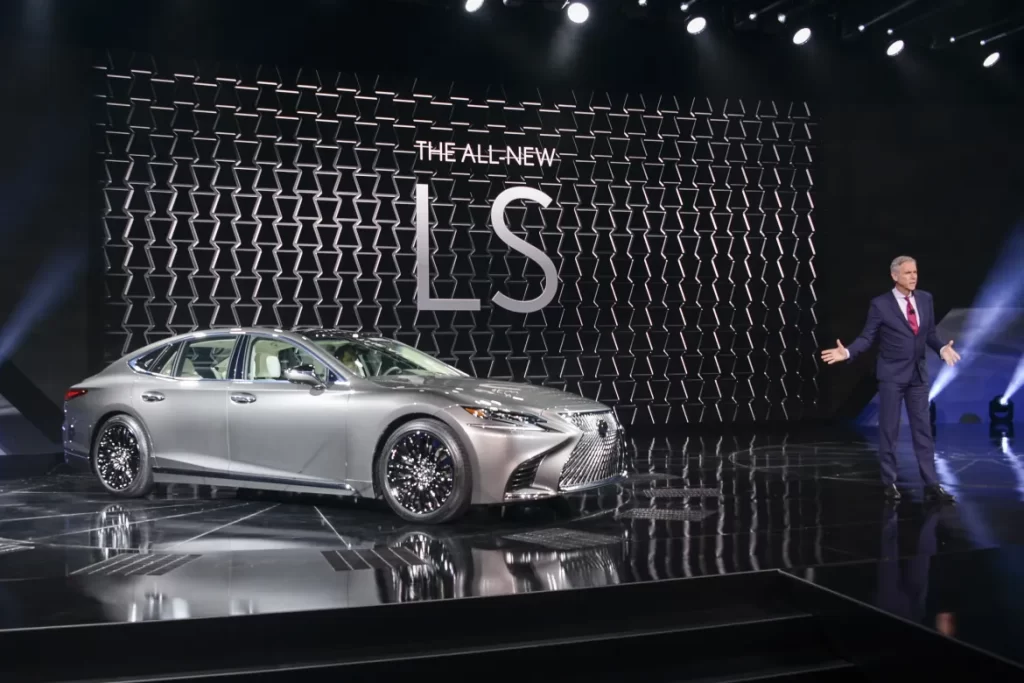 It's seems the more critics like us take shots at their signature spindle grille, the more Lexus designers dig in their heels. Case in point, the new Lexus LS. Walk around the new full-size Lexus sedan and you see all kinds of gorgeous. Elegant character lines adorn the sides. The low stance and coupe-like rear give it a rakish sporting feel. This is a seriously good looking car from a lot of angles, and then you see the front. If you like it, great. We're sure the new LS will be a dynamite car to drive and comfortable for days on end. Built on a modification of the platform that underpins the LC500 (which we'll be driving soon, stay tuned!), Lexus promises a balance between ride and handling that is more engaging. It features an all-new 415 hp 3.5 liter V6 mated to a 10-speed transmission that's designed to make the most of the engine's torque. 0-60 for the big Lexus is just 4.5 seconds. Inside, the interior details deliver on Lexus promise of the relentless pursuit of perfection.
Lincoln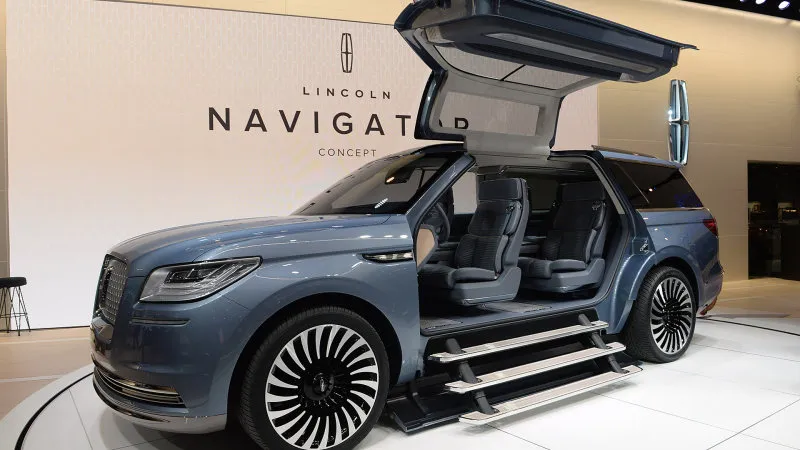 It's a quiet year in Detroit for Lincoln, having launched the Continental here last year. The Navigator concept with its double width gull-wing doors and maritime inspired interior takes center stage on the stand. Executives were hinting that we might see the long overdue Navigator production concept in New York. We will, of course, keep you posted.
Mazda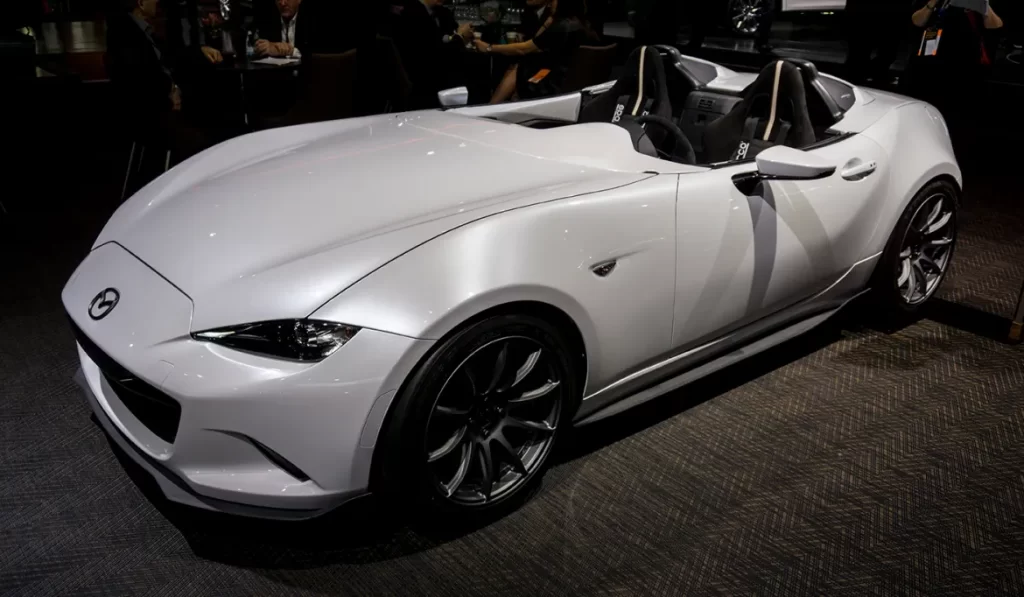 While Mazda didn't announce when they'd be making anything new, they did bring us a fun little toy to play with. Parked right behind the Mazda MX-5 Cup was this sleek roadster concept. It was a show piece, to be sure. With no windshield, that tight little body, and seats so low you had to either squat or fall to sit down, you can just tell this little roadster would be wicked fast and fun to zip around.
We already know we'll never see the car on the road in its current form (you'd have to tack a windshield on, which may ruin the look), and it's unlikely that we'll get even an edited version in the future. But trust us, you don't want to walk by Mazda without checking it out.
Mercedes-Benz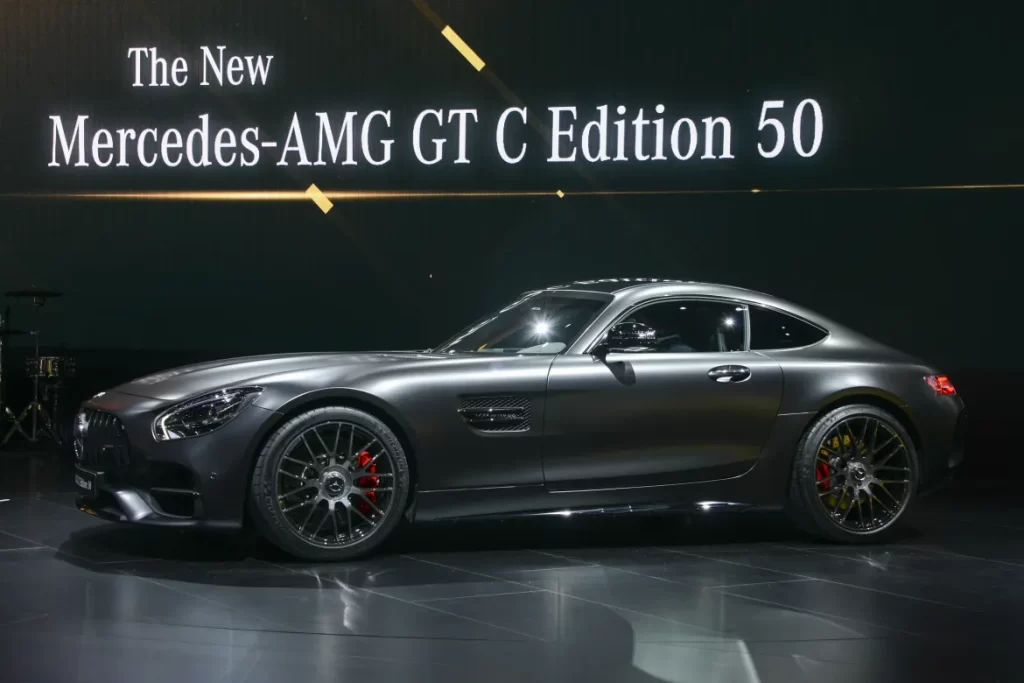 After selling 380,752 vehicles in the US, Mercedes-Benz is keeping the pressure on BMW by launching one new vehicle and two significantly updated ones: the all new E-Class Coupe, restyled GLA, and one of our favorite high performance coupes, the AMG GT. Celebrating the 50th anniversary of their partnership, Mercedes and AMG showed off the AMG GT C Edition 50. In addition to all the enhancements the regular GT gets (front end styling, upgraded, race-inspired suspension, more power in its 4.0L V8) the GT C Edition 50 gets exclusive Graphite Grey Magno paint, black chrome highlights to the side trim, front splitter, grille and tailpipes. It also features the AMG Interior Night package, which includes steering wheel spokes, shift paddles and door sill panels finished in black. Only 50 Coupes and 50 Roadsters of the GT Edition 50 will be available worldwide.
Nissan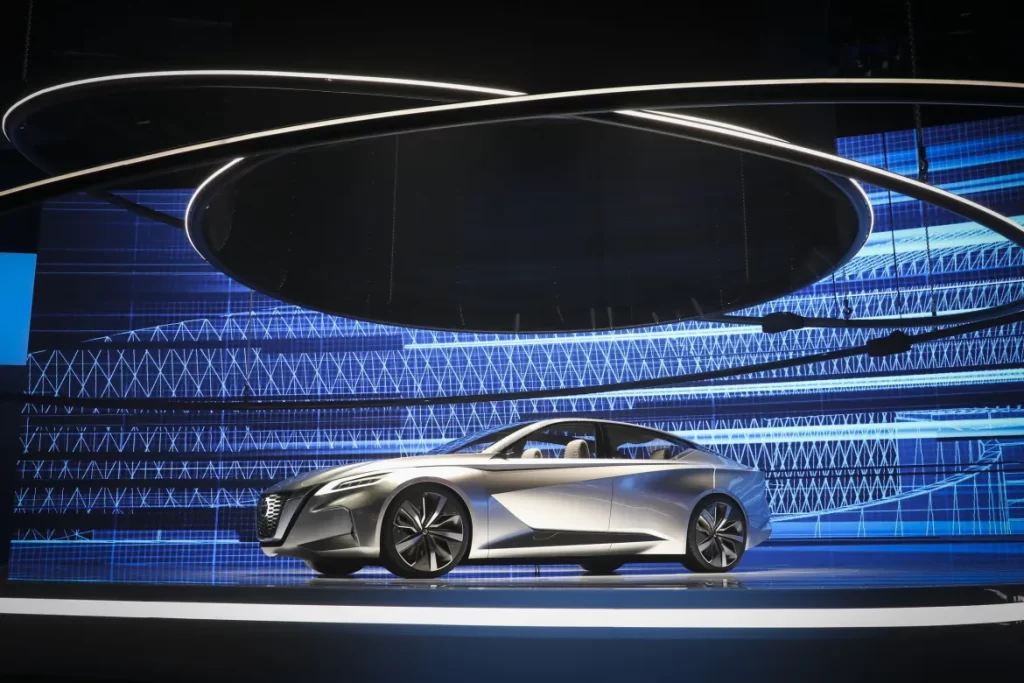 Nissan opened their press conference announcing, you guessed it, a crossover! If you're sensing a theme here, you're not wrong.
The Rogue Sport has a 2.3 inch shorter wheelbase and a 12.1 inch shorter overall length than the Rogue Classic, but comes with all of the features and design aspects that helped the Rogue break Nissan's single month sales record in December of last year. Combining their most popular car with the most popular category seems like a no brainer. They're calling the Rogue Sport "Right Sized." Given the sales growth for this category, it certainly seems like it'll be the right size for Nissan.
Not wanting to blend in with all the crossover noise, Nissan also gave us a concept sedan, the Vmotion 2.0. Nissan is definitely taking a step into the future with this concept. It comes loaded with an updated version of ProPILOT, Nissan's autonomous program – no one is saying it will be fully autonomous, but it will come with more practical functionality. The sleek lines and wrap around rear-glass and a floating C-pillar look sleek and new, and the more assertive grill on the front end feels powerful. In addition to crossovers, big grills are trending now – we're used to them on Lexus and GMC, and Nissan is one of more than a couple brands that are beefing up the front end.
Subaru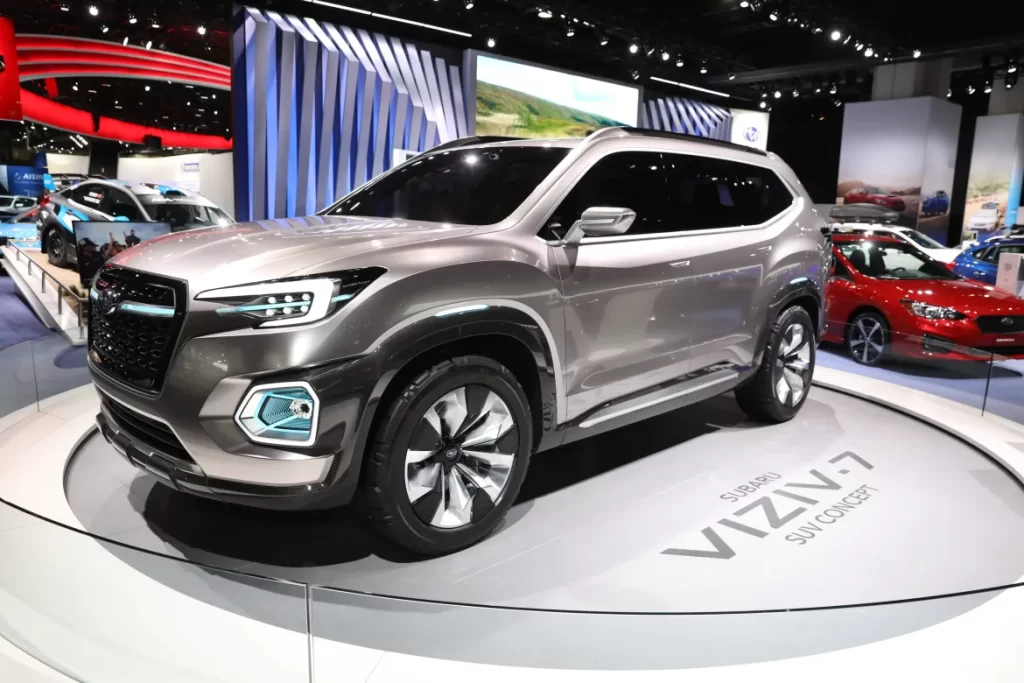 Subaru didn't make much of a spectacle in Detroit, but they did bring along the VIZIV-7 concept for those of us unable to make it to LA. This is no trendy crossover. It's the largest vehicle in the fleet, with three rows of seats and room to stretch out. The interior was roped off so we couldn't get in there and feel around, but we can say the exterior styling was clean and sleek. The front was a little startling – if you took the logo off the grill we'd swear it was a GMC. The VIZIV-7 comes to market early next year, so we'll certainly have a few more chances to check it out and report back before you're looking at picking one up. Given Subaru's history of making capable and comfortable utility vehicles, we're excited to see this move from concept to reality.
Toyota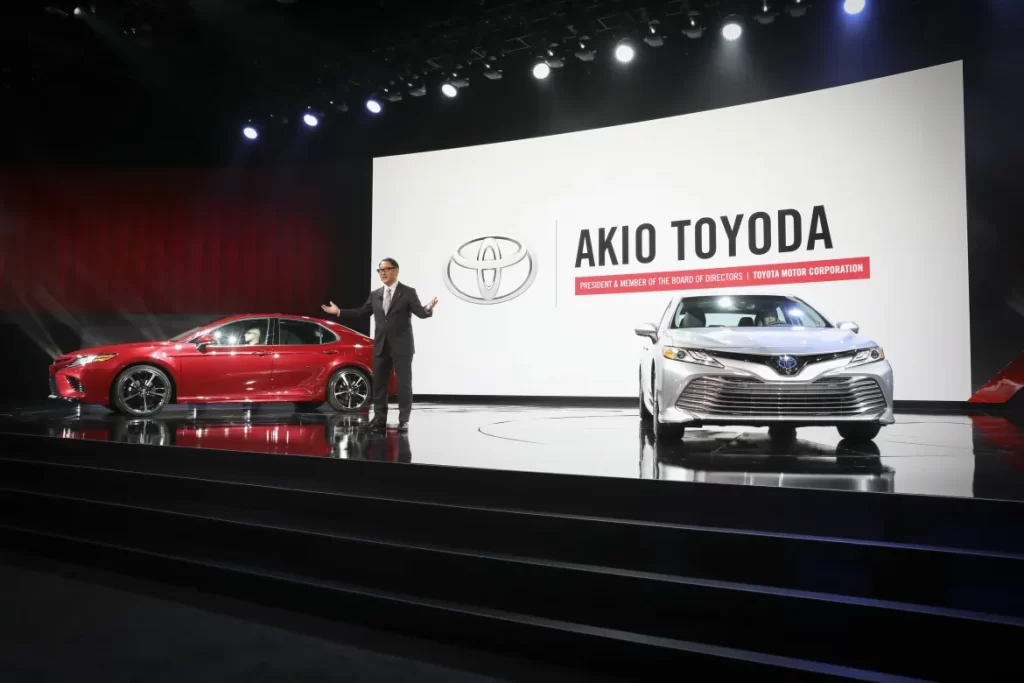 The Toyota Camry has been the best-selling car in America for 15 years. It has succeeded mostly because with all the drama in American life, it provides none. Camry has been the very definition of boring, in a good way. But as much as people buy it, no one seems to love it. Well, in 2018 Toyota hopes to change that. They've completely redesigned the Camry on their new global architecture and given it a – dare we say – sexy new body, especially in its sporty SE trim. Inside you'll find leather, a 10-inch touch screen and all kinds of other goodies. Engines include an all-new 2.5L four cylinder gas, the venerable and powerful 3.5L V6 and of course a hybrid.
Volkswagen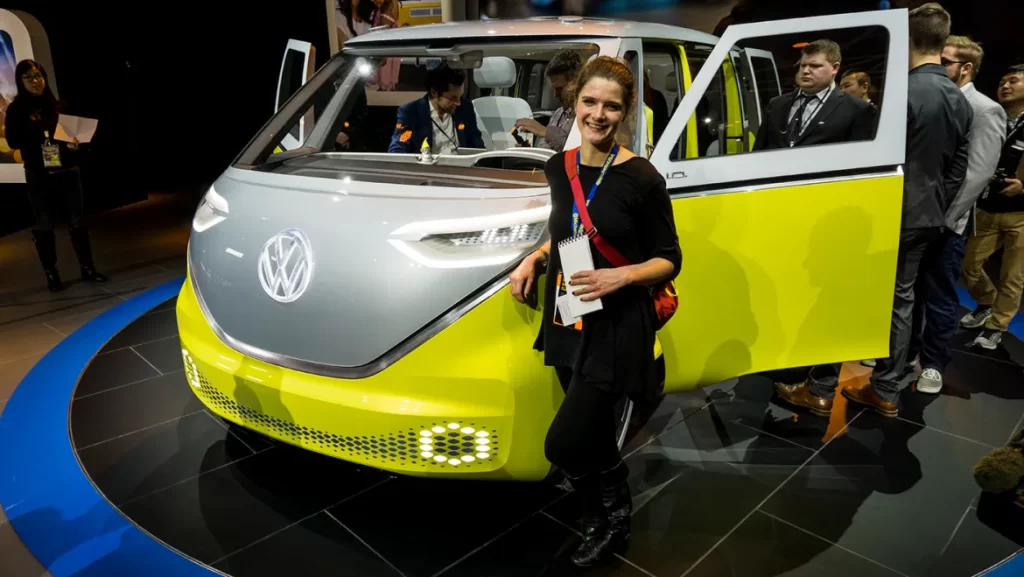 Volkswagen had a mission for NAIAS this year – change the subject. And with two reveals at their conference, they gave us plenty to talk about.
They showed off a new R-Line version of their Atlas midsize SUV and then debuted the 2018 Long Wheelbase Tiguan, which is longer by 10.7 inches than the current model. It'll come with new driver assist options, updated interiors and 57 percent more cargo space, while maintaining much of what we already expect from the Tiguan.
Then this one was tough. We were really looking forward to seeing the I.D. Buzz concept, Volkswagen's electric recreation of their iconic microbus. It captures so much nostalgia. And making a hippie bus electric and autonomous shows an understanding of modern hippies, and feels like a great acknowledgment of what the bus' brand is all about. And it did look very cool. Clean layout, futuristic lighting, chairs that slide around on Silver Birch floors, most aspects of this car were well designed. But it just didn't make us feel. It seemed like it would fit in better at a Star Trek convention than a Dead and Co. concert – more escape pod than Scooby-Doo van. The idea is still thrilling, but the initial impression brought our lofty expectations back down to earth.
Volvo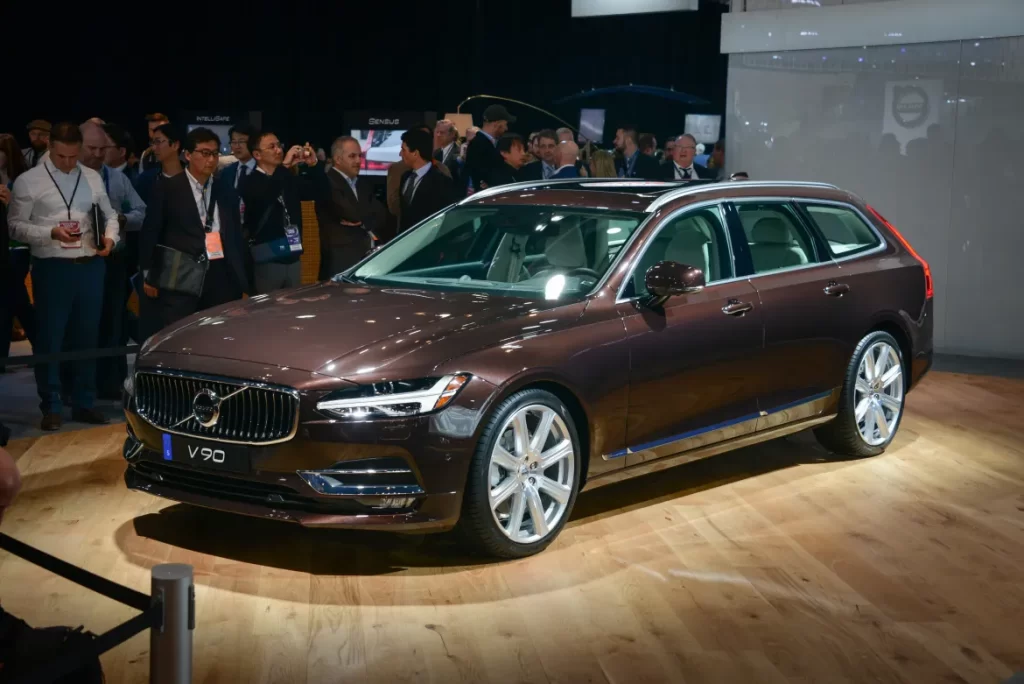 Somebody forgot to tell the folks at Volvo that Americans hate wagons. And, we for one, are glad they did. Volvo brought the new V90 wagon to the show this year and it is gorgeous, especially when decked out in its sportier R-design trim. We've talked to European journalists who've driven the V90 at a recent international press event and they've said they prefer it to the sedan. We'll let you know as soon as we get our turn behind the wheel. Until then, we'll just stare at its beautiful bodywork.