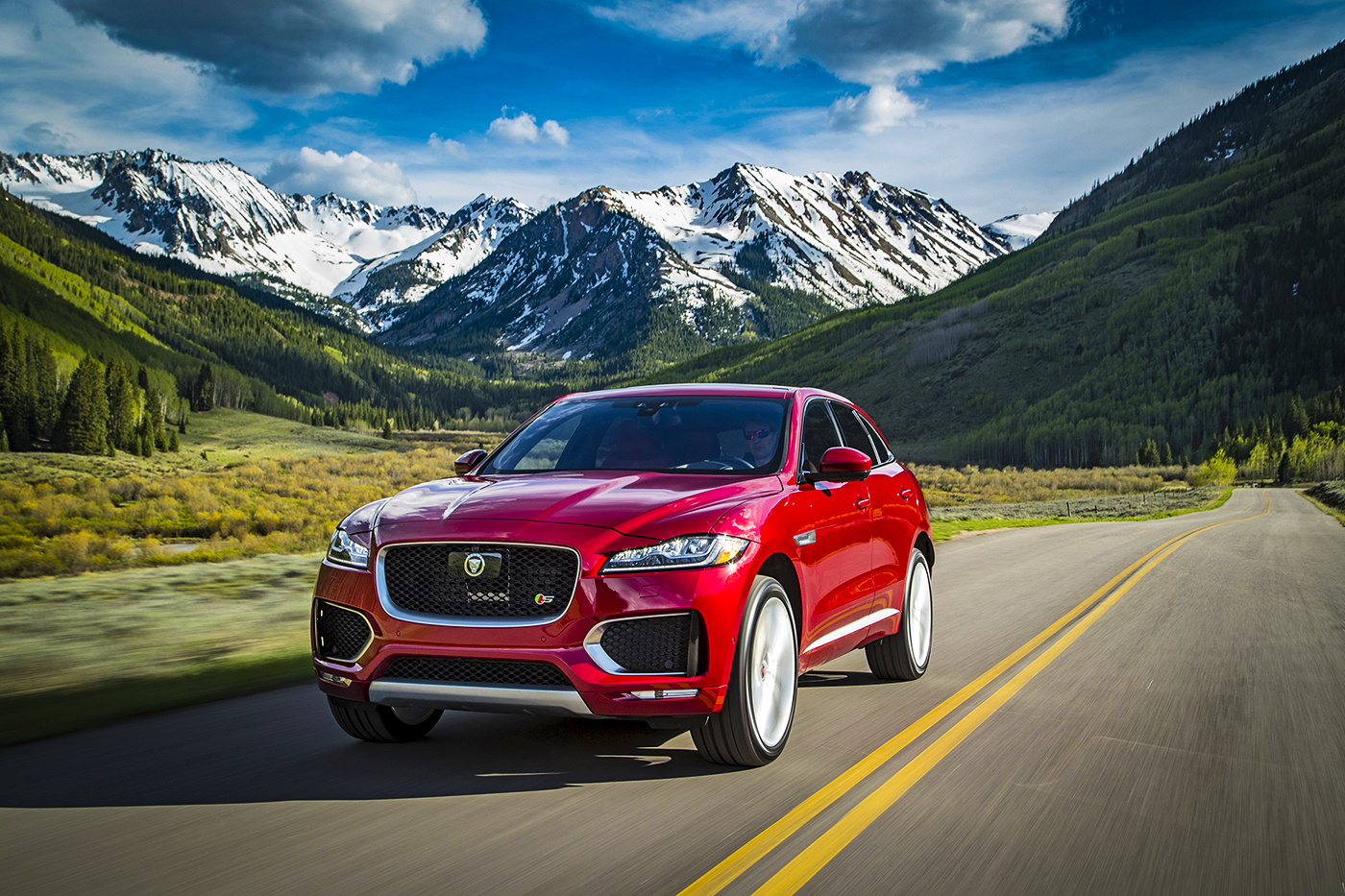 I've been a fan of Jaguar ever since I spied my first E-Type as a wide-eyed kid wandering through the paddock at Watkins Glen back in 1971. With its sinuous lines and confident stance, it looked just as its name suggested, a lithe cat that was ready to stalk its prey. Fast forward to today and Jaguar's new lineup includes the F-Type, XJ, XF, XE, and now the F-Pace, the brand's first ever SUV. The brand's newest model had filled me with angst and trepidation.
Jaguar is a sporting luxury brand. Its long time motto, Grace, Space, and Pace, has been defined for over 75 years by a series of wonderful sports coupes and saloons. After a dark period in the '80s and '90s, they seem to be on a roll lately. But in adding the most American of vehicular forms to the lineup – an SUV – lies great danger. Could the crew from Coventry actually design and build and SUV that is a Jaguar at heart?
It didn't take me too long to figure out the answer to that question is, "yes." But it's also a trick question, because I'd argue the F-Pace S isn't an SUV at all.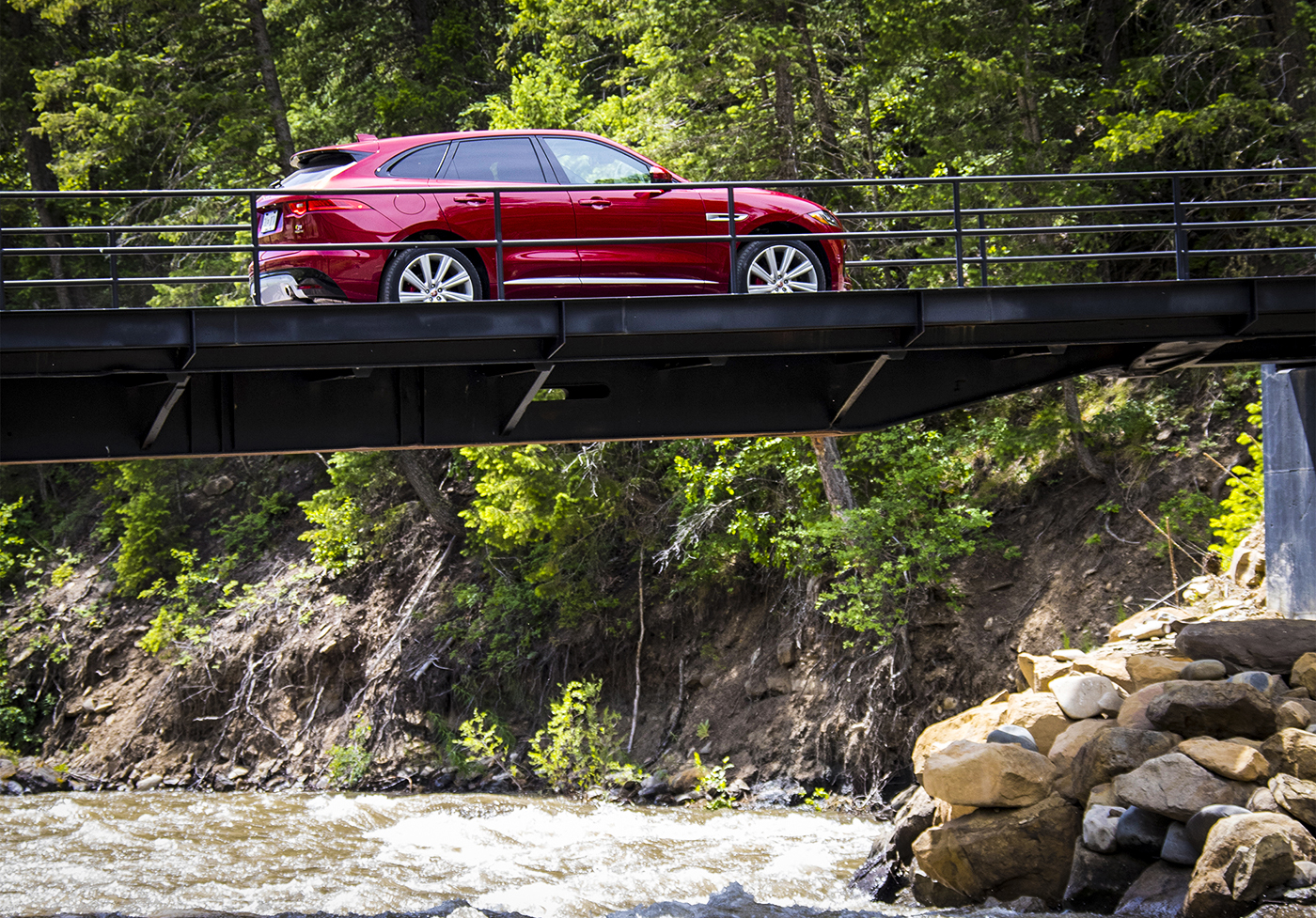 It's actually a sports sedan cleverly disguised as an SUV. Yes, it has full time all-wheel drive. Yes, it has a square back with a lift gate. Yes, the driver sits up high. But hit the start button, listen to the engine snarl, turn the transmission knob to D and put your right foot down. It doesn't take long to understand why I feel that way.
The F-Pace R-Sport with its 380 horsepower supercharged V6 leaps forward, quickly climbing through the gears of the 8-speed ZF automatic transmission. Sixty miles per hour comes up in just 5.1 seconds and if you're not careful, you'll hit some seriously extra-legal speeds just a few seconds after that. A few of the journalists in my group fell victim to the F-Pace's accelerative charms only to be stopped by the Colorado authorities who were on the lookout for lead-footed writers in Jags.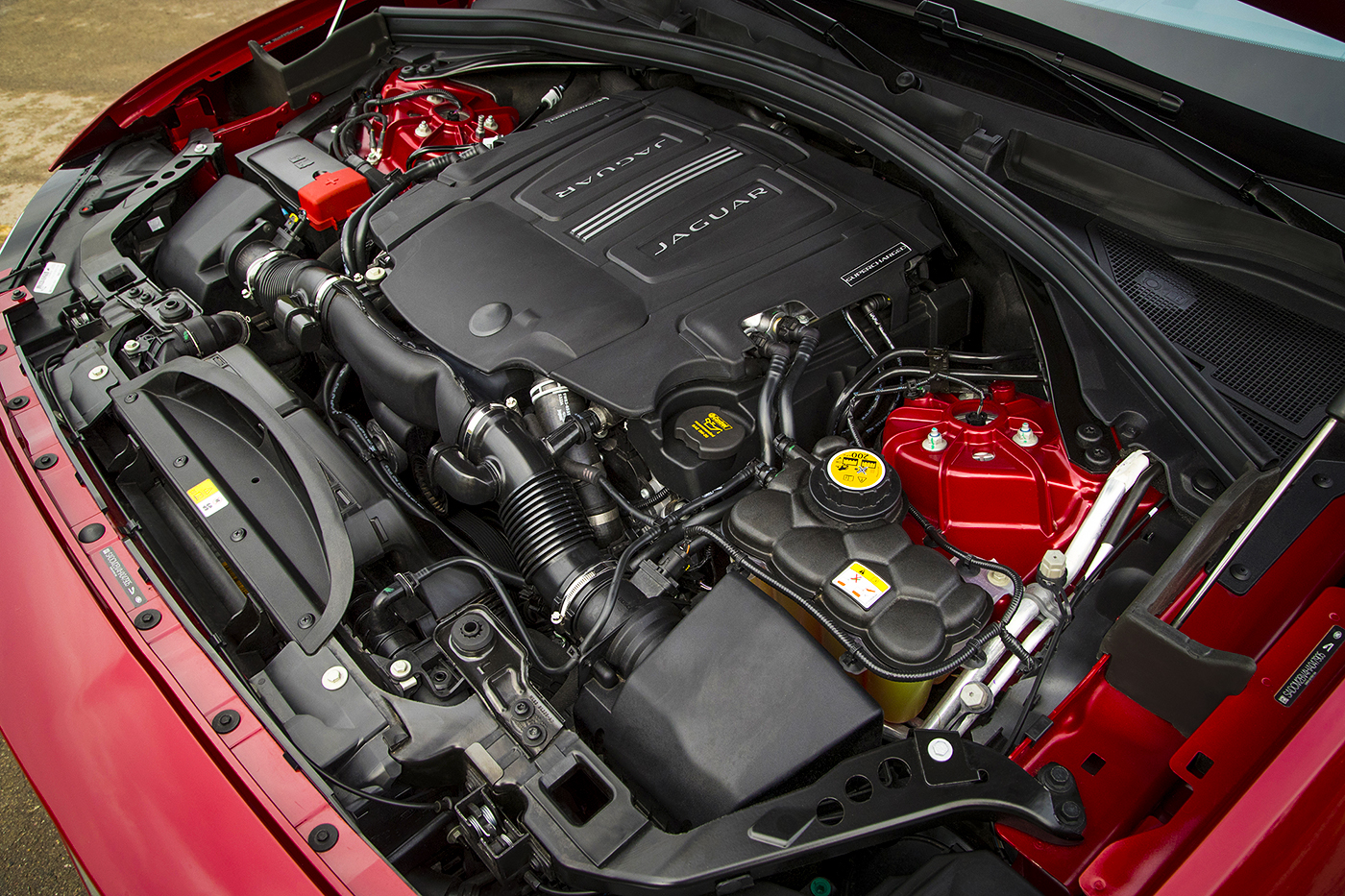 The F-Pace carved up the mountain roads around Snowmass with precision. It feels nimble, encouraging you to ignore the suggested cornering speed signs, so my drive partner and I spent a few hours flinging this four-door family hauler around like it was an F-Type. The reason we could do that is, that from a suspension standpoint, it essentially is. The F-Pace employs a double-wishbone front suspension derived from the F-Type. It differs from a traditional McPherson strut assembly by offering more rigidity, which does a better job of controlling wheel motion in all directions. So as the lateral forces build up through a corner, the wheels stay firmly planted.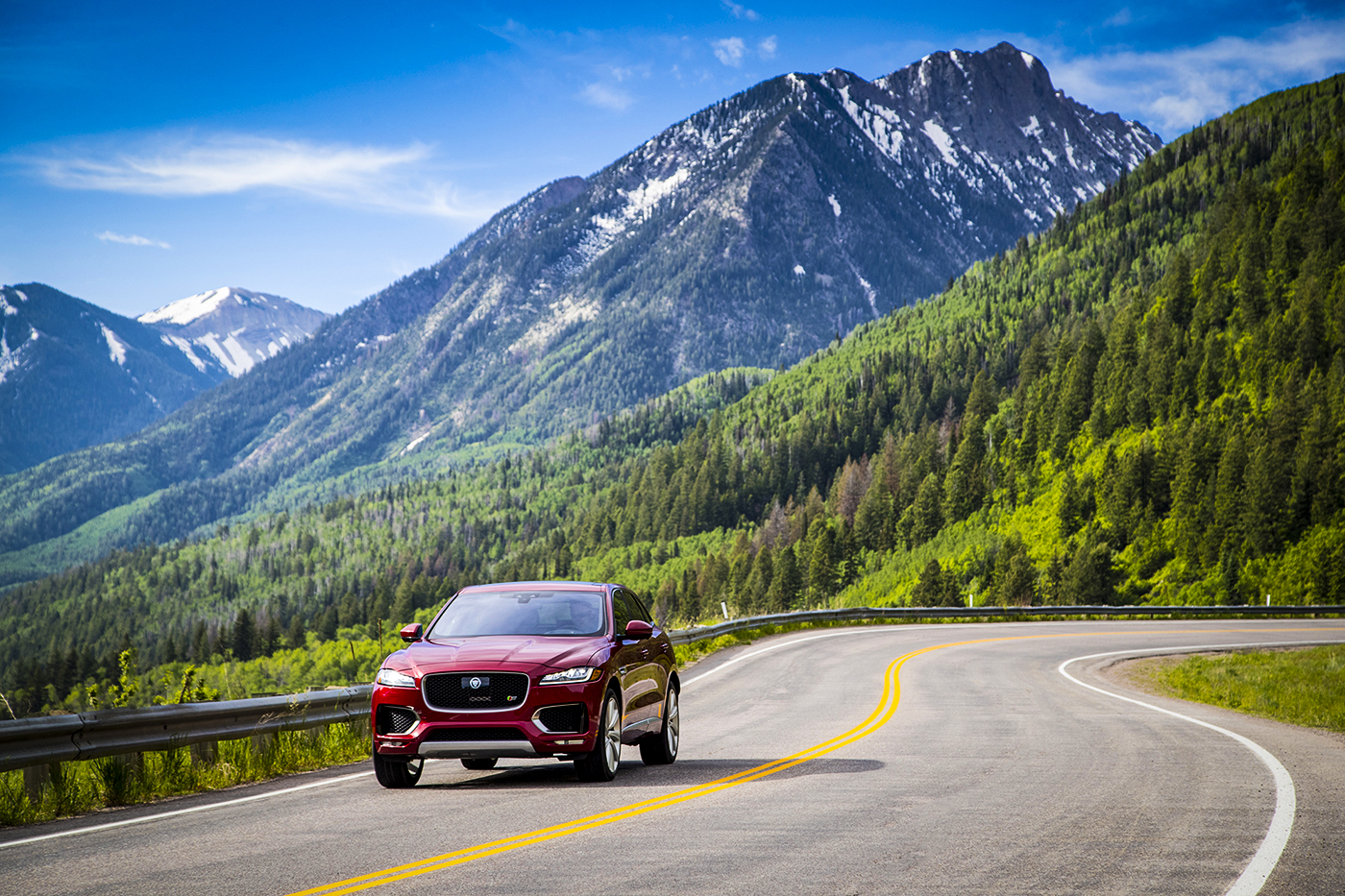 The F-Pace S is also light thanks to its aluminum body structure. For reference, weighs a little more than 200 pounds less than its closest BMW badged competitor, the X4 M40i. Short of calling in a physicist to discuss what this means, lets just say it makes a lot of things on the F-Pace work better. Light weight improves performance, handling, efficiency and ride quality. And since that weight is balanced to an almost perfect 50/50 over both the front and rear wheels, the handling is balanced as well.
The final element that makes the F-Pace drive as it does is its full-time all-wheel drive system with dynamic stability control and torque vectoring. On dry pavement under most driving conditions the F-Pace operates essentially like a rear wheel drive car with 90% of the power being sent to the rear wheels. When the surface is slippery like on wet grass, snow or mud, the power is distributed equally to maximize traction. And when conditions are variable, the F-Pace drivetrain biases to the front wheels, enhancing driver confidence. It's a system that works both on road and off, which isn't surprising seeing as Jaguar brought on their sister company, Land Rover, as a development partner.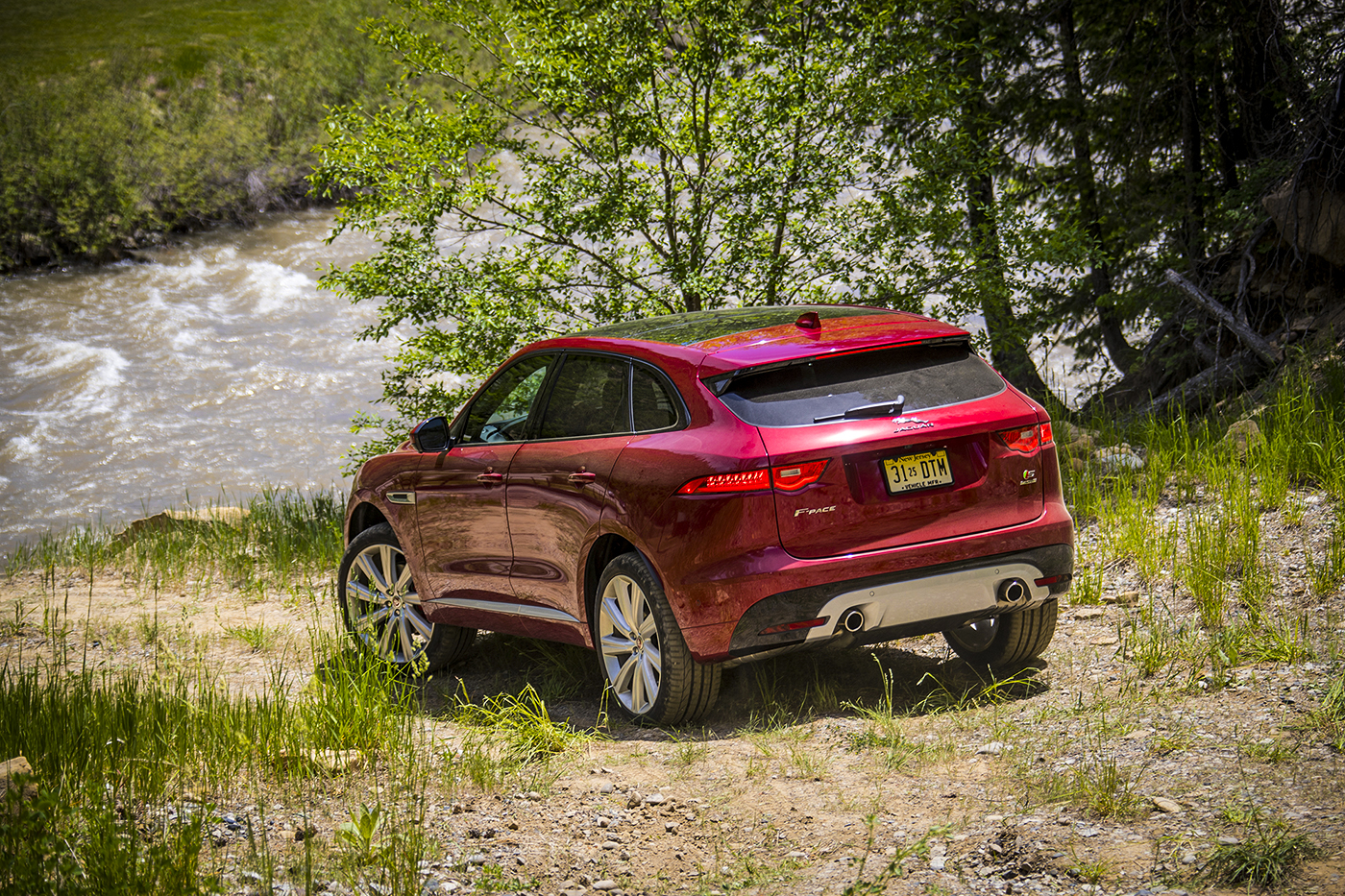 Inside, the F-Pace is plenty big. You can seat four six-footers comfortably and the storage capacity behind the rear seat is downright cavernous with more than double the cargo capacity of the X4. The interior details are what I'd call British. Nicely tailored, conservatively styled, and understated. The seats in the S model I drove were firm and supportive, providing plenty of comfort for long drives. Even with two-toned leather seats and contrasting stitching, it doesn't feel like it's trying to hard to make a statement. There's the right amount of aluminum and carbon fiber providing accents on the dash and doors.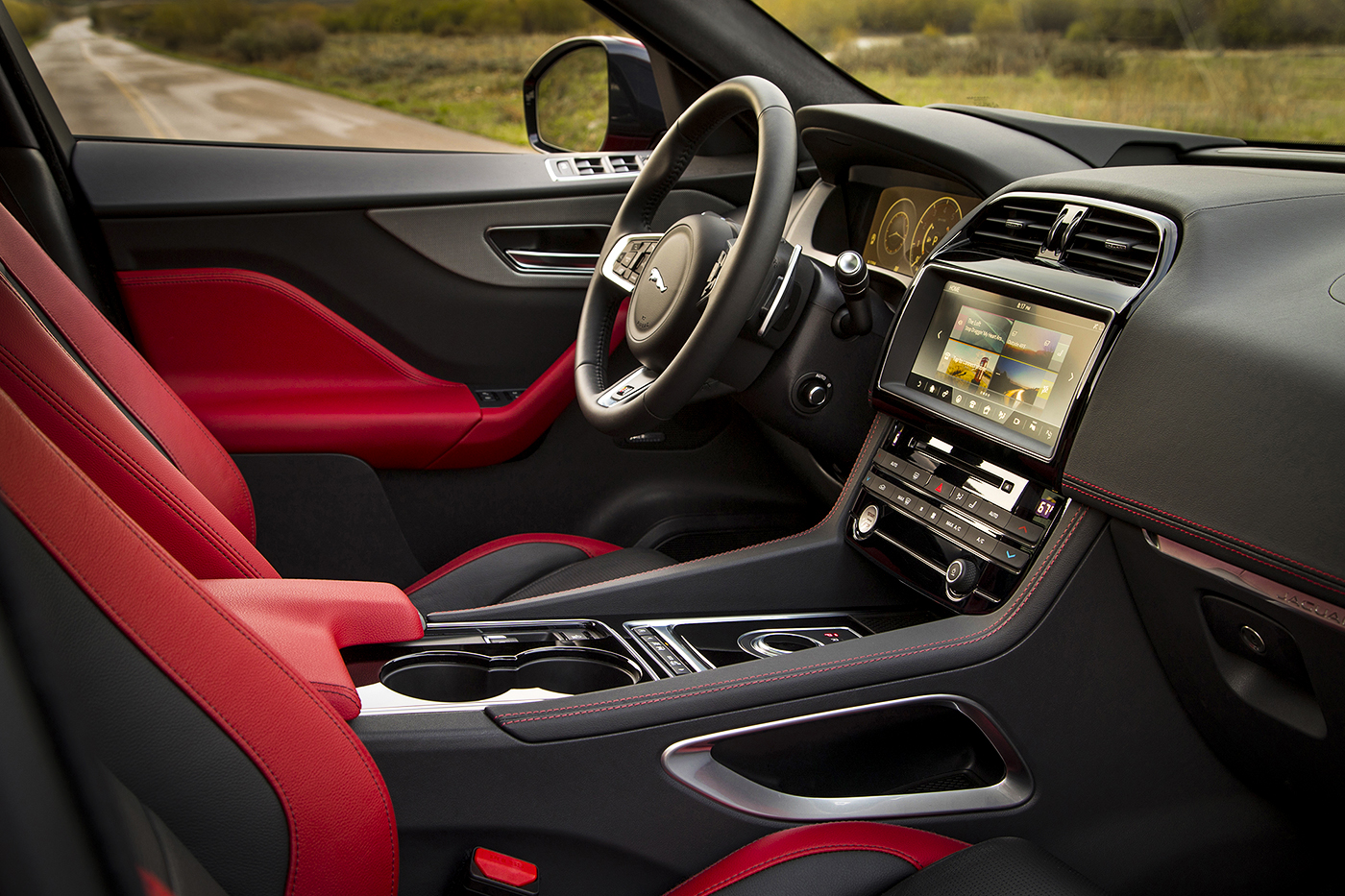 The optional InControl Touch Pro infotainment system, however, doesn't live up to the rest of the car. Featuring two fully-customizable screens with a 10.2 touch screen in the center console and a 12.3 inch screen where the analog instrument panel is on the base F-Pace. Powered by a quad-core Intel processor with a 60GB solid state drive, the system is as responsive to the touch as an iPad. Like an iPad, you can customize the home screen on the center stack so you can put the functions and apps you use most right at your fingertips. One of the features I like best about the system is that you can move the navigation to the instrument panel, so you don't have to look as far away from the road to check your route. When you're in this mode, key information like speed, fuel, and mileage are displayed on a strip at the bottom of the screen.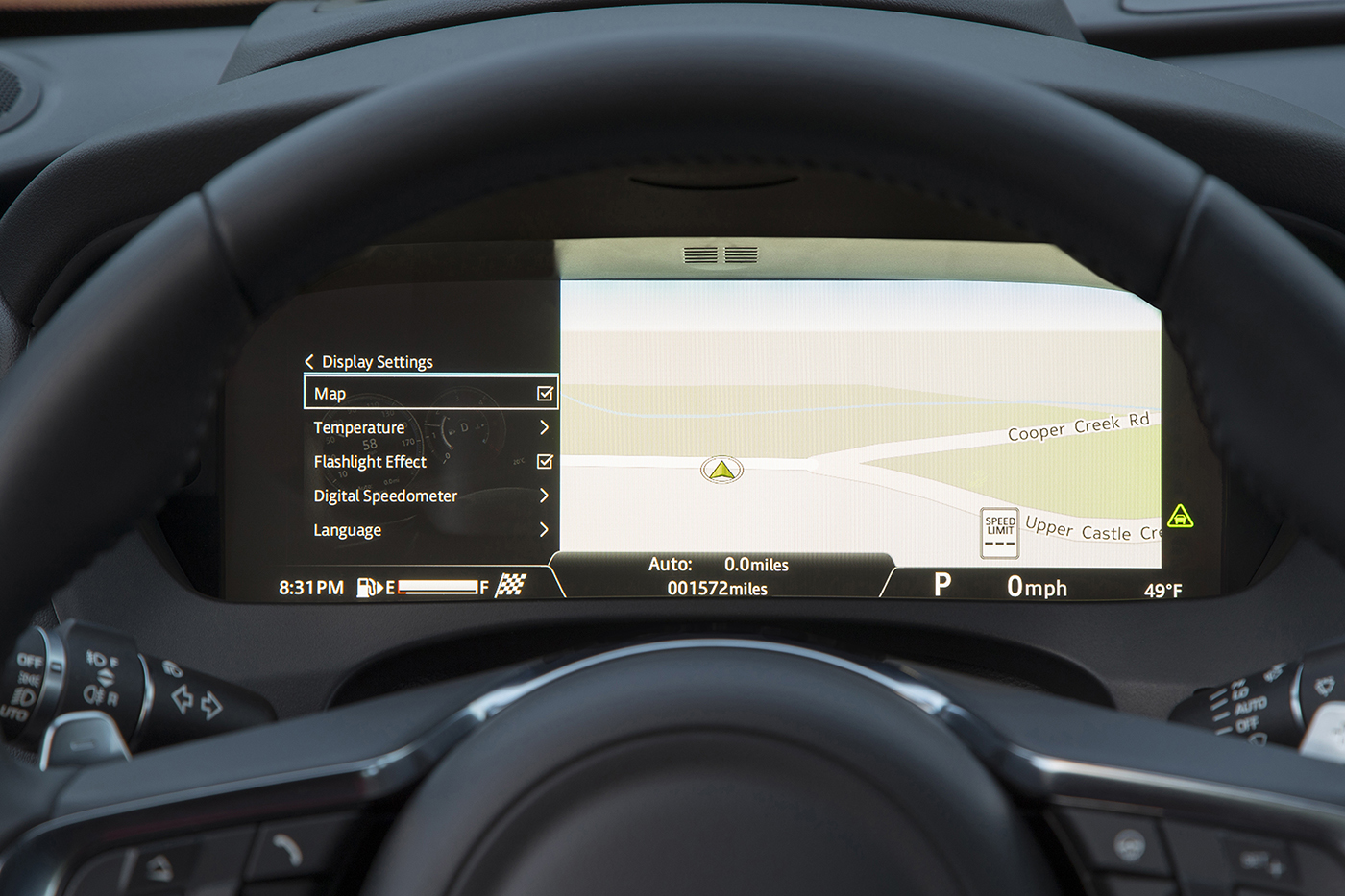 In addition to a full suite of apps, WiFi, remote start and other things we've come to expect from a fully-featured infotainment system in a luxury car, InControl Touch Pro also comes with a very good 825 watt Meridian surround sound audio system with satellite and HD radio, a CD/DVD player and two USB inputs.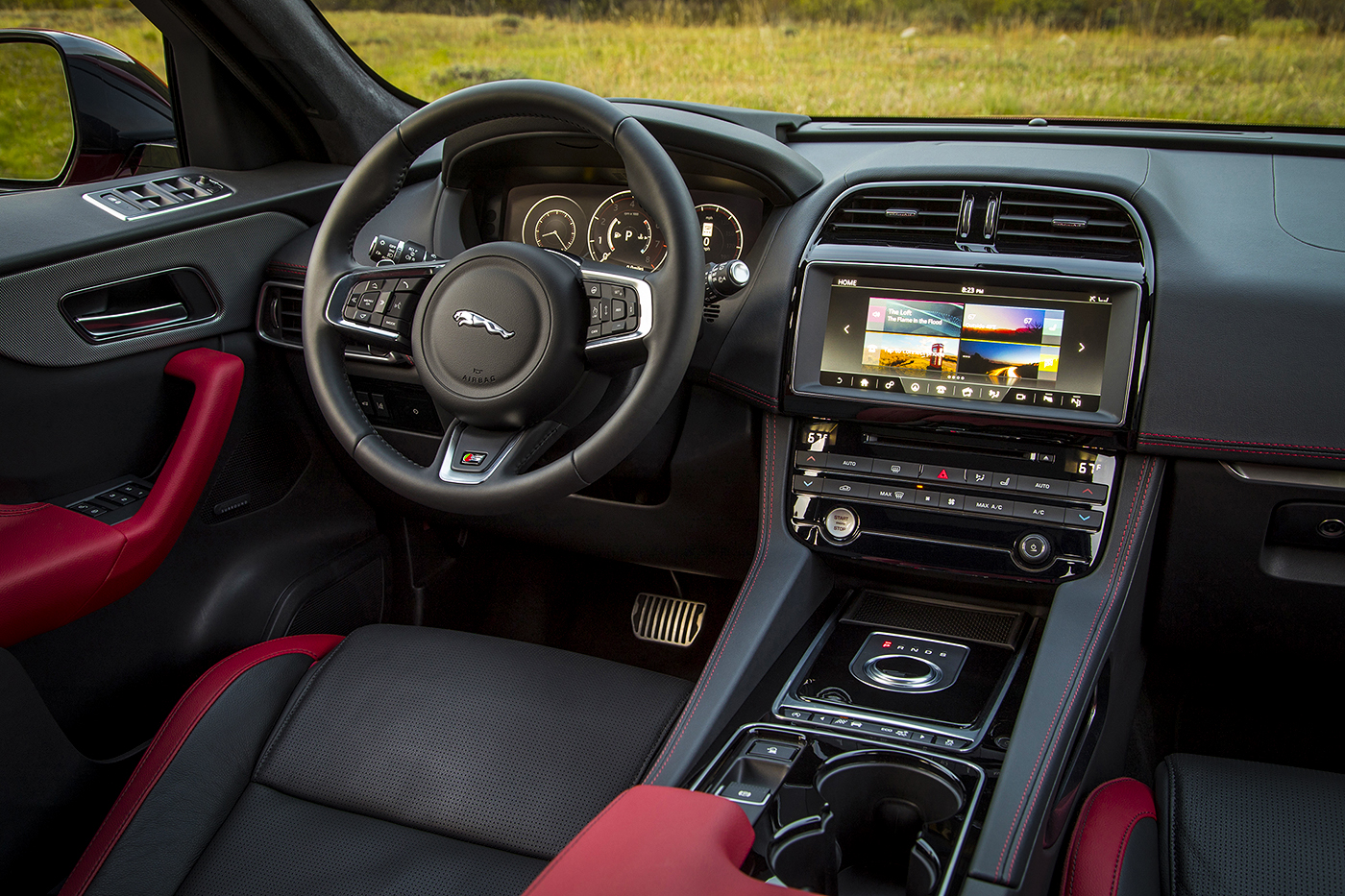 Jaguar also deploys a new bit of tech wizardry in the F-Pace, a handy little rubberized wristband they call the "activity key." For those who use their car as an honest-to-god SUV and take it to the river, seashore, ski slope, campsite or other adventure locale, the activity key ensures you'll never lose your car keys when you're out in the wild. Looking much like a FitBit, the waterproof and shockproof activity key straps to your wrist while you leave your actual key in the car. After you've unloaded all your gear from your F-Pace you just hold your wrist over the J on the tailgate and the car locks. When you come back to the car, hold your wrist over the J again and the car unlocks.
After my time in Jaguar's new SUV I have very few nits to pick with it. The placement of the window switch on the driver's side window sill instead of the armrest was a little hard to get used to. Another issue I have is with InControl Touch Pro which only provides a touch screen as a physical interface with the system. It's hard to navigate through the screens and find what you want tapping on the screen while your driving at speed.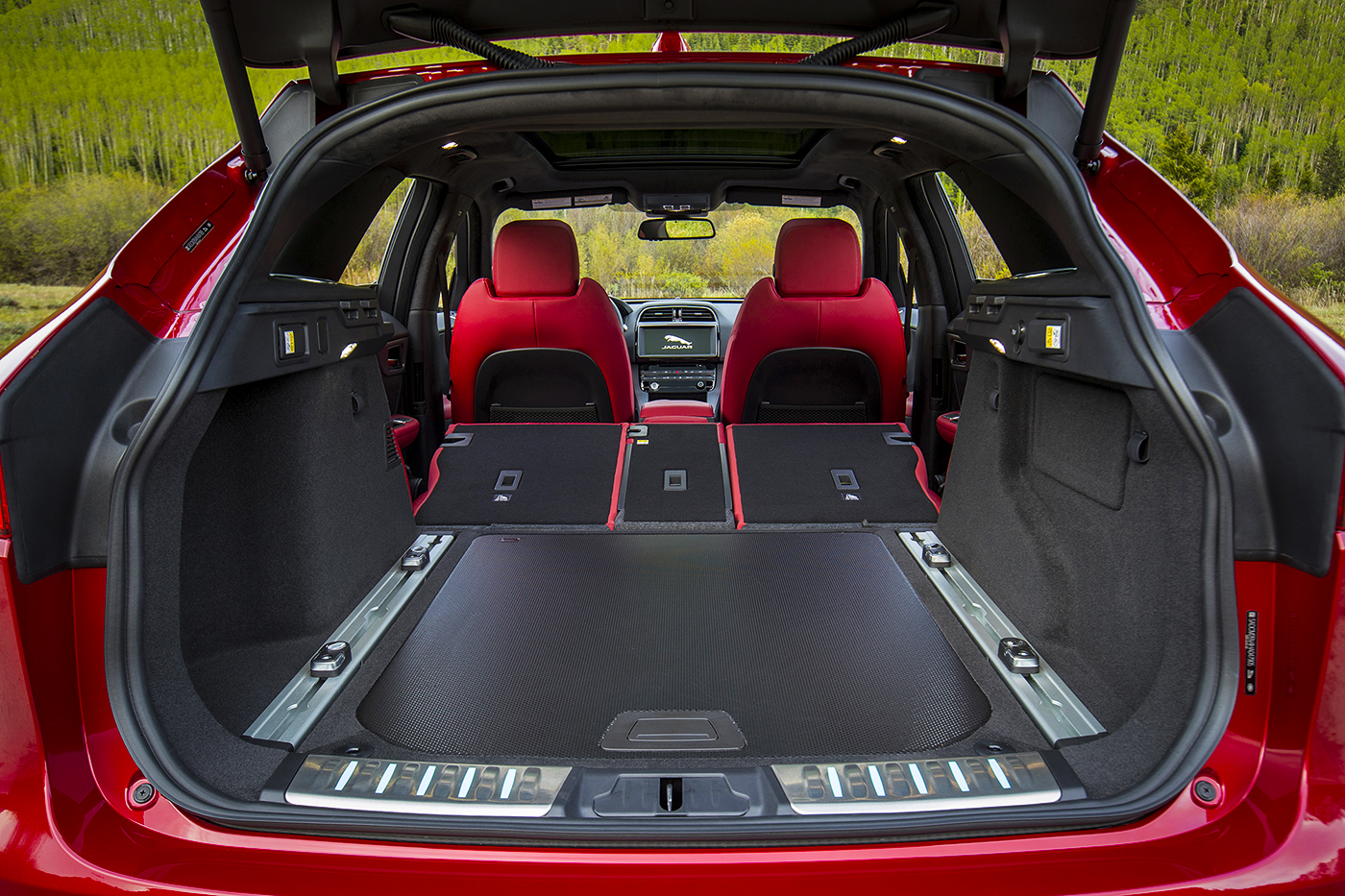 The Jaguar F-Pace S is the version I'd choose with its 380 horsepower V6 engine, were I in the market for a new car. It's the right setup for someone like me who loves to drive. There are two other engine options – a 180hp 2.0 liter turbocharged diesel that delivers 318 lb.-ft. of torque and a supercharged V6 gas engine that makes 340 horsepower – and five different model packages: the base, Premium, Prestige, R-Sport and S. In addition to the R-Sport trim, if you're not planning on doing a lot of off-road driving, you'll want to opt for the 22-inch wheels. They look great on the F-Pace and didn't compromise the ride as much as I had feared.
So while the Jaguar may be the last premium auto company to offer an SUV, in my mind they've learned a lot from everyone else and leapt to the front of the pack with the F-Pace. It offers an excellent combination of performance, handling, room, comfort – and something I haven't mentioned yet – damn good looks to make it the vehicle to beat in this category. I'll be very surprised if the F-Pace doesn't quickly become the best-selling Jaguar of all time.
2017 Jaguar F-Pace
4-door, 5-passenger, mid-size crossover
Base Price: $40,900
Price as tested: $70,100
First Edition Standard Equipment: 22-inch wheels, houndstooth embossed Windsor leather sport seats, S Body kid, gloss black window surrounds and side vents, illuminated metal tread plates, LED headlamps, sliding panoramic roof, 10-way power front sport seats, adaptive dynamics, powder-coated red brake calipers, Meridian surround sound system, heads-up display, park assist, surround camera system, four-zone climate control, adaptive cruise control, connected navigation
Engine: 3.0L supercharged V6
Horsepower: 380 @6,500 rpm
Torque: 332 lb.–ft. @4,500 rpm
Transmission: 8-speed ZF automatic with paddle shifters
Curb weight: 4,015 lbs
0-60: 5.1 seconds
Top Speed: TBD
Mileage: 18 city mpg, 26 hwy mpg