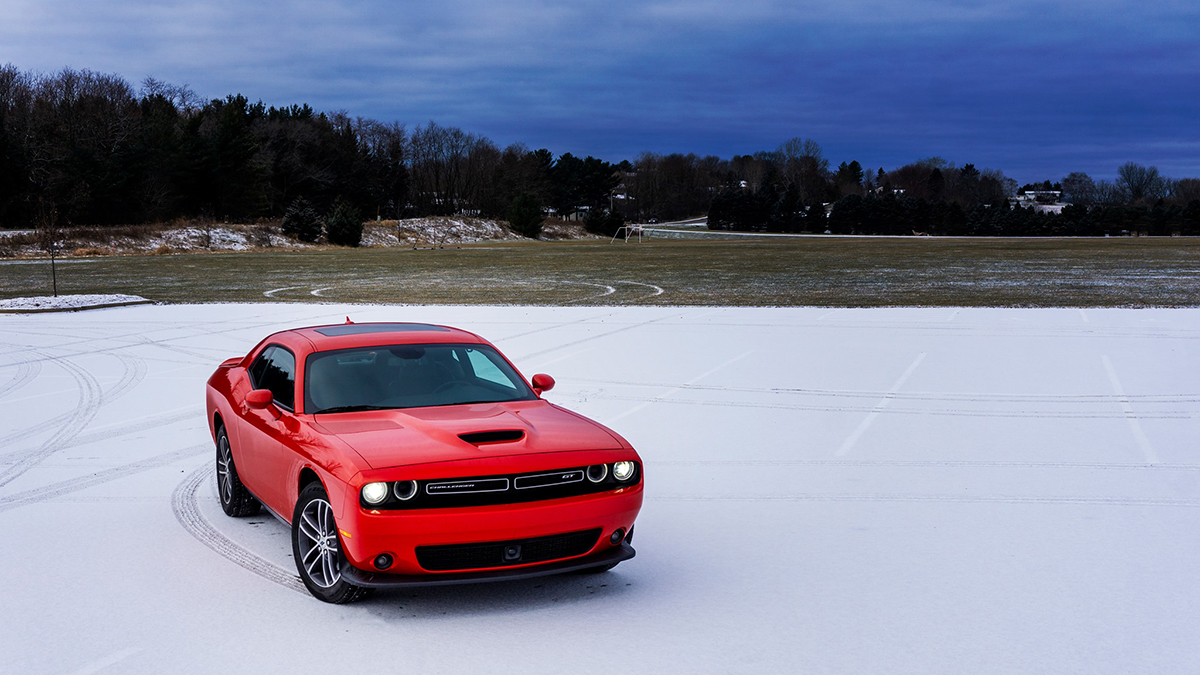 When you drive a Challenger GT AWD and pass people in a snowstorm, they think you're either talented or stupid. Though it has neither a Hemi V8 nor a widebody kit, it bears enough resemblance to its more powerful stablemates to make people look twice as you leave them in a plume of white. The discreet badge telling someone this iconic muscle car has the all-weather traction of all-wheel drive is the only thing that's subtle about the Challenger GT AWD.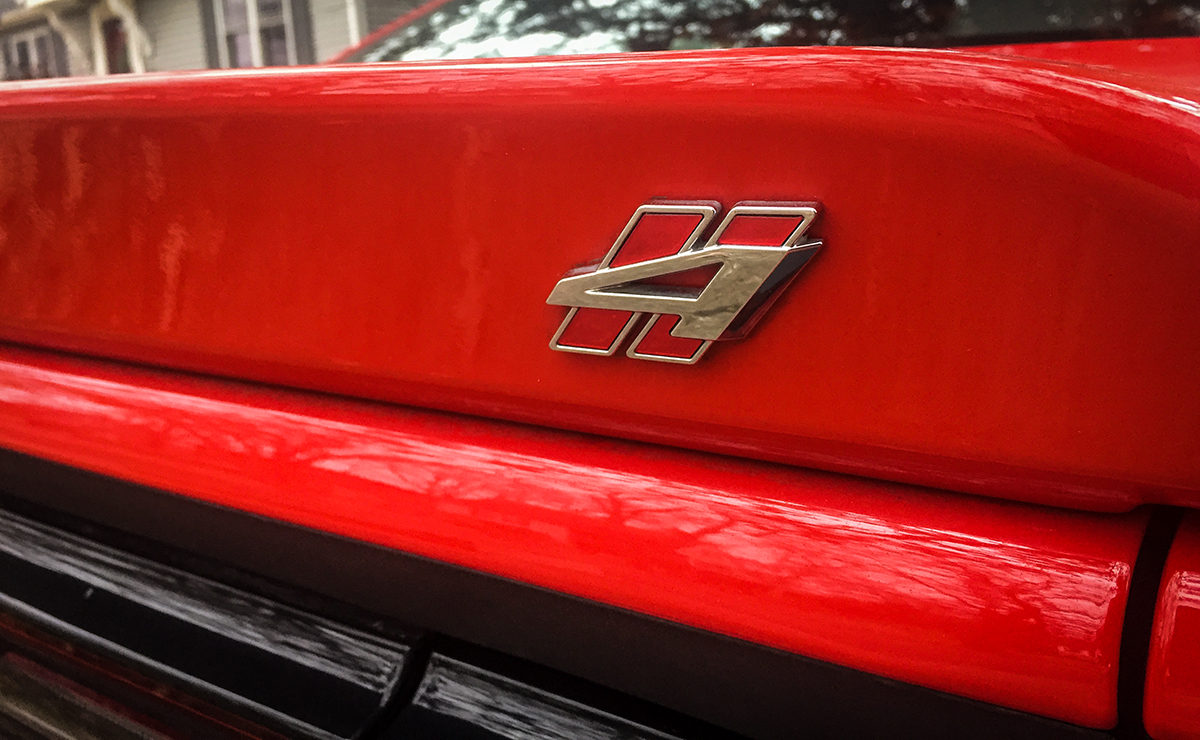 Decked out in "ToRed" paint (I'm guessing that's supposed to sound like "torrid") with Pirelli P Zero all-season tires mounted on 19-inch alloy wheels, the Challenger GT AWD looks like the vehicle St. Nick would drive should the reindeer go on strike. He'd also be wearing a red leather jacket with the sleeves cut off to expose his "Naughty or Nice" tattoo, in keeping with the car's overall image.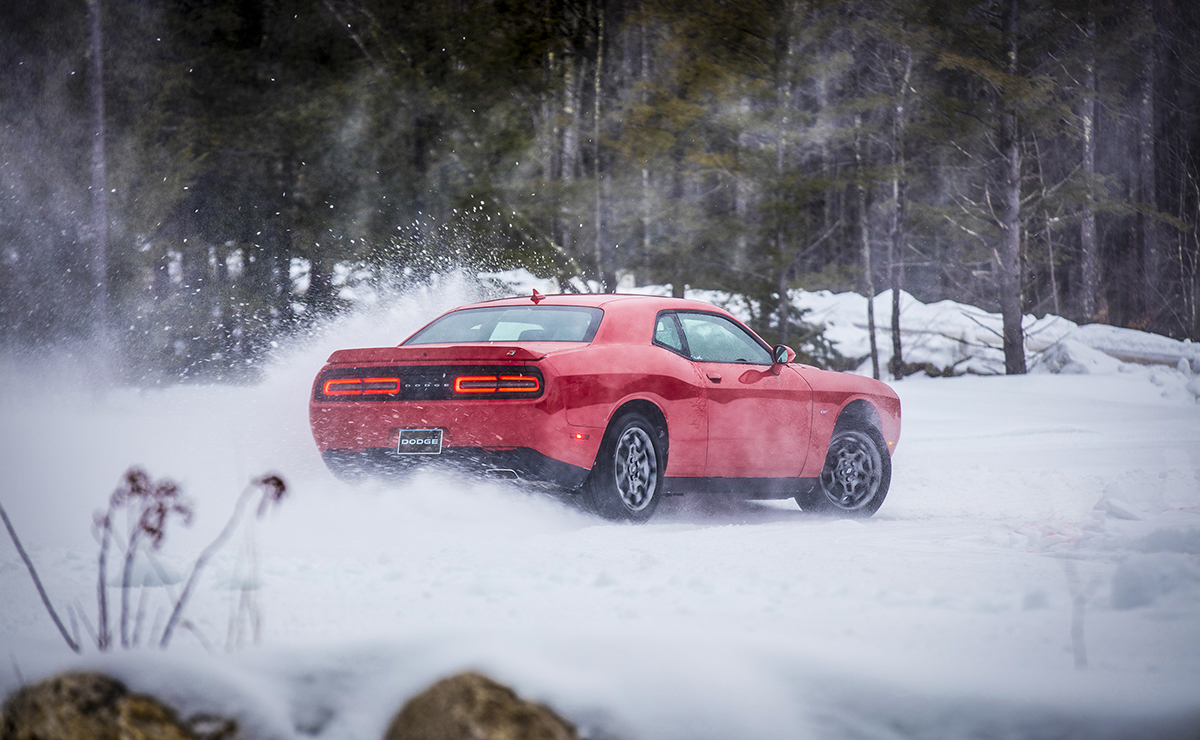 Since its rebirth in 2008, Challenger has defined the Dodge brand as masculine, muscular, and mean. To my eye, Challenger is the most successful of the retro pony cars from a design standpoint though Mustang outsells it by more than 10,000 units per year. Dodge has captured the essence of the 1970 Challenger but managed to give it a contemporary feel. Mustang, while contemporary, handsome, and a really good all around performance car (especially in its Shelby GT 350 and GT 500 varieties), has drifted from its high watermark design of the late 1960s. Chevy's 6th generation Camaro, on the other hand, always felt like a caricature of the brilliant '67 model. It's almost as if it was conceived for its starring role in the Transformer movies instead of the people who would actually be driving it.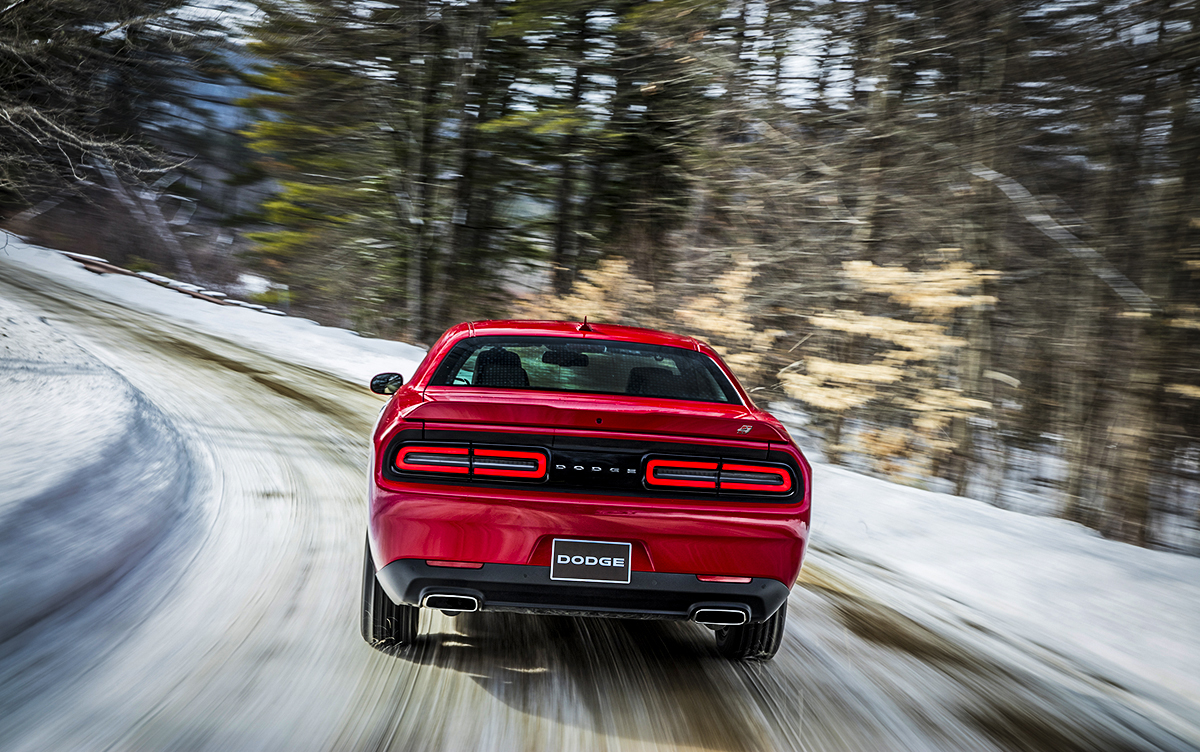 Lacking a 400+ horsepower Hemi V8 doesn't take all the fun out of the Challenger GT, especially when the snow flies. The 3.6-liter V6 makes 303 horsepower and 268 pound-feet of torque which propels the GT to 60 miles per hour in a respectable 6.3 seconds when you activate launch control, put it in sport mode, and drop the 8-speed automatic transmission into drive. You do have to wind up the revs to get everything out of it, however, as peak power doesn't come on until 6,350 RPM. The V6 engine doesn't have the snap and growl of the bigger V8s and the exhaust note is somewhat subdued even under full acceleration. So while there's a lot of fun to be had, it lacks the visceral thrills of other Challenger models.
The all-wheel drive system is different from those of most other manufacturers. It is automatic, but not full-time. In order to prevent parasitic power loss and increase efficiency for most driving conditions, Challenger GT operates like the rear-wheel drive version with a couple hundred extra pounds up front. When temperatures drop, the weather gets dicey or you put it in sport mode, however, the clutch engages and up to 38% of the power gets moved to the front wheels, increasing traction and control. The system works flawlessly and so seamlessly you cannot tell when it engages. Toss the GT around a snow covered parking lot or drive at highway speeds during a blizzard and you know it is.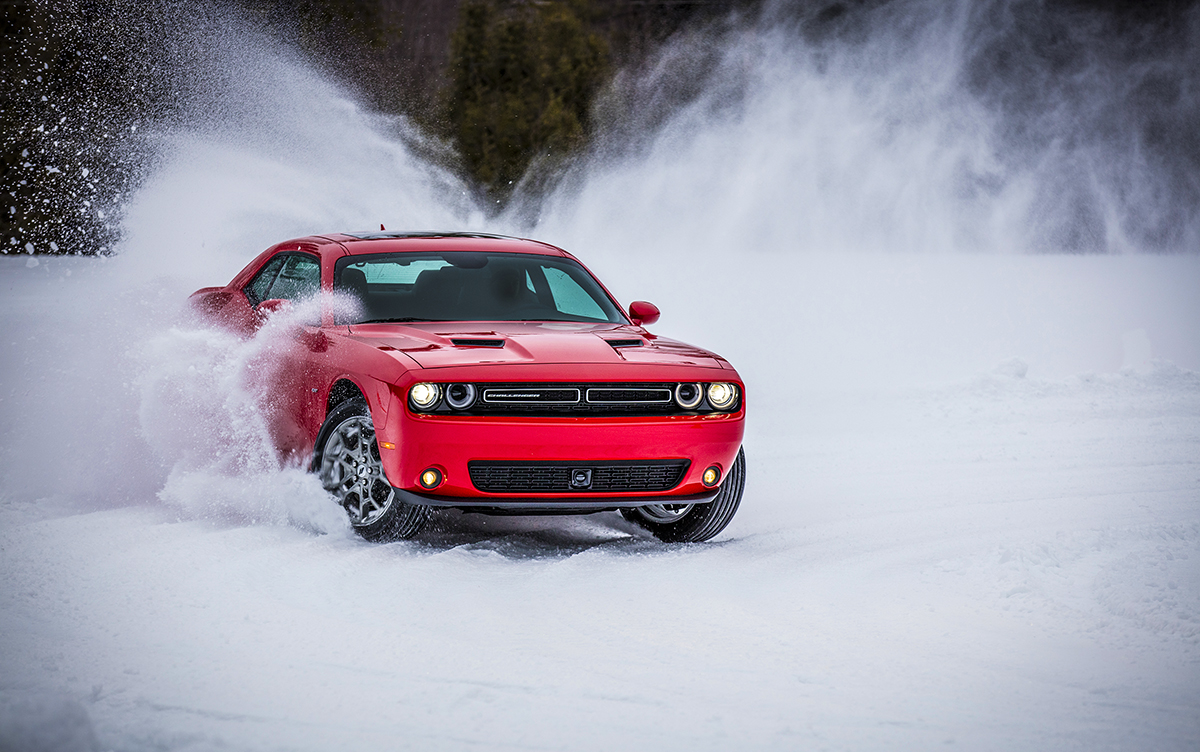 Like 13-year old Andy Reid at his Punt, Pass, and Kick competition, Challenger dwarfs other pony cars. There's no getting around it, Challenger is a big car with a 116-inch wheelbase, 196-inch overall length, and a curb weight of just over 4,000 pounds. While that means it's not as agile as a Mustang or Camaro, it does offer some advantages when you open the doors. Challenger is incredibly roomy with plenty of space in the backseat for passengers with shins.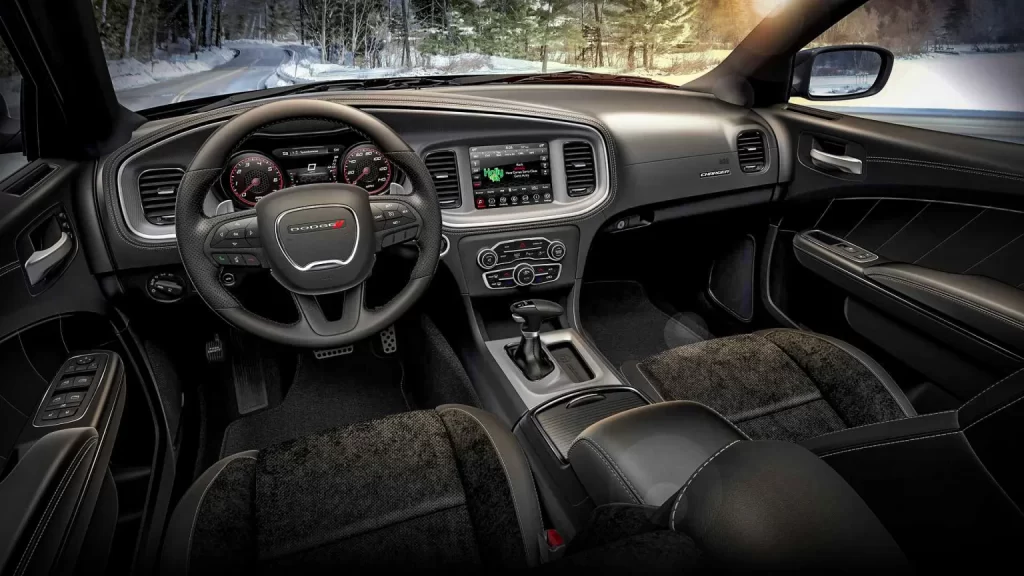 The rest of the interior is as you would expect for an understated Challenger. Equipped as mine was with the Preferred Package, the upgraded heated and ventilated seats were covered in Alcantara and Nappa leather with ample bolstering. The fat, leather wrapped steering wheel feels right, and the 8.4-inch UConnect systems offers up an encyclopedic amount of information with one of the best user interfaces in the industry. I was able to make up for the lack of a satisfying exhaust note thanks to the premium, 18-speaker Harman Kardon audio system that cranks out the jams with its GreenEdge amplifier and trunk mounted sub-woofer. The interior doesn't wow you with design or details, but it gets the job done and from a fit and finish standpoint is light years ahead of Challengers from just a few years ago.
If you want pure all-weather performance, you have to spend a lot more on a car like the Audi S5 Quattro or a Jaguar F-Type AWD. If, however, you want muscle car looks and all-weather performance, you only have one option, the Dodge Challenger GT AWD.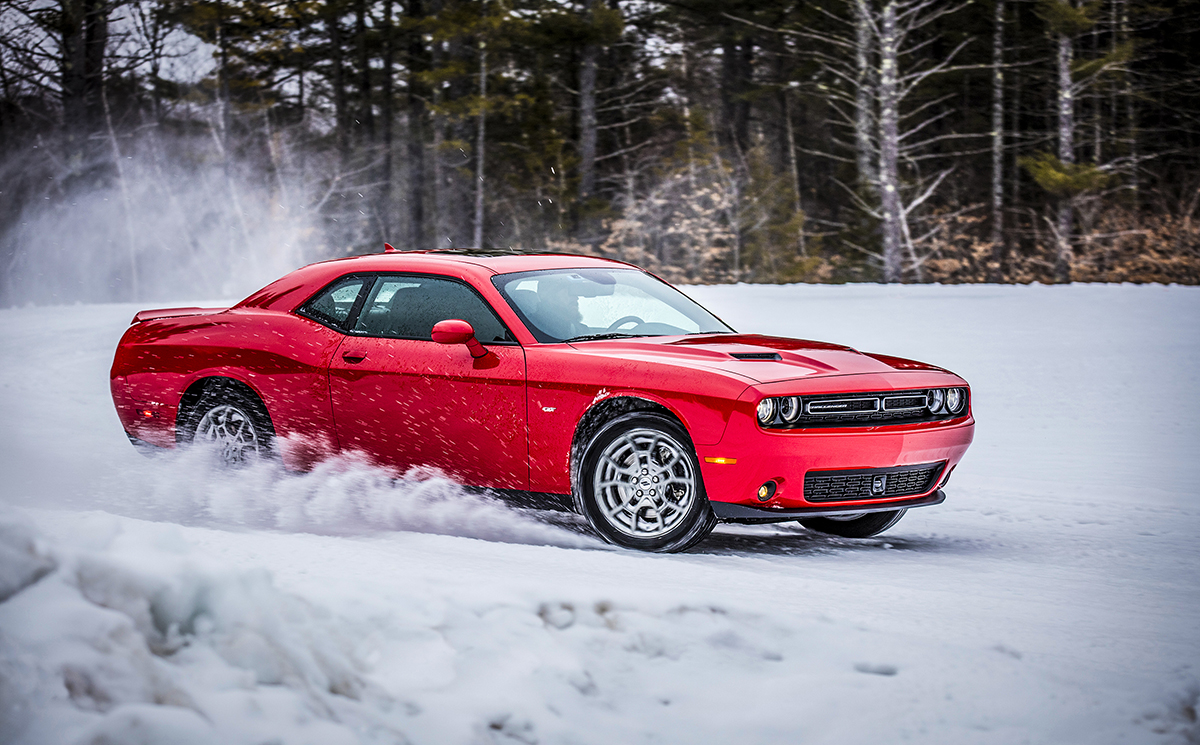 2020 Dodge Challenger AWD Plus
Two-door, five-passenger, all-wheel drive, notchback coupe.
Base Price: $33,695
Price as tested: $43,760
Major options: Plus Package ($2,495) Nappa/Alcantara heated and ventilated performance Seats, power tilt/telescope steering column, heated leather wrapped steering wheel, 4G LTE Wi-Fi hot spot, 8.4-Inch touchscreen display with Uconnect® 4C, 276-watt amplifier, 6 premium speakers, bright pedals, door trim with ambient lighting; Technology Group ($1,295) adaptive cruise control, forward collision warning, automatic high beams, rain sensing wipers; Driver Convenience Group ($1,095) Blind spot detection, HID headlamps, power folding mirrors; Harman Kardon Premium Audio ($1,595); Power Sunroof ($1,295); Destination ($1,495)
Engine: 3.6L Pentastar V6 with 24-valves, sequential port fuel injection
Transmission: Torqueflight 8-speed automatic with paddle shifters with AWD
Power: 303 Horsepower @ 6,350 rpm
Torque: 268 pound-feet @ 4,500 rpm
Curb Weight: 4,078 pounds
0-60 MPH: 6.3 seconds
Top Speed: 130 MPH (limited)
EPA MPG: 18 city/27 highway/21 combined