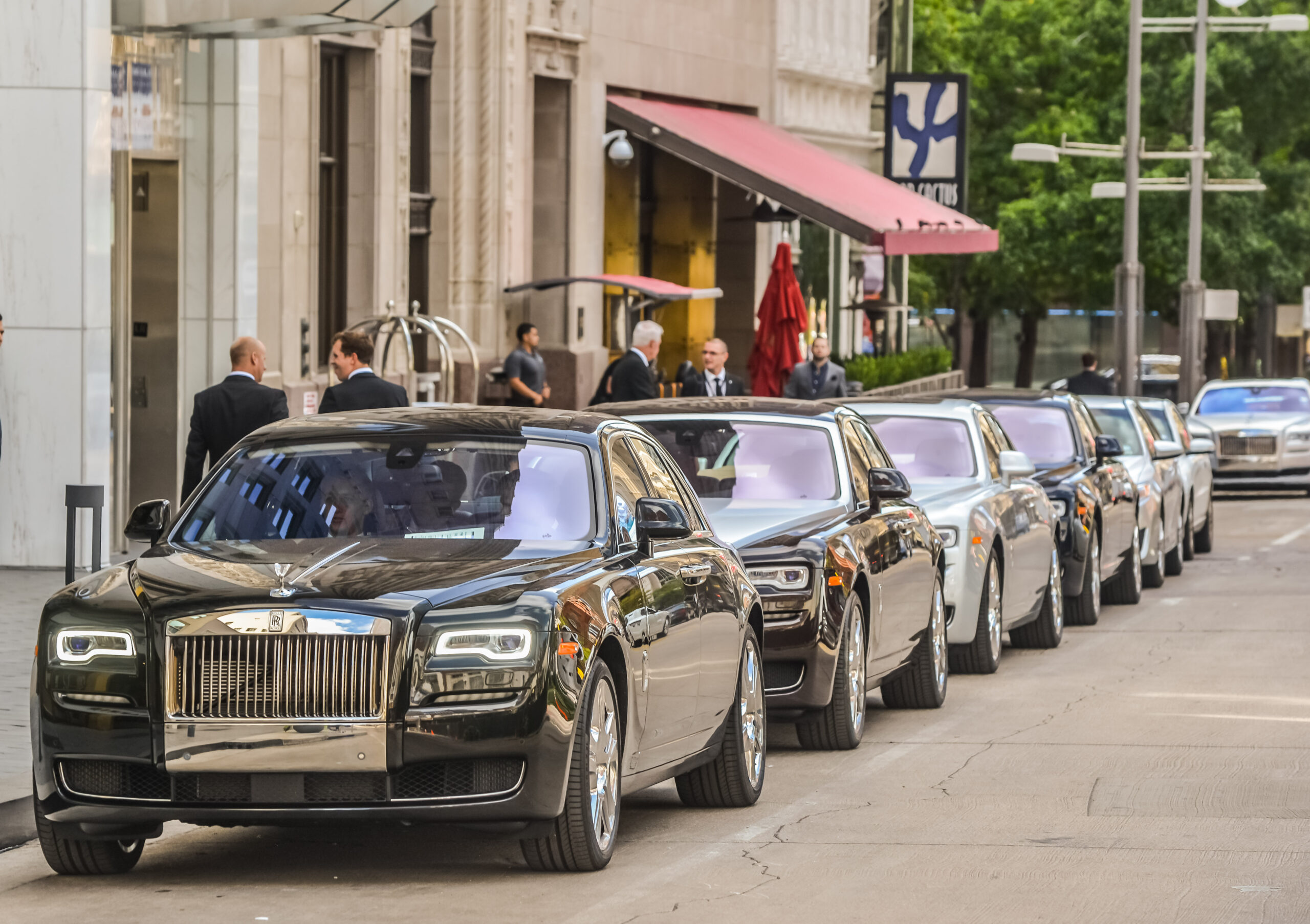 Dallas is a big town where you'll find power, high style and the occasional contradiction. It's a place where you'll find high tech entrepreneurs sporting Lucchese boots, jeans and t-shirts sharing a table with bankers in tailored suits and Stetson hats. It's a place where classic Mission architecture sits side by side with modern masterpieces from I.M. Pei and Frank Gehry. It's a place where local barbecue shacks and Michelin Star restaurants are both revered by their patrons. Which may be way Dallas was the perfect place for Rolls-Royce to debut the new Ghost Series II in the United States this week.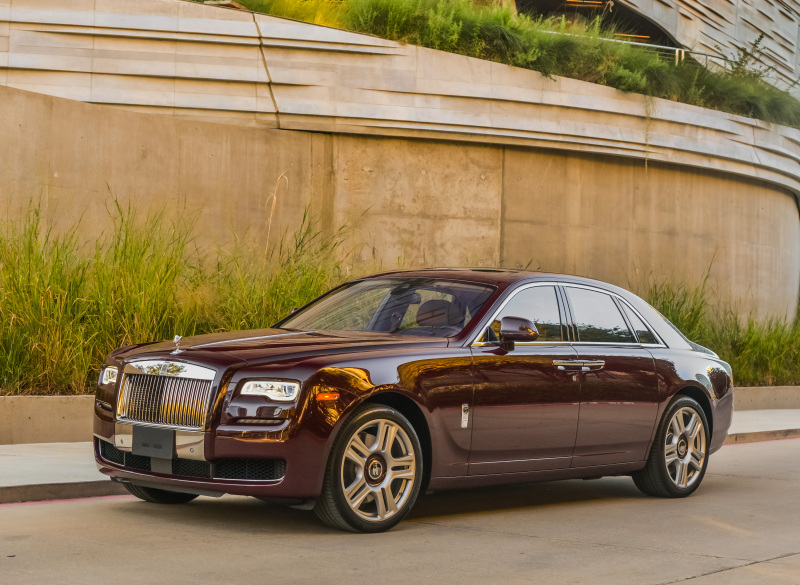 It certainly was not for the interesting roads or challenging drive. But then neither of those are really necessary to understand what Ghost Series II is designed to do. This is a Rolls-Royce in every sense. It represents the best of classic design combined with modern technology. It offers the highest levels of craftsmanship along with elegant simplicity. It delivers incredible power with a ride so smooth it defies comparisons with cliches such as silk, glass and Adriana Lima's flawless skin.
Looking at Ghost Series II you might not immediately notice all the updates, but according to Richard Carter, Director of Global Communications for Rolls-Royce, just about every surface has been modified for this mid-lifecycle refresh including redesigned fenders that present a wider stance and a new bonnet that features tapered wake channel creating a more sporting appearance.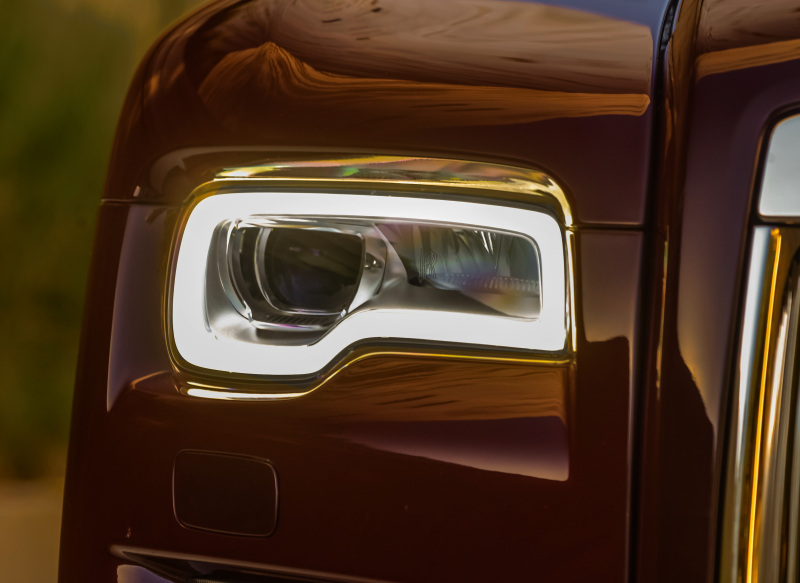 The most noticeable change is that the Ghost Series II now features full LED headlamps framed by unbroken daytime running lights that have been placed 50mm further apart on the fascia again emphasizing the width of the car. The signature Parthenon Grille has been raised just a bit, while the Spirit of Ecstasy hood ornament has been leaned forward a few degrees, giving it a slightly more rakish look.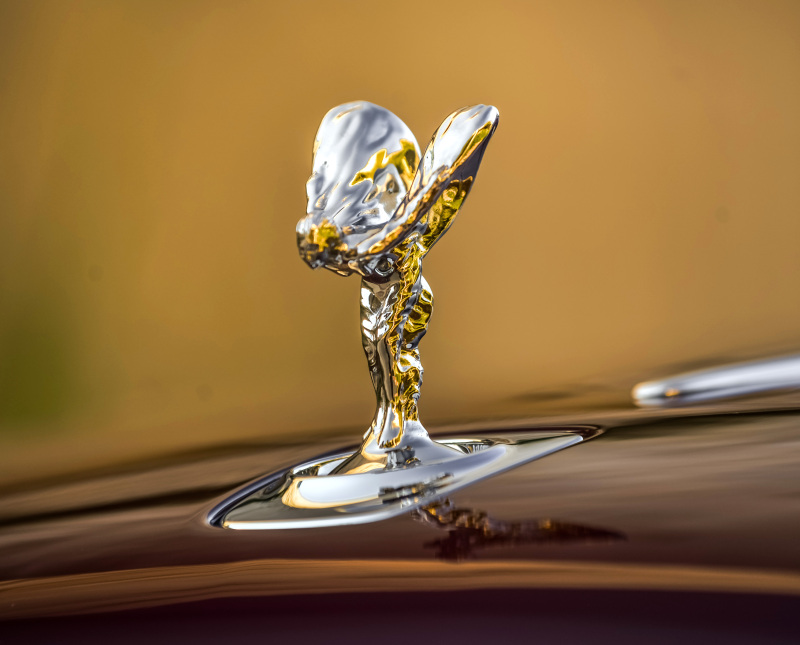 And while the changes from Series I to Series II may be subtle, the overall design is anything but.
Ghost Series II makes a serious statement wherever it goes. It announces its presence and the arrival of its owner in a way that none can ignore. Whether you're exiting from the driver's seat or through the carriage doors after riding in the rear, be prepared to be the object of attention from bystanders wondering who's getting out of the Roller and what you did to earn the privilege.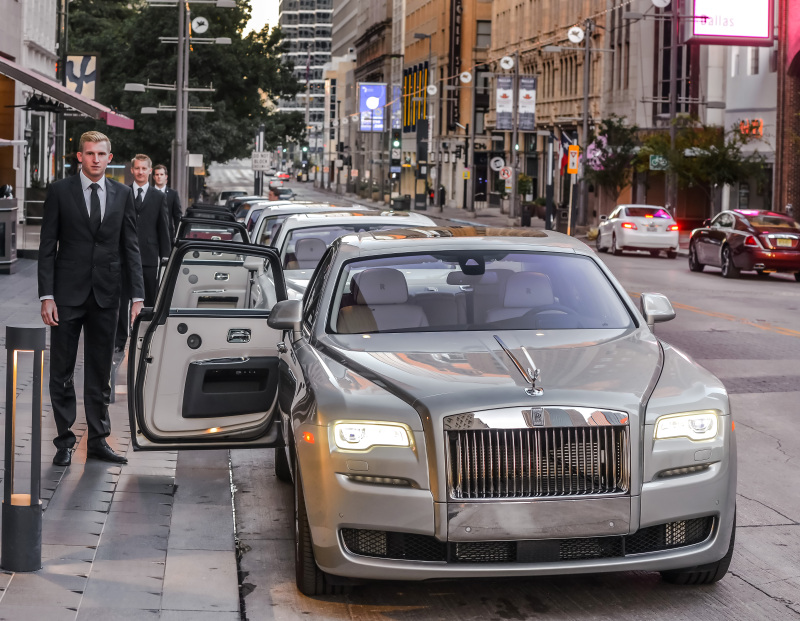 Executives at Rolls-Royce talk about Ghost Series II as a car that celebrates not just success, but making money. It is a symbol that one has achieved a certain (okay, substantial) amount in his or her life and is comfortable letting the whole world know about it. For this reason Ghost has become a favorite of entrepreneurs, athletes and other new money professionals, lowering the average age of a Rolls-Royce owner by ten years.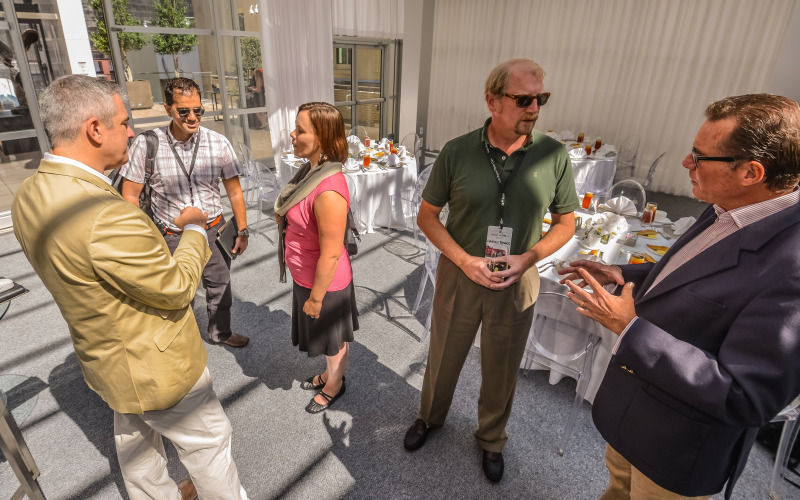 But if you're thinking that Ghost Series II is only a means to show that you've achieved success, you'd be wrong. For those who can afford it, Ghost also offers a degree of, dare I say, practicality.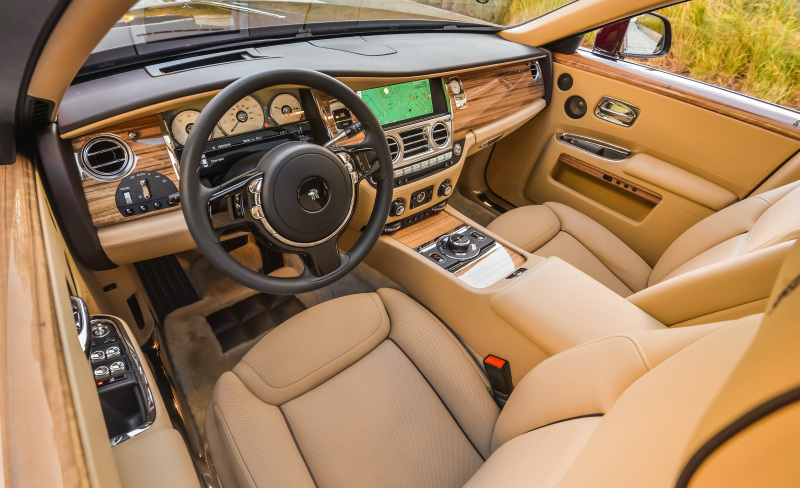 With the latest electronics and connectivity options, Ghost allows its driver and passengers to stay productive while on the road, conducting business in an office that's quieter and more luxurious than any in the buildings on that line Wall Street or sprawl below the mountains that ring Silicon Valley.
Yet with its imposing presence, driving the Ghost Series II is easier than you might think. This car is big; over seventeen feet long, almost six and a half feet wide and it weighs nearly 5,500 pounds. But it drives much smaller.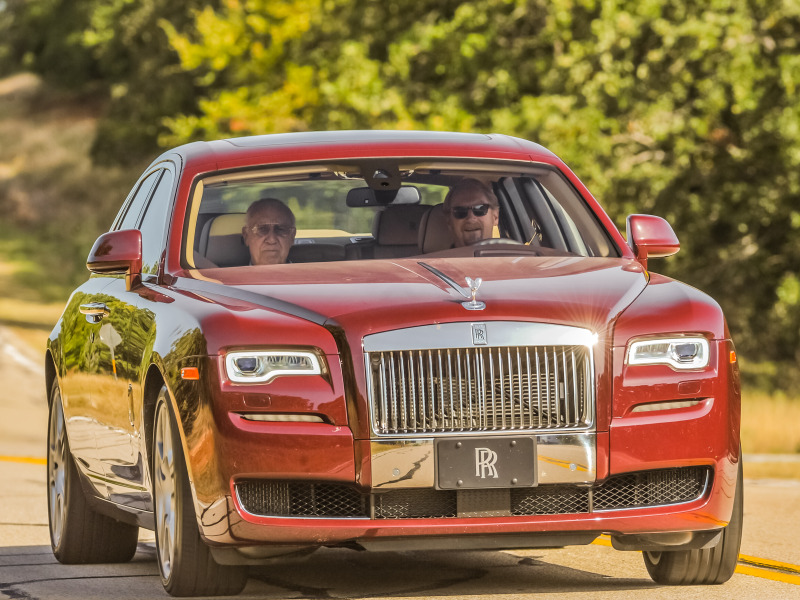 The first reason for this is the 563 horsepower V12 engine and its satellite aided automatic transmission which provides all the power you need to accelerate quickly while being able to cruise both smoothly and quietly at speeds that far exceed the legal limit. Push the accelerator to the floor and sixty miles per hour appears in just 4.8 seconds which is quick enough to leave most other cars behind at a stoplight or merge safely onto any interstate. Set the cruise control at 70 and you can barely hear the engine purr. And to ensure your ride is an unruffled experience, the satellite aided transmission uses GPS to read the road ahead and put the car in the proper gear to maintain speeds through corners, up hills or down exit ramps.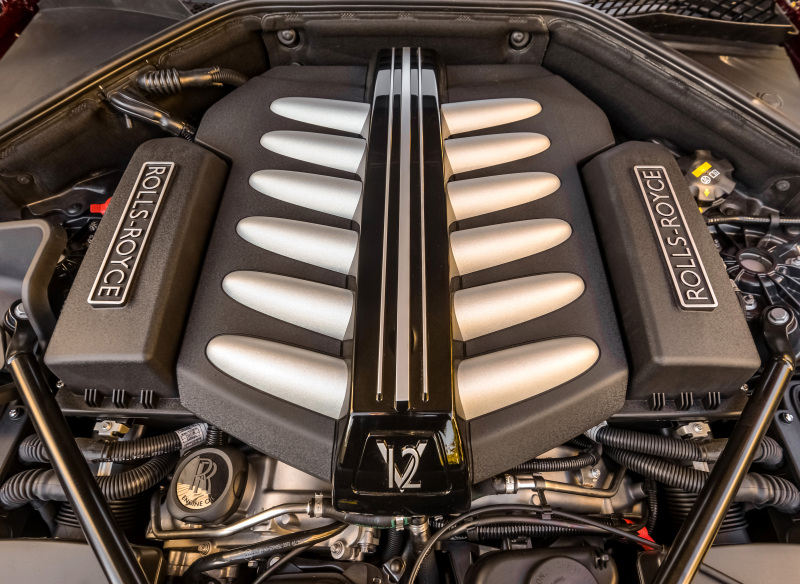 The ride in Ghost Series II is exactly what you'd expect from a Rolls-Royce; isolated and comfortable. On rough pavement the potholes, cracks and other imperfections simply melt away under the the re-engineered front and rear struts, new steering gear and adjusted dampers. Handling is quite good, but as you'd expect this is not a driver's car begging to be tossed into corners or flung headlong at breakneck speeds over the whoop-de-dos. Inertia is not your friend in corners and body roll is evident though the car is perfectly controllable. It also has a tendency to float over dips and rolls in the pavement.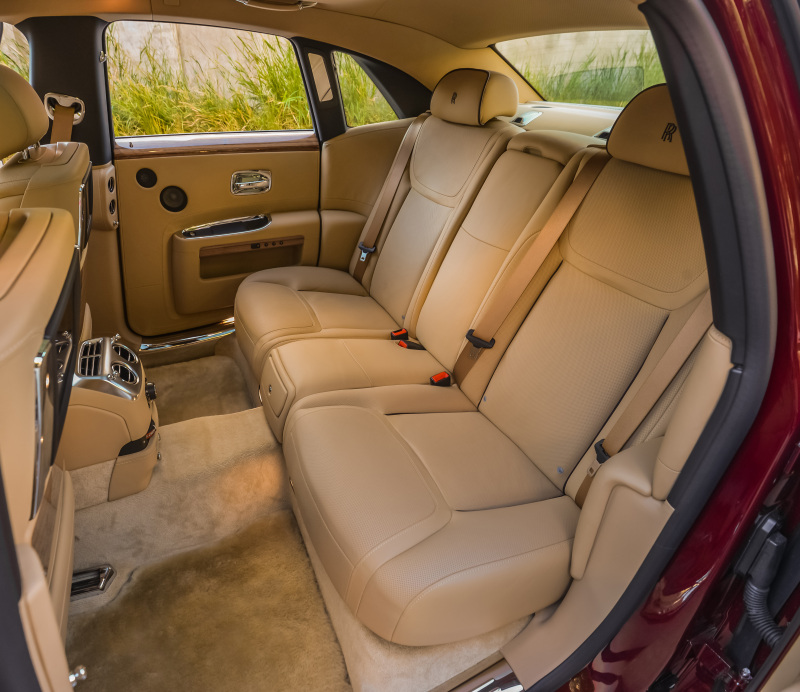 But let's be honest, you don't buy a Rolls-Royce to drive like Sir Stirling Moss at Silverstone. That's for other cars in your stable. Ghost Series II is the car you'll drive to work on the weekdays and then hire a driver to take you out on the town on Saturday night.
It's also the car you should have made to your exact specifications, because thanks to Rolls-Royce incredible Bespoke capabilities, you can. For 2015 Ghost Series II starts at $286,000 and with common options and packages that include items like 21-inch wheels and tires, Lambswool floor mats (a must have!), a rear theater configuration and massage seats, that price can climb to well over $375,000 before you start any real customization.
Our feeling is that if you're going to spend that much, why not go just a little further and get a car that truly reflects your unique personality and lifestyle. Add custom woodwork, an individualized two-tone paint scheme, stitch your family crest or company logo into the headrests, or if you're a cigar aficionado replace the glove box with a humidor. The opportunities to customize your Ghost are endless and Rolls-Royce will be happy to welcome you into their Bespoke Lounge in Goodwood where their designers will help you create the Ghost of your dreams.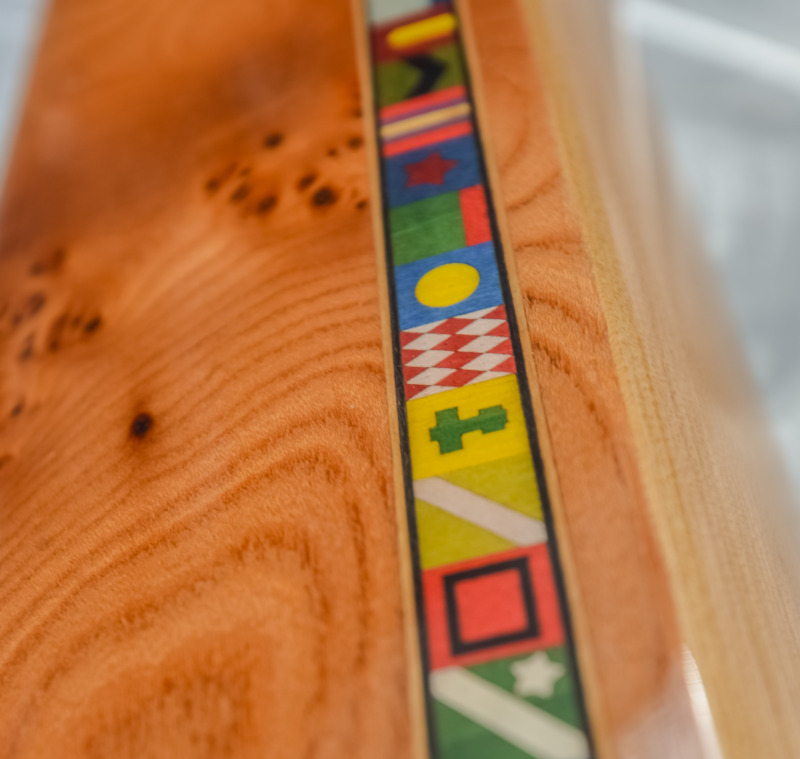 Ghost Series II is a go-big-or-go-home kind of automobile. Like the city I was able to experience it in, Ghost is proud, bold and unapologetic. It is success personified and if that's who you are, then you should have one in your garage.
2015 Rolls-Royce Ghost Series II
Four-door, four-passenger, ultra luxury full-size sedan
Base price: $286,000
Engine: 6.6 L twin-turbocharged V12
Transmission: 8-speed automatic with GPS integration
Horsepower: 563 @ 5250 rpm
Torque: 575 lb-ft @ 1500 rpm
0-60 mph: quick enough
Top speed: who cares
EPA MPG: 13 city / 20 highway
Uses premium fuel only
www.rolls-roycemotorcars.com
While the manufacturer paid for travel expenses and provided the vehicles for this story, the opinions and recommendations in this post are 100% ours.
A version of this review first appeared at Pursuitist.com