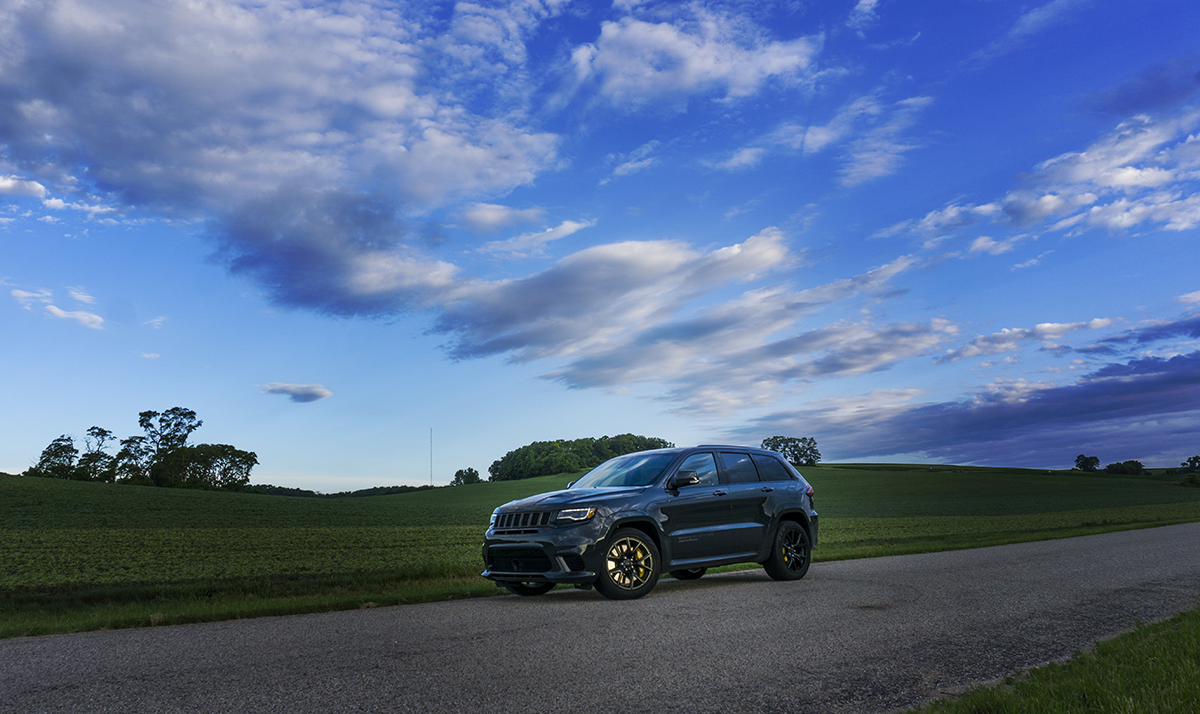 Launch control was engaged and I could see the pressure gauge indicating the Jeep Grand Cherokee was ready to leap forward at maximum thrust. I had the entire track at Madison International Speedway to myself so naturally, a big grin formed across my face. I moved my right foot from the brake to the accelerator and the giant 6.2-liter supercharged V8 (aka Hellcat) motor roared to life and just 3.5 seconds later I had hit 60 miles per hour a little more than halfway down the half-mile oval's front straight. Damn, this thing is quick.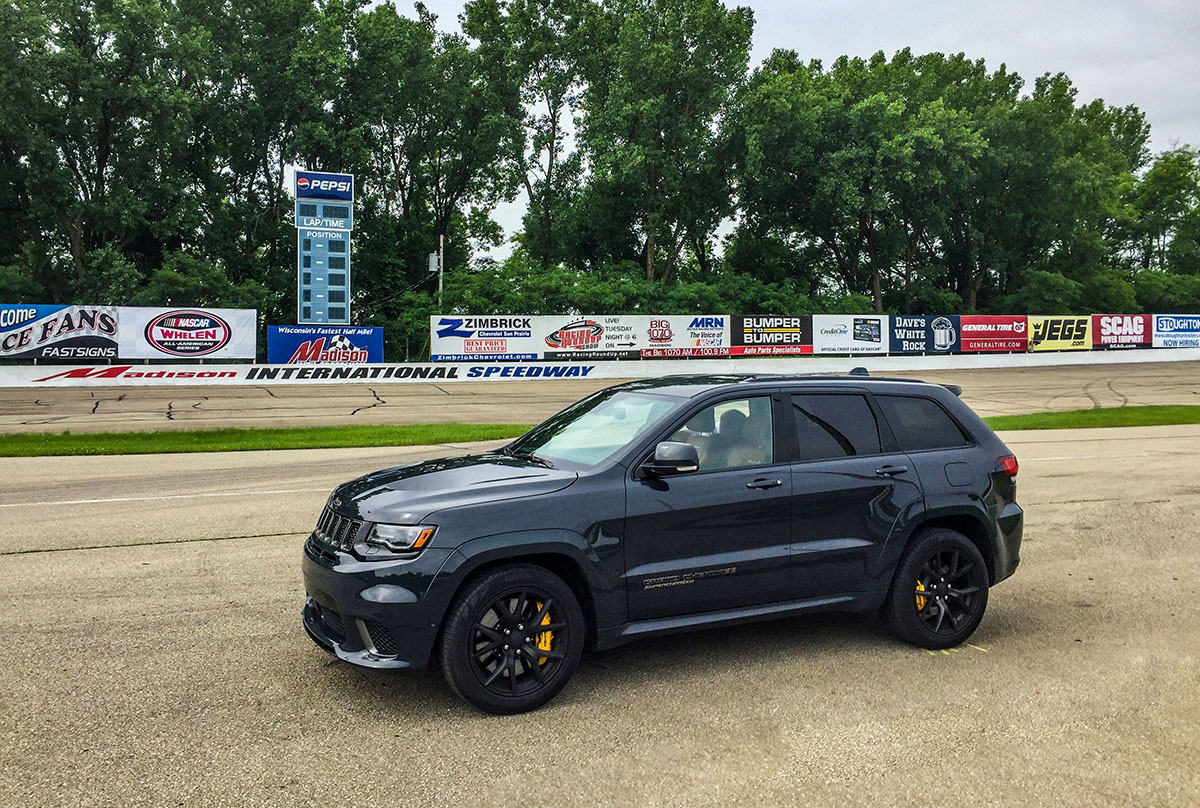 But if you've heard anything about this car you already knew that. What you might not know is that the $85,000 Jeep is more than just a stoplight monster. No, with its 5,363-pound curb weight and a center of gravity that's probably about waist high, you won't be setting any lap records on the Nurburgring. But, thanks to beefy 20-inch Pirellis clawing at the pavement on all four corners, a seriously reworked Bilstein Competition Suspension system, and massive 15.75-inch rotors being clamped by 6-piston Brembo brakes, the Trackhawk handles the twisty bits with more balance and confidence than any other large SUV with the possible exception of the BMW X6 M, Alfa Romeo Stelvio Quadrifoglio, or Maserati Levante, which is saying something.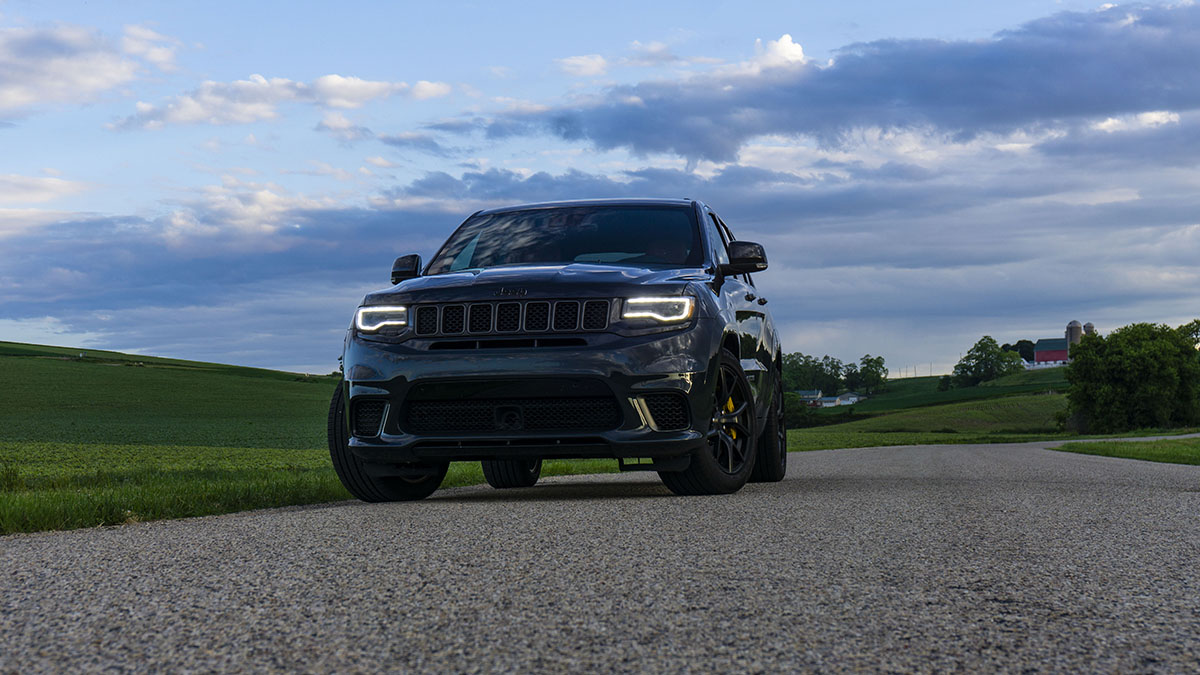 At the heart of the Trackhawk is, of course, the 707-horsepower Hemi that first famously appeared in the Dodge Challenger Hellcat. This is fairly ancient engine technology advanced to the highest levels of performance. Using a venerable pushrod design, the Hellcat V8 makes its power the old-fashioned way, with cubic inches and brute force. Unlike the high-revving turbos you find in other performance cars, the Trackhawk's Hemi V8 uses 376 cubic inches of displacement and a belt-driven supercharger to pound out 645 pound-feet of torque. Superchargers spool up more quickly than turbochargers which are exhaust driven, offering quicker acceleration off the line, and a lovely whine that sent chills up my spine every time I buried the accelerator.
The problem is, aside from the occasional on-ramp or stoplight, there's no place to take advantage of all the thrills offered by the Trackhawk's power. Fortunately for me, I had access to the Madison International Speedway for a morning of filming for a segment on our local CBS affiliate, WISC TV.
MIS is one of those great local tracks, a paved half-mile oval (with a quarter-mile track inside), where on any given Friday or Saturday night you can see NASCAR late model stock cars, sportsman racers, Bandits, and other classes running door handle to door handle while the crowd cheers on their local heroes. The speedway was where NASCAR veteran driver and man with the best name ever in racing, Dick Trickle, turned his share of laps as a young man. The action is non-stop with short, 8 to 10 lap qualifying races setting the stage for the longer features. With lap times in the mid-teens, this means the races are short, fast, and competitive. And if you attend on Buck Night, as I did with my son a few weeks ago, all burgers, chips, and sodas cost just one dollar, with a can of beer going for the princely sum of $2. It's a refreshing change from the interminably long NASCAR events and based on the crowd that attended that Friday evening, a great family event.
With access to the track, I was able to really see if this Jeep lived up to its name. Arriving early before our shoot, I checked in with my hosts and decided to run a few laps before anyone else showed up just to get comfortable with the car and the track and run a few launches on their 300-foot drag strip. Launch control is easy on the Trackhawk. Just put the vehicle in track mode, hold your foot on the brake, and press the launch control button. When the indicator on the instrument panel tells you you're ready, just stomp on the accelerator and off you go. The built-in timer will let you know how you did. I hit 3.5 seconds on my first try and later with a passenger in the car was able to turn 3.7-second 0-60 times with ease.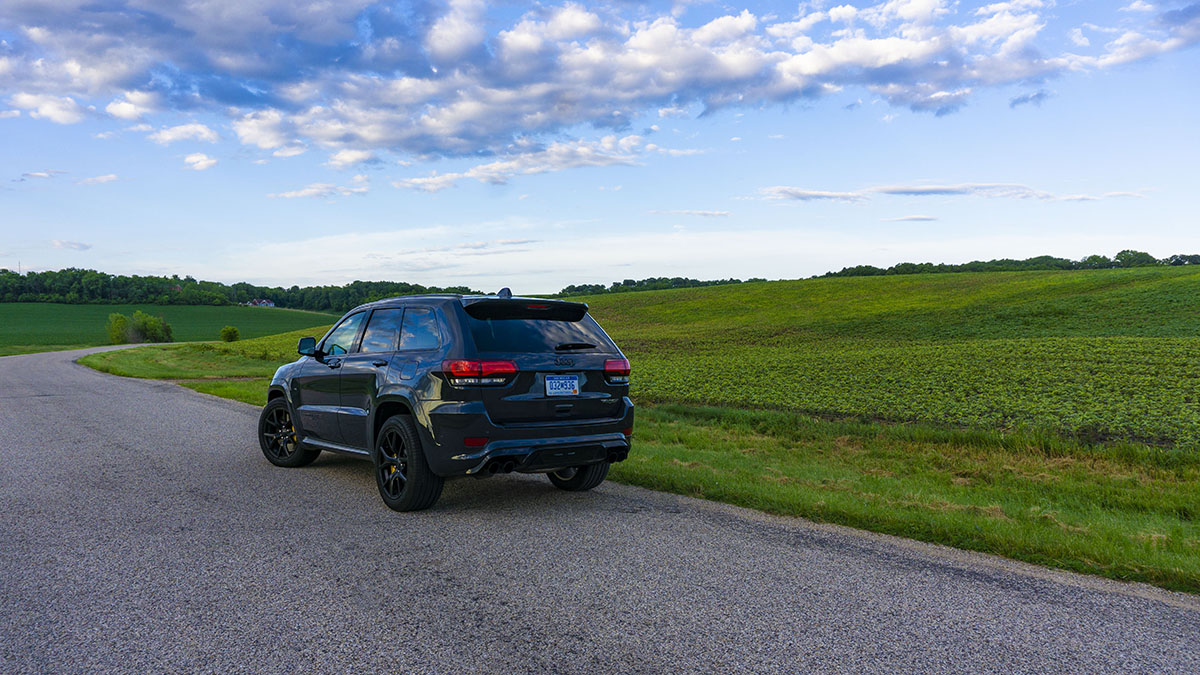 Lapping the oval was an exercise in building confidence. As with any performance car, it was really about getting to know the brakes and trusting the work Jeep's chassis and suspension engineers did when I dug into the corners. After all, any fool can mash the gas pedal. The key to going fast is braking as late as possible and hitting the turn in and apex marks before starting the process of building speed all over again. In just a few laps it became clear that the brakes, tires, and suspension were up to the challenges created by the Trackhawk's mass and power.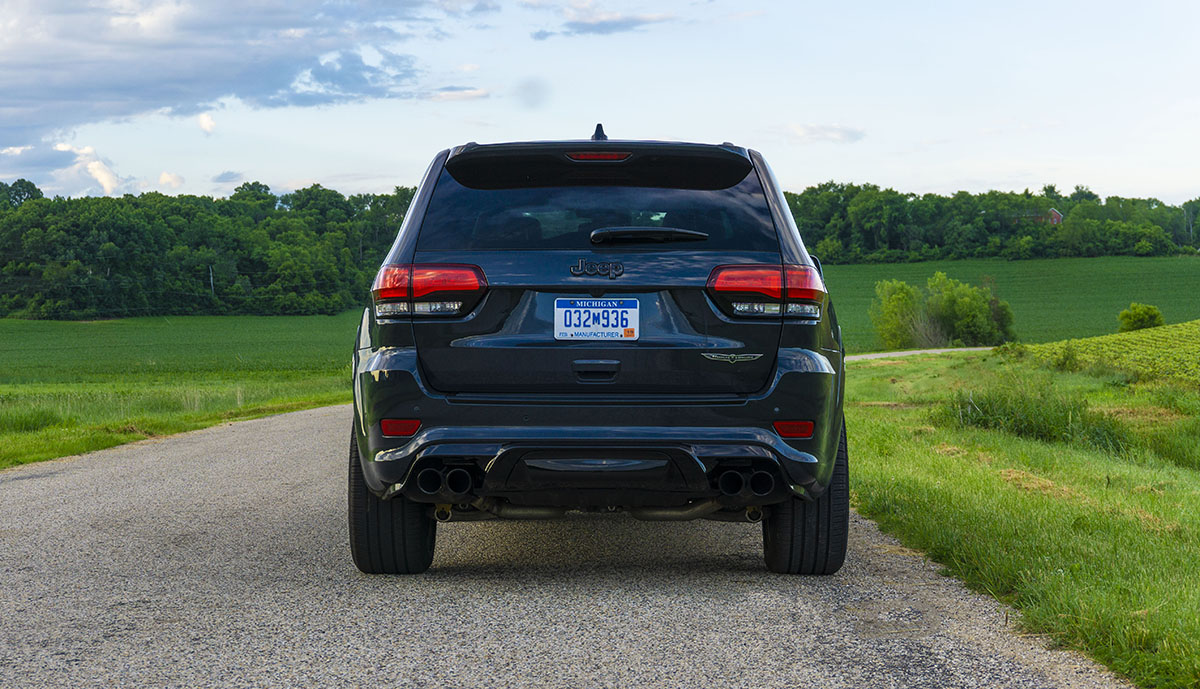 In addition to being a little topheavy, the Trackhawk carries the bulk of its weight over the front wheels which is no surprise given the massive engine. Thanks to an all-wheel-drive system that shifts 70% of the power to the rear wheels in track mode, however, the balance was fine and I never felt the Jeep plowing into corners no matter how hard I pushed it. Once I got into a rhythm, I was able to enjoy the repetitive zen of driving on an oval and revel in the incredible soundtrack created by the roaring 6.2-liter V8.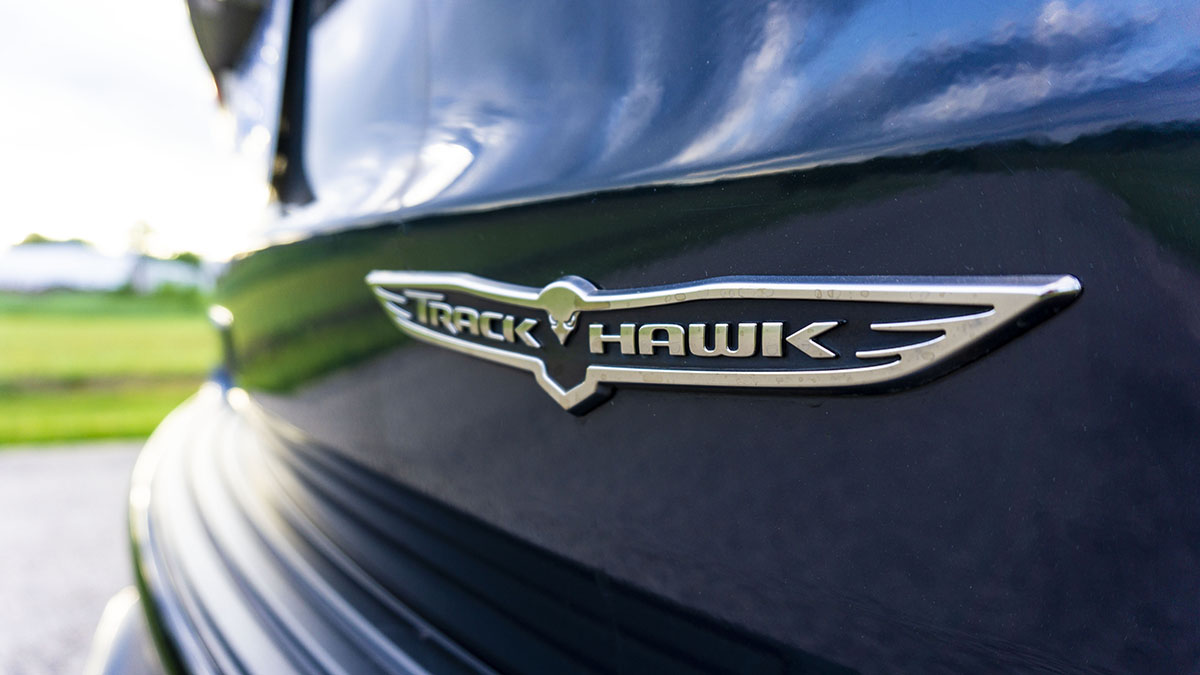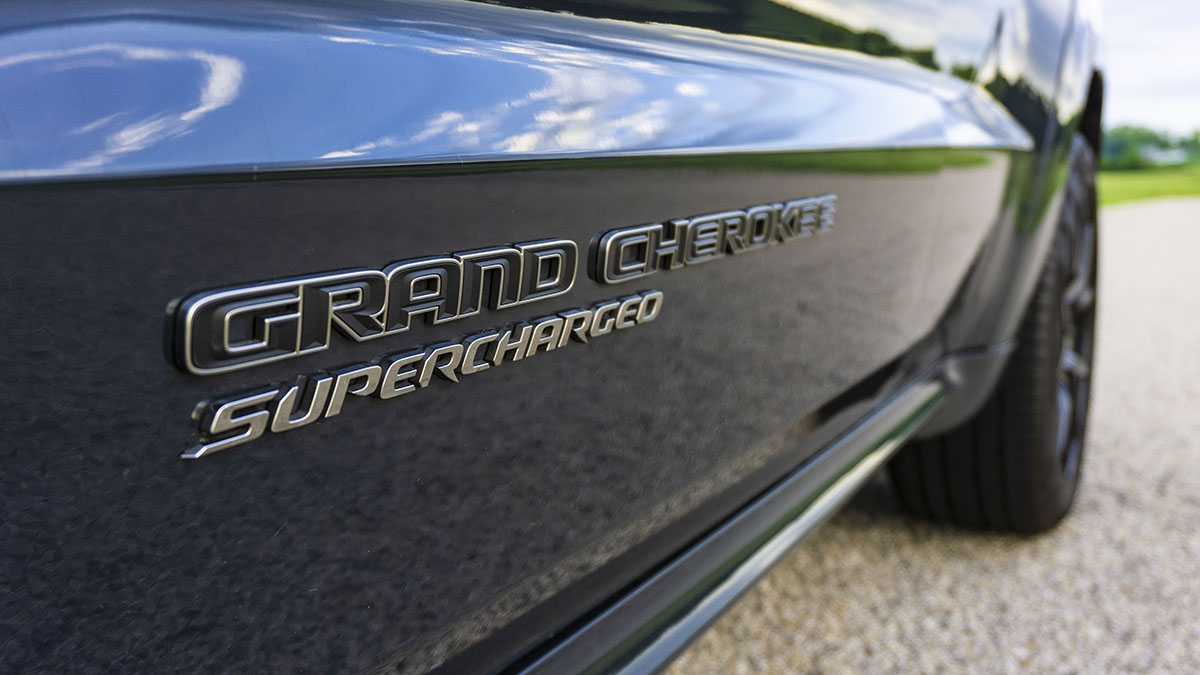 Since most people will never drive a Trackhawk on the track, I feel compelled also to talk about its manners on the street. Here's where it's even more surprising. In Eco and Normal drive modes, the Hellcat engine is downright docile – well, maybe not docile, but driveable. Any fear that it would leap away from me at greenlights and in hard acceleration from 30 to 50 mph, was unfounded. The suspension, though firm, offered enough pliability to soak up the imperfections that seem to make up the majority of Wisconsin's roads these days. Steering is direct and light with plenty of assist for low-speed maneuvering and parking.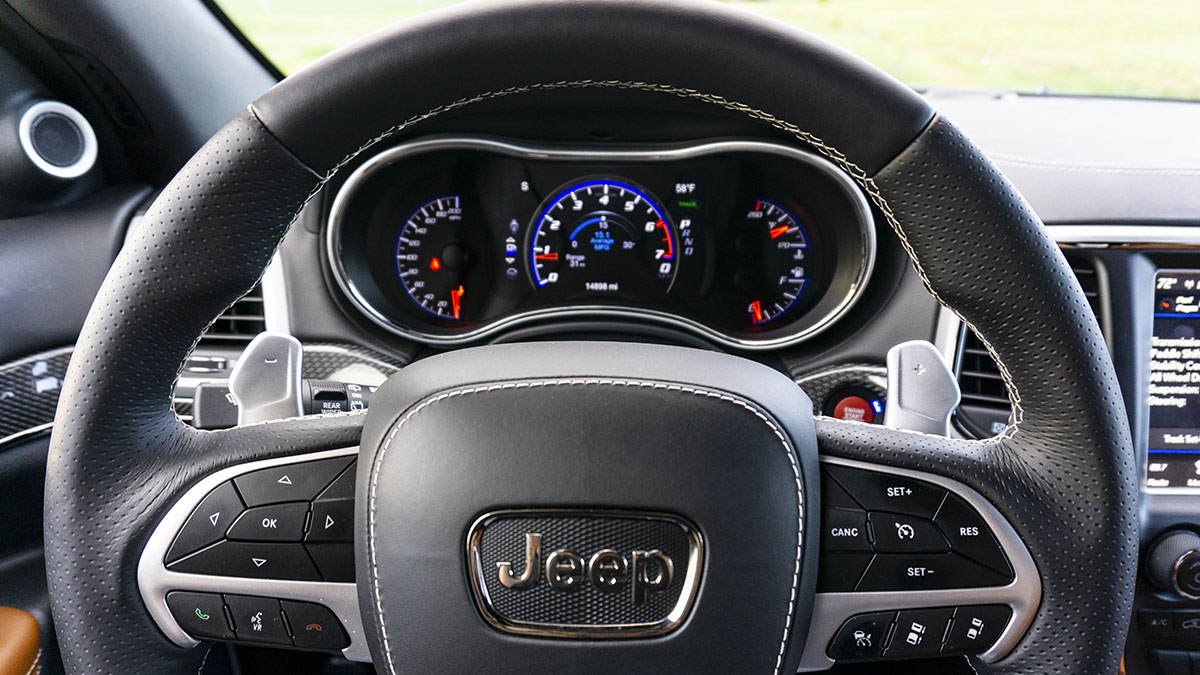 Of course, you'll find a full complement of safety and technology features. Adaptive cruise control, lane keep assist, and forward collision warning, are all standard. You get a 360-degree surround camera, touch screen digital infotainment interface that is right up there with the best in the industry. The nav system is bright, clear, and easy to use. Apple CarPlay and Android Auto come standard. My test car was equipped with a 19-speaker, 825-watt Harman Kardon audio system that was powerful enough to drown out the Trackhawk's exhaust tone. But really, why would you want to?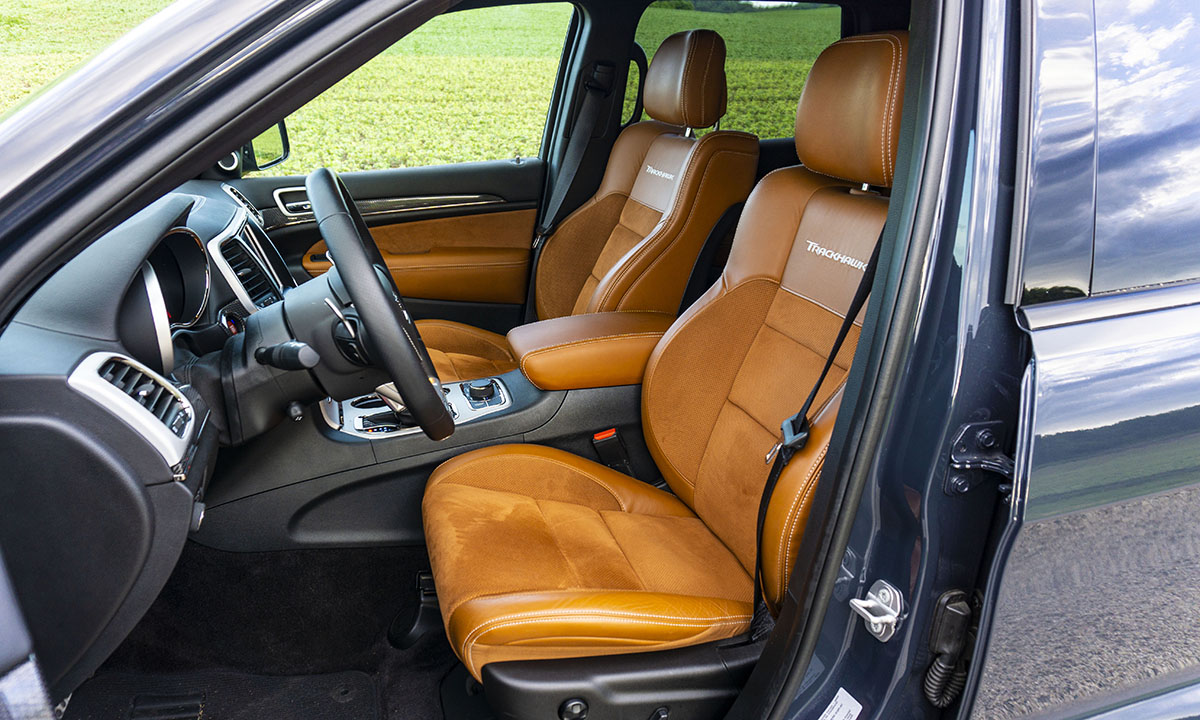 The standard suede and Nappa leather performance seats were very comfortable on longer drives and provided plenty of support on the track. The driving position is more upright than a typical sports car, but this is not a typical sports car. The is a true sports utility vehicle that can haul you and your family in comfort while towing up to 7,200 pounds of boat, snowmobiles, camper, or anything else you choose.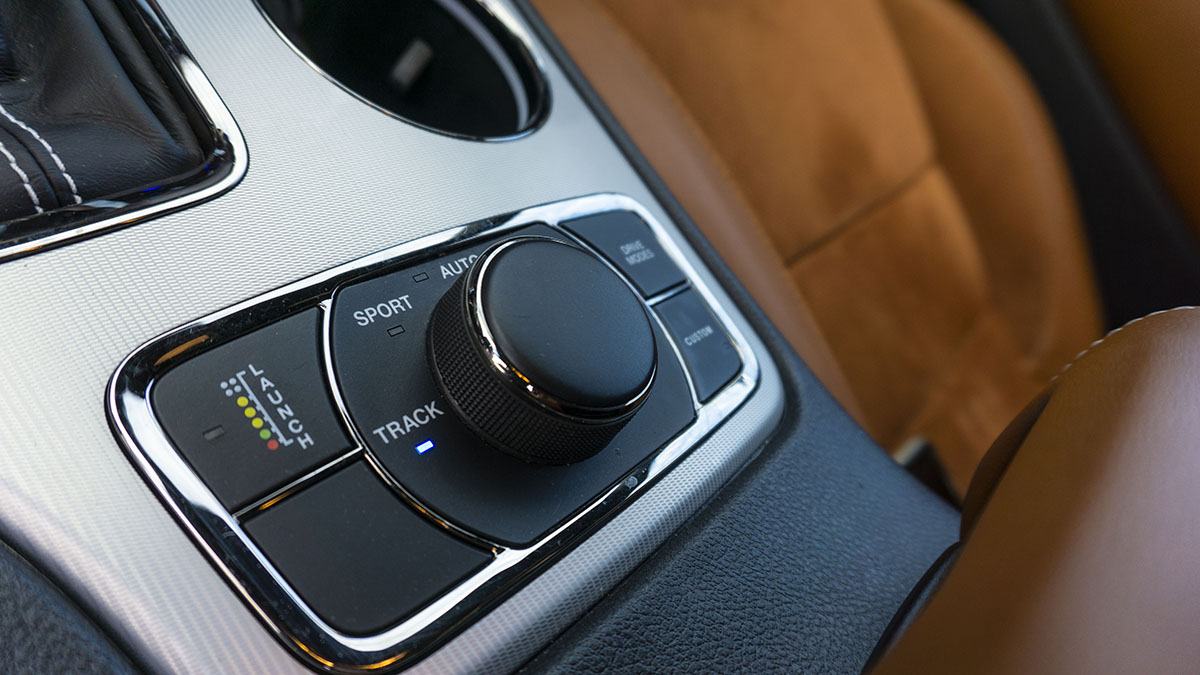 Yes, it's ridiculous. Yes, it's expensive. Yes, you'll be on a first-name basis with your local purveyor of petroleum in a matter of weeks. Yes, it's the kind of car that will rarely be used to its full potential. But that's not really the point. It's the answer to a question very few people ever ask, and it answers that question like no other vehicle on the road, loudly and proudly.
"I am Track Hawk, hear me roar!"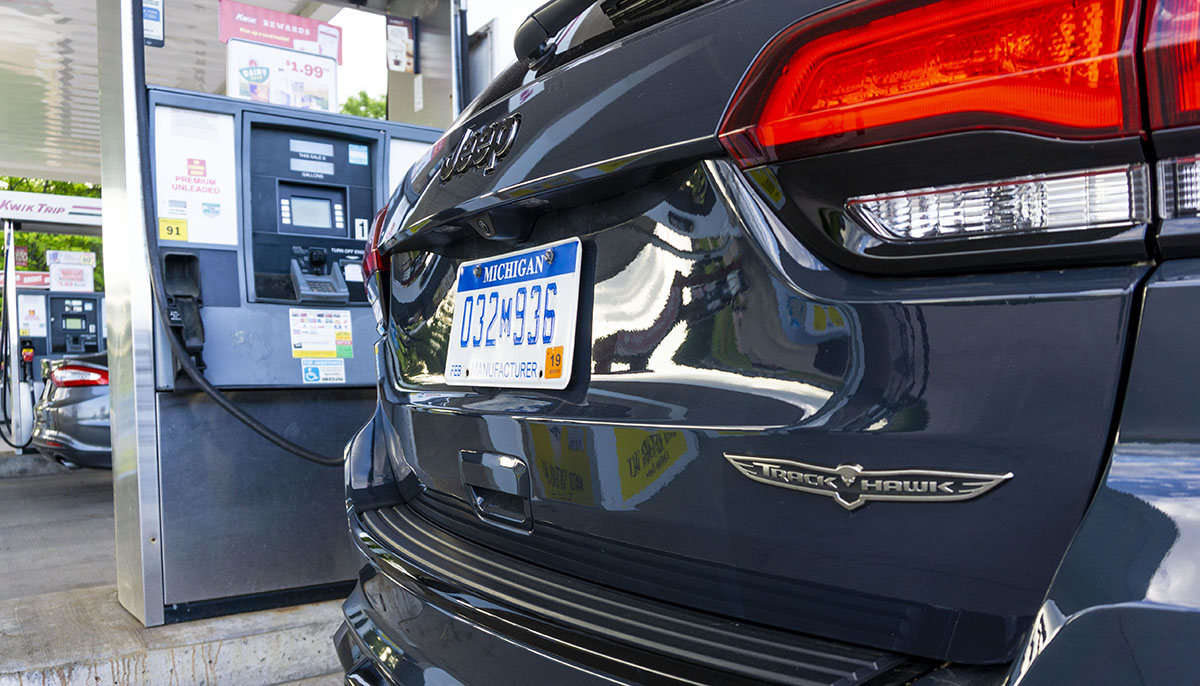 2018 Jeep Grand Cherokee Trackhawk
4-door, 5-passenger, high-performance SUV
Base Price: $86,200
Price as tested: $90,530
Major Options: Trailer tow package ($995), Harman Kardon Premium Audio ($1,995), 20-inch satin black aluminum wheels ($995), 3-season performance tires ($895)
Engine: 6.2-Liter Supercharged V8
Transmission: 8-speed automatic with steering wheel mounted paddle shifters and 5 drive modes
Power: 707 Horsepower @6,000 RPM
Torque: 645 lb.-ft. @4,800 RPM
Curb weight: 5,363 pounds
0-60 MPH: 3.5 seconds
Top speed: 180 MPH
EPA MPG: 11 city, 17 highway, 13 combined