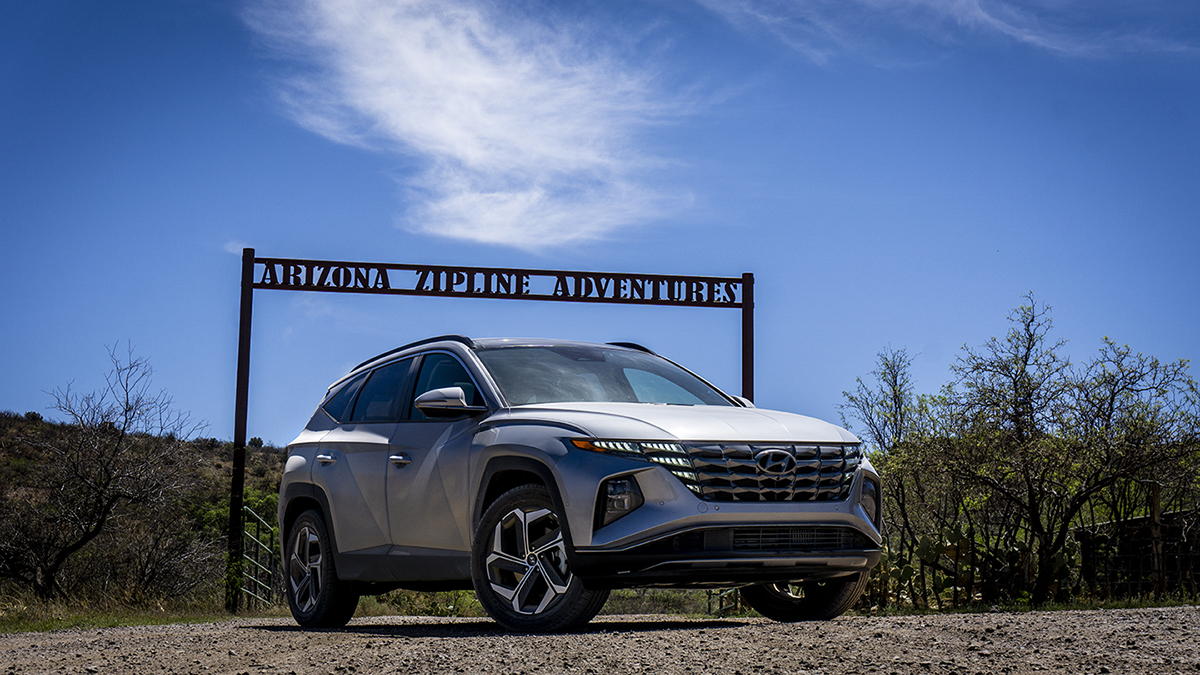 One good vehicle might be an aberration. A couple and you start to think, "maybe they're onto something." Three and you're definitely taking notice, but the run that Hyundai has been on lately is impossible to ignore. With Palisade, Sonata, Elantra, Kona, Veloster N, and now an all-new Tucson, Hyundai has one of the best lineups top to bottom in the industry. Add to that multiple JD Power wins, car and SUV of the year awards, and it seems the company is ready to go toe-to-toe with the likes of Toyota, Honda, and Ford.
The 2022 Tucson is the latest tune in this hit parade and it arrives a very different vehicle from the one it replaces.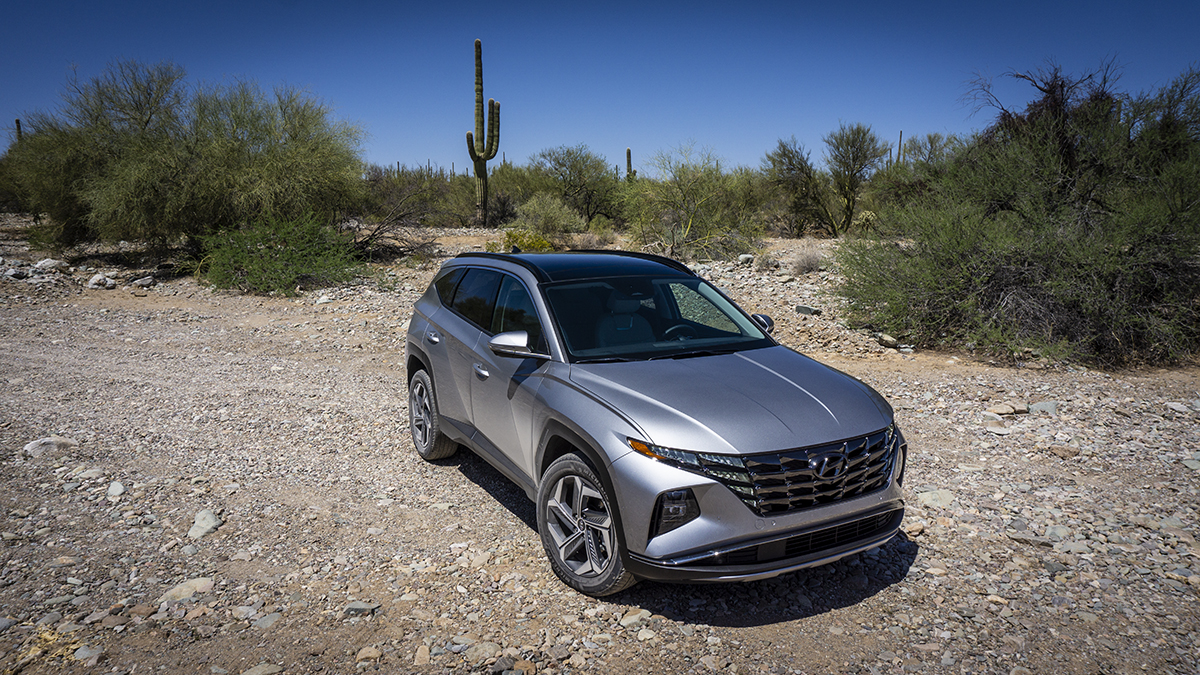 Soon to be available, the fourth generation Tucson competes in the hotly contested CUV segment where RAV4 and CR-V dominate the landscape. Along with the two behemoths, you also have over 20 other players including some very good options like the Mazda CX-30, Ford Escape and Bronco Sport, Chevy Equinox, and Jeep Cherokee. Taking significant share from this group is like trying to strike out the heart of the '27 Yankees lineup.
The Tucson has been Hyundai's best selling vehicle since its introduction. They've minted more than a million copies since 2004, which seems like a lot until you consider Toyota sells more than 400,000 RAV4s every year. With the introduction of the 2022 model, Hyundai is hoping to move that number from mid-pack nearer the top. It's a tall task, but one they've gone about tackling the right way.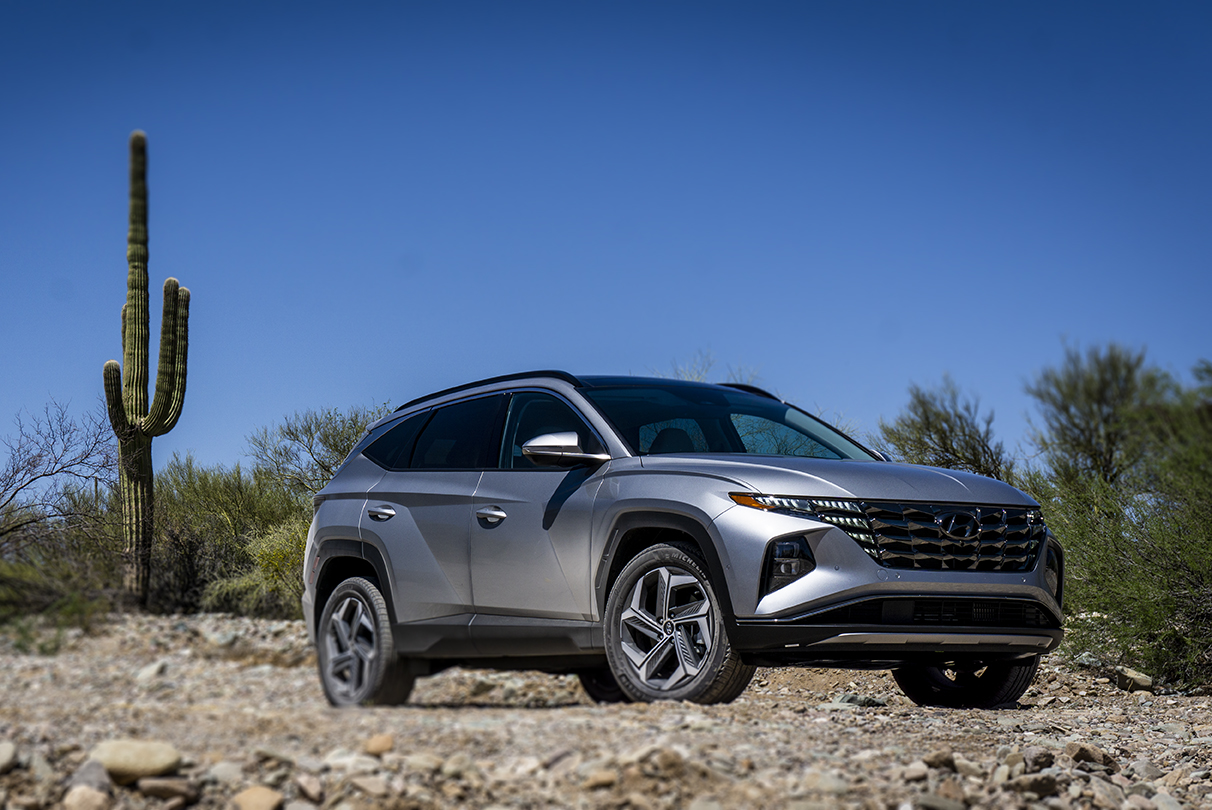 It begins with an all new platform that uses more high strength steel and has a redesigned architecture for greater rigidity. It features a longer wheelbase which is used to add a couple of inches of legroom for rear seat passengers. This platform provides a more solid foundation for the independent front MacPherson Strut and multi-link rear suspension resulting in improved ride. It also helps the column-mounted, motor driven rack and pinion steering system do its job, which results in extremely confident handling. Since Tucson is a mainstream vehicle built to a price point you're not going to see any exotic materials like aluminum or carbon reinforced plastics, but they've done a good job with the materials they have used and kept the price affordable.
Under the hood, Tucson features two updated engine options now, and a third that will be available later this year. The base engine is a naturally-aspirated 2.5 liter gas unit that makes 187 horsepower and 178 pound-feet of torque, which seems competitive but in practice feels just adequate. There's very little pep in this power plant and a slightly lazy 8-speed automatic doesn't help it much. Where Tucson begins to shine is when you upgrade to the hybrid system which pairs a 1.6-liter turbocharged gas engine with a 44.2 kW electric motor. This ups total system output to 227 horsepower and nearly 200 pound-feet of torque. This set up is available with a 6-speed automatic that makes good use of all the additional power. The third option coming this fall is a plug-in hybrid that will pair the turbo engine to a 66.9 kW motor delivering an estimated 261 horsepower which should make things very interesting. It's still a little shy of RAV4 Prime's 300 ponies, but still plenty for this Korean/American CUV.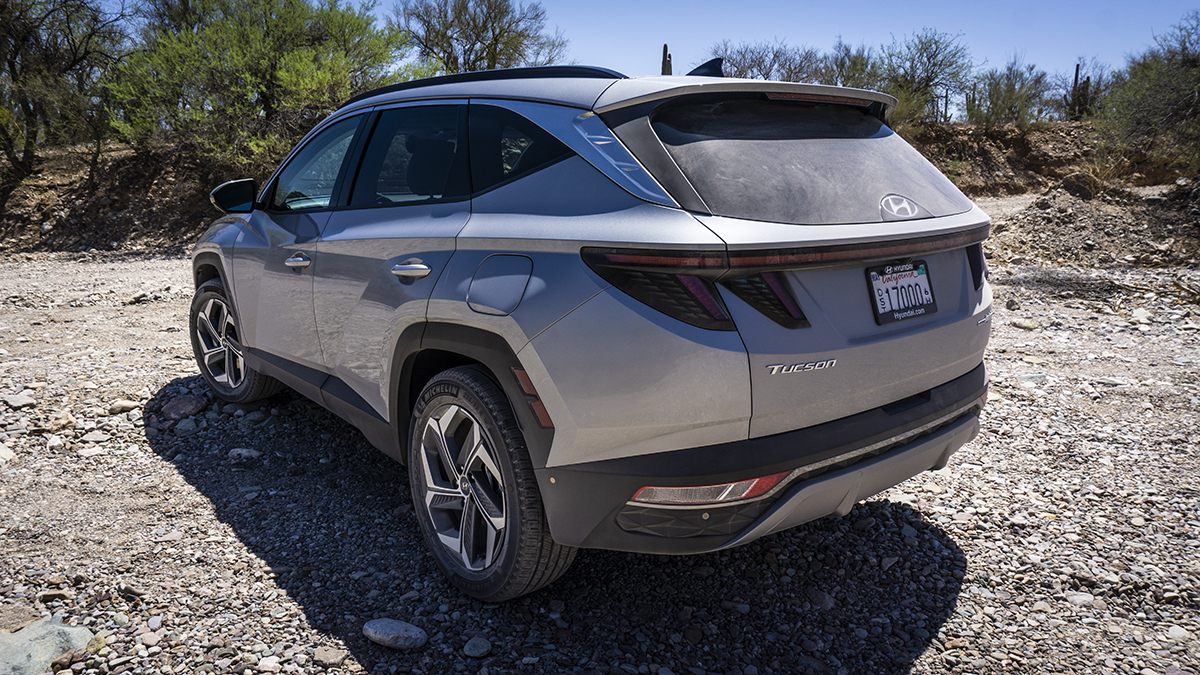 The new Tucson's most obvious upgrade is its exterior styling. The new front end features a revised version of Hyundai's signature cascading grill. The daytime running lights are integrated into the grille behind mirrored etched glass so they're imperceptible when the vehicle is off, but create a unique light signature when it's powered up. LED head lamps are standard and tucked into the fascia just way out to each side and just under the DRLs. This look eschews the convention of the front end of a car representing its "face." Like anything different, it is a little jarring at first, but the look grew on me the more I studied it.
Move to the side and Hyundai's desire to be different continues. While the silhouette is pure two-box SUV with a slightly tapered roofline, the sharp creases and fractal sculpting set it apart from Toyota and Honda. It's a design theme similar to that in the new Elantra and like its application there, I expect this to be more controversial. 17-inch wheels are standard on Tucson, with the de rigueur plastic cladding outlining the wheel arches. My test car had 19-inch alloys with all-season tires. In front wheel drive configurations, Tucson offers 7.1 inches of ground clearance. All-wheel drive models will let you clear 8.3-inch tall obstructions.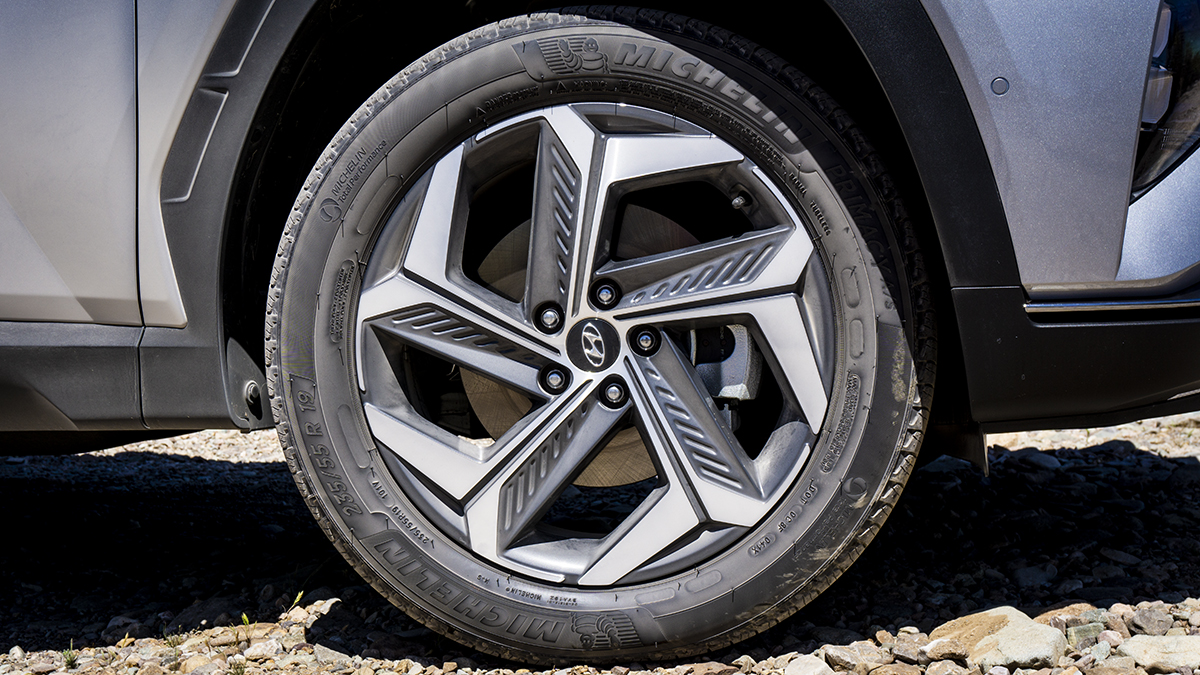 Inside Tucson offers a few different trim levels and a boatload of standard comfort, convenience, and safety features. While Hyundai is definitely trying to move up the food chain, they still operate on the fundamental philosophy of "a lot more for a little less." It's worked well for them so far and is put to good use in Tucson.
Cloth seats are standard in the 5-passenger Tucson, on the SE and SEL trims with leather an option on SEL and standard on the Limited grade. The standard 4-spoke steering wheel includes controls for audio, bluetooth, and cruise control. In back, 60/40 split folding seats are standard, and there's a slick, dual level cargo floor. Standard equipment is about what you'd expect – 8-inch touchscreen infotainment with wireless CarPlay, Android Auto, and a basic 4-speaker audio system.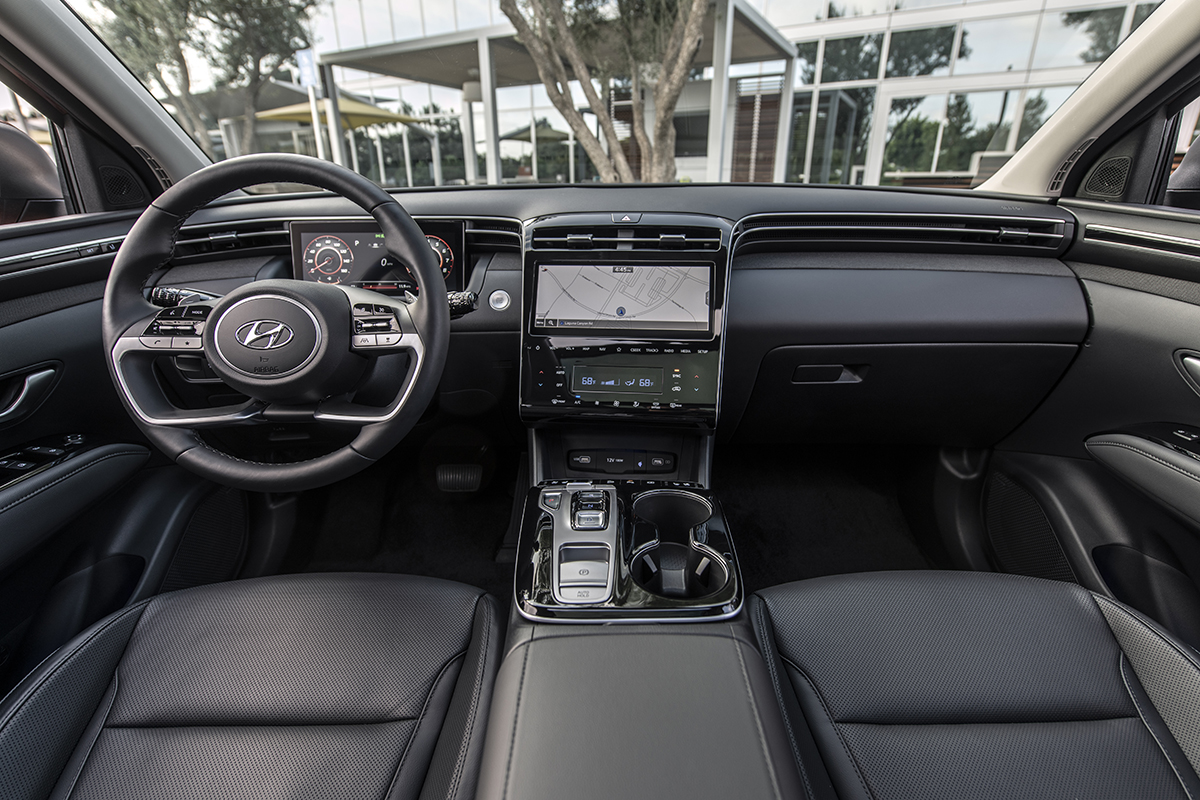 The All-wheel drive, hybrid Limited Tucson I spent the most time in was decked out with all the trimmings. This included heated and ventilated front seats, a leather-wrapped steering wheel, electronic shift buttons, an 8-speaker Bose system with a 10.25-inch touchscreen, that's bright and crisp, and the 10.25-inch digital instrument cluster. Both screens were incredibly bright and nicely integrated into the dash. There was also a power panoramic sunroof, adaptive cruise control with start stop, lane centering, wireless charging, two USB ports in each row, heated rear seats, remote park assist (aka "Smaht Pahk") and all the safety features including surround view monitors, highway drive assist, blind spot detection with rear cross traffic alert and more.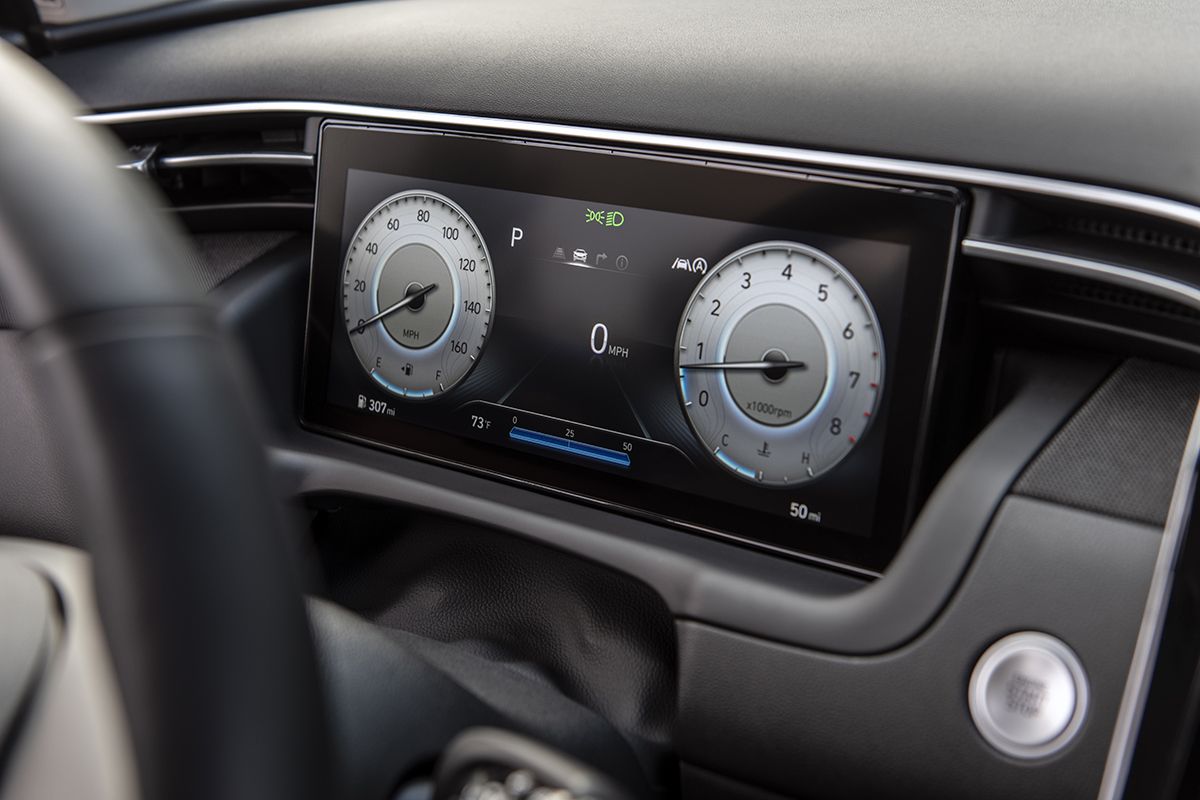 I drove the new Tucson in Tucson, Arizona (very creative) and spent three hours behind the wheel on everything from city streets to divided highways, and gnarly unpaved mountain roads. The ride was comfortable, the power plentiful, and the handling predictable. The mechanical all-wheel drive system provided plenty of traction on the loose gravel and added a little grip to aid giddy-up off the line. This is not a performance or adventure oriented SUV, however. It's a family crossover that's meant to take mom, dad and the kids on their daily errands and road trip vacation. You won't be tempted to conquer the Rubicon Trail, but if you want to take some fire roads deep into your favorite national park, Tucson will oblige as long as the ruts aren't too deep. You can tow a small trailer, 2,000 pounds max, and put enough stuff in the cargo area for a week-long adventure.
There's nothing revolutionary about the 2022 Hyundai Tucson, but it is a significant upgrade in styling, performance, comfort, and efficiency from the 3rd generation model it replaces. Starting a $24,900 for an SE front-wheel drive model and going all the way up to $37,350 for a fully loaded all-wheel drive, hybrid Limited model, Tucson still has a price advantage over similarly equipped competitors from Honda, Toyota, and Mazda. But if they keep improving at this rate, I'm not sure how long they're going to need it.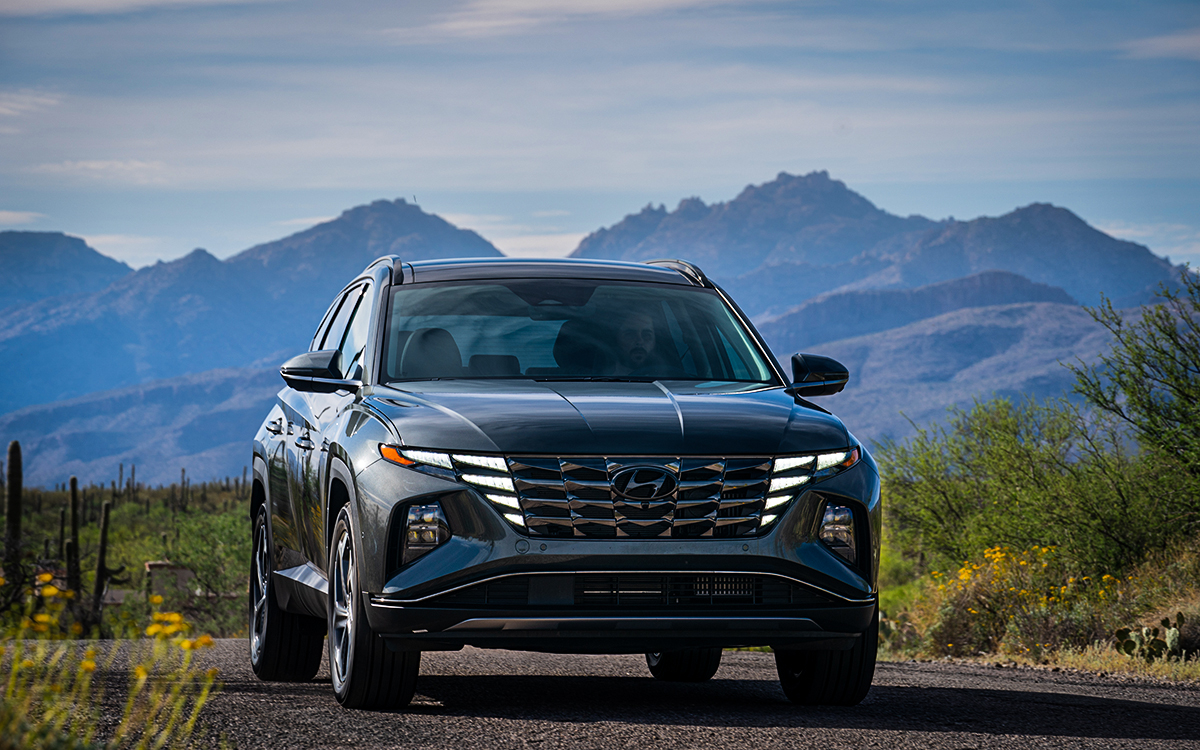 2022 Hyundai Tucson Limited Hybrid All-Wheel Drive
Four-door, five-passenger compact utility vehicle
Base Price: $24,950
Price as tested: $38,535 (includes $1,185 destination charge)
Engine: 1.6L Turbo with direct injection and dual overhead cams
Motor: 44.2 kW permanent magnet synchronous motor
Transmission: 6-speed automatic
Battery: 64 kW lithium-ion polymer
Output: 227 horsepower total
Torque: 195 pound-feet
Curb Weight: 3,752 pounds
EPA MPG: 37 city / 36 highway