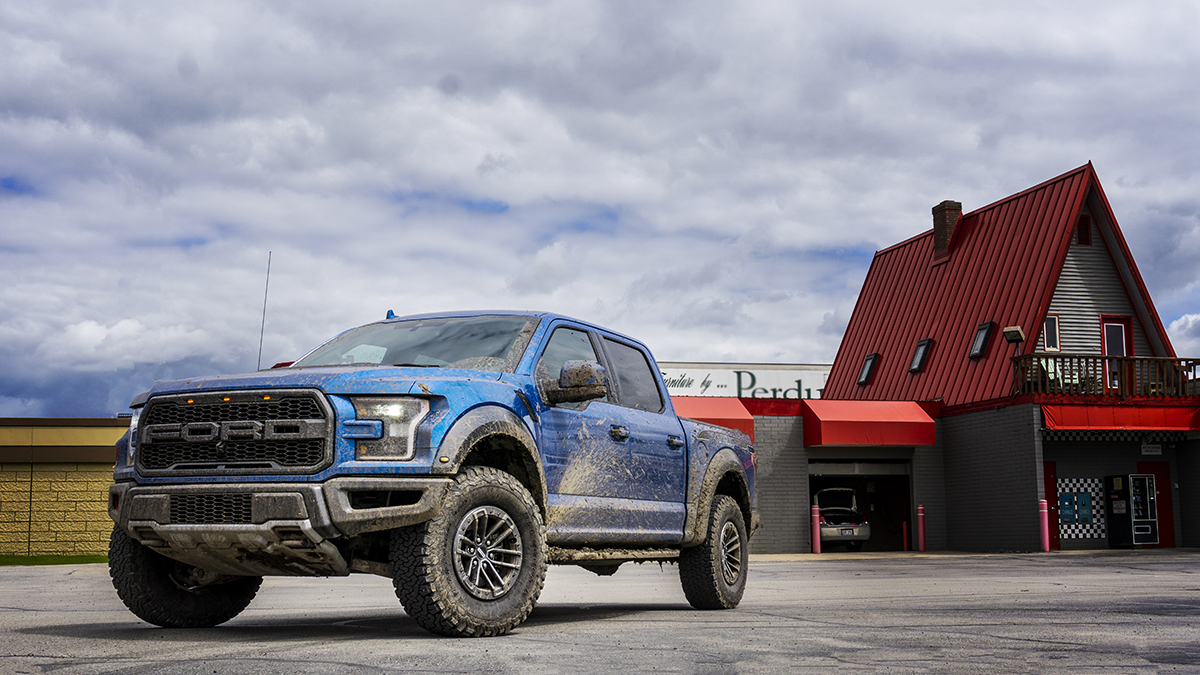 It's impossible to overstate just how imposing the F-150 Raptor is in person. At six foot three inches, I'm not a small guy and this thing dwarfs me. With wheel openings higher than my waist and a roof height that eclipses mine by almost three inches, the Raptor towers over just about everything on the road. While its size might intimidate others around you, it also makes the Raptor a bitch to park at your local IGA. With the mirrors extended, it's over eight feet wide. In SuperCrew trim it's almost twenty feet long. Still the Raptor is easier than you might imagine to drive around town and, equipped as mine was, plenty comfortable. If you spend most of your time on pavement, however, you're doing it wrong.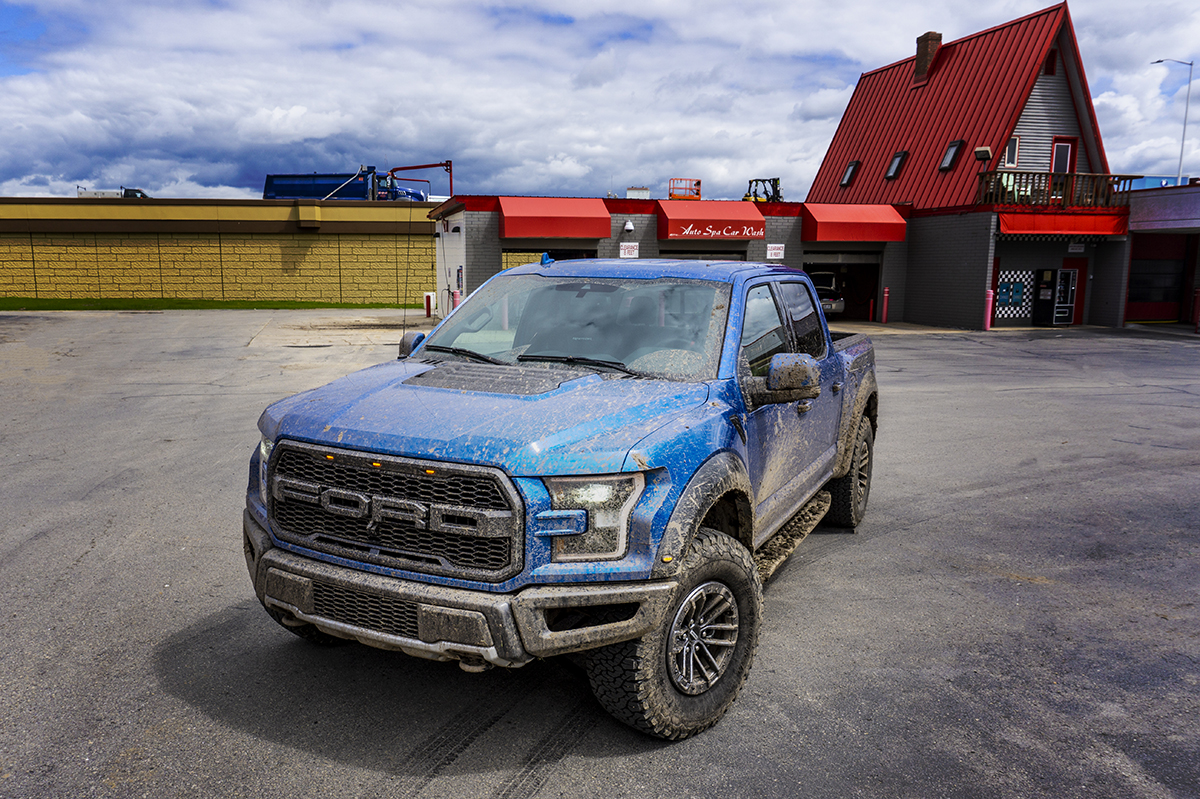 Raptor is designed for high speed desert runs, slogging through mud bogs, and crushing boulders on mountain trails. Frankly, the only time it should be on the road is getting to or from more interesting terrain. Oh sure, you can commute comfortably to the office (if you don't mind sending half your paycheck to the oil companies), put carts full of groceries in the back seat, and pick up most of the soccer team after the game, but using a Raptor as a daily driver makes about as much sense as using an M9 flamethrower to brûlée your crème.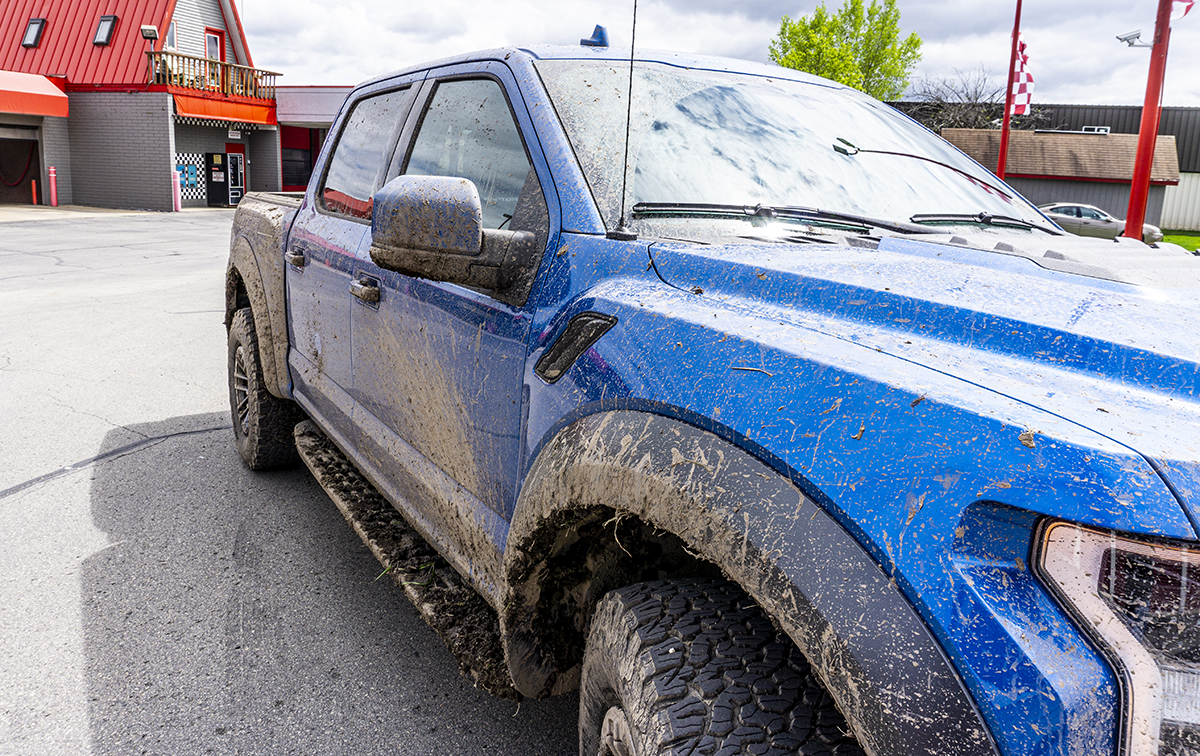 With the high-output version of Ford's 3.6-liter, twin turbocharged EcoBoost V6 under the hood making 450 horsepower and 510 pound-feet of torque, 10-speed automatic transmission, the Raptor is quick . 0-60 miles per hour in just 5.7 seconds. And it can Top speed is limited to just 108 miles per hour which was fast enough to allow it to finish the 2017 Baja 1000 in stock trim thanks to its special "Baja Mode" which optimizes the suspension, transmission, and steering to run fast over sand and rocks.
In my part of Wisconsin, there's not a lot of Baja-like terrain. Let me clarify that. There's none. Around here when you leave the pavement this time of year you have your choice of mud and deep mud. Since it rained three inches the weekend before I tested the Raptor the mud on my secret off-road course was knee deep which was just fine by me.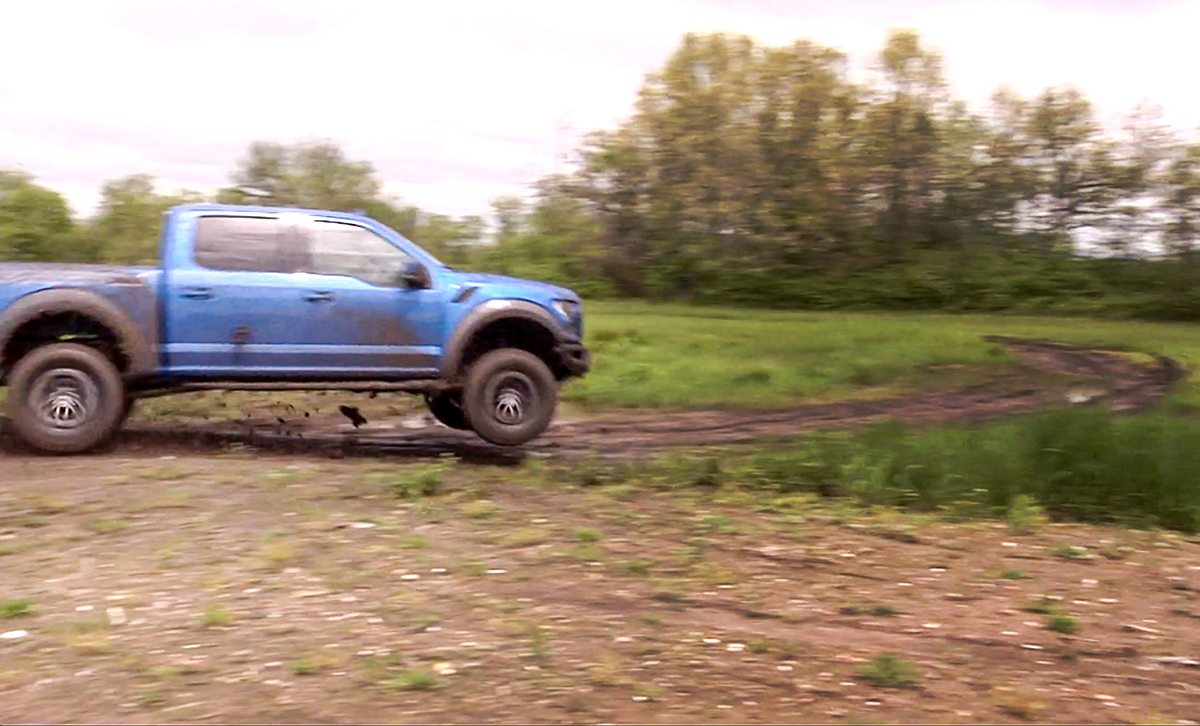 Blasting around a course designed for quads and dirt bikes, there wasn't a lot of high speed running especially since at least a third of the track was completely under water. I did, however, manage to get a few inches of air over one small jump to test out the Fox dampers and see if they worked as advertised. They did, tightening up nicely to provide a smooth and controlled landing. With the drive mode select system dialed to snow and sand and the differential locked for maximum traction, the Raptor's wheels threw more mud than a panel of politicians at a presidential debate.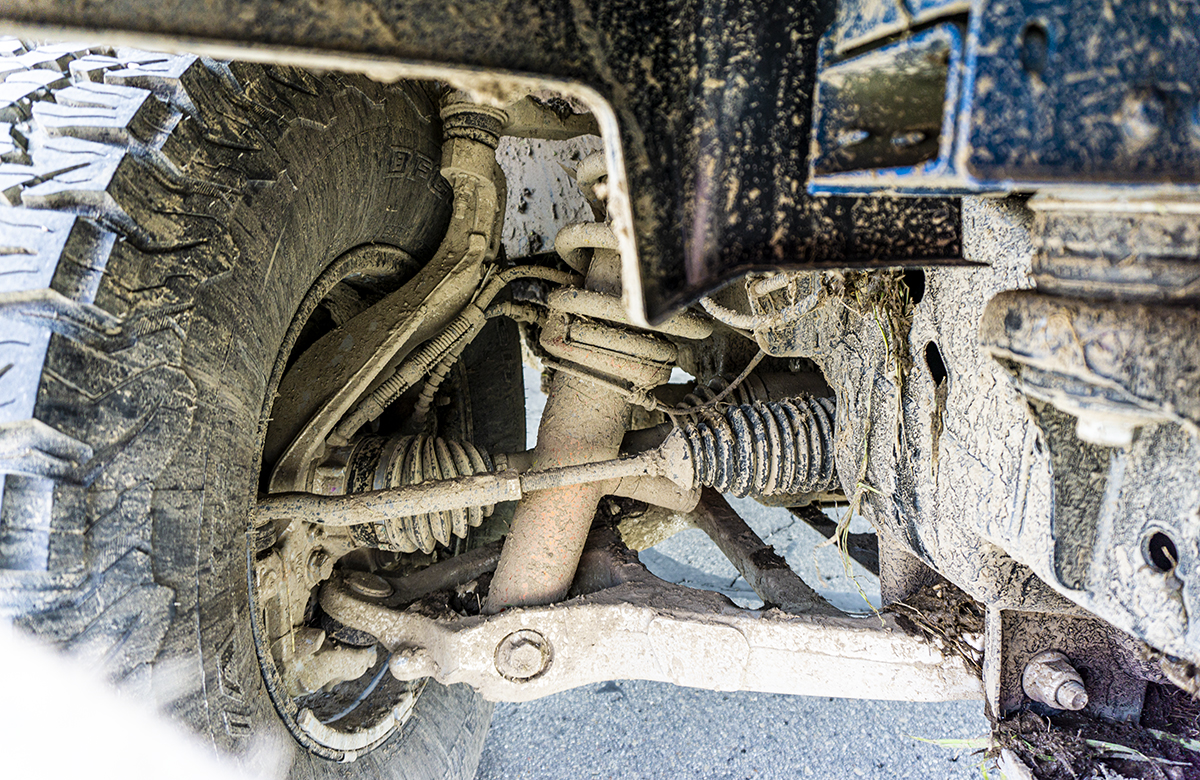 Inside the cavernous cabin, I was comfortable and grinning madly as I watched the mud splatter the windshield, knowing my GoPros were getting caked as I stomped on the accelerator and hauled on the wheel, treating the Raptor as it was designed feeling comfortably in control of every one of its 5,697 pounds. In addition to the drive mode select system you can also adjust the steering feel. I prefer it on its lightest setting, making it easy to quickly add inputs as the tires searched for grip, their tread caked with mud. After about an hour of playtime, it was time to head back to the street and off to the car wash, where I spent the better part of an hour power washing wheel wells, and the undercarriage removing at least two yards of dirt from the beast.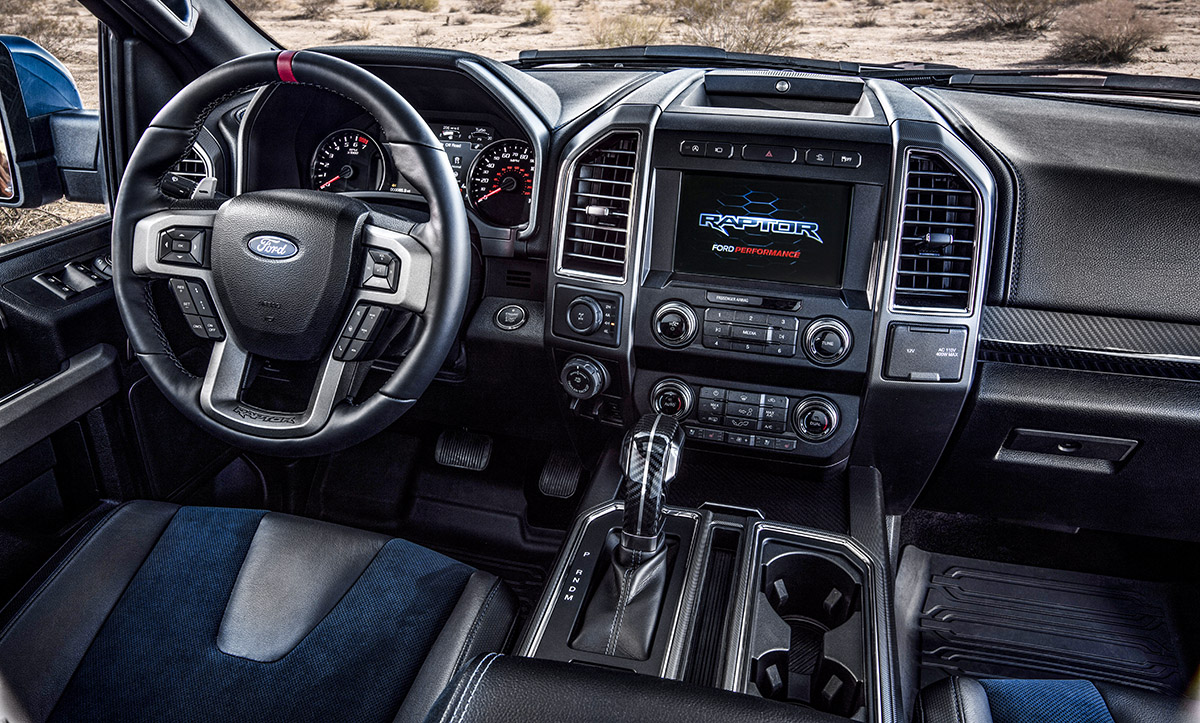 Loaded up with heated seats and steering wheel, B&O Play Premium Audio, Pro Trailer Backup Assist, 17″ Aluminum Wheels, Adaptive Cruise Control, Blind Spot Assist, and more, the SuperCrew Raptor stickers for just under $75,000, which is a lot of money for a toy. That having been said, people spend as much or more customizing their trucks to try to do what the Raptor can, and they don't get the benefit of a factory warranty. If you're trying to rationalize the purchase of a Raptor, though, you probably shouldn't buy one. You have to be passionate about what it's good at to make it worth the price.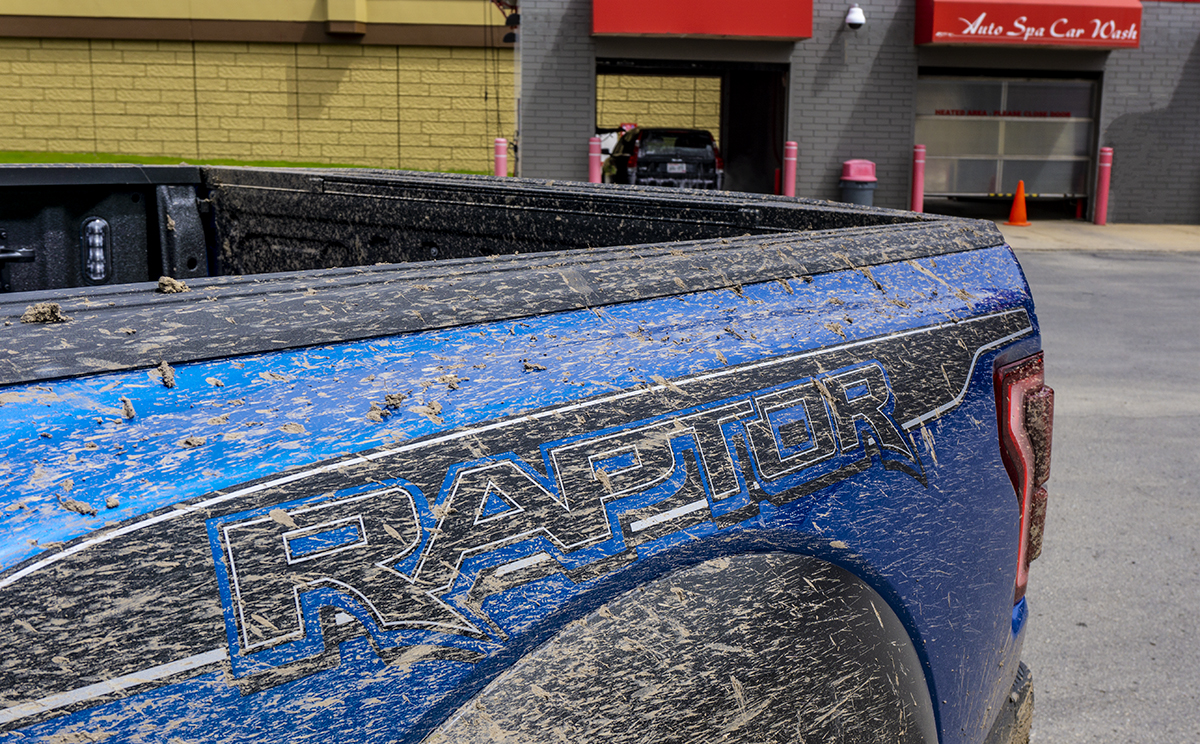 2019 Ford F-150 Raptor SuperCrew
Four-door, Five-passenger, high-performance pickup truck
Base price: $55,840
Price as tested: $74,955
Options: Raptor Equipment Group 802A – power sliding rear window, 4.10 front axle with Torsen differential, 360-degree camera, blind spot warning with trailer monitoring, dual zone climate control, heated steering wheel, inflatable rear seat belts, integrated trailer brake control, pro trailer backup assist, LED box lighting, LED side mirror spotlights, B&O Play premium audio, voice activated navigation ($9,365); Raptor exterior graphics ($1,075), Interior blue accent package ($2,395); 17-inch forged aluminum wheels ($1,895); Raptor Technology Package ($1,695); Spray in bedliner ($595); Tailgate step ($375); Heated rear seats ($125); Destination & Delivery ($1,595)
Engine: 3.5-liter, twin-turbocharged, aluminum V6 with overhead cams and dual fuel-injection
Transmission: 10-speed automatic with direct shift mode and steering wheel mounted paddle shifters
Power: 450 HP @ 5,000 RPM
Torque: 510 lb.-ft. @ 3,500 RPM
Curb weight: 5,697 lbs
0-60 MPH: 5.7 seconds
Top speed: 108 MPH
EPA MPG: 15 city, 18 highway, 16 combined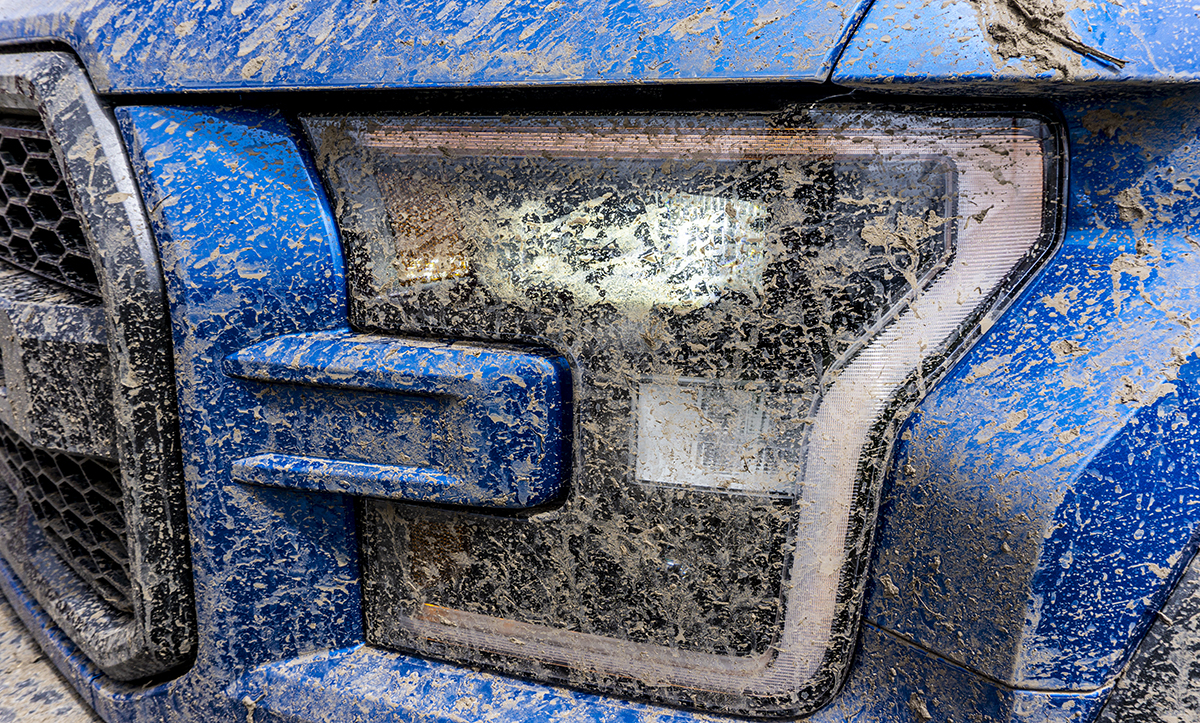 While the manufacturer paid for travel expenses and provided the vehicles for this story, the opinions and recommendations in this story are 100% ours.