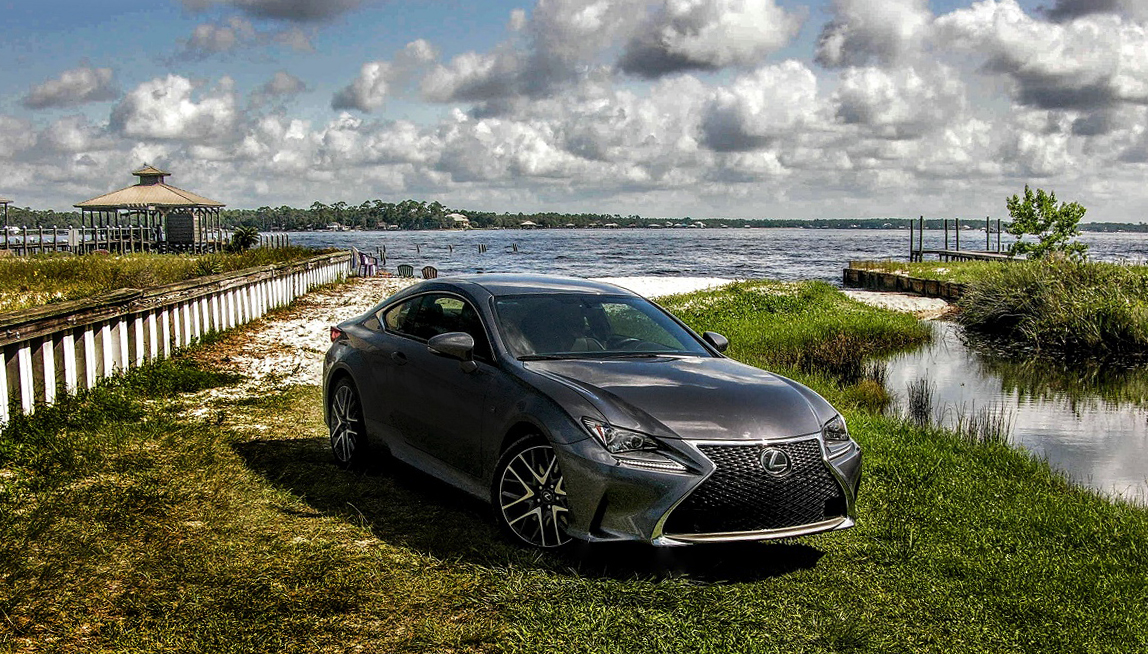 When the Lexus RC first came out a few years back, feedback from critics and consumers was the culinary equivalent of jambalaya: there was a little bit of everything getting thrown into the mix and the pot was well stirred. And it wasn't just the vehicle's polarizing design. There were equal amounts of admonishment and praise being tossed around about the performance of the RC350 F Sport as well. On one side were those were thrilled to see a coupe come down the Lexus pipeline with a driving dynamic that leaned into sporty. On the other end sports car enthusiasts blasted the vehicle for its chunky proportions and the middling performance of its naturally-aspirated V6. For them, it's the V8-powered RC F or nothing. Had this F Sport committed the ultimate automotive sin of being neither fish nor fowl, of trying to straddle the middle of the road? We'd see.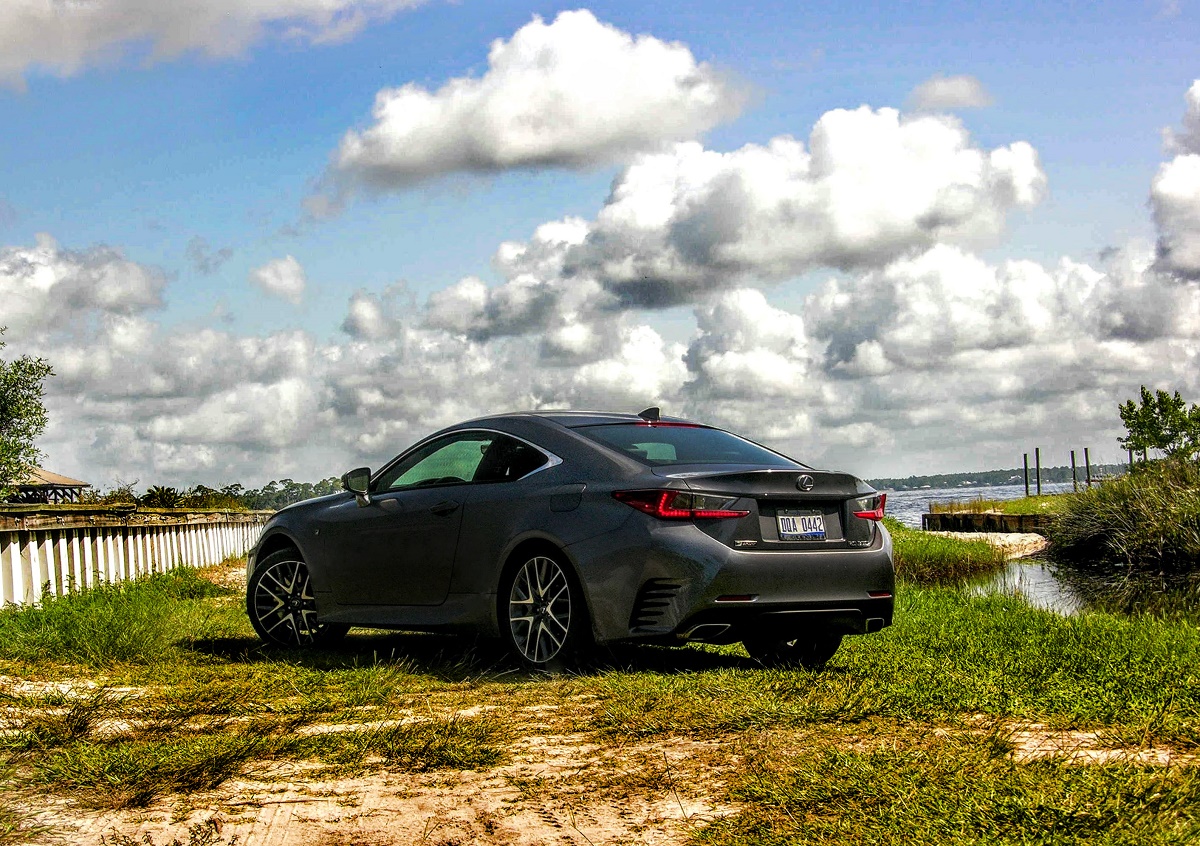 I for one was not a fan of the car after seeing it in person for the first time, but have since learned to like it regardless of which engine is bolted beneath its bulging bonnet. Is it a guaranteed crowd pleaser or a revolutionary landmark in automotive engineering? Hell no. The RC relies upon Lexus sensibility and traditional coupe selling points to offer the average luxury buyer an alternative to German genealogy that is just different enough to guarantee it stands out from the crowd.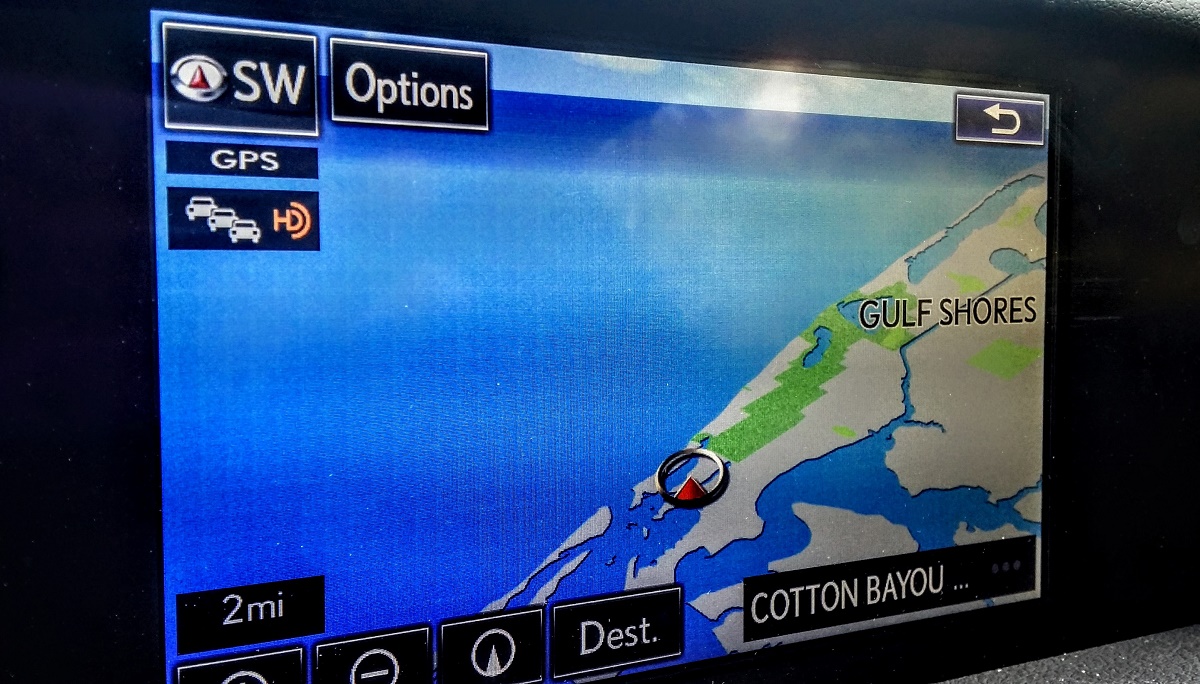 Knowing that the RC 350 F Sport isn't a true sportscar, I decided to see how well it works from a practicality standpoint. Thus, I loaded the fish-faced coupe with gear and took my wife and 4-year old kiddo on a thirteen hour drive down to the Gulf of Mexico for a little beach time. Was it the ideal automobile to take on a trip of this magnatude? Absolutely not. If the kid had been 20 pounds heavier or two-years older, there's no way the three of us would fit in this car. But as impractical as this coupe is for such an endeavor, spending that much time behind the wheel of any vehicle is a great way to reveal its strengths and weaknesses, of which the RC350 F Sport has both in abundance.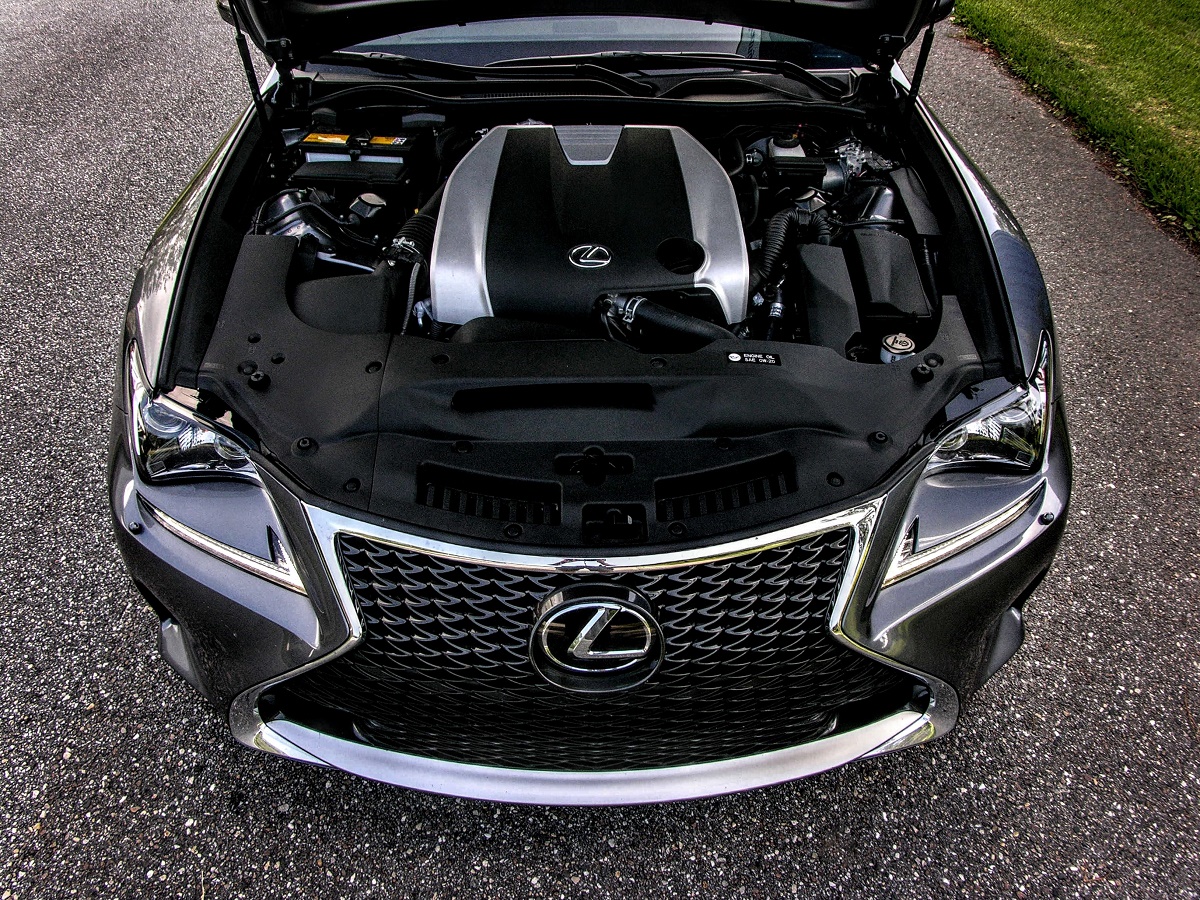 Our goal was to book it down to Orange Beach, Alabama so we could visit family, meet up with an old friend from college, and in the process snag some of the best wild caught shrimp in America today. Packing a respectable 306 horsepower and 277 pound-feet of torque, the RC350 F Sport is fleet of foot and we made the drive in record time (for me at least).
Before I knew it we were standing on a dock, staring at what appears to the naked eye as little more than a dilapidated shack on the bayou waters of Bon Secour, Alabama. This is a place you don't find on your own. This is a place you are taken to, and I was itching to cash in on some tasty crustaceans.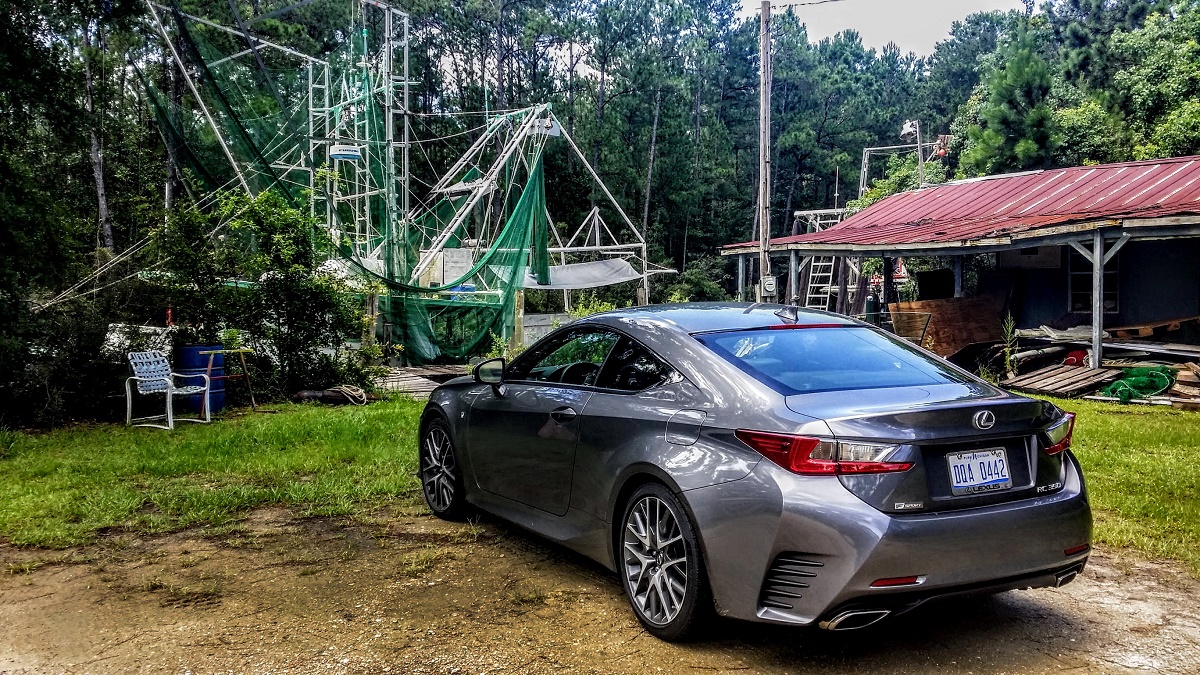 This rundown shack is one of the few spots left in all of America where you can still buy high grade, wild-caught Gulf shrimp at bargain prices. Commonly referred to as Freddie's – Freddie Stewart Shrimp, 5701 Heritage Dr. Bon Secour, AL – this family-owned shrimping company is one of the fortunate few to survive the disastrous BP oil spill a few years back. Unbeknown to most tourists, over 90% of the shrimp eaten at the beach is of the farm-raised and imported variety, so it pays to know where your seafood comes from and how it is treated. Thus finding a spot like Freddie's is essential.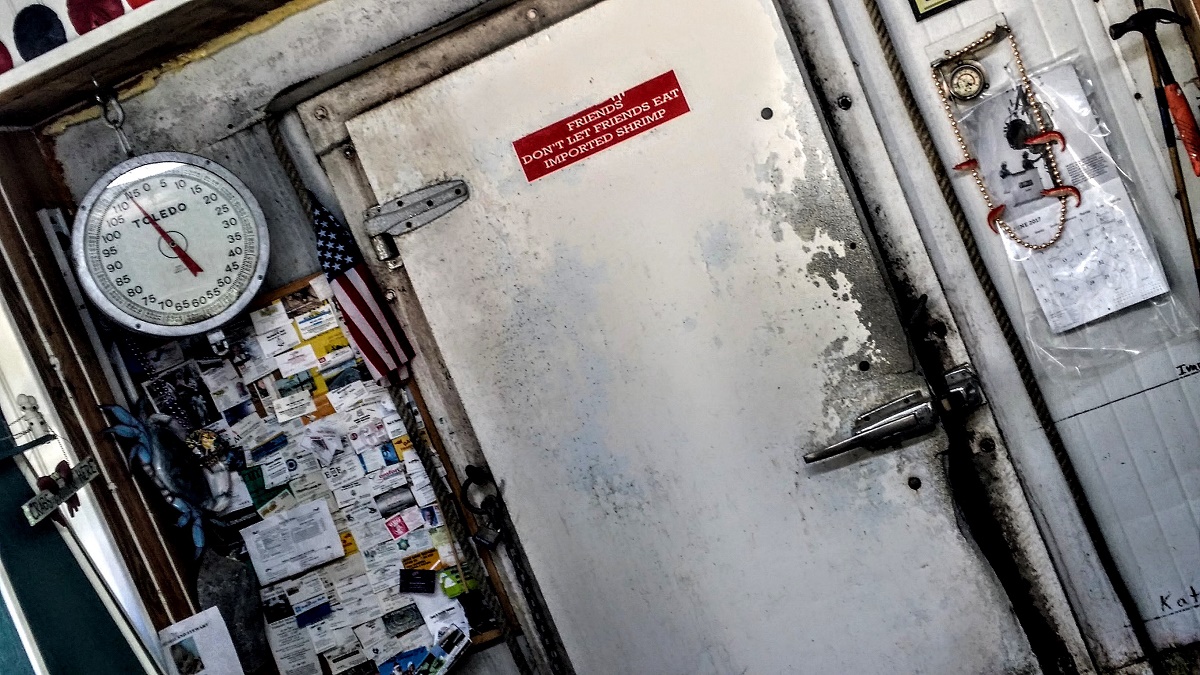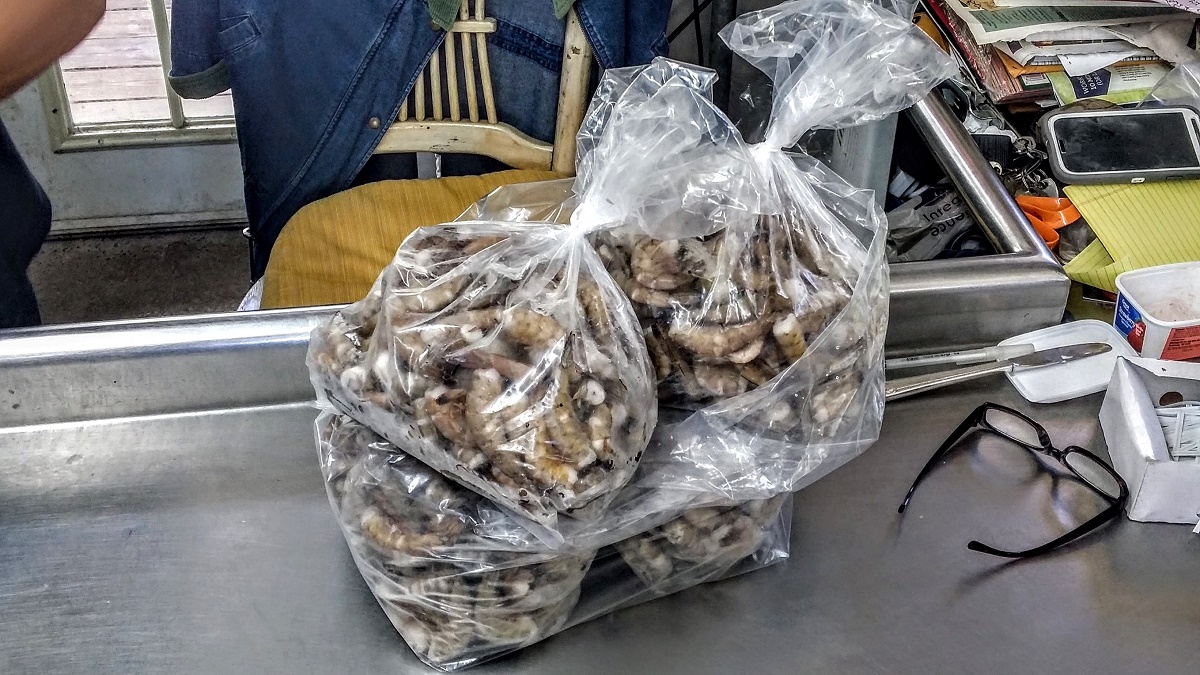 In contrast to all of the big name shrimping companies that folded after the spill, Freddie's fishes the Gulf and its bay tributaries with a single boat and depending upon the season, brings different kinds of shrimp back to harbor to sell. Individually flash-frozen, and preserved with little more than salt and water, these headless beauties are without question the best shrimp on the Gulf and remained the focal point of our visit since finding fresh shrimp in Cincy is about as easy as finding a liberal in the bayous of Alabama.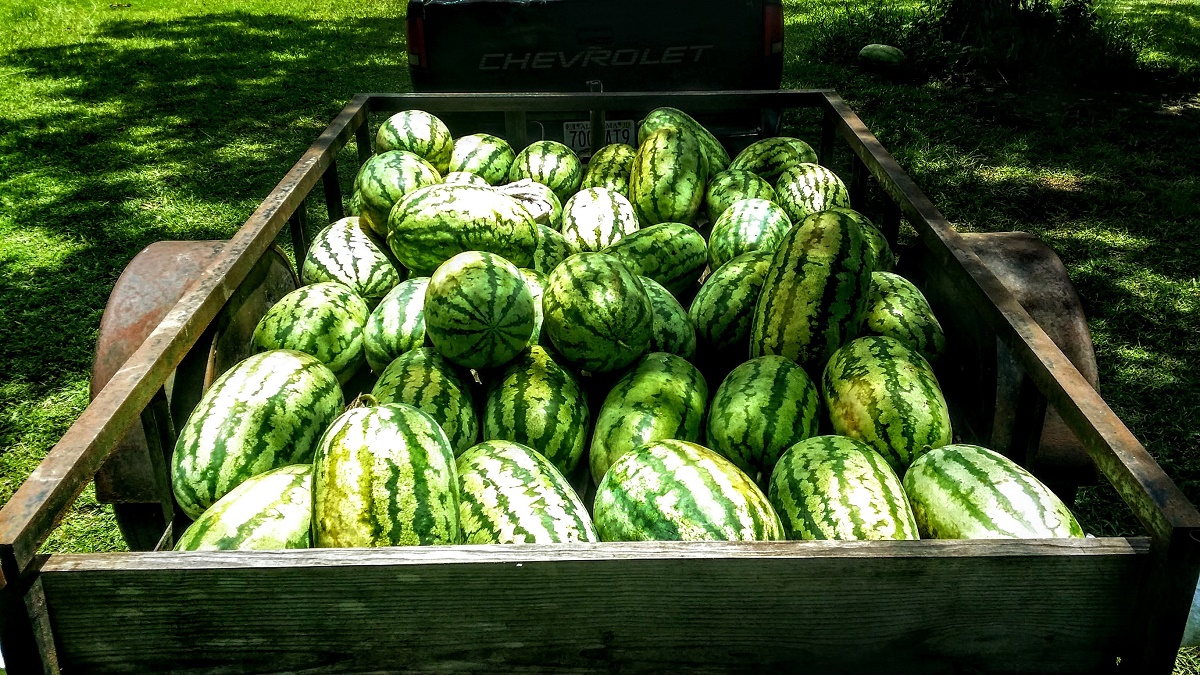 Our cooler packed with a dozen pounds of medium brown shrimp and the matriarch of the family-run business waving in our rearview mirror, we went of in search of a roadside watermelon stand. After dropping $5 on a hulking green goliath that should have had its own zip code, we progressed toward our final destination: a beachfront cabin where white sands, a warm grille, and buckets of cold craft beer awaited.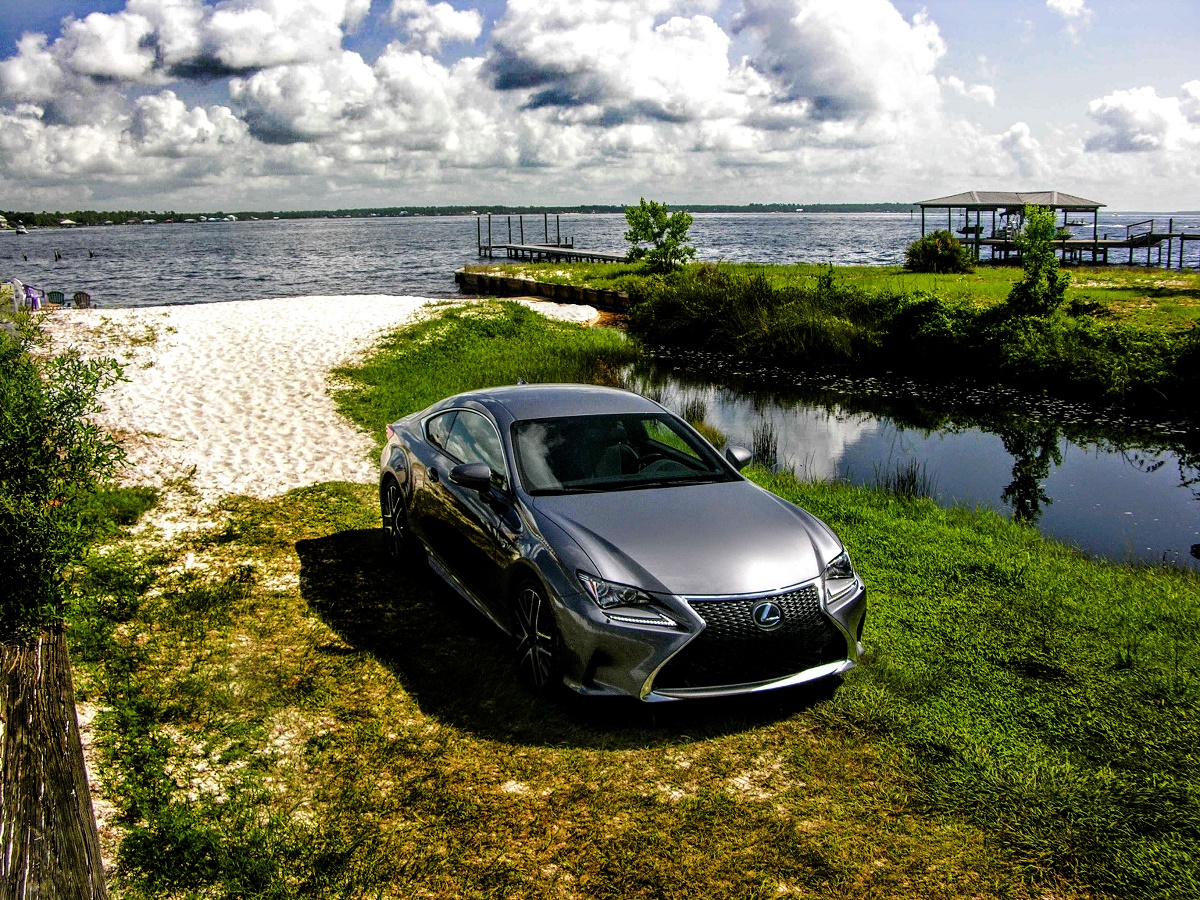 By this point in our adventure I had begun to re-familiarize myself with my love/hate relationship with the RC350 F Sport. Whether you despise or admire its creased and folded lines, you have to give props to Lexus for all of the swank exterior design cues on this coupe. Puddle lamps hidden behind door handles, LED slivers within the handle grips themselves, 19-inch alloy wheels in a staggered configuration, black painted calipers, two-piece front rotors, and F Sport exclusive fascia are all details that elevate this model from its base brethren. Note the duckbilled decklid, pinched LED rear lighting, integrated exhaust, as well as the dedicated summer rubber, and you'll find there are appealling details everywhere that are often overshadowed by the vehicle in its entirety.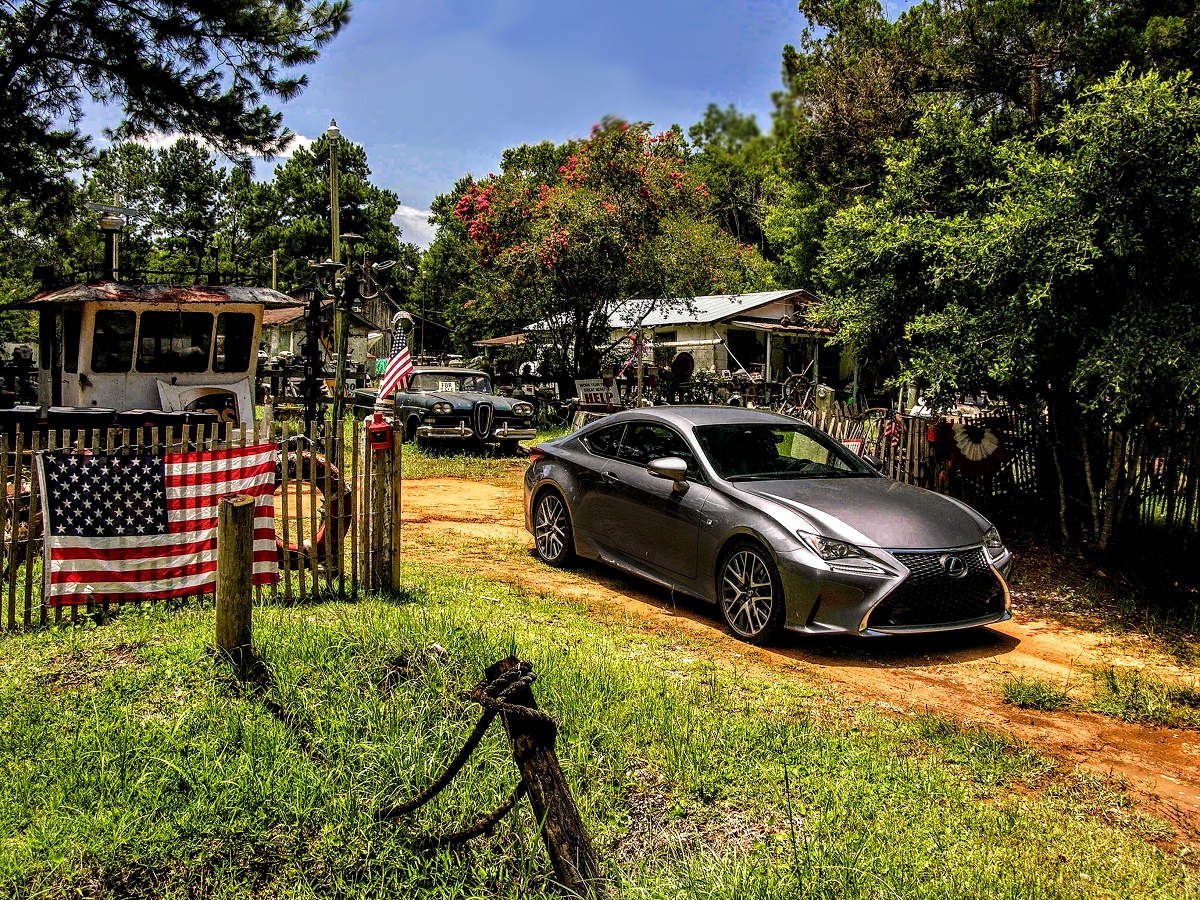 Cabin accoutrements include the brilliantly balanced F Sport bucket seats, a tightly balanced leather steering wheel, subtle LED accents, aluminum sport pedals, deep-pile carpet, and heated/vented front seats. Another big winner is Lexus' customizable gauge cluster, which in this vehicle consists of a mechanical sliding gauge ring, backed by attractive digital read-outs, and bushels of vehicle stats.
Refamiliarizing myself with how this coupe drives reconfirms how far Lexus has come, especially when paddle shifts of the velvety 8-speed gearbox begin to drop gears in Sport and Sport+ Mode. Punches of power increase with every twist of the rotary knob in the center console and to state that this car steers and handles with acuteness would be a serious understatement. Adaptive suspension and sensational steering calibrations make the hulking coupe handle in a manner that feels tighter than a drum of Nebula Grey Pearl Vaseline and lighter than its 3,900 pounds would suggest. It's so much better tightened up that you will often find yourself driving in S+ Mode just to go pick up a gallon of milk.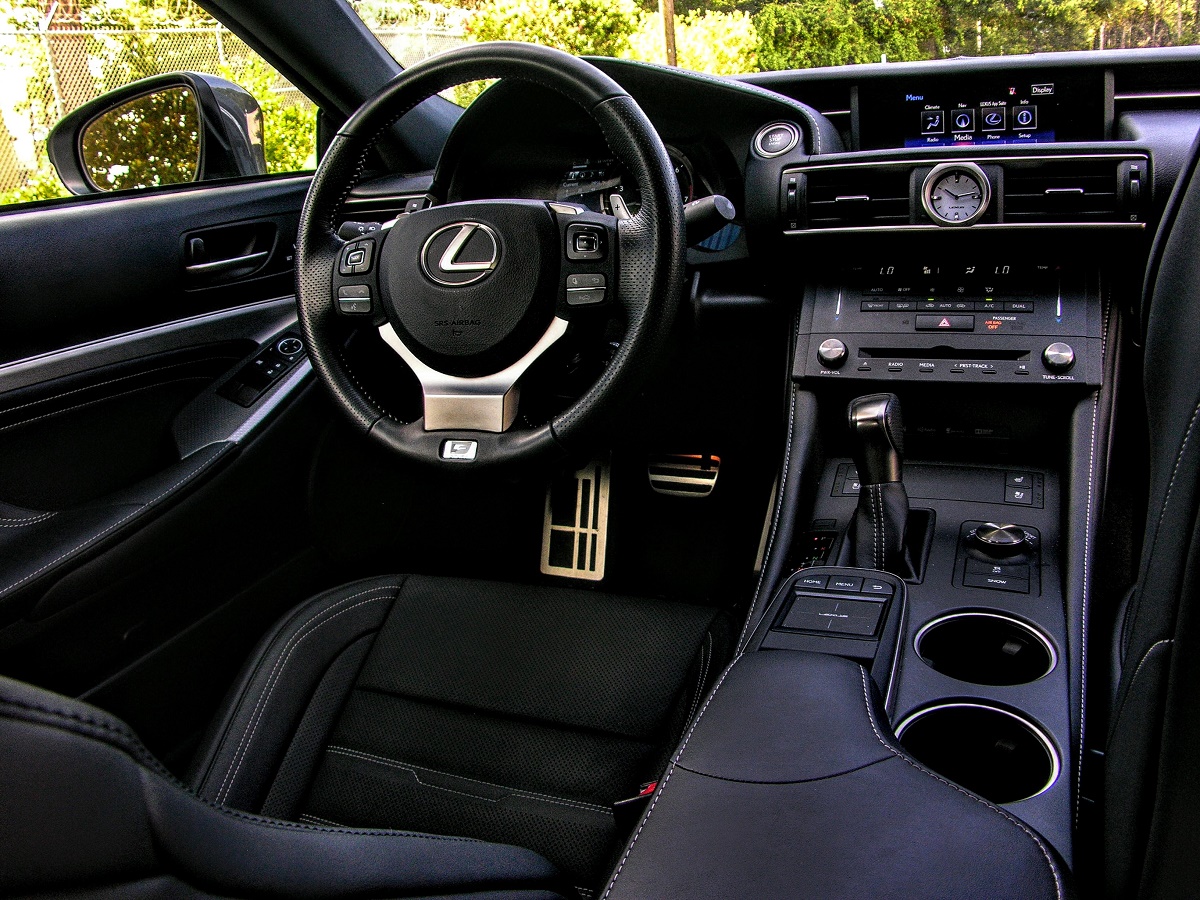 Still, there is a lot that's lacking in this automobile and almost all of its miscues occur within its cabin. For starters there are only two cup holders and they are both up front, leaving the backseat with squat since it doesn't even have a center armrest or storage options for that matter. Door pockets are entirely too thin as well, thus making them nearly useless, and don't even get me started on the massive amounts of dated plastics and center console pieces that plague this and several other Lexus models.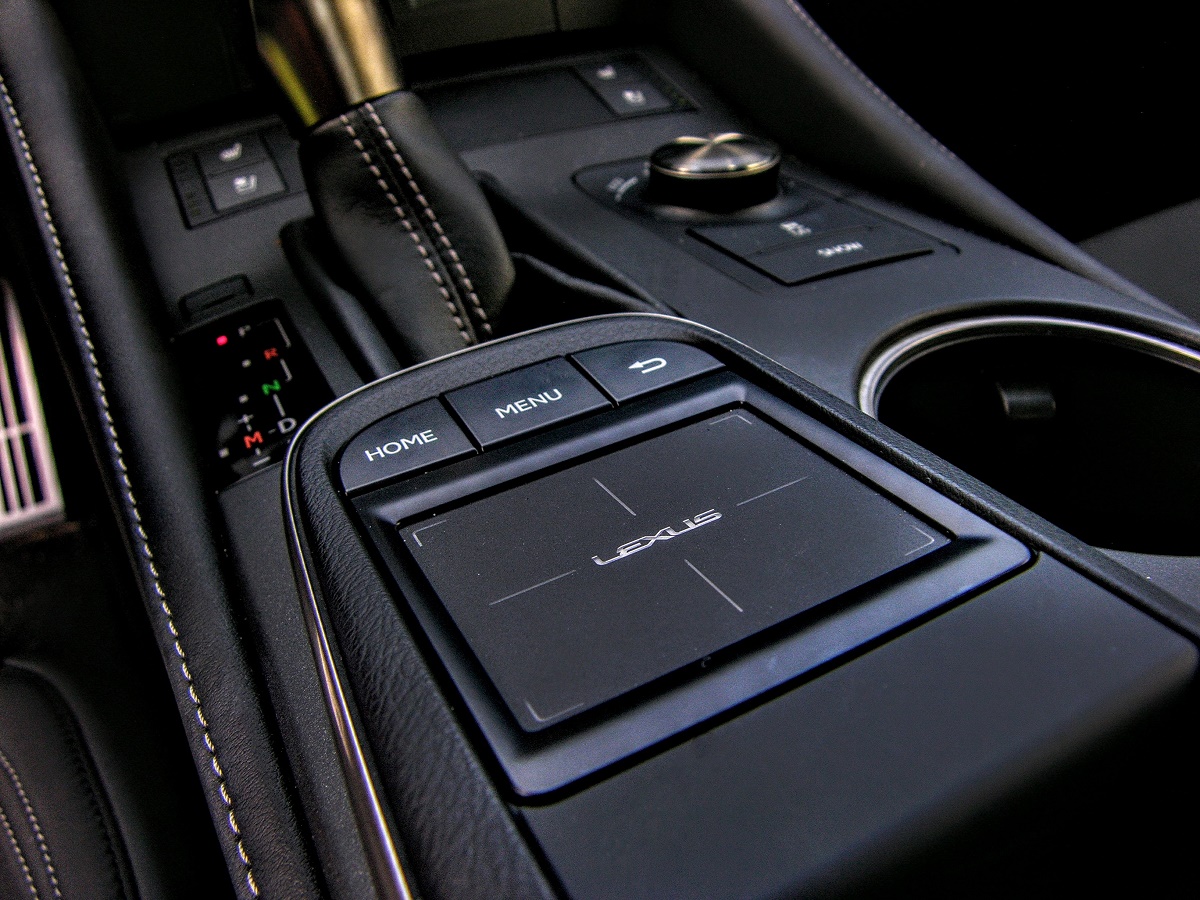 Touchscreen options are not present either, forcing you to rely upon Lexus' tantrum-inducing touchpad, and several times the dated looking navigation system sent us the wrong way down one-way streets as well as the long way home. Toyota's signature cruise control stalk also proved to be an annoyance for me due to my longer legs. A brush of the thigh while driving was all it took and I was suddenly messing with cruise settings, an annoyance that fortunately only happened a handful of times.
I also am not a fan of there not being a D-cut sport steering wheel, how warning lamps look like they were lifted from a '99 Corolla, nor the way in which adaptive cruise notifications constantly popped up. Oh, and did I mention that this car only runs on premium? Yes, premium is required if you don't want to void the warranty on this puppy, which means your road trip fuel costs are going to be anywhere from 50 to 90 cents per gallon higher.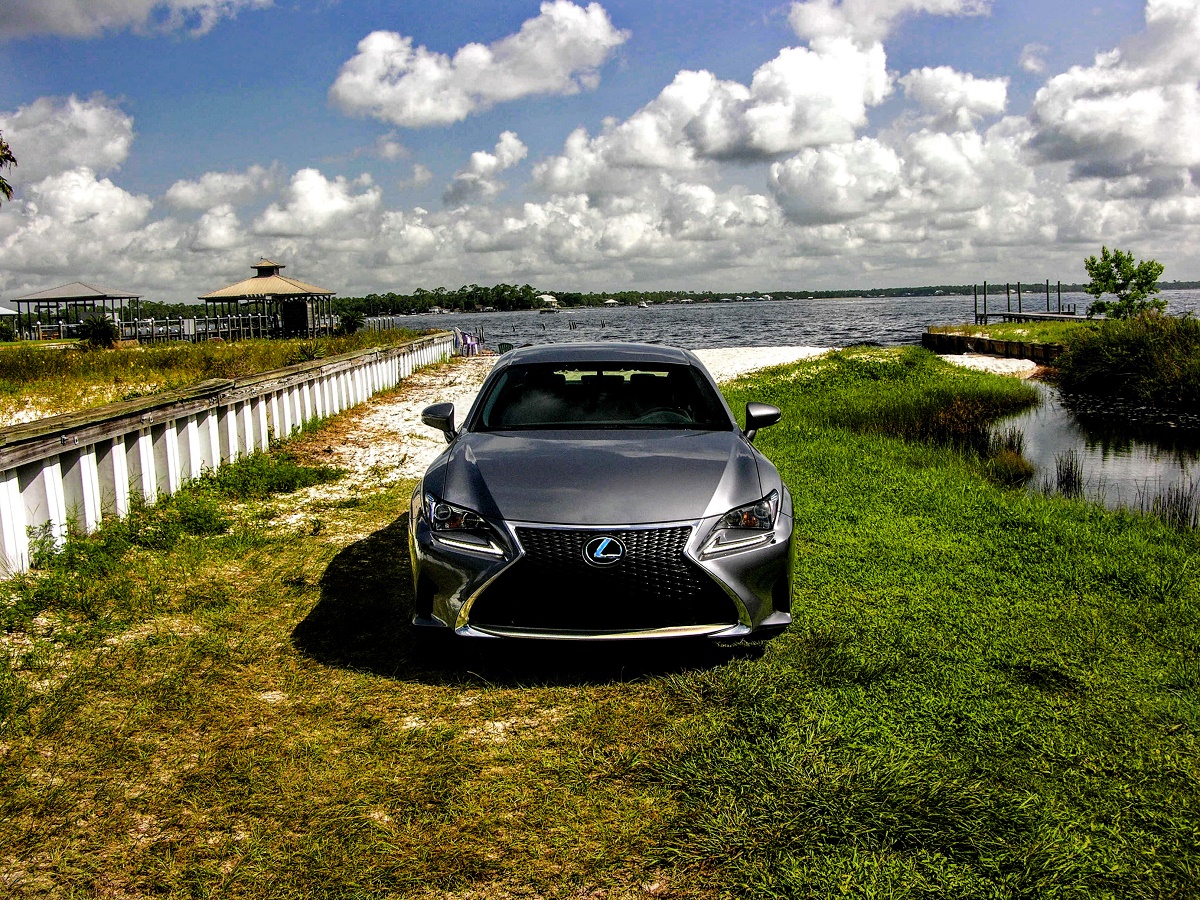 Stow all of the interior complaints along with any qualms over technicalities and just drive for the sake of it, however, and the RC350 F Sport quickly reminds you of why you're a fan of driving in the first place. Comfortable yet supportive, virile yet controllable, and tech-rich enough to be considered modern, the drive experience is solid and reassuringly Lexus grade. It may not have the ferocity of the RC F or the sophistication of the LC500, but it costs a hell of a lot less and still has the nadgers to throw down when it wants to.
After an extended drive, some quality time trouncing down a few choice back roads, and a comfy cruise back home that returned almost 27 mile-per gallon averages along the interstate, I was glad the RC350 F Sport ended up being our road warrior. It got us to and from the beach in a tidy manner, offered enough driver enjoyment to keep me interested, and was utilitarian enough to haul us and all of our belongings there and back.
Lexus shattered a lot of preconceptions when it unleashed this chassis a few years back. With cycle refreshes and a next generation RC on the horizon, I remain optimistic that the weaknesses found in this first run will soon be washed out with the ebbing tide. Until that day arrives I will stand by the shore, waiting for my ship to come in.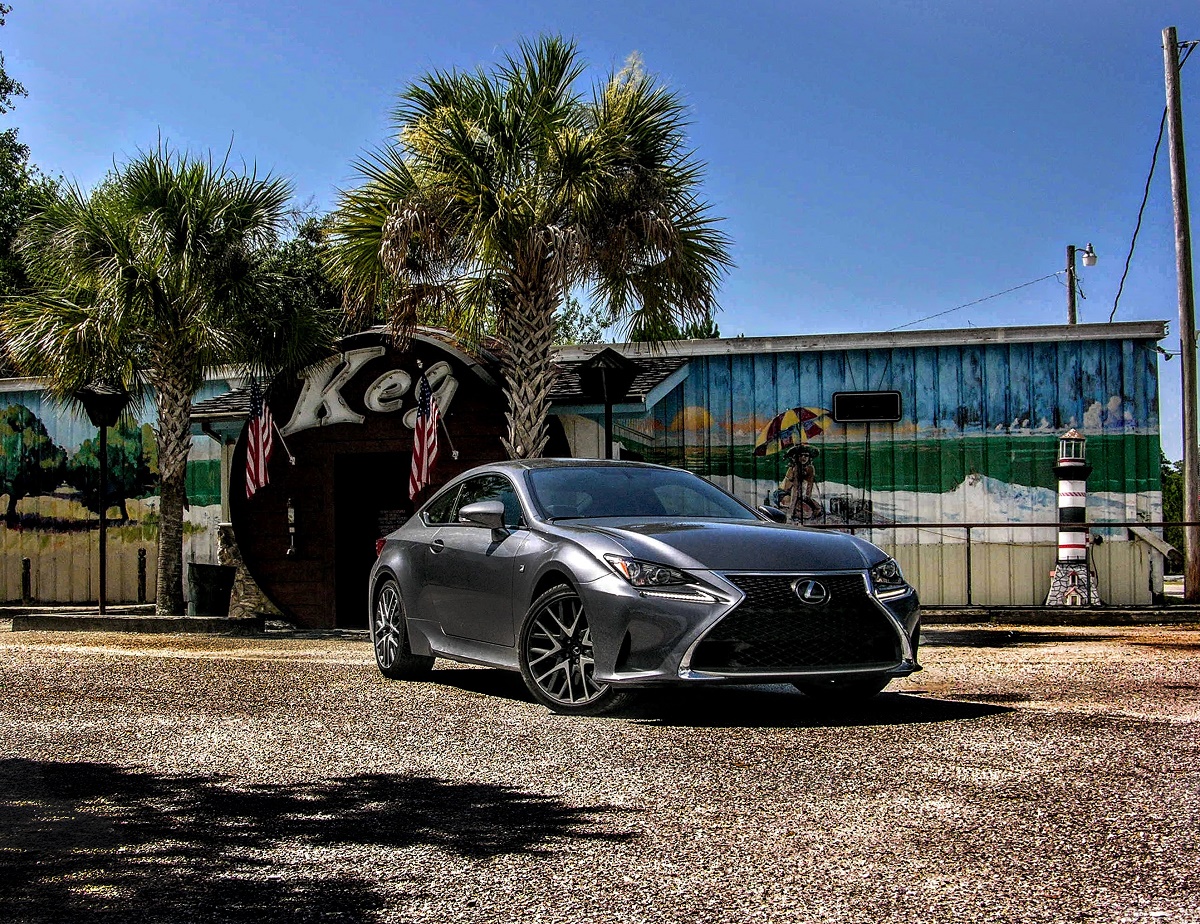 2017 Lexus RC350 F Sport
Two-door, 2+2, rear-wheel drive, luxury sport coupe
Base price: $43,010
Price as tested: $50,280
Major options: F Sport Package includes 18″ F Sport wheels, Summer perfomance tires, BLIS with rear cross traffic alert, TFT instrument cluster, heated and ventilated front seats, leather wrapped steering wheel and shift knob, adaptive susspension, and Sport+ mode ($4,105), Navigation system with backup camera and remote touch pad ($1,470), Dynamic Cruise Control with pre-collision system ($500), Destination and Delivery ($975)
Engine: Aluminum 3.5 Liter DOHC V6 with port and direct fuel injection and variable valve timing
Transmission: 8-speed automatic with manual mode and paddle shifters
Power: 306 HP @ 6,400 RPM
Torque: 277 lb.-ft. @ 4,800 RPM
Curb Weight: 3,748 lbs.
Acceleration 0–60: 5.6 seconds
Top Speed: 143 mph electronically limited
EPA MPG: 19 City/28 Highway/22 Combined