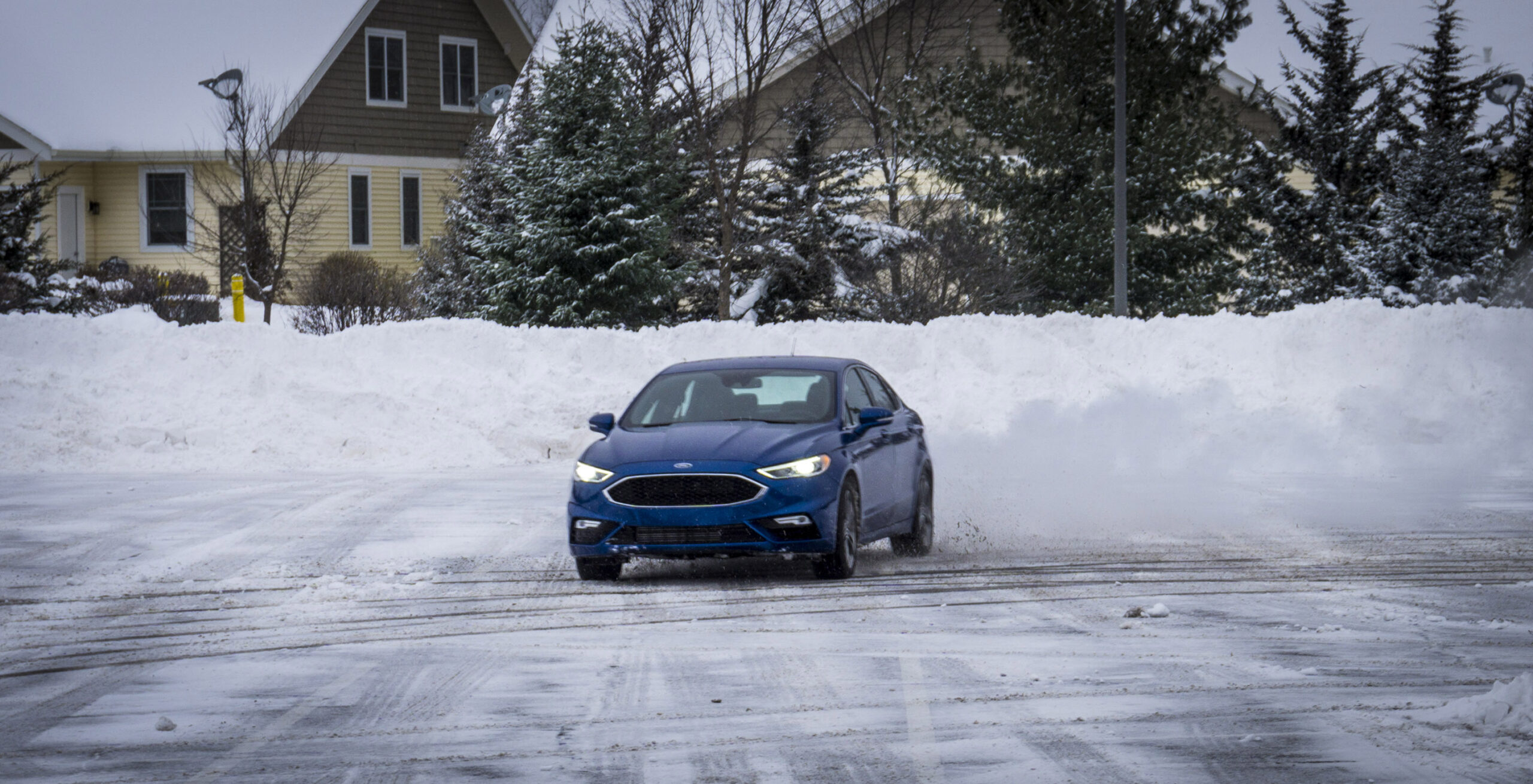 Road trip. Those two words bring joy to some, terror to others. Especially when the weather forecast calls for several inches of snow as you round Lake Michigan and head north through Chicago toward Wisconsin. For me, I am in the former group regardless of the weather. When our fearless leader at world headquarters requested a visit, we of course obliged. A "fun" vehicle was promised. Being in the throws of a Midwest winter I thought, an SUV maybe? A truck? Perhaps. I really wouldn't consider any of those to be "fun". To my surprise and delight, however, a very blue 2017 Ford Fusion Sport showed up in the driveway the day before our schedule departure. Wait, a WHAT? Fusion Sport? Two words typically not used in the same sentence.
2.7 liters of EcoBoost power making 325 horses was a good start. All-wheel drive, a big plus in the wintry conditions – though not really necessary. A six-speed auto with flappy paddles. Adaptive ride control and multiple drive modes? Yes, this could be fun.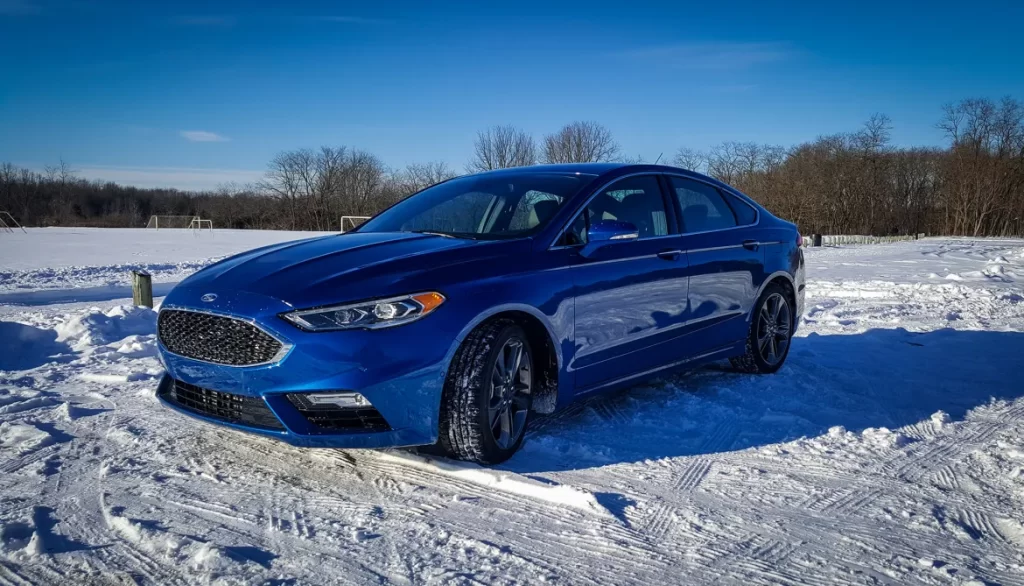 Now, the big problem with me and many vehicles is, will I actually fit? Being nearly half way between six and seven feet tall, my struggle is real. To my surprise, I fit quite well and even had room to spare. They must have some tall interior designers in Dearborn! Like all new cars, there were lots of things to look, play with, and discover, buttons, switches, dials, and touch screens that require more than just a few minutes to get the hang of, and at least a week to master. I found most functions fairly quickly except for the heated steering wheel control. Expecting a button on the steering wheel or nearby on the console, I was out of luck. It was buried in the touch screen that controlled just about everything so I had to poke and swipe through screens to keep my digits cosy. First world problems.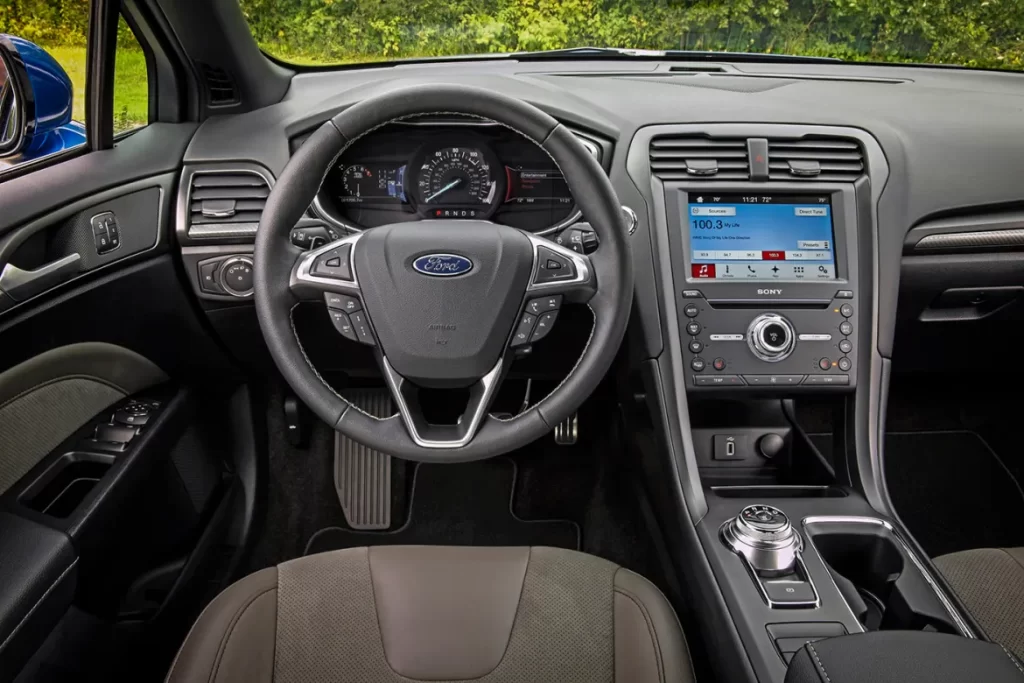 The Fusion's trunk easily swallowed up our bags, cold weather gear, emergency blankets (just in case) and the bottle of bourbon I'd picked up to make sure the boss was in a good mood when we got to Madison. All loaded up, off we went on what was the coldest weekend of the winter. There wasn't much snow, but we were looking at highs that may crack zero degrees if we were lucky. I really wish I had found the heated steering wheel control sooner. Fortunately the heated seat activators were easy to find, so at least our backsides were toasty. Another minor frustration for me was the gear selector dial. I'm old school, preferring shift levers for engaging the gears (a traditional three-pedal manual is best) so it's not my favorite feature.
In an attempt to make an uninteresting drive a little more so, the plan was to take a slight detour, stopping at the Auburn Cord Duesenberg Museum in Auburn, Indiana on our way to Madison. That's what road trips are about, right? The journey and the destination. The drive to Auburn was mostly interstate and to call it uneventful is like calling Kenny G's music mellow. The boring roads did give me time to feel, touch, and look around the interior of the Fusion. It is actually a nice place to be. Comfortable seats, nice finishes, a quiet enough ride. No you won't mistake this for a BMW 540i or Audi A6, but on the upside, you'll all the features you want and still have a few bucks in your bank account.

Pulling into Auburn just after noon, we spend not at all enough time at the museum. (Note to self; go back when my dinner reservation isn't in a town that's 250 miles away.) Some of the most spectacular vehicles ever created are sitting in the original Duesenberg showroom. That's what makes this place special. It's not a new building putting the cars on display like works of art. It's the actual building where the cars were designed, built, and sold, restored to its original condition. Lots of marble, granite, and art deco details surrounded us. I'm an engineer who in addition to occasionally driving cars and writing about them, spends my day making sure modern cars can stand up to the stresses of everyday driving, it was awe inspiring to see the desk where these iconic designs were sketched, the tables where small clay models were sculpted, and the original engineering spec sheets where the production details were set. I admit it. I was totally geeking out. And it took more than one reminder from my drive partner to get us back on the road so we'd be in Madison in time for dinner.
With the car pointed west on the straight and fairly traffic free roads, it was now time to feel out the Fusion Sport's performance a little more. The roads were dry for the most part, but there were those icy spots where I could feel the chassis twitch. Without fail, the traction control and all-wheel drive systems did their jobs and I never felt unnerved. Another annoyance was the toll booths that come up so frequently it's a wonder Illinois is running a deficit with all the revenue their collecting, especially from those of us without the convenience of I-Pass. There was a bright spot to being forced to stop so often: it gave me the opportunity to test the acceleration of the Fusion multiple times. Now that I really enjoyed. Ford has this EcoBoost thing down. This car pulled like a train, even on all season tires. Now I'm curious to see how good it feels on a warm track with the summer. The long, straight highways didn't give me much chance to exercise the sport suspension.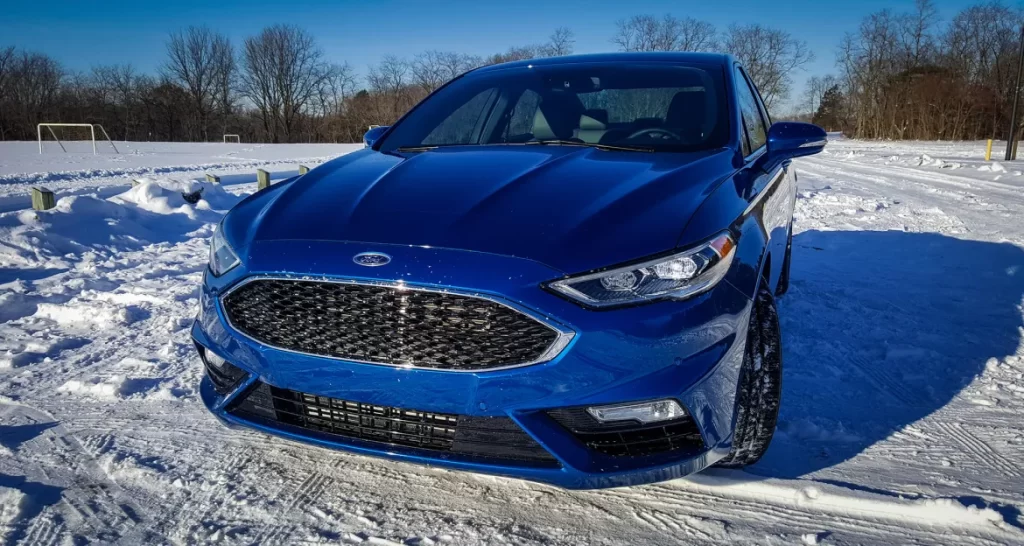 This trip was strictly cruising. There is the adaptive cruise control with stop/start which is a blessing and a curse. It paces traffic well. However, even with it set to the the proper distance between you and the next car ahead, people will cut into the gap and, well, you are now farther behind. In some of the heavier Chicago traffic, I got to experience the car coming to a stop all by itself. It's a little unnerving at first, trusting the sensors will do their thing, but they do and it works very well. One thing to remember, though, is the Fusion uses a camera system and when the windshield gets so covered in ice and salt, the adaptive cruise shuts off with a friendly reminder telling you, you have to work the pedals yourself.
Arriving in Madison we wound our way to World Headquarters through city traffic only to uncover another annoyance, at every intersection, the car emitted a series of beeps and boops with lights warning me there were cars nearby. Maybe it was the snow, ice, and cold, but clearly the cross traffic alerts and pedestrian warning systems were clearly overly sensitive. Thankfully, I found the off button and was able to quiet the nagging for the final miles of our journey.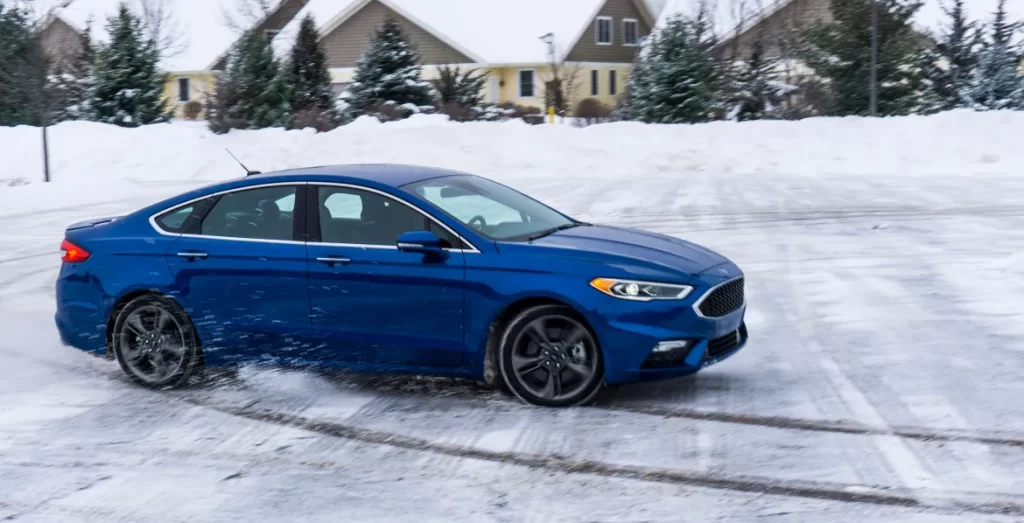 Next day in Madison, it was a balmy -3 degrees. Snow was falling laying a lovely white blanket over everything. We used the morning to find a car wash and restore the car to its brilliant blue and then to find a spot to take pictures. We found an office park with a nice, big, empty, snow-covered parking lot, which was like red meat to a lion. It wasn't long before the traction control was disabled, sport mode engaged and the Fusion was sliding sideways in what I think the kids call, "serious hooning." Around and around we went in very controlled AWD drifting with the 2.7 EcoBoost sounding much bigger than it really is. Yes, my friends, in this instance technology is good.
Now, is the Fusion Sport a serious A6 Quattro or 5 Series xDrive beater? No. But, for a lot less money, you get similar torque and horsepower, a very capable all-wheel drive system, and a well equipped interior with room for five all in a car that if not stunning, is attractive. All this makes it a gutsy performance sedan you can bring home to mother.
2017 Ford Fusion Sport AWD
Four-door, five passenger midsize sedan
Base Price: $31,470 (includes $825 destination charge)
Price as tested:$42,825 (includes $825 destination charge)
Standard equipment: Leather trimmed seats with suede inserts, 19-inch wheels with performance all-season radial tires, LED Fog lamps,
Major options: 4.2-inch configurable display in instrument cluster, dual zone climate control, 12-speaker Sony Audio system, Sync 3, reverse sensing system, heated steering wheel, blind spot detection, active lane keep assist, enhanced park assist, power moonroof, adaptive cruise control, heated and cooled front seats, voice activated navigation
Engine: 2.7 Liter Inline 4-cylinder with EcoBoost turbocharging
Transmission: 6-speed automatic with steering mounted paddle shifters
Horsepower: 325 @ 5500 rpm
Torque: 380 lb.-ft. @ 3500 rpm
0 – 60: 5.7 seconds
Top Speed: 125 mph
EPA MPG: 17 City/26 Highway