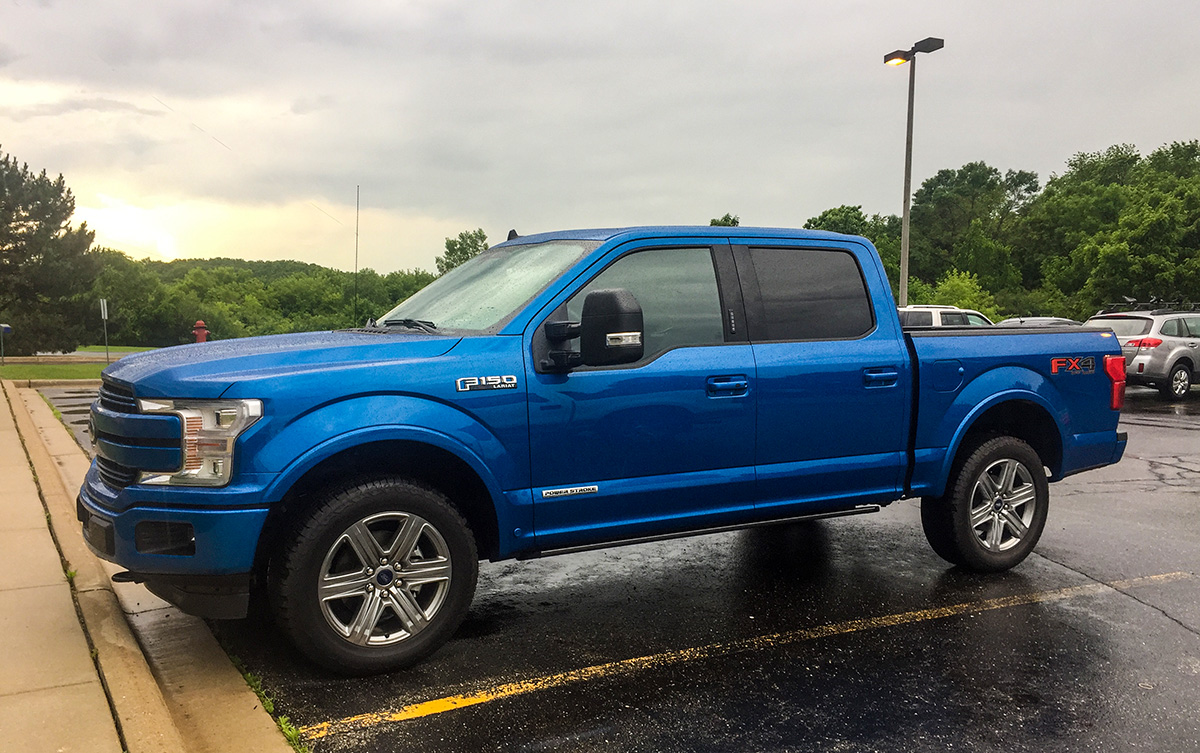 When the velocity blue F-150 4X4 Supercrew Lariat FX4 PowerStroke Diesel showed up at Rides & Drives World Headquarters, I was looking forward to living with the truck I enjoyed so much at its launch in Colorado. I thought, "Cool, a nice utilitarian truck." And then I looked at the sticker and saw the MSRP.
$68,100.
No, I'm not kidding. That's the sticker price for this truck after discounts. We're talking about a well equipped F-150. It's not a top of the line King Ranch. It doesn't have the 3.5-liter High Output Ecoboost engine. It's not a Raptor. It's an F-150 Lariat with the 3.0-liter V6 diesel, and it's a very fine truck. But $68,100?
How did we get here?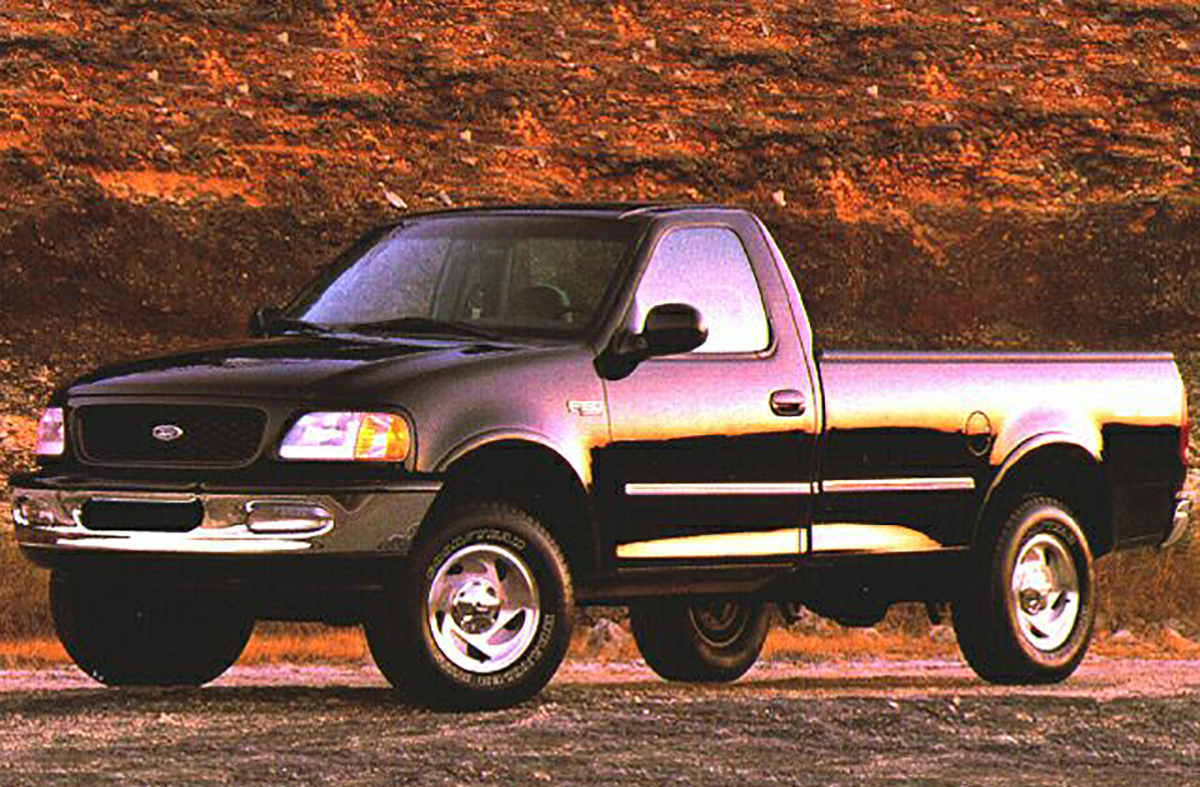 Twenty years ago the base price of a new F-150 4X2 was $15,250 ($23,484 adjusted for inflation). Ten years ago it was $21,565 ($25,788). Today, it's $28,155 for a standard cab 4X2 with a six and a half foot box. Except for fleets, however, nobody buys standard cab pickups anymore, so actually the equivalent base truck is a SuperCab with a five and a half foot box, bringing the base price up to $32,240 before the $1,595 destination and delivery fee. So now we're nearing $34,000 for a basic truck with vinyl floor covering, roll up windows, and an AM/FM radio. That's if you can find one.
Now let's be clear, that basic truck is a lot better than the F-150 you could buy 20 years ago. It's more powerful, more reliable, more comfortable, safer, and more efficient. Today's base F-150 with its 290 horsepower, 3.3-liter, naturally aspirated V6 gets and EPA estimated 22 miles per gallon combined. The 1999 truck had a 4.2-liter V6 that made 205 horsepower and got just 17 miles per gallon. In 1999, max towing was 7,500 pounds with a 1,780 pound payload capacity. Today you can tow 7,700 pounds and haul a 1,990 pounds of gravel, motorcycles, or kumquats if that's what you're into. You couldn't get airbags in an F-150 in 1999 and the only advanced safety tech was anti-lock brakes. Now airbags throughout the cabin are standard, as are traction control with roll stability control, rear view camera, tire pressure monitoring, and a post-crash alert system. In addition today's truck features more advanced construction and materials like high-strength steel and aluminum.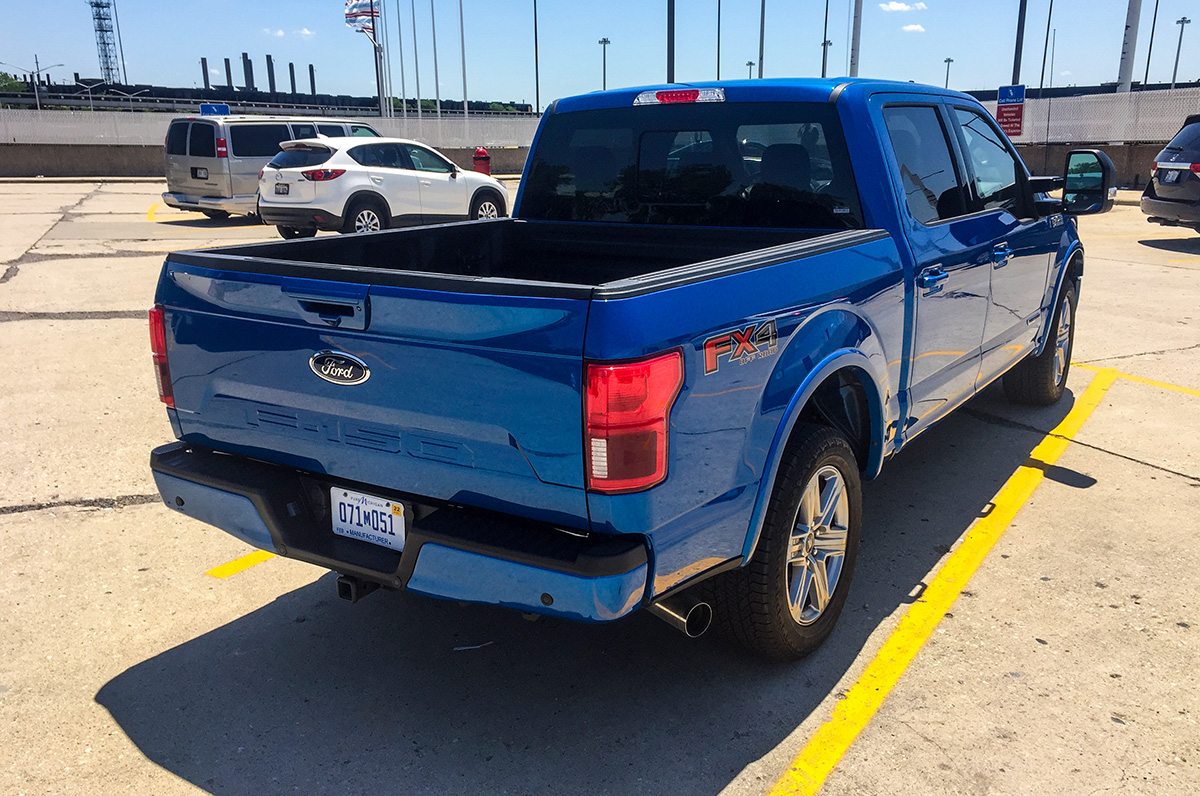 Adjusted for inflation today's base F-150 costs about $10,000 more than the 1999 model and you do get a lot of important stuff for the added cash. But it's our hunger for comfort, power, technology, convenience that has really driven up the average transaction price of pickup trucks to more than $40,000. Exhibit A is the 2019 F-150 4X4 Lariat SuperCrew FX4 featured in this piece.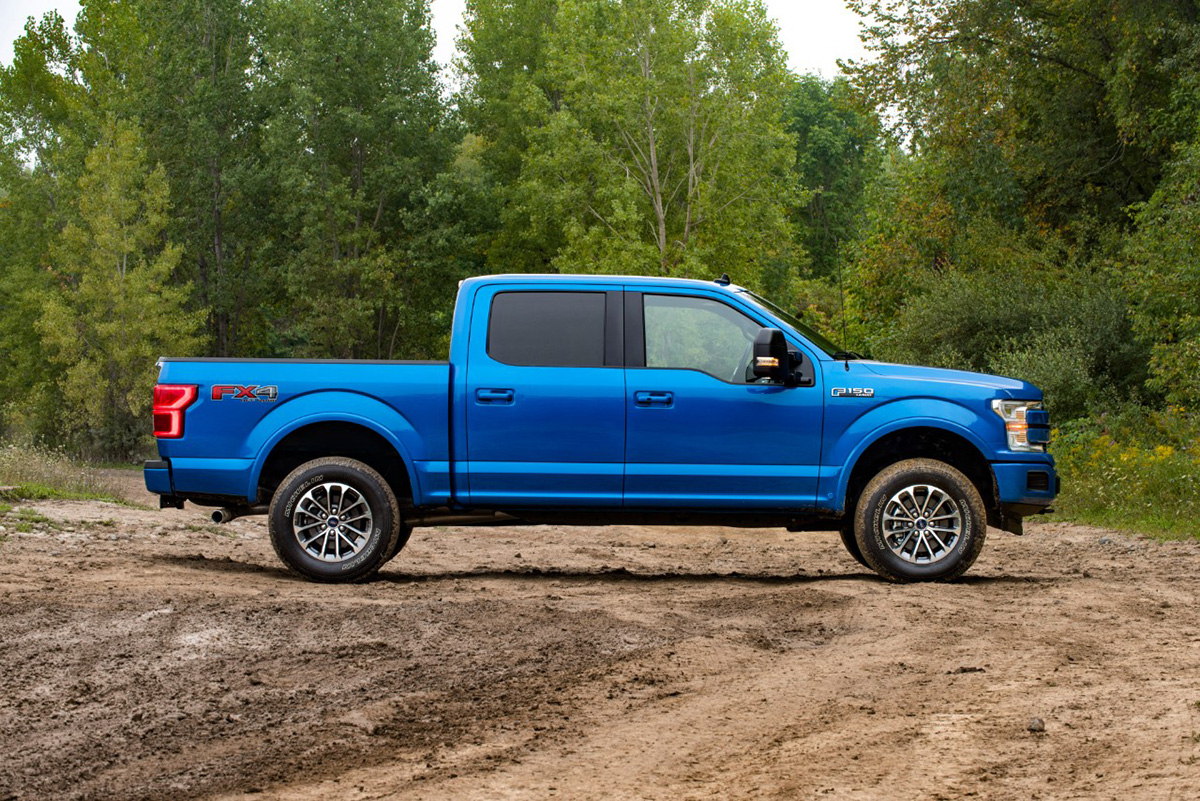 Ostensibly an off-road truck thanks to its FX4 designation, the first big price jump comes with the SuperCrew configuration. Ticking this box adds $4,300 to the price of a regular cab XL. Move up from XL to the Lariat trim and now you've added another $8,615 to the sticker price bringing the running total up to $47,730. That gets you a lot of good stuff: an upgrade to the 325-horsepower, 2.7-liter EcoBoost engine, a 10-speed automatic transmission, an upgraded infotainment and technology package with an eight-inch touchscreen, Sync 3, 4G LTE WiFi, dual-zone automatic climate control, remote keyless entry with push button start, power windows, leather-trimmed, power, and heated front seats, carpeted floors with carpeted floor mats, fuel, oil pressure, transmission temperature, and engine coolant temperature gauges, cruise control, intermittent wipers, tilt and telescoping leather trimmed steering wheel, woodgrain accents, satellite radio, 18-inch machined aluminum wheels with all-season tires, and a class IV trailer hitch among other things.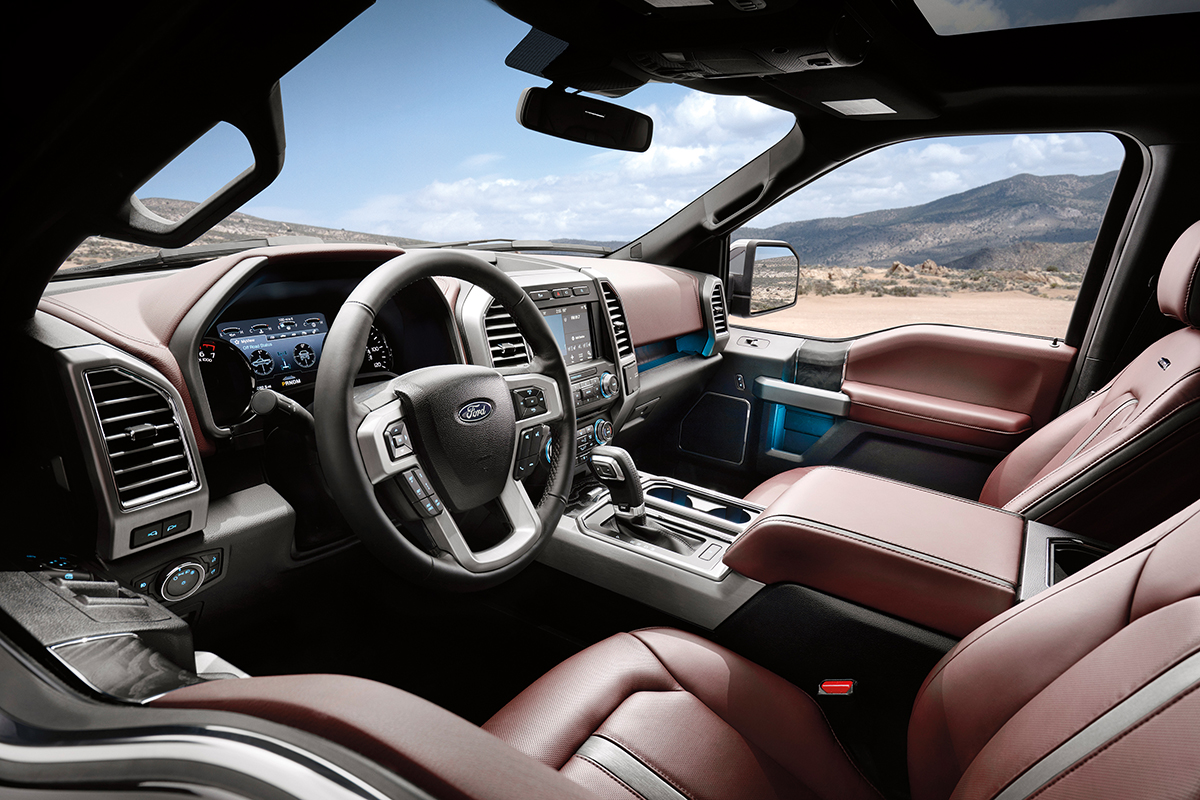 But wait, there's more! Add equipment group 502A for the low, low price of $7,010 and you get blind spot warning with rear cross-traffic alert and trailer tow monitoring, the Lariat chrome appearance package, B&O Play premium audio, rear sensing, remote start, a heated steering wheel and heated second row seats. Now you're at $54,740.
Replacing the 2.7-liter Ecoboost with the diesel engine adds $4,000. Power running boards tacks on $995. Of course you'll want the twin panel moonroof for just an extra $1,495. The FX4 package adds off-road shocks, skid plates, and graphics for $905. You'll really need the 20-inch six spoke wheels to fill those wheel arches, that's $1,295. Tech package, $1,195. Trailer tow package $995. Power folding mirrors $250. Integrated trailer brake $275. Tailgate step to help you get into the waist-high bed, $375. Voice activated navigation, $795. The spray-in bedliner, $595. A couple of other odds and ends for a few hundred more and of course your destination and delivery fee of $1,595. Add it all up and you're at $70,100.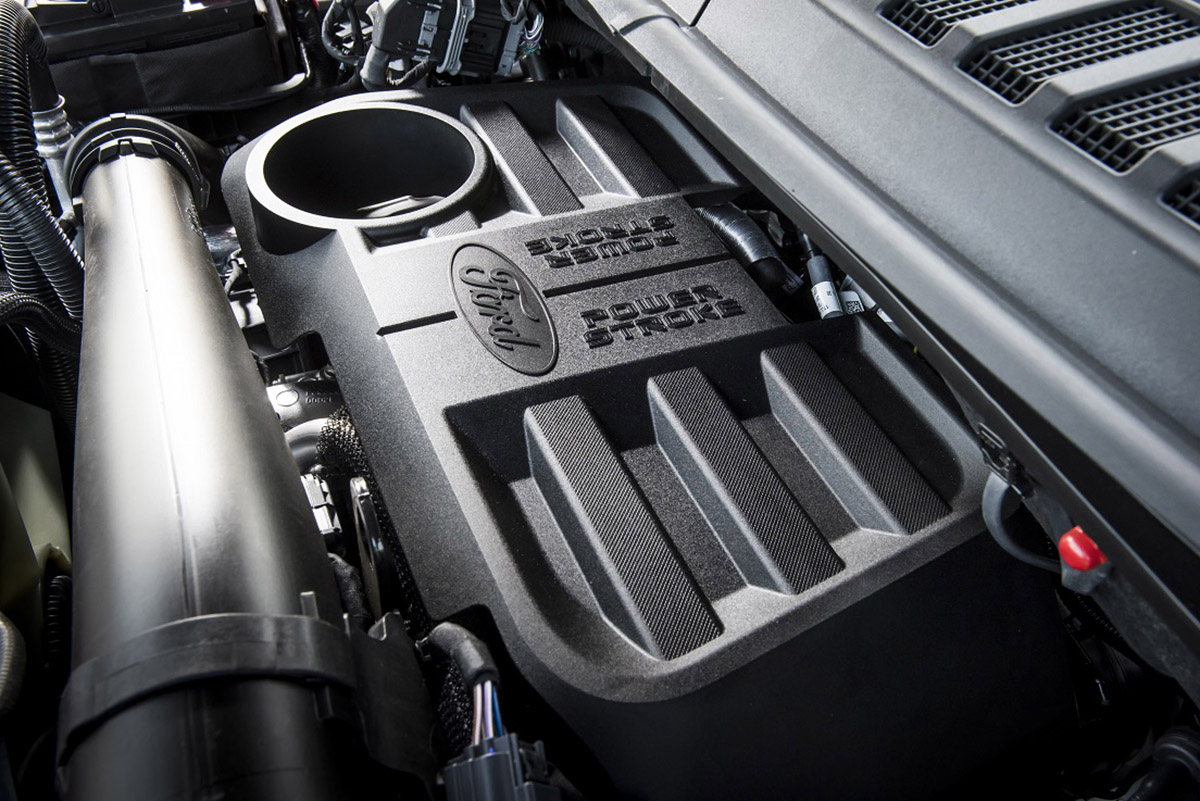 None of these things are unreasonable given the availability of technology and comfort features we've all come to know and love, and it's not any different if you look at RAM or Chevy. But they do add up. It's probably no coincidence then that the average age of a pickup truck on the road is nearly 14 years according to the U.S. Department of Transportation. The average payment for all new consumer vehicle loans is now over $550 per month and the average length of a new car loan is now 68 months, with 72 and 84 month loans becoming more and more common according to Experian.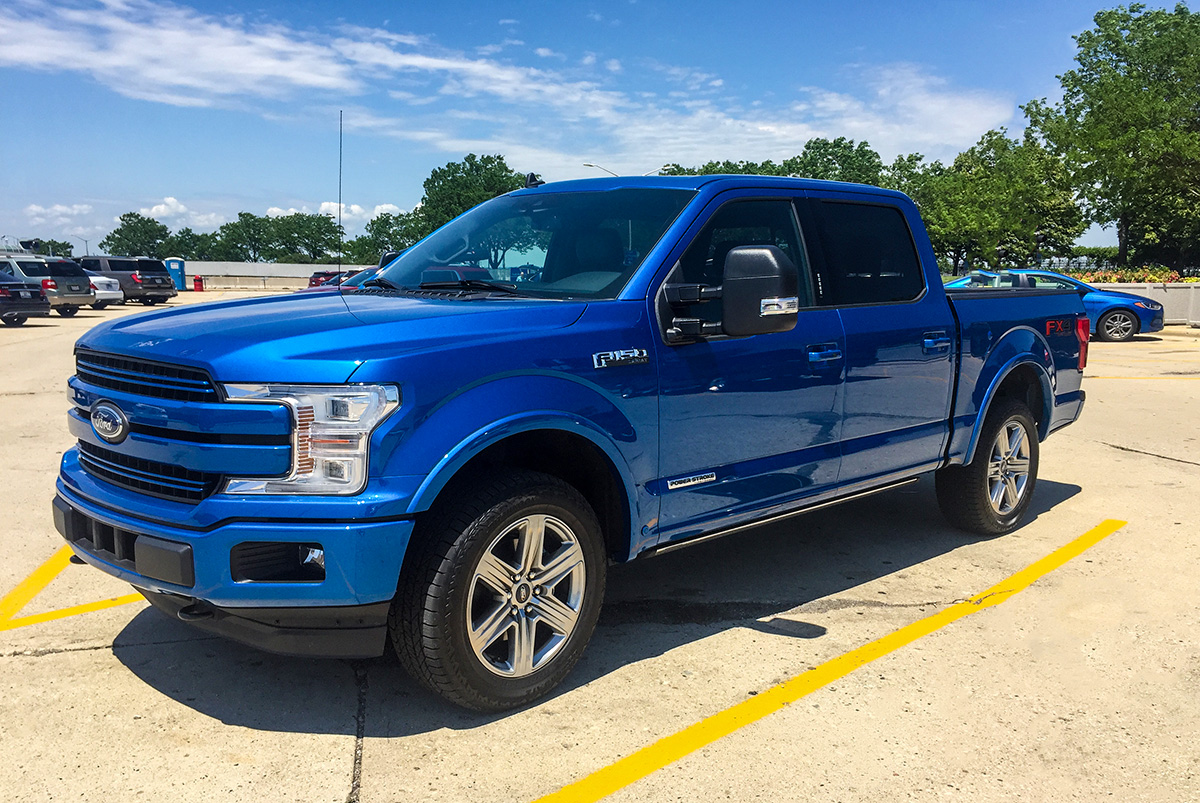 All that having been said, the F-150 4X4 Supercrew Lariat FX4 PowerStroke Diesel is a very nice truck. It delivered exceptional mileage – 25.1 MPG to be exact – in the week I had it, helped move some furniture around for a friend, and served as a great airport shuttle vehicle. I just have to get my head out of the '90s and then convince my banker to give me a loan that's half as long as a mortgage, and I'll be good to go.