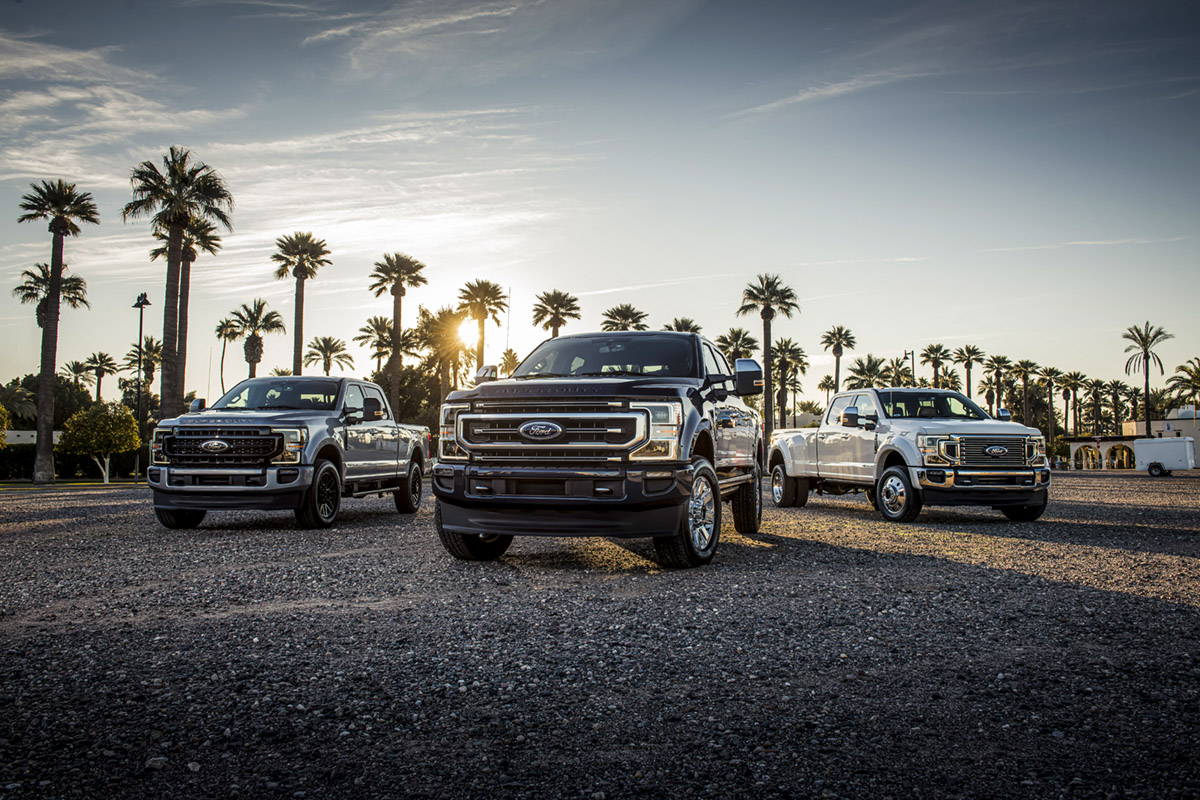 Americans love trucks. The bigger, the more capable, the more rugged, the better. Nowhere is that better reflected than in the knock down, drag out, heavyweight cage match happening in the full-size, heavy duty pickup segment right now.
GM got the first fall last year when they dropped their all-new Silverado and Sierra HD pickups. With updated engines and a slew of next level technology, they were able to increase max towing by 50% to 35,500 pounds. When Ram pulled the cover off their big pickup in Detroit last January unveiling a Cummins high output turbo-diesel that delivered 1,000 pound-feet of torque, you knew Ford wasn't going to sit idly by.
They didn't.
Ford recently released their latest generation F-Series Super Duty trucks to the world with the intent of maintaining class leadership across all the meaningful categories, and they did. Their F-Series Super Duty pickups offer 3 engine options – the standard 6.2-liter gas V8 is a holdover from last year, and plenty capable. But for people who really need to tow and haul the new and improved optional engines are the real story. Depending on which engine you choose, you get best-in-class payload, best-in-class towing, best-in-class snowplow rating, and for people who find themselves way out there, best-in-class water crossing depth.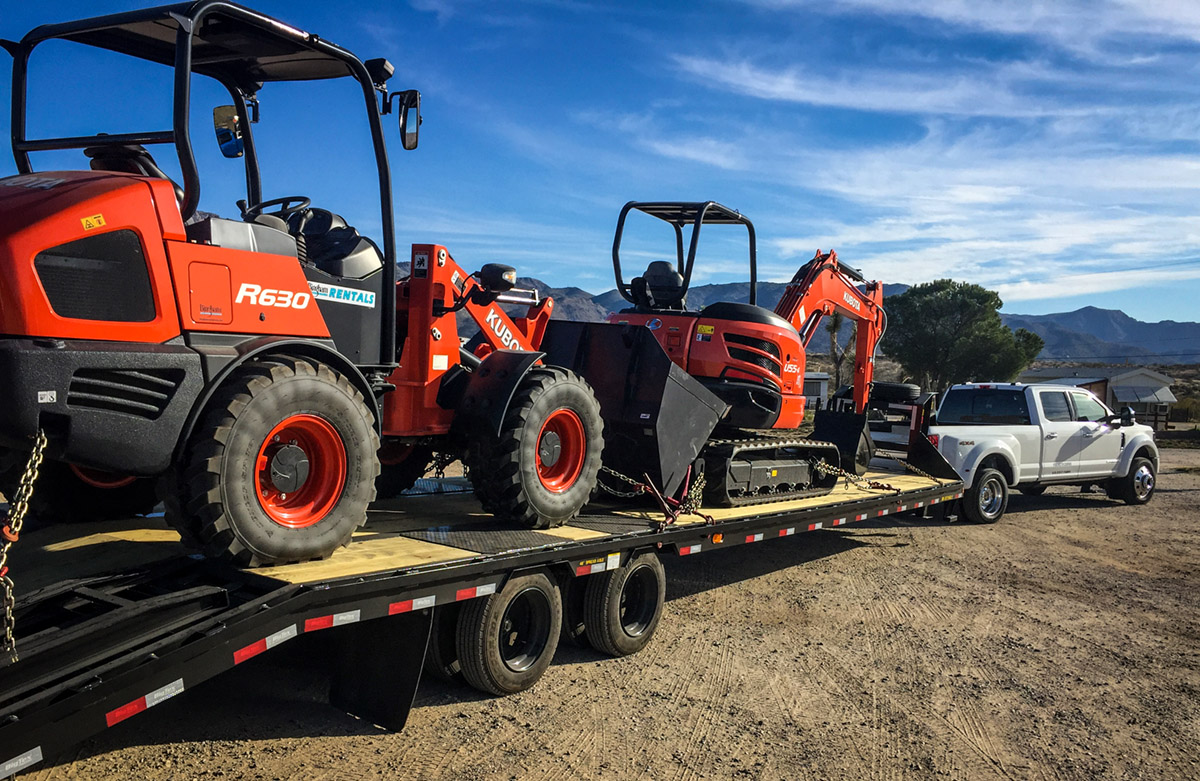 Ford introduced an all-new 7.3-liter V8 gas engine that offers best-in-class power and torque – 430 horses and 475 pound-feet – and a 6.7-liter Power Stroke diesel that puts them on top of that mountain as well. A properly equipped dual rear-wheel F-450 4X2 can tow 37,000 pounds. How much is that? So much that on the test drive in Arizona I wasn't allowed behind the wheel of that truck and trailer combination by federal law. You need a commercial driver's license if you're going to be pulling at the maximum towing capability in that particular F-Series Super Duty.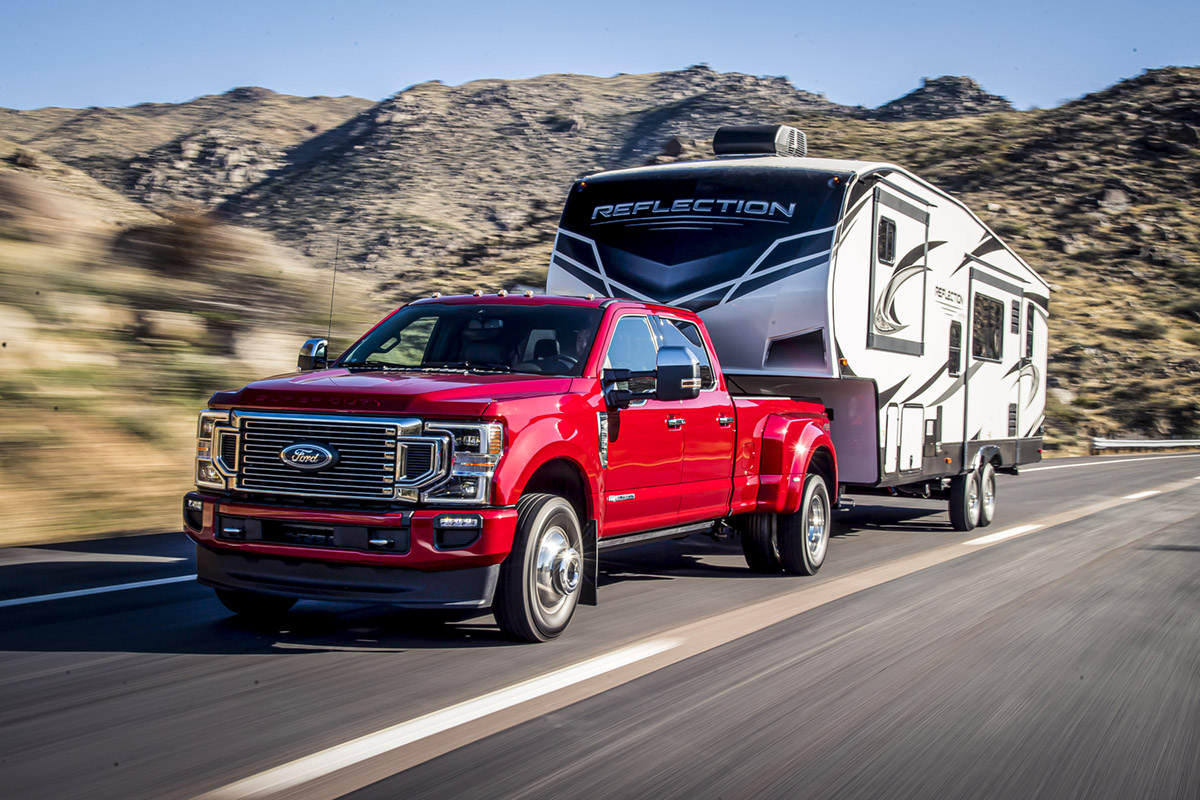 But that doesn't mean I didn't get to test the towing prowess of Ford's newest, most powerful pickups, I just had to do it with trailers I could legally bolt to the back of the truck. I started out big with a full-length 5th wheel camper behind an F-350 single rear wheel truck and the diesel option. After firing up the oil-burner, I put the 10-speed automatic transmission in drive and pulled ahead. I had to check my rearview mirror to make sure the trailer was still attached because, to be honest, it felt like there wasn't anything back there. We're talking about a 30+ foot rig that weighed close to 10,000 pounds. Climbing 1,200 feet through the mountains on grades as steep a 8% in the Arizona heat was no problem either. If you look up overkill in the dictionary, you're likely to see a picture of this engine.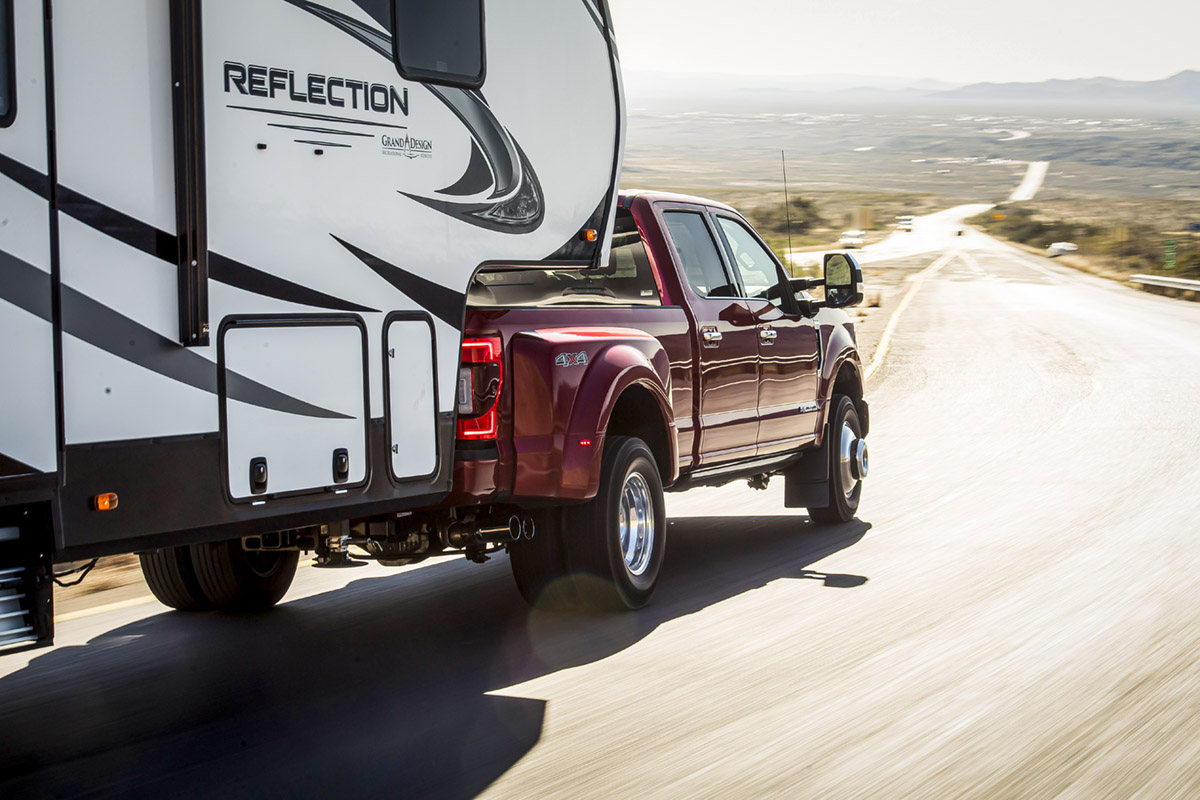 In addition to all that power, this diesel is also smart. Ford's Trailer Towing Assistance systems helps noobs like me handle just about any trailer with ease. First, there's the exhaust brake system which has been enhanced for 2020. Press the button on the center console one time before a steep downhill run and engine compression will help hold the rig at your selected speed. Press it twice and magic happens. Unlike traditional engine braking this system, in this mode Ford integrates the engine, transmission, and brake systems creating what is essentially a downhill cruise control that won't overtax any of the drive and braking systems.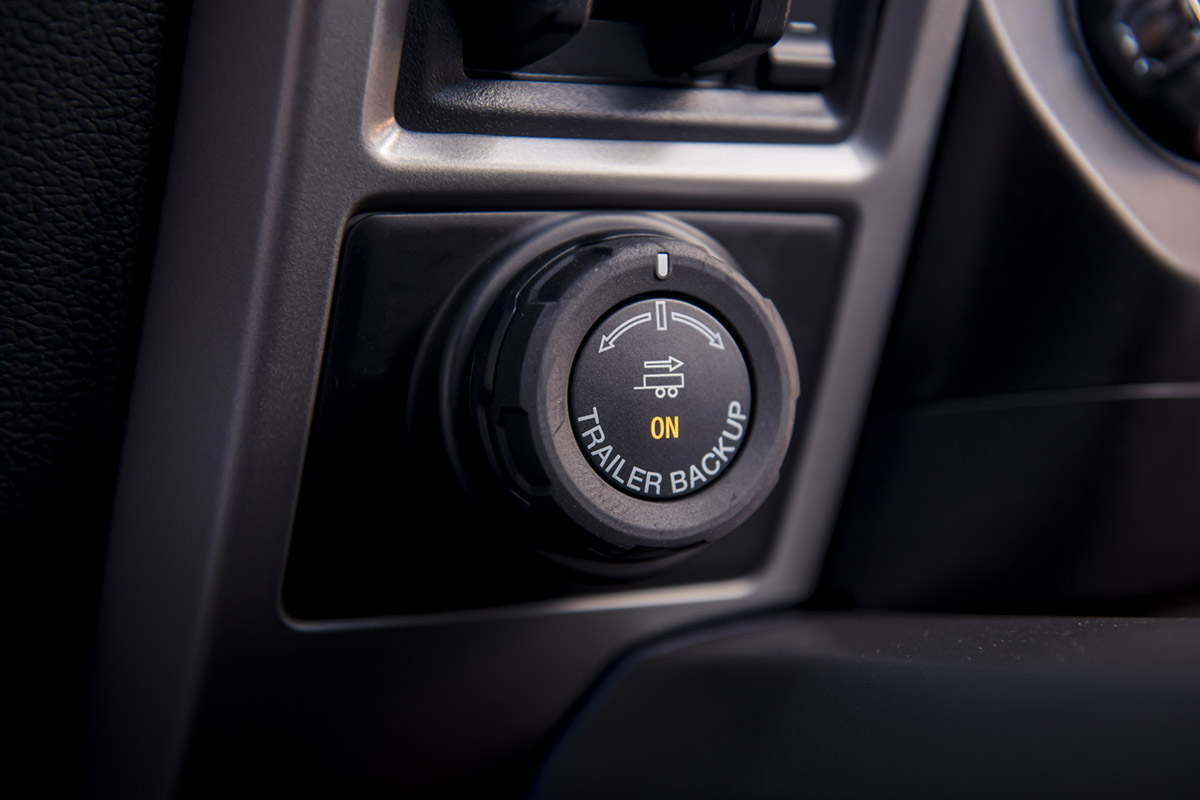 Another big upgrade for trailering is the addition of Ford's exclusive Pro Trailer Backup Assist system on Super Duty Trucks for the first time ever. Because these bigger trucks have hydraulic steering systems, Ford had to bolt on a supplementary electronic assist steering system and rewrite all the software to work with larger trailers. The net result is just as with the F-150 version of the Pro Trailer Backup. Just put the truck in reverse, keep your foot on the brake, push the button to activate the system and then using the guide lines in the backup camera you back the trailer into a space using just the knob instead of the steering wheel. In my first attempt with the system, I put the full-size camper trailer right in between two rows of cones, tighter than any campsite you'd encounter. Then I tried it without the Pro Trailer Assist and let's just say, cones were harmed thanks to my inability to handle the trailer.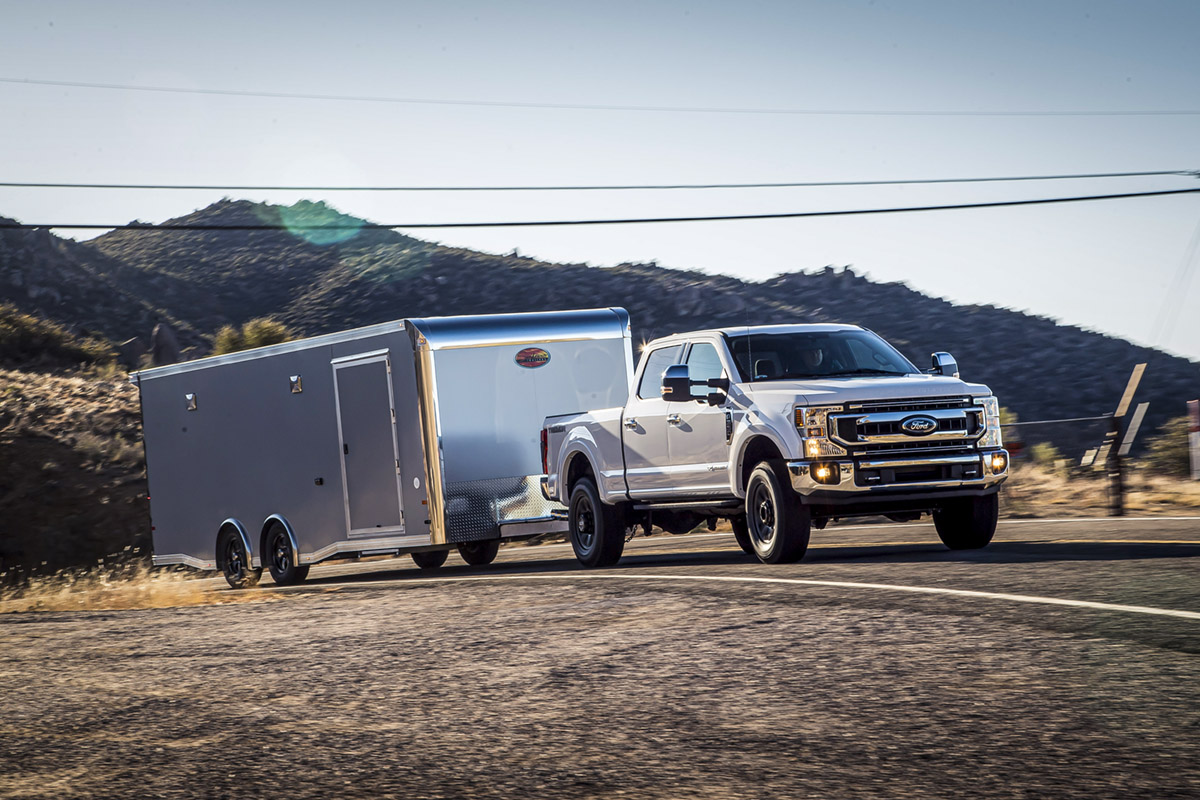 Heading out again with the 7.3-liter engine under the hood of an F-250 with a large box trailer on a conventional hitch, the drop in power was noticeable. Unlike the diesel which loped along quietly, you can hear and feel the gas engine working. You also don't get the fancy downhill engine braking system, but you do get everything else.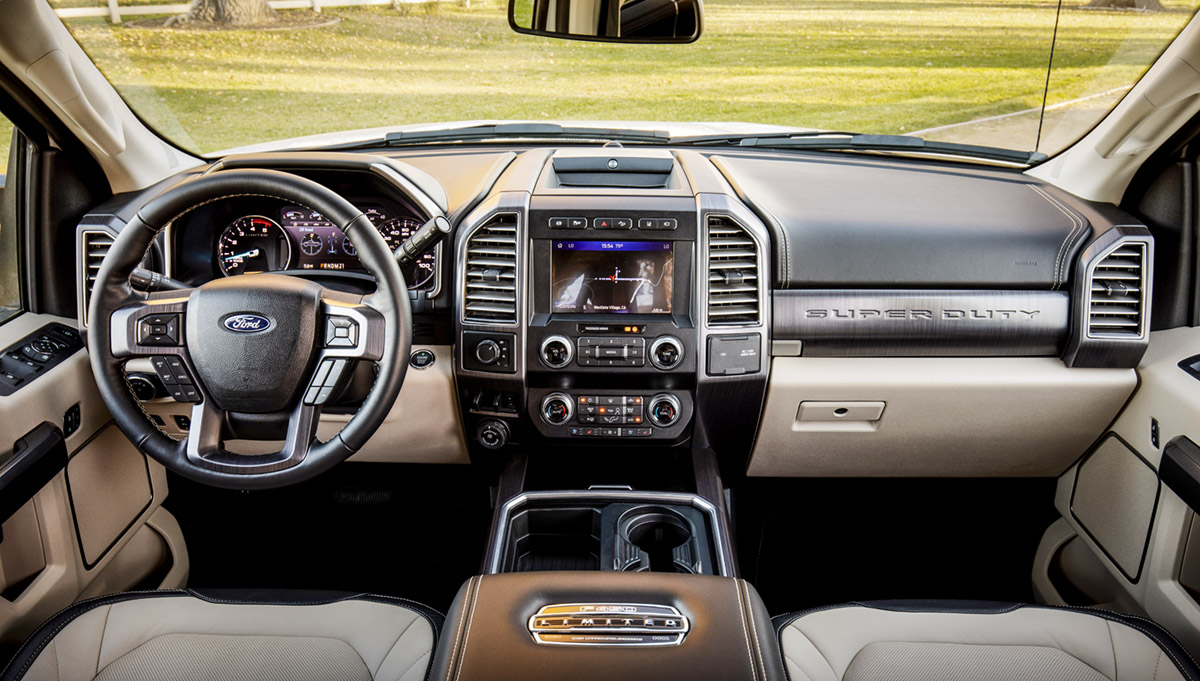 F-Series Super Duty trucks are unapologetic work vehicles. Yes, you can luxe them up with King Ranch and Limited trims that include acres of leather, a power moonroof, and everything from a heated steering wheel to massaging seats. What you can't do is soften it's edges to make it ride more quietly or comfortably. It's a big, bulky truck that's designed to get things done. That's even true in the Tremor off-road edition.
Unlike the Raptor which is basically an off-road racing truck in civilian clothing, the Tremor is an off-roader that works. It's designed for two purposes, first for ranchers and farmers who may need to reach a piece of their property that is a half day's drive from the nearest road. And second, it's an escape pod for adventurers who want to slow roll their way out of civilization's clutches. You're not going to be doing any high speed aerials in a Tremor. You will be crossing streams deeper than any other truck, however, thanks to its best-in-class, 33-inch fording depth. You're going to be scaling boulders thanks to 10-8 inches of ground clearance. And you'll be scrambling up and down steep gravel trails thanks to 35-inch all-terrain tires.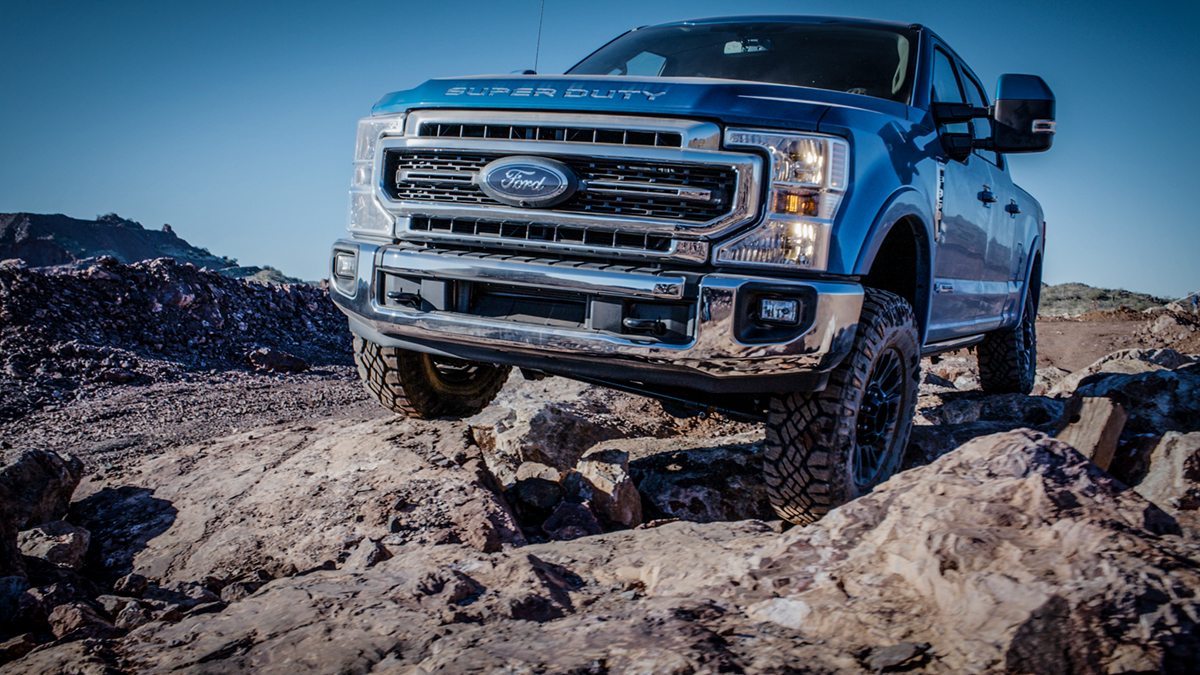 The Tremor package is much more than just stickers, tires, and a cool name. It starts with suspension, wheel and tire changes that lift the front end of the truck two inches from a standard F-250 or F-350. The Goodyear Wrangler Duratrac tires are mounted on 18-inch wheels to provide maximum off-road traction. With a shorter air dam, approach and departure angles are increased to 31.6 and 24.5 degrees. The progressive springs and twin-piston dampers allow Tremor to handle its payload and towing duties, while still offering the articulation and compliance you need while crawling over a field of rocks. Of course, you have a locking rear differential and a new Dana limited-slip front diff for maximum control.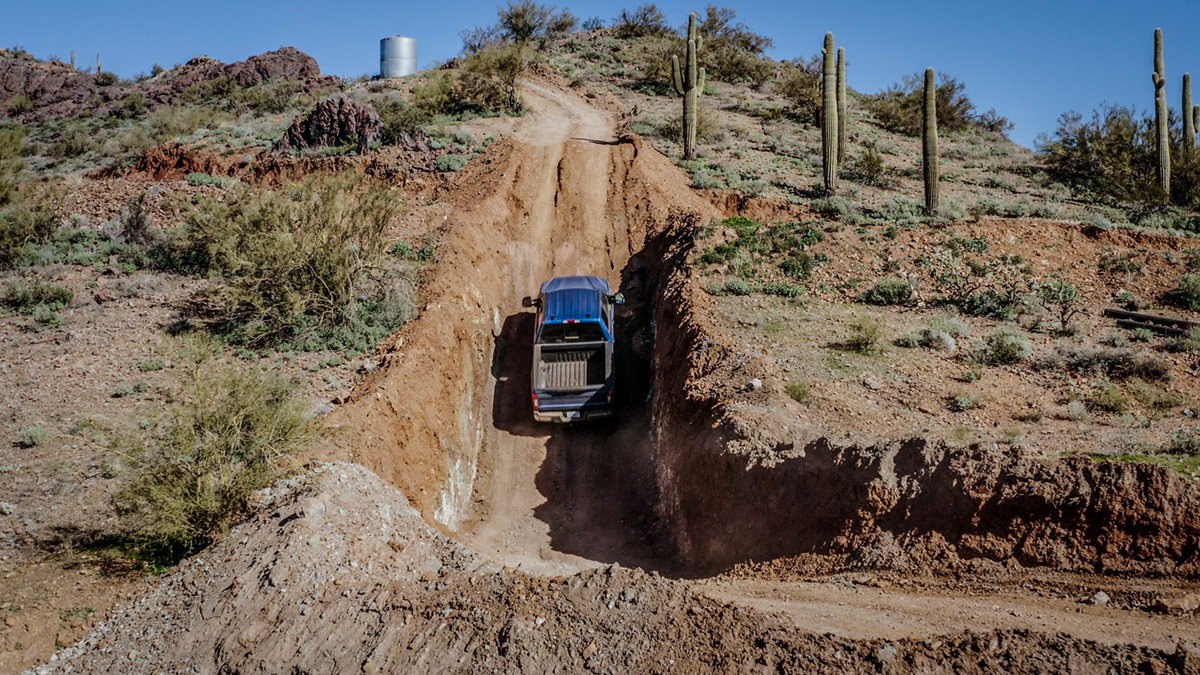 While ground clearance is increased and rebound is greatly controlled, Ford knows its owners will exceed those limits on occasion, so Tremor is equipped for the job. There's a full complement of steel skid plates protecting the truck's soft underbelly. Special off-road running boards tuck close to the rocker panels to stay out of the way.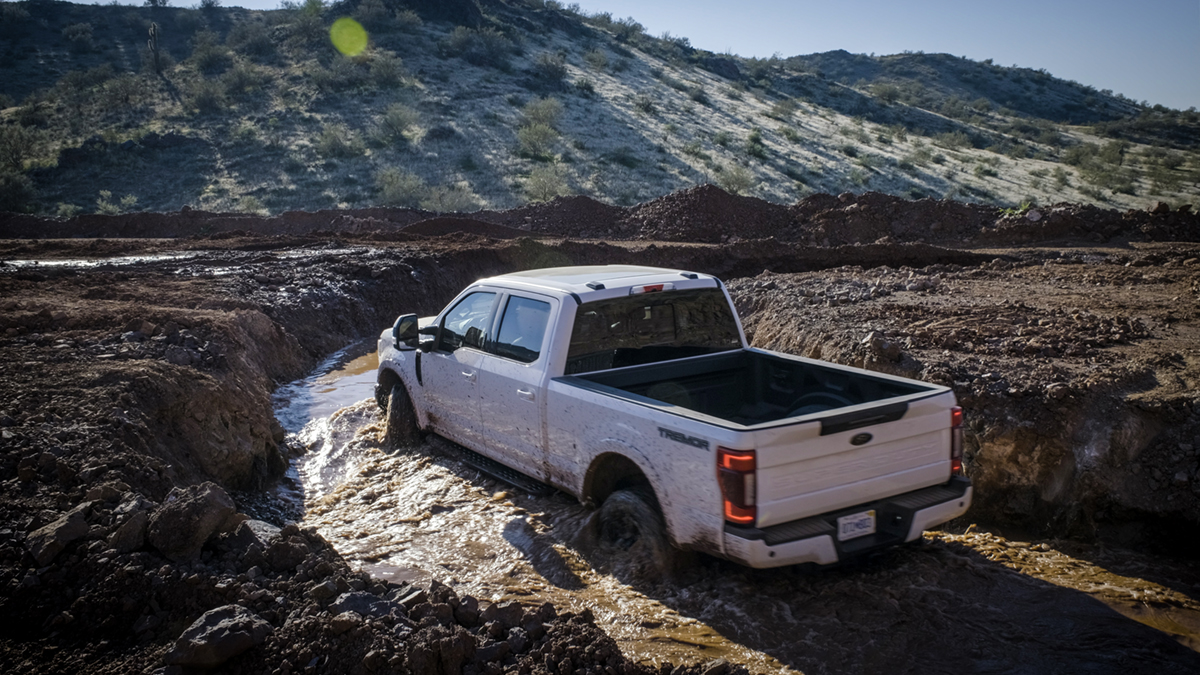 Ford also includes terrain management, crawl control, and trail control systems to Tremor so whether you're on dry pavement in the city, or sloshing through a bog in the back forty you can adjust the system to do everything you need to.
After a day of towing, hauling (yes, I even drove and F-550 dump truck unloading 4-tons of dirt from the back), and off-roading, I hopped in an F-250 Platinum and drove back to our hotel. While I know Super Duty trucks are big – heck the hood height comes up to my shoulder – I didn't really get a sense of how big until we were in rush hour traffic. I specifically recall looking down at a Toyota SUV thinking it was a RAV4 only to realize it was a 7-passenger Highlander. Between that and pretty much seeing eye-to-eye with the long-haul truckers there's no getting around the scale of this truck. Anyone under 5′ 6″ who's interested in owning one might want to invest in a stepladder.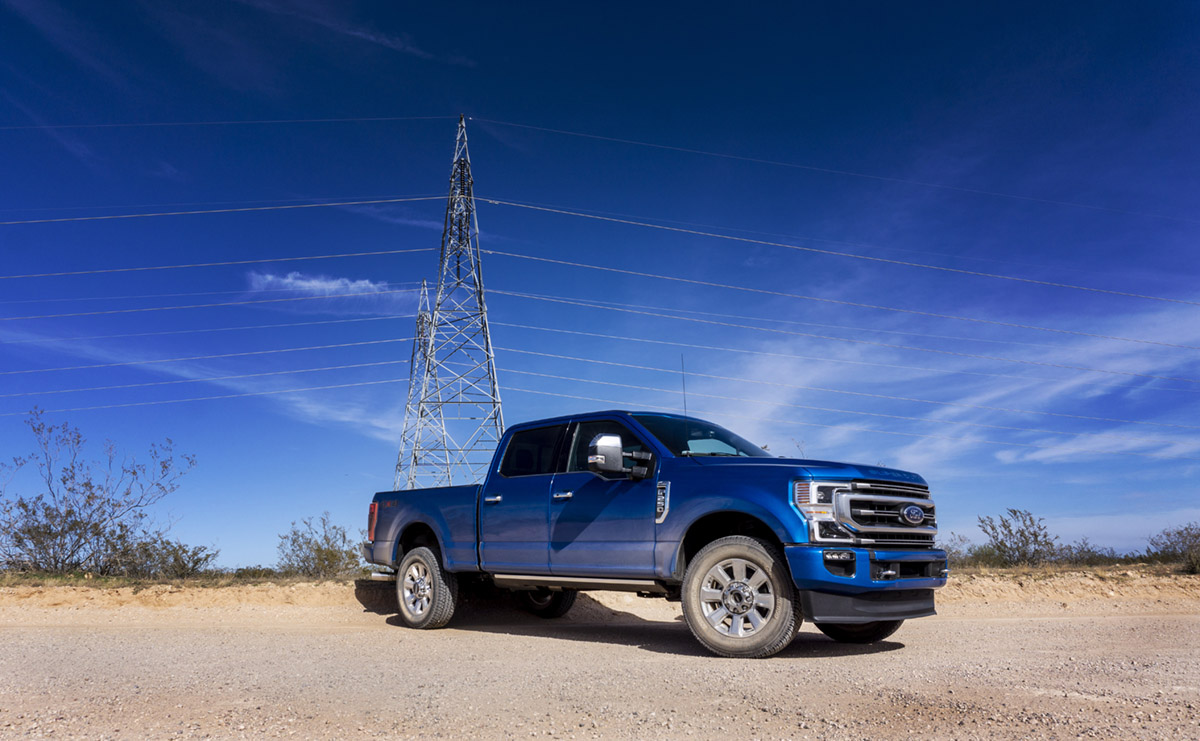 Pricing for the 2020 Ford F-Series Super Duty starts around $34,000 for a regular cab 2X4 XL with the 6.2-liter engine and a 6-speed automatic transmission. Load up an F-450 Crew Cab with the Power Stroke diesel, 4X4, 10-speed transmission, dual wheel rear axle, Limited trim with all the bells and whistles and you're pulling ninety-large out of your bank account.