Large luxury SUVs are very hot right now and as such it's one of the most competitive categories in the market today. With gas prices low, the completely redesigned 2015 Cadillac Escalade is now selling faster than sunscreen on South Beach, stuffing profits into GM's corporate coffers at a clip of $10,000 per vehicle. Mercedes GL class is not far behind Cadillac in volume. Land Rover is setting records. Bentley is just months from launching its new Bentayga, and Rolls-Royce executives are hinting that an SUV or large crossover is in their future. If you prefer something with a more Eastern flavor, both Lexus and Infiniti make very fine big SUVs.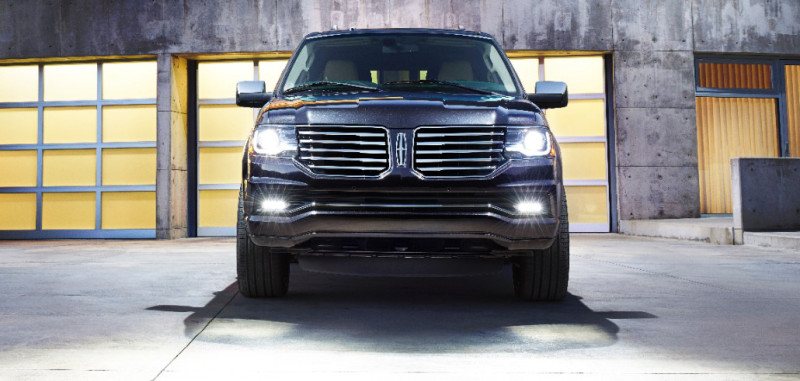 So it makes sense that Lincoln has refreshed the Navigator recently in an attempt to keep pace. The problem is, the Navigator didn't need a refresh as much as it did a reboot. The current Navigator platform is old, having debuted in 2007, and though it does the driving parts of its job better than ever, it lacks the features and amenities its top of the line competitors deliver in spades.
New for the 2015 model year is a much improved exterior appearance, updated engine, suspension and a few interior trim details. These are all good and necessary things. This is a category, however, where the competition is anything but friendly and Lincoln's baby steps are leaving it further and further behind.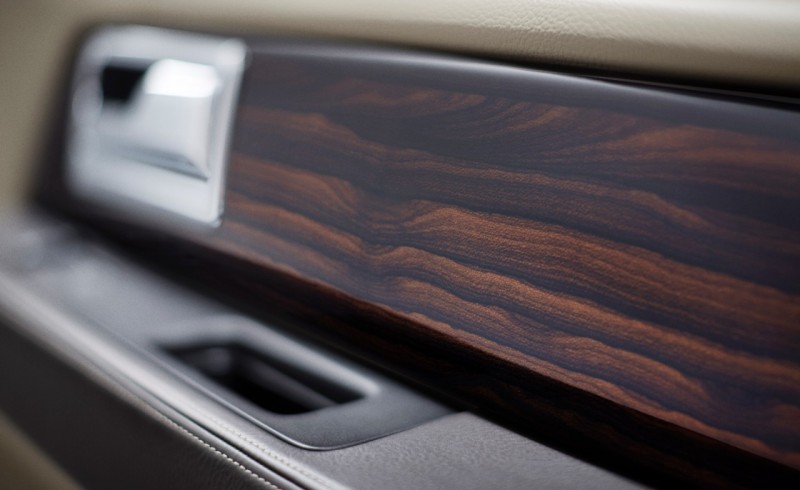 From a driver's perspective, the Navigator is just fine, thank you very much. The twin-turbo, direct-injection 3.5 Liter Ecoboost V6 achieves best-in-class fuel economy. With 380 horsepower and 460 lb-ft. of torque it rivals Cadillac, Infiniti and Mercedes in performance and delivers class-leading towing capacity. Its all-wheel drive system is top notch, providing excellent traction in the snow. I was lucky enough to take delivery of my Navigator just a day before we experienced a foot of snow in Wisconsin, and equipped with 22-inch all-season radials, the big Lincoln never set a foot wrong.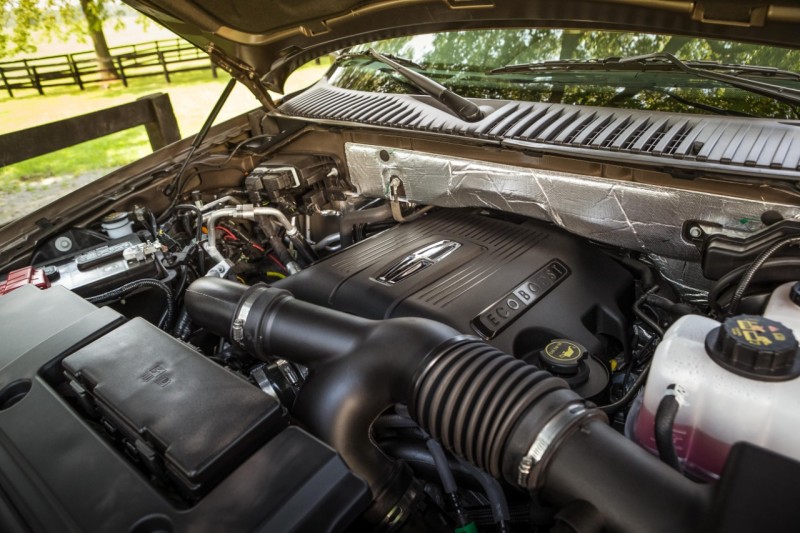 The ride is as you'd expect from a luxury SUV, isolated, quiet and very smooth. Lincoln's Drive Control option offers continuously controlled damping, which monitors multiple vehicle sensors and road conditions every two milliseconds adjusting the suspension to provide a smoother ride. It also allows the driver to customize the vehicle ride by selecting one of three control modes: normal, sport and comfort. Sport is a bit of a misnomer in a vehicle this size, but hey, you have to give them points for creativity. Of course the Navigator also incorporates all the necessary safety features, including traction control, anti-lock brakes, a rear-view camera, blind-spot detection and a full complement of airbags.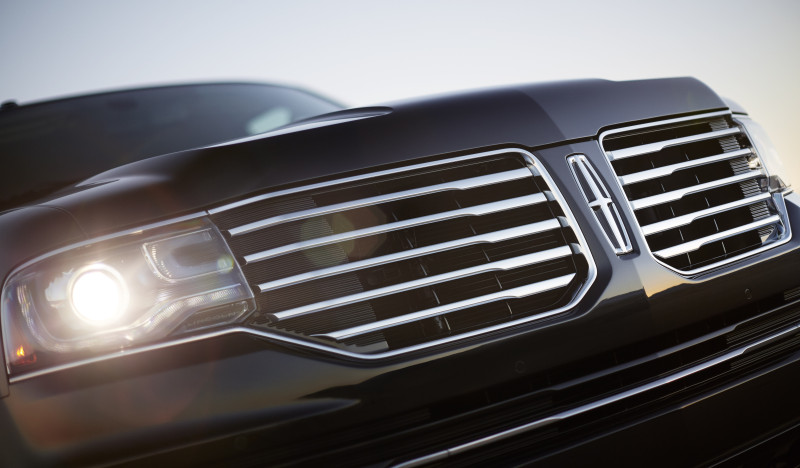 As far as looks go, the Navigator is handsome. The new front end features adaptive headlamps surrounded by LED accent lights. In all the Navigator uses 222 LEDs to ensure you can see and be seen at night. There's also a power lift-gate at the rear, and if you opt for the reserve package, as I had, you'll get power running boards that extend as you open the doors, so shorter drivers and passengers can step up into and out of the vehicle without risking life and limb.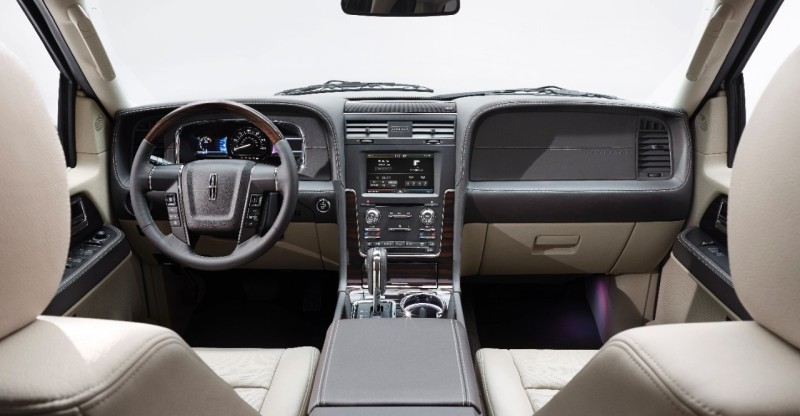 In fact everything that's in the Navigator is really quite good. It's what's missing, however, that is the problem. This is a big vehicle and as such not offering the option of active park assist and 360-degree surround cameras is more than disappointing, it's unfathomable. While the Navigator features a large, 8-inch LCD screen, the Sync system feels a generation behind offerings from Infiniti and Cadillac.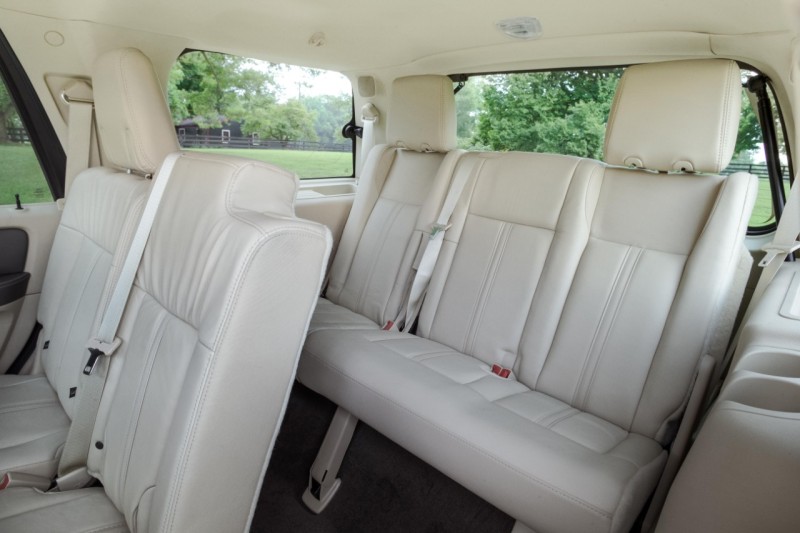 Lincoln has upgraded the interior, extending the leather seating to all three rows. On the plus side, it is the only SUV that can hold up to eight people when you opt for a second row bench seat. Since the second and third rows fold flat, available cargo space is cavernous. In general, however, the Navigator feels more utilitarian than its competitors. There are nice details, like the contrast stitching on the dash and Ziricote wood trim, but the seats themselves look and feel pedestrian, offering little bolstering and support, especially in the second and third rows.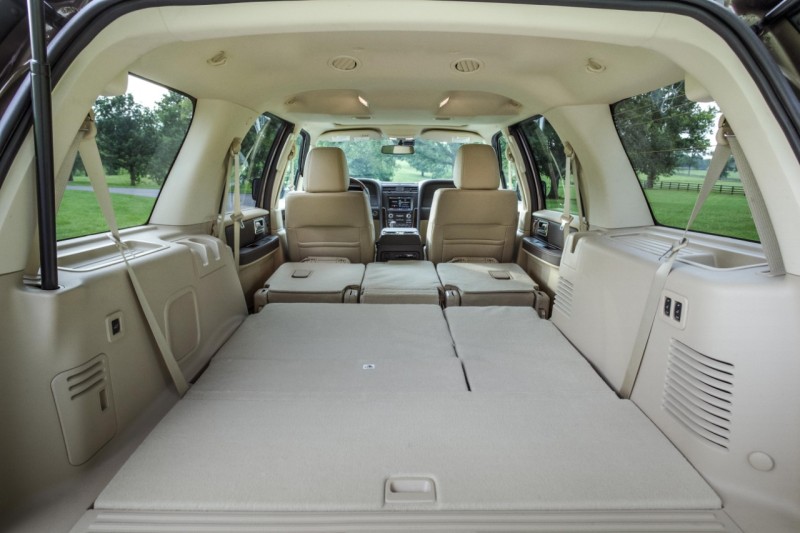 The Navigator starts at a price of $62,495 for the Select 2WD model. My AWD Reserve model which featured a two-toned exterior with the Tuxedo Black lower body and power running boards; 22-inch polished aluminum wheels; leather-trimmed seats, hand-wrapped leather and stitched instrument panel, door and console; and Ziricote wood appliqués came in at just a tick over $75K. That's about ten grand less than you'll pay for a top-of-the-range Infiniti QX80 and about fifteen thousand less than a loaded Escalade. But with those two vehicles you get more (and more modern) content.
If you're looking for a luxury SUV that puts more emphasis on utility than luxury, the Lincoln delivers everything you need and more. But if you're all about the bling, technology and over-the-top creature comforts, you'll either have to wait for the fully redesigned Navigator which should make an appearance in a couple of years, or spend more today and opt for one of its more luxurious competitors.
2015 Lincoln Navigator
7-passenger, four-door full-size sport utility vehicle
Base price: $62,495
Price as tested: $75,095
3.5 Turbocharged V6 Engine
6-speed automatic transmission
All-Wheel Drive
Horsepower: 380 @ 5250 rpm
Torque: 460 ft-lbs. @ 2750 rpm
EPA MPG: 16 city / 22 hwy
www.lincoln.com
While the manufacturer provided the vehicle for this story, the opinions and recommendations in this post are 100% ours.
A version of this review first appeared at Pursuitist.com